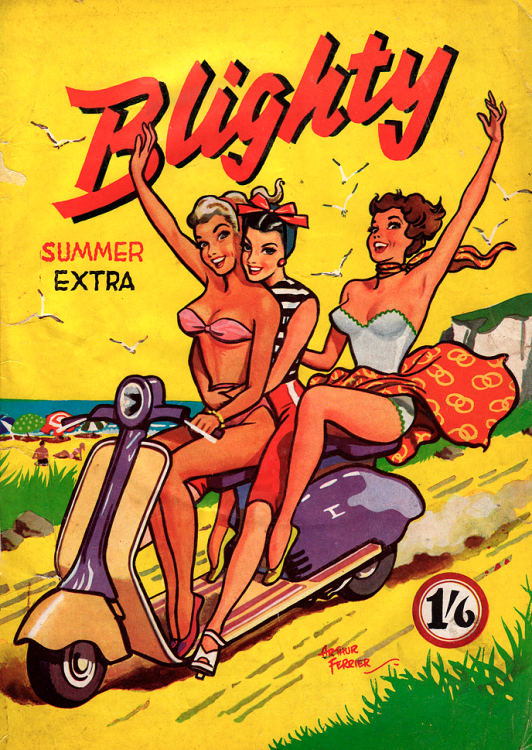 Intermission Edition.
one bright morning x not ready to make nice x natural selection x voyage
————————–
Not Ready to Make Nice, Guerrilla Girls in the Artworld and Beyond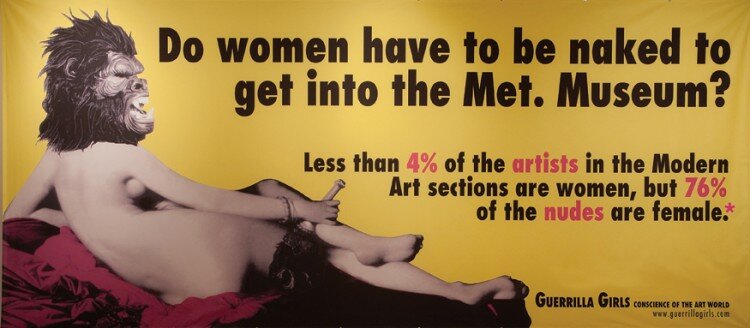 When: On view August 25th-December 15th, 2012
Where: Montserrat College of Art, Carol Schlosberg Alumni Gallery, 23 Essex Street, Beverly MA 01915
How: Official Website
What/Why: "Not Ready to Make Nice, Guerrilla Girls in the Artworld and Beyond is a major presentation of the work by the Guerrilla Girls on view at Montserrat Gallery August 25 – December 15, 2012. This multimedia, expansive exhibition illustrates that the work of the anonymous, feminist-activist collective Guerrilla Girls is as vital and revolutionary as ever. Curated by Neysa Page Lieberman from Columbia College Chicago, the exhibition is traveling exclusively to Montserrat College of Art Galleries. Not Ready to Make Nice illuminates and contextualizes the important historical and ongoing work of these highly original, provocative and influential artists who champion feminism and social change. 
Focusing primarily on work from the past decade, the exhibition features rarely shown international projects that trace the collective's artistic and activist influence around the globe. In addition, a selection of iconic work from the 80's and 90's illustrates the formative development of the group's philosophy and conceptual approach to art activism. The exhibition is further punctuated by documentary material including ephemera from famous Actions, behind-the-scenes photos and anecdotes that reveal the Guerrilla Girls' process and the events that drive their incisive institutional interventions. 
Spanning four galleries, artwork is organized by theme: Montserrat Gallery features work related to the visual art world, Carol Schlosberg Alumni Gallery focuses on documentary materials and publications. The Frame 301 will feature a selection of their famous black and white posters for the month of October, while the 301 gallery will feature a selection of major recent banners and billboards. The exhibition is part of a college-wide semester-long focus on Art and Activism. "
————————–
Student Loan Art Exhibit and Lottery

When: September 4th-21st, 2012
Where: MIT List Center, LVAC Gallery, 20 Ames Street Building E15, Cambridge, Massachusetts 02139
How: Official Website
What/Why: "This annual loan program, administered by the List Visual Arts Center, allows individual MIT students and student groups to borrow original works of art for their private rooms and communal spaces. They may keep these pieces for as long as the academic year.
Over 500 framed works, including prints, photographs, and drawings, are made available for loan each September after Labor Day by way of a unique exhibition and lottery system. During the course of the exhibition, which lasts two weeks, MIT students can view the available artworks and register their top three preferences. After the exhibition, impartial List Visual Arts Center staff administer the lottery and post the results online. Generally, close to 1000 entries are received–therefore, entrants have about a 2 in 5 chance of receiving one of their choices."
————————–
Julianne Swartz: How Deep Is Your

When: On view September 2nd-October 1st 2012
Where: deCordova Sculpture Park and Museum, 51 Sandy Pond Road , Lincoln, MA 01773
How: Official Website
What/Why: "Julianne Swartz will be the subject of a survey organized by deCordova Sculpture Park and Museum and the Scottsdale Museum of Contemporary Art (SMoCA). Curated by Rachael Arauz with the full participation of the artist, Julianne Swartz: How Deep Is Your will gather together for the first time a significant group of Swartz's installations and sculpture that invite viewer participation with elegance, humor, and intelligence.
Acclaimed for her unique blend of high and low-tech materials, Swartz utilizes both existing and self-made technologies, and has often made the ephemeral presence of the viewer fundamental to her work. Her art quietly celebrates contradictions and dichotomies that invite attentive visitors to slow down and sharpen their senses. She employs lenses that transform mundane objects and hidden locations into magical moving pictures, mirrors that disorient a viewer's spatial perception and self-awareness, vinyl wall drawings that guide viewers to secret architectural spaces, and PVC tubing and speakers that allow buildings to communicate with their inhabitants. Some of her sculptures subversively embrace the appearance of "new media" or "video" only to reveal a hand-made simplicity that prompts viewers to question our culture's relationship to technology.
Julianne Swartz: How Deep Is Your will be accompanied by the largest publication about the artist to date, featuring essays by Rachael Arauz and SMoCA curator Cassandra Coblentz and texts by Janine Antoni, Sharon Corwin, Tim Davis, Bec Garland, Byron Kim, Stephen Lichty, Jenny Monick, Judy Pfaff, Barbara Smith, David Levi Strauss, Jonathan Van Dyke, and Emily Weiner."
Also on view..
Platform 10: Dan Peterman

When: On view September 2nd through December 30th, 2012
How: Official Website
What/Why: "Since the 1980s, Chicago-based artist Dan Peterman has explored the intersection of art and ecology through a practice that is more in line with the poetic, than the didactic. Peterman is a socially motivated artist who has embraced a wide variety of formal and situational strategies to critically address the exhaustion of resources in our society. He uses a range of materials including recycled plastic and metals, as well as organic and post-consumer waste in his sculptures, installations, and public art projects. For his project at deCordova, Peterman will site his sculpture, Love Podium in the Museum Entrance Plaza as a functional platform for spoken performances. As part of a slate of programming proposed by our museum audience, speakers will activate the Love Podium by simultaneously reading texts that represent opposing views on a single topic. Installed just before the 2012 Presidential election, the podium presents and problematizes this divisive age of polarization, while also offering a platform for engaged citizenry.
PLATFORM is a series of solo exhibitions by early- and mid-career artists from both the New England and national arts communities. These shows focus on work that engages with deCordova's unique architectural spaces and social, geographical, and physical location. The PLATFORM series is intended as a support for creativity and expression of new ideas, and as a catalyst for dialogue about contemporary art."
————————–
Percy 14e Wright

When: Saturday August 25th, 2012 6-9PM
Opening Reception: Saturday August 25th, 2012 6-9PM
Where: Kulturez, 36 JFK Street # 2-27B, Cambridge, Massachusetts 02138
How: Official Website
————————–
Becky Kisabeth Gibbs: Voyage

(Dazzle)
When: On view through September 28th, 2012
Opening Reception: Friday September 7th, 2012
Where: Galatea Fine Art, 450 Harrison Avenue, Boston, MA 02118
How: Official Website
What/Why: "Galatea Fine Art is pleased to announce the opening of  "Voyage", a solo exhibit of oil paintings by Becky Kisabeth Gibbs. Gibbs is inspired by forms and patterns in nature, both the landscape/seascape and the microscopic world. Her new oil paintings are lush and fluid, and reflect her love of the water. 
'These works by Becky Kisabeth Gibbs are a departure from her more abstract paintings. She employs a similar aesthetic of defining spatial boundaries with energy and movement; however, in these works she is focusing on recognizable forms, specifically, bodies of water. There is a comparable sense of order and patterning in the current paintings. This is a direct transference of process and visualization, as her earlier works were more apt to represent pure geometrical repetition, allowing for that hidden "gust of wind" that skewed the forms, creating an appealing imbalance. Her recent paintings of water currents suggest, steeped in reality, this same celebration of assymetry in nature. The surfaces reflect the depth of the ocean, the beauty of all elements in relation to water. The viewer discovers the mirror of the conscious and sleeping self in the hypnotic repetition of waves and reflection."  – Marjorie Kaye, Member/Director, Galatea Fine Art'"
————————–
Install 2

 (Horse, Shoshannah White)
When: On view through September 15th, 2012
Where: Corey Daniels Gallery, 2208 Post Road, Wells, Maine 04090
How: Official Website
What/Why: "Install 2 is an integration of 3 contemporary Maine artist's work with selections of objects and furniture from the gallery and Photographs by Sally Mann from a private collection."
————————–
SNAC Presents: Natural Selection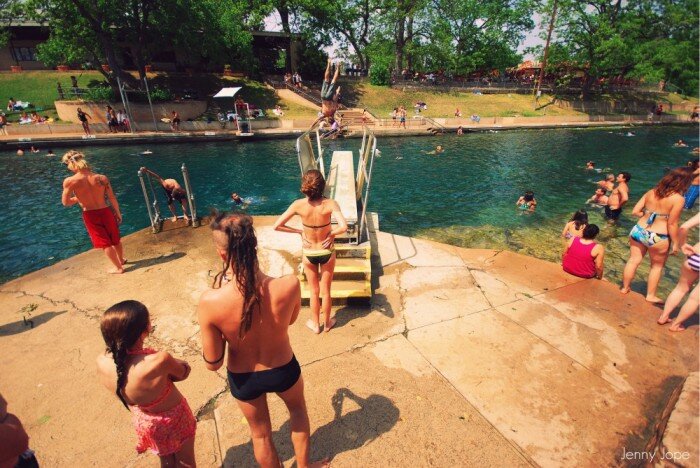 (Barton Creek, Jenny Jope)
When: On view September 5th through 16th, 2012
Opening Reception: Saturday September 8th, 2012 7-10PM
Where: Gallery X, 169 William St., New Bedford, MA
How: Official Website
What/Why: "Natural Selection is the gradual, non random process by which biological traits become either more or less common in a population as a function of differential reproduction of their bearers. It is a key mechanism of evolution."
————————–
One Bright Morning

(Wing of the World, prior work by Murray Dewart)
When: On view September 5th through October 7th, 2012
Opening Reception: Friday September 7th, 2012 5:30-8:30PM
Where: Boston Sculptors Gallery, 486 Harrison Ave., Boston, MA 02118
How: Official Website
What/Why: "Murray Dewart's exhibition One Bright Morning features sculptures both large and small, from the one ton magisterial works in granite and bronze to the miniature and the interactive. Hailed in the Boston Globe by Cate McQuaid for "their quiet majesty and spiritual gravity," these serene sculptures reflect the sculptor's quest for a universal language of form that borrows from Celtic, Mayan and Tibetan traditions. Dewart has put computer-aided technology to work with two steel wall pieces called Late Flower Alphabet and Celtic Knot. Included are walking sticks inscribed with prayers, a hanging bronze dinner bell, a piece in cast glass, a set of ceremonial bronze spoons, a pair of tiny brooches in silver and gold. Byzantium is a three foot high bronze with naturalistic details, birds and sea creatures that signal a lyrical meditation on the natural world.." There are bronze plaques and one that reads "Square the Heart to the Brightening Day.""
————————–
Off the Wall – 50 – 100 – 150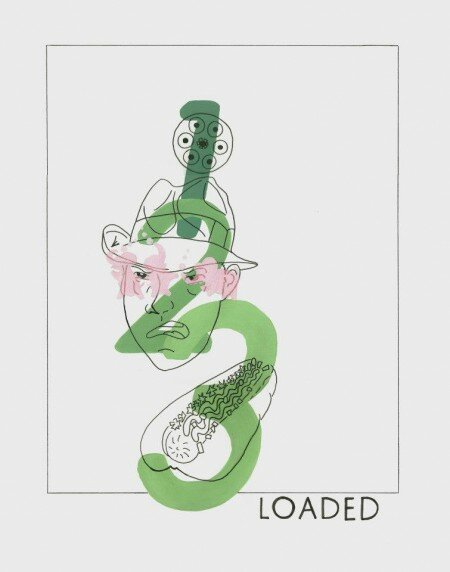 When: Sunday August 26th, 2012, 5:30-8:00PM
Where: Riverside Gallery, 5 Callender Street, Cambridge, MA.
How: Official Website
What/Why: "On Sunday August 26, the Riverside Gallery is hosting their annual 50-150-100 Pop Up Summer Show. The show features 50 pieces from local artists, each piece going for $100 for only 150 minutes. It's like speed dating for art. But not awkward. In addition to the possibility of finding the artwork of your dreams, there will be snacks and live music. Not too shabby for a Sunday evening!" Read more here.
————————–
We Love Dolls

(Queen of Salamanders)
When: On view though August 26th, 2012
Where: Andromeda Gallery, Building 119 Suite 320,119 Braintree Street, Boston, MA
How: Official Website
————————–
Where Have All the Dinosaurs Gone?

When: Saturday August 25th, 6-10PM
Where: 93 Sheridan Street, Jamaica Plain,  MA
How: Official Website
What/Why: "A Salon Exibition: a fashionable assemblage of peoples (esp. notable authors, artists, statesmen) held within an elegant apartment.
The debut art show for the FRESH ©OLLECTIVE
Introducing:Mike Haas, Pat Peltier, Nick Schlerf, Jak Ritger, Tyler Junker, Rachel Haas, Brad Willis, Sam Hayes, Ryan Faherty, Brian Leff, Mary Remington Guarionex Rodriguez Jr., Alizee De Pin, Shannon Wollack, Kyle carrier, Sara Cannon, Rob Walton, Dillon Buss…and more!
Enter through the Basement and experience 2D, 3D, 4D artwork in an altered residential gallery setting."
————————–
Highland Free Fun Fridays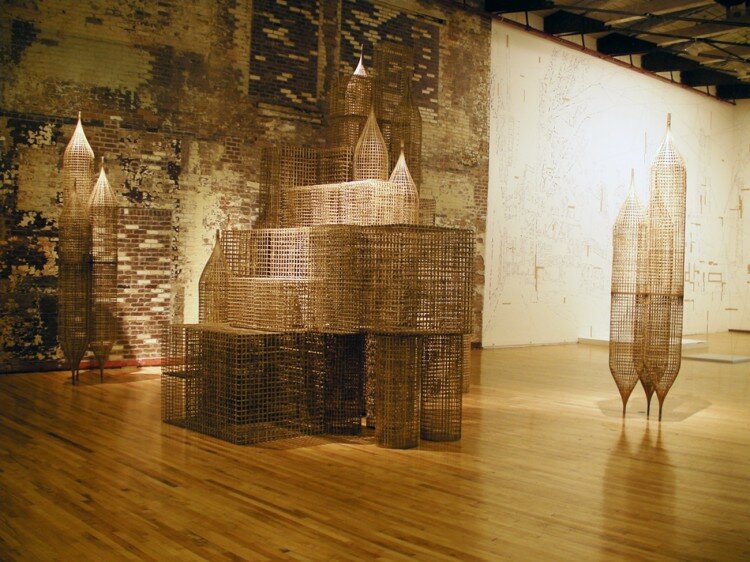 (Invisible Cities at Mass MoCA)
"Free fun fridays invites Massachusetts residents and tourists to visit designated cultural attractions every Friday this summer with free admission. No registration or tickets required. Visit and enjoy!"
Free attractions for August 24th, 2012
BOSTON HARBOR ISLAND ALLIANCE 
USS CONSTITUTION MUSEUM
AMERICAN TEXTILE HISTORY MUSEUM
OLD STURBRIDGE VILLAGE
BASKETBALL HALL OF FAME
Free attractions for August 31st, 2012
JFK LIBRARY & MUSEUM
PLIMOTH PLANTATION
THE DISCOVERY MUSEUMS
MASS MOCA
ECOTARIUM
————————–
Red Bull Cliff Diving

When: Saturday, August 25th from 4PM – 7PM
Where: ICA Boston, 100 Northern Avenue  Boston, MA 02210
How: Official Website
What/Why: "After four European destinations, the Red Bull Cliff Diving World Series—the most prominent competitive platform for the sport—makes its fifth stop in one of America's oldest cities, here at the Institute of Contemporary Art/Boston.
For the second consecutive year, the ICA hosts the only US stop in the 2012 World Series. During this spectacular event, the competitive divers will use a specially built platform on the cantilever roof of the ICA building on Fan Pier, which soars 80 feet above the water's edge.
The public can view the festivities free of charge. The best vantage points for viewing the competition are on the ICA Grandstand and outside the Water Café. Public areas along Fan Pier provide additional space for spectators.
With gallery admission, visitors are also invited to view the event in the fourth-floor John Hancock Founders Gallery."
————————–
History Repeating

When: On view though January 6th, 2012
Where: Museum of Fine Arts, Foster Gallery 158, 465 Huntington Avenue  Boston, MA 02115
How: Official Website
What/Why: "Ori Gersht is a conduit between the past and the present. With the latest digital technology, Gersht's work poetically revisits sources ranging from 19th-century romantic landscape painting to the Holocaust, which imbue his work with a compelling tension between beauty and violence, memory and history. In twenty-five works, including large-scale photographs and films dating from the late 1990s to today, Gersht examines the evolving relationship between cultural, political, and art histories. "
————————–
MFA Summer Fridays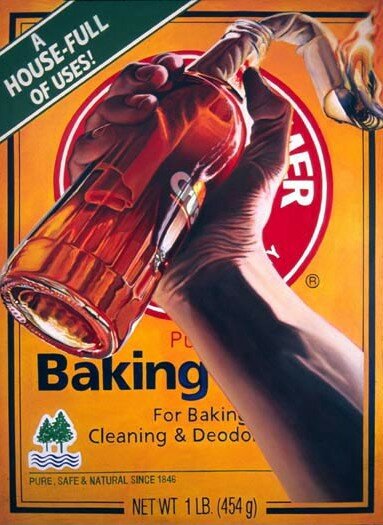 (Harm and Hammer, prior work by Jason Chase)
When: Friday August 24th, 2012 – 5:30-9:30PM
Where: Museum of Fine Arts, Calderwood Courtyard 465 Huntington Avenue  Boston, MA 02115
How: Official Website
What/Why: "Every Friday in July and August, join us in the Calderwood Courtyard (rain location Upper Rotunda) for live music and a cash bar featuring signature cocktails for visitors 21 and older."
—————————-
The Work of Julie Levesque

(Walking into the American Dream, Julie Levesque)
When: On view through September 6th, 2012
Opening Reception: Friday, August 24th, 7:00pm
Where: Rice Polak, 430 commercial street provincetown, ma 02657
How: Official Website
What/Why: "The Rice/Polak Gallery holds a prominent place in Provincetown, Massachusetts as one of the primary venues for contemporary art. Founded by Marla Rice and Richard Polak in 1992 the focus of the gallery is on the quality and context of artwork. Marla Rice assumed sole ownership of Rice/Polak in 2005. The gallery represents a select group of emerging and established artists whose work is both contemporary and contemplative. The gallery is not media specific and shows a wide cross-section of artistic approaches, including, paintings, works on paper, sculpture, photography and installations. "
Also on view..
Elli Crocker

(Orbit)
Edward del Rosario

(St Titus)
———————————————–
Kat Ely – Seeds and Spores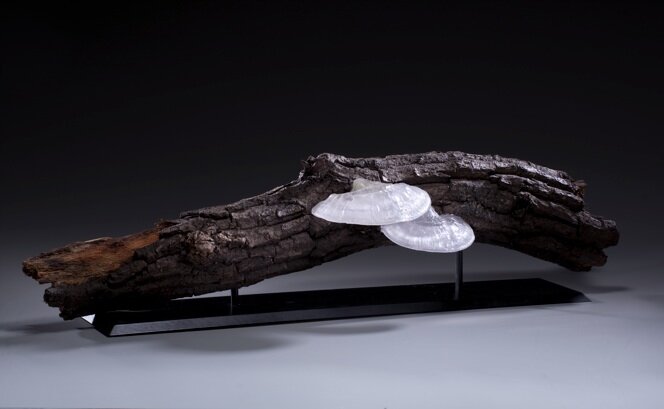 (Fungi on a log)
When: On view through September 2012
Where: McGladrey Art Gallery at Bentley University, Bentley Library 175 Forest Street, Waltham, MA
How: Official Website
What/Why: "I have my second solo show ever! Titled "Seeds and Spores" at The McGlardrey Art Gallery at Bentley University which is a beautiful little gallery in their library. It's a mix of work including a few older pieces with some new work. I hope you can make it!"
—————————-
Spontaneous Order

(Hanging Garden, Mary O'Malley)
When: On view through September 2012
Opening Reception: Thursday September 6th, 2012 | 6:00-8:00PM
Where: Studios at Porter Mill, 95 Rantoul Street, Beverly, Massachusetts 01915
How: Official Website
What/Why: "The Gallery at Porter Mill is pleased to present "Spontaneous Order", a two-person exhibition featuring the paintings of local artists Lynda Schlosberg and Mary O'Malley. Both Schlosberg and O'Malley maintain working studios at Porter Mill. Their work is linked both visually and conceptually and is bound by an exploration of color, mark making, labor-intensive processes, and a play with scale. On their own, these works are powerful and visceral, when paired together they create a dynamic visual and transcendent experience. Porter Mill artist and fashion designer Ashley Conchieri will have her designs on display in Porter Mill's alternative Three Pane Display Space for the month of September as well. 
Join us for the opening reception to meet the artist and enjoy refreshments and music! "
—————————-
Sitelines

When: Thursday September 6th, 6:00-8:00PM
Where: Wheaton College, 26 E. Main Street, Norton, Massachusetts 02766
How: Official Website
What/Why: "At last! My collage series: BELLINGRATH Gardens & Home will be on view locally. Created in 2008-2010 this series was a significant turning point in my work and contributes to so much of my decision making to date. I am very proud to show all 21 of these collages and am particularly excited to see them among other local artists who display a range of unique perspectives on the historical genre of landscape art.
Elizabeth Alexander • Ellen Driscoll • Kysa Johnson • Kyong Ae Kim • Elizabeth Mooney"-Elizabeth Alexander
—————————-
The Boston Arts Festival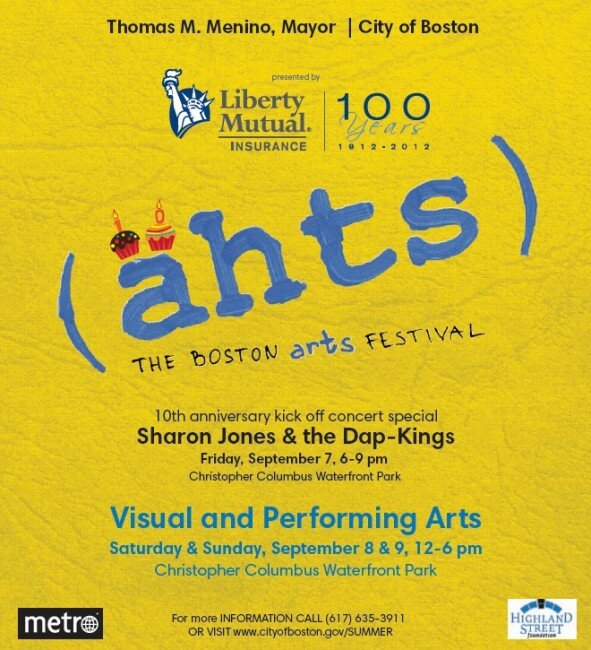 When: Friday September 7th, 2012 – Sunday September 9th, 2012
Where: Christopher Columbus Park, Boston, MA
How: Official Website
What/Why: "Help us celebrate the ähts in Boston- Come and join us for the 10th annual Boston Arts Festival at Christopher Columbus Park conveniently located on Boston's waterfront between Faneuil Hall Marketplace and Boston's historic North End." 
—————————-
Natural Process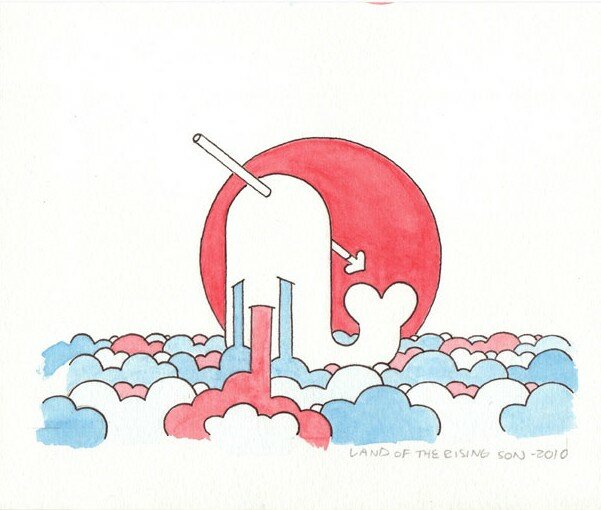 (Land of the Rising Son, Mr. NVR)
When: On view September 7th-September 28th, 2012
Opening Reception: Friday September 7th, 2012 7-11PM
Where: Lot F Gallery, 145 Pearl St #4 Boston, MA. 02110
How: Official Website 
What/Why: "Natural process showcases a range of recent works from artists Josh Falk and MRNVR at Lot F Gallery this September. A wide range from illustrative to sculptural pieces, there is a mix of individual and collaborative works. As Founding members of Project Super Friends (SF), Josh and MRNVR have inspired each other personally and professionally for more than a decade. Motivated by their mutual experiences in Boston's turn of the century graffiti culture, they produce artwork that references a shared history and common creative evolution."
——————————————
Q: Why are you sharing some exhibitions that aren't until September?
A:
Next week I am taking a much needed break and crossing the Atlantic with my family for ~2 weeks in Ireland(recommendations? Tell me!) and London. During which time I will also turn another year older and wiser, and Elsewhere installation will commence at the Distillery Gallery.
Because I am never one to fully detach from technology, you will most likely be able to find me here.
My family and I don't DO that whole travel thing. But I envision shared hotel rooms, group tours, and puttering around in Fiats for a prolonged period of time will result in a scene straight out of Beyond Thunderdome.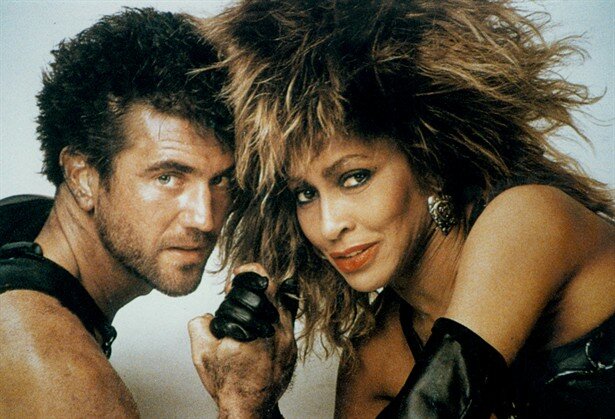 (oh, tina.)
Assuming I am the one man that leaves, my hope is to return to Boston bright eyed and bushy tailed just in time for the show.
Speaking of, have you RSVPed for Elsewhere on the Official Facebook event page? I hope so, because the artists are really going all out –this will be one for the books.
Have fun, stay sweet, and I'll be sure to bring you back a dated souvenir from my travels.

♥