China and S&P downgraded the US Credit Rating, The UK is rioting, I'm not sure if my 401k still exists, and increased solar activity is screwing with ions in the air making us all want to kill each other.
..
Culture of Looking x Misfits x Hidden Geometries x Desert of the Black Cross x Go for a Drive
—————————————————–
Paris Visone: Culture of Looking
(Brother 4 Sale)
When: On view through September 6th, 2011
Where: Suffolk University Art Gallery, 75 Arlington Street, Boston, MA
How: Official Website
What/Why: "Paris Visone combines portraiture and documentary work to create a compelling investigation of american popular culture through the example of her own life. She has committed her time and energy to a long term view of people and places she knows as well as anything in her life: the homes and members of her own family. But the editorial choices and almost decade long investigation of them is revelatory. The dedication to photographing almost every aspect and activity of her extended family has forced them to quit posing for her pictures and just do whatever they were doing. What is revealed in the the shifts between public and private and between those with subjects aware of the camera to many completely unaware give her work both unquestionable authenticity and a resonance with our country as a whole."
—————————————————–
Dr. Sketchy's Drawing Session and Benefit for Aliza's Brain Trust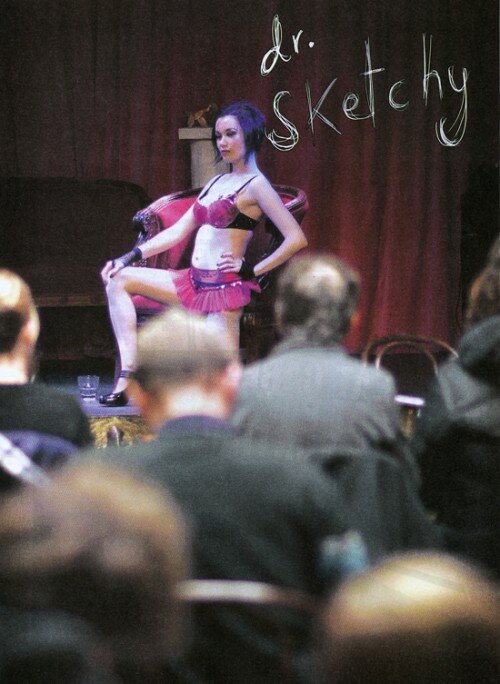 When: Sunday August 14th, 2011 2:30-5:30PM
Where: Great Scott, 1222 Commonwealth Ave, Boston, MA
How: Official Website
Cost: $8
What/Why: "Dr. Sketchy's Anti-Art School is back at Great Scott this month and for a great cause! Aliza Shapiro, the powerhouse behind Boston's Truth Serum Productions and the Director of Dr. Sketchy's Boston is currently in the ICU after a brain hemorrhage. This very special Dr. Sketchy's session will benefit Aliza's Brain Trust a fund set up by her friends and colleagues to help her get through this trying time.
Dr. Sketchy's is always a blast – no need to be a great artist – come to socialize, hang out, meet awesome people, and interact with the models."
—————————————
Human Powered Works
When: August 12th-August 28th, 2011
Opening Reception: Friday August 12th,  7:00-9:00PM
Where: Fourthwall Project, 132 Brookline Ave, Boston, MA
How: Official Website
What/Why: "This group show  features Interpretations of the human engine.    All manner of self powered transit form the content and medium interpreted by a wide survey of young artists from Boston, NY, and Philadelphia with affiliations ranging from vandalism, the MIT media Lab,  the Distillery,  Artists For Humanity,  SCUL(anarcho-bike gang)  and Paint Pens in Purses"
—————————————
The Paintings of Anne Leone

(Torso)
When: On view August 12th-September 25, 2011
Artist Reception: Saturday August 13th, 2011 5:00-7:00PM
Where: DeDee Shattuck Gallery, 1 Partners Lane, Westport, MA
How: Official Website
What/Why: "Water is a central character of Anne Leone's paintings, reflecting and refracting light while keeping swimmers afloat. Leone captures the ethereal moment in which swimmers, unbound from gravity, experience the co-mingling  of trepidation and pleasure.
Since 1993, Leone has explored this environment, in which crystalline light pierces murky depths. The Cenote Series is based on recent experiences in natural limestone pools in Quintana Roo, Mexico. Inconspicuous from above, the cenote is a portal to an aquatic cave system, vast and deep. The sunlight, streaming through water clear as air, has engendered a subtly expressive paint handling.   The muffled silence of being underwater is palpable, as we are permitted a slower, more meditative entry into each image."
—————————————————–
Joerg Dressler: Elevations // Catherine McCarthy: Husbands and Wives
(I'll Exquisite You, Buster, Catherine McCarthy)
When: August 12th-September 1st, 2011
Opening Reception: Friday August 12th, 2011 7:00-9:00PM
Where: Alden Gallery, 423 Commercial Street, Provincetown, MA 02657
How: Official Website
What/Why: "Dressler, painting with a palette knife and using found materials to transfer paint, creates landscapes that verge on abstraction. McCarthy's paintings delve into mid-20th-century consumer mentality and the politics of food."
—————————————————–
Andrew Wyeth, Christina's World and the Olson House

(Christina's World Study, Andrew Wyeth)
When: On view through October 30th, 2011
Where: Farnsworth Art Museum, 16 Museum Street, Rockland, Maine 04841
How: Official Website
What/Why: "Celebrating the twentieth anniversary of the Farnsworth's acquisition of the Olson House, named a National Historic Landmark by the Secretary of the Interior on July 1, 2011, this exhibition features approximately fifty watercolors and drawings depicting Alvaro and Christina Olson and the Cushing, Maine house in which they lived. The focus is on Alvaro's and Christina's lives at what has become known as the Olson House, seen through the eyes of Andrew Wyeth. The works wil not only include interior and exterior views of the house and the surrounding land, memorialized in Wyeth's iconic painting Christina's World (which hangs at the Museum of Modern Art and will not be a part of this exhibition,) but also twelve preparatory drawings and drafts of the famed work. All the works, with the exception of a select group from the Farnsworth, are from the collection of the Marunuma Art Park in Asaka, Japan. These works have rarely been seen in the United States."
—————————————————–
The Desert of the Black Cross: Aaron Colantti and Rob Kaiser Schatzlein

(The Desert of the Black Cross, pre-installation)
When: On view through August 14th, 2011
Where: 17 Cox Gallery, 17 Cox Court, Beverly MA 01915
How: Official Website
What/Why: "On the heels of their Above the Line show in a St Paul warehouse, Aaron Colantti and Rob Kaiser Schatzlein will walk across the state Wisconsin to the Milwaukee airport to fly out drive out for their 17 Cox residency this August.  Their journey will be documented by filmmaker Megan Schiller.
Colantti is a supra-media artist working in film, printmaking and installation.  A performance artist since his early teens, Colantti now directs several projects including Tall Glass of Milk, a incendiary nebula of rap videos, improv comedy and film expirements.
Kaiser-Schatzlein received his BFA in painting from University of Minnesota – Duluth.  With repetition to demonstrate the performative aspect of his drawings, K-S uses patterns indicative of everyday matter: steel plating, tire treads and coiled springs."
—————————————————–
Hidden Geometry

(Shanxi, Joanna Kao)
When: On view through August 31st, 2011
Where:Newton Free Library, Main Hall, 330 Homer St, Newton MA 02459
How: Official Website
What/Why: "Within every family, beyond a certain point, the characters remain mysterious and unknowable, a feeling that becomes even stronger when the generations are born into different cultures. So it was with me, born in the US of parents of Chinese origin. Because of this gap, I could not be the child that they wanted: I was more American than they could ever comprehend. In order to spare them further disappointment, I had to hide my true nature from them. So for the most part, I could not let myself confide in Mother or Father. I already had the burden of straddling two cultures, while feeling at home in neither one. Time and circumstance had to change to allow me to overcome these attitudes. A powerful catalyst in altering my views was the chance to accompany my parents back to their homeland when it first opened to the West. It's a good thing I had become an artist, furthermore, because that gave me tools to address my situation imaginatively.
The series of art pieces shown here, called Hidden Geometry, is the result of several years of work with this theme and retains the format of pages of a book. The sequence suggests a temporal order for what are scenes of family life. Ruskin pointed out in his conclusion to The Elements of Perspective that "Good painting, like nature's own work, is infinite and irreducible," and I could not wish for more from my art work."
—————————————————–
"Free fun fridays invites Massachusetts residents and tourists to visit designated cultural attractions every Friday this summer with free admission. No registration or tickets required. Visit and enjoy!"
Free attractions for August 12th, 2011:
When: On view through October 6th, 2011
Where: Inman Square Gallery, 186 Hampshire Street, Cambridge MA 02139
What/Why: "Located at 186 Hampshire St. in Cambridge, the Inman Square Gallery presents artists whose work has the ultimate impact of transforming consciousness. Contemporary painting, photography, sculpture, and multi-media installations are harmoniously integrated in a yoga studio environment for inspiration and conscious reflection. At The Inman Square Gallery, we support artists who reveal exceptional skill and compassion, and offer a rare gift for those who collect art with intellectual and spiritual depth.
We invite you to view oil, acrylic, encaustic and mixed media paintings by Boston-area artist, Patricia Busso. Busso works with a palette knife and oil or acrylics on wood or canvas to create colorful artwork that captures her reactions to the natural world. Her process is intuitive and often serendipitous. Busso's paintings are often multi-layered and hint at the process of their creation. Images often reveal themselves only to get lost again by the moving paint. "I am constantly framing compositions in my mind's eye. The majority of my work is 'figments of my imagination."
——————————-
You Hold it In Your Mind All the Time
(Michele Jaquis – It's Not You, It's Me//Sarah Rushford – Quickening)

When: On view through September 30th, 2011
Where: Fort Point Art Gallery , 12 Farnsworth Street, Boston, MA
How: Official Website
What/Why: " An exhibition of experimental work about physicality and perception. Artists: Michele Jaquis, Heidi Kayser, Jeremy J. Quinn, Sarah Rushford, Marguerite White, Tom Wojciechowski
The exhibition includes projected and monitor based video, sculpture, drawing and photography that takes an experimental, scientific, or analytic approach to the investigation of the mysterious nature of somatic knowledge. See and read more on our blog"
———————-
The Art Drive
When: August 13th-14th, 2011 10:00AM-5:00PM
Where: 30 studios in Dartmouth and Westport, MA
How: Official Website
What/Why: " The ART drive –Thirty Dartmouth and Westport, Mass. artists and artisans have teamed up for their fourth season open studio weekend–August 13 and 14 from 10 am to 5 pm.
Consisting of some of the area's premiere painters, ceramic artists, photographers, jewelers, woodworkers and others, the ART drive uniquely puts emphasis on a consistent and high level of professionalism and quality in some very unusual and dramatic studio settings.
Lovers of the arts will enjoy a great weekend escape while touring these historic Massachusetts Southcoast towns. With only 15 miles separating the thirty studios, visitors will enjoy a casual drive through this picturesque area with ample time for a picnic lunch or to dine at area restaurants. the ART drive artists will individually donate a percentage of their sales to The Lloyd Center for the Environment."
————————–
(Photo of Senator John F Kennedy and Jacqueline Sailing on 'Victura', currently on view at the JFK Library & Museum)