Ever wish you could be in several places at once?

This weekend you're going to want to pray for some serious mitosis.
Outside the box exhibitions, markets full of needs not wants, not to mention the largest one weekend open studio in the nation.
Let's wrap it up!
————————————————————————————
Somerville Open Studios
(Putto with Fish Fountain, Jeremy A.)
When: Saturday, April 30 and Sunday, May 1, 2011 from noon to 6 pm
Where: Event Map
How: Official Website
What/Why: "Albert Einstein once said, "Creativity is contagious. Pass it on."  On April 30 and May 1, that is exactly what the Somerville art community plans to do. It's a weekend of epic proportions where artists open their doors to the art-loving public. Breaking our own record this year with 391 participants, Somerville Open Studios has become the largest one weekend open studios event in the nation. From home studios to commercial buildings such as Joy Street, Central Street, Vernon Street, Mad Oyster, Brickbottom, Miller Street, and Mudflat Studios, this FREE citywide event showcases both the established and emerging artists working across a broad spectrum of fine art styles and craft – painting, sculpture, photography, fiber, jewelry, clay, glass and furniture – anything you might want to explore is here in the 'Ville. " (writeup via Wicked Local)
Check here and here for a look back on some of my FLUX. favorites from 2010!
————————————————————————————
SoWa Open Market (Opening Day!)
When: May 01, 2011 10:00AM-4:00PM
Where: SoWa Open Market, 460 Harrison Ave, Boston, MA
How: Official Website
What/Why: "Join us as we kick off our 8th season at the SoWa Open Market! This is our biggest season opener to date, featuring 140 indie designers, crafters, artists, musicians, farmers, food trucks and much more.
The market will be open every Sunday, May 1st through October 30th, 2011. Hours – 10AM-4PM."
————————————————————————————
MIT Museum Presents 5th Annual Cambridge Science Festival
(The Parabolic Mirror Has a Thousand Eyes, Berenice Abbott)

When: Saturday, April 30, 2011 10:00 am – 5:00 pm
Where: MIT Museum, 265 Massachusetts Avenue, Cambridge, MA 02139
How: Official Website
What/Why: "To kick off the first day of the Cambridge Science Festival the MIT Museum will open its doors for a free day.  The MIT Museum's Open House, MIT Museum Inside Out, will give visitors the chance to go behind the scenes at the Museum and enjoy a day of exciting activities.  Explore unique artifacts from MIT's history, as well as innovations in art, science and technology in Cambridge and beyond.  The free day will feature tours, hands-on activities for young people and a chance for visitors of all ages to see the Museum like never before.  Learn how artifacts are preserved from the registrar of the Museum, see table top demonstrations of DNA Legos, and check out the latest technology in robotics.  Plus, don't miss the popular MIT Museum Puzzle Hunt called Crack the Code.  Bring a team of 2-6 people and search the galleries for clues and see if you can crack the code.  Be prepared for a challenge, this hunt was written especially for MIT's 150th Anniversary by members of the National Puzzler's League."
————————————————————————————
Creative Juices "Outside the Box": A Visionary Art Show
When: April 29th, 2011 6-10PM
Where: FableVision studios, 308 Congress Street, 6th Floor, Boston, MA 02210
How: Official Website
What/Why: "FableVision Studio is filled with a variety of creative talents from animation, painting, and balloon art, to film, writing, and food art! Come celebrate the hidden and not-so-hidden talents of the eclectic team at FableVision."
————————————————————————————
Harvard Square MayFair

(MayFair chalk art)
When: May 1st, 2011 12pm-6pm
Where: Harvard Square, Cambridge, MA
How: Official Website
What/Why: "The 28th Annual MayFair in Harvard Square will provide an exquisite array of entertainment and dancing in the streets featuring six stages of live entertainment, a charity Hair-Cut-A-Thon, Chalk on the Walk; a Dance Stage; Roaming Railroad Train Rides; A Harvard Student Activities Festival, Hot Air Balloon Rides with donations to charity, three Beer Gardens; and over one hundred thousand happy people!"
————————————————————————————
West Medford Open Studios
When: Saturday and Sunday, April 30 + May 1, 2011 Noon – 5 p.m
Where: Event Map
How: Official Website
What/Why: "Each spring, West Medford Open Studios (WMOS) enlivens the neighborhood by inviting the public to view artists' work and encouraging a dialogue among the artists, curious neighbors, and the broader public. "
————————————————————————————
Independent Film Festival
When: April 27th-May 4th, 2011
Where: 2011 Film Listings
How: Official Website
What/Why: "If you had to find a common theme among the films in this year's Independent Film Festival of Boston (recently honored in the Phoenix Best of Boston Poll as the Best Film Festival), you might say that there are a number of deranged old coots who turn out to be possessed by genius, as in Last Days Here and Heaven + Earth + Joe Davis. Or maybe the dominant trend is stylistically bold black comedies about marginal people adrift: The Future, Bellflower, The Trip, Submarine, even Stake Land. Or maybe it's documentaries about urgent issues and desperate solutions, like If a Tree Falls and Better This World. But one thing you can say about them all is that they're better than just about anything else out there." (write up viaThe Phoenix)
Read reviews and watch trailers here.
————————————————————————————
Spirited Magazine presents Museum of Innocents Party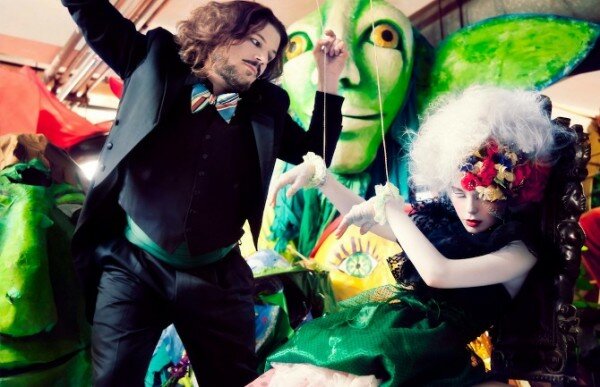 When: Sunday May 01, 2011 8:00PM
Where: Flat Iron at Bulfinch Hotel 107 Merrimac Street, Boston, MA
How: Official Website
What/Why: "Local art and fashion mag Spirited celebrates its third issue, "Museum of Innocents," with an interactive party at the Bullfinch Hotel. Guest can sip on drink specials while exploring the world through the eyes of designer/artist Amanda Antunes and her team of writers, photographers and dreamers. DJ duo Pajaritos provide the soundtrack." (writeup via TimeOut Boston)
Be sure to check out Spirited Magazine's first two issues here.
————————————————————————————

Redbull. 5 hour energy. Uppers. 60 lbs of cereal marshmallows. Whatever it takes.
This is a judgment free zone.
There are only so many hours in the day, but I believe in you. ♥