suspended woman x flotilla x fire on the beach x columbus day blues
————————-
Beyond the Wunderkammer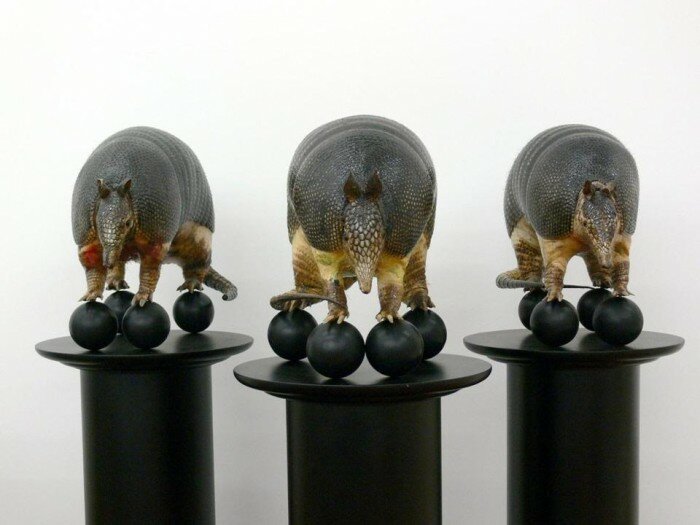 When: On view through October 30th, 2013
Where: Main Gallery , The Art Institute of Boston , 700 Beacon Street, Boston, MA
How: Official Website
What/Why: "The wunderkammer, or cabinet of curiosities, has a long history as a collection of objects arranged in categories imposed by the collector, sometimes comprised of specimens from natural history, other times works of art, and at others an assortment of fabricated objects created to fool or astonish.
The cabinet's origins lie in the 15th century Renaissance when scientists, scholars, monarchs, and aristocrats began to organize collections based on scholarship, status, and a love for the exotic and bizarre.
It has also been a rich resource and inspiration for artists from the time of Rembrandt to the present. This exhibition invites artists working in a variety of media to explore and interpret the idea of the wunderkammer with installation, sculpture, photographs, collage, video, and text."
—————-
Multinatural Histories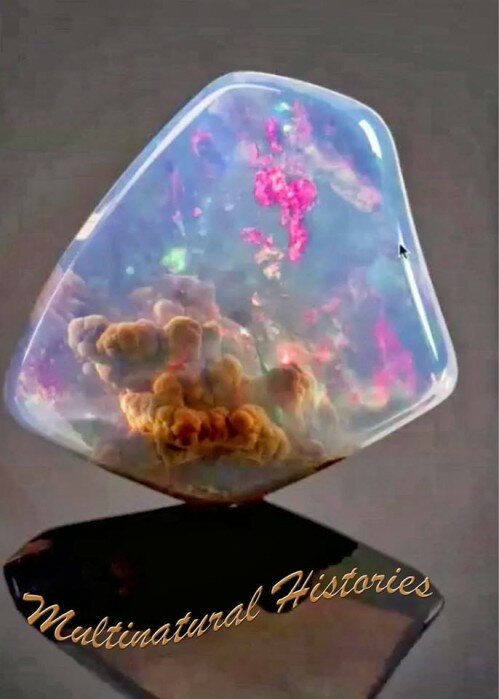 When: October 12th 2013 7-9:30PM
Where: Harvard Museum of Natural History, 26 Oxford Street, Cambridge, Massachusetts 02138
How: Official Website
What/Why:  "One Night Event at the Harvard Museum of Natural History. Featuring work by:
Carrick Bell (USA)
Victor Costales & Julia Rometti (Fr)
Andreas Ervik (No)
Kassel Jaeger (Fr)
Jennifer Guillen and Elisa Rios (USA)
Joey Holder (UK)
Maria Molteni (USA)
Sergio Racanati (It)
GSD Projections (USA)"
—————-
RISD Fall Alumni and Student Art Sale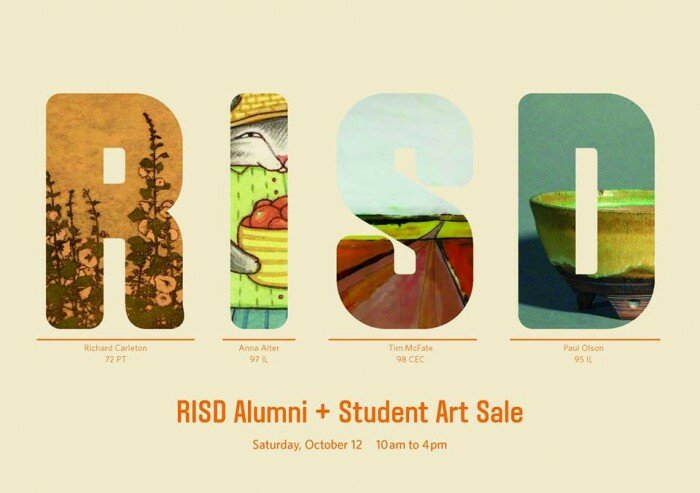 When: Saturday October 12th, 10:00am-4:00PM
Where: Benefit Street, Providence RI
How: Official Website
What/Why: "On Benefit Street, between Waterman and George Streets. Come celebrate our 25th year of Alumni Art Sales!"
—————-
lucy Light Forest
When: On view through October 13th, 2013
Where: Along the esplanade, Boston, MA
How: Official Website
What/Why: "We love to move. We love the way it makes us feel when everything just clicks. It's that amazing thing that gets us up each day – that thing we chase after. 10,000 lights will dance across the Boston skyline inspired by that feeling…"
—————-
REFRAMED: History, Memory, Place

(Suspended Woman, Beth Dacey)
When: On view through October 19th, 2013
Where: Brickbottom Gallery, 1 Fitchburg Street, Somerville, MA 02143
How: Official Website
What/Why: "REFRAMED: History, Memory, Place explores how images of people and places inform and inspire both the real and invented past. The show examines how photography, painting, and mixed media use photographic images as source material to evoke personal associations from collective perceptions of time and place. Since the invention of photography, traditional methods of painting have been forever altered. Acceptance of cross-media exchange has developed and each medium embraces the possibilities of and collaboration with the other. "
—————-
Scott Prior
(Fire on the Beach)
When: On view through
Where: Alpha Gallery, 37 Newbury Street, Boston, MA 02116
How: Official Website
—————-
Non Fiction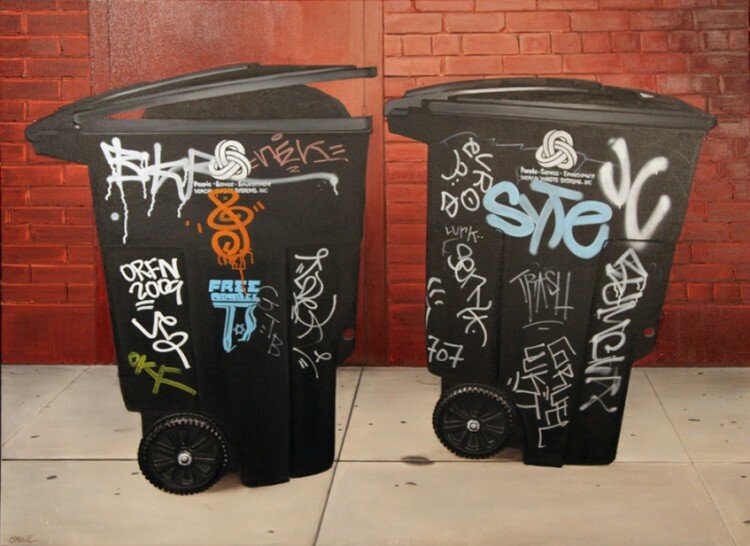 When: On view through November 1st, 2013
Opening Reception: Friday October 11th, 2013 7:00-11:00PM
Where: Lot F Gallery, 145 Pearl Street, Boston, Massachusetts 02110
How: Official Website
What/Why: "Lot F Gallery is pleased to announce Jamie O'Neill's solo show opening Friday October 11th, 2013. Known for his photo realistic paintings, he uses oil, aerosol and other paints to build pieces rich with color that have a 3-dimmensional quality. Non Fiction will be Jamie's second solo show at Lot F Gallery, proceeding his highly successful "Tunnel Vision" in July 2012. 
"Be the locale on its last legs, or it just retains the lingering presence of disrepair, I have always been interested in recording the gradual decay of a place that has accumulated years of human inhabitance. I introduce my graffiti into the paintings as a way of claiming that image as my own moment in that place. Drawing on past experiences, I paint subjects I have an intimate relationship with, having personally experienced these perspectives and contexts. In my city space series, I usually don't paint figures into the landscape as a way to simultaneously isolate and engage the viewer. 
I wanted to capture that sense of abandonment in a busy location that has closed up shop for the night, while also drawing on the viewer feeling they are in a way the subject of the painting; the stage is set for them. In my train series I enjoy the play of old freight train logos and graffiti pieces on canvas, along with the variety of textures found on a well used piece of metal. My deep knowledge of the subject and acute attention to detail bring these paintings to life, evoking a sense of hyper reality. 
Raised on Nantucket and the South Shore, Jamie O'Neill moved to Jamaica Plain in 1998. Spending the next ten years there, he earned his BFA from the Art Institute of Boston, and has shown at various locations around the city. After leaving Boston in 2008 he lived in San Francisco and then Brooklyn. Jamie now resides in Gloucester's Rocky Neck Art Colony with his wife and son."
—————-
Dell M. Hamilton- C. D. B. (Columbus Day Blues)

When: Monday, October 14, 2013, 11am-1pm
Where: Museum of Fine Arts, 465 Huntington Ave, Boston, MA 02115, Boston, MA
How: Official Website
What/Why:  "Hamilton presents a new work, C. D. B. (Columbus Day Blues), 2013, at the Museum of Fine Arts this Monday. The performance confronts preconceived notions of American patriotism, modernity, and history, engaging the civic sphere of the MFA's Fall Open House "Free Day". Several galleries in the contemporary art wing become sites for negotiating identity, belonging, and the creation of inclusive spaces, while investigating the unique role that museums play in the construction of both national and global cultures."
—————-
S01E01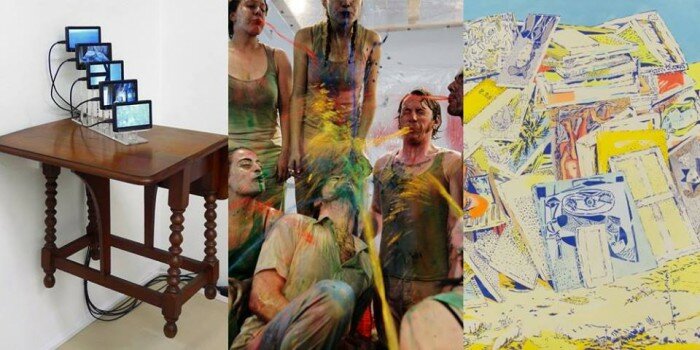 When: Saturday October 12th, 2013 6-8PM
Where: kijidome, 59 Wareham Street, Boston, MA
How: Official Website
What/Why: "S01E01, a reference to pilot episodes of TV shows (Season 1 Episode 1), is kijidome's first curatorial collaboration to launch its founding and to set a spirited, open-ended stage for its upcoming events. The three artists in this exhibition—Dennis Congdon, Oliver Herring and Elizabeth Riley—thrive on practices based on regeneration by incorporating or referencing their previous works. By engaging in a self-reflective and transformative process, the objects and videos by these artists reveal the particularities of their decisions within the fluid narrative of their practice, punctuating their ongoing play with visually stunning, idiosyncratic forms.
Dennis Congdon's paintings depict forsaken ruins of his own paintings as well as those of his influences amidst other cultural detritus. Beginning with drawings made directly on the canvas from handmade stencils, Congdon builds his work in an intuitive manner that freely references images from the history of art as well as from his own studio.
Oliver Herring's photographs and videos are generated from his interactive performance series Areas for Action. The remnants and objects created by Herring and his participants are often reused throughout the performance as they are being documented. The photographs and videos embody the transitory state between object, image and action, all in the midst of an improvisational process.
Elizabeth Riley's recent work is rooted in the moving image. Some videos exist as stand-alone, single channel pieces, while in others she incorporates them into colorful sculptural installations populated with monitors and printed stills of those videos. Riley's work follows in the tradition of film's historical and robust avant-garde, all the while being insistent on a visceral, sculptural format."
—————-
2013 deCordova Biennial

(Flotilla, Ethan Murrow)
When: On view through April 13th, 2014
Where: deCordova Sculpture Park and Museum, 51 Sandy Pond Road, Lincoln, MA
How: Official Website
What/Why: "The 2013 deCordova Biennial is a survey exhibition focused on art-making in New England today. Showcasing sculptors and painters alongside filmmakers and installation artists whose practices traverse a wide range of subject matter, the Biennial fills four floors of the Museum and extends into the Sculpture Park. Twenty-one artists and collaborative teams from all six northeastern states–CT, MA, ME, NH, RI, and VT–present signature and new works as well as site-specific commissions. These artworks variously invite visitors to consider how history is written, the nature of perception, abstraction today, and the current state of biennial participation. Ultimately, the Biennial aims to demonstrate the active, ambitious art scene that exists across New England today."
—————-
Pedigree (Final Weekend)☹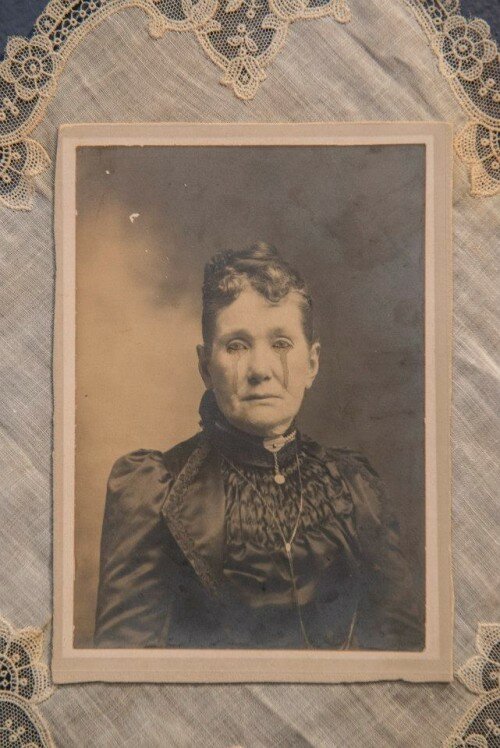 (The Widows(detail), Caleb Cole)
When: On view through October 14th, 2013
Where: New Art Center, 61 Washington Park, Newtonville, MA
How: Official Website
What/Why: "Prescient and nostalgic, spectacle and critical, Pedigree blurs the lines between craft and fine art, questions art historical and social hierarchies and re-conceives the work of the Masters."
The Boston Globe was OK with it.
————————
Chris Marker: Guillaume-en-Égypte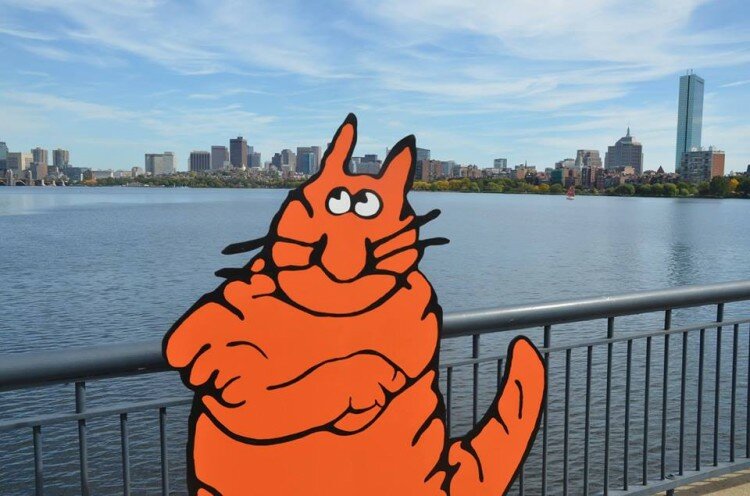 When: Thursday October 17th, 5:30PM
Where: MIT List Visual Arts Center, 20 Ames Street Building E15, Atrium Level, Cambridge, MA
How: Official Website
What/Why: "The MIT List Visual Arts Center presents Chris Marker: Guillaume-en-Égypte, a survey exhibition of the work of renowned filmmaker and artist Chris Marker (1921-2012). The exhibition is presented concurrently at the MIT List Visual Arts Center (October 18, 2013-January 5, 2014) and the Carpenter Center for the Visual Arts at Harvard University (October 18, 2013-December 22, 2013), and is accompanied by a retrospective at the Harvard Film Archive (October 17-December 9, 2013). 
With an unparalleled and uncompromising career that spanned nearly six decades, Chris Marker (1921-2012) stands as a unique chronicler of the second half of the 20th century. A writer, editor, photographer, filmmaker, and multimedia artist, Marker was born Christian François Bouche-Villeneuve in Neiully-sur-Seine, France, in 1921. Throughout his multifaceted life—from fighting with the French resistance to becoming an early adopter of digital technologies—Marker employed a variety of media in his investigation of the relationship between images, memory, and history. While perhaps best known for his radical 1962 sci-fi film La jetée, Marker worked as a writer and editor before turning to photography and film in the 1950s, and then to video and new media in later decades, producing over fifty films and multimedia works before his death in Paris in 2012. Chris Marker: Guillaume-en-Égypte, presents the first comprehensive exhibition of the renowned filmmaker and artist, surveying his pioneering work in writing, photography, film, video, and digital media.
The opening reception Thursday, October 17 will begin at the MIT List Visual Arts Center from 5:30-7:30 pm, with a film screening/talk at 6:00 pm by exhibition curator João Ribas. The reception for the exhibition will continue at the Carpenter Center from 6:30-8:00 pm, with a screening of La Jetée at 7:30 pm, introduced by Haden Guest, director of the Harvard Film Archive and curator João Ribas.
FREE and open to the general public. All are welcome."
—————-
Exhibition Opening: Brigid Watson, Materia Prima 

When: Saturday October 12th, 3pm-6pm
Where: HallSpace, 950 Dorchester Avenue, Boston, Ma
How: Official Website
—————-
Say hi:
EMAIL | TWITTER | FACEBOOK | INSTAGRAM | PINTEREST
This is what my dreams look like:
Go see art and enjoy the three day weekend! ♥