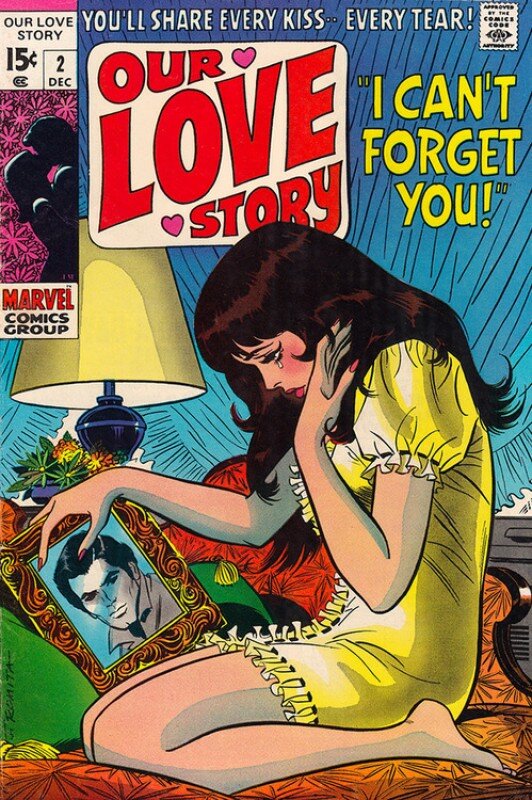 recollections x the refusal of time x fragments x black and bloom 
—————————-
BRINK v 1

When: On view through April 13, 2014
Opening Reception: Thursday February 13th, 6:00-8:00PM
Where: Mills Gallery, 551 Tremont St, Boston, MA 02116
How: Official Website
What/Why:"BRINK v1 is the first in a series of exhibitions dedicated to emerging art in the Northeast and organized around a theme or subject determined by the invited exhibition curator. In BRINK v1, curator Lexi Lee Sullivan brings together four artists and one artists' collaborative to explore ideas of itinerancy in contemporary photographic practices. Featured artists are Cole Caswell, Nelson Chan, Georgie Friedman, Houseboat Press and Scott Patrick Wiener.
In Cole Caswell's western expanses, Nelson Chan's familial portraits, Georgie Friedman's aerial abstractions, Houseboat Press's travelogues and Scott Patrick Wiener's mediated landscapes, travel is used as both process and subject. These photographers build on the rich artistic lineages of travel, documentary and street photography, and show the influence of inspired peripatetics from Walt Whitman to the Beat poets, in prints that seem similarly unrooted."
————————-
Black & Bloom
Still Lifes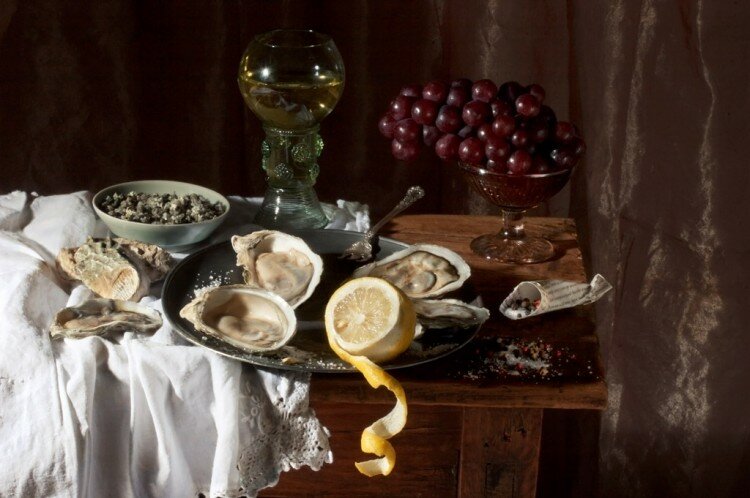 When: On view through March 29, 2014
Where: 38 Newbury St #402, Boston, MA 02116
How: Official Website
What/Why: "Paulette Tavormina lives and works in New York City. Amidst the bustle that defines the city, she can often be found at one of its many farmers markets searching for the perfectly imperfect flora that characterize her photographs. Her arrangements often recall the sumptuous detail of seventeenth century Old Master still life painters and serve as intensely personal interpretations of timeless, universal stories. With a painterly perspective reminiscent of Francisco de Zurbaran, Adriaen Coorte and Giovanna Garzoni, Tavormina creates worldly still lifes."
Part II..
Botanicals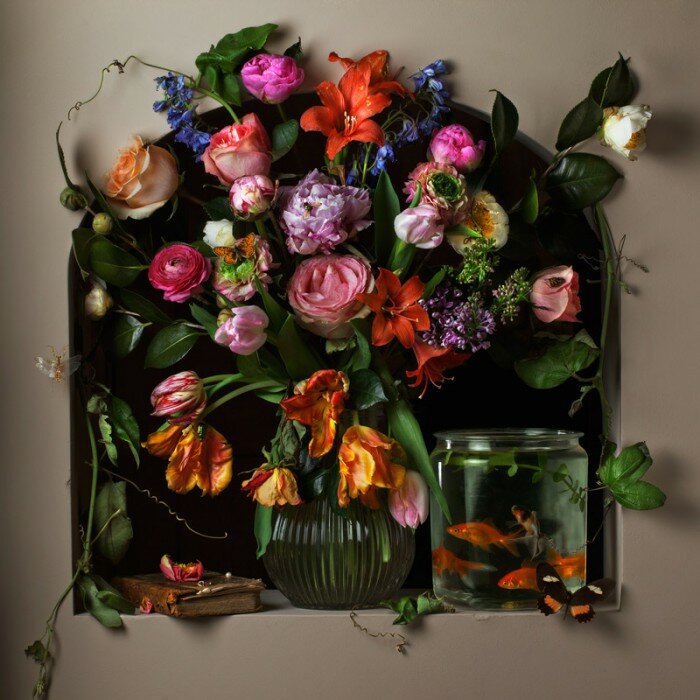 Where: Ars Libri, 500 Harrison Ave, Boston, MA 02118
————————-
Wicked Winter

(Left Ring Finger, Kevin Van Aelst)
When: On view through March 12, 2014
Where: Panopticon Gallery, 502c Commonwealth Ave, Boston, MA 02215
How: Official Website
What/Why: "Panopticon Gallery invites you to our Wicked Winter exhibition, on display from January 18 – March 12th, 2014. This exhibition featured the works of Kevin Van Aelst, Larry Pratt, Gustav Hoiland, Jeffrey Keough, Roger Farrington, and others to be announced.
On a side note, we will also have a small section of the gallery honoring The Beatles, as this February marks the 50th Anniversary of the Fab Four coming to America. There will be a few images in the show by Rowland Scherman who photographed the first Beatles concert, and an iconic image of The Beatles by Harry Benson."
————————-
Chris Burden: The Master Builder

When: On view through June 08, 2014
Opening Reception: Thursday February 13, 2014 5:00-8:00PM  Friday February 14, noon-5:00PM
Where: The Rose Art Museum, 415 South Street, Waltham, MA 02453
How: Official Website
What/Why: "In this exhibition, the Rose Art Museum presents a near comprehensive account of Burden's small-scale erector set bridges. Modeled from bridges imagined and actual, Burden's erector sculptures extend the artist's work as a social engineer, demonstrating his dual commitment to empiric and symbolic inquiry. "
Also on view..
Mika Rottenberg: Bowls Balls Souls Holes

What/Why: "Featuring recent important work by the video installation artist Mika Rottenberg, this exhibition provides a comprehensive account of the artist's conceptual interests and material sensibilities—both sculptural and moving image—as they have grown over the course of career."
Also on view…
ROSE PROJECTS 01A | THE MATTER THAT SURROUNDS US: WOLS AND CHARLINE VON HEYL
ROSE VIDEO 02 | MARK BOULOS AND JOSEPHINE MECKSEPER
ROSE VIDEO 03 | MARIA LASSNIG AND MARY REID KELLEY
COLLECTION IN FOCUS: THE THRESHOLD OF RECOGNITION
————————-
Nick Cave

When: On view through May 4, 2014
Where: ICA Boston, 100 Northern Ave, Boston, MA 02210
How: Official Website
What/Why: "Nick Cave first gained widespread recognition for his "Soundsuits": full-body outfits crafted from discarded objects found in antique shops and flea markets. Part sculpture, part costume, the complex, kaleidoscopically colorful works of art can be displayed as objects, and also often feature in solo and group movement performances. They are the kind of artistic hybrids that could only be created by an artist such as Cave, who trained as a dancer through the Alvin Ailey American Dance Theater and now directs the fashion graduate program at the School of the Art Institute of Chicago.
Although the suits appear vibrant and joyful, crafted from materials such as buttons, beads, and bright synthetic fur, their origin is more sober. Cave created his first Soundsuit after the Rodney King beating in 1992. "I built this sort of suit of armor, and by putting it on, I realized that I could a make a sound from moving in it," Cave told The Washington Post. "It made me think of ideas around protest, and how we should be a voice and speak louder."
More recently, the Chicago-based artist has applied his signature assemblage techniques to freestanding sculptures bursting with ceramic flowers and birds, beads, and other cast-off oddities—even furniture and life-size dog figurines. Cave recognizes similarities between these figurines, which he "rescues" from flea markets and antique shops, and dogs rescued from animal shelters. The exhibition will present a selection of these new creations, as well as several new Soundsuits and large bas-relief sculptures that Cave calls "paintings." 
William Kentridge: The Refusal of Time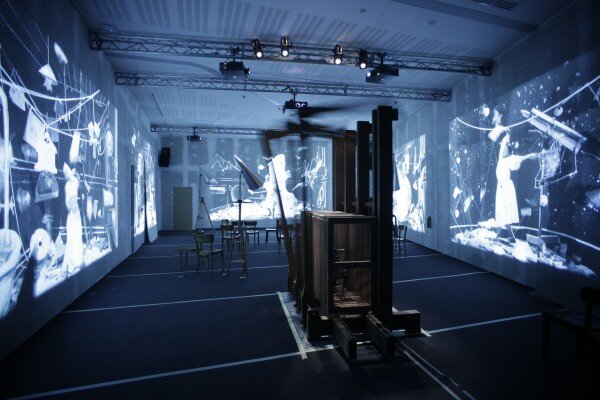 What/Why: "South African artist William Kentridge's recent installations have skillfully integrated moving image, sound, theater and sculptural elements in order to explore themes of science, globalization, colonialism, and memory.
The 30-minute, five-channel video installation The Refusal of Time, which features live action, song, and the innovative animation for which Kentridge is known, came out of years of discussion and collaboration between Kentridge and Peter Galison, professor of History of Science at Harvard University, about different historical conceptions of time.
Viewers of the work are met by a "breathing machine," called an elephant, and a platoon of projected metronomes, each asserting its own inescapable tempo. The elephant is a reference to Dickens's Hard Times, in which machines move "like an elephant in a state of melancholy madness."
Kentridge and Galison outline a history of our changing comprehension of time, from an early celestial understanding to Newton's absolute or mathematically precise time, to the subjective influence of Einstein and his theory of relativity. Contrasting the version of time once performed by a town jeweler, who used the sun and his best instruments to fix the correct time on a village clock, with Britain's imposition of a universal time throughout its empire, Galison writes that time shifted from the realm of "metaphysics to coordinated signals."
The "refusal" in the work's title is both personal and political: "Everybody knows that we are going to die," writes Kentridge, "but the resistance to that pressure coming towards us is at the heart of the project. At the individual level, it was about resisting; not resisting mortality in the hope of trying to escape it, but trying to escape the pressure that it puts on us." Politically, "the refusal was a refusal of the European sense of order imposed by time zones; not only literally, but this refusal also referred metaphorically to other forms of control as well."
In The Refusal of Time, the pair wanted neither to use "science as backdrop" for art nor to employ "art as illustration" of science. Rather, they wanted "something more elusive: an intensification of our encounter with time."
————————-
SMFA Faculty Exhibition
(Mary Ellen Strom)
When: On view through March 15, 2014
Where: SMFA, Barbara and Steven Grossman Gallery,
How: Official Website
What/Why: "The School of the Museum of Fine Arts' (SMFA) diverse faculty inspires and motivates students through open dialogue, individual teaching philosophies, and personal experiences. February 6–March 15, 2014, SMFA is pleased to present the "SMFA Faculty Exhibition" celebrating 22 faculty members who have recently taken sabbaticals, featuring a range of works and disciplines, including video, painting, performance, printmaking, photography, and graphic arts"
————————-
Masako Kamiya: Liminal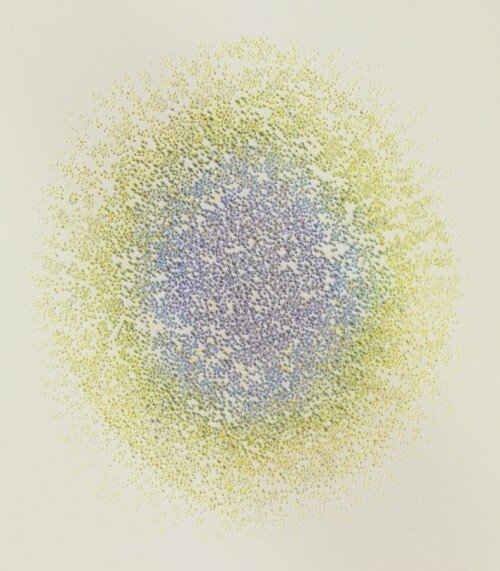 (Recollections)
When: On view through March 16, 2014
Opening Reception: Tuesday, February 18, 2014, 5-7pm
Where: Carol Schlosberg Alumni Gallery, 23 Essex St. Beverly, MA 01915
How: Official Website
What/Why: "Masako Kamiya paints dots; precise, intentional and deliberate dots. To say this means not to naively reduce Kamiya's work to the singular simplicity of the dot. On the contrary, her repetitive and delicate mark making activates a complex dialogue between Kamiya and the surface of her work. The dot is her poetic language. With each application, Kamiya translates emotion and dimension to the viewer. "Mark making is important," says Kamiya, "dots not only make individual marks, but also make a shape that is clear and simple."
————————-
Suara Welitoff: Sometimes Time Trembles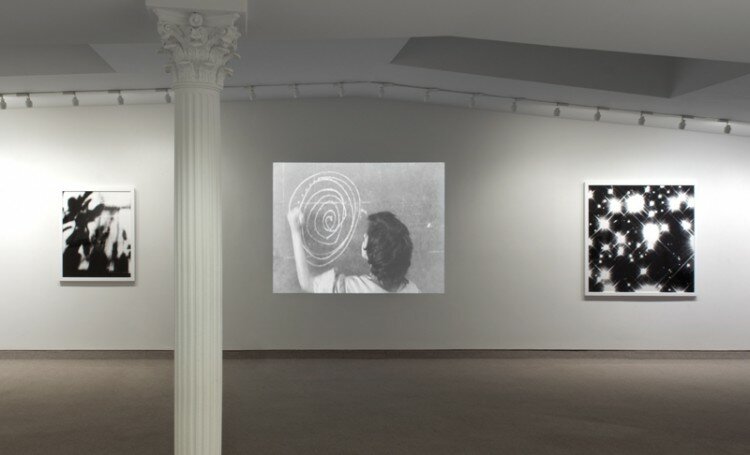 When: On view through March 15, 2014
Where: Barbara Krakow Gallery, 10 Newbury Street, Boston, Massachusetts 02116
How: Official Website
Also on view..
George Segal: Fragments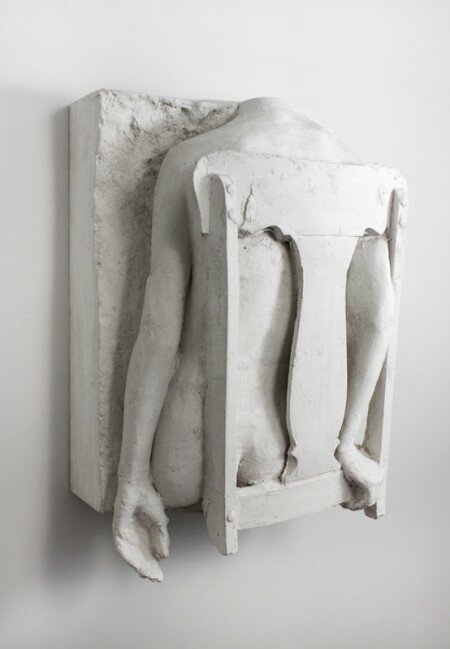 (Girl in Chair: Dangling Left Arm)
Also on view..
Kara Walker: Pastoral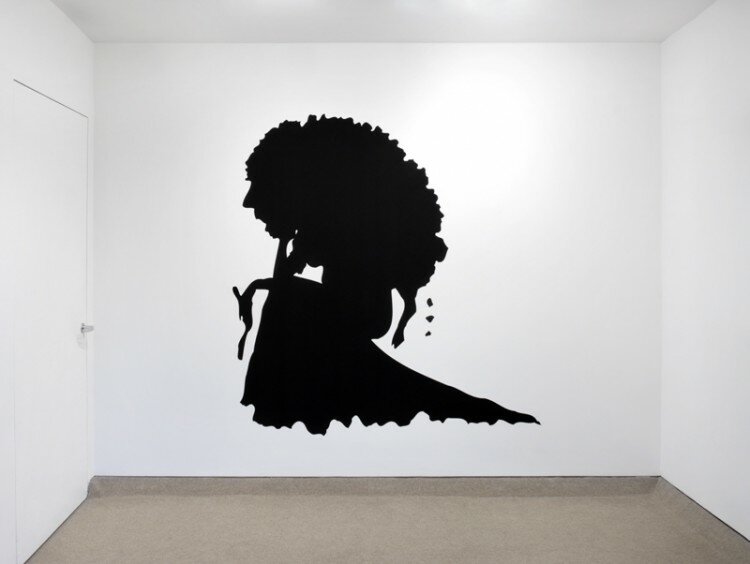 ————————-
Tanya Mars: Rare Parity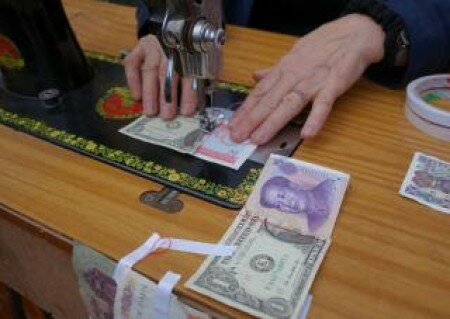 When: Friday February 14, 2014 7:00PM
Where: mobius, 55 Norfolk Street, Cambridge, MA 02139
How: Official Website
What/Why: "Rare Parity is a durational, task-oriented performance that uses foreign currency as its primary material. Over the course of several hours the money is washed, dried, repainted and reconfigured.The work takes a look at our (willing/unwilling) complicity in the economic fabric of our communities and our inextricable links to each other. Recent global economic uncertainty demonstrates how vulnerable we are to the policies and decisions of others and how fragile economies affect our lives."
————————-
Love Shack
(Lauren Leone, Give Me A Break)
When: On view through March 01, 2014
Opening Reception: Friday, February 14, 6:00 pm-8:00 pm
Where: Nave Gallery Annex, 53 Chester St.
Somerville, MA 02143
How: Official Website
What/Why: "Sex and love and romance. Red roses, chocolates and ballads. Monogamy, trust and broken hearts.
Love Shack features artists exploring themes related specifically to Valentine's Day and/or more broadly, to this thing we call love."
————————-
ACCUMULATION (phase 2): Shannon Cochrane & Márcio Carvalho
(prior performance)
When: On view through March 30, 2014
Where: 808 Gallery, Boston University, 808 Commonwealth Avenue Boston, MA 02215
How: Official Website
What/Why:  "Featured Artists and Schedule:
January 29: Sandrine Schaefer 12pm-8pm
February 5: Philip Fryer
February 12: Kelly Hunter & Dan DeRosato
February 19: Shannon Cochrane & Márcio Carvalho
February 26: Shannon Cochrane & Márcio Carvalho
March 5: Mehdi-Georges Lahlou
March 19: Jeffery Byrd
March 26: Creighton Baxter
Wednesday March 26th- Artist Talk with Sandrine Schaefer will follow final performance
ACCUMULATION (phase 2) provides an environment to witness the evolution of a space activated by accumulated creative actions. Over the duration of this exhibition, participating artists are given 1 day to create a live-art piece. All evidence from their actions are left behind, challenging the following artists to incorporate these remnants into their own work. Any materials that come into the space must remain until the exhibition closes.
ACCUMULATION (2005-present) is intended to happen in phases. Each phase includes a different grouping of artists in a different space. ACCUMULATION (phase 2) challenges ideas about artist collaboration, and simultaneously creates an innovative exhibition of experiential art documentation."
————————-
Best of the Best- Ship Model Show
When: On view through March 19, 2014
Where: USS Constitution Museum, Charlestown Navy Yard, Building 22, Charlestown, MA 02129
How: Official Website
What/Why: "Members of the USS Constitution Model Shipwright Guild display the finest of their craft at the USS Constitution Museum this winter in Best of the Best. With over 100 handcrafted models of all sizes, types, and materials, come explore the prize-winning models of the past decade.
If you have ever wondered, "How do they get that ship in a bottle?" or "How long does it take to build a model ship?" – Volunteers from the USS Constitution Model Shipwright Guild will be on hand to answer your questions and demonstrate the technique, time, and skill required to build a mini masterpiece.  A panel of Guild members judge qualifying entries on scale, detail and artistic excellence to award the top craftsmen in respective categories."
————————-
Allison Schulnik / MATRIX 168
When: On view through May 4, 2014
Where: Wadsworth Athenaeum, 600 Main St, Hartford, CT 06103
How: Official Website
What/Why: "MATRIX 168 features work by artist Allison Schulnik, centering on the museum premiere of the artist's Eager (2014), a new stop-motion, clay animation video. Also shown is Mound(2011)," which Schulnik describes as, "a celebration of the moving painting," and whichThe New York Times says, "demonstrates the thrill of old-fashioned animation."
Schulnik's clay animation videos feature lonely marginalized characters and obscure musical pieces, and have earned her wide acclaim, most recently by Artforum magazine. Accompanying Schulnik's videos, the adjacent gallery features a fantastical installation of 14 paintings and a motley cast of sculptures on mismatched pedestals—which directly connect to her videos through subject matter, color palette, and heavy impasto effects. The tactile nature of Schulnik's paintings creates a motion-like sensibility that affords them unparalleled depth and energy. Says the artist:
"I draw from dance, movies, music, cartoons, once-loved discarded relics, long-loved junk classics, myself and loved ones, strangers and stars, fools and sages. I like to meld earthly fact, blatant fiction and a love for raw material and the hand-made to form a stage of tragedy, farce, and ominous, crude beauty."
————————-
Say hi:
EMAIL | TWITTER | FACEBOOK | INSTAGRAM | PINTEREST
Can't we just pretend it's Friday?
I'm escaping to Western Mass for the next few days, but just know I'm mentally sending each of you e-Russell Stover®s (vanilla buttercream only) tomorrow.
♥