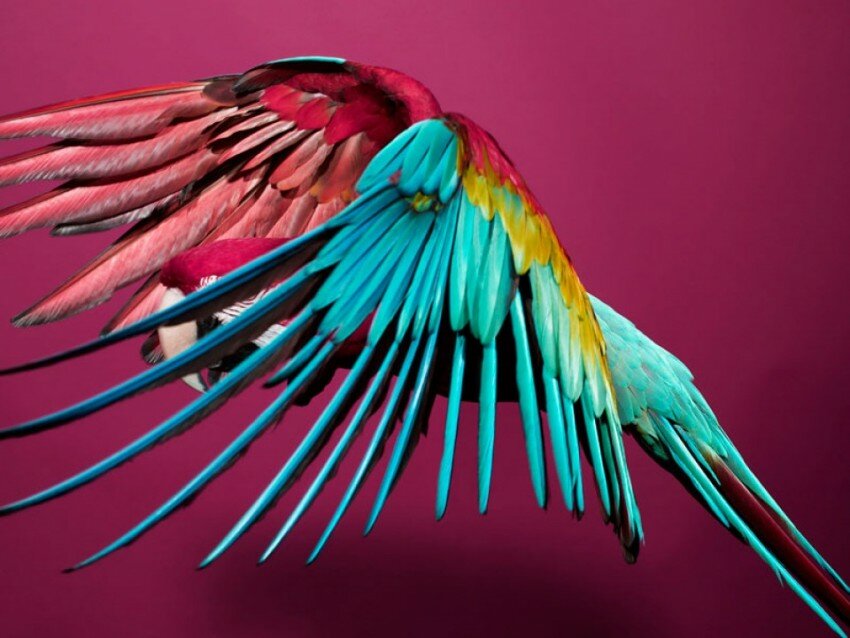 terrain of the mind x de naturae x interim x journey 
——————————–
ZONA México Arte Contemporáneo

When: On view through February 09, 2014
Where: Samsøn Projects, 450 Harrison Avenue, Boston, MA 02118
How: Official Website
What/Why: "CARLOS JIMÉNEZ CAHUA
VICTORIA FU
JEFFREY GIBSON
TODD GRAY
IVA GUEORGUIEVA
TODD PAVLISKO
RICHARD PRINCE
BETTY TOMPKINS"
—————————
Christian Haub

When: On view through March 11, 2014
Opening Reception: Friday February 07, 6:00-8:00PM
Where: Miller Yezerski Gallery, 460 Harrison Avenue, Boston, MA 02118
How: Official Website
What/Why: "We are pleased to announce the opening of Christian Haub:  Floats, February 7th -March 11th.  This is the artist's first one-person exhibition at Miller Yezerski Gallery. Haub's recent work questions the very nature of painting while affirming paintings most elemental qualities,  the sheer beauty of  light, color and form.  Haub's Floats tread a fine line between painting and sculpture.  The artist's exclusive medium is cast acrylic sheets in varying hues and densities. Among several references,  "Floats" refers to the manner in which objects seem to float on the surface on which they are hung.  Haub's rectilinear forms interact with light, both natural and artificial, creating geometric wall works in which the acrylic surfaces, the wall and the cast shadows make a transcendent whole."
—————————
Director's Choice

(Bronze Acrobat, Gilbert Franklin)
When: On view through February 22, 2014
Opening Reception: Friday February 07, 5:00-9:00PM
Where: ACME Fine Art, 450 Harrison Avenue #308, Boston, MA 02118
How: Official Website
What/Why: "For the first exhibition of the 2014 season ACME Fine Art will present a group exhibition of artwork selected by Gallery Director David Cowan. The exhibition will feature the artists Gilbert Franklin, Nanno de Groot, Resia Schor, and Ilya Schor. All four artists are well known to New England art aficionados and collectors because of their connections to the Provincetown artists' colony. The exhibition will open on Friday 24 January and will be on view through Saturday 22 February 2014. A reception will be held on the evening of Friday, 7 February from 5:00 to 9:00 p.m., and will coincide with SoWa's First Friday festivities."
—————————
Daniel Feldman: Contingency Plans

When: On view through March 02, 2014
Opening Reception: Friday February 07, 2014 6:00-8:30PM
Where: Bromfield Gallery, 450 Harrison Avenue, Boston, MA 02118
How: Official Website
What/Why: "We say, take a photograph.  And we say, make a work of art — a painting, for example.  But the two actions define a spectrum, and neither is at an extreme end of that spectrum.  Yet photographs and paintings seem to evoke deeply different assumptions about what we are seeing. In my work, an implicit aim is to have both sets of assumptions coexist at the same time in the viewer. 
For me—and this is one of my hopes for these works—this raises the most basic questions about how we create meaning, how we delineate the distinctions that create things, how we hold on to these, thinkingly and unthinkingly, and how we sometimes let go of them and allow things to shift—a source of change and growth.  
My background is as a painter, and my working process feels more like painting than it does photography.  Photographs I take are the raw material, the palette, and in my works I combine multiple images, manipulating them freely in Photoshop.  The works evolve like nature, spinning off innumerable variants, most rejected but some surviving and thriving.  Over time, sometimes after extended periods, these can begin evolving further.  At some point, some of them reach a state where I know they're done.  
Ultimately, each of my works is about providing the viewer with the opportunity to have a direct experience of that particular work. "
Also on view..
Judy Riola: Impolite

What/Why: "Judy presents abstract paintings that celebrate the unladylike, the impudent, and the indecorous while anchored to color and pattern."
—————————
Nicholas Kahn and Richard Selesnick- Truppe Fledermaus

When: On view through February 15, 2014
Where: Carroll and Sons, 450 Harrison Ave, Boston, MA 02118
How: Official Website
Also on view..
Greg Mencoff – Interim
———————-
Jennifer Moses: The Black and White of Things
 (Moonrise)
When: On view through March 02, 2014
Opening Reception: Friday February 07, 5:30-7:30PM
Where: Kingston Gallery, 450 Harrison Avenue, Boston, MA 02118
How: Official Website
What/Why: "The Black and White of Things is an exhibition that represents formal and conceptual artistic choices. The paintings attempt to reconcile the visual influences of an urban environment with the monumental rock faces and vast landscape of New Mexico. The cartooned and animated abstract images reflect the end point of a series of choices and possibilities. Often the images are blocked with shapes and revealed by the excavation of past decisions. The work tells tragicomic tales of paths taken and not taken, possibilities seized or lost."
Also on view..
Jeffrey Hull: GUMBO VARIATIONS, Paintings and Drawings

 (April in Paris)
What/Why: "Fiery colors and complex patterns, concrete-hard, these new paintings are a collection of unconscious gestures that form heavily textured surfaces, frosted with paint tossed and driven by a raging sea of life. The show is a Gumbo, suggestive of earthly places that swim in image pools. Gumbo refers to that famous dish that has many interpretations. What makes a Gumbo the dish or a painting? Wide swatches of dark color are slashed by bolts of intense hue that hang on the surface like a street of sagging clotheslines or a city dump of abstracted forms and shapes, crunched and collapsed. The paint application is very physical, slaps of color and slabs of paint applied with kitchen tools. Hair combs make crisscrossed lines. Lumps of paint sit on glass smooth surfaces. The impression is that these paintings are made with shovels not brushes. Look at it or eat it."
—————————
Tristan Govignon: Journey
When: On view through March 02, 2014
Opening Reception: Friday February 07, 6:00-8:00PM
Where: Adelson Gallery, 520 Harrison Ave, Boston, MA 02118
How: Official Website
What/Why: More information on the exhibit here.
—————————
Pamela Murphy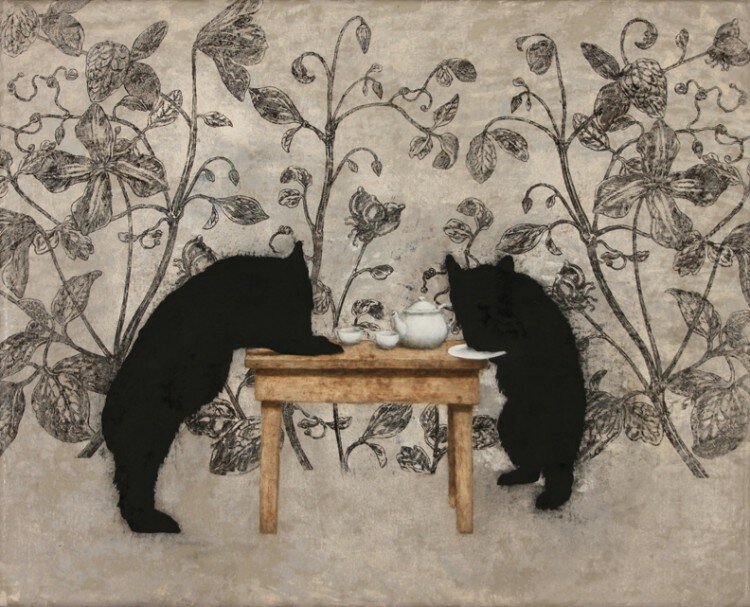 (Tea Party III)
When: On view through February 28, 2014
Opening Reception: Friday February 07, 2014 6:00-8:00PM
Where: Chase Young Gallery, 450 Harrison Avenue, Boston, MA 02118
How: Official Website
What/Why: "I collect old photographs and choose figures from them for my paintings. The people whose lives are recorded in those pictures are strangers, yet they are familiar to all of us. They remind us of ourselves, our families, and our issues on both personal and cultural levels.
The figures in my paintings are presented on a surface that is rich and textured. Many layers of paint reveal the history of the canvas and create a space that serves to isolate the form of each figure. My subjects have been disconnected from their original context and are recreated as icons for the viewer's personal connection. Each viewer brings with them their own specific history, so a single image can mean different things to different people. The figures in my paintings exist in situations—or as objects—in which I hope the viewer will find a little of themselves."
Also on view..
Nina Tichava

(

Chevron & Copse 1 / Scape)
What/Why: "My paintings are about relationships; I'm interested in the interactions between materials and methods as well as the color and spatial relationships that naturally develop in process.
Using painting and printmaking techniques, I interweave drawing and collage with a variety of media. Simultaneously painterly and constrained, my paintings are composed of complex layers, many of which are over-painted and concealed. I describe my work as "abstract painting with botanical and architectural references", as the pieces suggest natural forms (birds, leaves, branches), man-made structures (buildings, windows, lights) and patterning both natural and designed (woven fabrics, strata of earth, pixels).
The works are emotional and imperfect, and as objects they embody my response to things mass-produced and idealized-perfection is unattainable. The paintings are collections of moments from daily life: combined glimpses, thoughts, memories and objects. By design I am inaccurately trying to describe not only what things might look like, but also how they feel, which is where the beauty in it lies for me."
—————————
Brenda van der Beek: Terrain of the Mind 

When: On view through February 28, 2014
Opening Reception: Friday February 07, 2014 6:00-8:00PM
Where: Galatea Fine Art, 460B Harrison Ave., #B-6, Boston, MA 02118
How: Official Website
What/Why: "Creation out of one's imagination brings along everyday life. I am interested in mapping digested experiences and moods through color, line, shape and texture in search of a psychological terrain. Through visualization and then translation to imagery it is possible to make sense of the anarchy and perhaps provide some clarity.My love of maps and architectural drawings are an influence and always find a place in the work. What draws me in is their manmade quality embodying our human ability to plan, to arrange and to construct places that present shelter and satisfy a basic impulse to establish roots.I build in two dimensions resulting in interplay between experiencing, interpreting and having something unexpected happen in the work each and every time.I think of my work as materialization informed by the rational and the irrational. Fluidity, rigidity and an essential measure of equilibrium generate the eventual mixed media drawing or painting. I play, and in the process I create a psychosomatic diagram of sorts documenting the mind and mindsets." – Brenda van der Beek
Also on view..
Richard Kattman: Painted Abstractions 
What/Why: "My works are about capturing the landscape, the workings of my conscious and subconscious mind and my physical body on canvas with paint. The palette determines color, gesture determines line and form, reflections on nature determine order and chaos. Painting is a passion! Creating something from nothing, with color and verve, wit and force, gravity and willpower helps me make my mark on the world. My recently completed painting titled "Searching for the Key" reflects my investigations into the higher powers of spirit and art. Working in abstract opens the door to a rewarding journey to the unknown. My paintings are the various recordings of adventures into the realm of the abstract, where few have dared to go." – Richard Kattman
Also on view..
Animalia

What/Why: "Non-human beings are the stars of Animalia, a show featuring work by Pamela Blotner, Terry Gips, Joe Kitsch, Cherie Mittenthal, Vicky Tomayko, and Meg Walker, at Galatea Fine Art (Thayer Street/SoWA) in Boston Feb. 1-28, 2014. Monoprints, sculpture, paintings, and encaustics portray birds, insects, mammals, and other creatures with humor, reverence, curiosity, and sometimes attitude. "These expressive works help us see the world through the eyes of other animals," say curators Terry Gips and Brett Warren. "Though the show is fun to look at, it also encourages us to contemplate non-human entities in our daily realities and in our deeper, subconscious lives."
—————————
Joetta Maue: When All The Plants Need Water

When: On view through March 02, 2014
Where: Uforge Gallery, 767 Centre Street, Jamaica Plain, Massachusetts
How: Official Website
What/Why: "ABOUT THE SHOW: Joetta Maue uses the traditional arts of embroidery and appliqué to reflect on contemporary domestic life. Her recent work has explored the bed as a place of rest and regeneration. In this exhibition, she explores a new theme – plants and their need for nourishment (perhaps a metaphor for any growing organism).
She says: "In this show, I explore how the small everyday moments and objects in our daily life are often the truth tellers of our state of being. This work is inspired by the realization that when all my plants need water it usually means that my life and relationships are out of balance and attention needs to be paid. The work on display is part of a larger and active body of work that explores how the seemingly insignificant moments and objects in our domestic space signal to others and ourselves where we are psychologically and emotionally, mostly represented via found still life, text from notebooks and scraps of writing. The centerpiece to the exhibit, plants hung, represents a new direction that is moving toward a more ambiguous image stripped of color. Other works in this series include images of household piles, the found collections of toys that exist within a childrearing home and the detritus of daily life." "
—————————
ACCUMULATION (phase 2): Philip Fryer

When: On view through March 30, 2014
Where: 808 Gallery, Boston University, 808 Commonwealth Avenue Boston, MA 02215
How: Official Website
What/Why:  "Featured Artists and Schedule:
January 29: Sandrine Schaefer 12pm-8pm
February 5: Philip Fryer
February 12: Kelly Hunter & Dan DeRosato
February 19: Shannon Cochrane & Márcio Carvalho
February 26: Shannon Cochrane & Márcio Carvalho
March 5: Mehdi-Georges Lahlou
March 19: Jeffery Byrd
March 26: Creighton Baxter
Wednesday March 26th- Artist Talk with Sandrine Schaefer will follow final performance
ACCUMULATION (phase 2) provides an environment to witness the evolution of a space activated by accumulated creative actions. Over the duration of this exhibition, participating artists are given 1 day to create a live-art piece. All evidence from their actions are left behind, challenging the following artists to incorporate these remnants into their own work. Any materials that come into the space must remain until the exhibition closes.
ACCUMULATION (2005-present) is intended to happen in phases. Each phase includes a different grouping of artists in a different space. ACCUMULATION (phase 2) challenges ideas about artist collaboration, and simultaneously creates an innovative exhibition of experiential art documentation."
—————————-
Elizabeth Alexander: Treacle Well
When: On view February 05-March 09, 2014
Where: Boston Sculptors Gallery, 486 Harrison Ave, Boston, Massachusetts 02118
How: Official Website 
What/Why: "Treacle Well" is a showcase of several bodies of sculpture, collage, and installation, by Elizabeth Alexander, that collectively generate a unified space resembling a garden party. This collection of detailed objects and images range in scale from miniature through architectural and beckon attention and time from their audience. Porcelain chinaware, formal gardens, wallpaper, and large iron gates come in and out of focus and take on uncanny emotional character- vulnerability, loss, escapism, and longing, as they enter real space and dissolve into a memory. "It's fairy tale stuff that grips and surrounds them, yes, but it's also a metaphor—in fairy tales too—for the action of time and space, for what moves rot and what ushers out of it life." -John Cotter 
Also on view..
Andy Moerlin – Demise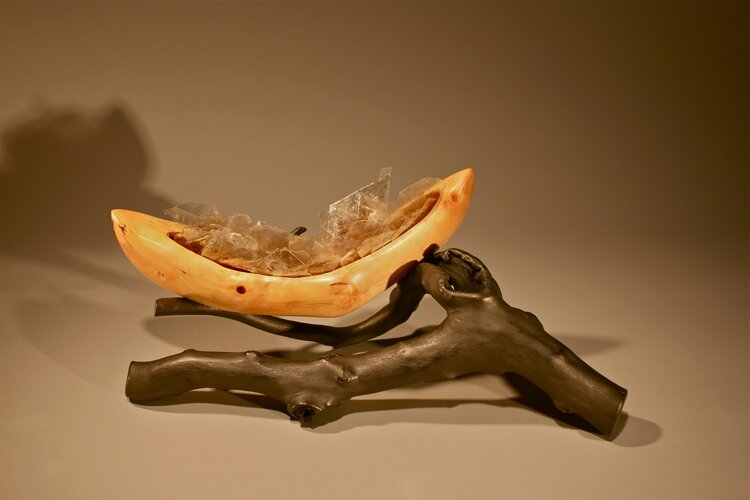 ————————–
Mirrors/Windows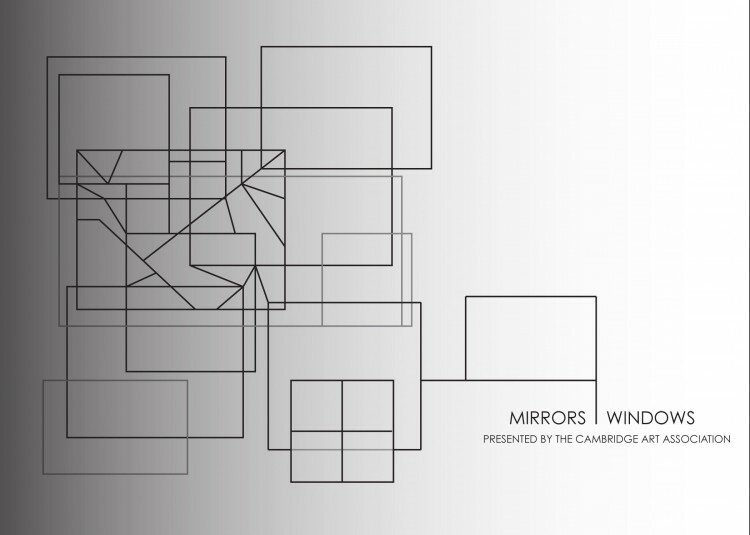 When: On view through March 01, 2014
Opening Reception: Saturday, February 8th, 12-2pm at the Kathryn Schultz Gallery
Where: Kathryn Schultz Gallery, 25 Lowell St. Cambridge MA 02138
How: Official Website
What/Why: "Seeing In… Reflecting Out"
—————————-
Green Dream: Video Screening

When: Saturday February 08, 2014 6:00-8:00PM
Where: Kijidome, 59 Wareham Street, 1A, Boston, MA
How: Official Website
What/Why: "Join us on Feb 8 for the video screening of work made on site for Green Dream! The list of participating artists continues to grow…"
—————————
Jeffu Warmouth: NO MORE FUNNY STUFF

When: On view through June 01, 2014
Opening Reception: February 9th, 1-3PM
Where: Fitchburg Art Museum, 25 Merriam Parkway, Fitchburg, MA
How: Official Website
What/Why: "Don't let the exhibition title fool you…things are about to get funny at FAM this winter, seriously funny! Jeffu Warmouth: NO MORE FUNNY STUFF is a mid-career retrospective featuring the puns, parody, and absurdist humor of a beloved New England contemporary artist. Whether riffing on fast-food courts, Spaghetti Western cinema, or concepts of monotony and ennui in our tech and media-savvy society, Warmouth's photographs, videos, and installations wittily demonstrate the transformative nature of the mundane in our everyday lives."
—————————
De Naturae
When: On view through February 23, 2014
Where: Marran Gallery, Lesley University, 29 Everett Street, Cambridge, MA 02138
How: Official Website
What/Why: "The series of photographs documents the inhabitants of a small German village with an interest in the quiet revelation of their private aspect. Taking note of the ways individuals are the sum of their past, the work goes beyond the specific to explore how everyday lives resonate with history and even myth."
—————————
Object/Plane – Paintings by Tony Bevilacqua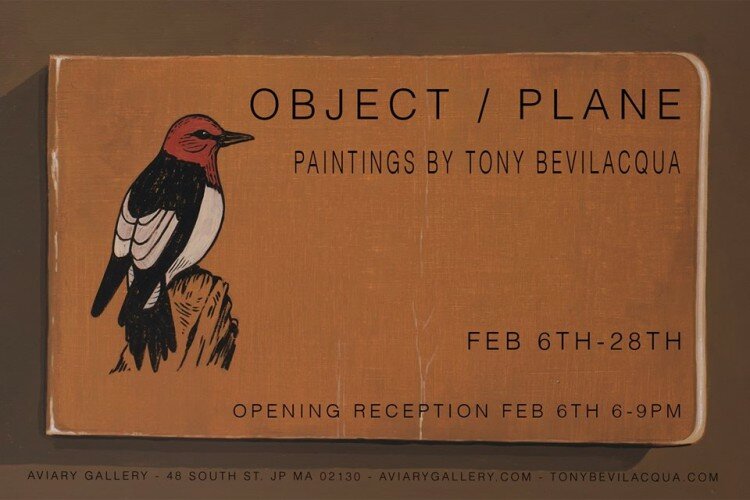 When: On view through February 28, 2014
Where: Aviary Gallery & Photo Lab  |  48 South Street Jamaica Plain MA 02130
How: Official Website
What/Why: "Tony Bevilacqua's "Object / Plane" features highly realistic renderings of everyday items related to memory. Inspired by the rich history of both trompe-l'oeil and still life painting, Bevilacqua's work is a personal archive of meaningful objects and a continuous exercise in what he can technically achieve with paint as a medium."
—————————
The Great Season – Artist Talk and Reception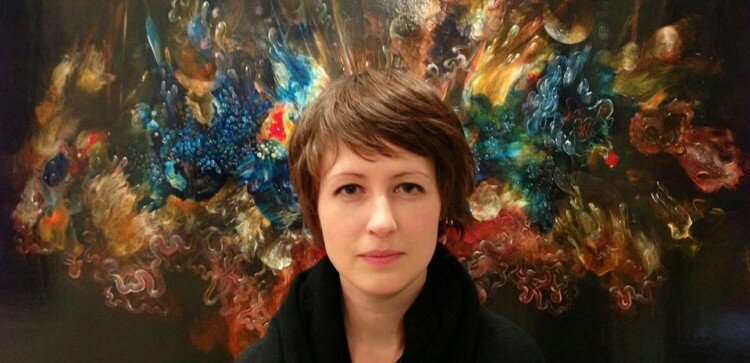 When: Friday February 07, 2014 7:00-9:00PM
Where: 13 Forest Gallery, 167A Massachusetts Avenue, Arlington, MA 02474
How: Official Website 
What/Why: "Join Nicole Duennebier at 13FOREST to see her latest work and learn about her wide ranging influences from Dutch still life paintings to marine biology.
Set against black backgrounds, Duennebier's complex forms strongly refer to Baroque still-life paintings in which fruits and vegetables simultaneously emerge and pass into different stages of maturity. A key difference in Duennebier's work is that, rather than render images of everyday objects, she bases them on her fascination with biology, particularly bacteria, fungi and other objects hidden from view. Referring to her use of darkness, the artist states that her inky backgrounds are "like a primordial soup, a pool of black that springs forth a decadent and sometimes horrible growth." 
Each of the paintings in the show is associated with lush proliferation. In Bright Beast After Nature, for instance, a black background gives rise to a nebula of unfolding, biomorphic forms that seem to divide and overtake one another. Painted in thin, translucent layers, the work suggests a still life captured in only one of many stages it will eventually pass through. WithBright Beast Dissected View Duennebier gives an equally fantastic image of the engine behind such proliferation. Similar to vivisections seen in science textbooks, the painting shows the surface of a soft, woolly plant and the interior, biological source of its existence. In content the "engine" plays with the idea of a still life, but one made of flowers, vegetables and animal viscera. 
Duennebier's centerpiece in The Great Season is a vast, six-panel painting titled, Hydenellum Myriorama. Its title refers to a type of fungus found in nature and to a Victorian card game – myriorama – in which children could arrange a series of illustrated cards to form hundreds of different landscapes. In Duennebier's six panels are hybrid images that resemble Baroque still lifes, coral, fur, crystals and close-ups of microscopic fauna. Each of the forms emerges from nothing and stands bathed in a common light source. Despite the panels' differing environments, Duennebier negates their importance by enabling viewers to arrange the panels into aesthetic experiences of their own choice. With Hydenellum Myriorama, the random potential of generation and decline in nature is given its parallel in art. 
Of her own work Duennebier states: "My interests in natural phenomenon (dermoid cysts, fungus, invasive flora/fauna) and my love of candied Old Master opulence always seem to be present in my painting… Painting with attention to detail, I've become accustomed to the fact that nature in itself, or anything living really, never totally allows you to have a perfectly idealized experience. Everything is always spewing, dripping, rotting a little." 
————————–
Remi Thornton: Jesus Coming Soon
(Car Wash)
When: On view through March 01, 2014
Where: Gallery Kayafas, 450 Harrison Ave, Boston, MA 02118
How: Official Website 
What/Why: "The title photograph from Jesus Coming Soon sums up the entire body of work. Every image in the series conveys a sense of anticipation: something doesn't seem right; something's about to happen. Together, we're on the cusp of witnessing an event, which could be odd, frightening or even supernatural. I hope that the structures and shadows in these depopulated scenes inspire the viewer's imagination. It's what's lurking in the darkness and in the corners that give these images their mysterious power. The next, missing frame becomes as relevant as the photograph itself, and it's up to you to complete the story.
All of the works in a Jesus Coming Soon were shot using "natural" street lighting. As with my other works, I didn't stage these scenes. I am less concerned with constructing a mood and more interested in capturing it accurately. For me, a successful image conveys the same uneasiness that I felt while taking the photograph, standing alone in the dark, wondering what would happen next."
Also on view..
Geoff Hargadon: Warhol Coming Soon

————————–
Say hi:
EMAIL | TWITTER | FACEBOOK | INSTAGRAM | PINTEREST
Did you know? On Twitter the prevailing hashtag for Boston art happenings was #BostonArts. Since the recent public hearing with Marty Walsh's Transition Team trended nationally, there has been an agreement within the community to shift to #BosArts. There is so much you can do with 3 additional characters..
CYA. ♥