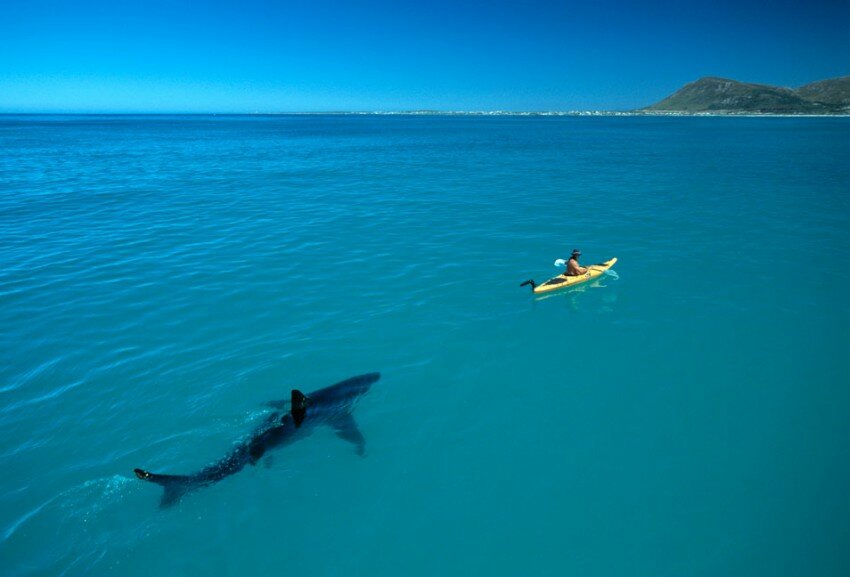 fluid terrain x we are responsible for our dreams x rule of three 
—————–
02127 | 02210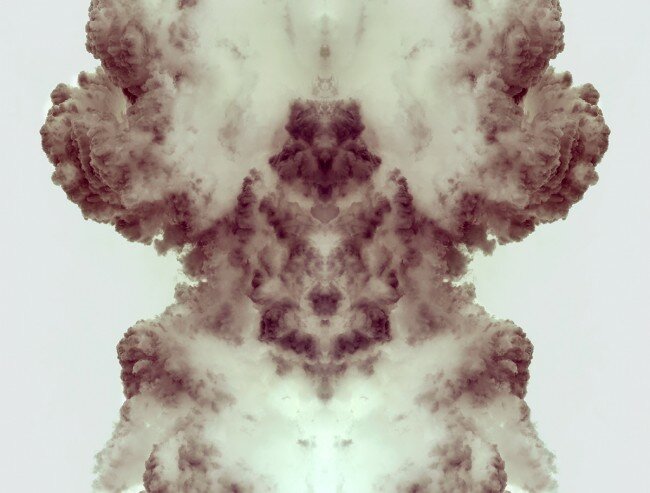 (Elle | Jeffrey Heyne)
When: On view through August 22nd, 2014
Where: Spoke Gallery at Medicine Wheel Productions, 110 K Street 2nd Floor, South Boston, MA
How: Official Website
———————-
Rob Reeps: A Fine Line

When: On view through July 26th, 2014
Where: FPAC Gallery, 300 Summer Street, Boston, MA
How: Official Website
What/Why:"The FPAC Gallery will be showing a selection of paintings by the late Rob Reeps, from May 16th through June 27th. All of the paintings are acrylic on canvas, and were created between 1973 and 2011. Rob was one of the original members of the Artist Building at 300 Summer Street.  He lived and worked there from 1995 until his death in 2013 after a long struggle with mental illness.
The paintings have a common theme of space, time, and place.  Rob loved the natural beauty of the lakes and oceans that were the subject of most of his work; showing their organic beauty in contrast to man's destruction of them by pollution and neglect.  His use of particle collision tracks, clouds, measuring devices, dialog boxes (with references to sight, sound, thought, etc) show the relationship of humans to our planet and the universe.  In his later work, Rob used what he called "energy signatures" to create backgrounds for his chosen imagery."
———————-
We Are You: New England Edition
(Pablo Caviedes , Ceremony)
When: On view through August 3, 2014
Where: Fountain Street Fine Art, 59 Fountain Street, Framingham, MA 01702
How: Official Website
What/Why: "A group exhibition of the work of 36 major contemporary Latino artists celebrating the contributions of US-Latinos with America's history"
———————-
RITUALS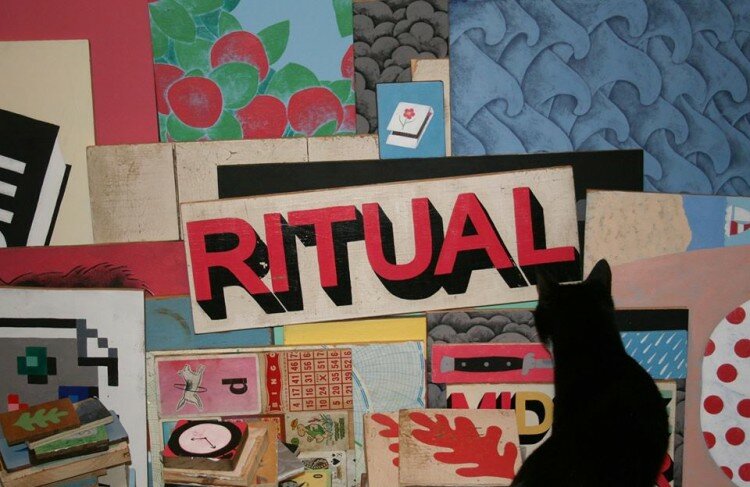 When: On view through August 2, 2014
Where: Lincoln Arts Project, 289 Moody St, Waltham, Massachusetts 02453
How: Official Website
What/Why: "Upper Level // RITUALS – TJ Kelley III || Lower Level // Zine Show
Do you ever find yourself checking to see if there are any cigarettes left in the box sitting on the back of that Honda even though you don't smoke? Sometimes I feel really overwhelmed by traffic signals and the infrastructure and planning and coordination it takes to maintain a city. But yeah that CCR song is so good, I know. I find myself more scatterbrained than before, information is overwhelming now. We sit here yapping with our tongues tied trying to make sense of what yesterday will be, and I'm just trying to take it all in.
Rituals, the first solo exhibition from TJ Kelley III opens at Lincoln Arts Project Gallery in Waltham, Massachusetts on June 27th, 2014. TJ Kelley III is a working artist living in Boston, Massachusetts. Since graduating from Massachusetts College of Art and Design with a BFA in Illustration, he has been involved in group shows and public art projects throughout New England. He cut his teeth with skateboarding, music, and public education, and his work deals the convergence of these experiences and the strange connections we all form.
Also on view..
ZINE SHOW
A collection of handmade and self-published Zines, featuring work from;
Abbeth Russell // Anna Jo Beck // Audrey Collins
Brian Butler // Caitlin Duennebier // Charlotte & Skye
Dave Mahan // Dave Ortega // Diana Clarke
E.K. Harper// Elaine Bay // Evoker
Greg Lamarche // Jared Friedman & Ben Mosca // Maria Molteni
Mr. Never // Papee Thirawat // Rachel Stanton // Raul Gonzalez III
Rory Hamovit // RPBink // Scott Bakal
Studio For Interrelated Media // Tim McCool // Trifecta Editions
———————-
The Work of Jason Chase
(Do Not Use Flash, Jason Chase)
When: On view through July 2014
Where: Gold Gallery, 655 Tremont St., Boston, MA 02118
How: Official Website
What/Why: "For the next four weeks Gold Gallery will feature the work of two emerging artists, Isaac White and Jason Chase. In his inaugural debut at Gold Gallery, Isaac will exhibit a collection of oil paintings on panel, exploring the human figure in a gestural and emotive style. Jason continues his project of neo-pop inspired paintings in a whimsical collection of oils on canvas."
———————-
Highland Street Free Fun Fridays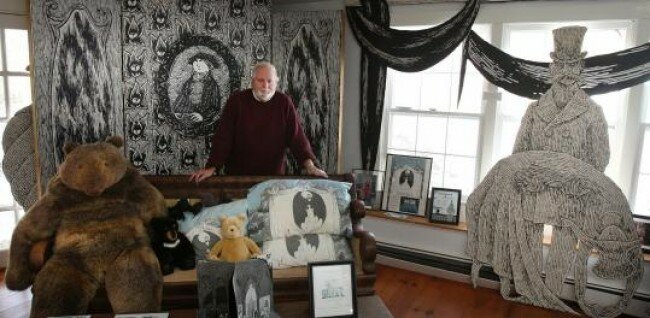 (Edward Gorey House)
When: Every Friday this summer (June 27th-August 29th)
How: Official Website
What/Why: "The Highland Street Foundation is a charitable organization established in 1989 by David J. McGrath, Jr., the founder of TAD Resources International, Inc., the famous employment agency. Highland generously supports local non-profit institutions and sponsors a summer program called Free Fun Fridays. There is free admission, with very few restrictions, at many museums, historic sites, theaters, art centers, and many attractions."
Listings for Friday July 4th:
———————-
We Are Responsible For Our Dreams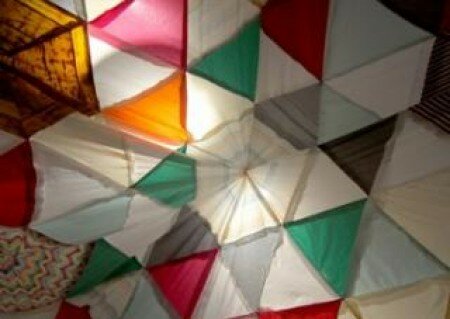 When: On view July 4th-July 18th, 2014 | Full schedule here
Where: mobius, 55 Norfolk Street, Cambridge, MA
How: Official Website
What/Why: "Kevin Clancy will be in residence at Mobius from July 2 – July 18. During his residency, he will create a two-week nomadic slumber party called WE ARE RESPONSIBLE FOR OUR DREAMS in and around Boston focused on collective dreaming and utopic visions. He will work with collaborators to host sessions in their homes, art spaces, public spaces, and favorite secret spots. Clancy is making a 20'x20′ flexible structure that will serve as a blanket fort, tent, picnic blanket, etc. that will adapt to each situation. These will be small private gatherings and larger public events."
———————-
Kevin Bubriski:  Nepal 1975 – 2011


When: On view through July 26th, 2014
Where: Gallery Kayafas, 450 Harrison Avenue, Boston, MA 02118
How: Official Website
Also on view..
Kimberly Witham: On Ripeness and Rot

Also on view..
Ovid's Girls Micro: Small – Scaled Works

—————————
Ann Toebbe | Shared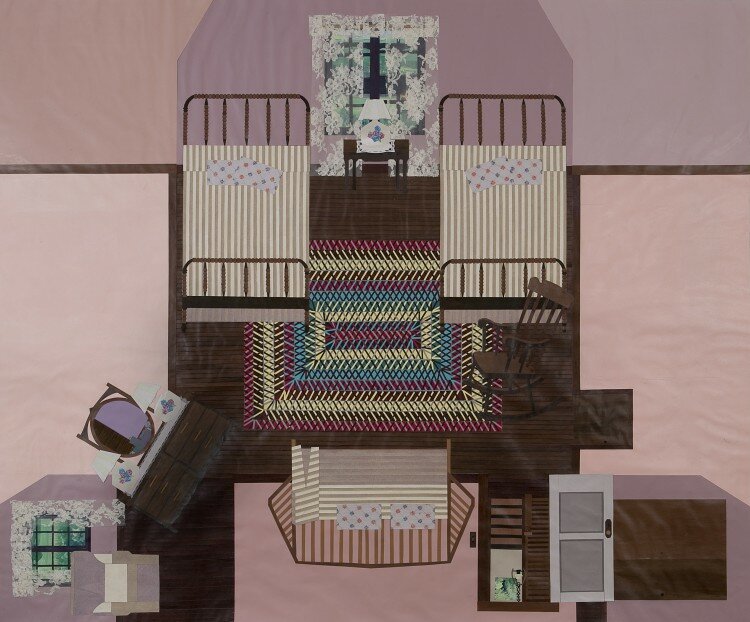 When: On view through July 5th, 2014
Where: Steven Zevitas, 450 Harrison Avenue, Boston, MA 02118
How: Official Website
What/Why: "In Shared, Toebbe presents six new paintings on panel and two large works on paper. In the work, she continues the exploration of interior spaces that has defined her practice over the past decade. The subject of Toebbe's work is memories of childhood homes of her friends and family. Shared takes on the ways in which time and memory shape, clarify and blur our personal histories"
—————————
Neighborhood Nights – Dreams in Motion

When: Thursday July 10th, 2014 5:00-9:00PM
Where: Isabella Stewart Gardner Museum, 25 Evans Way, Boston MA, 02115
How: Official Website
What/Why: "In partnership with Discover Roxbury, everyone's invited to the Gardner Museum for three FREE summer evenings of art, music, and fun—especially for our neighbors from the Fenway, Mission Hill, Roxbury, Jamaica Plain, and Dorchester. Families welcome! Each evening features a different theme that blends live music and storytelling with hands-on artmaking activities and special self-guided tours for all ages.
THURSDAY, JULY 10: DREAMS IN MOTION
Create your own graphic stories with guest artist Raúl the Third. Get inspired by nature with guest artist Susan Thompson. Listen to a mix of Haitian, Brazilian and West African rhythms with Zili Misik."
—————————
Jamie Wyeth | Recent Paintings

When: On view through July 31st, 2014
Where: Adelson Gallery, 520 Harrison Ave, Boston, MA 02118
How: Official Website
What/Why: "Jamie Wyeth is a third-generation artist, distinguished in his own right as a contemporary realist painter. Many of his works reflect the innate beauty of the Maine and Pennsylvania landscape and wildlife or depict important individuals and cultural events in the late 20th and early 21st centuries. However, others are more dramatically avant-guarde, transmitting the artist's raw response to humanity through cropped and contorted multimedia compositions."
—————————
Abstract (Photo) Expressionists

(Alexander Harding, Two Homages)
When: On view through September 9th, 2014
Where: Panopticon Gallery, 502c Commonwealth Ave, Boston, MA 02215
How: Official Website
What/Why: "When artists and photographers distort reality that challenge our perceptions, we think of it as abstract.
The artists in the Abstract (Photo) Expressionists exhibition look at line, shape, texture, design and color in very unique ways. This exhibition features Keith Johnson, Elizabeth Ellenwood, Alexander Harding, Jerry Reed, Paul Wainwright, Andrea Stone, Suzette Bross, Louis Henri Pingitore and Ioanna Tourkantonis."
Also on view..
Michael Donnor

(Mercurial Mirror)
What/Why: "Michael Donnor's career began as a teaching assistant at the Santa Fe Photographic Workshops, and soon thereafter he began exhibiting his work widely, including exhibitions in San Francisco, Houston, Tampico, Santa Fe, New Orleans, Richmond, and Boston among others.
He was nominated to submit to PDN's 30 under 30 in 2010 and won 2nd place at Photo NOLA in 2009. He received his MFA in Photography at Lesley University's College of Art and Design. His work explores the perceptions of identity between the micro and macrocosms of life."
—————————
Capture Fields – 

Yola Monakhov Stockton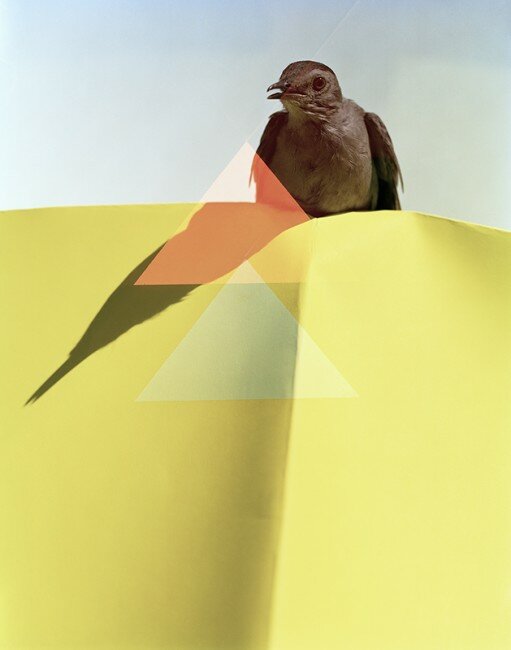 When: On view through August 3rd, 2014
Where: Aviary Gallery, 48 South Street, Jamaica Plain, MA 02130
How: Official Website
What/Why: "Aviary Gallery is pleased to present Capture Fields, a solo exhibition of works by Yola Monakhov Stockton. Capture Fields is a combination of two larger projects:
In 'Post-Photography', pinhole cameras are sent via post and courier to create exposures of a parcel transit, beneath the ceilings of sorting facilities, inside delivery trucks, and along neighborhood carriers' rounds. Like surveillance drones or stories in their retelling, these operator–less cameras take independent journeys, and produce images with a formal vocabulary inherent in the camera's optics, and the chemical life of light–sensitive materials. This work is featured in the June 2014 issue of Harper's Magazine. 
In 'Field Guide to Bird Songs', living birds in the field are closely examined while exploring the connection between seeing, knowing, and wanting. In detailed, hyper–real photographs that recall the decorative drawings of natural history, the work evokes the delicate experience of holding a bird, against traditions of landscape representation in religious iconography, Renaissance frescoes and tapestries, and Modernist painting and sculpture. Through collaborations with scientists, ecologists, and naturalists on the Massachusetts coast, and at universities and research centers across the Northeast and in Costa Rica, the photographer gained access to wild birds captured for banding, before their release, and those captive in labs. "
—————————
Hannah Burr – Stand In

(Clueless)
When: On view through July 26th, 2014
Where: 555 Gallery,  E 2nd Street Unit 1, Boston, MA 02127
How: Official Website
What/Why: "As Burr is influenced by cycles in nature and meditation as a means of clearing, freeing up experience, Samuelson uses her time in a reclusive spot in the woods, swamps and shores of Massachusetts to observe and meditate on nature, photographing trees, rocks and water in a landscape under dynamic change."
Also on view..
Gail Samuelson – Fluid Terrain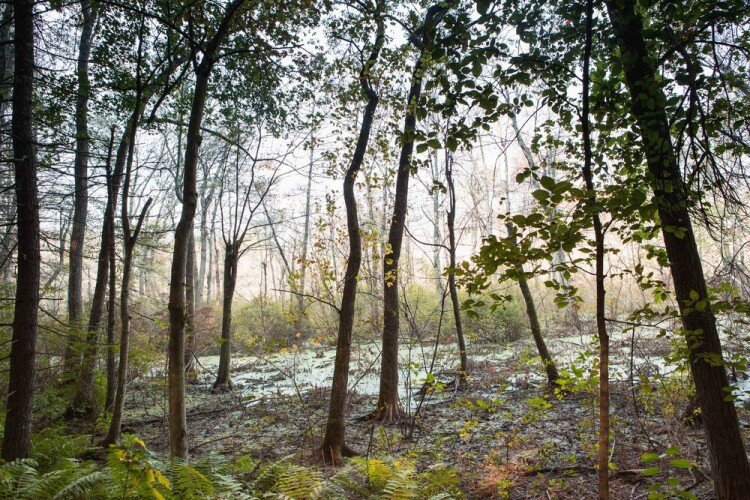 What/Why:"The beavers came to Rocky Narrows two years ago and plugged up Sewall Brook. The beavers don't care that Rocky Narrows is the first and premier property of the Trustees of Reservations; don't care that their dam has made a muddy mess of the trails leading to King Phillip's Overlook, a magnificent view of the Charles River named for the Wampanoag Indian chief who unsuccessfully confronted the English colonists; and don't care that the brook they dammed was named for Samuel Sewall, the infamous Salem witch trial judge. The beavers are there to chew down trees and saplings, make their dam, and flood the place.
 The resulting landscape is surprising with its dying trees and bright green mud. A swamp quickly replaced the forest, followed by wood ducks, red-winged blackbirds, and mosquitos. This place smells more like the underside of a rotting log than the sweet scent of pine trees. The quiet is broken by the sounds of startled ducks and woodpeckers rummaging for food. Neither the place nor my photographs are conventionally pretty. But this is my place, which I pass each day when I walk my dog."
—————————
Polly Thayer Starr Artist Series: Graphic Novels with Guest Artist Raúl the Third

When: Saturday July 05, 2014 11:00AM
Where: Isabella Stewart Gardner Museum, 25 Evans Way, Boston MA, 02115
How: Official Website
What/Why: "Drop by the studio to learn about character and story development for comics and graphic novels from artist Raúl the Third. Craft your own comic art with ballpoint pen and imagery inspired by special exhibition Carla Fernandez: The Barefoot Designer.
Raúl the Third is the illustrator of the forthcoming graphic novel Lowriders in Space. Raúl relies on his large collection of red, blue and black Bic pens to draw the adventures of Lupe Impala, Elirio Malaria and El Chavo Flapjack Octopus. Lowriders in Space Book One will be available on Election Day (November 4, 2014) from Chronicle Books. Raúl lives in Medford, Massachusetts.
All visitors, regardless of age, ability, or familiarity with the creative process, are encouraged to participate. No experience is necessary and no pre-registration required. Activities are designed for visitors 7 and up. Children under 12 should be accompanied by an adult."
—————————
Rule of Three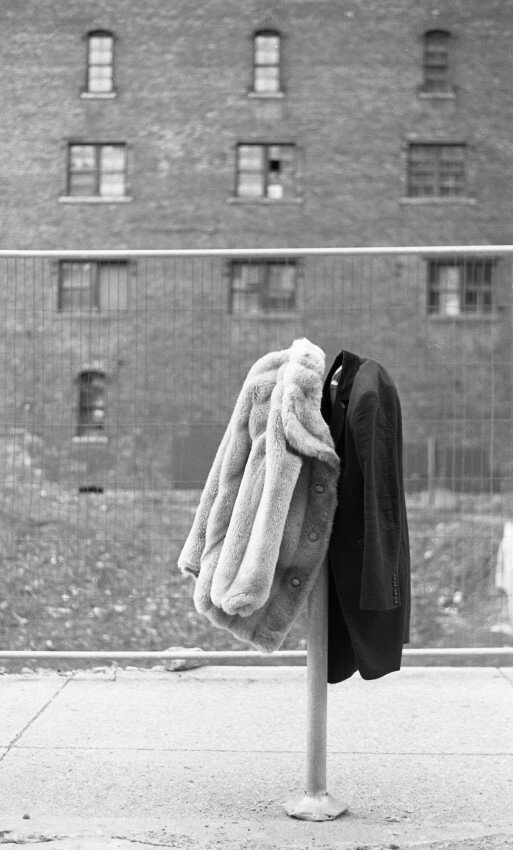 When: On view through July 11th, 2014
Opening Reception: Saturday July 05, 2014 5:00-8:00PM
Where: Howard Art Project, 1486 Dorchester Ave, Dorchester, MA
How: Official Website
What/Why: "Rule of Three is a moving image investigation of nostalgic history, personal narrative, cinematic representation and trans/gender. An attempt to visually tonalize a complicated and diverse narrative in feminist, lesbian, transgender and working class history.
With this work I envision beyond the boundaries of established materiality, into an imaginary of theories and representations.
As a transgender person with roots in the working class lesbian community, it is up to me to create a personal historical narrative. Because those that came before me faced enduring violence and repression, documents of their lives are often hidden or unknown. I seek to place myself in connection with both real and fictitious elements of Lesbian and FTM working class history. I fancy creating a visually conversational bridge that leads to an uncomfortable but largely absent discourse in our communities.
The Rule of Three is a structural inspiration for this investigation, when framing an image, the comedic triple, the three-act structure of film narrative, and the rigidity of gender binary.  
 — Bug Davidson"
—————————
Western Avenue Open Studios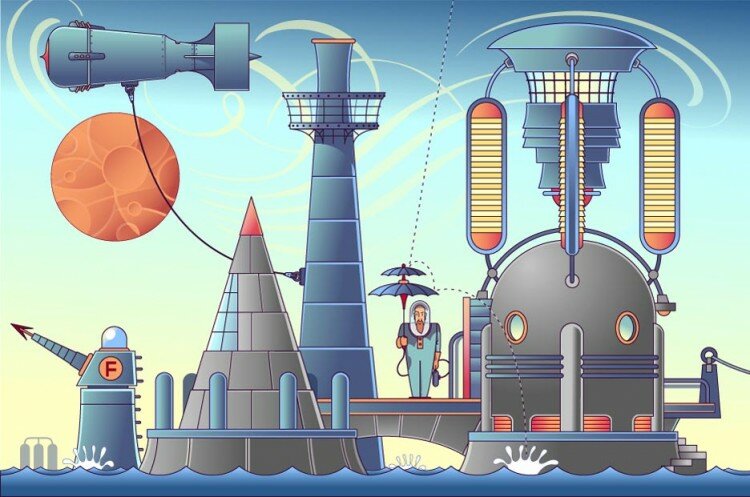 (The work of Mark Fisher)
When: Saturday July 05, 12:00-5:00PM
Where: 122 Western Avenue, Lowell, MA
How: Official Website
What/Why: "On the first Saturday of every month, Western Avenue Studios opens its doors to the public. Come browse the latest works by our artists! This is a free event."
—————————
Joe Wardwell: Party Over

When: On view through July 19th, 2014
Where: La Montagne Gallery, 555 East 2nd Street, Boston, MA
How: Official Website 
What/Why: "Wardwell's paintings integrate landscape, text, musical allusions, and abstraction to investigate myths about nature and national identity in the United States. Having grown up in predominately rural areas in the west, the artist's commitment to landscape is both personal and political. This commitment merges with his interest in the distinctly American art movement of the Hudson River School. Wardwell is immersed in the history of landscape painting in the United States and aims to bring our attention to how our relationship to landscape is historically linked to the defining of a national identity. From Emerson and Thoreau, to the early advocates of Manifest Destiny, to contemporary advertising – landscape and the American brand go hand in hand."
—————————
Say hi:
EMAIL | TWITTER | FACEBOOK | INSTAGRAM | PINTEREST
Aaaaand we're back..
So many happenings this weekend, let's hope Arthur doesn't ruin things for us.

He would.
Be sure to double check your favorite venue's holiday schedule and enjoy your three days of freedom!
Stay sweet. ♥