wyoming x shooting skies x a storm x the humanity of space
——————————
Wyoming

When: On view through March 30, 2014
Opening Reception: Saturday, March 1st, 6-9pm
Where: Hallway Gallery, 66 South St, Jamaica Plain, MA 02130
How: Official Website
What/Why: "Bahar Yurukoglu created temporary, site-specific plexiglas installations within the dramatic landscapes of Wyoming while attending an artist residency at Brush Creek Foundation for the Arts last year. Inspired by her travels, she began making sculptures using the skulls and bones of animals native to the west."
———————
The Nightcap: An Annual Sloan Conference After-Party

(The work of Aaron Dana)
When: Saturday March 1, 2014 7:30PM
Where:  Church, 69 Kilmarnock Street Boston, MA, 02215
How: Official Website
Cost: $12
What/Why: "On Saturday, March 1st Boston will invite leaders from across the sports, technology, media, and entertainment industries to celebrate Boston and the unique influences that make it a world-class city: sports, academics, music, comedy, art, philanthropy and entrepreneurship. This unique event, The Nightcap, is an annual and unofficial MIT Sloan Sports Analytics Conference after-party to benefit the Rock On Foundation- a 501(c)3 nonprofit founded by former UMass basketball player, Luke Bonner, and his brother Matt of the San Antonio Spurs."
—————————–
Jon Imber: Painting Up A Storm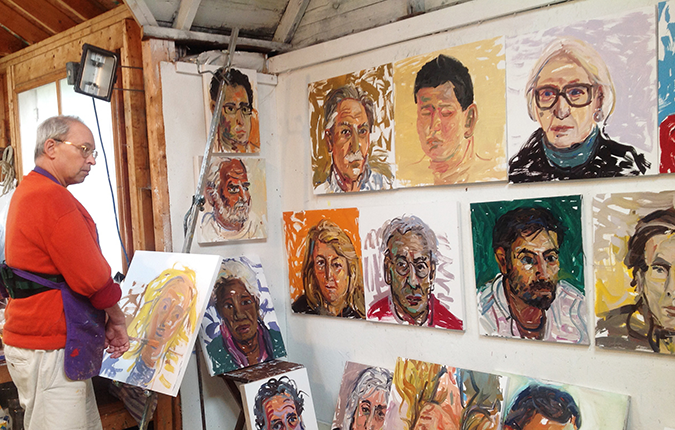 When: On view through March 21st, 2014
Where: Maud Morgan Arts, Chandler Gallery, 20A Sacramento Street, Cambridge, MA 02138
How: Official Website
What/Why: "Jon Imber bestows life upon each portrait he paints, and now the portraits—over 100 that he has completed since August—are returning the favor. 'I paint because I love to make images,' says Imber. 'I love turning inert stuff into magic. Now I am also painting to stay alive.'"
———————
From Life

When: On view March 6-30th, 2014
Opening Reception: Thursday March 6th, 2014
Where: Aviary Gallery, 48 South Street, Jamaica Plain, Massachusetts
How: Official Website 
What/Why: "Aviary Gallery is pleased to announce: From Life, a group exhibit organized and curated by Corey Corcoran.
Expanding beyond the traditional art school still life and figure study, From Life brings together a wide array of artwork drawn or painted from direct observation. From the humble napkin doodle to the polished oil painting, artists with a range of styles and backgrounds consider the people, places, and things around them.
For many of the artists in the show, working from observation is business as usual. For others, it is a practice that exists outside of their primary mode of creation. In any case, the work here demonstrates the artist's relationship to the immediate world. Whether scrawled in an instant or carefully realized through close inspection, moments are seen, considered, and preserved."
———————
17 Cox-Lympics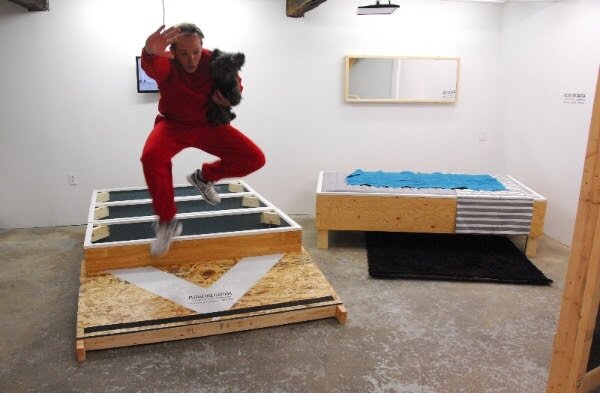 When: Thursday, March 6, 6 – 9 pm
Where: 17 Cox Gallery, 17 Cox Ct, Beverly MA 01915
How: Official Website
What/Why: "On March 6, 2014 participants from around the world with gather in Beverly, MA for the prestigious "17 Cox-lympics", where visitors can show off their skills using Amy Archambault's installation.  How will you stack up against the competition? Judge's categories include: speed, strength, endurance, flair, hilarity, chutzpah and many more.  Limited edition 17 Cox sweatbands and sports bottles will be awarded to the most creative/talented and everyone will receive a "Certificate of Awesomeness".  Put on your Umbros and Chuck Taylors and come cheer on your friends!"
Schedule of Events
6:00 pm – Opening Ceremony: National Anthem, Beer, and Music
6:30 pm – Station 1: The Padded Room
7:00 pm – Station 2: Stair Master to Heaven
7:30 pm – Station 3: Mattress Mayhem
8:00 pm – Station 4: The Jumping of the Jumpers
8:30 pm – Closing Ceremony: More Beer and More Music
———————
Emily Pardoe: Two Year Fugue
 
(prior installation by Emily Pardoe)
When: On view through March 21, 2014
Where: Montserrat Galleries, Frame 301, 23 Essex Street, Beverly, MA 01915
How: Official Website
What/Why: "Emily Pardoe's site-specific installation entitled Two Year Fugue is an interpretation of the artist's biography, displayed through snippets of text embroidered onto fabric. Each day a new segment of the piece is revealed, representing a months worth of time. The various fleeting thoughts and phrases that form the compositional elements of the piece are immediately intimate, akin to the truthful musings found in a diary. As time passes, and more of the piece is revealed, the various phrases connect and interact with one-another forming a biographical narrative which paints an intimate portrait of this two year period in time. 
The title Two Year Fugue draws its name from the musical term, which can be defined as "a musical composition in which one or two themes are repeated or imitated by successively entering voices." The period of time displayed in Pardoe's work mimics that of a fugal composition; various voices and themes seem to repeat themselves in cycles, yet constantly move towards a clear resolution. "
———————
Light Bulbs: Clint Baclawski

When: On view through March 11th, 2014
Opening Reception: Thursday March 6th, 5:00-8:00PM
Where: MassArt, Godine Family Gallery, 621 Huntington Ave., Boston, Massachusetts 02115
How: Official Website
What/Why: "The Godine Gallery is pleased to present Light Bulbs featuring Boston-based artist Clint Baclawski. In his latest installations, Baclawski deconstructs his previous sculptural light box series. In his process he wraps photographs that are printed on backlight film, typically seen in light boxes, onto fluorescent light tubes that are displayed against plexiglas. When the piece is illuminated, a sliver of the overall image will appear on each of the lights, creating a photographic light mural. This show features two works: Chromogenic and Pink Church."
———————
First Thursday Open Studios at Porter Mill
When: Thursday March 06, 2014 5:00-8:00PM
Where: Studios at Porter Mill, 95 Rantoul Street, Beverly, MA 01915
How: Official Website
What/Why: "Coinciding with the First Thursday Beverly Art Walk, Porter Mill will now be opening its doors on a monthly basis. Join us from 5-8pm on the first Thursday of every month to meet the artists and see what makes Porter Mill a staple of the downtown community! The first of these events will take place on March 6th, 2014."
———————
Gallery Opening: SNAC 

When: Friday February 28, 2014 6:00-8:00PM
Where: South Shore YMCA Fine and Performing Arts, 97 Mill St, Hanover, Massachusetts 02339
How: Official Website
What/Why: "Join us to celebrate the work of The Southern New England Artist Community. SNAC artists have been collaborating and expanding the art scene throughout Southern New England for several years, representing a diverse range of mediums and styles. There will be a musical performance from The Hideout. Admission is free and complimentary wine will be served."
———————
Mobilize Performance Series: Rita Marhaug

When: Friday February 28th, 7:00PM
Where: mobius, 55 Norfolk Street, Cambridge, MA 02139
How: Official Website
What/Why: "Rita Marhaug (1965) lives in Bergen, Norway. She is educated from Bergen Academy of the Art and Design, MA -89; Art History from the University of Bergen  BA-96. From 2001 till 2013 Rita Marhaug was professor at Bergen Academy of the Art and Design, Department of Fine Art.
Performance art has been a major approach to visual art, but Marhaug also works within a wider range of tools and expressions. Drawing, printmaking, books, photography, video and installation are used in exhibitions and sometimes in combinations with live performance. 
Since the early 1990's Marhaug has participated in a great numbers of solo and group exhibitions and performance festivals both in Norway and internationally. She is co-founder of Performance Art Bergen, an organization which is developing the vibrant cultural landscape of Bergen. "
———————
Recto and Verso

(Duy Hoang)
When: On view through March 21, 2014
Opening Reception: Friday February 28, 2014 6:00-8:00PM
Where: Howard Art Project, 1486 Dorchester Ave, Dorchester, MA 02122
How: Official Website
What/Why: "The Howard Art Project presents an exhibition of eight emergent artists working across disciplines. United under Dave Hickey's seminal essay Frivolity & Unction, the exhibit entitled "Recto and Verso," features the varied yet equally exploratory works of Charlie Crowell, Garrett Gould, Duy Hoang, Gordon Holden, Grace Jackson, Tyler Murphy, Alicia Riccio, and Sena Wataya. The exhibition playfully explores unexpected modes of indulgent story telling, the humanity of space, commercial aesthetics, and the deceptive nature of the everyday. Collectively the work calls for an innocently subversive reorientation of perspective and a reconsideration of assumed truths."
———————
STIR

When: Thursday March 6th, 2014 7:00PM
Where: Isabella Stewart Gardner Museum, 280 Fenway, Boston, MA 02115

How: Official Website
Admission: $5-15
What/Why: "Experience a strikingly different Gardner as digital virtuosos OpenEndedGroup present their 3D film Saccades as part of Stir, our adventurous mix of art, music, and performance."
———————
Daniela Rivera: Shooting Skies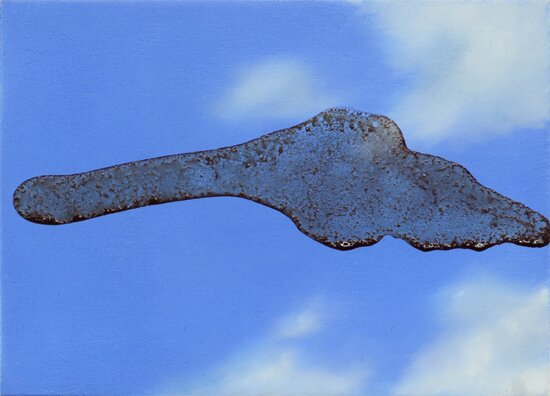 (Accidental Sky No.4, prior work by the artist)
When: On view through April 5th, 2014
Where: La Montagne Gallery, 555 E Second Street, South Boston, MA 02127
How: Official Website
What/Why: "Daniela Rivera's interest in the accidents which can occur while painting began early in her career. The notion of trauma and its unforeseeable quality have been present in her work since the post dictatorship period in Chile, where she graduated from the Art School in Santiago in 1996.
The move to the United States allowed Daniela to move beyond those first years of practice and concentrate not only on the narrative aspects of the work and her personal history, but on the over arching concepts behind the work. Rather than telling stories through images, she became interested in materializing concepts in her work. The notion of trauma, its unpredictability, its lack of context and its aggressively transformative power became the focus of her formal explorations."
———————
SMFA Graduate Open Studios

When: Friday March 09, 4:00-9:00PM
Where: SMFA Mission Hill building, 160 St. Alphonsus Street Boston, MA 02115
How: Official Website
What/Why: "Now in its fourth year, the event provides a rare opportunity for the public to meet artists in an informal setting and see works in progress. During the two days, over 150 Master of Fine Arts and Post-Baccalaureate students open their studios and invite visitors to explore the diverse approaches to art making within SMFA's studio art programs, which embrace experimentation, intellectual rigor and innovation."
———————
Salem Film Fest

When: On view March 6th-13th, 2014
Where: venues around Salem, MA
How: Official Website
What/Why: "Finding its spirit in Salem's rich history as America's first great international city, the non-profit, all-volunteer Salem Film Fest presents a diverse, beautiful, and bracing selection of the world's best documentary films."
———————
MCC Artist Fellowship Program Fellows and Finalists Photography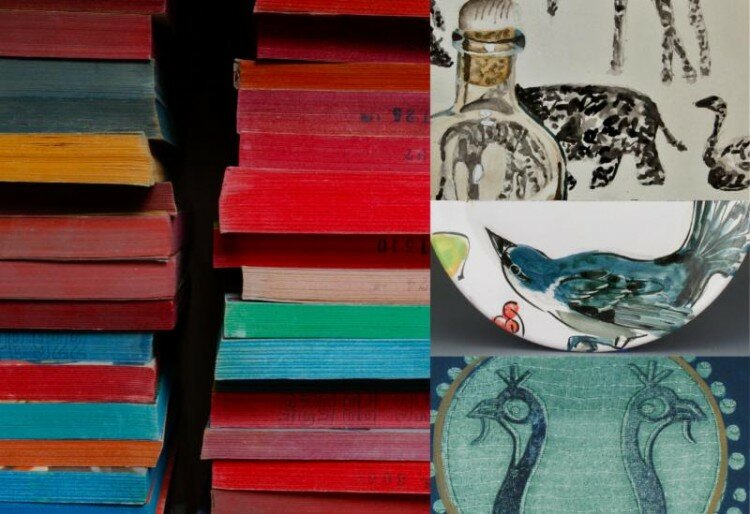 When: On view through March 23, 2014
Opening Reception: Friday February 28, 2014 6:00-8:30PM
Where: New Art Center, 61 Washington Park, Newtonville, MA 02460
How: Official Website
What/Why: "The Massachusetts Cultural Council (MCC) and The New Art Center in Newton, MA, and will present the MCC Artist Fellowship Program Fellows and Finalist Photography Exhibition, from February 28- March 23, 2014 at the New Art Center in Newton. The exhibition will showcase the MCC's 2013 awardees; some of the Commonwealth's most talented photographers."
———————
Say hi:
EMAIL | TWITTER | FACEBOOK | INSTAGRAM | PINTEREST
 DONE.
I will be guest hosting in the Living Room at the Isabella Stewart Gardner Museum today from 1-3pm. If you're in the area come say hello!
Have a great weekend. Bundle up. Go see art! ♥