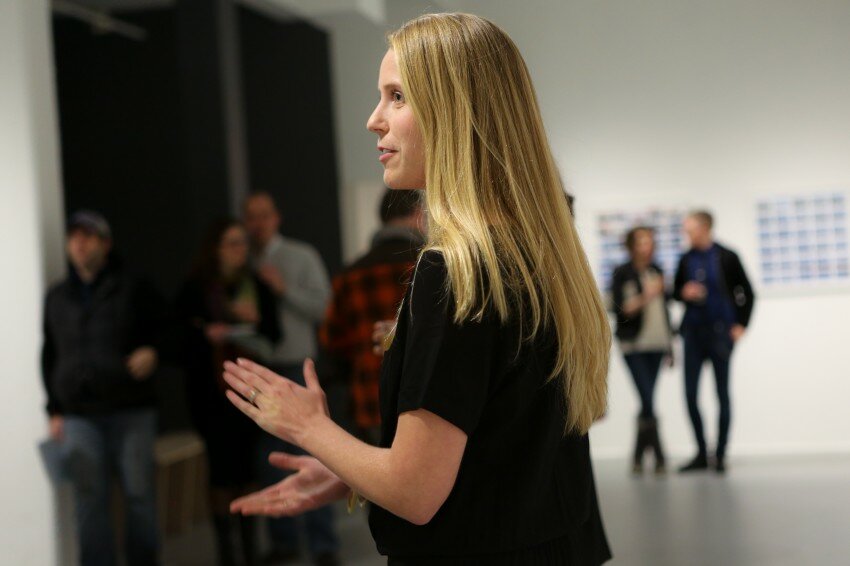 On the surface, a curator's job looks fairly glamorous; throw great parties, hang pretty things on walls, see your name in shimmering vinyl. All of the viewer-facing aspects of an exhibition are generally neat, tidy, and hopefully spectacular.
But behind every well-manicured exhibit lies a world that is often unseen; months of research, floor plan dissections, sleepless nights, crash courses in relationship management, studio visits, and writing writing writing. But it is often this behind-the-scenes messiness that I find to be the most intriguing.
Therefore, I decided to create Opening Reception, a new series on FLUX. that explores the lives of our region's curators and sheds light on the individuals who make exhibition magic happen. What is their process? Where do they find inspiration? How do they make it all look so easy? Essentially, how do you take an exhibition concept from inception to reception, and beyond.
For my inaugural post, I spoke with Lexi Lee Sullivan, curator at the deCordova Sculpture Park and Museum in Lincoln, MA. Recently, Lexi was tasked with pulling together a very simple show for the museum..
..the 2013 deCordova Biennial.
For those unfamiliar, a biennial is a survey exhibition that sets out to showcase the very best work, by the very best artists in New England (in this instance). AND, all the while presenting a wide range of styles and mediums, oh and ethnicities..genders..educational backgrounds too..while still maintaining a sense of cohesion..but not like, an obvious cohesion.. so we as viewers can get a complete picture of contemporary art making in New England.
No pressure.
————————————————————–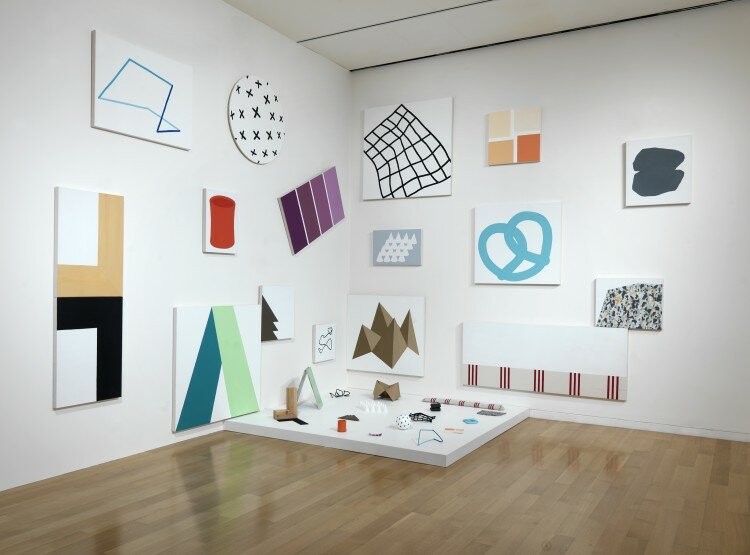 When handed a lightning rod show like a "Best of Boston", or biennial in this instance, I have heard it described as "horrifying". Upon hearing the news, I imagine it is only natural to experience an emotional wave not unlike the stages of mourning.
1. Initial Joy – What a great opportunity! This will be wonderful. We'll bring together lots of artists, and there is so much room to work with, and it'll be the best thing ever.
2. Sobering reality (aka logistics) – Wait, who do I want to show? What mediums? What is the budget? I should probably start some studio visits. How many do I do? Should I bring in a co-curator?
3. Doubt – Can I get this done in time? Will people like it? Does this format make sense? What am I doing? I'll be fine. Right?
4. Acceptance – OK. Let's do this.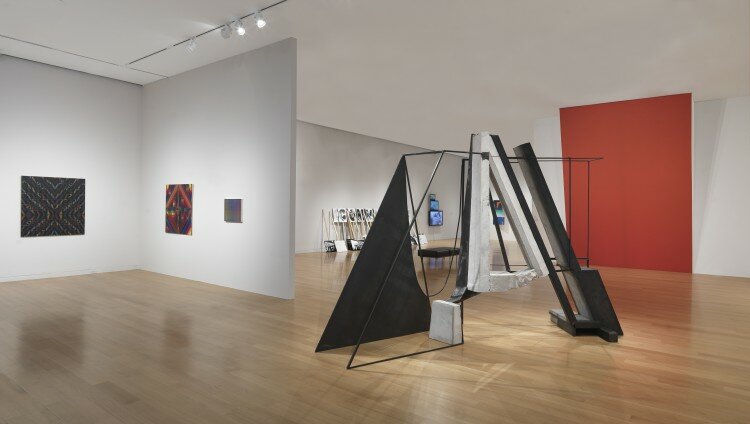 In Lexi's case, she is an extremely sharp and meticulous curator–so I imagine her mourning period involved screaming into a pillow was shortlived. The deCordova gave her a great deal of freedom in guiding the direction of the exhibition and she began by exploring big picture ideas that would later be broken down into smaller tangible goals.
"They basically said, 'What is it? What would you like it to be? Would you like an advisory board? Do you want to co-curate it with anyone? Do you want it to be five artists? Do you want it to be 50? Any which way you want to do it is fine by us.'"
With that belief in her abilities fueling her, she considered the history of the deCordova and its biennials of yore; what had been done already, what had yet to be said, and who would be the artists to deliver the current message.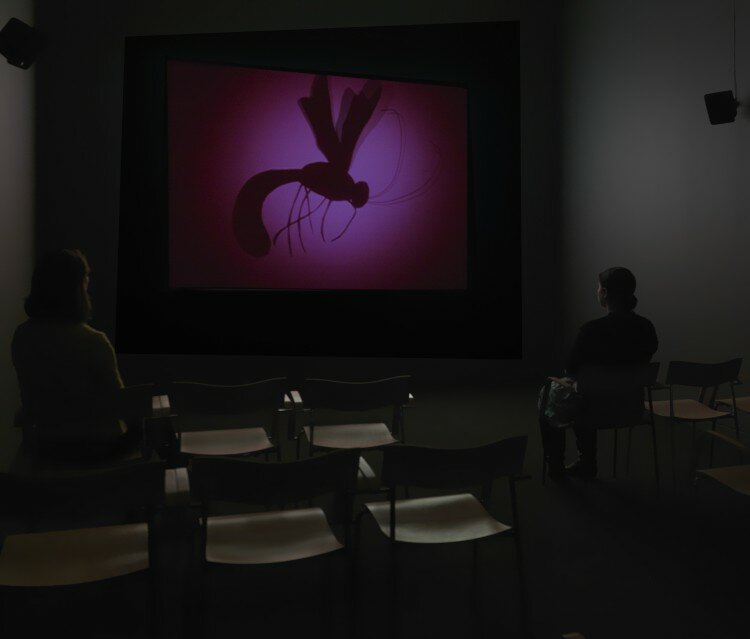 As she began mapping out studio visits across the six states that make up New England (CT, MA, ME, NH, RI, and VT) to meet with our region's creatives, Lexi developed an ambitious and at times grueling course that would eventually take her on planes, trains, and automobiles to visit over 150(!) artists.
Aside: It was during this part of our conversation where I learned that I should "never, ever, under any circumstances, take the plane from Logan to Bar Harbor." "Ever."
Noted.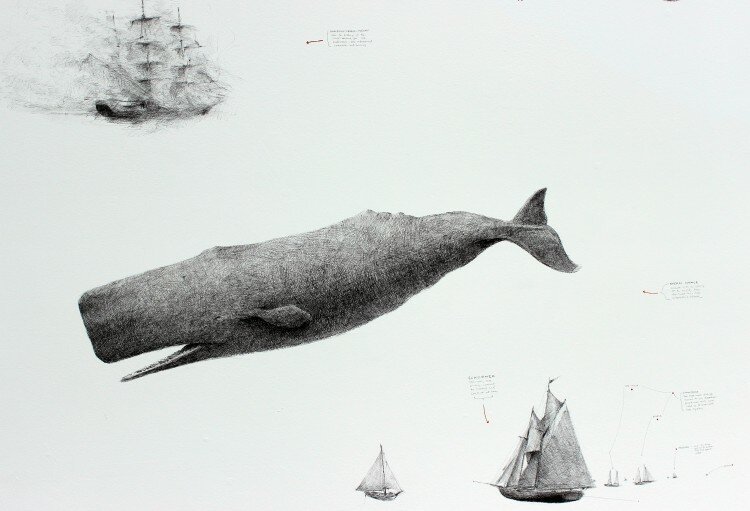 Once on the ground in the various states, Lexi enlisted the help of local curators and art historians to join her on visits, speak over coffee, and share their perspectives on the various local arts communities in an effort to supplement her own understandings of the region.
There were many days where 5+ visits was the norm, and car rides between meetings became rare opportunities to jot down scattered thoughts.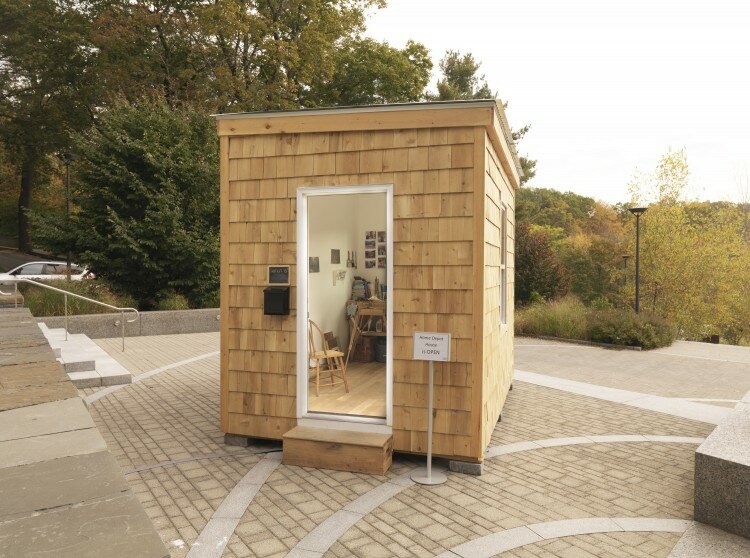 Upon completing the whirlwind tour, Lexi returned the museum with all of her notes, research, and an elaborate multi-tabbed spreadsheet and met with an advisory team of arts professionals. This group proved to be essential to the process, providing her with invaluable assistance and feedback that helped inform the final decisions of the show.
And after all was said and done, 21 artists and collaboratives were selected to participate in the 2013 deCordova Biennial.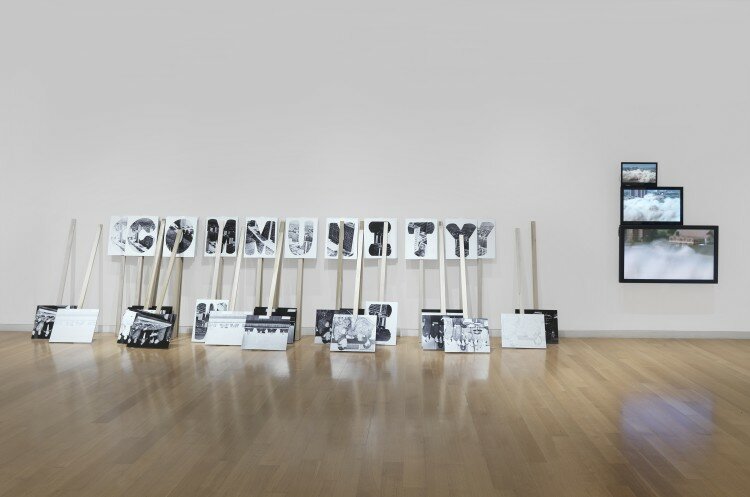 But what about the 129+ other artists?
"I don't like the spaces to feel too crowded. The biennial is such a weird beast, there was a lot of work I was excited about that just did not fit into the show. And after conducting so many studio visits, trolling artist websites, and receiving hundreds of suggestions, I now have a vast visual archive to pull from moving forward. While the biennial is not a thematic show, I just found that visually, formally, and conceptually some work was rubbing not in a way you want it to rub, and I wanted to reserve it for future shows where it made more sense."  
Once the "who" was squared away, Lexi was able to focus more on the "what", "where", and "how".
Innately, the curator is attracted to exhibitions that are uncluttered, bold, and incorporate elements of design and architectural structure. And while Lexi is drawn to cleanliness of white cube spaces, she enjoyed playing around with the various nooks and quirky exhibition spaces that the deCordova has to offer.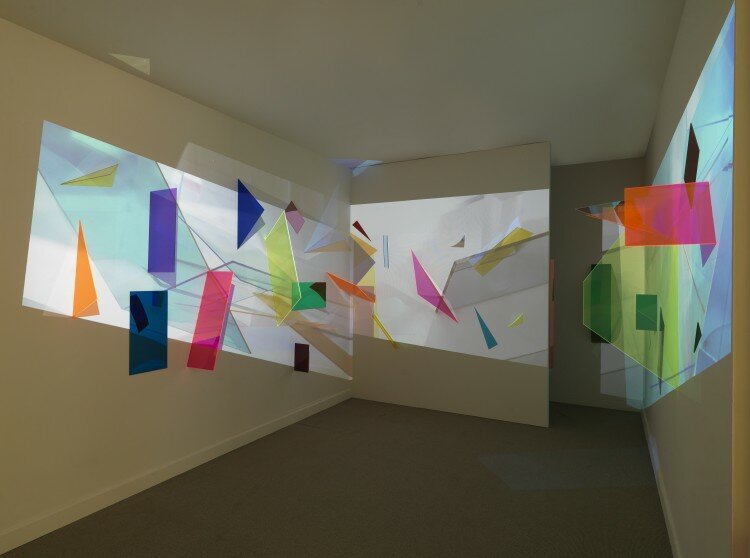 "The unique layout of the museum presents interesting opportunities and challenges when curating; it certainly has to come into your thinking in terms of presentation. While I like showing on large white walls free from certain stipulations, I find it is also fun to curate for particular spaces. For example, we have a window gallery in the front that is a very tall, narrow area, and so your experience of an object in that space is incredibly peculiar. I think of the window arcade as an area where being a park and a museum coalesce."
In 2012, Lexi worked with artist, Soo Sunny Park to introduce a glittering installation entitled Capturing Resonance for the windowed space; its dancing refracted light and colorful shadows commanded the liminal space with a delicate strength.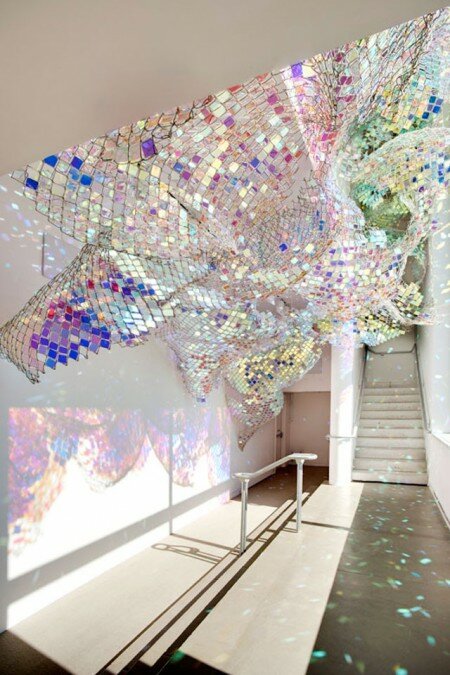 For the biennial, the arcade space was kept minimal with only Pat Falco's black and white Insider Art sign pressed up against the glass; peeking out from the upper windows of the museum.
And on the outside, more of Pat's commentaries can be seen on descriptive signage strategically placed across the grounds often corresponding with sculptures and natural features. One focal installation which greets museum-goers at the park's entrance points every which way; its haphazard directions make you wonder whether you just tumbled down the rabbit hole.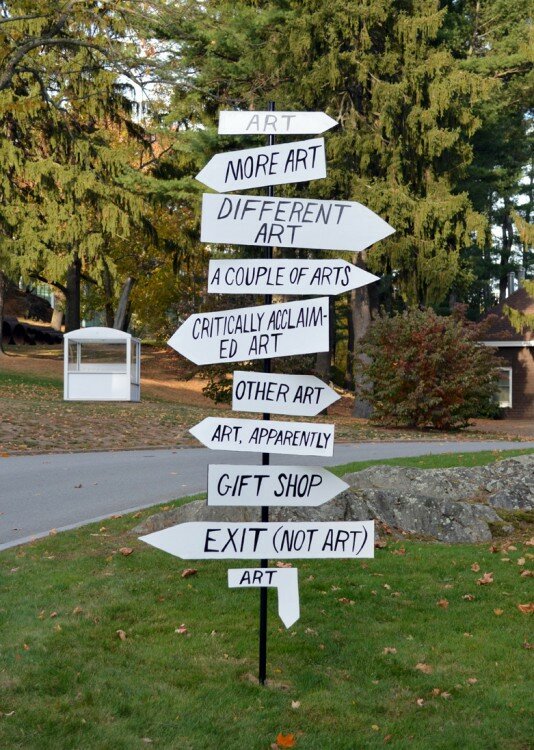 "Pat's drawings are fresh, humorous, and to the point. Some of them are really really satirical, they're great. It was important to me to have emerging artists in the show, who are smart, funny and represent the area. So, building on the drawings, I invited him to extend his practice. And I know he was already creating signage, but what happens when they're in the context of an art park? That becomes the rub. So he's really playing on the idea of wayfaring which can be a nightmare here. Signage in a park is a disaster; the size of it, where it is, are you identifying a sculpture, trying to find the bathroom or cafe, what are you here for? And we give every visitor so much information a map, programs, exhibition materials, it's all so confusing, so to be able to play on that with a site-specific piece is amazing. Pat can really can get to the heart of an issue in a single term and it's handcrafted, heartfelt, and you're not sure if it's serious or not, but that's the real draw."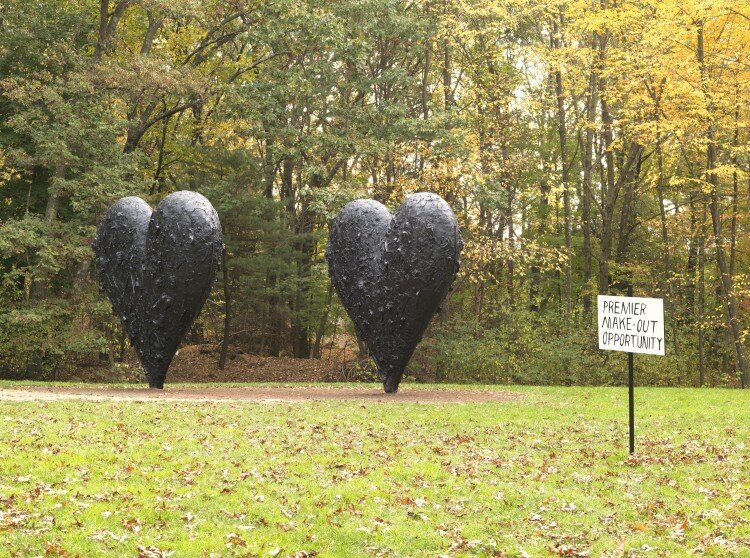 Incorporating the work of emerging artists was just one of the aspects Lexi considered when organizing the structure of the biennial. She also reflected on the nature of biennials and expectations of what they "should be". One inescapable element of a New England survey is the idea of "regionalism", an abstract term she willingly acknowledged but was not bogged down by.
"When I started working on the show, I had people asking if I planned to take on regionalism and tackle themes like 'What is the 'New England aesthetic?' And the answer is 'no'. However, you can't not address it in the show. You have artists coming from all over with extremely different backgrounds. Artists are here in New England, but they're not all born and raised here."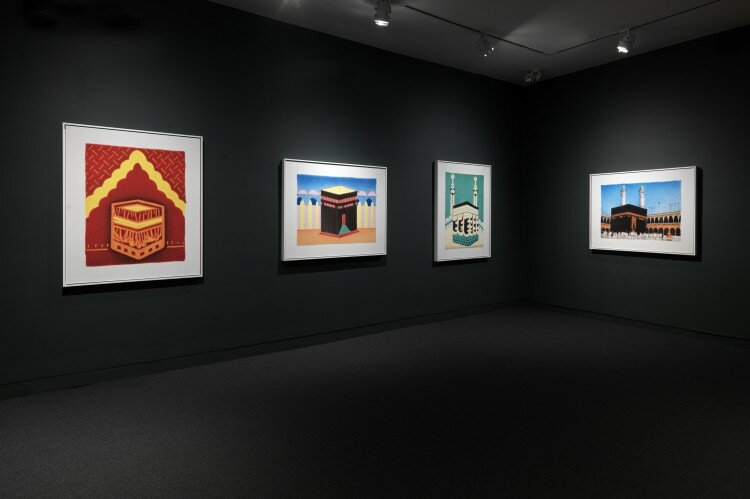 In light of this understanding, biennial participants Dushko Petrovich and Roger White share with viewers what it means to be regional artists in a global market through their publication Regionalism. Designed to look like an unfolding driving map, Regionalism is a take-away for museum visitors and "a wayfaring guide for an amorphous geographical subject".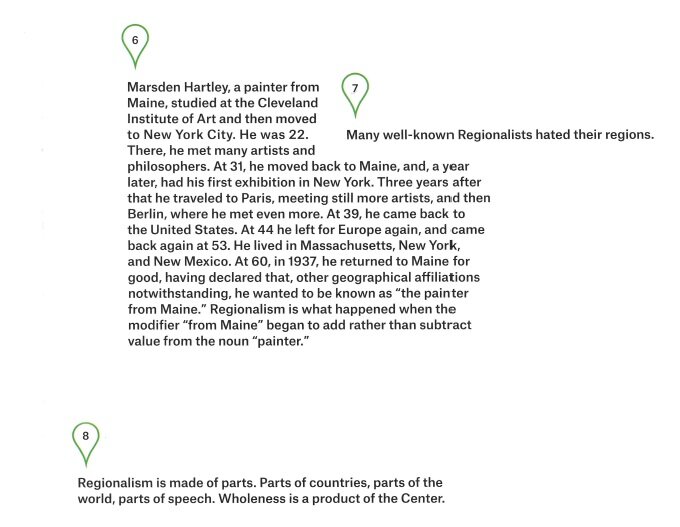 After all the artwork was selected and it came time for installation, Lexi was assisted by an expert staff who helped her consider spaces, move pieces around, and roll with eleventh hour adjustments despite an intense "down to the half hour" installation schedule.
"Last minute changes are inevitable. You've already seen the objects, but the minute they are in the space, they have a completely different presence, and sometimes you're like, OK these two artists' works are going to play nicely together and these two works are just not friends."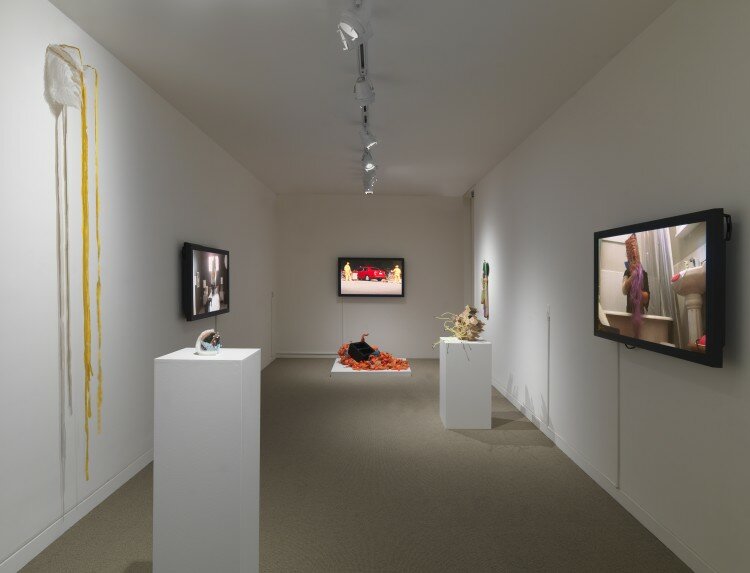 At the heart of her work, Lexi's interest in curating is about creating a show that breaks down barriers, cuts out pretension, and highlights the magic involved with the artistic process.
"For me it's about artwork that really tells a story, which is something that is important to me as a viewer, and to have a clean presentation. And that's something I really tried in this exhibit, to give artists the space to show their work and show their projects and not just show one small piece and show 35 artists, but to show art that is more in line with their signature body of work along with some new work as well."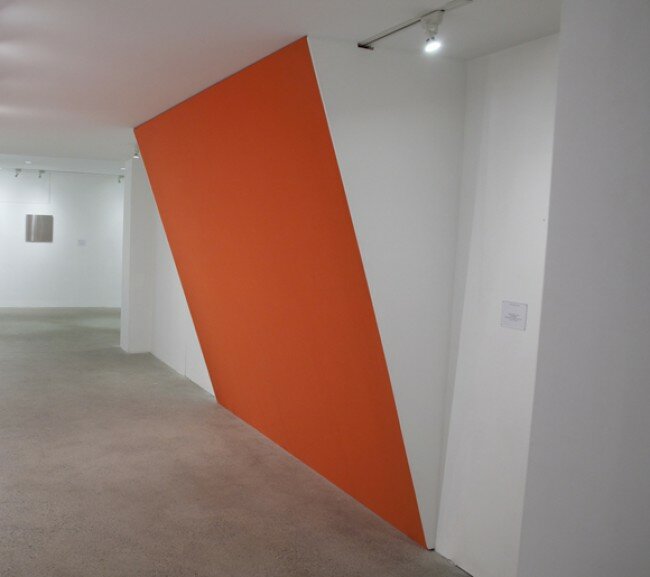 And in thinking about how best to address pieces from the same medium in the exhibition, Lexi knew that she did not want to show similar works. As a curator, she strived to make sure that each artwork had a different contribution and story to share. All this in an effort to truly represent the different types of art making processes that are happening in New England right now.
"If you take a look at the painters we have on display; they are all completely different. You have the work of Xylor Jane; very pointillist obsessive systems grids and yet underneath it, a very emotional painting. And then you have someone like Tony Palocci, someone playing on the everyday-ness of objects and abstracting. And then you have someone like Hamra Abbas who is actually showing photography, but they are images of miniature paintings. So if I'm going to show painters, I think who is telling something new, what is interesting and how do they work together?"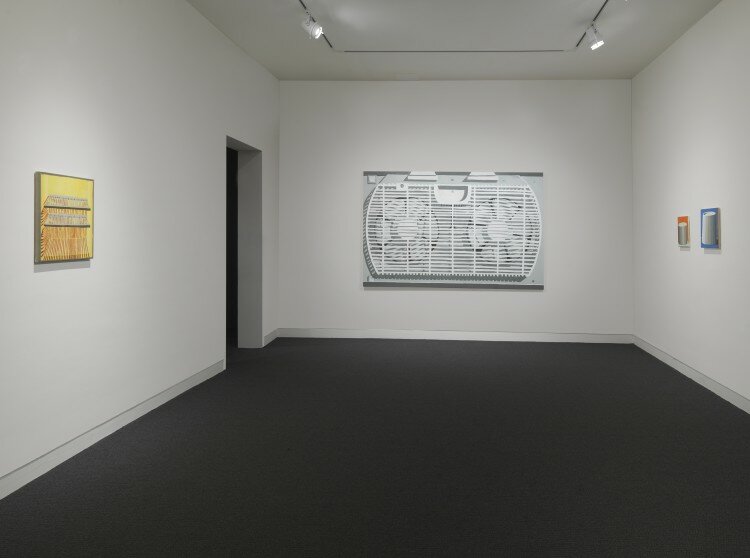 While the biennial is a group show, you certainly get a feel for Lexi's own personal touches within the exhibition's structure. Curatorial style is a delicate dance in a show of this magnitude. You want your own personality to shine through while still reflecting the greater message behind the exhibition. And with the 2013 deCordova biennial, it is evident through her efforts that Lexi managed to balance these two, often competing, worlds.
Be sure to check out the fruit of her labors at the deCordova Sculpture Park and Museum through April 20, 2014. AND as if one incredible undertaking wasn't enough, Lexi also has another show up at the Mills Gallery, BRINK 1.0 featuring the work of four emerging photographers and one artist collaborative that is on view through April 13, 2014.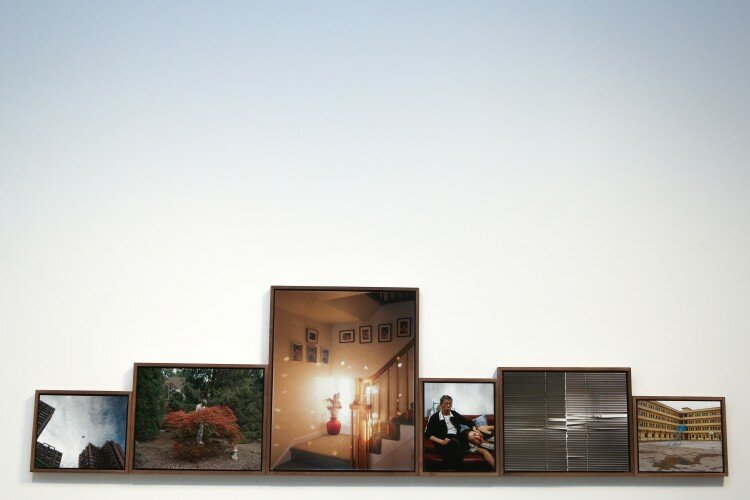 I am convinced the woman must have caffeine and energy drinks coursing through her veins.
Until next time! ♥