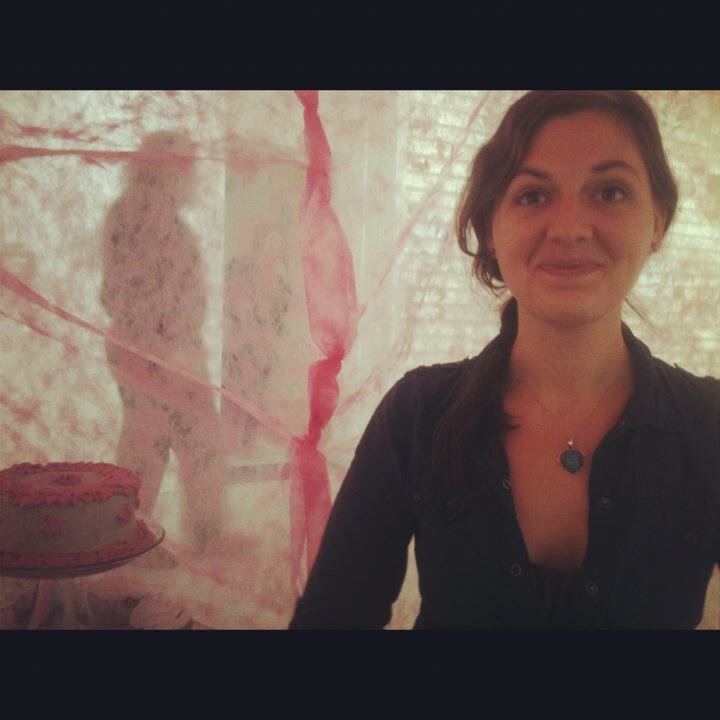 The ever-expanding role of a curator requires that individuals wear a variety of figurative hats. Such chapeaux include art advisor, educator, installation expert, liaison, lecturer, project manager, and in Maggie Cavallo's case, hip-hop mogul.
Clearly.
———————————————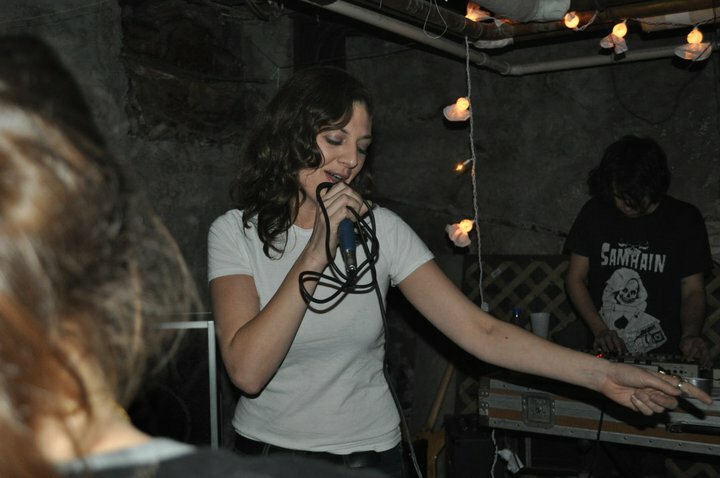 "You can come and see me if you want to be on TV
but you better bring that payback or I take you to the teepee
Where I scalp them litle girls that did me the wrong way
hang it on the wall call it art show all day." 
I say "hip-hop", but apparently "diy cold basement bass hip hop electronic noise underground witch", may be more appropriate. Pencil skirt chic by day as the Assistant Curator of Education at Montserrat College of Art Galleries, Maggie spreads her wings as a member of the Bathaus collective by night. Accompanied by techgoddess Ashley Capachione, she writes rhymes that make bodies move and foundations rattle, leaving her straight-laced daytime persona at the door.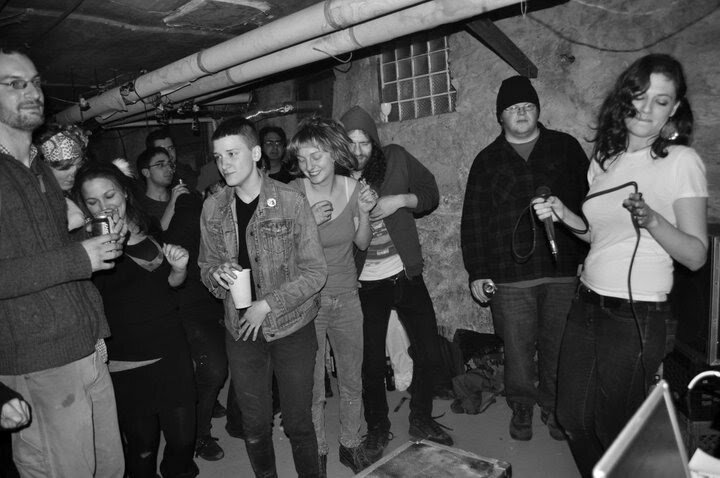 "I've always been invested in music. I grew up in a musical household, I've always had friends making great sounds. Rap, Hip Hop and R&B have been my soundtrack since… second grade.  It is music that has a powerful effect over me. I think that Boston has afforded me the opportunity to connect with my most creative self, to experiment to the fullest. Because of the scene and the support of my friends, I was able to let what felt like small sparks of interest develop into some serious FIRE. I'm so thankful for that. The way that people define themselves here – curator, musician, performance artist, painter, rapper — it is all so fluid. Somehow it is totally acceptable that I consider myself both a curator and a rapper, and people take it seriously. The only reason I am able to say this, without totally downplaying myself as some kind of fake musician, is because of the support I've been given from my friends and colleagues."
—————————–
Bright Beginnings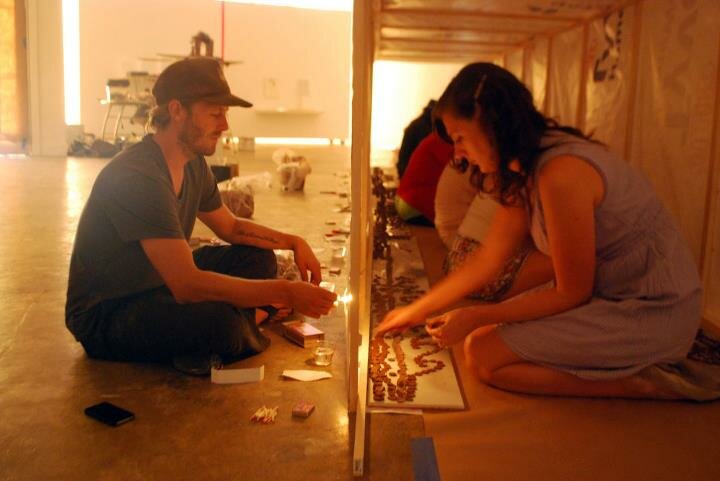 (Maggie participating in a Ben Waterman installation at Montserrat)
Hailing from Sodus, "apple and orchard country" New York, Maggie grew up in a household with a multi-faceted matriarch who was a teacher/actress/jazz singer and a father who had been working as a stage manager at various regional theaters long before she was born. This early exposure to the performative arts helped shape her artistic views, expand her visual vocabulary and heightened her expectations of the gallery experience.
"I spent a lot of time growing up being able to walk across the stage in an empty theater. The moments when I love a gallery the most, is when it feels like a stage. Something about the potential for anything or the residue of something that just happened. Both of my parents are wicked smart and creative, it makes sense coming from them how invested I am in both teaching and the arts."
———————————–
Pencil Skirt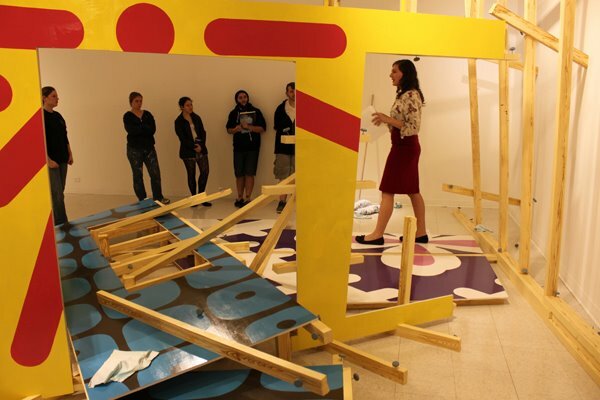 ('Home Sweet Home' at Montserrat)
As a teacher, Maggie designs and coordinates Montserrat Galleries' Visiting Artist Program which includes over 30 events per year. Events ranging from public artist talks and classroom visits, to short-term intensive residencies culminating in a collaborative exhibition–and all of which feature the insight of working artists and Arts professionals.
"I could not be more blessed for my role in all this, the nature of my job requires me to collaborate with 40 new artists every year, and for the sake of education. The artists are emerging to established, and regional, national, international — but it's a real treat to bring artists up from Boston. I'm meeting a ton of new friends and colleagues and I am able to incorporate these amazing artists into the students' academic experience. "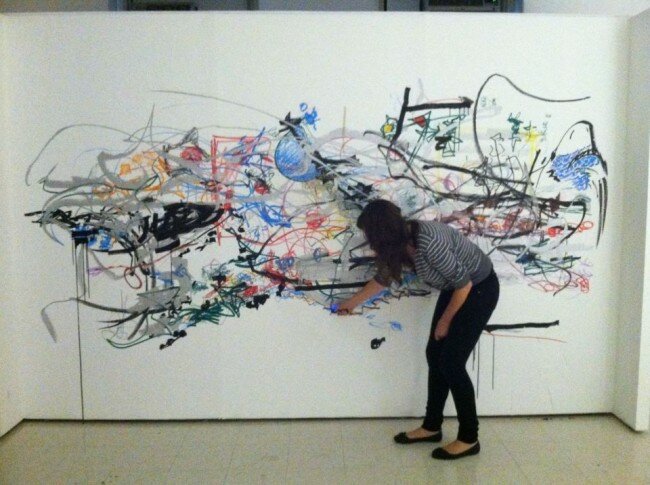 (Maggie adding her hand to Zsuzsanna Szegadi's piece currently on view at Montserrat)
In addition to bringing artists into the Montserrat space, Maggie helps to develop workshops that imbue the curriculum with pragmatic programming that prepares emerging artists for life post-grad . Such workshops include, "The Skills to Pay the Bills (budgeting and loan repayment)" and "The Crit (how to make the most of a crit A.K.A how not to have a temper tantrum because someone doesn't like your work)".
As a part of this series, she also gets to bring three visiting artists per semester into the Senior Seminar course for a casual discussion on personal measures of success, time management and studio practice, the day job, post-graduate trajectory and in her words, "all that real life stuff".  
—————
Magzilla's Stay Golden Rules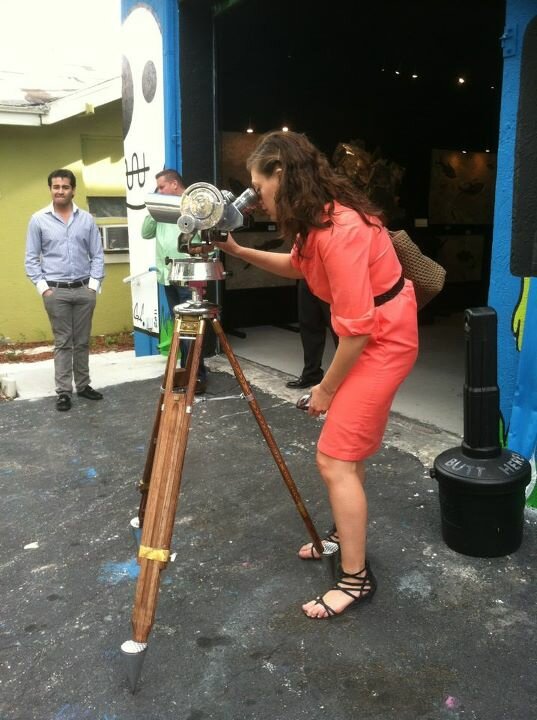 (Art Basel Miami Beach)
And as far as her own "real-life" advice for students?
"Meet as many people as you can and don't get lazy. Keep making art. Stay Golden. Go to events. Support your friends strategically. "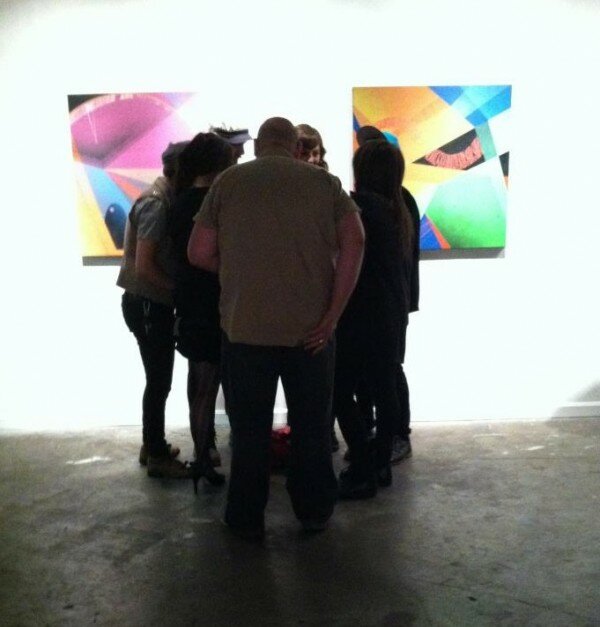 (Maggie and co. at the Phoenix Best Music Poll Awards at Fourth Wall Gallery)
 "I know that I got a lot of the experiences I have now, by saying 'yes', working for free, by taking advantage of every opportunity I could and not being scared, or thinking anything was below me. From professional exchanges in classrooms, to basements and clubs. It relates to all of us in that, everything is an opportunity or a chance to prove yourself….if you sleep on it…you're going to miss something. It was worth working five jobs at a time, going out dancing and making music until the wee hours of the morning, to make it to this point — in the end, all those actions were connected, even if I didn't see it at the time. At some point, your hustle can become intrinsic, even though it can be exhausting if you are doing enough of the right thing, you can produce a kind of energy that keeps you going. Flow theory. Ride the wave."
————————————
Bathaus Invades Harrison Ave
From keeping her head down, staying focused, and pouring her all into her 9-5 and in-between-times, Maggie's many years of hard work are starting to pay off.
Last April, worlds collided as the jill-of-all-trade's "psych/experimental" musical endeavor, Bathaus had the opportunity to take over the Anthony Greaney gallery in SoWa for a performance/exhibition weekend called, Communion IV.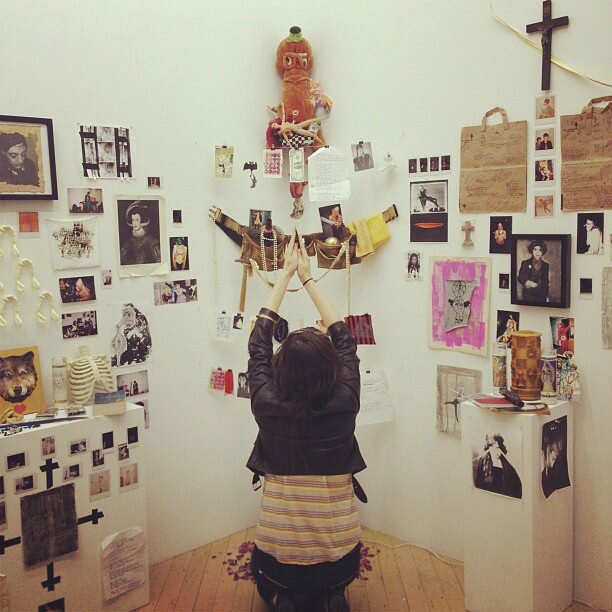 (At the altar)
The opening reception was a night nothing short of magic as individuals from all walks of Boston Arts gathered for an evening that promised something different.
No one, including myself knew what to expect heading into the gallery, but once inside, surrounded by relics, you felt transported to a sacred place far from Harrison Avenue.  Rhythmic beats emanating from the adjacent room gently reverberated in your ribs–sloughing off the work week, and reassuring visitors that it was OK to lose yourself in the present. The music continued to keep time as crowds gathered and friends reunited, culminating in a series of performative works so other-worldly that..well..here's the Cliffs Notes™: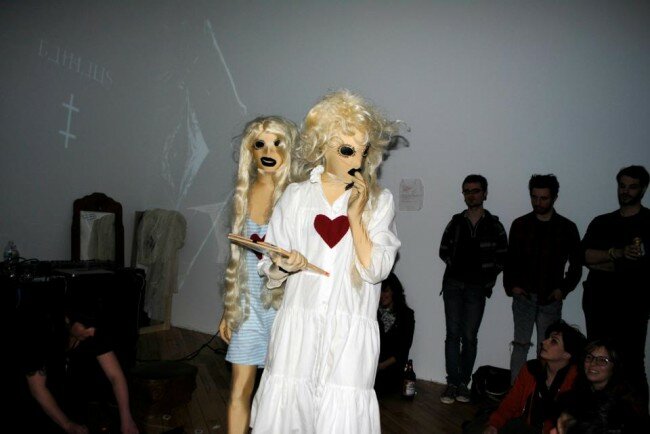 Real life.
[Pause] Quick interjection–My mother in New York likes to feel connected to her faraway daughter and kept abreast of my deranged adventures via weekly phone calls. You can only imagine how the Communion IV debriefing went.."So there were these aliens..in dresses?..and..ET was on top of a funeral pyre?..and.." [Play]
Anyway, back on the Ave–Bathaus went on later in the evening and as predicted, Maggie commanded and captivated the crowd with her soulful lyrical stylings.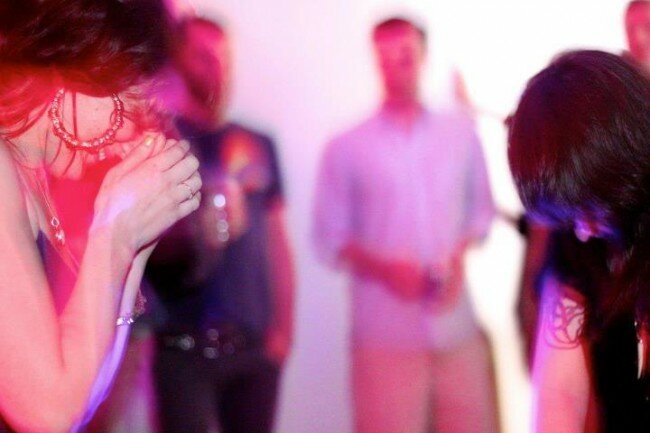 "When I'm writing and performing songs I feel more like an 'artist', and in some ways more..myself, more free than when I'm involved in other areas of the Arts spectrum. In those moments I think I can relate more to all the 'makers' around me, visual artists, musicians etc. But in another light, I feel like my work at Montserrat and other arts related events are in fact my art, that somehow my urge to exhibit, collaborate, bring people together must be the way a painter feels about painting, like you can't help but do it."
——————————
Mic Drop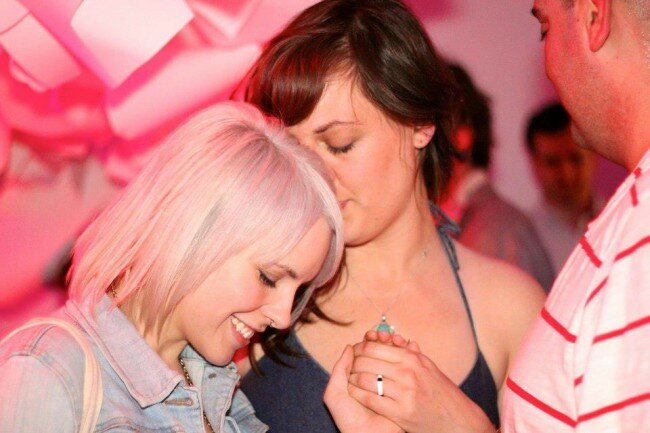 Maggie is absurdly genuine, has become a dear friend, and is one of the few people I know who can seamlessly talk about Jenny Holzer and Aaliyah in the same breath. She makes the Arts feel accessible.
Her positive outlook and genuine love of the city and its inhabitants is infectious and has opened so many doors for the young Belle of Boston Arts. Her glass-half-full hopes for the future of New England Arts are a breath of fresh air in a sea of critical commentary often prone to "why can't Boston be more like XYZ city" sentiment. Maggie doesn't have time to dwell on the negative or wait for someone to take the lead, shes too busy making shit things happen.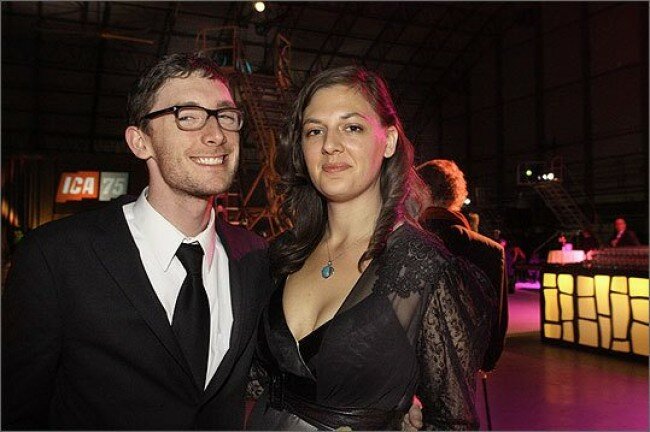 "There are a lot of practical solutions for 'putting Boston on the map' for the Arts that I, or anyone else, could gab about from increasing sales to better governmental support. But the most important to me, is first off: knowing we are on the map. Assuming that, believing it and acting accordingly. Scoffing at anyone who says otherwise. Belief is a powerful tool. The more people that are confidently invested in what they, and their colleagues, are doing here, the more that energy will spread. So you know all your friends who are whining all the time about how much Boston sucks? Dump them."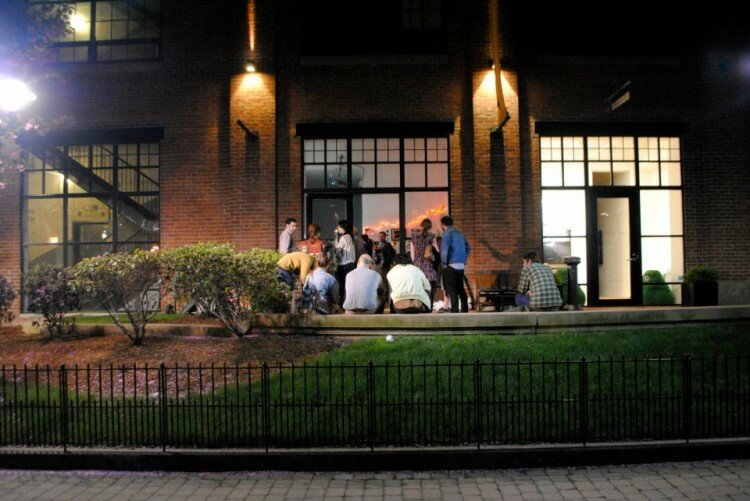 (crowds gather outside 'Communion IV' at Anthony Greaney)
♥