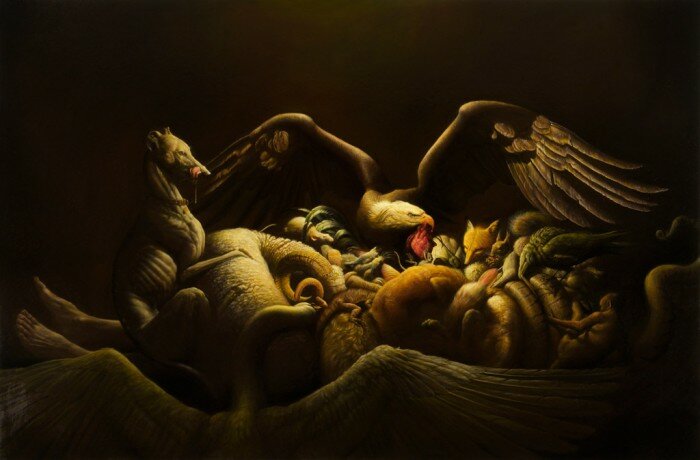 Batten down the hatches.
Lock your windows.
Grab your wellies and cocktail umbrellies…
The Weekly Wrap-Up is upon us.
The Art of Mourning x Calder Kinetic Toys x Blue Nude x Make it Together
—————————————–
Spaces
When: On view through September 5th, 2011
Where: Clark Art Institute, 225 South Street, Williamstown, MA
How: Official Website
What/Why: "The large-scale photographs by Candida Höfer and Thomas Struth featured in this exhibition offer distinct but connected perspectives on the ways individuals interact with the spaces they inhabit. Trained together at the Kunstakademie (Arts Academy) Düsseldorf in Germany in the 1970s, Höfer and Struth have embraced photography as a medium of social, cultural, and historical purpose, choosing public spaces as their subjects.
Both Höfer and Struth engage with history and the passage of time. Höfer's photographs of libraries, auditoriums, and research centers are mostly uninhabited by people but filled with light and the mystery of visual and intellectual contemplation. Although the architecture of these monumental rooms conforms to a symmetrical logic, the photographs are pervaded by a sense of loss as the use and significance of the spaces have shifted over time. Struth's works capture church and museum visitors engaged in the act of looking, as we, the viewers of the photographs, observe them from a physical and temporal distance. This reflexive impulse allows us to experience several historical moments at once, both inside and outside of the picture's frame."
————————————–
Cynthia Packard
(Blue Nude)
When: On view September 1-30, 2011 (Opens Next Tuesday)
Where: Chase Young Gallery, 450 Harrison Ave, No. 57  Boston, MA 02118
How: Official Website
What/Why: "Cynthia Packard is part of an artistic lineage started with her great-grandfather, Max Bohm, who was a respected Impressionist painter from the turn of the century, and her mother, Anne Packard, a renowned landscape artist. As an honors student at Mass. College of Art, where she received a BFA, she spent most of her time sculpting.
After college, she returned to Provincetown and painting, where she studied with, and modeled for the late Fritz Bultman. Her five year relationship with Bultman influenced her work greatly and he remained Packard"s mentor until his death. Packard's work has also been influenced by several modern masters: Bonnard, Matisse, Modigliani, Balthus, and Diebenkorn, to name a few. Packard is a gifted colorist with a strong sense of composition and form.
Although she paints exceptional still lifes, Packard is more known for her figure work, primarily of women. Her paintings of people have weight and simplicity, yet, there is a stillness that pervades, as if her figures are isolated in a dream. Her paintings of women, in particular, many times give you the impression that the woman is waiting for something or for someone. There is often an expression of forlornment or longing which is rather disquieting to the lush interior landscape or setting."
————————————–
Shot Through the Heart – Opening Reception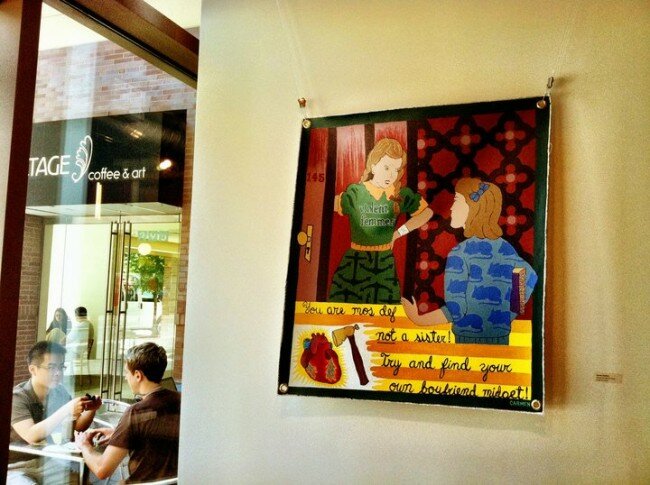 (Sneak peek of Shot Through the Heart)
When: On view August 20th-September 2nd, 2011
Opening Reception: Friday August 26th, 7:00-10:00PM
Where: Voltage Coffee & Art, 295 3rd Street, Cambridge, MA
How: Official Website
What/Why: "Voltage Coffee & Art Presents a super special showcase of multimedia artwork by Carmen Abelleira.
"Shot Through the Heart" whimsically chronicles the life-cycle drama of heartbreak and healing, using hints of 1970′s emerging punk influences that get our heroine to put her pout away and head back to the dance floor. Come share homemade sangria for 2 and wander through the story of love and loss with a clever twist while DJ troupe PARAJITOS provide their own version of the soundtrack.

Also staring: local artwork installation from graphic design collective *GOLDEN ARROWS*"
—————————————–
The Strange Life of Objects: The Art of Annette Lemieux
(Potential Snowman)
When: On view through October 9th, 2011
Where: Worcester Art Museum, 55 Salisbury Street, Worcester, MA 01609
How: Official Website
What/Why: "The Strange Life of Objects: The Art of Annette Lemieux presents the first critical overview of this artist's dynamic and varied career. Annette Lemieux first garnered attention on the newly global art scene of the 1980s. Since that time she has continued to produce work that grows in depth and resonance, proving herself an artist of lasting significance. Lemieux's early use of traditional techniques painting, printing, casting, and photography expanded to include found materials laden with cultural meanings and evocative of personal memories. Whatever the material, Lemieux masters and invents techniques and processes that correlate with states of mind. Major themes she returns to within our shifting political and cultural climate include the horror of war, the nature of time, the elusive truth of memory, the nature of ideas and art-making, and the relationship between personal experience and cultural history."
————————————–
Make It Together
("Cave Monster Stalking a Unicorn" by Adam O'Day & KDONZ)
When: On view through September 27th, 2011
Where: Distillery Gallery, 516 E 2nd St, first floor, South Boston, Massachusetts
How: Official Website
What/Why: "The confines of the artist's studio allow the artist to focus, free of distractions, on the creative process. Both a place of solitude and freedom, the studio is where ideas come to fruition and the sometimes messy practices of art making are of little concern in regards to the space. The studio, however, with all of its usefulness, can also be limiting.
In an attempt to address the notion of isolation within one's studio, The Distillery Gallery has challenged a group of artists to produce works beyond their normal individual control. "Make it Together" asks artists to collaborate with one or more fellow artists on individual pieces, thus surrendering complete authority by any one contributor. The results will be unique to each pairing and will encourage the participants to take risks they otherwise do not take in their routine individual processes.
"Make it Together" will feature collaborative works involving:
Hilary Alder, Gulay Apley, Aimee Belanger, Walter Crump, Alison Davis, Pat Falco, Josh Falk, Elizabeth Grammaticas, Stephen Holding, Vanessa Irzyk, Meredith Iszlai, AD Jacobson, KDONZ, Cassandra Long, Eric Love, Kenji Nakayama, Elizabeth Nicholson, Adam O'Day, Danielle Spurge, Nick Ward, and Dana Woulfe."
————————————–
Virtual Kinetics and the Art of the Image
When: On view through August 31st, 2011
Where: Charles River Museum of Industry & Innovation, 154 Moody Street, Waltham, MA 02354
How: Official Website
What/Why: "A peculiar decades-long collaboration between two gentlemen from different centuries, resulting in a multimedia interactive art exhibition combining historical and new media technologies to create beauty and stimulate a sense of wonder.
Virtual Kinetics, and the Art of the Image attests that technology can be used to both create beauty and stimulate a sense of wonder. By combining historical and new media technologies to create interactive art, artist Dave Gordon achieves effects which are at once magical, beautiful and understandable.
Much of the work presented in Virtual Kinetics, and the Art of the Image represents a peculiar decades-long collaboration between two gentlemen from different centuries, multimedia artist and educator Dave Gordon and Victorian inventor and photographer Eadweard Muybridge. Gordon continues the artistic work of "the father of film" by exploiting cutting edge technologies such as micro controllers and Hall-effect sensors to make Muybridge's motion studies interactive in a three dimensional environment. Inspired by Muybridge's images or wholly original, Gordon presents work in this show which lays bare the technology that all digital media uses to display images and mimic continuous motion. While beautiful and educational the work is often provocative, challenging contemporary, as well as Victorian norms."
————————————–
Free Fun Fridays

(Toys constructed by Alexander Calder on view at the Berkshire Museum)
"Free fun fridays invites Massachusetts residents and tourists to visit designated cultural attractions every Friday this summer with free admission. No registration or tickets required. Visit and enjoy!"




How: Official Website
Free attractions for August 26th, 2011:
OLD STURBRIDGE VILLAGE
1 Old Sturbridge Village Road – Sturbridge
*NEW REPERTORY THEATRE
321 Arsenal Street – Watertown
BERKSHIRE MUSEUM
39 South Street – Pittsfield
ECOTARIUM
222 Harrington Way – Worcester
————————
Outside City Limits…
Paul Oberst: Banded Artifacts/Banded Men
(Guardian)
When: On view through September 25th, 2011
Where: CMCA, 162 Russell Avenue, Rockport, Maine 04856
How: Official Website
What/Why: "Working in many mediums, artist Paul Oberst creates objects that reference universal themes of ritual and ceremony. Recently he has been "banding" his created objects and photographic subjects in black and white and colored stripes, inspired by the "trickster" gods of the Southwest Pueblo people. In his photographs of banded men and boys, one senses a mysterious rite, interrupted. The subjects' black and white body paint suggests a unity among races, a coming together of life's dichotomies. The recent sculptural works in the exhibition resemble found ceremonial artifacts, worn with the patina of use and age, and include a site-specific installation titled "Rockport 8."
————————————–
New Works by Chet Jones and Megan Hinton
(Harbor I,  Megan Hinton)
When: On view through August 30th, 2011
Where: William Scott Gallery, 439 Commercial Street, Provincetown, MA
How: Official Website
What/Why:"We are pleased to present an exhibition of new works by Chet Jones and Megan Hinton. The show will be on display through August 30th."
———————————-
Little Elegies: The Art of Nineteenth-Century Mourning
(Mrs. Miller of Newton, New Jersey , John S. Blunt)
When: On view through October 2nd, 2011
Where: Colby College Museum of Art 5600 Mayflower Hill, Waterville, ME 04901
How: Official Website
What/Why: "Drawn from the Museum's collections, this exhibition presents paintings, texts, and objects created to assuage grief, memorialize the dead, and remind viewers of religious beliefs during a period when death was an ever-present part of American life."
————————————–
Jacques Callot and the Baroque Print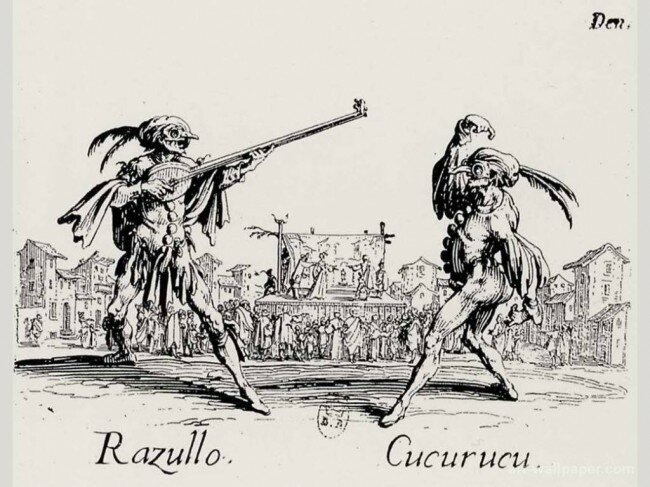 (Razullo and Cucurucu)
When: On view through January 22nd, 2012
Where: Museum of Art, Rhode Island School of Design, 224 Benefit Street, Providence, RI 02903
How: Official Website
What/Why: "Highlights from The RISD Museum's extensive and superb collection of prints by Jacques Callot (1592-1635) are on view in the exhibitionJacques Callot and the Baroque Print. The work of this prolific French artist shaped the subject matter and appearance of prints throughout Europe in the early 17th century.
The exhibition explores the themes of Callot's art — including religious martyrdoms, pageantry, and war — alongside his technical innovations in the medium of etching. Prints by contemporaries of Callot, such as Jacques Bellange, Stefano Della Bella, Claude Lorrain, Jusepe de Ribera, and Rembrandt van Rijn are included to provide a broader context for his work. An interactive model showing Callot's groundbreaking technique is also on view."
————————————–
Headed to Toronto for the next few days for a very necessary vacation.
This trip also coincides with my birthday along with the birthdays of Ingrid Berman, John Locke, Charlie Parker, and Michael Jackson.

See You Next Tuesday ♥