When I'm not busy reading porn to the blind, I sometimes like to catch up with the Wall Street Journal..or at least read headlines…or look at pictures..
Last week's Friday Journal featured a story entitled Clicking on a Masterpiece regarding the burgeoning world of the online art auction market.
On January 22nd -30th, the VIP Art Fair will take place entirely online with works from nearly 140 galleries all over the world including The White Cube Gallery in London, Winkleman Gallery in New York, and Gallery Hyundai in Seoul. (We need to get Massachusetts on the participant list!)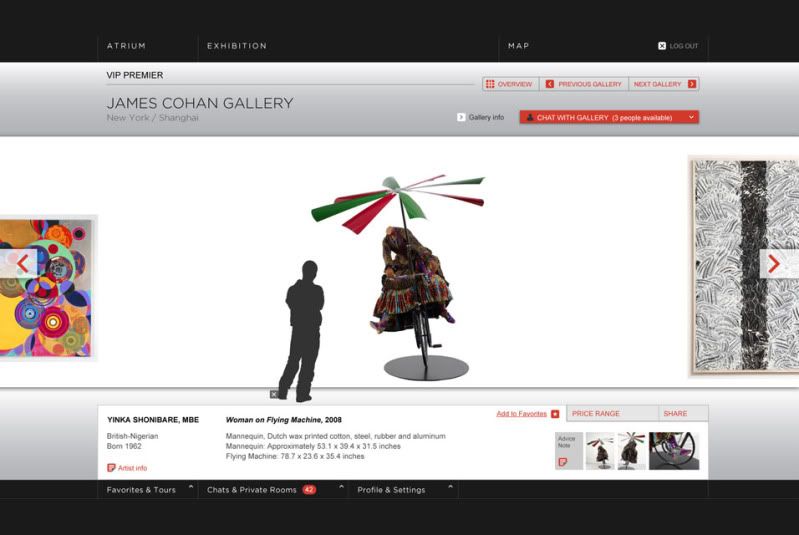 (screen shot of preview gallery at VIP Art Fair)
An invitation is required to participate in the VIP Art Fair(which is free upon request) and enables you to "browse all booths, add artworks to your favorites and create and share guided tours." The VIP Art Fair also has a VIP Pass option for $100 once the auction starts which entitles you to additional privileges, such as "access to price ranges, chat, and the VIP Lounge. "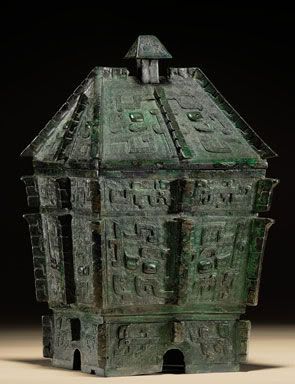 (Shang Dynasty vessel sold to an online buyer for $3.3 million at Christie's last September)
As more and more powerful art buyers are emerging from Asia, Russia and the Middle East, the need to reach collectors around the globe has never been greater.  And "dealers are looking for ways to reach a younger generation that's beginning to explore the art market-without alienating their best clients."
In the past, online art auctions have seen great successes and failures.  The art market has viewed some of the available works to be sub par, concerns over million dollar deals made over shotty internet connections, and as London-based contemporary art collector Tiqui Atencio puts it "There is so much out there to buy, why bother with something you can't see in person?"
—————————————————————
The article mentions an online art purchase blunder that I particularly enjoyed:
"Tony Podesta, a Washington lobbyist and contemporary art collector, purchases up to a fifth of his art sight unseen, based on digital photos.  But he's made some miscalculations.  He and his wife are now living with a giant Campana Brothers couch made of stuffed animals that was far larger than they anticipated after viewing a JPEG of the image on an auction house website. 'I think we thought it was like a regular-size couch,' he says. "It turned out to be a much more substantial creature."
————————————————————————-
In 2000, early on in the art auction arena, Sotheby's created an online platform and after the successful sale of an original copy of the Declaration of Independence for $8.1 million, it seemed to serve as a promising omen of things to come.  However, three years later after being unable to convince sellers to consign their works online, Sotheby's shut down the platform at a $100 million loss.   Internet art database artnet also closed its online auction business after two years in 2001 at a loss of $11 million.
So is there hope for the online market?  Are people too set in their ways to adapt to this new way of doing business?   Websites like Exhibition A and 20×200 which sell affordable art work and prints online have already amassed a large following.
Oh an untapped market? Cue Google.
Google Chief Executive Eric Schmidt, Twitter chairman and co-founder Jack Dorsey and Russian mega-collector Dasha Zhukova are investing in Art.sy, a new service set to launch this spring.  This site is "designed to help collectors find art based on their personal preferences and past buying history, much the way the music site Pandora guide music lovers to new bands." Dorsey says the site will appeal to a tech-savvy generation that is beginning to invest in art. "Right now, you have an influx of younger folks who are looking to bridge what they're doing with site likes Twitter, Facebook, and Foursquare and all these other companies with their other interests, which include art and paintings, drawings and sculpture."
A new wave of digital art ventures is launching as the art market begins to pick up steam again.  Auction houses Sotheby's and Christie's sold more than $9 billion worth of art combined last year, nearly doubling their sales from the year before.  Prices are climbing again for contemporary art, which fueled much of the art market's last boom before the recession hit.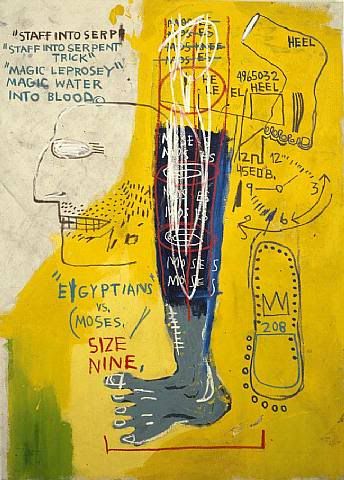 ('Early Moses' by Jean-Michel Basquait will be available at the VIP Art Fair for ~$5MM)
———————————————————————
Quick Pros of the Online Auction
Connectivity/Reaching a Greater Pool of Buyers: the ability to connect collectors who live in the far reaches of the globe(see also:not New York or London) and are already accustomed to buying art online.
Access to a Wider Selection of Art. Pollock delivered straight to your PC while you sit in feety pajamas.
Lower Cost: For dealers,a virtual art fair can be an appealing way to reach a broad audience at a fraction of the cost of participation in a traditional fair.  Many smaller galleries were fored to sit out of Art Fairs like Art Basel Miami where booth rental costs range from $10,500 to $65,000.  Online virtual booths for the VIP Art Fair run $5,000 to $20,000.
With the high cost associated with shipping art, dealers can showcase enormous sculptures and 17ft paintings with ease and a virtual storefront allows gallery employees around the world to be on hand and fully staffed nearly around the clock.
Quick Cons of the Online Auction
Cannot View Art in Person: There are those of us who still insist on writing checks and stamping envelopes with our monthy bills, an online platform might seem like a bizarre interface for purchasing multi-million dollar pieces when you are accustomed to physically being in front of art and observing it in person.
Potentially offputting to High-end Clients: The online fair needs to walk a fine line between offering access to newcomers and exclusivity to collecting veterans.  The invitation system for the VIP Art Fair is one way of regulating this with varying degrees of access.  Many of the booths may publicly display 20 out of 100 works on offer, leaving the rest to show only to their best clients in private online viewing rooms.
Lack of Physical Human Interaction: Online fairs lack the electricity of art-world insiders gathered in one place and watching each other's next move. The article mentions when Brad Pitt huddled with collectors Eli and Edythe Broad before buying a nearly $1 million painting by German artist Neo Rauch at Switzerland's Art Basel two years ago for instance, he set the event abuzz.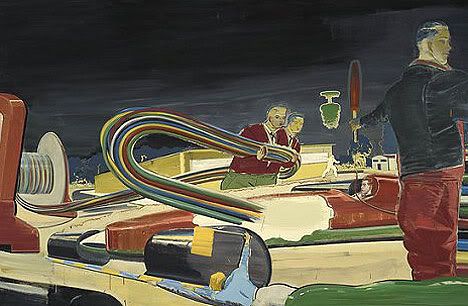 (Etappe, Neo Rauch (the piece Brad Pitt purchased))
"It'll be interesting to see how it does without all the air-kissing in the aisles that you get at other fairs," says Dennis Scholl a Miami-based collector of contemporary art.
———-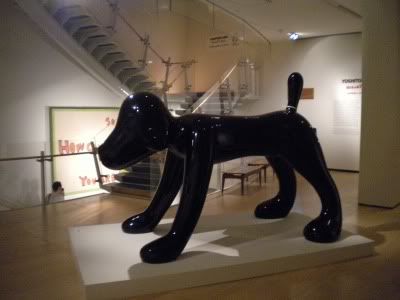 ('Your Dog' by Yoshitomo Nara will be offered at the VIP Art Fair for $500,000)
I think online art auctions and the accessibility of art are an obvious next step for the industry, but it will be interesting to see how quickly it takes hold and if people will be able to pull the trigger on big pieces of art.  I wonder if the platform will cause MORE or LESS impulse buying.  I would imagine, after attending a few events myself, that you can really get swept up in the live art auction with gavels, paddles, staff on phones, art handlers and the murmur of the crowd, that you might feel inclined to "win" when you are looking your competition in the face .  On the flip side, when you're home, halfway into a bottle of Yellowtail, maybe you'll whip out your Hello Kitty credit card for a William Wegman photograph, and then subsequently regret it when you wake up the next morning. IN.THEORY.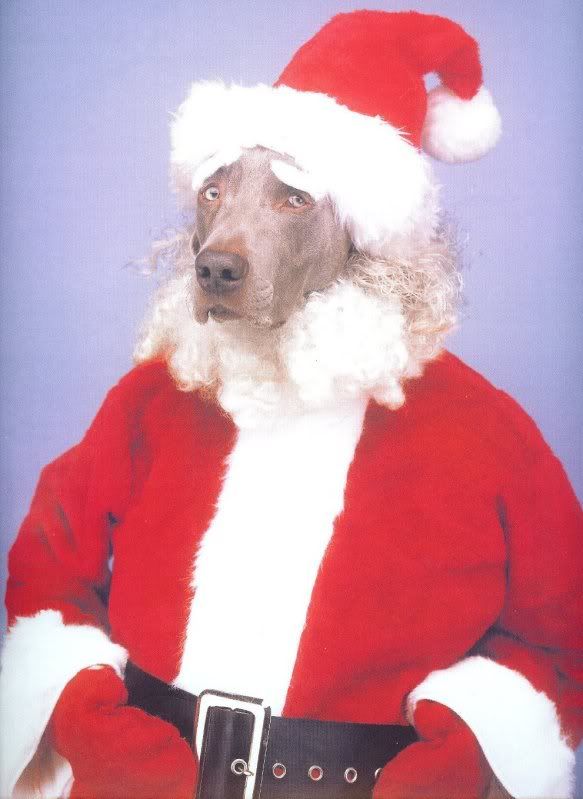 ..
So as far as the online art auction goes, I am all about it.  My invitation to the VIP Art Fair was sent out to me within minutes of registering, and I am looking forward to seeing how it all unfolds next weekend.
I WILL say that the whole art.sy website idea which I only briefly touched upon kind of "weirds me out" for lack of a better term.  I think it will be effective in finding "similar artists" for a book report, but the cynic in me thinks that will be about the end of its usefulness to me.  I tend to like surrealist representational paintings, but that doesn't mean I want to litter my home with TONS of the same type piece.  Who wants to be a one-trick pony and fit into a mold in one of the only areas of our lives where we can express ourselves without regulation/censorship/having to live up to standards?  Will people look to the internet to tell them what they should like?  Will there be a balance of exposure-ie:will a local Boston artist show up as a top result alongside the big boys if they fit the same criteria?  Even talking about criteria and search engines with art "weirds me out".  I went on art.sy to check out their form page and it seems pretty broad…price range, movements you like, medium.. we'll see, I remain skeptical.
As one collector remarks in the Friday Journal:
"How can anyone tell you exactly how their head works when they look at art? You collect via your subconscious, and it's hard to write an algorithm for that."