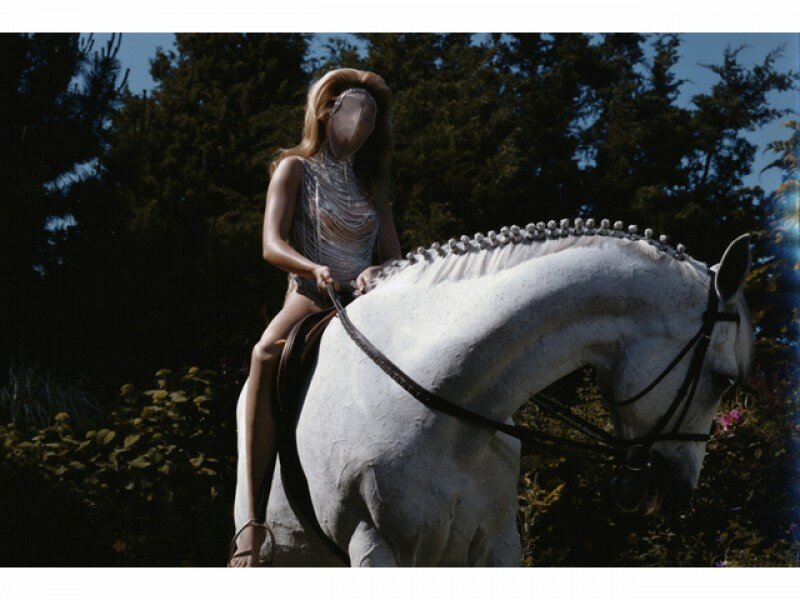 protecting the wounds x the more you struggle, the faster you sink x all of everything
—–
Amy Archambault | Imaginate

When: On view May 4-June 5, 2016
Artists' Reception: Saturday, May 14, 4:00 – 7:00 PM
SOWA First Friday Receptions: Friday, May 6 and June 3, 5:00 – 8:00 PM
Where: Boston Sculptors Gallery, 486 Harrison Avenue, Boston, MA 02118
How: Official Website 
What/Why:"The Boston Sculptors Gallery presents Imaginate by new member Amy Archambault, a multi-faceted exhibition featuring small interactive objects and large-scale works exploring the creation of play, the evolution of form, and the investigation of functionality. In her most recent work, the objects, tools, and gadgets we acquire as homeowners and "home-improvers" populate Archambault's visual lexicon. For the past two years, the artist has been renovating her own home, and much of her life has been dominated by the endless choosing of colors, hardware, and the right tools for the job. Beyond the mental exhaustion and over-saturation she's experienced as a browser, designer, and decision maker, she has found delight in the possibility of acquired materials, objects, and tools to yield atypical alternative functionalities. Archambault has discovered a striking connection between her process of morphing and amalgamating objects, and the way children engage in "pretend." Perhaps the loss of playfulness in one's life pushes us toward the desire to create it ourselves."Also on view.
David A. Lang | Journey…

What/Why: "Journey . . ." is a symphony of movement, light, and sound. Rich in juxtaposition, this work is simultaneously simple and exceedingly complex. Suspended in space, it hangs, weightless, inviting the viewer to venture through time and space. This is Lang's most ambitious kinetic work to date. Measuring 11' x 13', "Journey . . ." nearly fills the entire gallery. A finely-tuned chassis constructed of copper coated steel welding wire is supported by 7' and 5' diameter wheels. Three sets of paper wings lift the structure skyward as they gently glide at 12 beats per minute. In the midst of a matrix of steel, gears and chains, sits a tiny wooden cyclist who appears to drive the entire piece. As he leans forward, pedaling slowly, the wheels rotate at one revolution per minute. Projected onto the underside of the wings are moving images of sky, flowing water, birds, and distant galaxies. Eerie shadows drift slowly around the gallery. The haunting sound track was derived from nature, the human voice, an electronic synthesizer and a bow drawn across the sculpture's frame and wheel spokes. "Light travels at roughly 186,000 miles per second and sound waves at roughly 1,100 feet per second through air," says Lang. "These are reference numbers that I have carried with me for most of my life. Where and how do we fit into this seemingly infinite time and space continuum? 'Journey . . .' explores that question."
——————–
Downward Spiral: Zines Today

When: On view through June 4th, 2016
Opening Reception: May 7, 7-10PM
Where: Distillery Gallery, 516 E 2nd St, Boston, MA 02127
How: Official Website 
What/Why: "DOWNWARD SPIRAL: Zines Today Featuring zines by: Adolfo Reyes Anuj Shrestha Elaine Bay J. Morrison Josh Bayer Karl Stevens Martine Workman Rhonda Ratray Tahnee Udero Tim Devin Tim McCool Ron Rege Jr. and video art by: GJYD Jeff Mack Curated by Dave Ortega"
——————–
Jaqueline Cedar | Be Real

When: On view through May 14, 2016
Opening Reception: Friday April 1, 2016 5PM
Where: Steven Zevitas Gallery,450 Harrison Avenue #47 | Boston, MA 02118
How: Official Website 
——————–
Radcliffe Bailey

When: On view April – May 2016
Opening Reception: Friday April 1st, 2016
Where: Samson Projects, 450 Harrison Ave, Boston, MA 02118
How: Official Website 
——————–
Andrew Wyeth – Drawings and Watercolors

When: On view through May 29th, 2016
Opening Reception: May 6th, 6-8PM
Where: Adelson Gallery, 520 Harrison Ave, Boston, MA 02118
How: Official Website 
——————–
Carlos Alvarez:  Protecting the Wounds
When: On view May 4-29th, 2016
Opening Reception: Friday May 6, 6-8:30PM
Where: Bromfield Gallery, 450 Harrison Ave, Boston, MA, 02118
How: Official Website
What/Why: "There are two important memories that encouraged me to create my work. The first is all those many years around the 1990s of violence and death in the city of Medellin, Colombia, where I grew up. The second one is the vivid memories of human remains after being in a mausoleum for four years.  I worked from the idea of the human body becoming a discarded artifact, wasted matter—parts of a whole entity that is no longer valuable. My immediate connection was to a decayed piece of wood, decomposed logs, rotten trees. These organic forms and the bodies became an integrated mass. I am interested in the physicality and materiality of the rotten wood as a memory of deterioration. I find possibilities in the forms and materials, perhaps a new space that is being created within the process of transformation."Also on view..
Jemison Faust: What Lies Beneath
What/Why: "Many artists who create their art from detritus begin with the larger issues of over consumption, waste and the health of our planet. Through my job as a personal organizer, however, my work begins by focusing on a particular person and moves out from there to larger concerns.  Working this way keeps me close to the emotional heart of the matter and the toll it takes on individual lives.  During this journey through a person's home, there is always a part of me looking for ways to visually express what I see and feel in this rich and complicated world. I bring back to my studio the "before" photos of the chaos, our conversations, the "To Do Lists," the twist ties, the solitary earring, the damaged toy, the pile of receipts, and the letters from strangers. The paintings that come from this collection begin as a rich collage, a layering of visual clutter bound with acrylic gel.  This surface is then sliced, sanded, peeled away and added to until one can begin to perceive the sight and texture of that person's life. The objects created from this collection derive from odd juxtapositions of items found in a person's home as well as my response to amusing or poignant conversations we have had during our time spent together. "
——————–
Claire Beckett: Converts
When: On view through May 28, 2016
Opening Reception: Friday May 6, 5:30-6:30
Where: Carroll and Sons Gallery, 450 Harrison Ave, Boston, MA 02118
How: Official Website 
——————–
Linda Leslie Brown: More Holes 
Rachel Thern: Lines, Rhythms, States 
Julie S Graham: Outside Magic 

When: On view May 4-29th, 2016
Opening Reception: May 6th, 5:30-8:00PM
Where: Kingston Gallery, 450 Harrison Ave, No. 43, Boston, MA 02118
How: Official Website 
What/Why: Learn more about the exhibitions here.
Also of note..
Radical Materiality Talk @ Kingston Gallery
with Linda Leslie Brown, Randi Hopkins, and Shana Dumont Garr
When:Sat. May 7th, 3pm
——————–
Archiv*: Matthew Gamber

When: On view through May 21, 2015
Where: Gallery Kayafas, 450 Harrison Avenue #37 Boston, MA 02118
How: Official Website 
What/Why: "Using a variety of processes, this exhibition is a play on the photograph as document, drawing attention to the medium's connection to language. Documents are analogous to tools; they maintain a specific functional fixedness and resist reconfiguration by the user (reader). Useful documents substantiate history, whereas useless documents have no history. What was full of information is now empty."
Also on view..
Frank Egloff – An Occasional Address to the Culture-Industrial Complex

What/Why: "It is often said that a photograph captures a moment in time. Frank Egloff uses images he finds on the web by unknown and well-known artists and then alters, multiplies, or adds to the original format. The resulting work, while it references the original, is a unique piece. Printing on separate sheets of mylar, putting two moments together, he creates a new reality — a fictional moment in time, with differing emotions and perspective. This exhibit features 18 new constructs. For example, Egloff layers an image taken by an unknown photographer during 2013 Fashion Week in Paris and combines it with an image, again taken by an unknown, from the New York Times in 2004 of a model wearing a gas mask. The resulting new image engages us in a complicated theory and asks the viewer to assess their values. It shakes us from the realism of two events and asks us to look deeper than the surface and to interact with a new experience "Art is never simply the discrete object or practice, installation or presentation, theater or theory, an objective element for a subjective history, but always a more complicated sum of moving parts – interests and agendas – the sublime and the prosaic – engaging us inevitably in contemporary culture." Frank Egloff
——————–
Catherine Kehoe: Vectors and Blind Spots

When: On view through May 24, 2016
Where: Miller Yezerski Gallery, 460 Harrison Ave, Boston, MA, 02118
How: Official Website 
Also on view..
Rachel Hellmann: Interfold

——————–
Artists for Humanity: 25th Anniversary Show

When: On view May 6 to May 15th, 2016
Where: Abigail Ogilvy Gallery, 460 Harrison Ave, C7, Boston, MA 02118
How: Official Website 
What/Why: "Group show featuring art by youth and teen members of local non-profit, Artists for Humanity, to celebrate 25 years of progress and social change."
——————–
Clare Asch | Jo-Ann Boback | Nora Charney Rosenbaum
When: On view through May 2016
Opening Reception: May 6th, 6-8PM
Where: Galatea Fine Art, 460 Harrison Ave, Boston, MA 02118
How: Official Website 
What/Why: Learn more about the exhibitions here.
——————–
Peter Downsbrough

When: On view through June 4, 2016
Where: Barbara Krakow Gallery, 10 Newbury Street, Boston, MA
How: Official Website 
Also on view..
Days and Dailies

What/Why: "Featuring works by Bronlyn Jones, Agnes Martin, Kay Rosen, and Sarah Sze"
——————–
On the Periphery, The Edge of Sight

When: On view May 5th through 29th, 2016
Opening Reception: May 5, 6-8PM
Where: Uforge Gallery, 767 Centre Street, Jamaica Plain, MA
How: Official Website 
What/Why: "When we focus on an object, a path, a goal, we lose our peripheral vision. It's a necessary blindness that provides assistance in concentration. It is the responsibility of the artist, to pay heed, see deeply, and respond thoughtfully with skill. The artist picks through layers of reality and identity with an awareness of how one informs the other. The artwork offers the impetus for deeper understanding of the world we inhabit. This exhibit provides art that creates a dynamic visual dialogue and a space that fosters expansive thought. It encourages the viewer to re-inform active sight, to see deeply."
——————–
Rodin: Transforming Sculpture

When: On view May 14-September 5, 2016
Where: Peabody Essex Museum, East India Square (161 Essex St) Salem, Massachusetts 01970
How: Official Website 
What/Why:" Whether working in plaster, marble or bronze on an intimate or monumental scale, Auguste Rodin captured the emotional and psychological complexities of human beings in ways that few sculptors before or after him have achieved. He also profoundly changed the language of sculpture by playing with accident and emphasizing the act of creating rather than completing a work of art. Rodin favored fragmentation and recombination as the principal expression of the significance he attached to change and transformation as the keys to creativity. Featuring sculptures and drawings, this thematic exhibition highlights the drama and experimentation that have established Rodin as one of the greatest sculptors of all time. Originally titled Metamorphoses: In Rodin's Studio, the exhibition is organized by the Montreal Museum of Fine Arts, in collaboration with the Musée Rodin, Paris. The exhibition was curated by Nathalie Bondil, Director and Chief curator of the Montreal Museum of Fine Arts, with the assistance of Sylvain Cordier, Associate Curator and Curator of early decorative arts, and under the direction of Catherine Chevillot, Head Curator and Director of the Musée Rodin, by Sophie Biass-Fabiani, Curator of the Graphic Arts and Painting. The AMG Foundation sponsored the exhibition at the Peabody Essex Museum. Carolyn and Peter S. Lynch and The Lynch Foundation provided generous support. The East India Marine Associates of the Peabody Essex Museum also provided support. The exhibition catalogue, with contributions on Rodin's process by leading scholars, is published by the Montreal Museum of Fine Arts."
——————–
Geoffrey Farmer

When: On view through July 17, 2016
Where: ICA Boston, 100 Northern Avenue, Boston, MA
How: Official Website 
What/Why: "Geoffrey Farmer (b. 1967, Vancouver) is best known for his installations and large-scale, sculptural photo collages. This immersive survey of the artist's recent major "paper works" presents room-sized installations composed of hundreds of small sculptures made of cutout photographs, fabric, and various supports. In these recent works, processions of figures assembled from fragments of book and magazine photography and illustration manifest the artist's interest in the cross-pollination of historical and vernacular imagery. Each spectacular composition begins to chart the historical contours of our image-saturated contemporary culture, and suggest the recurring cultural themes and formal patterns. Farmer uses movement, sound, animation, puppet characters, and a panoply of highly choreographed bodies and characters to investigate world history from the different angles of its photographic and sculptural accounts."
——————–
Year of the Monkey

When: On view through October 10, 2016
Where: Museum of Fine Arts, Avenue of the Arts, 465 Huntington Avenue, Boston, Massachusetts 02115
How: Official Website 
What/Why:"In honor of the Year of the Monkey in the East Asian calendar cycle, this exhibition of 56 works celebrates the important role of monkeys in Japanese culture. The Japanese macaque, a short-tailed monkey, is a common wild animal in Japan; and during the Edo Period (1615–1868), monkeys were often kept as pets. The most famous fictional monkey in Japan is a visitor from China, the Monkey King known as Son Gokū, a simian superhero who is the prototype of Gokū, the hero of the hit manga and anime series Dragon Ball. The highlight of the show is a complete set of all 21 known designs in the color print series Journey to the West by Tsukioka Yoshitoshi (1839–92), published in 1864–65 and based on a popular Japanese translation of the 16th-century Chinese novel of the same name. The story of the brave but mischievous Monkey King, who uses his supernatural powers to help a Chinese Buddhist monk travel to India and back on a quest for precious Buddhist scriptures, became almost as popular in Japan as in China. The Monkey King was featured not only in book illustrations and prints, but in decorative art forms such as netsuke and tsuba(sword guards). Another major source of monkey imagery was a traditional performing art still occasionally practiced today, in which costumed monkeys dance to the music provided by trainers who have raised them from infancy. On the kabuki stage, actors in monkey costumes imitated the monkeys who were imitating humans. At the same time, paintings and prints of the natural world included many vivid depictions of wild monkeys. Also part of the show are Art Deco postcards for 1932, another Year of the Monkey; and images related to the famous Three Monkeys—See No Evil, Hear No Evil, and Speak No Evil—whose names in Japanese are puns on the word for "monkey."
——————–
Queer Threads: Crafting Identity and Community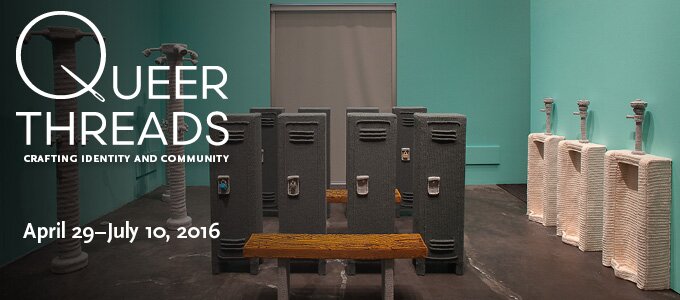 When: On view through July 10th, 2016
Where: Mills Gallery, Boston Center for the Arts, 539 Tremont St, Boston, MA 02116
How: Official Website 
What/Why:"Queer Threads: Crafting Identity and Community takes you places that you and your sewing never thought to go." —Holland Cotter, The New York Times Boston Center for the Arts presents Queer Threads: Crafting Identity and Community, featuring 26 artists from four continents who remix fiber and textile craft traditions and materials to explore contemporary lesbian, gay, bisexual, transgender and queer identities and ideas. On view April 29 through July 10. Queer Threads is brought to you in partnership with the Leslie Lohman Museum of Gay and Lesbian Art. For more information on Queer Threads  "The artists in Queer Threads…mobilize craft and its techniques in an eclectic and campy disruption of identity categories and to imagine collective modes of gender and sexual self-determination." —Jeanne Vaccaro, Journal of Modern Craft"
——————–
Hung Out to Dry

When: On view through May 2016
Opening Reception: May 6, 6-9:30PM
Where: Lens Gallery, 524 Harrison Ave, Boston, MA
How: Official Website 
What/Why: "Featuring work by John Roy, Hung Out to Dry is an exhibition of sculptural works that at first glance are mundane objects realistically recreated and are hung as if they are "drying".  The phrase can also be interpreted as a figure of speech as to be left out, abandoned or to take blame. Many of the objects in the show, such as a stack of solo cups or a black plastic bag containing a six-pack, reference inebriation and alcoholism."
——————–
James Hull | Likeness & Legacy:  A re-photographic survey of historical portraits

When: On view April 1 – May 22, 2016
Opening Reception: Friday April 1, 5:30-8:00pm
Where: Laconia Gallery, 433 Harrison Ave, Boston, MA
How: Official Website 
What/Why: "In this follow up to his solo exhibition at Harvard Medical School's Transit Gallery, "Personal Propaganda", James Hull expands and focuses on the standardized photographic portraits called "Cabinet Cards". These portraits, created in artistic studios, developed and printed by sunlight, were the first widely collected photographs in America. These thin albumen and bromide prints mounted to heavy paper cards were also the first accurate, reproducible recordings of the likenesses of everyday citizens.
These 130 year old photographic portraits found in the family attic in Atlanta are paired with fascinating examples of other early photographic forms: Collodian positive prints, Ferrotypes, and other paper print formats. Hull connects this popular card format to images of the 1st Century Roman sculptural busts that he believes to be origins of the formal poses used by the commercial photographers of the 1870's. These two connected forms of portraiture are examined through brilliant side-by-side enlargements featuring photographs produced in Virginia, North Carolina, Massachusetts and Texas and sculptures from the Vatican, Capitoline and Naples Archeological Museum collections."
——————–
Quicksand: The More You Struggle, The Faster You Sink

When: On view through May 8th, 2016
Where: New Art Center, 61 Washington Park, Newtonville, MA 02460
How: Official Website 
What/Why:"Quicksand is a group exhibition that addresses the unseen body within contemporary culture. Quicksand is deceptive. From a distance it appears solid, but on closer contact it becomes dangerously unstable. Within the discourses of art and politics, the body finds itself on similarly shifting ground as a physical, digital, and conceptual presence in flux. Quicksand, a pop-up show at the New Art Center in Newton, MA, will feature work that disrupts expectation by erasing, covering, and fracturing the human form, asking broader questions about the spectrum of cultural visibility. Through the lens of a fragmentary experience, the body becomes an allusion, goes missing, or is present as a mere impression. The figure on view here is unstable, like quicksand, and contends with the boundaries of identity, territory, and the negation of the body through technology.  MassArt Curatorial Studies Pop-Up Exhibition organized by the Massachusetts College of Art and Design's Graduate Seminar in Curatorial Practice: Casey Ausman, Samantha Bates, Janet Loren Hill, Jennie Kormanik, Alyssa Minahan, Landon Newton, Danielle Palmer, Emily Vallee, and Wan Yang. Featured Artists: Salome Asega, Casey Ausman, Bashezo, AK Burns, Carlos Jimenez Cahua, Caleb Cole, Furen Dai, Allison M. Disher, Janet Loren Hill, Pope L., Curtis Mann, Susan Metrican, Alyssa Minahan, Landon Newton, Diana Jean Puglisi, John Robert Roy, Suzanna Scott, Corinne Spencer, Josh Stone, Triiibe, and Xtina Wang"
——————–
Fickle Ground: Sarah Tortora

When: On view through May 28, 2016
Opening Reception: April 30, 6-9PM
Where: GRIN Gallery, 60 Valley St #3, Providence, RI 02909
How: Official Website
What/Why:"The in-between. The rusted hinge. The gap in the sidewalk that swallows your shoe. The shedding of concrete from decaying plywood. The stutter between words. Faultlines. Crossroads. The sinew that connects these things, through uncanny geometry, at human scale and OSHA standard. The camouflage of no commitment, whose function is to publicly declare the camouflage sheathing everything else. The art object that plays well with others characterizes the dilemma of a proud impostor.
In Fickle Ground, Sarah Tortora will present a body of sculptural works, both freestanding and on the wall, which features the particular lexicons of equestrian monuments alongside those of institutionalized Modern sculpture. Commemorative monuments always designate a specific event, feature a specific identity, in a specific location. This type of crafted form thus becomes an attempted signifier for a resolute identity or account of history. Inversely, the institutionalized display of Modern sculpture does not possess this site-specificity. The pedestal, if not an integral part of the work, becomes a tactical mediator between the object of desire and the exhibition environment. The works presented here, culled from common construction materials, speak to the ways in which archetypal structures become embedded in intuitive notions and motions of place-making and artistic production. Tortora's large, freestanding sculpture The Transplantable suggest the anxious, transient, intertwining legs of a horse galloping without a rider- taken one step further, without a body nor head of its own- and solidifying into its own pedestal, its own historical afterimage. The materials selected for the construction of these pieces reveal another archetypal resemblance: to that of a Trojan horse. This piece encapsulates many of the ideas of shifting identity, sociological archetypes, and self-referential sites of projection that function as a keystone for the direction of her current work. Several large, in-the-round sculptures are footnoted by smaller wall pieces that resemble a prototypical "alphabet", and further serve to construct a lexigraphy of sculptural form while maintaining a direct physical correspondence to the audience. The very sharp and graphic "facades" of these sculptural works, which visually beckon and subsequently surprise when experienced in the round will acknowledge the architecture of the gallery as a conceptually charged display mechanism that refers back to the primary tenets of this series. The work in Fickle Ground strives to objectify the threshold that exists between subject and direct object; to build that which simultaneously belongs to both and neither. Tortora is interested in the void as artifact; in the negative space between Andromeda and the rock; and the unspoken syntax that governs our desire for the world."
——————–
Joe Fig: Drawings

When: On view through May 31, 2016
Opening Reception: May 6th, 2016 6-8:30PM
Where: EBK Gallery, 218 Pearl Street, Hartford, CT
How: Official Website
——————–
Joan Backes – Paper House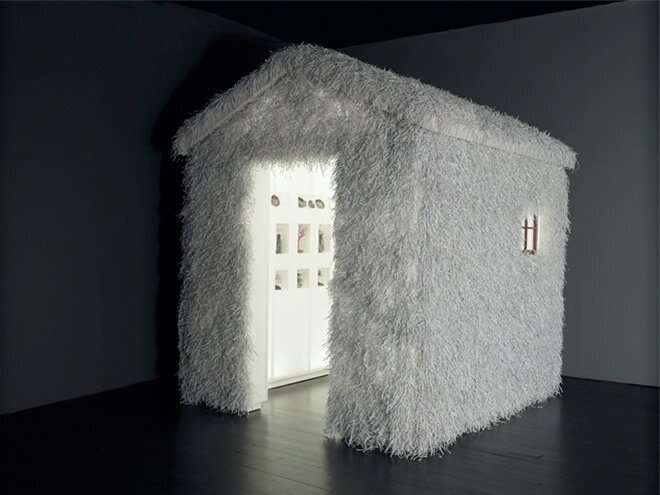 When: On view May 7th-June 18th, 2016
Opening Reception: May 7, 6-9PM
Where: Yellow Peril Gallery, 60 Valley St, Providence, RI 02909
How: Official Website
What/Why:"Yellow Peril Gallery is pleased to announce Paper House by Joan Backes, featuring a luminous mixed media house installation covered in recycled, shredded paper that incorporates natural specimens with industrial elements and LED lights, in addition to recycled wood paintings from her Art Source Artist Residency in Australia and related works poised in a space between nature and the built environment; between the allure of surface and revelatory layers of meaning; between the contemporary present and deep-seated connections to her past. Backes is an internationally renowned artist, and has shown in Germany, Scotland, Sweden, Iceland, Finland, Thailand, Canada, Argentina, and Chile, along with numerous places in the United States. Her work carefully examines the tree as a material and a concept. She dissects the tree almost obsessively, and looks at every physical and conceptual aspect, creating carpets of laminated leaves, painting detailed and accurate images of bark, taking crayon and graphite bark rubbings, and building installations and sculptures out of limbs and branches. Because of the universality of the tree as a symbol across cultures and generations, the resulting work touches a primal part of human imagination, and recalls a broad spectrum of literature, folklore, and art. Paper House (2007-2016) welcomes visitors into Backes' artistic heart and home. After stepping through the door, viewers will see an interior featuring samples of amber, slices of fossilized bark and jars filled with acorns, dried leaves and seedpods. The luminous quality of the house underscores the idea that nature illuminates human lives with beauty, shelter and sustenance. This concept is illustrated through shreds of recycled computer paper that covers the house – the ordinary office variety. We may touch the stuff everyday, and even in our technology-saturated society, paper is still abundant around us. Paper House takes it as its most obvious building material, and reminds us that these document shreds are but trees in another form. Nature appears in many disguises. "The charming exterior of Paper House beckons us inside, and our attention is drawn even deeper," notes Katherine Murrell, Art History Lecturer, University of Wisconsin-Milwaukee and the Milwaukee Institute of Art and Design. "It is like a visual laboratory, a place for examining and considering the niches of objects and collections, retrieved from unknown origins and presented for examination. Not just a place of repose, this house has an intellectually engaged purpose." In her work, Backes encourages us to enjoy the beauty of nature, but also to pay attention to the experience of it. The aesthetic values in her work are a way of connecting with the viewer, and as she describes it, "a way of bringing people toward the art."
——————–
Inaugural
When: On view through May 2016
Opening Reception: Saturday May 7th, 2016
Where: M Fine Arts, 61 Thayer Street, Boston, MA 02116
How: Official Website 
What/Why:"M Fine Arts Galerie is thrilled to announce the "Inaugural Exhibition" opening with a gala reception on  Saturday, May 7th, 2016. For this premier show, each of our eighteen exceptional artists created new pieces that will preview here for the first time. Several of the artists will be present to discuss their work. Styles range from representational to abstraction, surrealism to naif, using unique and varying mediums. Through eclectic subject matter, color, texture and light, each work of art delivers a remarkable experience capable of piquing the interests of the first-time visitor as well as the sophisticated collector. Come join the revelry, meet the artists and explore each piece's unique narrative."
——————–
MFA THESIS SHOWS 2016

When: On view Apr 19 – May 7, 2016
Where: Mass Art Galleries, 621 Huntington Ave, Boston, MA 02115
How: Official Website 
What/Why: "The Massachusetts College of Art and Design Graduate Thesis Exhibition 2016 showcases the unique work of selected graduate students who are in their final years of their respective programs as well as candidates for an MFA degree."
——————–
Elements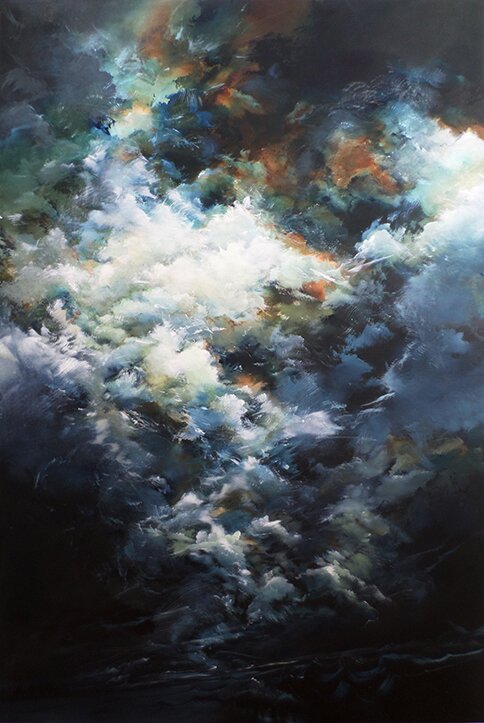 When: On view through June 18, 2016
Opening Reception: May 6, 5-9PM
Where: Gold Gallery, 460C Harrison Ave, #18, Boston, MA 02118
How: Official Website 
What/Why: "Artists Joerg Dressler and Christie Scheele both engage with and challenge the tradition of landscape painting in Gold Gallery's exhibition Elements. Dressler's pieces reflect on what he calls the "unpredictability and mysteries of nature"— the "inherently tame and wild, soothing and disturbing, exciting and frightening, just and unjust…all at once." His observations of our modern day relationship to nature, as a second hand experience, inspire his choices of shape, gesture, color and division within his pieces. Scheele creates a minimalist representation of a place, where a scene is reduced to it's essentials, leaving out distractions and visual clutter. This allows the viewer to react to the atmospheric quality made by the soft edges and thoughtful color choices."
——————–
Gendered Value 

When: On view through June 5, 2016
Where: Davis Museum, Wellesley College, 106 Central St, Wellesley, MA 02481
How: Official Website 
What/Why: "Gendered Value: Curators' Choice places the permanent collections of the Davis Museum within the context of feminist art history. This exhibition seeks to illuminate the complex interplay between gender and value via artworks that have rarely been on view. Selected by eight members of the curatorial staff, the works highlight a unique cross-section of the collections, across periods, genres, and cultures. Drawing upon individual expertise, each curator examines works that encapsulate their personal conception of "Gendered Value."
——————–
Meow: A Cat Inspired Exhibition

When: On view May 21 through September 4th, 2016
Opening Reception: Friday May 20, 2016 7-8PM More information here
Where: Worcester Art Museum, 55 Salisbury St, Worcester, MA 01609
How: Official Website 
What/Why: "WAM takes the theme of cats by the tail with this one-of-a-kind, multi-faceted project. Meow includes an exhibition exploring the feline as an iconic element of art, a self-guided "cat walk" through the Museum, an interactive installation featuring live cats, a community art show, a naughty kitty take-over of Helmutt's House, a dog show curated by Helmutt, and special art classes. From serious art to mischievous fun, Meow promises to tickle the whiskers of museum and cat-lovers alike!"
——————–
Grey Eagle

When: On view through May 14, 2016
Where: 555 Gallery, 555 E 2nd St, Boston, MA 02127
How: Official Website 
What/Why: Learn more about the exhibition here.
——————–
Interiors

When: On view through May 21, 2016
Where: Dorchester Art Project,  1486 Dorchester Ave, Dorchester, MA 02122
How: Official Website
What/Why:"Interiors explores domesticity and its relationship within artistic practice. Through both material and subject matter, each artist in the exhibition references the delicate balance between the discourse of contemporary art and their home life in their works.
Artists: Maureen Cavanaugh, Sean Downey, Gage Delprete, Robin Dluzen,Michelle Grabner, Angelina Gualdoni, Maura O'Donnell, Kathleen O'Hara andAllison Reimus Curated by Eric Stefanski"
——————–
The Gulf

When: On view through May, 2016
Opening Reception: May 6th, 2016 6-8PM
Where: ArtsWorcester, 600 Main Street, Worcester, MA
How: Official Website
What/Why: "On Friday, May 6, from 6:00 to 8:00PM, please join us to celebrate the opening of The Gulf, photographs by Camilo Ramirez at ArtsWorcester, 660 Main Street. This reception is open and free to the public. This exhibit of photographs, taken across the American Gulf states, explores the intertwining of history, industry, and natural resources. As part of ArtWeek Boston celebrations, Ramirez will give an artist talk about the series at 5:45 PM, immediately before the opening.  The Gulf opens alongside the members' exhibit, Terra Firma.."
Also on view..
Terra Firma
"..That same evening, Friday, May 6, from6:00 to 8:00 PM, we invite you to the opening of Terra Firma: A Members' Exhibition, an open-member exhibition of work inspired by the land. While traditional approaches to pastoral landscape are on view, some artworks move beyond notions of idealized landscape and delve into the fields of ecology, cartography, and biology. This exhibit is on view through May 27, 2016″
——————–
John C Gonzalez – Works Well With Others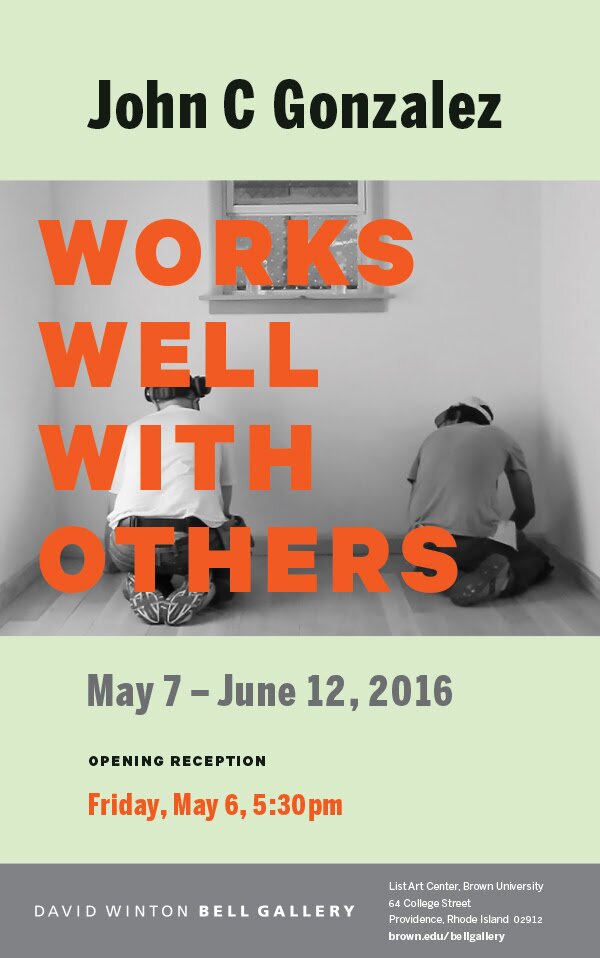 When: On view May 7 through June 12th, 2016
Opening Reception: Friday May 6, 5:30PM
Where: David Winston Bell Gallery, 64 College Street, Providence, RI
How: Official Website
What/Why: "A cabin for artist residencies, a restaurant menu reimagined as a family meal, a series of self-portraits — John C Gonzalez makes things with other people. Broadly concerned with processes of collaboration, the visibility of labor, and exchange relationships, Gonzalez's project-based artworks involve painting, sculpture, and performance and emerge from the daily routines of the institutions and organizations into which he is invited. Works well with others is the first retrospective of Gonzalez's collaborative projects—many not previously exhibited—and premiers a new project, a garden built inside the Bell Gallery with landscapers who often work with Brown University."
Learn more about the exhibition here
——————–
EXPOSURE: The 20th Annual PRC Juried Exhibition

When: On view through June 26, 2016
Opening Reception: May 5th, 2016 5-8PM
Where: PRC Gallery, 832 Commonwealth Ave, Boston, MA 02215
How: Official Website
What/Why: "The PRC is thrilled to host a special version of its annual juried show with esteemed jurors. The PRC's renowned juried exhibition showcases emerging and midcareer photographers from across the country and this year honors its 20th anniversary, which coincides with the 40th anniversary of the PRC itself.EXPOSURE is a great opportunity to view a slice of the best and brightest. Since its inception in 1996, over 300 artists have displayed several images each from their respective series on the PRC's gallery walls. This year, we are pleased to present EXPOSURE 2016 as a part of the Flash Forward Festival in Boston (May 1-8th); save the date for the opening celebration, Thursday, May 5th!"
——————–
Joseph Scheer

When: On view through May 30, 2016
Opening Reception: Friday May 6th, 2016
Where: T+H Gallery, C19 + C20 460 Harrison Ave, Boston, MA
How: Official Website
——————–
All of Everything: Todd Oldham Fashion

When: On view through September 11, 2016
Where: RISD Museum, 20 North Main Street, Providence RI, 02903
How: Official Website
What/Why: "Designer Todd Oldham burst onto the New York fashion landscape in 1989 and blazed a spirited trail throughout the next decade with his scrupulously constructed garments, featuring extravagant embellishments and raucous color combinations. All of Everything is the first major exhibition to focus on the exuberant style and playful aesthetic of Oldham's runway opus of the 1990s. "We were always throwing curve balls," Oldham recalls. "I felt I had something to say and it was meaningful and had duality and juxtaposition." Since then, the multi-talented creator has mastered nearly every element of design—from furniture to film—and his innovative, bricolage approach earned him an honorary doctorate degree from the Rhode Island School of Design (RISD) in 2014. Drawn from the Todd Oldham Studio archives, a substantial portion of which was recently donated to the RISD Museum, All of Everything features more than 65 full ensembles—from Oldham's Swarovski crystal-encrusted feats of craftsmanship to his Pantone non-repeating print designs. Carefully considered details, such as embroidered motifs applied at a 400-year-old handicraft workshop in India, illustrate the designer's deep interest in all aspects of textile development and the preservation of artisan industries. Oldham's intensive design process is further revealed through his original artwork, while projections of recently discovered runway video footage activate the gallery space and illustrate the full creative endeavor of his fashion shows—which were among the first to feature African-American and ingénue talents such as Cindy Crawford, Christy Turlington, Naomi Campbell, Kate Moss, and Tyra Banks, among many others."
——————–
Somerville Open Studios

When: On view April 30-May 1, 2016 12-6PM
Where: Various locations around Somerville, see map here.
How: Official Website  What/Why: "Explore the work of nearly 400 artists at over 90 locations in Somerville, MA."
——————–
CASUAL DEViANT

When: On view through June 4, 2016
Where: CASTLEDRONE, address and additional info here
What/Why: "CASUAL DEViANT brings together a showing of non-conventional paintings and sound in CASTLEDRONE's most recent exhibition in the NiGHTSHiFT Series. Using salt dough, Burney transforms wheat paste from it's roots in guerrilla art to a conversation about form and presentation of painting; coupling thoughtfully with Yoder's preparation on alternative-to-canvas cotton grounds. Yoder has sized cotton bandannas with rabbit skin glue, painting his raw imagery atop them to create striking abrasions. Meade's male on-lookers are cropped, like a tension-setting scene in cinema. He zooms in on the figure's features to reveal their grimy characteristics while still concealing their identities. Likewise, the identities of Salle's figures remain mostly unknown; we are placed along with them in the woods, as voyeurs. Albert Gray's work presents a dismal mid-western atmosphere, as much kitsch and bad taste, as sincere and personal storytelling. "
——————–
Remnants : Hannah Verlin

When: On view through May 25, 2016
Where: Simmons College, Trustman Gallery, 300 The Fenway, Boston, MA 02115
How: Official Website
What/Why:"Hannah Verlin's Remnants, using spare materials, references New England's connection to the sea. Using the height and light of the Trustman Art Gallery, her site-specific installation carries the weight of history via delicate form and obsessive markmaking. Verlin's work and graceful installation only emphasizes how much interpolation we must do to identify with the past. Verlin is aware of history, and how ephemeral the memory of it is. The ethereal nature of what remains either in the record or as a material object drives her project. The forms of and Red Whale: The Profits float overhead, their paper ribs covered with minute writing – more absence than presence – connoting the once grand whaling tradition of New England. The ships that battled the leviathans, the lives lost and fortunes made are all suggested by the combination of form and text. In A New World, Verlin uses simple old-fashioned bottles that appear to pour out blue string, puddling on the floor, arranging itself into words. Is it memory gone or saved? Her work asks questions about the past and our construction of narrative. Let Loose Upon the Seas conjures notes in bottles, gracefully hung in a bowl-like arc. But the bottles, full of tiny blue boats at the bottom of the arc, contain fewer and fewer boats as they rise to the ends. At the far reaches of the arc, there is only a single boat left in the bottle. These boats in bottles are the message, as calligraphic writing covers them. Her exquisite works beautifully suggest the dance between materiality and loss and the frail nature of the past. Verlin is a recipient of a Massachusetts Cultural Council award for installation and has served as an artist scholar-in-residence at the New Bedford Whaling Museum."
——————–
One/Thinking Two/Willing

When: On view through May 29th, 2016
Opening Reception: April 30, 6-8PM
Where: kijidome, 59 Wareham St, Ste 1A, Boston, Massachusetts 02118
How: Official Website
What/Why: "kijidome is pleased to announce the opening of One/Thinking Two/Willing, an exhibition by Adam Marnie and Matt Wycoff organized by Dawn Light Blackman."
——————–
SMFA MFA Thesis Exhibition

When: Friday, May 17-May 20th, 2016
Where: Cyclorama at Boston Center for Arts, 539 Tremont St, Boston, Massachusetts 02116
How: Official Website
What/Why: "SMFA's 2016 MFA students will be presenting a dynamic, interdisciplinary group exhibition at the Cyclorama, an enormous historical building in Boston's South End. Please join us for the reception on Friday, May 20th – you won't want to miss it! Tuesday, May 17, 11 am–7 pm Wednesday, May 18, 11 am–7 pm Thursday, May 19, 11 am–7 pm Friday, May 20, 11 am–5 pm, and 7:30 pm–10 pm"
——————–
South End Open Market Opening Day

When: Sunday May 1, 2016 10:00-4:00PM
Where: South End Open Market, 375 Harrison Ave, Boston, Massachusetts 02118
How: Official Website
What/Why: "The original South End Open Market, now in its 13th season is back! Three amazing markets together again in one convenient new location. Arts Market, Farmers Market and Food Trucks! We've Moved to Ink Block! The three markets will setup at 375 Harrison Ave in Boston's hot new Ink Block nieghborhood, just three blocks away from our former location. Opening Day, Sunday May 1st will be our biggest yet! Featuring 140 indie designers and artists + 15 food trucks + 60 specialty food and farm vendors. The market will be open every Sunday thereafter from 10am-4pm through the end of October."
——————–
Mobius @ Green Street, An Evening of Collaborations 

When: Saturday, May 7 at 8 PM – 12 AM
Opening Reception: Green Street Studios, 185 Green St, Cambridge, Massachusetts 02139
Where: Green Street Studios, 185 Green St, Cambridge, Massachusetts 02139
How: Official Website
What/Why: "Max Lord and Sara June, Michael Figueroa and Phil Fryer Katerine Gagnon and Sandy Huckleberry, Jimena Bermejo and Alissa Cardone, Jane Wang and Nathan Andary, Zayde Buti"
——————–
Go To The Light

When: On view through June 4, 2016
Opening Reception: May 7, 5-10PM
Where: 40 Cedric Street, 3rd Floor, Boston, MA
How: Official Website
What/Why: "Trifecta Editions, Anti-Designs, James Weinberg and Blanc Present: Go To The Light celebrates the art of screen printing and the glow of flourescence!"
Learn more here!
——————–
Active Fields

When: On view through May 25, 2016
Opening Reception: April 29, 6-8PM
Where: OPEN, 201 South St, Boston, Massachusetts 02111
How: Official Website
What/Why: "OPEN is pleased to present Kawandeep Virdee's first solo exhibition, "Active Fields"
——————–
Say hi:
EMAIL | TWITTER | FACEBOOK | INSTAGRAM | PINTEREST
Spring has sprung.
Lots going on in #bosarts this month, did I forget anything?
I'm going to try to get the wrap-up live a day or two before the 1st of the month moving forward so you have time to plan your lives.
If you are an artist/gallery/dolphin holding a paintbrush, can you send me your press info by the 25th of the prior month so I can include it in the wrap-up?
I mean, if you remember n'all, that would be lovely.
You're the best. ♥