(El Jaleo, John Singer Sargent, on view at ISGM)
Did you know that the Isabella Stewart Gardner Museum in Fenway is the site of the biggest art heist in history?  C'est vrai!
From our friends at Wikipedia: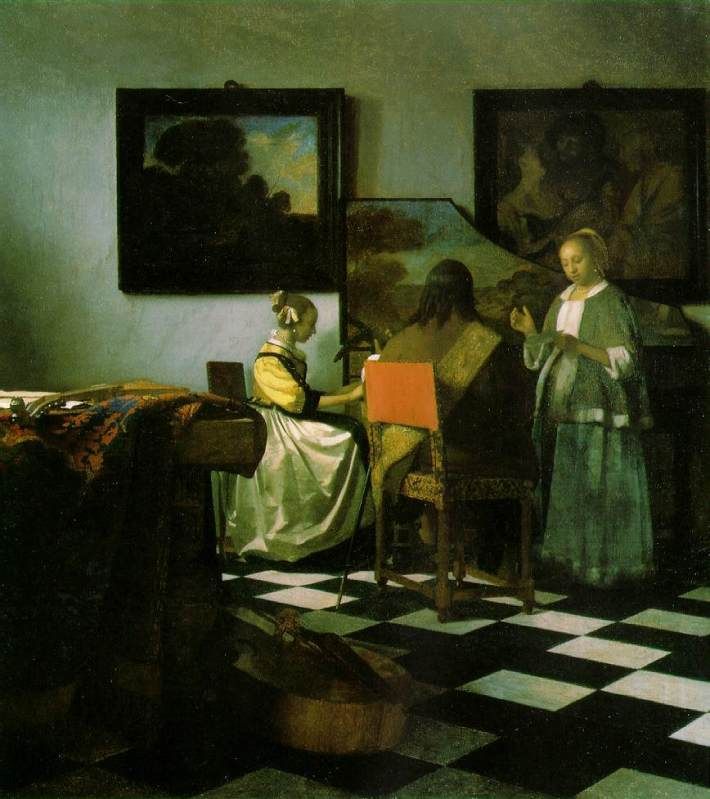 (The Concert, Johannes Vermeer)
Shortly after midnight on the morning of March 18, 1990, thieves disguised as police officers talked their way into the museum. They handcuffed the two on-duty security guards out of sight and then stole thirteen works of art valued at over $500 million, including The Concert, one of Johannes Vermeer's thirty-five known paintings, and three works by Rembrandt van Rijn, including his only seascape, The Storm on the Sea of Galilee, and a small self-portrait print. Also stolen were a series of drawings by Edgar Degas and additional works by Édouard Manetand Govaert Flinck, as well as two objects: a Chinese Ku, or beaker, and a finial from a Napoleonic flag. It is considered the biggest art theft—and property theft—in history; the crime remains unsolved. The museum still displays the paintings' empty frames in their original locations according to the strict provisions of Gardner's will, which instructed that the collection be maintained unchanged.
A reward of $5 million is offered for information leading to the return of the works of art in good condition.
In the 1990s, two associates of Boston crime boss James "Whitey" Bulger, with arms smuggling links to the IRA, claimed to have access to the paintings. One has since died and the other is now refusing to talk to investigators. In 1974, the IRA stole nineteen paintings, which included a Vermeer, from Russborough House near Dublin, Ireland as a bargaining attempt for four imprisoned IRA members.
—————————————
The quest to recover the invaluable works was the subject of the 2005 documentary, Stolen:
How badass does that detective look?? Eyepatch? Real Deal.
Truth be told, the ISGM is one of my favorite museums in Boston, and tomorrow evening they are holding their final After Hours event until 2012 as they prepare for the opening of their new Renzo Piano-designed wing. 2012! 
"Isabella Gardner's palace takes on an otherworldly beauty after dark, when starry skies and moonlight contribute to its magic. Linger in the cloisters or around the courtyard, explore or sketch in the galleries, discover new exhibitions, revel in live music, sample the culinary fare in The Gardner Café. Cash bar but the atmosphere is on us. 
*Moveable Feast*
Evoke your inner Victorian while you explore the galleries and discover how Isabella Stewart Gardner and other Bostonians entertained in style back in the day.
With a special After Hours PLUS concert at 7pm: Jazz at the Gardner: Berklee College Afro-Cuban Folkloric Ensemble
Courtyard Sounds: Indian Sitar and Percussion Duo Mike Jarjora and Jerry Leake
After Hours Tickets: FREE Members; $12 General Public; $10 Seniors; $5 Students
After Hours PLUS Tickets (include concert admission): $15 Members; $23 General Public; $18 Seniors; $10 Students"
So, be sure to check out this amazing event before the apocalypse eradicates us all. ♥