"One of the things that is most interesting to me about Boston is how disparate it is and how many different communities there are. So many come and go, of course, and some people criticize that as 'oh people don't stick around'. But to me, it's a really interesting and valuable part of the community. I mean, you have people coming into town to guest lecture, and then you have alternative spaces that are around one to three years(but it's awesome that they're there and they add so much value). And then there are all these other things that are around for awhile, longtime establishments, where some people know about them and others don't. So, very often I hear 'Oh you've never been there? I go there all the time' And it became evident that both internally and externally its important for people to see how much is going on."
——————————————-
In 2009, the Boston Art Dealers Association(BADA) decided that it was high time Boston created an art map. Afterall, every major city had one; a physical document that enables residents and tourists alike to discover galleries, museums and exhibition spaces in their native/non-native cities.

(Anthony Greaney gallery in the SoWa neighborhood of Boston) 
Andrew Witkin, Director of the Barbara Krakow Gallery, artist, and member of the Boston Art Dealers Association had been gathering information on galleries and exhibition spaces for years. In keeping track of places he liked, didn't like, and venues he had yet to explore, Andrew was inadvertently creating a living document of the ever-changing Arts environment in Boston. After participating in early Art Map discussions with BADA and recognizing the need for such a resource, Andrew nominated himself to oversee this valuable project for the City.

(Andrew Witkin)
"I was up to the task because for a number of years I had been keeping tally of all the places I had heard of so that I would actually go, because I wanted to see what people are doing, even if it's things I have no interest in. You want to know 'where is this gallery?' or 'where is this institution?' and I had already created a partial list, but it took quite some time to complete the listings and compile them into a comprehensive resource. Everyone had their own unique(sometimes obscure)haunts so at first it was a matter of learning how to ask people 'Where do you go?' or 'Where is the weirdest place you have been?' or 'Where is a place you had never heard of and then someone told you of, and now you love it?'. And then I realized it isn't even about what you love, its more about places that have a dedicated exhibition space. I just felt like this map was the most important thing an Arts organization in Boston could do to tie things together."
As Andrew began broadening his list and compiling detailed information for the project, he quickly saw how 'Boston' coverage could spiral into Cape coverage..and then Nantucket…and Maine..Connecticut.. and the Continental US; limits needed to be put in place. In selecting the boundaries formed by route 495, Andrew was able to create a manageable list of around 125 spaces within this area.

(MIT List Center in Cambridge, MA)
And so the first incarnation of the Art Map was born. This endeavor was truly a labor of love and as a project manager, Andrew wanted the map to have a simple, concise and readily digestible format that could be appreciated by tech and non-tech crowds alike. Sectioning off areas by neighborhood and painstakingly plotting exhibition spaces on the map, Andrew and his team created a comprehensive snapshot of the Arts activity in Boston.
(Back Bay section of The Art Map)
For visitors who are short on time, the map provides an easy way to investigate the Arts neighborhoods near your hotel, targets areas with the highest concentration of galleries, and filters listings by subject matter to cater to your own individual interests.

(LaMontagne Gallery in South Boston, MA)
While Andrew acknowledges that Boston is not normally recognized as a global Arts hub, he thinks the map will prove otherwise. As someone who works with international dealers and galleries on a daily basis, Andrew argues that Boston doesn't need to emulate other cities' Arts environments–it offers up a unique experience of its own.
"When people come to Boston and say 'Well what should I see?' I want to give them a list of 100 things to see, and I want to overwhelm them with diversity. Not necessarily diversity as in 'oh look at all these exhibits with the most famous artists in the world', but certainly a diverse group of viewpoints. And I think that is what Boston offers per capita more than anywhere else. There is no other city in the world with so few people and so many things."
The Art Map is currently distributed to local galleries, museums, hotels and tourism boards. And while the first edition cleared shelves with 25,000 copies, the second edition(with almost twice the amount)quickly followed suit, leaving Andrew's inbox full of "can we have more?" emails.
With an updated Art Map scheduled for 2013, a .pdf version of the current resource is available for download on the Boston Art Dealers Association site here to help tide you over.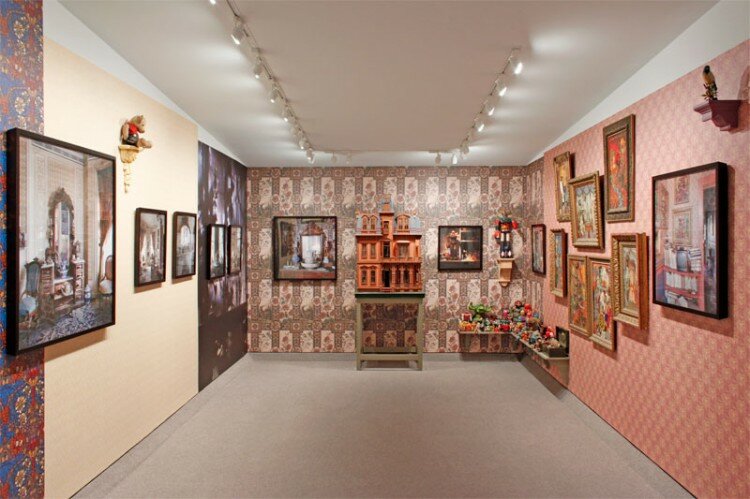 (Barbara Krakow Gallery in the Back Bay neighborhood of Boston)
And as for the future of The Art Map Boston?
"My goal, and everyone's goal really, is for it to keep getting bigger and bigger; for people to say 'oh I want to be a part of that'. And I think its a very exciting thing for Boston as well  to recognize that, yes, it doesn't have many huge institutions, but there are so many amazing institutions that are doing different things.  And you may not like what 'x' does, but have you ever been to 'y'?" 
♥