(Craig Costello: Twist, 1993; digital scan from silver gelatin negative; courtesy of the artist)
Barry McGee is not a ______ artist.
He is not street / graffiti / low-brow or any derivative of.
He is simply an artist.
——————————–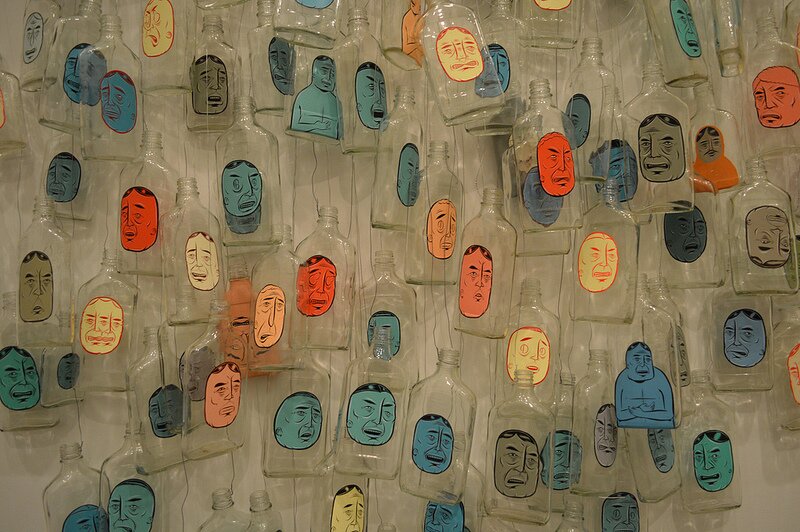 In Barry McGee's mid-career retrospective at Boston's ICA, viewers are invited to explore a survey that spans the past twenty years of the artist's life. The good, the bad, the bruises, the scars, the things that hurt and the things that healed. While the show originated at the Berkeley Art Museum & Pacific Film Archive, it quickly became clear that this New England incarnation was not a direct translation of its West Coast counterpart. BAMPFA's cavernous gallery provided an all-at-once view of the entire show, while the artist's career is approached chronologically, guided through separate spaces at the ICA. Unlike many shows where work is dropped off and hurriedly reviewed in the eleventh hour, McGee also spent the week in Boston leading up to his opening working, organizing and creating within the gallery-carefully considering every inch of the space.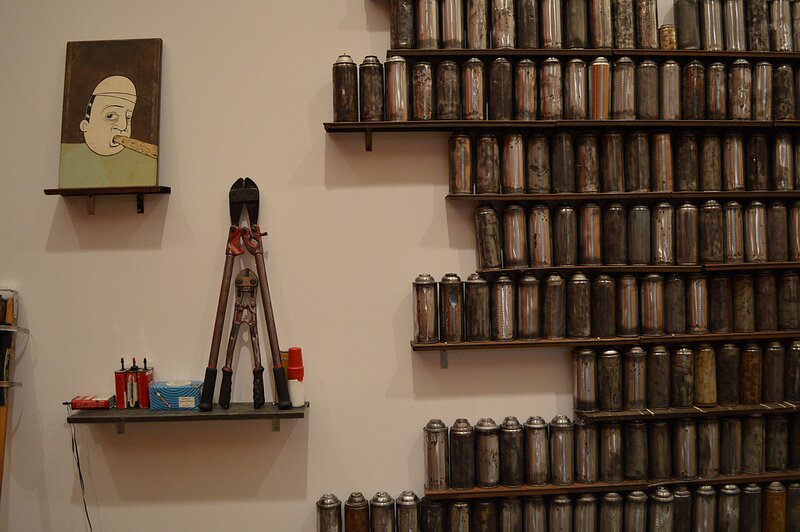 The first room of the exhibition sets the scene. Like an excited child showing off his room, the artist welcomes you into his world with a wave of relics. In my head I could almost hear "This is the jacket I used to paint in, oh! and here are some of my cans, and check out this photo of me making a mural.." This endearing show-and-tell is complemented by a sea of sketches, drawings, and photos adorning a nearby wall; a cluster inspired by a Brazilian church McGee once saw. The smell of drying varnish made me feel as though the artist was present, however he was regrettably(and understandably) absent during my visit; miles away at his hotel taking a well deserved cat nap before the big unveiling.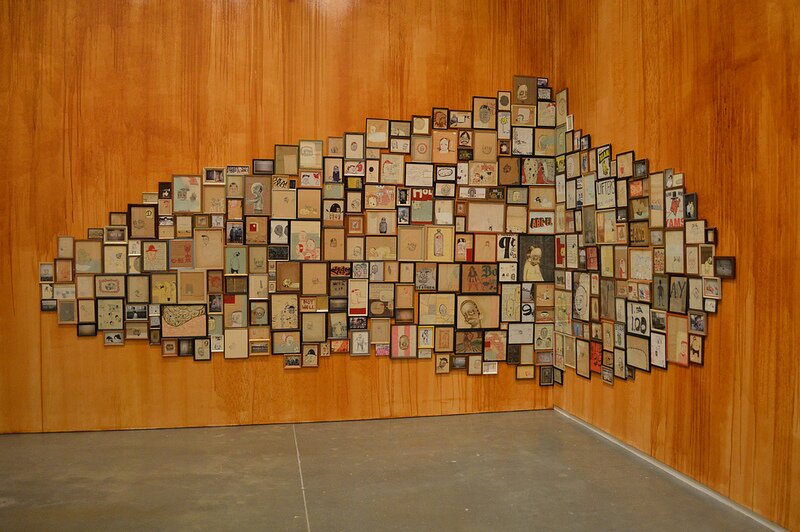 Just barely through the threshold of the next room, prevailing chatter and shutter snaps turned their attention towards an unexpected figure. A life-size animatronic of the artist's friend and long time collaborator, Josh Lazcano is seen on tip-toe atop a trashcan, tagging the gallery walls with "Amaze", Lazcano's moniker. Automations were a reoccurring element throughout the early years of McGee's work and Jenelle Porter, senior curator at the ICA was quick to point out that these installations were not intended to be kitsch.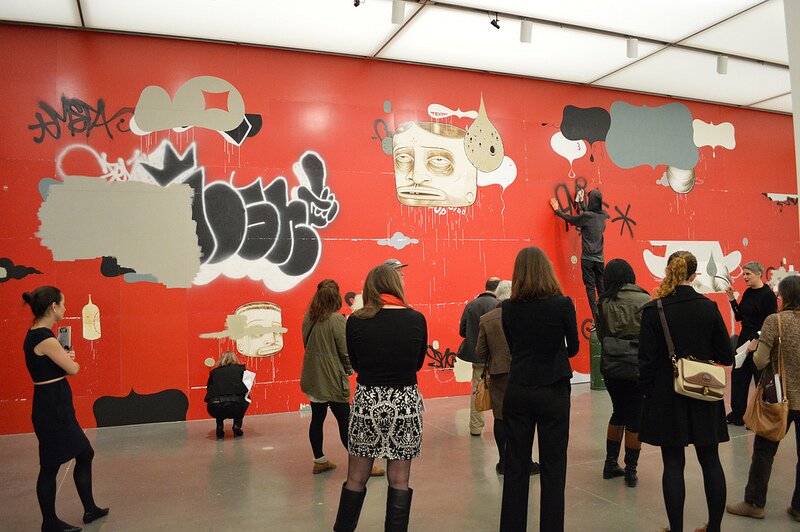 "Barry was bringing the process of how graffiti is made into the gallery because we don't usually see graffiti being done when just walking around outdoors–he was interested in translating this energy into the space. Initially it may come across as a bit 'Disney', but Barry was thinking more about natural history dioramas–as if to say 'These are the animals in their natural habitat.'"
As I continued into the second gallery, my eyes settled on a large and somewhat grim installation of a woebegone figure painted onto a fort of vintage letterpress trays. The whimsy of the previous automation was washed away as I stood before the foreboding mural; my heart further laden once I discovered what was inside. Making my way around the structure, I peered through a small roped off doorway and saw a room featuring the soulful paintings of McGee's late wife, Margaret Kilgallen; a tiny solo exhibition of her work unfolded.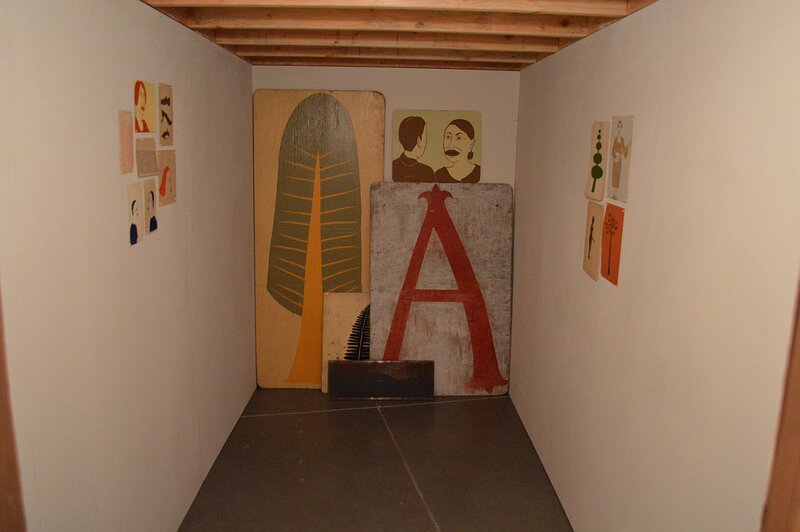 I had been an admirer of Kilgallen's folksy creations before I familiarized myself with McGee. I watched their love blossom in a feature on Art 21 and was later reacquainted with the couple through the film, Beautiful Losers. In one touching scene from Art 21, Mcgee and Kilgallen are shown writing on trains like mischievous teenagers, tempting the fates as they weaved between cars. And one of the final shots from the segment, forever ingrained in my memory, features a painted train car that simply reads, "Barry wuvs Marge".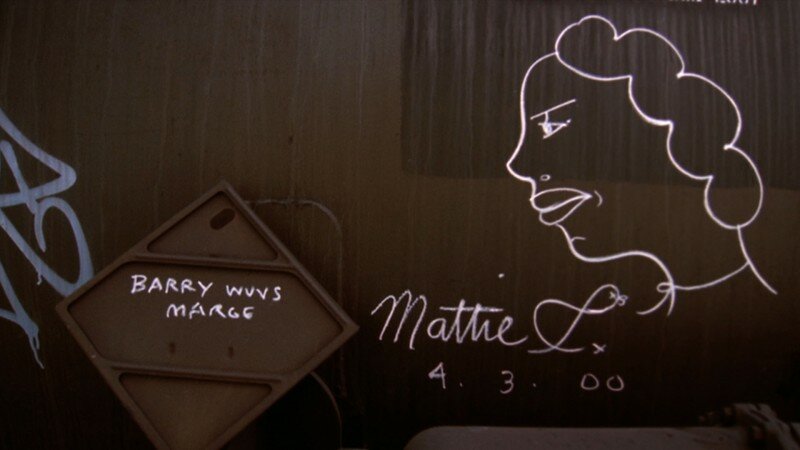 Kilgallen passed away in 2001 much too young, just weeks after giving birth to their daughter, Asha. The survey doesn't dwell or provide the details, but after being diagnosed with breast cancer, Kilgallen opted to forego chemotherapy during her pregnancy in order to protect her child; a heart wrenching decision that ultimately killed her. For me, this prior knowledge of her life and sacrifice transformed the fort into a mausoleum. While Porter maintains the installation is meant to celebrate her life, which it certainly does, the gesture, along with her moniker "Meta" written among the clouds of a neighboring mural weighed heavy on my heart.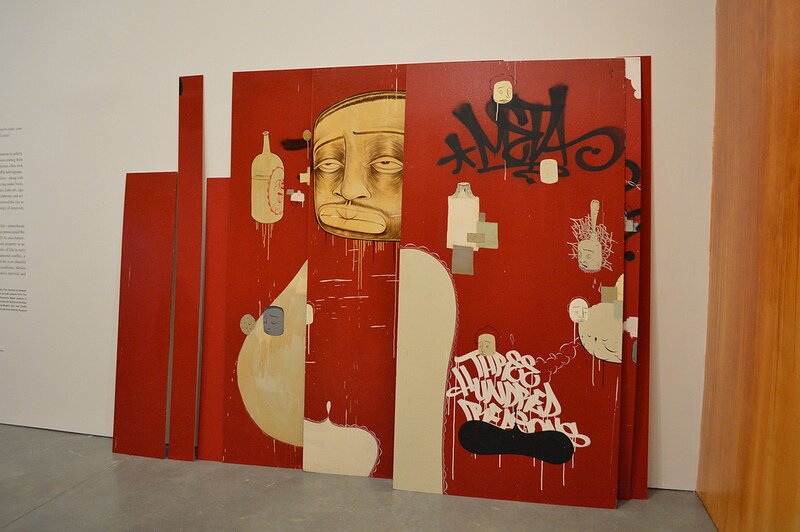 Kilgallen's sentimental tribute is just one of the many examples throughout the retrospective where McGee acknowledge others instead of self-aggrandizing his own endeavors; exercising an awareness that his present self has been shaped by the people, places and experiences of his past. A sum of parts.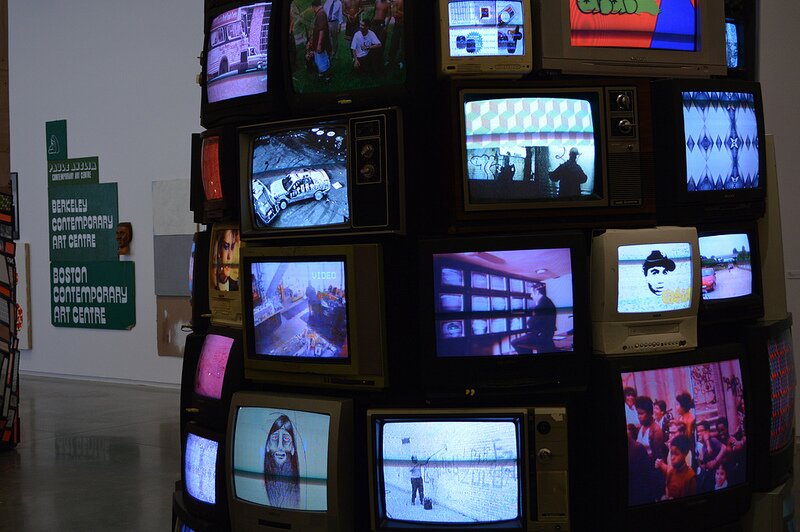 My quiet contemplation was disrupted by the barrage of sights, sounds and colors emanating from the next room of the gallery. A clustered tower of 136 televisions blared out 38 separate broadcasts while a ceiling-high tsunami of hundreds of framed Day-Glo panels and haphazard imagery ballooned away from the wall, just at the brink of boiling over.
I was unable tell if this sudden "kitchen-sink" approach was to distract, override, over-inundate, or irritate. Or perhaps it was actually a "lets-just-get-this-over-with" way to address a time period the artist would rather move past.
But it was in this discordant room that I was lured in by a wall of color. Surprisingly, one of the more subdued elements in the space, the surface was meticulously covered with what seemed to be millions of tiny bits of color arranged in geometric patterns on slivers of wood. Some fragments so small they appeared as though they were inlaid with tweezers to drown out any remnants of white peeking through.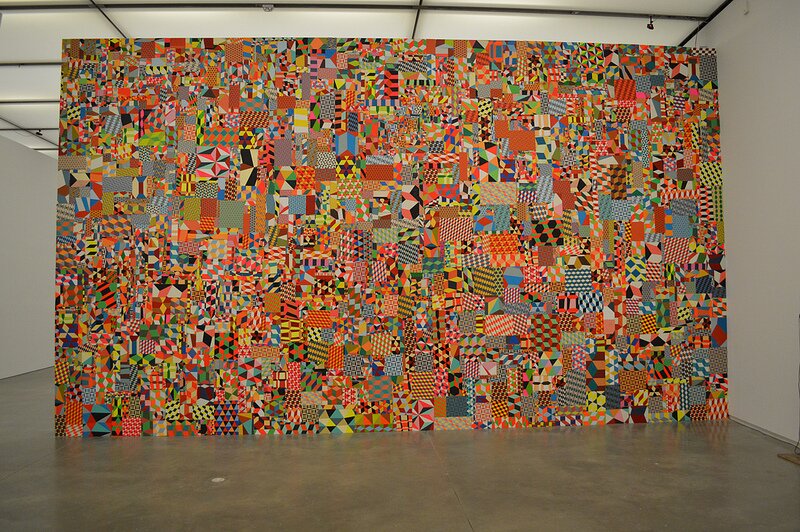 "I look at Barry's stuff, and I see what's going on inside his head. I've known him for a long time and I've heard people talk about his work and try to explain it, and I think its just the random stuff that goes on inside his head–that's whats happening. I think the repetitious patterns are him coming to terms with things that have happened to him in the past and its a renewal of his new life..a new beginning, everything unfolding." – Artist, Kevin Ancell
There is no doubt that McGee is intensely cerebral and its interesting to consider these designs past the decorative aspects, focusing on their meditative qualities that humanize the geometry. I found that if you stood in the gallery long enough, the repeated patterns and ambient sounds eventually blurred into one, reminiscent of "om". (Hinduism 101: Om is considered the Original Sound. All sound, all vibration, is part of Om. If you could hear all the sounds of the Cosmos at one time, you would hear 'Om'. via ) 
I had never expected to become one with the universe three-quarters of the way through a Barry McGee retrospective, but I think I just did.
ॐ ॐ ॐॐ ॐ ॐॐ ॐ ॐॐ ॐ ॐॐ ॐ ॐॐ ॐ ॐॐ ॐ ॐॐ ॐ ॐॐ ॐ ॐॐ ॐ ॐॐ ॐ ॐ
ॐ ॐ ॐॐ ॐ ॐॐ ॐ ॐॐ ॐ ॐॐ ॐ ॐॐ ॐ ॐॐ ॐ ॐॐ ॐ ॐॐ ॐ ॐॐ ॐ ॐॐ ॐ ॐ
As I entered the final room highlighting McGee's current works, there was a distinct stillness and reflective quality inherent to the space, separating it from the rest. A labyrinth of vitrines showcased objects under glass and created an intimate sense of immersion which starkly contrasted the environmental envelopment I had experienced just moments before. Culling personal relics from friends, family and his own archives, the artist appears somewhat exposed and vulnerable yet this closeness is curtailed by the physicality of the vitrines; literally leaving viewers pressed up against the glass. Three of these displays were set aside for Boston area artists whom McGee has a connection with: Ryan Murphy, Josh Brenner, and Jesse Littlefield, who also happen to represent three generations of graffiti artists. By involving these co-conspirators in his life's review, McGee reaffirms the sense of inclusiveness prevalent throughout the show, once again quietly thanking those who have been alongside him on his journey.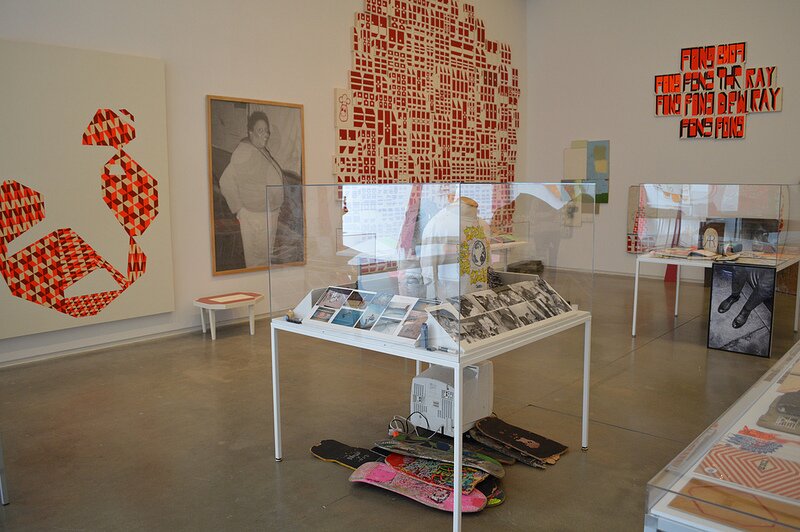 This final space solidified yet another indirect connection that had been nagging throughout the tour, a relationship between the retrospective and my favorite Washington D.C. monument, the FDR memorial. (bear with me). To recap, Roosevelt's tribute is divided up into four different sections representing the late President's terms in office with running water acting as an important physical and metaphoric component of the memorial-where rushing falls represented World War II and a still pool signified his death. The clamor of the McGee's previous vignettes, distractions of colors, patterns, and sounds associated with his earlier years, seemed to slip away in the final room leaving only a sense of calm and reverence.
And as you reach the end of the West Gallery, there is a quiet whir as a small figure stands against a wall, busy 'spraying' his own small section of the gallery. With the tiny worker silhouetted against the still blue waters of the harbor as seen through the museum's windows, I was once again reminded of Roosevelt.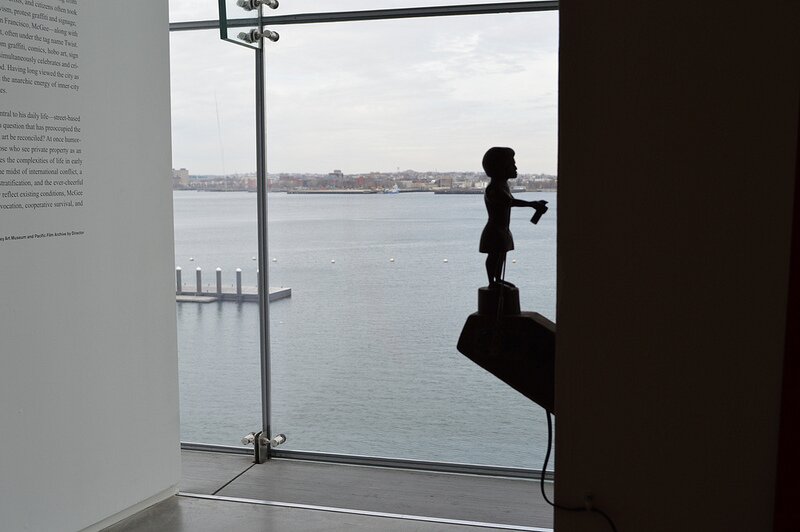 ——————————–
After examining a series of graffiti tags during his Art 21 segment and recalling their history, McGee quietly remarks, "You're learning about someone without ever really knowing the person". And while I don't know the artist personally, I feel afforded a peek under the hood through his ICA survey of works.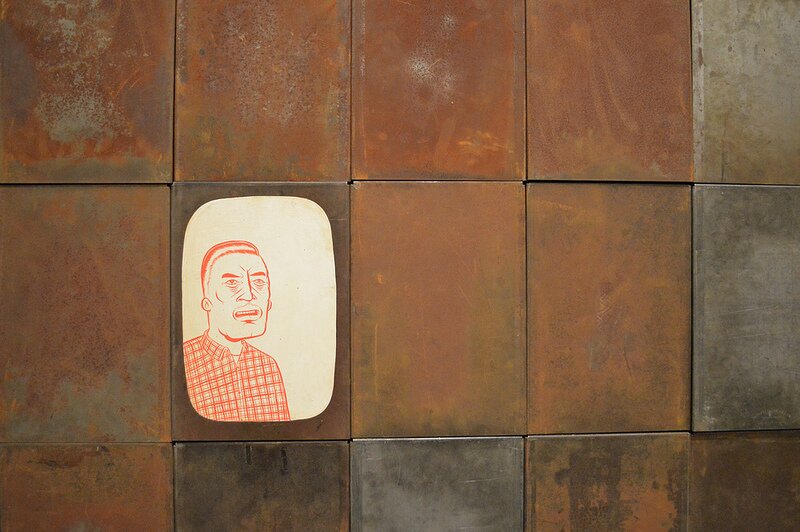 Be sure to visit the space with an open mind and an empty calendar. Take the time and consider the meaning, reverence, and benevolence underpinning the sentimental exhibition. Whatever your perceptions are of this particular style of work, it would be shame to rush through the space and write-off two decades of efforts as merely "street art". Find a way to see past the spray can and uncover the hidden subtleties beneath the blinding colors; the tenderness behind the bravado.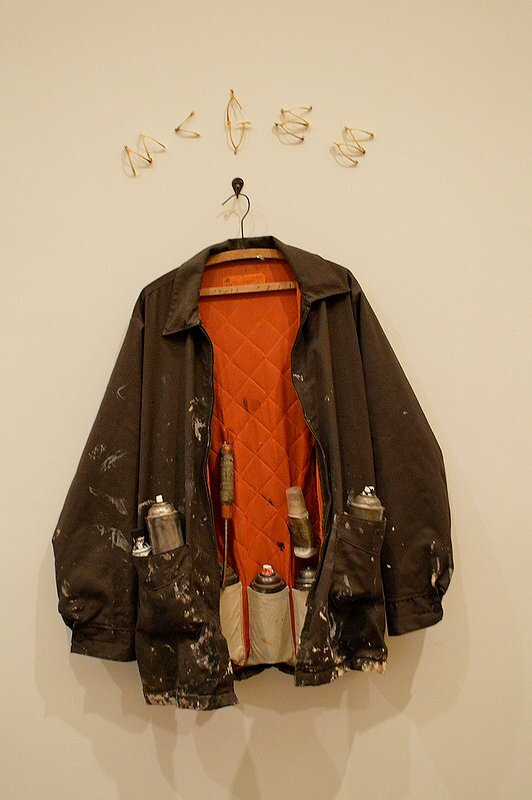 (images courtesy of official FLUX. press correspondant, Pat Falco unless otherwise noted.)
The Barry McGee exhibition will be on view in the ICA's West Gallery through September 2nd, 2013. Learn more about the exhibition and its affiliated programming here.
♥