(The Tetons and the Snake River, Grand Teton National Park, Wyoming, 1942; Collection Center for Creative Photography, The University of Arizona; Photograph by Ansel Adams; ©2011 The Ansel Adams Publishing Rights Trust)
You've seen his imagery before. Maybe in a museum, bar, college dorm, doctor's office, or on the front of a greeting card. Unfortunately for me, Ansel Adam's iconic images became such an omnipresent part of my visual landscape, that I found my eyes glazing over at even the thought of canyons, geisers and babbling brooks in greyscale. A condition caused by an inundation of imagery that led me to wonder if seeing his prints in a museum or gallery setting would warrant a second look-did this ennui have a cure? After spending an afternoon At The Water's Edge, an exhibition comprised of over 100 famous and lesserknown works by Adams at the Peabody Essex Museum, I think I have found the antidote.
———————————-

I had never seen an exhibition of Adams' work quite like this before, and apparently neither had the town of Salem.  In the vein of Boston's ICA and MFA banners proudly trumpeting upcoming shows, I half expected a marching band or King Arthur's court to arrive on horseback to compliment the sea of billowing Ansel Adam flags lining the sleepy streets of Salem.
As the name implies, At the Water's Edge is an exhibition focusing on the photographer's fascination with water, an element he was deeply interested in since snapping his first photographs. And as we all know from science class, H20 encompasses images of rain, fog, mist, ice, and snow as well.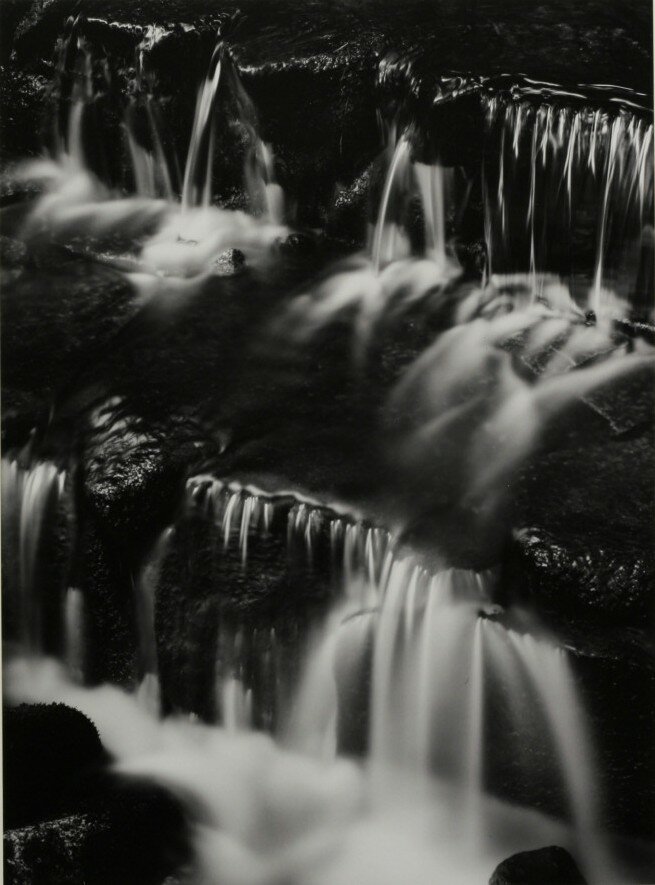 (Fern Springs, Dusk)
"Throughout his life, Adams was drawn to the water for its visual potential, exploring where elemental forces meet," says Phillip Prodger, exhibition curator and PEM's curator of photography. "As an innovative Modernist, he explored seriality, motion and time, using a range of techniques to capture a definitively fluid and elusive substance."
My innate sense of cynicism began to dissipate the moment I entered through the gallery doors. The carefully considered exhibition explored four different junctures in the photographer's career–his early works, experiments capturing time and motion, establishing the f/64 School, and his later photography. His images, some no bigger than your hand, sprawled across the 3rd floor of PEM, eras and subject matter separated by deliberate and distinct rooms. Each individual landscape received its aesthetic consideration–a vast array of presentations and configurations helped glorify the subject matter Adams intended to capture. Some photographs were shown in fat frames with even fatter matting, some in thin frames, and others in beveled frames of metal and wood. A few works were shown on non-traditional surfaces like Grass and Pool, the Sierra Nevada, California, an image printed on a Japanese-style three-panel folding screen.

But the show stoppers of the exhibition for me were the three towering American Trust Murals. Depicted in "egg-yolk"-like hues, the grandeur of these photos commanded an entire section of the gallery. The awe-inspiring scale of the murals could not be accomplished by processing in a regular darkroom, and so Ansel Adams decided to experiment. The photographer placed a large sheet on one wall, fine tuned the positioning and then projected the desired image onto its blank surface from across the room. Afterwards, some of the murals were so large that the photographer was forced to expertly parcel various sheets together in order to make one complete image–and the results are absolutely seamless.

(Gravel Bars, American River)
Adams was no stranger to exploring and tinkering with the technical aspects of photography, pushing the limits of the medium to achieve desired shots. He is even responsible for pioneering numerous technical innovations including the Zone System, a method of controlling exposure.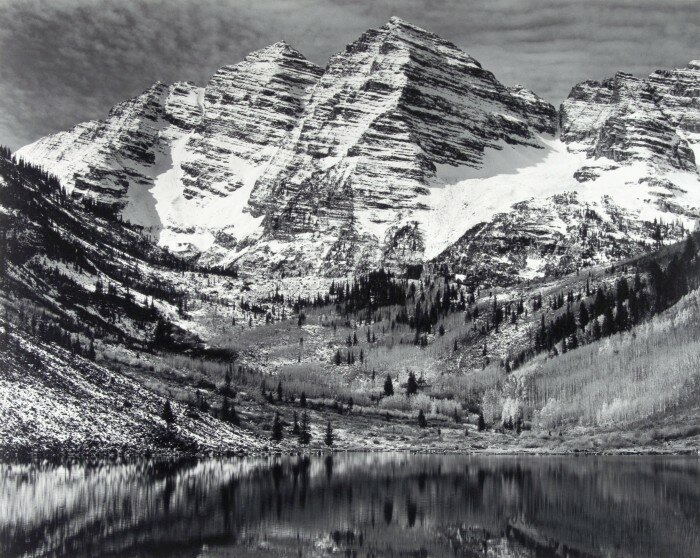 (Maroon Bells, near Aspen, Colorado)
"Using this system, the photographer exposes the negative for the darkest shadows in a scene, then varies the time of chemical development so that every shade of gray is represented, from light to dark. In this way, each negative is made and processed meticulously by hand."
His experiments eventually led to the founding of f/64, a group of seven 20th century San Francisco photographers who shared a common photographic style characterized by sharp-focused and carefully framed images seen through a particularly Western viewpoint. The term f/64 refers to a small aperture setting on a large format camera, which secures great depth of field, rendering a photograph evenly sharp from foreground to background. The group abandoned the ethereal, almost painterly, Pictorialist photographic style that had dominated much of the early 20th century in favor of a Modernist approach, which focused on precisely exposed images of natural forms and found objects.

(Mirror Lake, California)
At one point in the exhibition, I was caught up in my own thoughts and blazing through some of the smaller works, when suddenly I was hit with a realization that slowed by pace.  While my perfunctory treatment of some of the smaller images was akin to flipping through a friend's vacation photo album, in a moment of lucidity I made the connection between the artist and his subjects–processing the fact that he was actually THERE in all these photos.  Adams was in a cave photographing a snow-capped hill through glistening stalactites, up on a mountain top, deep in a valley, through a forest, beside a stream. And in absorbing these different experiences you come to realize that you are there as well.  Such a welcome reprieve from the everyday imagery seen on a fifteen minute walk to work, you can't help but be overcome with envy and wanderlust.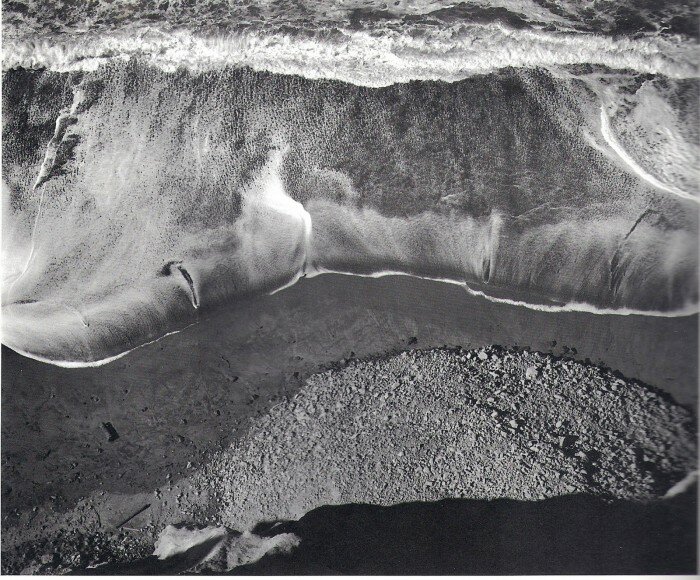 (Surf Sequence, Ansel Adams)
One of the most powerful aspects of Adams' work was how he able to convey emotions through his imagery. He believed that a photograph should reflect the experience of its maker in the presence of the subject. And water proved to be a "clean slate" liquid, constantly in flux and versatile enough to express the vast spectrum of human emotions. Peaceful lakes leave you overcome with a feeling of calm; thrashing waves quicken your heartbeat.  It's almost as if you are having a private moment with the photographer in the middle of a gallery full of hundreds of people.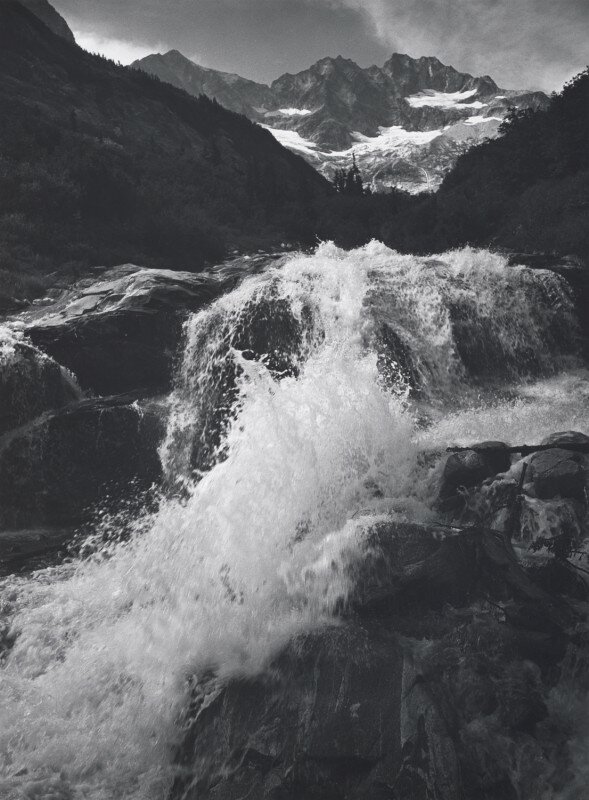 (Waterfall, Northern Cascades, Washington, 1960; Photograph by Ansel Adams; Collection Center for Creative Photography, The University of Arizona; ©2011 The Ansel Adams Publishing Rights Trust)
While passing by the energized photos of Waterwheel Falls, I was taken by this caption:
"This image, a joyous outpouring of emotion, marked his return to Yosemite after months of disaffection with the art world and an unsuccessful trip to Hawaii. It shows the cascade at full force: a thunderous, pulsating torrent, with crosscurrents erupting in fountains of spray. It conveys the elation Adams felt in the presence of nature, and his delight at being back in Yosemite, his home ground."
You can almost feel his excitement leap out from the gallery walls. The effervescence of the waterfall series truly commanded viewers' attention, but a quieter favorite of mine was Portals of the Past, a small and somewhat granular photo of the grounds of the San Francisco World's fair with a reflecting pool taken by Ansel Adams, age 13 . Similarly, I was taken by the adjacent Shipwreck, Helmet Rock, Lands End, another of his earlier works.

(Shipwreck, Helmet Rock, Lands End)
"A shy and sickly teenager, Adams struggled to fit in at school. With few friends, he took to walking alone up and down the coast near his home near Bakers Beach in San Francisco, making pictures. During this period he developed an interest in shipwrecks."
Examining some of the first photos Adams had ever taken, I couldn't help but wonder what was going through his head as he gazed upon these preliminary subjects. Was this purely a hobby for the young boy? An innate passion? A coping mechanism? Did he get lucky through point and shoot moments in time, or did he approach the composition with the keen and calculated eye that proved to be the cornerstone of his later works? There was something endearing about the potential energy brimming in those little works, landscapes imbued with heavy emotion at the very start of his expansive career. Their quiet strength made the exhibition feel complete; humanizing the greyscale.
And so, I have tamed my wild cynicism for the moment and will no longer look upon Adams' pleasant landscapes with quite the same scrutiny and harshness-he truly was a master of his craft and commanded photography as an artform. Try as your icequeen heart may-you can't help but leave At the Water's Edge with a sense of calm and a deeper understanding and appreciation for the gentle man behind the lens.

At the Water's Edge will be on view at the Peabody Essex Museum through October 8th, and be sure to take advantage of their late night viewings October 2nd-5th when the gallery is open until 9PM. No excuses, Boston workerbees! ♥
(Note: This post was originally written for Photo Nights Boston. Check out this and other entries on their photog blog here.)