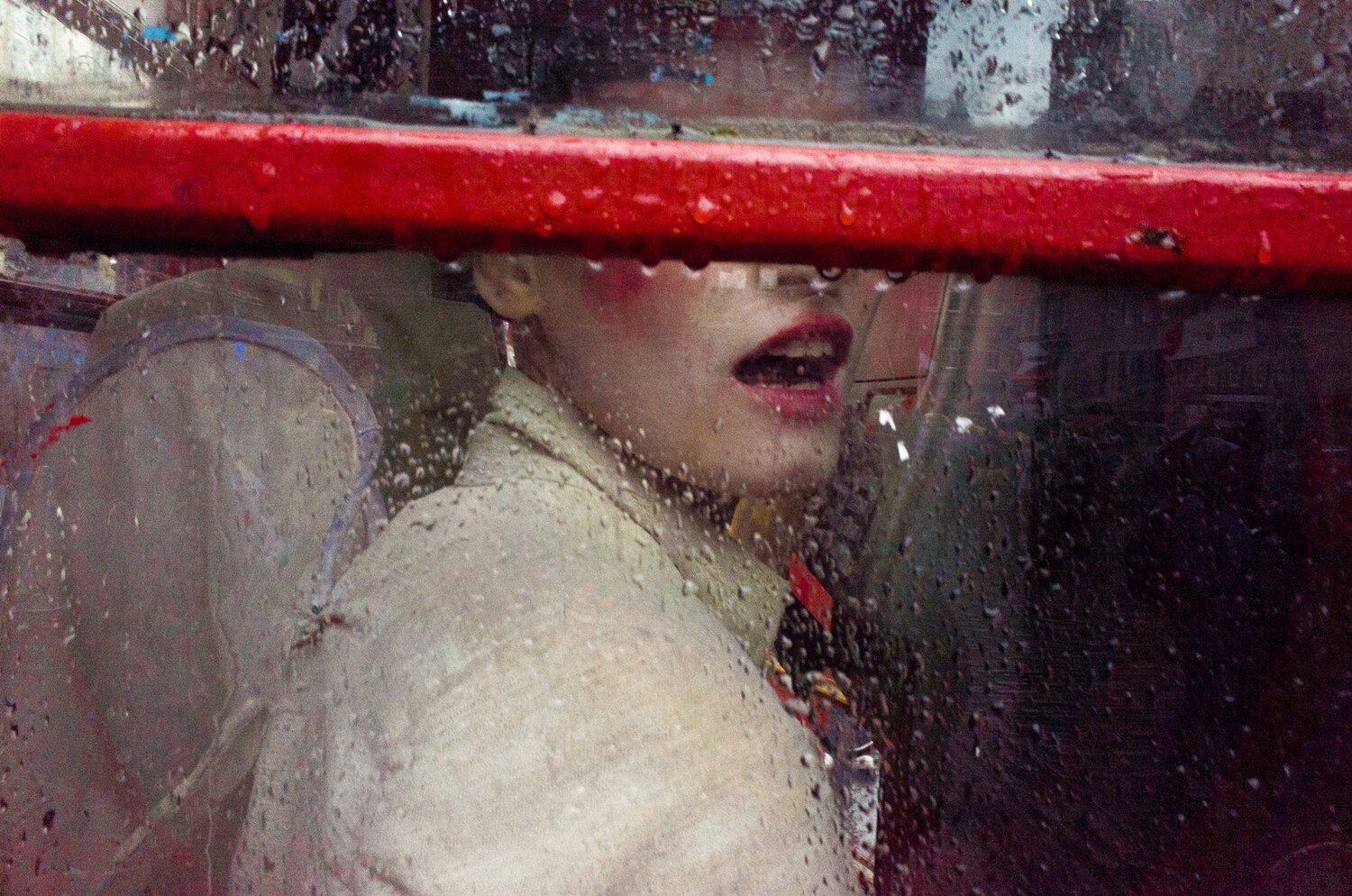 since the epoch x a curious nature x the sensation of moving slowly back in time
————-
Lauren Gillette: Scarlet Thread

When: On view March 14 through April 13, 2017
Where: Simmons, Trustman Gallery, 300 The Fenway, Boston, MA
How: Official Website
Reception: Thursday, March 16, 5-7 p.m.
What/Why:"Lauren Gillette has fashioned an alphabet with multi-media narrative quilted panels of an alternate "herstory". Women of doubtful reputation, such as Eva Peron or Helen of Troy's biographies are upended from their traditional telling. The irreverence and seriousness of Gillette's recasting of our collective mythological, fictional and lived history is her way of bearing witness to "the Hester Prynne drumbeat going on around me."
Each narrative has a corresponding alphabet letter, Peron's being N is Nouveau Riche (beats no riche at all) and like an identity mask, a black stripe across her eye reads Blonde Ambition. Gillette doesn't stop there; the headlines are followed by a bio that doesn't pull punches. The drawings of each subject capture the essence of the narrative she gives us. The whole of the text in drawings is set within borders of red and black quilting fabric—framing the subject. Peron's framing is tilted at an angle, not square to the larger fabric support. At every juncture Gillette asks the viewer to think about convention.
As a conceptual artist, Gillette chooses fabric for her support of the text and drawings to solicit our desire to touch, while her notorious subjects and with their non-normative sexual antics and correspondent public shaming are anything but cozy quilts. The Scarlet Thread project was supported by the New Hampshire Charitable Foundation Artist Advancement Grant. Gillette's other grants and exhibitions speak to her artistic engagement with, as she states—the "symbiotic relationship between public and private behavior, titillation and scorn, the judges and the judged."
The Gallery continues its Lunchtime Lecture Series on Thursday, March 30 from noon -1:00 P.M. with Professor Suzanne Leonard, of the English Department, presenting Strange Bedfellows: Stigma, Adultery, and Tradition in "The Bridges of Madison County."
————–
Hearth and Fire

When: On view through March 31, 2017
Opening Reception: March 16, 5:30-7:30
Where: FPAC Gallery, 300 Summer Street, Boston, MA 02210
How: Official Website
What/Why: "We are four artists who utilize materials to produce sculpture that is informed by prehistory.  Our materials and concepts emerge from an Earth-centered gestalt, steeped in archaeology.  The concept of hearth:Sanctuary, light, food, kinship, love, hope and protection, refers to basic markers and needs in the human experience; fire, the release of energy, refers to the forging of our materials to fashion objects that reflect traits of existence such as the need and will to survive, the ability of conceptualize,  the belief in a higher power."
———————————–
Sage Sohier: Witness to Beauty

When: On view through April 01, 2017
Where: Carroll and Sons, Harrison Ave, Boston, MA, 02118
How: Official Website 
——————–
Since the Epoch
Exhibition: March 10th through 12th
Opening Reception: Friday, March 10th, 6pm to 8pm
Where:Boston Cyberarts, 141 Green St, Jamaica Plain, Massachusetts 02130
How: Official Website 
What/Why: "Boston Cyberarts is pleased to present Since the Epoch, an exhibition of work from students in the Digital + Media graduate program at the Rhode Island School of Design. The title of the exhibition is a reference to Unix time, a widely used computer timekeeping system based on counting the seconds passed since the advent of Coordinated Universal Time (UTC). Often termed the epoch, Thursday January 1, 1970 remains a technical and metaphorical crossing point-marking a change in how our society measures, and perhaps ultimately experiences, the passage of time.
While the work in this exhibition ranges a wide variety of media-from performance to advanced CGI-a reoccurring theme is the confrontation and exploration of time as it relates to digital systems. In Xibaba, by Joseph Winograd, the now ubiquitous timeline of the GIF is exploded into three dimensions. A colorful image sequence by the artist is transformed into a physical animation, a geometric structure built of lenticular prints slowly spinning at eye level. Similarly, in Kristen Shea's Poetic Simulations, the tensions between the digital and temporal realms are exploited. Short loops of timeless CGI worlds are extended into physical space through projection onto sculptural counterparts. Her video poems, comprised of frames per second, briefly interact with the longer time frame of cement, wood and metal.
The artists in this exhibition include: Ben Aron, Yakun Chen, Evan Daniel, Cody Filardi, Jeremiah Johnson, Xiaohan Li, Xiaopeng Qi, Kristen Shea, Annie Shu Yun Wan, Da Wei, and Joseph Winograd
———————-
Art on the Marquee Opening Reception

When: Thursday, March 16th, 6-8pm
Where: Boston Convention and Exhibition Center, 415 Summer Street, Boston, MA
How: Official Website
What/Why: "For the twenty first round of Art on the Marquee, Boston Cyberarts and the Massachusetts Convention Center Authority (MCCA) will be presenting eight new works created by talented Massachusetts residents on the 80-foot-tall multi-screen LED marquee outside the Boston Convention & Exhibition Center in South Boston. All of the artists have created unique digital pieces specifically for the Marquee. An opening will be held on Thursday, March 16th at the BCEC, 415 Summer St., Boston, MA, from 6:00 p.m. to 8:00 p.m.
Artists in this round include: Sean Bowes, Devon Bryant, Gregory Maxim Burdett, Dennis Miller, Mitsuko Nakagawa, Allison Maria Rodriguez, Clara Wainwright & Emily Hofelich, and Jeff Warmouth."
———————–
A Curious Nature: Paintings by Shelley Reed
When: On view through June 4, 2017
Reception: Sunday March 12, 2 – 5pm
Where: Fitchburg Art Museum, 185 Elm Street, Fitchburg, MA 01420
How: Official Website 
What/Why: Learn more about the exhibition here!
—————————–
Listen to the Whales
When: On view March 16 – April 15, 2017
Reception: Saturday, March 25, 6-8pm
Whale Discovery Day: Sunday, April 2, 1:30-4pm
Where: Gallery 263, 263 Pearl Street, Cambridge, MA 02139
How: Official Website 
What/Why: "LISTEN TO THE WHALES a Curatorial Proposal Series Exhibition
Featuring: Ann Barrett & William Chambers
A Conversation with a Whale Expert (with Philip K. Hamilton of the New England Aquarium): Sunday, April 9, 5-7pm
Gallery 263 is pleased to present Listen to the Whales, a Curatorial Proposal Series exhibition that invites visitors to decode the language of the whales. Using auditory and visual elements, Ann Barrett and William Chambers create a meditation on whales as metaphors for the need to preserve the diversity of life on our planet. Imagining equal interspecies exchange and a scenario of understanding, Barrett and Chambers implore us to listen and respond.
Ann Barrett's abstract paintings at once evoke the ocean's depths, a symphony of sound, and contemplation of our cosmic interconnectedness. William Chambers' listening devices, tooled from found vintage materials, allow participants to hold the whalophone to their ear and hear the beautiful songs of whales. Hand-screened newspaper broadsides, dated as if from the 1920s, evoke faux nostalgia – perhaps attempting to rewrite the horrors that perpetrated whales in the past, such as PT Barnum's Whale Fiasco at the American Museum in New York City*. With a learning library of resources and facts on whales, biodiversity, and environmental preservation, and by offering an opportunity for readers to respond, visitors are asked to consider their personal relationship with nature; in particular, the oceans and sea life. In this atmosphere ripe for discovery, Barrett and Chambers implore us to respect these awe-inspiring mammals that are so much larger than ourselves."
———————-
the sensation of moving slowly back in time
When: On view through April 08, 2017
Opening Performance: Friday, March 10, 7PM
Closing Performance: Saturday, April 1, 3PM
Where: Distillery Gallery, 516 E 2nd St, Boston, MA 02127
How: Official Website 
What/Why: "Dirk Adams creates work in a variety of media including performance, sound, installation, and video. His work is concerned with language, memory, and culture, and frequently investigates current events, popular culture, and politics.
the sensation of moving slowly back in time is a presentation of objects, materials, and tools that have been created over the past four years in his yarden (yard/garden).  The installation and performances in this show represent a point in his explorations of physical processes of materials and investigations into human consciousness, the slow mutative processes of evolution, and notions of meaning-making as they relate to cultural production and the idea of humans as brains in bodies in environments, which comes out of the field of embodied cognition. "
—————
Joo Lee Kang: VictoriaANimals
When: On view through March 25, 2017
Opening Reception: Friday March 03, 2017 6-8PM
Where: Gallery NAGA, 67 Newbury St, Boston, Massachusetts 02116
How: Official Website  
————————-
2017 PRC Student Exhibition  

When: On view March 10 – April 15, 2017
Opening Reception: Thursday March 16th, 5:30-8pm
How: Official Website
What/Why: "This yearly exhibition honors the rich tradition of photography in the New England area and features work from the PRC's Institutional Member Schools. For the 15th Annual show this year, 15-20 schools and programs from across the region will be showcased."
—————
Explorations into the Uncomfortable | In Monsters and Misfits

When: On view through April 01, 2017
Opening Reception: Friday March 10, 2017 6-8PM
Where: Cambridge Art Association, 25 Lowell St, Cambridge, Massachusetts 02138
How: Official Website
What/Why: "Explorations into the Uncomfortable | In Monsters and Misfits, we challenge you to continue the tradition of artists like Diane Arbus, Nan Goldin, and others who have challenged societal norms via the visual medium. We ask you, what does it mean to not fit in? To be cast out? To be different?"
—————————-
Snake Union, Moondrawn and Austin Covell/Cleo Miao Duo

When: Friday March 10 2017, 7-10PM
Where: School of the Museum of Fine Arts at Tufts, 230 Fenway, Boston, Massachusetts 02115
How: Official Website
What/Why: "This SMFA evening brings together three experimental electronic acts that are sure to get all in attendance lifted. Snake Union (the duo of NYC experimental music vets Chuck Bettis and Dave Grant) offer up serious rhythmic noise for wiggling right out of your goddamn chair (if you happen to be sitting, if standing that's a whole other story). Moondrawn combines cassette tape loops, drum machines, and digital sequencers to create dense harmonic drones with serrated and sometimes rhythmic edges. Cleo Miao and Austin Covell, both SMFA students, come together as a duo for performances that are improvisational experiments in sound art.
All Ages $5-10 Suggested Donation (Free to SMFA students with ID!)
Boston Hassle is a volunteer-run organization. Our mission is to bring people together in a creatively empowering and inspiring environment. With this mission comes a dedication to safety, accessibility and vigilance. We strive to make our shows safe spaces for all people. If you ever feel uncomfortable at our events we want to know and we want to help. Find a Hassle volunteer at the door or email BostonHassle@gmail.com to contact a volunteer directly. Respect one another and enjoy yourself!"
—————————-
Southern New England Artist Community Group Exhibit

When: On view March 11 through April 01, 2017
Opening Reception: Saturday March 11, 2017, 6-9M
Where: True Grit Gallery, 38 Center St, Middleboro, MA
How: Official Website
What/Why: Learn more about the exhibition here
—————————-
Members' Open

When: On view through April 30, 2017
Opening Reception: Friday, March 10 at 6pm
Where: Provincetown Art Association and Museum, 460 Commercial Street, Provincetown, MA 02657
How: Official Website
What/Why: "Members' Exhibitions at PAAM represent the work of contemporary artist-members of the Provincetown Art Association and Museum. Many of these artists live on Cape Cod either full-time or for part of the year. While the work varies greatly in media and approach, each artist-member joins a long roster of distinguished artists who have studied, taught, and exhibited at PAAM over the past 100 years. There is no submission fee for members' exhibitions, but membership must be up to date."
—————————-
Dell M. Hamilton: Blues/Blank/Black

When: Thursday, March 16 at 7 PM – 8 PM
Where: Boston University Art Galleries, 855 Commonwealth Ave, Boston, Massachusetts 02215
How: Official Website
What/Why: "Dell M. Hamilton's "Blues/Blank/Black incorporates key paragraphs from two of Toni Morrison's most well known and widely taught novels: The Bluest Eye and Beloved. Through gesture, color repetition, & remix, "Blues\Blank\Black" conflates fiction, folklore, live art and persona in order to interrogate trauma, perception and spectatorship. As such it is an ongoing investigation into the socially constructed and relentless nature of violence and is ultimately an exaggerated and performative construction that reckons with trauma and spectacle as a way of accounting for intergenerational memory, madness, loss, & erasure."
—————————-
Say hi:
EMAIL | TWITTER | FACEBOOK | INSTAGRAM | PINTEREST
Let me know if I missed anything this week, keep me posted on #bosarts happenings 03.17-03.23, please explain this snake to me, and have a great weekend! ♥