"A tall black figure, which a belated passer-by in the distance might have taken for a phantom, appeared erect upon the parapet of the quay, bent over towards the Seine, then drew itself up again, and fell straight down into the shadows." (via Old Book Illustrations)
still x hidden agendas x enormous tiny x transcend the ordinary
—————-
Enormous Tiny Art Show

(Sightseer, Jennifer Davis)(latest FLUX. purchase!!)
When: On view through October 2nd, 2011 (Final Weekend!)
Where: Nahcotta, 110 Congress Street, Portsmouth, NH 03801
How: Official Website
What/Why: "For the months of September and February, our gallery is entirely devoted to the incredible creation that is tiny art, each piece measuring ten by ten square inches or smaller and completely original.
More than fifty artists from all over the globe participate in our in-house exhibition, amassing hundreds of individual pieces of art. During the months of September and February, our Enormous Tiny Art site will feature even more work of the wonderfully diminutive and creative sort, including additional artists to our regular online ETA roster.
Around here, it's tiny and enormous  and all original, all the time. Enjoy! And spread the tiny art love!"
—————————-
Moving Forward
(Unit 1)
When: On view through November 1st, 2011
Where: Distillery Gallery, 516 East 2nd Street, South Boston, MA
How: Official Website
What/Why: "The Distillery Gallery is pleased to present "Moving Forward," an exhibit of new and recent works by long-time Distillery artist, Vanessa Irzyk. The show will pair Irzyk's current abstract works with selections from the artist's previous series of figurative paintings.
Irzyk has recently departed from her span of uniquely tempestuous depictions of people laden with exaggerated facial features and expression to focus on a new series of abstract mixed media pieces. The process for each of these bodies of work begins with a
predetermined background color where imagery is then created upon and influenced by that hue. The abstract works are full of fast-moving forms that swirl and stack with interrelated areas that are covered up, revealed, and cropped. Through the use of opposing colors, the artist prompts vibration and movement within each composition.
"Moving Forward" highlights Irzyk's current creative state while revealing the inherent connections to a previous one. Works from both series are undeniable specific to the artist's hand and display the culmination of diligent practice and progress."
—————————-
v e l l u m
Where: Online Exhibit
How: Official Website
What/Why: "v e l l u m is an independent curatorial project founded by alexis avedisian."
—————————-
ArtCetera 2011
(Hidden Agendas #13, Judy Haberl)

When: Saturday October 1st, 2011 7:30PM
Where: The Park Plaza Castle, 130 Columbus Ave, Boston, MA
How: Official Website
Cost: Tickets for the event are now sold out, but you can bid at the online auction for unsold pieces starting October 3rd
What/Why: "Experience art. Fight AIDS. October 1."
—————————-
Transcend the Ordinary
When: Thursday October 6th, 7:00-9:00PM
Where: The Aviary, 48 South Street, Jamaica Plain, MA
How: Official Website
What/Why: TRANSCEND THE ORDINARY is an exhibition that brings together seven photographers whose images explore rituals and routines of everyday life, relationships with loved ones, and personal histories. Gaining inspiration from within, these artists create deeply personal work that says as much about them as it does their subject.
Featuring photographs from: Paige Mazurek, Robin Myers, Trevor Powers, Camilo Ramirez, Irina Rozovsky, Ginevra Shay, Katharine Shields
Please join us at Aviary for the opening reception on Thursday October 6th, from 6pm-9pm. Drinks and snacks provided! The opening coincides with JP's First Thursday, so there will be lots to see around the neighborhood. "
—————————-
Reflections/Deflections
(Ikben 3)
When: On view through October 2nd, 2011
Reception: October 1st 3pm- 6pm
Where: 119 Gallery, 119 Chelmsford Street, Lowell, MA
How: Official Website
What/Why: "It is with great pleasure that we feature Rocha's new work in his first solo exhibit at 119 Gallery entitled, Reflections / Deflections. Visitors to the gallery will be thrilled, but not perhaps surprised, to find nearly two dozen works on view. What will surprise viewers is that the bulk of his new works are not paintings, but like our jurors' winning selection, sculptures.
As in his paintings, Rocha's sculptures attempts to reconcile opposites, both visually, and symbolically. In his paintings, the romanticism of soft-focused color fields is contrasted with hard-edged purity. In this way, he creates a compelling visual tension.
"The sculptures I create make use of parameters that are similar to those found in my paintings; they combine opposing elements. In my sculptures these disparities are found in their use of materials and surfaces, which contrast the natural and organic with the machine and industrial made. The use of mirrors adds a further visual ambiguity, as clean spatial properties are contrasted with the organic shapes." ~ Dan Rocha."
—————————-
Lowell Open Studios
When: Saturday October 1st and Sunday October 2nd, 2011 11am to 5pm
Where: List of Participating Artists here.
How: Official Website
What/Why: "Welcome to the 11th Annual Lowell Open Studios. This year's event features more than 140 artists who live and work in this renaissance city; including fiber artists, painters, multi-media artists, sculptors, potters, jewelers, filmmakers, photographers, and more.
Open Studios lets you meet artists where they work, view their art, talk with and ask questions of them. It's a great opportunity to purchase works of art directly from the artists creating them…all while enjoying our beautiful and historic city."
—————————-
New Bedford Open Studios
When: Saturday and Sunday October 1st+ 2nd, 2011 11:00AM-5:00PM
Where: List of Participating Artists here.
How: Official Website
What/Why: "We want to inspire you, transport you, and connect with you with artists of New Bedford. You're invited through the studio door. Enter where art is created. Learn about art and the process of creation. Meet your neighbors and fellow art lovers on the Studio Muse Tour. Discover how it feels to collect art directly from the artists who created the work. Join us. You're invited."
—————————-
Backroads Studio Tour
When: October 1st and 2nd, 2011
Where: Download Map here.
How: Official Website
What/Why: "Come and discover the artists of central Massachusetts. Through a self-guided tour of the beautiful backroads of six rural New England towns, we invite you to visit the studios of local artists and learn more about their crafts."
———————-
Art House
(LYTTEOT Drawing #2, Bebe Beard)
When: Wednesday October 5th, 2011 7:00-9:30PM
Where: Oberon, 2 Arrow Street, Cambridge, MA
How: Official Website
Cost: $15
What/Why: "8th Annual Silent Art Auction to Benefit the Non-Profit Brattle Film Foundation. Welcome to the Brattle Film Foundation's 8th annual Art House. We have lots of great work up for sale this year, and we want to help you find something that's perfect for your home or office, or as a gift for someone special. With pieces available in a variety of media we're certain you will find something to like!"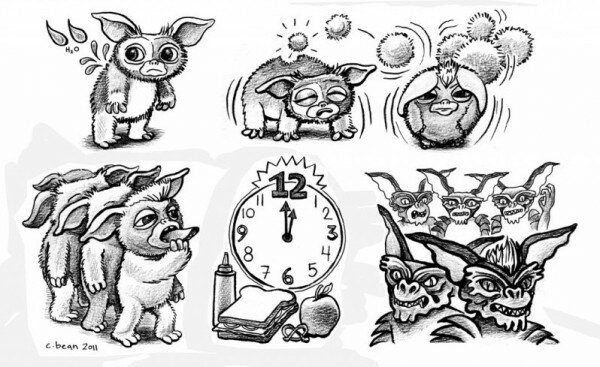 (How Gremlins are Made, Cara Bean)
———————-
LowBrow Show
When: October 5th-30th, 2011
Where: Gallery X , 169 William Street, New Bedford, MA
How: Official Website
What/Why: "Tracing its roots to the Dada movement of the early 20th century, Lowbrow art describes an underground visual art movement that arose in the Los Angeles, California area in the late 1970s.
Lowbrow is now a widespread populist art movement with origins in the underground comix world, punk music, and hot-rod street culture. It is also often known by the name pop surrealism. Lowbrow art often has a sense of humor – sometimes the humor is gleeful, sometimes impish, and sometimes it is a sarcastic comment. Lowbrow's direct opposite is Highbrow."
———————-
Still
(Joshua Tree National Park, Mary Lang)
When: On view through October 2nd, 2011
Where: Kingston Gallery, 450 Harrison Avenue, Boston, MA 02118
How: Official Website
What/Why: "In its annual group show, Kingston Gallery artist members reflect on what it means to pause, to continue, to endure. On view will be drawing, painting, prints, sculpture, photography, mixed media and installation by artist members Sophia Ainslie, Susan Alport, Ilona Anderson, Joan Baldwin, Judith Brassard Brown, Linda Leslie Brown, Mary Bucci McCoy, Stephanie Cardon, Brian Corey, Gail Erwin, Chantal Hardy, Janet Kawada, Mary Lang, Karen Meninno, Barbara Moody, Jennifer Moses, Rose Olson, Sharon Pierce, Susan Scott, Elif Soyer, Hilary Tolan, Ann Wessmann, and Luanne Witkowski."
———————-
Roxbury Open Studios
(Roots, Sydney Janey)
When: Now through October 2nd, 2011
Where: Download the Event Map here.
How: Official Website
What/Why: "All eyes on Roxbury Open Studios! This annual event is an opportunity for Roxbury's visual artists to welcome the public to view and purchase paintings, drawings, sculptures, textiles, jewelry and other studio crafts. The event also provides a means for individual creativity to play its part in the cultural and economic development of Roxbury."
———————-

Get out of here, you crazy kid. ♥