Things that go bump in the night..
patience persistence process x baldessari x liminality x dat, dat, dat, dah
———————
75 Artists for 75 Years
(Leg Wand, William Wegman)
When: On view through November 7th, 2011
Where: ICA Boston, 100 Northern Avenue, Boston, MA 02210
How: Official Website
What/Why: "To celebrate our rich history while providing support for future exhibitions and programs, the ICA presents 75 Artists for 75 Years. This special benefit features works of art by 75 artists who have exhibited at the museum over the years including Paul Chan, Francesca DiMattio, Mona Hatoum, Leslie Hewitt, Charles LeDray, Josiah McElheny, Catherine Opie, David Salle, Swoon, Stephen Tourlentes, William Wegman, and Rachel Perry Welty, to name a few.
The donated works will be on view in the Kim and Jim Pallotta Gallery from September 22 through November 7. Each is available for purchase for $3,000 through a blind drawing; all proceeds benefit the ICA's exhibitions and programs."
A few other things are currently going on at the ICA..
Anthropocene Extinction
On view through December 30th, 2012
"There's a good chance you've encountered Swoon's work before: her intricately cut, life-sized portraits have covered abandoned buildings and warehouses in cities around the world. Often found in beautiful states of decay, her wheat-pasted installations are populated by realistically rendered people going about everyday activities in a cityscape of her own invention.
In both her art and her own life, Swoon is deeply engaged with social and humanitarian projects. During the 2009 Venice Biennale, she and a crew of 30 other artists and friends sailed SWOON boats made of reclaimed materials through the canals of Venice—creating new purpose out of what was cast aside. Her latest endeavor, the Konbit Shelter Project, is a sustainable building project assisting Haitians who lost their homes in the devastating 2010 earthquake. Working alone or in collaboration, Swoon's work is often about forming a community in order to practice what she refers to as a "real world" engagement.
For the ICA's fifth installation of the Sandra and Gerald Fineberg Art Wall, Swoon's installation will extend from the elevator atrium to the lobby, soaring 40 feet up to the ceiling—the largest installation to occupy the Fineberg Art Wall. The work, titled Anthropocene Extinction, is composed of streams of intricately cut paper which connect key sculptural elements within the installation, including a 400-pound, suspended bamboo sculpture. The exhibition is accompanied by an ICA-produced video featuring installation footage and an interview with the artist."
Ten Thousand Waves
On view through March 4th, 2012
"Isaac Julien's Ten Thousand Waves is an immersive, nine-screen video installation that interweaves three stories linking China's ancient past and the present. The first story is inspired by the Morecambe Bay tragedy of 2004, in which 23 Chinese immigrant workers were drowned while gathering cockles at the seashore in England. The second is the Chinese legend of the ancient sea goddess Mazu, protector of fishermen and sailors, who is said to guide shipwrecked sailors safely to shore. The third is set in 1930s Shanghai and explores the 1934 silent film The Goddess (1934), one of the best known films of China's cinematic golden age, which portrays the tragic life of a woman who became a prostitute in order to support herself and her son. Shot mostly in China, Ten Thousand Waves features well-known actresses Maggie Cheung and Zhao Tao, video artist Yang Fudong, poet Wang Ping, and venerable Chinese calligrapher Gong Fagen.
With rich imagery that soars between the cold northwest coast of England, the buzzing rush hour of Shanghai, and the lush landscape of bamboo forest and stony mountains, Ten Thousand Waves represents a new form of filmic storytelling, as the three stories unfold across multiple screens."
———————
Revenge of Freeky Friday Nights
When: October 28th-31st, 2011
Opening Reception: October 28th 7-9pm
Where: Fourth Wall Project, 132 Brookline Avenue, Fenway, Boston
How: Official Website
What/Why: So..there are a few artists participating.."Featuring Spooky and Halloween-Inspired Artwork By:
Alyssa Adams, R. L. Allison, Allison Bamcat, Joshua Baptista, Brenton Barnes, Jessica Beebe, Andy Bell, Rocco Bittelari, Eric Bornstein, Amanda Boucher, Nyx Breen, Eliza Brown, Kimberly Buhler, Alex Carlson, Roxanne Chichowlas, Madeline Copp, Ellen Crenshaw, Mary Curtin, Kat Cuseo, Nicole Duennebier, Jyll Ethier-Mullen, Logan Faerber, Pat Falco, Anthony Feliciano, Andy Fish, Michael Georgeson, Danielle Gosselin, Molly Halligan, Brian Hart, Scott Holloway, Alethea Jones, Joe Keinberger, Patt Kelley, Ron LeBrasseur, Jennifer Lewis, Aerica Lovett, Keith MacLelland, Natalie Magri, Steven Mardo, Kelsey Marr, Joey Mars, Fish McGill, Indigo Moorhead, Karen Moss, Greg Moustafis, Scott Murry, Christian Noise, Jane O'Hara, Shannon Orcutt, Dave Ortega, PenCapChew, Ansis Purins, Rhonda Ratray, Mister Reusch, Dana Ricciardi, Heather Rose Anair, Caitlyn Ryan, Jennifer Schmenke, Lisa Scollan, Bob Stearns, Raynard Stevens, Stones, Nick Sullivan, Tom Torrey, Kristen Uroda, John W., Maegan Wackell, Tami Wicinas, Katrina Wilbur, Bethy Williams, Brenda Wilson, Keith Zoo"
————————
Patience, Persistence, and Process

(installation shot at Voltage)
Opening Reception: Friday October 28th, 7-10PM
Where: Voltage Coffee & Art, 295 3rd Street, Kendall Square, Cambridge, MA
How: Official Website
What/Why: "On Friday, October 28th, Christina Watka's performance installation will be unveiled at the gallery, accompanied by an inspired musical composition by Andrew Halchak. The best way to experience Christina's work is to interact with her structures and undulations, soak in her color palette and share the space with the textural elements; letting her curated environment wash up, over and around you as great art does.
At our usual time (7-10pm) and usual place (295 3rd Street) please come share this unique exhibition, representing the change in seasons, the visceral tug of opposites against each other, set to the soundtrack influenced exclusively by the materials and colors of Christina's sculptures."
"The Light Can Tell Us When We Are Done" is a short film explaining the process, musical collaboration, and the mixing of media all leading up to the show at Voltage.
————————
A Collection Of Bostonia Collectives: COSTUME RECEPTION
When: Friday October 28th, 2011 7-11PM
Where: Lincoln Arts Project, 289 Moody Street, Waltham, MA
How: Official Website
What/Why: "Those who believe artists can thrive toiling alone in their studio are living a lie. Today's success stories feature artists from many mediums coming together to create projects impossible to conceive on their own. These collections of collectives around the world team up and tackle large scale public works of art, museum exhibitions, murals and much more. Contemporary artists ranging from Friends With You to Jeff Koons to The Yarn Bombers to Banksy and beyond all work in concert with their teams of specialists to realize amazing projects. Nobody is going at it alone anymore especially in the Hub of the Universe, the city with the Dirty Water, The Capitol of the Commonwealth, the fair city of Boston Massachusetts.
Boston is the proud home of a collection of collectives creating an exciting body of work. Each of these crews hop over the traditional paths of gallery representation and getting work into museum collections in favor of silk screened prints and shirts, live mural painting in new arenas for art, salon style shows in restaurants and bars, knitting up and down sign posts, creating superhero personas to live out through their art and much more.
You are invited to see this array of talent for the first time collected in one spot specifically featuring collaboration amongst artists. See the ins and outs of how they work together on projects. Enjoy their personal drawings, paintings, photos and more. Get insight into the inspiring process of working with a crew of fellow artists. Start a team of your own."
————————
Face Time
(John, Chuck Close)
When: On view through December 3rd, 2011
Where: Barbara Krakow Gallery, 10 Newbury St # 5, Boston, MA 02116
How: Official Website
What/Why: "Featuring works by John Baldessari, Mel Bochner and Chuck Close. FACE TIME looks at the relationship between scale, specificity and language in the attempt to command attention.  The three exhibiting artists, all from the same generation, have explored vastly different territories within their respective careers, yet each one is readily identified through iconic methods."
Also at Barbara Krakow..
(Dat, Dat, Dat, Dah)
"Richard Artschwager's exhibition consists of works from 1972 to 2009, ranging from iconic wood crates to three dimensional forms of punctuation, along with several prints, a working clock and, to be expected, multiple opportunities for the use of the image of wood veneer (on Klock, Door and Corner Splat II).  Overall, the works utilize the idea of a puzzle, a question and/or a response (all forms of information) to examine how and what a form can be and how far can one take that information to create an reductivist approach to the appreciation of 'data' (wood grain, punctuation, working time, etc)."
————————
Wilson Hunt: RESPONSE!
When: On view November 2nd-27th, 2011
Where: Galatea Fine Art, 460B Harrison Avenue, Boston, MA 02118
How: Official Website
What/Why: "I will be having a solo show of paintings during the month of  November at a gallery in the South End (SOWA) of Boston.  The show is titled:  RESPONSE! The title comes from the fact that the context of these trying times is the everpresent backdrop for my work.  The work is a response to the times and my internal set."
————————
The Paperclip
When: On view through October 30th, 2011
Where: The Hallway Gallery, 66a South Street, Jamaica Plain, MA
How: Official Website
What/Why: "Join us for a solo exhibit featuring the paintings of Dan Golden.
Golden has handed out paperclips to colleagues, friends, family members and strangers asking for a sculpture in return. He selects the most interesting and using sepia watercolor, he paints each sculpture. Come see 40 of these beautiful paintings during the month of October."
————————
Cannot be Explained in Words: Drawing Expanded
(Born Again, Raul Gonzalez)
When: On view now through November 20th, 2011
Where: Concord Art Association, 37 Lexington Road, Concord MA 01742
How: Official Website
What/Why: "Drawing is another kind of language." -Richard Serra
Something is communicated in a drawing that has remained a constant for centuries – an intimacy of expression that is otherwise the province of writing. Drawing is the basis of all art and visual thinking.  It is a way to visualize thinking, and therefore functions as a way of directly externalizing the conceptual.
The drawings here are projective, that is, they depict something that is imagined before it is drawn. The works range from installation to drawings that are iterations of sculptural space, to those that are made by the blinking of the eye, to the use of traditional materials like charcoal, which are pushed beyond their expected limitations.
The works represent a personalized way of drawing– looser and often hybrid (for example combining felt, paper, wood and wire) – thus freeing the artists from the traditional mode of drawing as a way of generating and developing other art forms. The use of a multiplicity of materials in turn allows for the discovery of new forms and new ways of expressing content.
This exhibit features ten artists who engage in a variety of mediums and who are all interested in the materiality of drawing. They share a sense of daring: exploring new approaches, scale and materials that expand the definition of drawing and add to what that definition can be."
———————————-
Daniel Brustlein: Places
(Montparnasse)

When: On view October 29th-December 23rd, 2011
Where: Acme Fine Art, 38 Newbury Street, Boston, MA
How: Official Website
What/Why: "A one-man exhibition of paintings by Daniel "Alain" Brustlein will open at ACME Fine Art on Saturday 29 October 2011. A reception from 2:00 to 4:00 p.m. will mark the occasion. For the gallery's first exhibition devoted solely to the paintings of Daniel Brustlein, Gallery Director David Cowan has chosen a group of fifteen landscape themed canvases created between 1958 and 1986 that collectively form a sort of retrospective travelogue that reflects the artist's interest in places and cultures around the world. The paintings themselves are studio paintings done from sketches that were created en-plein-aire in the locales they portray; however, they are also sensate reflections of Brustlein's time spent in the places that he loved, including, France, Italy, North Africa, New York and Provincetown. In each of the paintings the artist poetically renders the architecture, and the natural environment of his subject, but he also captures a sense of each locale and conveys both mood and atmosphere, thereby allowing the viewer to travel with him from place to place, all the while seeing these enchanted locations through Brustlein's uncanny eyes. In an era when much contemporary art turns its back on beauty and elegance, Brustlein –through paintings like these- restores our faith in such concepts."
————————
Look At You, Boston
(Annalisa Take 2)
When: On view through October 31st, 2011
Where: Boston City Hall, Boston, MA
How: Official Website
What/Why: "An exhibit featuring a select group of photos from the blog Beyond Boston Chic"
————————-
Dancing with the Dark: Prints by Joan Snyder
When: On view through October 30th, 2011
Where: BU Art Gallery, 855 Commonwealth Avenue, Boston, MA
How: Official Website
What/Why: "Widely celebrated for her vibrant expressionist paintings and her leading role in feminist art, Joan Snyder, a 2007 MacArthur Fellow, has also made remarkable prints throughout her career. These works are the subject of Dancing with the Dark: Joan Snyder Prints 1963-2010, the artist's first major print retrospective. Snyder's art has always been motivated by exploring universal themes filtered through deeply personal experiences, among them female sexuality, motherhood, mortality, and social injustice. Natural forms, textures, and the glorious colors found in flowers, blossoms, trees and fields also abound in her prints.
Dancing with the Dark presents 66 works. This survey ranges from Snyder's earliest landscape and portrait woodcuts, executed during her student years in the early 1960s, to mid-career prints that powerfully combine abstraction and expressionism, to later works engaging in deeply personal imagery, culminating in a glorious trio of prints in 2010."
———————-
DUFAYEL (*DISCURSIVE) [PASS/GO]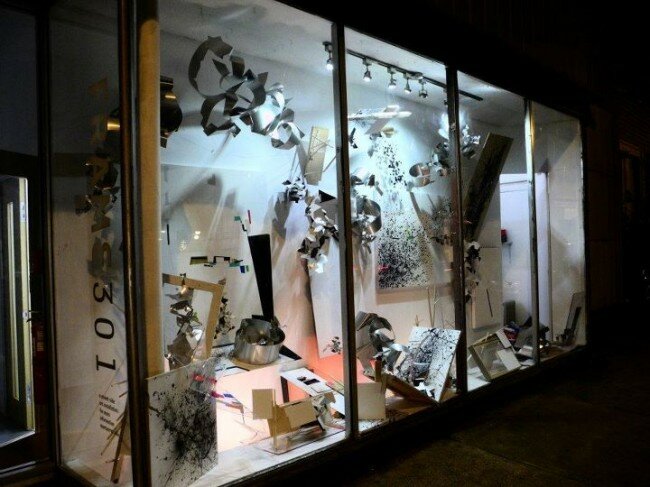 When: On view through October 31st, 2011
Where: Frame 301 Gallery, 23 Essex Street, Beverly, MA 01915
How: Official Website
What/Why: "Curated by Lydia Gordon, this Frame 301 installation is a site-specific material arrangement that explores the platforms of human interaction through the use of physical and non-physical materials. The artist uses recycled objects, canvas, paint, aluminum, light, and sound to create a non-linear material narrative within the Frame 301 space. The relationship of the installation's physical and non-physical materials represents contemporary trends of communication, activities that now encompasses both virtual and in-person interaction.
Tangible sculpture and painted objects coexist with light and sound inDUFAYEL (*DISCURSIVE) [PASS/GO]. The negative space between layers of paint and suspended sculpture cast shadows and ever-changing lines within the piece. Sound is made available to passersby through individual artist performances. DUFAYEL (*DISCURSIVE) [PASS/GO]performs through each placement of material, facilitating as an environment for viewers to contemplate the synthesis of both means of communication. By inviting the audience to step away from more traditional forms of art-making, Joey Asal highlights the influential practice of using non-objective image making in conceptual art."
——————–
Art in a Liminal Space
(Gregory Vershbow)
When: On view October 29th through December 3rd, 2011
Where: Robert Klein Gallery,  38 Newbury Street, Boston, MA
How: Official Website
What/Why: "Gregory Vershbow's photographs hinge between the imagined and the observed. His work consists of photographic series and narrative books that combine his photography with original drawings and text. Joining the history of science with art history, and working both digitally and with experimental chemistry, Vershbow seeks an alternative experience of the past and present. His most recent projects are "Art in a Liminal Space" and "The Alchemist's Tree."
"Art in a Liminal Space" is an ongoing series for which Vershbow travels to different museums and archives to photograph works of art in storage and restoration. In these seemingly still and otherwise unobserved spaces between exhibition and non-exhibition, Vershbow calls attention to dramatic interactions between objects and materials. Vershbow's hope for "Art in a Liminal Space" is to better understand the power of art in the absence of its audience."
————————
I hope you have a spooktacular weekened no matter what slutty life form you end up embodying. ♥