landscape remade x speculative models x too many truths x fear no art
————————-
Nita Leger Casey – Lowell Through My Eyes

(Lonely house, prior work by Nita Leger Casey)
When: On view through November 25th, 2012
Where: Western Avenue Studios, The Loading Dock Gallery, 122 Western Avenue 2nd Floor, Lowell, MA
How: Official Website
What/Why: "At the Loading Dock Gallery this November, painter Nita Leger Casey takes you down the streets and along the byways of her adopted city of Lowell. Casey's paintings focus on the play of light and a sense of place. A rich quiet infuses her work. Lowell through My Eyes celebrates the beauty of the New England mill town.
Comfortable with oil, watercolor, and pastel, Casey paints daily in her studio at 122 Western Avenue, Lowell. She works from life, painting outside when weather permits. She is also an avid photographer, who uses her camera to collect inspiration. She shoots countless photos for reference. Often she finds inspiration on the back roads from her  home in Pepperell to her studio in Lowell. She has been known to make a U-turn to record a particular chair, classic porch, or stunning landscape.
Casey has always been an artist. She remembers drawing houses "in every book and paper I could find when I was a young child." Streetscapes and houses remain her favorite subjects.  Her influences include Hopper, Sargent, and Manet. Born and raised in France, Casey attended the Ecole des Beaux Arts in Orleans and the Ecole de Dessin in Paris. She has lived around the world -Paris, Panama, Germany, Italybut she considers herself lucky to live in New England now. "The beauty is all around me, from mountains to the seashore, and a little bit of Old World feeling. I love everything about New England." Casey paints daily and is also a daily blogger. She has been represented by the New England Card Company, Paralyzed Veterans of America, and Brick Mill Studio. She has won the annual Christmas card contest at the Presidential Retreat at Camp David, Maryland. Her work has been published and is included in private collections all over the world. Her memberships include New Hampshire Art Association, Pastel Painters of Maine, Pastel Society of New Hampshire, Upcountry Artists in Maine, associate member of the New England Watercolor Society, and associate member of Oil Painters of America. "
———————
Deconstruction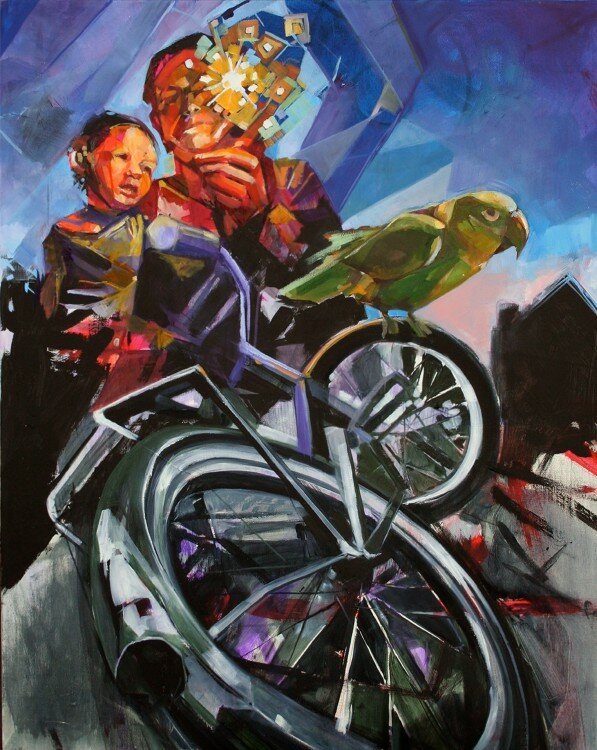 (Off Kilter Moments That Always Come Back)
When: On view through January 3rd, 2012
Opening Reception: Thursday November 15th, 2012 6:00-8:00PM
Where: Peregrine Gallery, 150 Waterman St, Providence RI
How: Official Website
What/Why: " There are many occurrences that society takes behavioral cues or perceptions from and I am interested in transforming these avenues into complex imagery. My work procures a deconstruction of the figural relationships within the canvas- the various moments captured in one piece intend on reclaiming the familiarity I have once experienced and wish to rejuvenate for the viewer."-Lauren Scott
The tension between subject matter and the rhythm of colors and shapes in Scott's paintings immediately relates her work to the likes of Franz Marc and other German Expressionists.  However, her uncanny ability to choose imagery that is at once personal feeling and ubiquitous sets her paintings into a class of their own.  Scott's paintings weave our private and collective imagery into electrically colored worlds that are visually delightful and simultaneously disorientating, leaving the feeling that our personal narratives may be more permeable than we once believed."
———————
The Space In Between

(Diamond Crest, Stefanie Klavens)
When: On view November 15 – January 19, 2013
Opening Reception: Thursday, November 15, 2012, 6:00 – 8:00 pm
Where: Boston University, PRC Gallery, 832 Commonwealth Avenue, Boston
How: Official Website
What/Why: "The Space in Between features artwork that focuses on societal built environments in urban settings. The images capture supposedly empty or vacant scenes in public spaces where humans are present without being pictured and the very absence of human subjects forces the viewer to contemplate the space in between these human-made structures. While firmly rooted in the 21st century, these photographs also portray a timeless feel, as if the artists froze the frame at the initial moment of abandonment, preserving a particular constructed expression of culture for generations to come."

———————
 The Eachville High Series Reception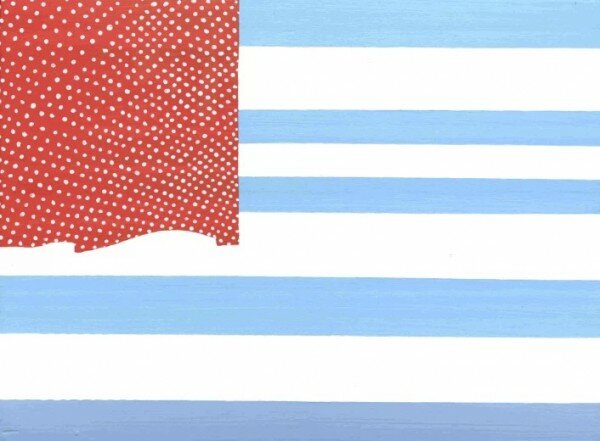 (Betsey Reagan)
Opening Reception: Saturday November 10th, 2-4PM
Where: Brockton Public Library, 304 Main Street, Brockton, Massachusetts 02301
How: Official Website
What/Why: "On Saturday, November 10th, Jamaal Eversley will be holding a reception for his solo art show entitled The Eachville High Series at the Brockton Public Library on the top floor in the Driscoll Art Gallery. The artwork consists of bold and colorful paintings and drawings done in 2012. Midway, there will be a poetry reading by Breeana Blackmon, Royale L'radin and Kris Weinrich. At the end of the event, a raffle will be held for some of Mr. Eversley's artwork.
Please come joins us and show your support for arts and poetry in your community!"
———————
Too Many Truths Spoil the Myth

(An Oasis of Horror in a Desert of Boredom, Dave Ortega)
When: On view through December 1st, 2012
Where: Marran Gallery, 29 Everett Street, Cambridge, MA 02138
How: Official Website
What/Why: "The Art Institute of Boston at Lesley University is pleased to announce an exhibition and reception of new work by Boston artist, Dave Ortega: TOO MANY TRUTHS SPOIL THE MYTH. Ortega will present a large, site-specific wall piece and sculpture focusing on the femicides of the past 20 years in Ciudad Juárez, and is based on the artist's latest comic, "Las Mujeres." The exhibit will be held at the Marran Gallery (located on the Lesley University Quad between Mellen and Everett Streets)"
———————
The Work of Beth Dacey at Artistry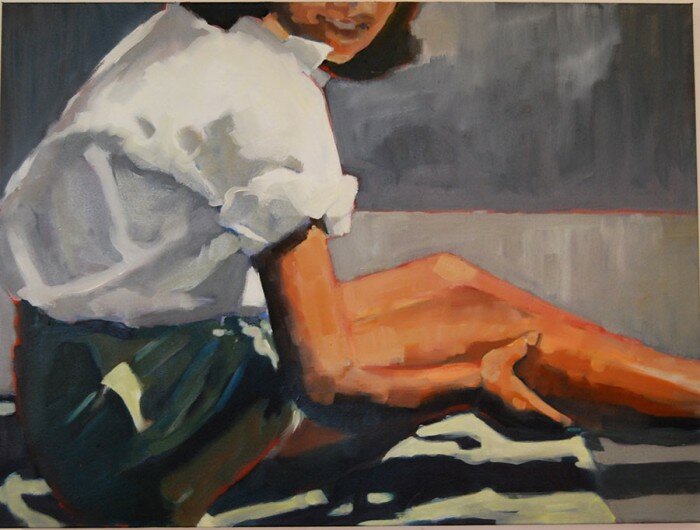 (Woman Posing)
When: On view through December 2012
Where: Artistry, 53 Dartmouth Street, South End, Boston, MA
How: Official Website
What/Why: "Artistry features the unique handcrafted jewelry of five local artists and paintings by Beth Dacey.
Artistry is owned and operated by the artists themselves who are always on hand to assist you personally."
———————
All Mixed Up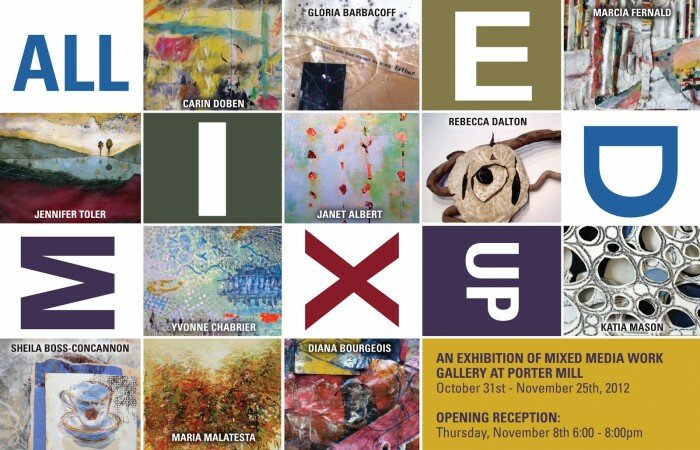 When: On view through November 25th, 2012
Where: Studios at Porter Mill, 95 Rantoul Street, Beverly MA 01915
How: Official Website
What/Why: "For the duration of November, the Gallery at Porter Mill is pleased to present All Mixed Up, an exhibition of ten artists working in mixed media. The work in this exhibition explores materials from oil paint, to wax, to tar to common household shingles. These works come alive with color, texture, subtlety and a mastery of materials. Join us in the gallery for not one, but two, celebrations of this exhibition to meet the artists, explore the artwork, and enjoy refreshments."
———————
Landscape Remade

(Ramify, Kim Salerno)
When: On view through December 5th, 2012
Opening Reception: November 9th from 5:30-8:30PM
Where: Northeastern University, Gallery 360,  360 Huntington Ave., Boston, Massachusetts 02115
How: Official Website
What/Why: "The work of Resa Blatman and Kim Salerno share striking similarities. Both artists have worked extensively in design and computer aided image production. Both studied painting and are interested in the material and fluid quality of painterly images.They also share a concern for the environment.There is a sense of nature's fragile equilibrium and vulnerability in these two bodies of work. Landscape imagery is isolated from its natural setting, re-imagined and reconfigured. Plants and animals are removed from their context. Salerno's graphic, colorful, layered environments compliment Blatman's surrealistic settings. For both, nature verges on extreme artifice. These landscapes are oddly mechanical. Flora and fauna seem to suffer from too much growth hormone.The viability of the seed is put into question."
———————
Workplace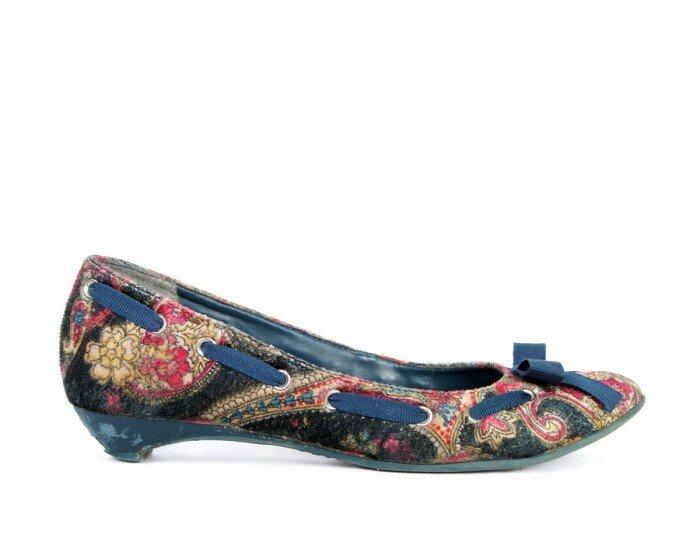 (So Young, Faculty Assistant, Harvard Business School)
When: On view through November 10th, 2012
Where: Mount Holyoke College, MHC Library Atrium,
How: Official Website
What/Why: "I have worked for two well-known entities that project far different personae. For two years after college, I was part of the Genius Team at Apple Inc. Retail, where I managed the chaos of customer service and computer repair at one of the busiest stores in the company. I then moved on to Harvard Business School, where I support several faculty members in their research and teaching activities.
I came to conceive of each organization through the personalities of my coworkers instead of my duties. I chose to take portraits of my coworkers' shoes as a way to visually reinforce, but also challenge, the stereotypes of the technology and higher education industries. I am interested in the individual and their personality, but also how each one of us is a part of the sum of an organization."
———————
COLLISION18: Present

When: On view through December 16th, 2012
Opening Reception: Friday, November 9th, 6:00pm to 9:00pm
Where: Boston CyberArts Gallery, Green Street train stop on the Orange line. 141 Green St. Jamaica Plain, MA 02130
How: Official Website
What/Why: "Boston Cyberarts Gallery presents its first exhibition in collaboration with the Boston based COLLISIONcollective. COLLISION18:Present, the eighteenth COLLISIONcollective group show, explores the concept of an eternal present as obtained by the use of looping media, static images, sculpture and installation. Other meanings of the word "present" are suggested: gifts to and from the artist and viewer, presentation and simple presence in a place and time.Curated by COLLISIONcollective members William Tremblay, John Slepian and Bob Kephart,   COLLISION18:Present consists of 30 works by artists from the Boston area, and from across the US, France, Spain, Switzerland and Israel.
In everyday absurdities, Sarah Buckius elevates the everyday to the level of absurdity, defining impossible but everlasting vignettes by the use of video montage.  She depicts inventions or sculptures constructed with elements of the human form in everyday spaces.
Local artist Jeffu Warmouth treats us to the amusing but visually arresting spectacle with his Marginalia: Crawl, from his series of performance-based, projected video compositions. Multiple iterations of the artist crawl along a set of narrow strips arranged on the wall. Warmouth explores the body's relationship to marginal aspects of our environments, creating an endless series of tiny journeys.
Brooklyn-based DataSpaceTime transforms an iconic nuclear blast image into an archive of questions surrounding modern warfare with Stuxnet. The name refers to a computer virus of unverified origin, likely intended to target the Natanz nuclear centrifuges in Iran's uranium enrichment program. Using a downloadable app, viewers can recreate YouTube searches for "Stuxnet" and "Cyber Warfare" gathered on June 24, 2012 when this computer virus is thought to be programmed to "expire" or erase itself from all infected machines.
Also included in the show is work by Artists in the show include Natalie Andrew, Raphael Arar, Liat Berdugo, Nathan Boyer, W. Benjamin Bray, Will Copps, Charles J. Crowell, Juan Escudero, Joseph Farbrook, Chris Fitch, Antony Flackett, Rob Gonsalves, Dave Gordon, Faith Holland, Mary Anna LaFratta, Georgina Lewis, dan paluska, Lalie Schewadron Pascual, Alexander Reben, Jean-Michel Rolland, Anne Morgan Spalter, Wayne Strattman, Jim Susinno, Brad Tober and Keren Zaltz."
———————
Fear No Art 4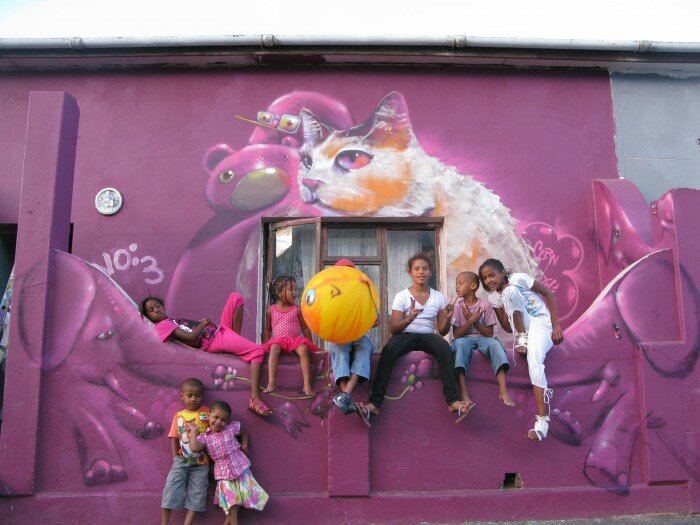 (Mural work by Cern One in Cape Town)
When: On view November 10th through December 3rd, 2012
Opening Reception: Saturday November 10th, 2012 7:00-10:00PM
Where: Fourth Wall Project, 132 Brookline Avenue, Boston, MA
How: Official Website
What/Why: "While haphazard graffiti tags still slash through billboards and brick walls, there's no denying the shift, albeit subtle, that street art has begun to take towards the more thoughtful, deliberate, and respected. A new generation of designers, thinkers, and philosophers, born from the rebellious, bandana-covered cavaliers making their marks in the public sphere discreetly, has begun to emerge. Indeed: the street-art bubble has begun to disintegrate into a less-reliable orb, one that artists are now fearlessly poking.
The artists that curator, and prolific artist and designer Marka 27 has gathered from both coasts vary wildly: from passionate, feverish, athleticism to carefully structured graphics, these artists' aesthetics are certainly varied, but not hard to associate. All 16 artists hint at a similar respect and nod to architecturally-influenced expression, vibrant, often-times grotesque design, and a no-holds-barred expanse of movement—all accompanied by a fierce, self-survivalist-immediacy.
While FEAR NO ART 4 is certainly not the first exhibition featuring street art, it is the first time these particular artists have been featured together on the same coast, in the same space, reacting and playing off of each other for the first time. Rather than showcase a singular artist, this exhibit is a representation of an amalgamation of cultures, identities, ideas, and personalities much like the cities that these artists use as their canvas.
The artists gathered in this collection range from legendary graffiti artists to up-and-coming graphic designers, to expressive pop-surrealist painters—but really, these labels do them a disservice. All of the artists represented in FEAR NO ART 4 are revolutionaries who use a variety of media to challenge the most complex ideals, which are, of course, wrapped in the simplest of questions: What is art? What is art if it is not for sale? What is art if it is impermanent, hidden, digital, wet, gross, or illegal? What is art if we do not call it art?
Join us on Nov. 10th at the Fourth Wall Project to witness a new type of exhibit: one that brings the new gods of street art together to coalesce, challenge, and re-create a new public art experience."
———————
Nan Tull – Transmutations – New Encaustic Paintings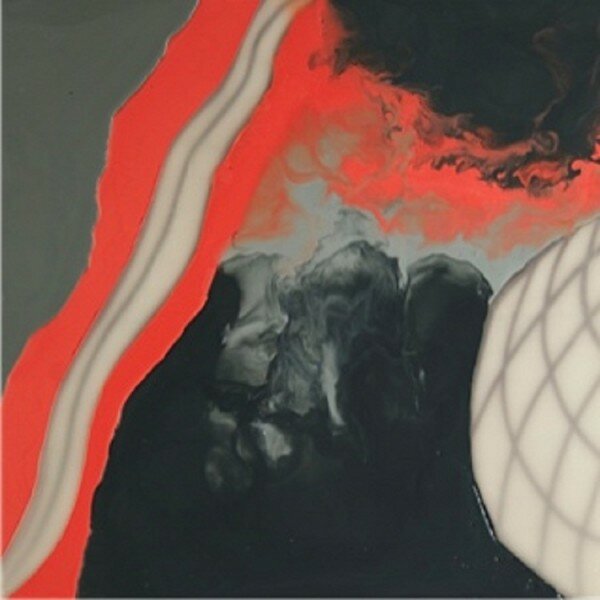 (Lava Flow 7)
When: On view through December 1st, 2012
Reception: Saturday November 10th, 2012 3:00 PM to 5:00 PM
Where: Soprafina Gallery, 55 Thayer Street, Boston, MA 02118
How: Official Website
What/Why: "Transmutations: New Paintings in Encaustic shows two bodies of paintings that I worked on simultaneously. The work is about trying to find traces of order and stability in a disordered and destabilized world where upheavals and chaos dominate the world news. At the same time, these paintings try to reveal the positive role of creativity in exposing the beauty inherent in both order and disorder. By using beeswax mixtures, based on ancient formulas and techniques, and contemporary materials such as heat guns, kitchen tools and masking tape, my paintings try to exist in a realm bridging contemporaneity and antiquity. I love to look at both the past and the present and let my imagination roam as these non-objective pieces evolve. The paintings probe my subconscious filled with dichotomies and tensions. Crisp surface lines and veiled areas, deep and shallow areas, translucence and opacity, and the dual edges of control and letting go share space in these pieces.Conjuring a sense of place or a remembered moment, the pieces revolve between abstraction and figuration. They harken back to having reviewed three decades of work for my 2009 retrospective at the Danforth Museum of Art, as they wrestle with the unruly, organic world and the ordered, calming universe of grids, geometry and architecture. The two often co-exist, with one as the framework for the other.Ultimately, these paintings try to reflect a balance between directness and mystery. At the same time, they celebrate my passion for color, shape, line and space, as well as a love of and a strong involvement with my materials. Perfection and permanence are impossible, but these painterly transmutations, these fluctuations of translucent and opaque encaustic, the changing of one experience, one thing, into another are at the core of my explorations"
———————
Harmonic Discordance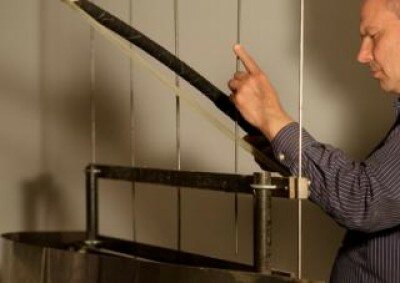 When: Saturday November 10th, 2012
Where:  Third Life Studio, Union Square, Somerville, MA
How: Official Website
What/Why: "A drone infused composition for Tibetan singing bowls, overtone-tuned steel rods, & string harmonics.
-with- Matt Samolis, singing bowls and steel rods | Randy Winchester, steel rods | Morgan | Evans-Weiller, violin | Eve Boltax, viola | Simon Linn-Gerstein, cello | Jane Wang, contrabass"
———————
The Balance Between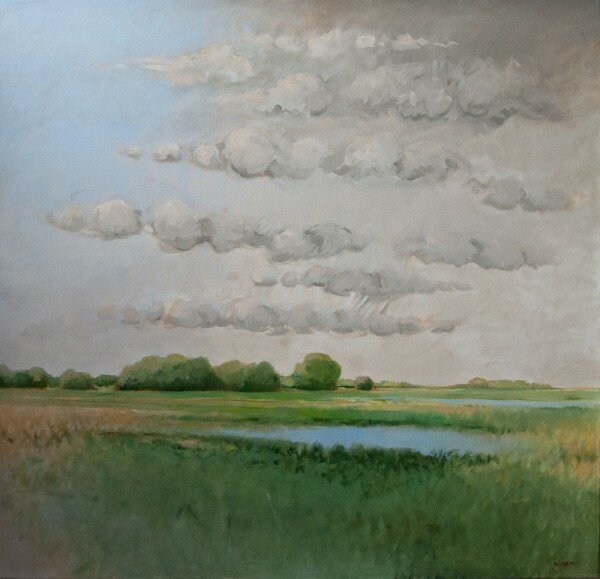 (High Time)
When: On view through November 9th, 2012 (final day!)
Where: Fountain Street Fine Art, 59 Fountain Street, Framingham, MA
How: Official Website
What/Why: "Fountain Street Fine Art is a modern industrial space exhibiting the works of local artists. Pieces vary from classical and expressionist to modern, contemporary and abstract art. This gallery aims to promote and cultivate talent."
———————
Threads Bare

(Tweeter(detail), Jodi Colella)
When: On view November 10-December 16, 2012
Opening Reception: Saturday, November 10, 2012: 4-6 pm
Where: Nave Gallery, Clarendon Hill Presbyterian Church, 155 Powderhouse Blvd., Somerville, MA
How: Official Website
What/Why: "From grass to bamboo to wool and silk, and yes, even to plastic, fiber is an essential part of our lives, keeping us clothed, warm, holding our food, and decorating our homes.
"Threads Bared" is an exploration of the tactile nature of fiber. Using traditional and non-traditional methods and materials, fiber artists unravel, piece together, and bare the very threads that make up everyday life. 
Artists:
Rebecca Aranyi, Susan Berstler,Jodi Colella, Merill Comeau, Ruth Daniels, Melissa Glick, Kathleen Kneeland, Susan Meier, Charlotte Noruzi, Lauren O'Neal, Amy Pett, Stacey Piwinski, Margaret Ryan, V Van Sant, Ellen Solari"
———————
The Future of the Past: Encaustic Art in the 21st Century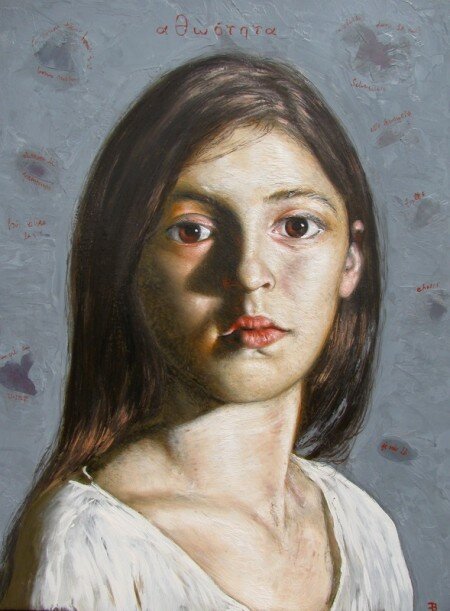 (encaustic work by Francisco Benitez)
When: On view through December 2nd, 2012
Where: Boston Center for the Arts, Mills Gallery, 539 Tremont Street, Boston, MA 02116
How: Official Website
What/Why: "The Future of the Past: Encaustic Art in the 21st Century features an expansive collection of 37 emerging, established, and historical artists that primarily utilize the medium of encaustic in their artwork.
Encaustic is derived from enkaustikos, a Greek word meaning "to burn in." Used as early as the 1st century BC by Greek painters, it is one of the oldest and most enduring of all artistic mediums. This ancient technique is a combination of heated resin, beeswax, and pigment that is applied in layers onto any porous surface.
Boston artists play a significant role in encaustic's revival as a contemporary art medium in the 20th century. Three artists in particular, Karl Zerbe and his protégés, David Aronson and Esther Geller, are featured in this exhibition.
Continuing their legacies are the internationally invited and juried artists that expand upon encaustic processes and incorporate this versatile medium in painting, sculpture, printmaking, book arts as well as a variety of installation, collage and mixed-media work. Ranging from the hyper-real to the surreal, the collection on view includes portraiture, landscapes, still life and abstract pieces that explore the world around us from the artists' individual perspectives.
The Future of the Past: Encaustic Art in the 21st Century includes a series of multimedia presentations within the gallery for visitors to learn more about this complex and fascinating medium. These educational videos include: excerpts from an encaustic painting demo film of Karl Zerbe; a demonstration of its techniques and applications by participating artist, Nan Tull; and a recent interview with Esther Geller."
———————
Tomas Saraceno Panel at MIT: Moving Beyond Materiality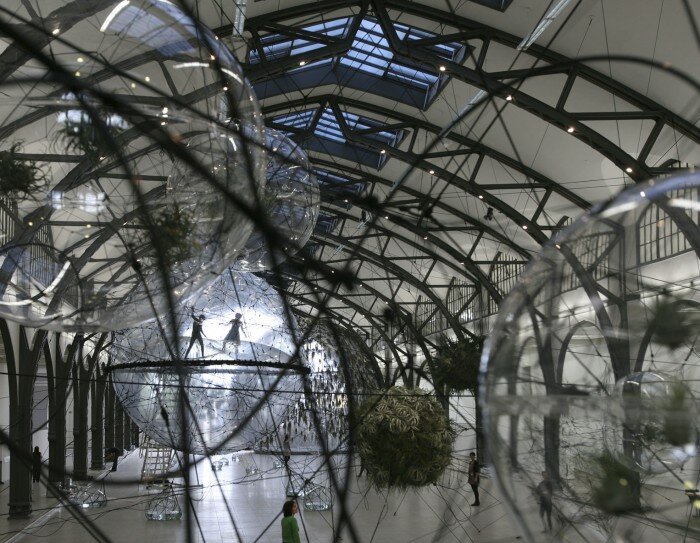 (Cloud Cities)
When: Thursday, November 15, 2012 6:30 PM
Where: MIT Building 10 Room 250, 77 Massachusetts Avenue, Cambridge, MA
How: Official Website
What/Why: "MIT Visiting Artist Tomás Saraceno will present his latest work On Space Time Foam, a project installed at HangarBiccoca in Milan, Italy, part of the ongoing Cloud Cities series. An artist trained as an architect, Saraceno employs insights from engineering, physics, chemistry, aeronautics and materials science to create inflatable and airborne biospheres, which are speculative models for alternate ways of living."
———————
Say hi:
Have a great weekend! ♥