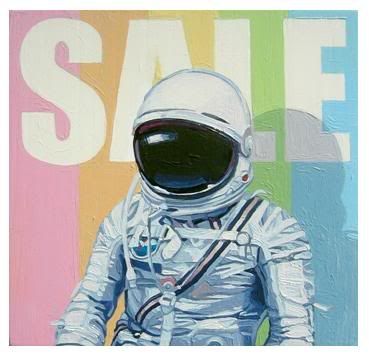 (Sale, Scott Listfield on view at New Art Center)
Yes, its the weekend. Yes, we definitely earned it.  Life has been crazy and I'm going to attribute it to "The Holidays" which will be my scapegoat for the next two months.
According to Susan Miller from Astrologyzone's Twitter:
"November 16th-Only two more days for Venus AND Jupiter to go direct. You will see big changes from then on, and all will be really good ones! Profits too!"
Speaking of Twitter, are we friends yet?
Anyway, looking forward to the good changes and profit$ Susan, don't let me down.
DO.NOT.
Brickbottom's 23rd Annual Open Studios
(Foghorn-Jessica Straus)
When: Saturday & Sunday, November 20 & 21, 12-6
Where: Brickbottom / 1 Fitchburg Street, Somerville, MA
How: Official Website
What/Why:"Brickbottom is one of the area's oldest resident artist buildings; this weekend, the artists here will open their studios and show their art. Meet the artists, enjoy their work on sight, or purchase something you love and take it home. You will get insight into the creative processes of Brickbottom's artists along with the neighboring artists at Joy Street — nearly 100 artists. Spend some time with the art you love; from time-honored painting, sculpture, printmaking, ceramics and photography to glass blowing, digital art, environmental, performance art and installations. All are welcome. Wheelchair accessible. 10 minute walk from Lechmere Green Line T Station, street parking available, free admission."
——————————
SoWa Vintage(Final event for 2010!)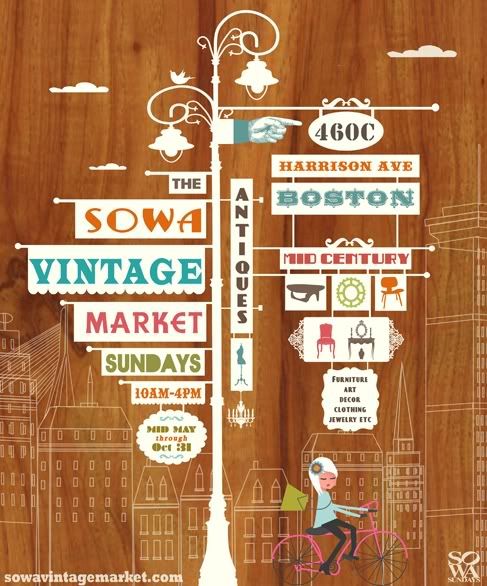 When: Sunday November 21st, 2010 10:00AM-4:00PM
Where: 460C Harrison Avenue Boston, MA
How: Official Website
What/Why:"Presenting curated collections of vintage and antique art, furnishings, home and fashion accessories, jewelry and vintage clothing, etc. from talented designer/dealers."
—————————
Opening Reception for Southern Exposure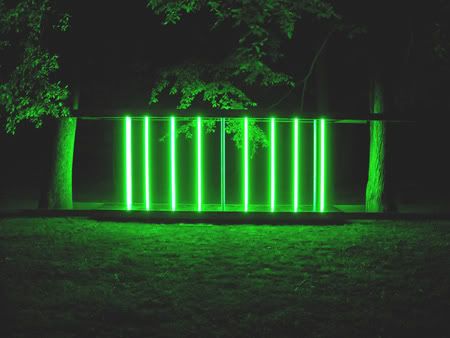 (Virtual Doubling, Tristan Al-Haddad)
When: On view November 19, 2010-January 02, 2011
Opening Reception: Friday November 19th, 7:00PM-9:00PM
Where: Mills Gallery 539 Tremont Street, Boston, MA 02116
How: Official Website
What/Why: "Hotlanta" comes to the South End with Southern Exposure: Artadia Awardees 2009 Atlanta. The seven artists featured in the exhibit provide a rich and varied snapshot of the thriving arts community in Atlanta – the unofficial capital city of the South. Lovingly nicknamed "Hotlanta" by locals and non-locals alike, the city poses a distinct foil to Boston's cooler New England climate.
Presented in partnership with Artadia: The Fund for Art and Dialogue, "Southern Exposure" teases out a complex understanding of space and place through a range of materials and practices including painting, sculpture, video and photography.
Artists featured in the exhibit: Tristan Al-Haddad, Don Cooper (Judith Alexander Artadia Awardee), Ruth Dusseault, Fahamu Pecou, Jerry Siegel, Larry M. Walker, and Angela West."
———————————————
Plenty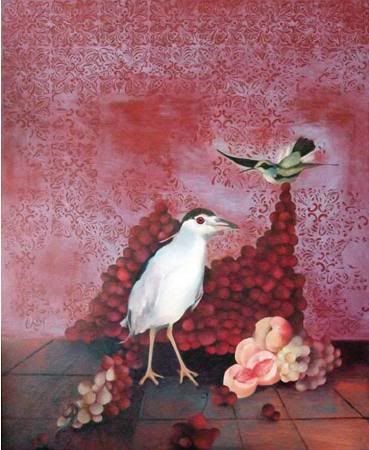 (The Sophisticated Black-Crowned Heron, Resa Blatman)
When: On view now-January 28, 2011
Where: 13Forest Gallery 167A Massachusetts Avenue   Arlington, MA
How: Official Website
What/Why: "Plenty 2010 is our third annual roundup of the best work local and regional artists have to offer.  Opening Thursday, November 18 with a reception from 7-9 pm, our salon style holiday show features new work by 50 local artists.Plenty celebrates the many talented artists found around Boston and beyond.  All types of media are represented including painting, drawing, printmaking, photography, sculpture, wood construction, and a few odd pieces that defy categorization.Works in the show are modest in size and budget and make great holiday gifts.  Our collection of handmade ceramics, jewelry, woodwork and even stuffed animals will also be in abundance.  And if you can't make our opening reception, please join us for some holiday cheer at our Annual Holiday Party on Thursday, December 16 from 7-9 pm."
—————————————-
Salad 2.0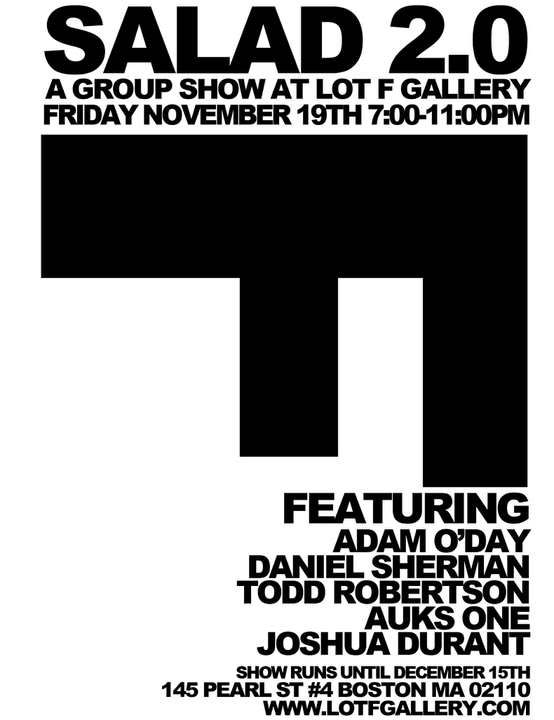 When: Friday November 19th, 7:00-11:00PM
Where: Lot F Gallery 145 Pearl St. Apt 4
How: Official Website
What/Why: "A group show featuring the works of:Daniel Sherman, Adam O'Day, Joshua Durant, Auks One, Todd Robertson. Free Refreshments, Great Artwork, Good People. Lot F opens its doors for another inspiring art show. If you are familiar with these guys works, then you know that the new pieces are going to blow you away! If you are unfamiliar with the artists, than you are in for a treat! Paintings, Sculpture and more! Works Large and Small. Show Runs Until December 15th"
—————————————-
Urbanites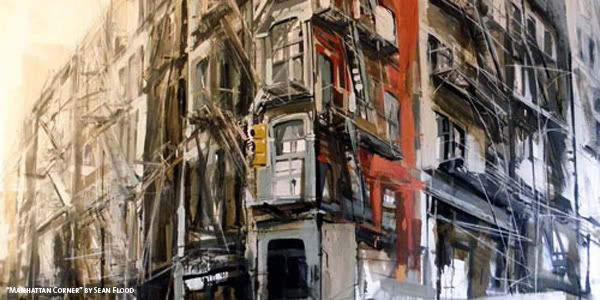 (Manhattan Corner, Sean Flood)
When: November 18 – December 16, 2010
Opening Reception: Thursday, Nov 18, 6 -9pm
How: Official Website
Where: The Distillery Building at 516 East Second Street in South Boston, MA.
What/Why:"Historically, artists have often found the "city" as a muse.  The energy, technology, population, monumental structures, and pace of life can easily be inspiring.  The translation and resulting representation of urban influence may vary from dark and dismal to magnificent, palatial, or even serene.  It is this individual absorption of the metropolitan experience that formulates one's own take on citylife, and the artwork that may stem from it.
Corresponding with this theme, The Distillery Gallery presents "Urbanites", a show of artwork that exhibits reflections of experiences within cities.  2D and 3D works will form a survey of responses to urban stimuli, while the gallery itself – located within a mid-19th century rum distillery – will also serve as a character in the exhibit, still donning many traits indicative of its former industrial use within the city limits of Boston."
—————————————-
Mark Bradford ICA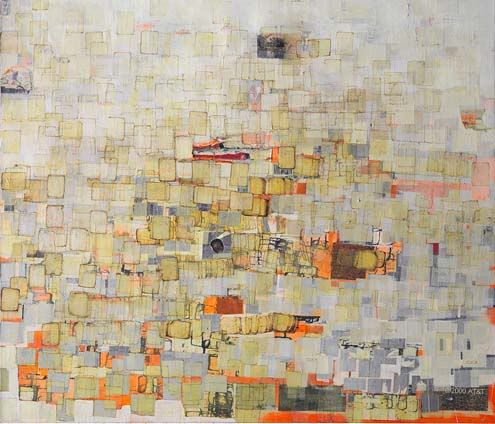 (Strawberry)
When: November 17+18: 12-8 pm; November 19-21: 12-6 pm
Where: ICA 100 Northern Avenue , Boston, MA
How: Official Website
What/Why:"It's about…tracing the ghost of cities past. It's the pulling off of a layer and finding another underneath." – Mark Bradford
"Through his collaged paintings, sculptures, videos, and installations, Mark Bradford explores issues of class, race, and gender in American urban society. An archeologist of his own environment, Los Angeles, Bradford uses found materials—peeling movie posters, hand-lettered "FOR SALE" signs, endpapers used to perm black hair, salvaged plywood—which he layers, embellishes, erodes, and reconstitutes into abstract compositions.
The first survey exhibition of the artist's work, Mark Bradford includes painting, sculpture, installation, and video from 1997 to 2010, and several new works.Mark Bradford is a touring exhibition organized by the Wexner Center for the Arts, The Ohio State University"
—————————————-
Icons + Altars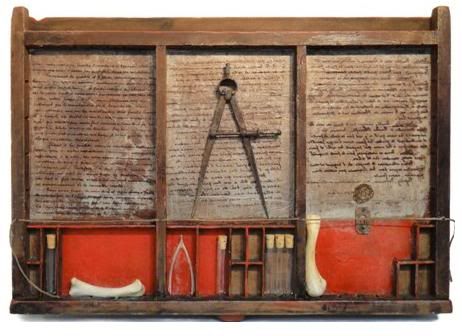 (Lesson 18, Dorothy Simpson Krause)
When: On view until December 12, 2010 in the Main Gallery
Where: New Art Center -61 Washington Park .Newtonville, MA 02460
How: Official Website
What/Why:" See works by 100+ regional artists responding to the themes of "Icons" and "Altars" in many media including painting, drawing, photography, mixed media, ceramics and sculpture. Start or expand your collection!
Buy a $250 ticket to select an original work of art and support the New Art Center. 108 tickets are available for 108 works of art.  Each ticket enters you in the drawing at the closing reception, where you are guaranteed to take home an engaging piece of art. Due to the diversity of tastes, most ticket holders get one of their top choices!
Free entrance to the exhibition and receptions. Support the New Art Center by purchasing artwork from this show! Excellent opportunity for both new and seasoned collectors to buy exciting works of art.(Icons + Altars tickets) make wonderful gifts!."
—————————————-
Let's be serious, the talk of the town this weekend is the grand opening of the MFA's new Art of the Americas Wing.  And rightly so! The new wing has been 10 years in the making and is larger than the Guggenheim!
Grand Opening of Art of the Americas Wing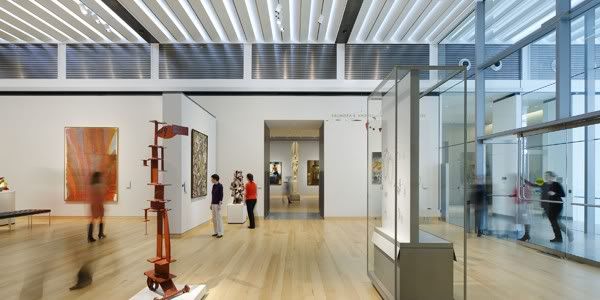 When: Saturday November 20, 2010 10:00AM-9:45PM(note:extended hours)
Where: Museum of Fine Arts ,465 Huntington Ave, Boston
How: Official Website
What/Why: "A walk through the massive, airy indoor courtyard of the new Art of the Americas Wing of the Museum of Fine Arts forces you to take a moment and consider just what a big freakin' deal this is. The courtyard represents the considerable addition of the wing to the museum, a full 28-percent increase in total square footage, and an impressive 500 new acquisitions. Spencer de Grey, one of the wing's chief architects (from the London firm Foster + Partners), believes that "this courtyard will become an urban living room for Boston, where people can come and think about the experience [offered by the artwork on display]."Many stories are told through the new American Wing—how American artists began to replicate European masters before striking out on their own in the 20th century, how we've moved as a nation from simple demonstration in our art to intense intellectual study, how design and form have streamlined and how our diversity of people and opinions has magnified. At its core is the museum itself, looking to the future instead of the past, and itching to fulfill its ambitions.A repository for historical relics and the people who love them, it's difficult to defend the MFA's relevance to someone who frequents the ICA or galleries in SoWa. Malcolm Rogers, director of the MFA, wants to change that. "We want to be an encyclopedic museum," he said during a recent walk-through, "at a time when contemporary art has never been more encyclopedic."Obviously, the museum has a long way to go as far as obtaining contemporary art (though Rogers clearly stated the museum's intention to aggressively pursue those acquisitions), but the American Wing provides a striking blueprint for what the MFA hopes to become."-(writeup via Weekly Dig)
And after checking out the museum, be sure to stop by the MFA's neighbors:
SMFA Art Sale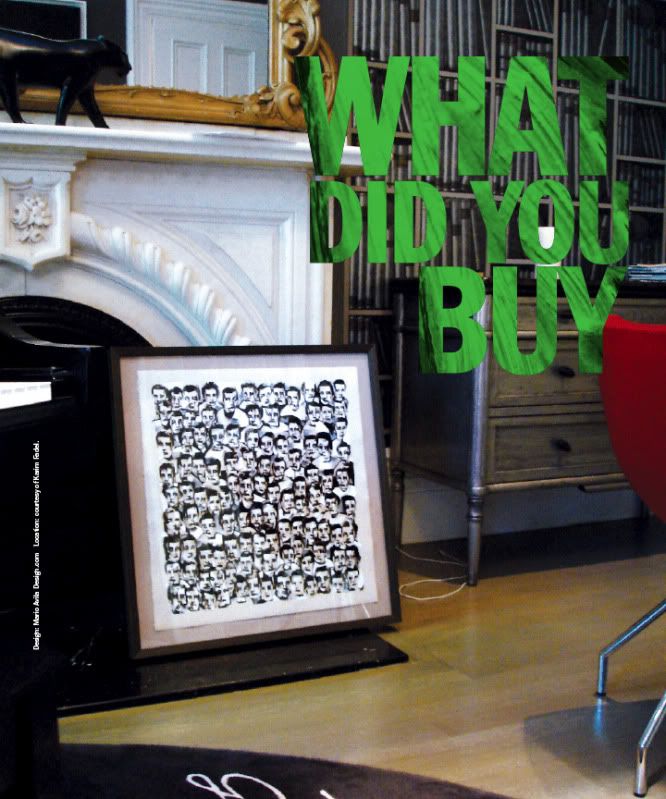 When: November 17+18: 12-8 pm; November 19-21: 12-6 pm
Where: School of the Museum of Fine Arts 230 The Fenway, Boston
How: Official Website
What/Why: "Get excited for FIVE days of incredible art supporting an incredible cause!
The Museum School Art Sale is back, November 17-21, 2010. Now in its 30th year, our celebrated sale has become the annual destination for art collectors and those who simply love art to seek out works and artists that speak to them, from our newest students to our most acclaimed alumni.
With thousands of works on a changing rotation, priced by the artists and sold to benefit student scholarships, the Museum School Art Sale is your opportunity to experience the thrill and excitement of your very own moment of art discovery. What will you buy?
Admission to the Museum School Art Sale is free. We are pleased to offer free parking with a purchase of $50 or more. Parking is available at the Museum of Fine Arts, Boston's garage on Museum Road."
————————————————-
If you can't make the Art of the Americas open house, you should at least watch the SERIOUS cinematic trailer introducing the wing on the MFA's website.  Great marketing guys. It makes you feel like you are a part of something epic.
One of the finer parts of the video for me was when Malcom Rogers, director of the MFA who was obviously close to the project, shares his excitement in developing a "social space" in the museum for people to gather and creating a new forum for Boston.
Yes yes yes.
It is nice to see a museum with "Fine Arts" in its name, which to some conjures thoughts of stuffy/cold/sterile/impersonal space, is paving the way for a new dialogue about art and how we interact with it in creating these social spaces.
It's all about making art feel accessible, baby.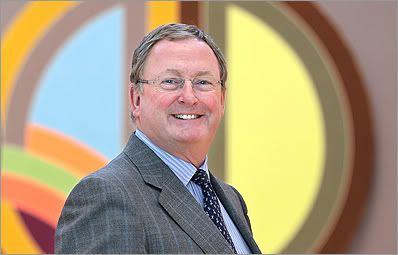 Also, I want to put Malcom in my pocket, he is adorable. ♥