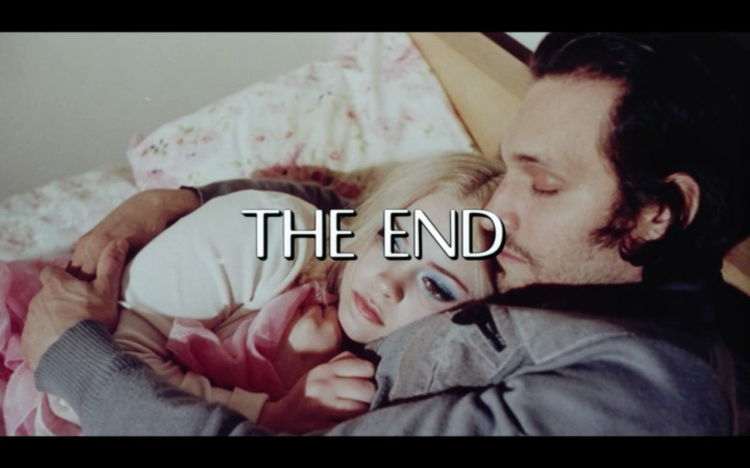 you look at me like an emergency x secondary sex characteristics x of the flesh x infinite pull
————————————————————–
Algorythms

When: On view through June 29th, 2012
Artist Reception: Friday May 18, 8-10PM
Where: Fourth Wall Project, 132 Brookline Ave. Boston, MA 02215
How: Official Website
What/Why: "A collaborative painting series. A new series of canvas paintings celebrating the constant interplay, symmetry, and conflicts found through juxtaposing abstract compositions with modern calligraphy. These collaborative pieces are snapshots of conversations between JURNE and MWM, cross sections of dialogue, catalogued thoughts, and discussions on content and context. A year-long discourse, in the paint form, between two prolific artists working in adjacent disciplines."
————————————————————–
MACHINE Tears

(Steel Life I + II prior work of George Sherwood. Parenthetical aside: his kinetic sculptures are insane. Check them out here.)
When: On view May 23rd through June 24th, 2012
Where: Boston Sculptors Gallery, 486 Harrison Avenue, Boston, MA 02118
How: Official Website
What/Why:"George Sherwood, an American kinetic sculptor, was born and raised in the coastal town of Fairfield, Connecticut. He holds degrees in both art and engineering from, respectively, the Hartford Art School and the University of Vermont.
His initial interest in the art of movement began during the 1970′s. Drawn to and inspired by physical theater groups such as Mummenschanz, Pilobolus and The Celebration Mime Theatre he developed a theatrical performance consisting of large animated props, sculptures and masks that were manipulated by the human body. After earning an engineering degree in the 1980′s he turned his focus to Concept Development for the toy industry where he spent nine years working for LEGO. It was during this time that he was introduced to the wind powered sculpture of George Rickey, a pioneer in kinetic sculpture. A growing passion to create his own sculpture led Sherwood to pursue this as a full time career.
Sherwood's sculpture explores aesthetic systems of space, time and the dynamic relationships of objects in motion. The choreography of each piece is governed by a set of basic movements, facilitated by an arrangement of rotating joints and aerodynamic surfaces.  His work is usually made of stainless steel, the reflective qualities of which integrate the sculpture into its environment. Wind speed and direction, shades of light, time of day, precipitation, and seasonal color transform the qualities of light and movement."
Also on view..
Peter Lipsitt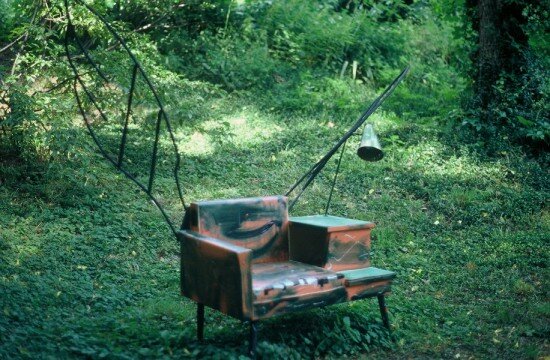 (prior outdoor work of Peter Lipsitt)
What/Why: "Whether entering the river's flow from the humanizing traditions of Classical figurative stone, Chinese ritual objects, or habitations from another culture, I follow the imperative to make it new. In order to work directly and to challenge myself, I have cut one step from the process of production, casting into the pure, tactile air of the single-use mold.
For me the resultant sculpture should possess both a reassuring familiarity and potential for surprise. Strategically inserted shells, metal, rope, or wood in the mold walls are transitional objects that conjure the spirit.
The immediacy of the moment of casting becomes the medium through which long experience, intuition, and intensity of expression unite."
————————————————————–
Newton Open Studios

When: Saturday May 19th-Sunday May 20th, 2012 11AM-5PM
Where: Newton, MA. List of Participating Artists here.
How: Official Website
What/Why: "Newton Open Studios produces community arts events that bring together the artists and residents of Newton. It is a non-profit, funded by artists registration fees and donations from generous individuals and businesses, and in part by the Massachusetts Cultural Council as administered by the Newton Cultural Council. Newton Open Studios is an affiliate of Newton Community Pride."
————————————————————–
Cambridge Open Studios

(A Dumb Thing to Do, Ellen Ezorsky)
When: May 19-20 North + West Cambridge, MA // 12:00PM-6:00PM
Where: Cambridge, MA |  List of Participating Artists here.
How: Official Website
What/Why: "Artists throughout Cambridge open their doors to the public for the fourth annual city-wide Cambridge Open Studios (COS) during two weekends in May. Meet local artists and discover unique paintings, jewelry, fiber arts, ceramics, film, mixed-media, literary works, and more!"
————————————————————–
Of The Flesh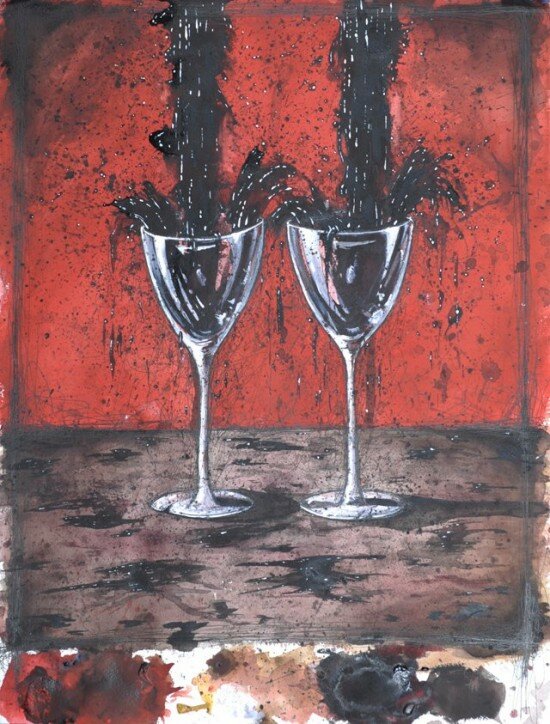 (Of the Flesh #1)
When: On view through June 2012
Where: Gallery Kayafas, 450 Harrison Avenue, Boston, MA 02118
How: Official Website
What/Why: "Gallery Kayafas is pleased to present Tara Sellios' first comprehensive exhibition of her photographs and drawings, Of the Flesh. Like many an early 17th century Dutch still life, Sellios' photographs are formal compositions of sumptuous picked-over repasts —  tables of shellfish and meats — table linens smeared with fluids, strewn with crumbs left from gluttonous exchanges and lavish banquets. Her large-scale, sometimes multi-paneled color photographs vibrate with realism.  They are beautifully unsettling. They are raw. They are satiated.  Life and Death inhabit the the same moment.
 The photographs are intensely planned.  Sellios draws out each still life before it is procured, arranged, and installed.   Six of her drawings form the basis for her newest series, Impulses.
The butchered animals, whole and in parts (all which are available for our carnivorous diets) are presented in artful compositions — gracefully arranged, thoughtfully stacked, elegantly draped, sensually suggestive of the carnal as well as the carnage.  You want to look away with a frisson of revulsion but you cannot avoid the fascination of looking at the detail — both beautiful and grotesque.
In the series, Seven Evil Thoughts, Untitled #3, Sellios' table — white linen cloth with a blood red background — is overtly sexual in its content: eels squirm in and out of wine goblets, wines have dripped and saturated the cloth, shellfish and their juices are scattered around the bowl of eggs submerged in a red liquid. Blood or wine? You are left to ponder and interpret.
"I strive to create images that elegantly articulate the totality of existence, focusing heavily on the broad themes of life and death, with further emphasis placed on ideas of fragility, impermanence and carnality. Death has always possessed a significant presence within the history of art, ranging from altarpieces to the work of the Dutch still life painters.  Manifesting melancholic themes with beauty and precision, as these artists did, results in an image that is seductive, forcing the viewer to look, despite its apparent grotesque and morbid nature. Through these images, I aspire to make apparent the restlessness of a life that is knowingly so temporary and vulnerable.."  Tara Sellios 2011
————————————————————–
Child's Play
 
(Aline Smithson)
When: On view through May 28th, 2012
Where: Panopticon Gallery, 502c Commonwealth Ave, Boston, MA 02215
How: Official Website
What/Why: "When you were a child, I suppose many of you had a favorite toy. Depending on what generation you grew up in, it could have been a number of things, from a Barbie doll to a Star Wars figure, a toy truck or a dinosaur, a Matchbox car, or even a Beanie Baby. But what happened to all of those toys? Do you still have them, were they passed down to another generation, or did they get discarded or sadly lost?
Panopticon Gallery is proud to present Child's Play, a group exhibition on display from April 12 – May 28, 2012 examining how toys are portrayed through contemporary photography. This exhibition will feature photographs by Jane Tuckerman, Aline Smithson, Grace Weston, Lisette de Boisblanc and David Levinthal."
————————————————————–
YES.OUI. shall SI.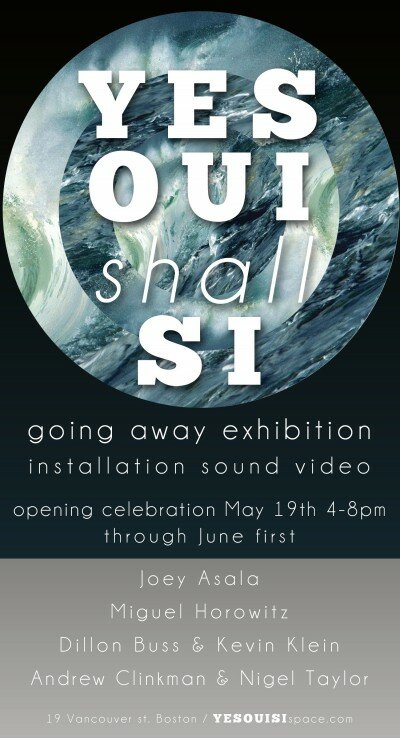 When: Saturday May 19th, 2012 4-8PM
Where: Yes.Oui.Si. Space, 19 Vancouver Street, Boston, MA 02115
How: Official Website
What/Why: "Dear Friends, Come celebrate the opening for a closing
Our last exhibition for a while: Joey Asal, Miguel Horowitz, Dillon Buss, Kevin Klein, Andrew Clinkman & Nigel Taylor"
FLUX. aside: ☹
————————————————————–
With a Little Help from Our Friends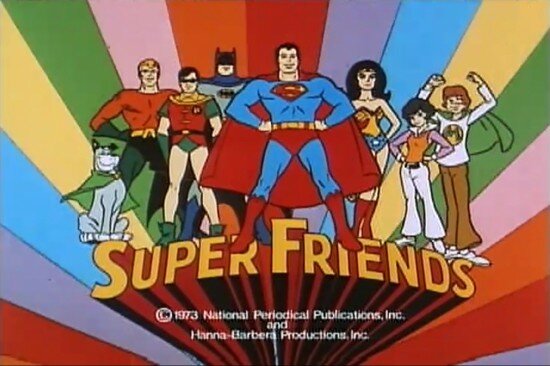 When: On view through May 26th, 2012
Where: Atlantic Works Gallery, 80 Border Street, East Boston, MA
How: Official Website
What/Why: "Atlantic Works is a collaborative space for art and ideas. With a growing number of artists displaced by Boston's soaring rents, East Boston is a richly diverse community which is quickly becoming a vibrant artist enclave. The Atlantic Works Gallery, composed of 29 members of the thriving East Boston Artist Group (EBAG), is a manifestation of this trend."
————————————————————–
Secondary Sex Characteristics

When: On view May 19th through June 23rd, 2012
Artist Reception: Saturday, May 19th, 6-8pm
Where: Proof Gallery, 516 E. 2nd Street, South Boston, MA 02127
How: Official Website
What/Why:"Proof Gallery is pleased to present Secondary Sex Characteristics, a solo exhibition by Caitlin Berrigan.
In Secondary Sex Characteristics, Caitlin Berrigan lovingly inscribes the flecks, curls, and tangles of her subjects' chest and nipple hair. The ink on vellum drawings linger perversely within notions of the secondary, the trivial, and the liminal. Unrelated to procreation—the alleged "primary" function of sex—these "secondary" sex characteristics denote seemingly insignificant difference. But might their inconsequence also imply a powerful unreliability and ambiguity? What if gender were defined by the quantity of hair on one's chest? Its curliness? The shape and weave of one's thatch?
While some subjects seem definitively male, others are indeterminate. Lifted from their bodies of origin, some drawings of thick chest hair take on the shape of female breasts, whereas those of nipple hair alone appear flat. Rather than deceiving us, these morphologies indicate that the signs of gender are unstable in the first place. They suggest a subversive power that the irrational secondary—usually an afterthought—holds over the dominant and material primary. The curving pathways and random streaks of chest and nipple hair remind us of the play, variation, and intermediacy that biology sprouts on our bodies: a randomness that thwarts our attempts to exclude and taxonomize. By fixating on the "secondary" sex characteristics, the artist moves us into a realm of overlapping and twisted contours of gendered belonging.
Secondary Sex Characteristics are a kind of intimate performance as portraiture that, like other works by Berrigan, leave us with indexical evidence. Roughly scaled to her own chest, the drawings trace relationships of longing. Some subjects are her former lovers, while others are queer male artists who have been photographed bare-chested in their own work or for the media. The drawings bear evidence of how gender is not defined on its own, but is negotiated through and against the company we keep. The suggested in-betweenness of bisexuality, for example, disturbs any sense that desire flows from gender, or gender from sex. In homage, the drawings testify to the creative and subversive influence of the queer male art world, but they also point to the institutionalized exclusions within male-male practices of mentorship, brotherhood, and adoration. Haunting the gallery, these tenuous images undo and pluralize the gendered selves and embodied presentations they depict—hopelessly entangling emulation and desire."
————————————————————–
Infinite Pull – Louise LeBourgeois

(Fog Beach 435)
When: On view through July 1st, 2012
Where: Gold Gallery, 655 Tremont Street, Boston, MA
How: Official Website
What/Why: "Gold Gallery features emerging and mid-career artists from around the world, with a particular focus on Boston. It is with great eagerness that Gold Gallery joins the dynamic South End neighborhood, and we look forward to being part of your experience in the cultural richness that Boston has to offer."

————————————————————–
Type-OH!-Graphics

(The work of Greg Orfanos)
When: On view through June 23rd, 2012
Where: Time & Tide Fine Art, 4 Market Street, Ipswich MA
How: Official Website
What/Why: "Words are powerful, not only when they are spoken or written, but also as objects themselves. The work on display includes letters or words either as a foundational element or as subject matter. Featured artist: Greg Orfanos. Exhibit runs until June 23rd"
————————————————————–
Pretty Ugly: Deviant Materialism

When: On view through June 24th, 2012
Opening Reception: Friday May 18th  6-8PM
Where: BCA, 539 Tremont Street, Boston, MA
How: Official Website
What/Why: "Pretty Ugly: Deviant Materialism features painting, sculpture, video and photography that vacillate between the beautiful and the grotesque and elicit visceral reactions of both attraction and repulsion, delight and disquiet. The eight artists in this exhibition build on process and body-based art histories and incorporate performance strategies."
————————————————————–
reThink INK: 25 Years at Mixit Print Studio

(Terra Flow, Ilana Manolson)
When: On view through July 31st, 2012
Where: Boston Public Library, 700 Boylston Street, Boston, MA
How: Official Website
What/Why:"The Boston Public Library, long a collector of the finest examples of Boston printmaking, continues to support and promote local artists as it showcases some of the area's newest and most intriguing pieces in a substantial new exhibition, reThink INK: 25 Years at Mixit Print Studio. This exhibition was created in partnership with Mixit Print Studio, established in 1987 on the ground floor of the former Mixit soap factory in Somerville. Thousands of prints by talented area printmakers have rolled through the presses of Mixit Print Studio in the last quarter century.
The more than 150 pieces in the exhibition by Mixit artists are divided into four components: the Portfolio, a collaborative project of 66 prints created specifically for this exhibition; a juried exhibition of 44 works; thirteen multi-dimensional installations; and selections from the Boston Public Library's exceptional permanent collection of works by Boston artists.  Several of the artists were inspired by the Boston Public Library's support of their work and have submitted pieces that draw from elements of the library and its collections."
————————————————————–
Teen Night: Romantics and Reelists

When: Friday May 18th, 2012 Doors open at 6 pm, Screening begins at 6:30 pm
Where: ICA Boston, 100 Northern Avenue  Boston, MA 02210
How: Official Website
What/Why: "Fast Forward Teen Video Program Annual Spring Screening"
————————————————————–
Stephen Tourlentes – Of Lengths and Measures

(Avenal, CA State Prison 97, Stephen Tourlentes)
When: On view through May 19th, 2012
Where: Carroll and Sons, 450 Harrison Avenue, Boston, MA 02118
How: Official Website
What/Why: "Carroll and Sons supports contemporary artists who work in painting, photography, sculpture, video and works on paper. The gallery focuses on building the careers of lesser-known artists and promoting ones who are under recognized."
————————————————————–
CIG HARVEY – You Look At Me Like An Emergency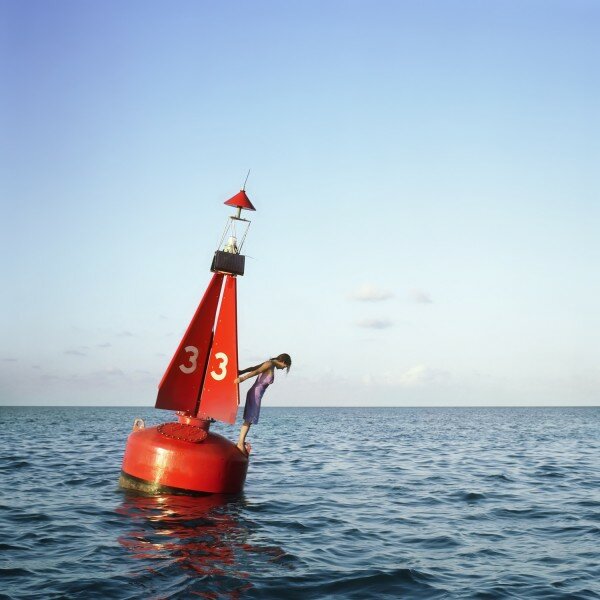 (Channel Marker)
When: On view May 19th through June 23rd, 2012
Opening Reception & Book Signing: May 19th, 2-5 PM
Where: Robert Klein Gallery, 38 Newbury Street, Boston, MA
How: Official Website
What/Why:"Photographs like these have the unlikely charm and openness of a question mark…they don't demand an answer, or an explanation, any more than music does."- Vicki Goldberg, Introduction to You Look At Me Like An Emergency, Schilt Publishing, 2012 
————————————————————–
Risky Business –  Artist Professional Toolbox (7)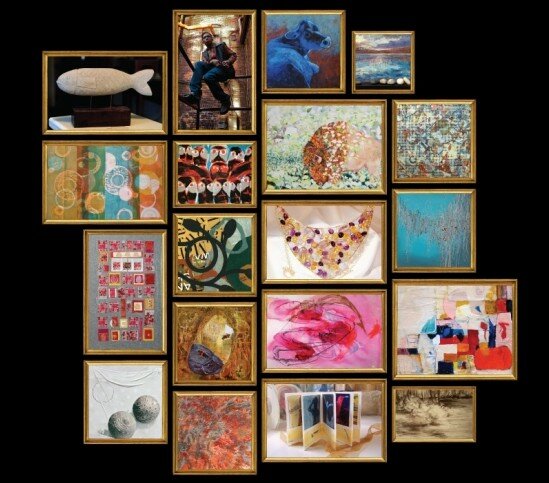 When: On view through June 22nd, 2012
Where: Art at 12 Gallery ,12 Farnsworth St. ,Boston, MA 02210
How: Official Website
What/Why:"Aren't artists always taking risks?  Of course.  But you have to be an even bolder risk-taker to aspire to actually support yourself by creating art. Enrolled in the Greater Boston Arts and Business Council's  Artist's Professional Tool Boxprogram, now in it's seventh year, these nineteen artists work to take their art and their businesses to a new level.
The exhibit includes photography, painting, mixed media, installation, video and sculpture.Exhibiting artists: Lisa Barthelson, Jalysa Belmer, Lisa Bohnwagner, Steven Bogart, Tim de Christopher,  Dawna Davis, Linda Germain, Betsy Gould, Phoebe Grip, Jenn Houle, Lynne Klemmer, Sarah Kariko, Heather Lenz, Colette Lucas, Lynda Schlosberg, Katha Seidman,  Kathleen Volp, Sirarpi Heghinian-Walzer, Audrina Warren"
————————————————————–
Dedham Open Studios

When: May 20th, 2012, 11AM-5PM
Where: Dedham, MA. List of participating artists here.
How: Official Website
What/Why: "Dedham isn't only home to the famous Dedham Pottery, but also to a growing array of talented and diverse artists in myriad media, ranging from sculpture and murals to paintings and jewelry. Dedham Open Studios is a relaxed and fun one-day community event, where local artists can show and offer their work for sale. Dedham has proved to be an ideal location for an open studios. With a public art project in the works for this summer and the newly approved Mother Brook Arts & Community Center forming in East Dedham, there is a renaissance that the original artists of our famed Dedham Pottery would be proud of."
————————————————————–
East Boston Open Studios

When: Saturday May 19th-Sunday May 20th, 12:00-6:00PM
Where: East Boston. List of participating artists here.
How: Official Website
What/Why: "Come explore East Boston – don't miss our great restaurants, unique art scene, beautiful parks, and the best harbor views in the city."
————————————————————–
Work From the Compound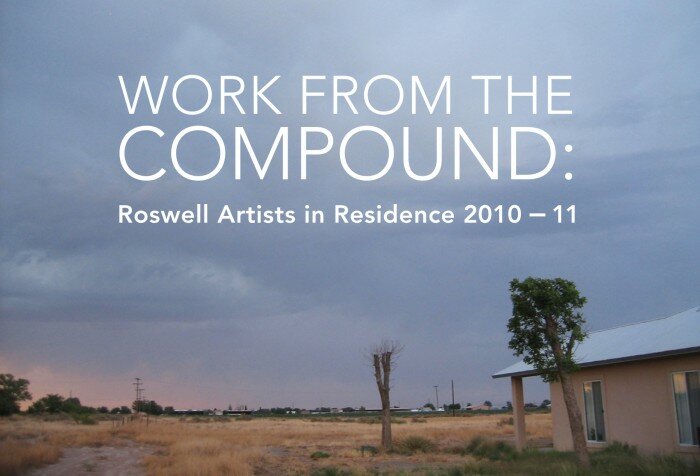 When: On view through July 5th, 2012
Where: FPAC Gallery , 300 Summer Street M1 , Boston, MA 02210
How: Official Website
What/Why: "Works From The Compound is an exhibition of seven artists who were on the Roswell Artist in Residency program from 2010-2011. The Roswell Artist in Residence program (RAiR) is a funded residency where fellows receive a stipend, living accommodations and a studio for one year.
Because of the duration of the residency and the unusual environment of South East New Mexico artist residents are especially influenced by the landscape and works made under the big sky inevitably respond to the penetrating light of that hits the desert scrub. Artistic bonds are formed and common themes emerge in each artist's work that are a direct result of having a shared community experience, close living quarters, and prolonged periods of focused work time. Another shared experience is the sense of dislocation felt by those coming to the residency from other parts of the country where the landscape, climate and culture are extremely different, even oppositional. This exhibition reflects the common threads expressed in work made in these hothouse conditions by seven very different artistic temperaments. 
The environment of South East New Mexico affects the scale, color and space of the work. Although his work was already constructed from myriad fragmented components, much like the scrub and insect-filled desert terrain, the color of Nathan Craven's work changed dramatically, as did the viewer's perception by seeing his installations juxtaposed to the ubiquitous adobe architecture. His work starts on the floor, climbed up walls and occupied windows thus transforming both the interior space and also the exterior desert views. Shona Macdonald's work previously made about a shifting of landscape locations, suddenly anchors the viewer in one spot while the land and sky turned around you in a 360-degree view from her studio/house in the middle of the desert scrub. Anna Heplers's work references the fire and sun of the desert climate while Jennifer Moses's work takes on the hallucinatory aspect of the full sun on the desert terrain. Wes Heiss' work addresses epic western themes of land in drought while Angela Fraleigh combines small delicate sculptures made from slip cast forms inspired by the desert terrain with her bold paintings and highly rendered pencil drawings in an attempt to portray a personal narrative of sweet and violent memories and the gap between reality and memory. Heidi Pollard's work embraces the open land resulting in connected but eclectic pieces of varied idioms and materials, including painting, sculpture, relief, drawing and ceramics."
————————————————————–
RAW's Annual Bash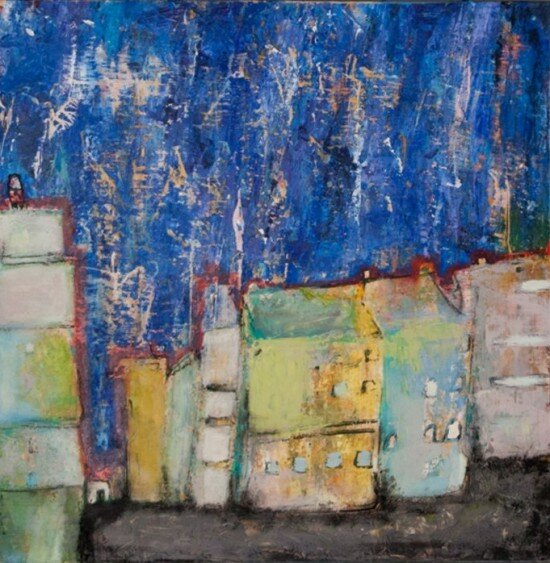 When: Saturday May 19th, 7:30PM
Where: RAW Space, 37 Central Sq., Lynn MA 01901
How: Official Website
Cost: $75/$125 Tickets here.
What/Why: "When the head and the heart come together, RAW artists think bigger thoughts and reveal their deepest feelings. Feel the pulse of their passion and their purpose while bidding, eating, drinking, and dancing to your heart's content!"
————————————————————–
Fresh Paint 2012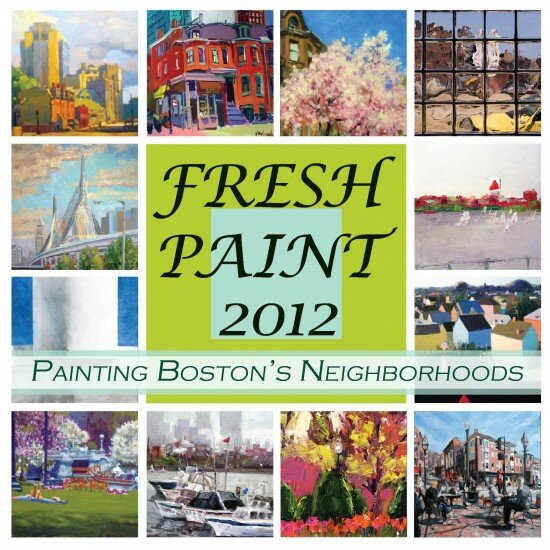 When: Sunday, May 20, 9:00am-4:00pm
Where: Various sites around Boston. Site locations here.
How: Official Website
What/Why: "View Copley Society artist members at work creating their "fresh" canvases around the city. Artists' party will be held from 4:00pm – 6:00pm."
————————————————————–
Medium Without Measure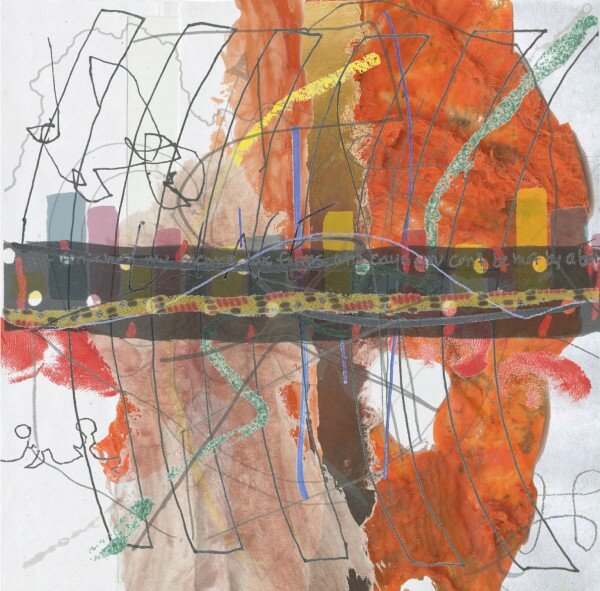 (Collaboration of SMFA's 2012 Undergraduate Thesis Students, THESIS)
When: On view through June 2nd, 2012
Opening Reception: Saturday May 19th, 5–8 pm
Where:  School of the Museum of Fine Arts, Boston ,230 The Fenway, Boston, MA 02115
How: Official Website
What/Why: "Medium Without Measure" is a multi-dimensional, multi-media exhibition celebrating SMFA's 2012 graduates.
Taking place throughout the School—Grossman Gallery, Anderson Auditorium and various studios on 2nd + 3rd floors—this culminating exhibition includes 2011–12 award recipients, works from artists across programs and undergraduates taking part in the Senior Thesis Program."
————————————————————–
Outwitting History

(Bacon Whale, Amy Dolan)
When: On view through June 24th, 2012
Artists' Reception: Friday May 18, 6 – 8pm
Where: Zullo Gallery, 456A Main St., Medfield, MA 02052
How: Official Website
What/Why: "Outwitting History by Aaron Lansky is Medfield's very first 'one town one book' selection. This true story of a young Massachusetts man's project to gather Yiddish books turns into a far-reaching mission to help preserve a dying culture. As he picks up books from an older generation of immigrants he hears stories of family, homeland, politics, religion, language, and art. In other words, all that is dear to them. "
————————————————————–
(The ever-charming) Nick Ward: Hustle up on my weekend update, I need to know where to go tonight! Is it going to be an amazing weekend or what? The sun is shining, time to hit the streets!
Me: ON IT.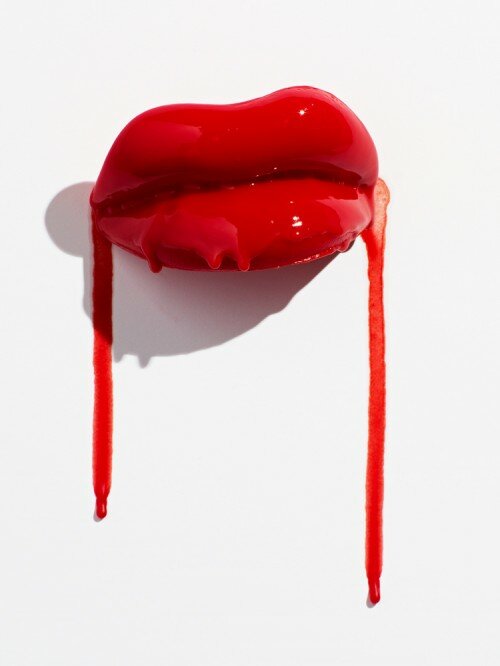 (The work of Frank White, currently on view at Panopticon Gallery)
My work here is done. Time to hit the streets. ♥