(Paul Rivoche)
odd spaces x upon reflection x personal mythology x infinite scroll
———————————————————-
MFA Open Studios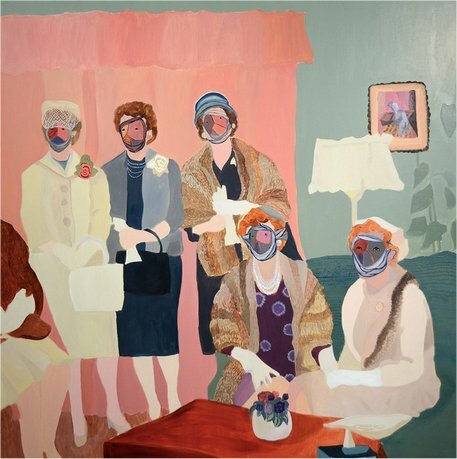 (Mad Women-ish, Anna Valdez)
When: Saturday May 11th, 1-5 pm
Where: Boston University College of Fine Arts, 808 Building, 3rd Floor, 808 Commonwealth Ave., Boston, MA
How: Official Website
What/Why: "The School of Visual Arts, Boston University welcomes the public to its 2013 MFA Open Studios event on Saturday, May 11, 1 – 5 pm. At this time, first and second year graduates in painting and sculpture will open their studios for informal viewing and conversation. This is a rare opportunity to see artwork in the artist's context, and learn what informs and inspires these up-and-coming artists.
Boston University's graduate program in visual art is renowned in its consortium-style approach. While the plastic arts at BU are deeply rooted in a commitment to rigorous studio practice, the graduate studio output is anything but traditional. Artists in the School of Visual Arts graduate program approach their chosen media in exciting, dynamic ways, pulling from a variety of styles and strategies to develop their own artistic voices. Join us to see new work, enjoy refreshments and engage with this unique community of artists."
—————-
Fort Point Art Walk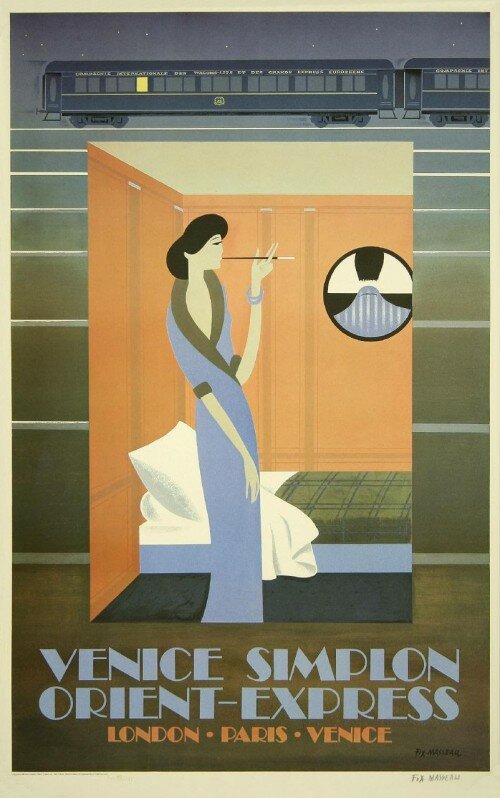 (on view at Grand Circle Gallery)
When: Friday May 10th – Sunday May 12th, 2013 (12-5p)
Preview: Friday May 10th 4-7pm
Where: Fort Point, Boston, MA
How: Official Website
What/Why: "FPAC's spring open studios takes place 
Friday Preview, May 10 4-7pm
Saturday and Sunday May 11&12, 12-5pm
Explore the historic waterfront warehouses that are home to painters, sculptors, ceramicists, jewelers, performance artists, fashion designers, printmakers, book artists, photographers, and more. Meet local artists and craftspeople, and get a behind the scenes look at where Boston artists create their work. Find established artists, and discover new emerging talents. Stroll, ponder, and browse. Buy original art from the people who make it.
Visitors can explore artists' buildings in the Fort Point neighborhood, plus galleries and creative design shops. All buildings are in easy walking distance of each other.
In addition to the more than 75 artists studios and galleries which will be open, spring Open Studios features a series of special events
Artists' Demonstrations | Hands-On Activities | Performance"
—————————
House Rabbet Society//Presented by Adjective Art & Framing
One Dichrome Five Times//Wayne Stokes

When: On view through May 18th, 2013
Opening Reception: Friday May 10th, 7-10PM
Where: Lincoln Arts Project, 289 Moody Street, Waltham MA
How: Official Website
What/Why: More information here!
—————-
Nature Calls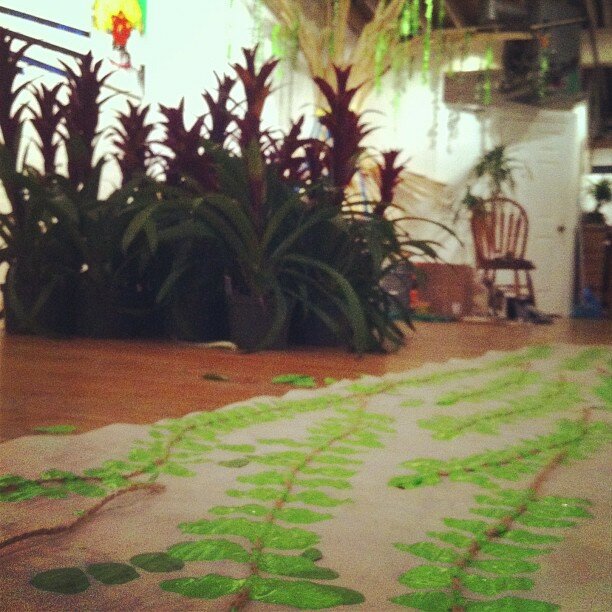 (process picture c/o Josh Falk)
When: On view through
Opening Reception: Friday May 10th, 2013 7-11PM
Where: Lot F Gallery, 145 Pearl Street, Boston, Massachusetts 02110
How: Official Website
What/Why: "Josh Falk and Cyrille Conan are exhibiting works together at Lot F this May, in Nature Calls. There is a selection of paintings, mixed media pieces and photography from the Boston-based artists. This will include a mural / painting installation that will include current, new work, as well as examples of their past work. 
Over the last year, Cyrille has been slowly building an abstract vocabulary. He has developed an interest in deconstructing and reconstructing his previously more representational style of work. Materials and textures are the artist's main focus, as well as an automatic, intuitive, and improvisational process.
"The work I had done in the past had always had a narrative and I have now allowed the narration to be the action of painting itself" says Cyrille "This frees me to work in a manner that is more natural. There is less thinking and more reacting and building. Being in tune with my intuition, keeps me in tune with my rightful place amongst nature".
Taking a painterly approach to his installation and photography, Josh's work stems from his constant exploration with his best friend, the camera. Purposeful roaming and getting caught in unfamiliar situations brings Falk to a peaceful place where his work is created. Whether it's traversing a decrepit old building that is nothing more than forgotten or documenting a scrawny sapling squeezing its way through urban sprawl. Falk breaks down his photos into simpler forms, sometimes rebuilding them thereafter, by incorporating spray paint, building techniques, design, and collage. Falk's work ranges from small photo assemblages to large-scale mixed-media installations. 
After a studio visit with Josh, who's work has a strong root in nature, Cyrille and Josh quickly realized the common thread in their work; the result is a celebration of nature. Consider this show a nod to nature and an organic process to keep our peers grounded and to not forget that we all have a common thread. 
Nature Calls!"
—————————
Personal Mythology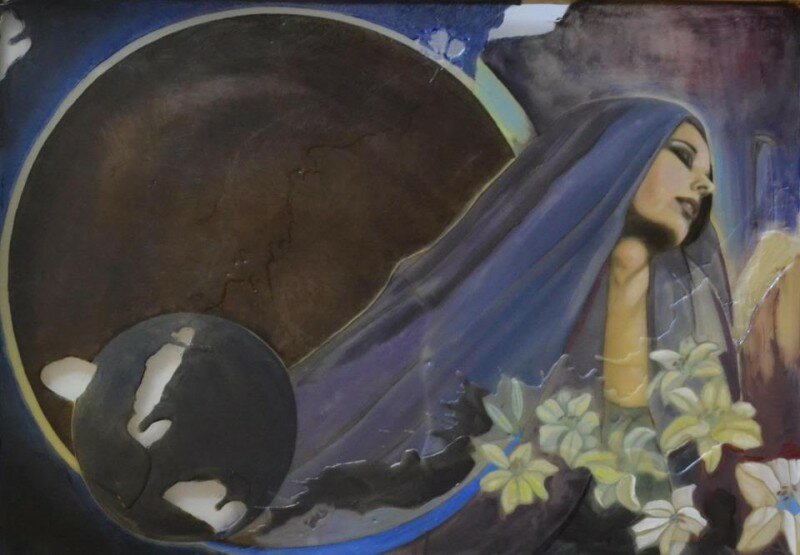 When: Saturday May 11th, 2013 3-5PM
Where: Middle East, 472-480 Mass Ave, Cambridge, MA
How: Official Website
What/Why: Featuring the work of K Lenore Siner "Come check out new paintings and have your picture taken so I can include your beautiful face in the new portrait series!"
—————————
Sign Painting Demo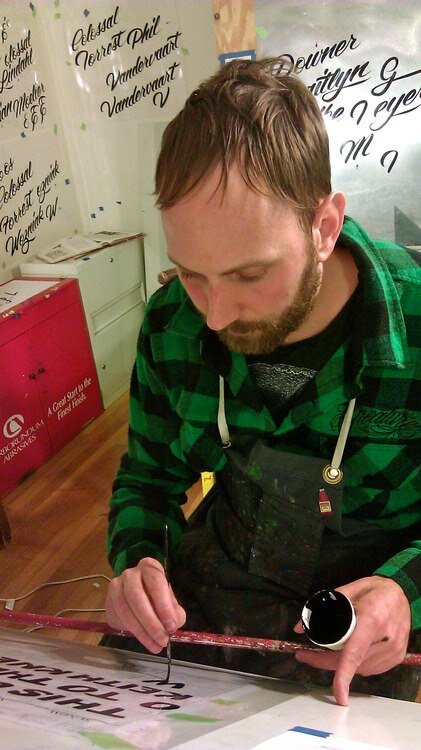 When: Saturday May 11th, 6-8PM
Where: Aviary Gallery, 48 South Street, Jamaica Plain, Massachusetts
How: Official Website
What/Why: "Join Josh Luke of Best Dressed Signs for a sign demo at Aviary Gallery in Jamaica Plain on Saturday May 11th from 6-8pm. 
Josh will introduce the materials of the sign painting trade and demonstrate techniques of hand lettering for casual and Gothic alphabets, perforating patterns with the Electro Pounce, prepping boards, pouncing patterns onto boards, rolling out backgrounds, and surface gilding."
—————————
Odd Spaces Performance Art Event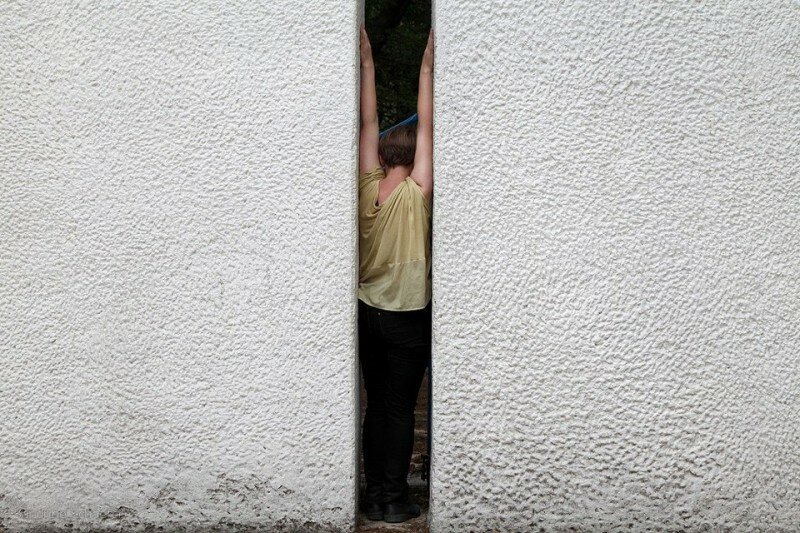 (Sandrine Schaefer Ghandi's Flame, 2012 photo by Daniel S. DeLuca)
When: Wednesday May 15th, 2013 4:00-8:30PM
Where: Museum of Fine Arts, 465 Huntington Avenue, Boston, Massachusetts
How: Official Website
What/Why: "Odd Spaces Performance Art Event and Panel Discussion will launch the MFA's new performance art program, involving the Boston arts community in a discussion on this new initiative, and the role of performance art in museums today.
The increased presence of performance art at the MFA shifts the relationship between spectators and art to one of social exchange. While performance art often references visual art and art history, it also has a firm grounding in the present, in everyday life, and in human-to-human interactions. Where, then, is performance art's place in a museum environment? How can performance art expand the ways we experience and define art?
Participating artists Marilyn Arsem, David Levine, John Gonzalez, Sandrine Schaefer and Philip Fryer probe these questions by performing in places where art might not typically appear at the MFA. Odd Spaces is imagined as a conversation in which diverse voices resonate across physical space. Kate McNamara, Tony Schwensen, David Levine and Sandrine Schaefer will engage in a discussion moderated by Assistant Curator of Contemporary Art & MFA Programs, Liz Munsell, at 7pm in Alfond Auditorium following the performances."
—————————
A New Cosmic Mix: Now in 5D!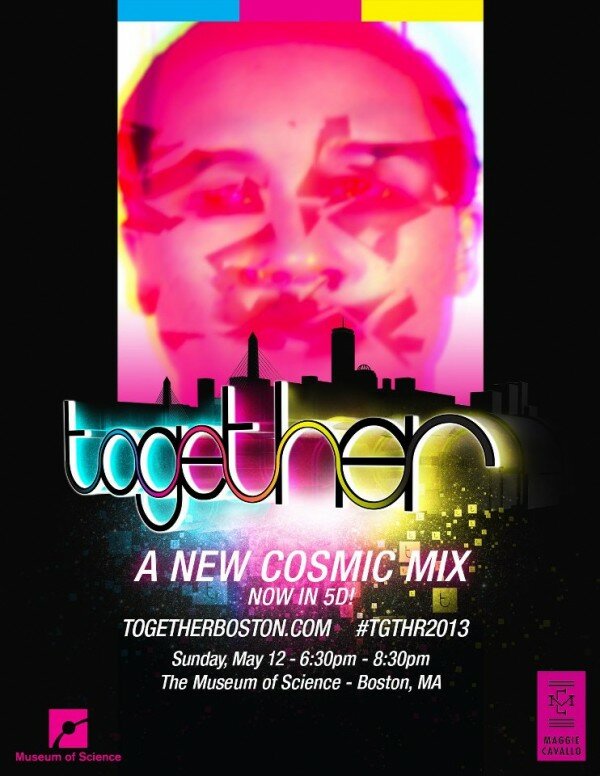 When: Sunday May 12th, 6:30-8:30PM
Where: Museum of Science, Charles Hayden Planetarium, 1 1 Science Park  Boston, MA 02114
How: Official Website
What/Why: "Together Boston, an annual celebration of music, art and technology, (May 12-19), has brought their collaboration with local artists and curators to a new level. Among the many exhibitions and panels slated to take place this May, an momentous partnership between Together, the Museum of Science, Boston, and experimental curator Maggie Cavallo has culminated in, A New Cosmic Mix: now in 5D!, an exhibition of live sound and image at the Charles Hayden Planetarium. 
A New Cosmic Mix: now in 5D! will feature HEXbeam by Vela Phelan, LOOSE by D'hana Perry, BATHAUS, Bobby Andres and LIVE' 5D Video Transmission with Yassy Goldie. Loosely inspired by La Raza Cósmica (1925), contemporary uses of the term 'remix' as a way to study and describe culture and an interest in the 5th Dimension, Cavallo sought out live artists whose work celebrates and challenges our relationships with identity and the cosmos. The thematic content will be a collaborative design between the artists and the curator, and may include (but is not limited to): references to the rejection of binary descriptions of identity and experience, premonitions future cultural synthesis, mediated imagery of the self, celebration of creative communication between artists, the existence of extraterrestrials, the relationship between the body and sound, oneness and the unknown.
This event will not only showcase the individual work of these artists, but also the cosmic exchange, common in our community, that takes places between live artists. This exchange disregards the pedantic nature of traditional learning and instead often takes place in nightclubs and alternative gallery spaces, offering the audience a temporary, yet transcendental experience through art, sound and new technologies. In A New Cosmic Mix: now in 5D! we are excited to incite in the audience the urge to reconsider themselves, their world and the worlds beyond their own."
—————————
In Response
(Dogwalker, Corey Corcoran)
When: Sundays, 4/21, 4/28, 5/5, and 5/12 | Doors open at 3:00 PM, performance at 3:30 PM
Schedule:
4/21 – Kelly Burgess + Ari & Mia Friedman
4/28 – Kristin Texeira + talk.listen.door
5/5 – Andrea Santos + Beautiful Weekend
5/12 – Corey Corcoran + Kim Mayo
Where: Lilypad, 1353 Cambridge St., Cambridge, MA 02139
How: Official Website
Cost: Suggested donation $5-$10, sliding scale
What/Why: "In Response pairs local emerging artists and musicians together for a series of events that celebrates the artistic process; to share their work and sources of inspiration and to in turn, to become sources of inspiration for one another. This unique collaboration captures the creative process, and illuminates the path that ideas take as they come into fruition. By sharing existing works, notebook sketches and demo recordings, these artists and musicians will gain insights on another's method of working, and engage in a new process together. In Response culminates in a series of Sunday afternoon exhibitions and performances starting April 21 and running through May 12, showcasing new works guided by the lyrics, colors, sounds, textures, and shapes of their partner's endeavors."
—————————
Upon Reflection

(Around the Corner, Karen Woods)
When: On view through May 28th, 2013
Opening Reception: Saturday May 11th, 2-5PM
Where: Quidley & Company Fine Art, 38 Newbury Street, Boston, MA
How: Official Website
What/Why: "Quidley & Company Fine Art announces Upon Reflection, an international, invitational exhibition opening May 11 and running through May 28, 2013. Upon Reflection features the work of 20 artists who skillfully capture on canvas the interplay of light and color and their optical effects on water, glass and other reflective surfaces. From the subtle to the dramatic, from the abstract to the illusionistic, these stunning images reveal the ways in which light is transmitted, reflected, and refracted in contemporary realist painting. "
——————-
150×150: The Mad Dash!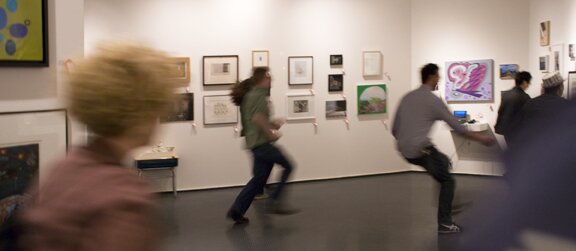 Opening Reception: Saturday May 11th, 12:00PM
Where: Laconia Gallery, 433 Harrison Ave, Boston, MA 02118
How: Official Website
What/Why: "Please come to the public previews first to get a good look at all the amazing artwork by well-known local artists. The Saturday event is a race for art, and artwork can be purchased by being the first one to grab the tag beside the work of art that you choose – if the tag is gone move on to your NEXT choice! (Artwork can be purchased by cash or check only – sorry, no Credit or Debit cards. Payment is made at time of purchase.) Doors open at Noon on May 11 – be there on time for the best selection."
—————————
Dress Up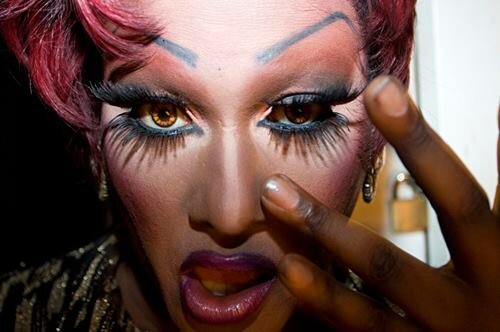 When: Wednesday May 15th, 2013 5:30PM
Where: Panopticon Gallery, 502c Commonwealth Ave, Boston, MA
How: Official Website
What/Why: "When a character turns into its second self, an alter ego is born. Panopticon Gallery announces its newest group exhibition exploring the theme Dress Up, on display from May 15 through July 9th.
From males who dominate the stage at Jacques' Cabaret in Boston dressed as drag performers, to another artist's fascination with religious art and iconography. It continues with the tattooed and burlesque friends of Helsinki, Finland based duo Atelieri O. Haapala that have found themselves inserted onto contemporary cabinet cards, to an artist whose nephew is photographed in staged narratives while donning his favorite Superman costume.
In the Private Room we will be featuring Photographs by students in Stephen Sheffield's Black & White class at the New England School of Photography . Located in Kenmore Square, New England School of Photography (NESOP) offers a full-time, two-year intensive Professional Photography Program for those seeking a career in photography and photographic workshops in a variety of disciplines at all levels-from basic camera instruction to advanced digital imaging. NESoP's Professional Photography Program is a balanced, comprehensive program focusing exclusively on photography to provide practical technical and business photographic training while nurturing the student's creative development. (text courtesy NESoP website)"
—————————
Infinite Scroll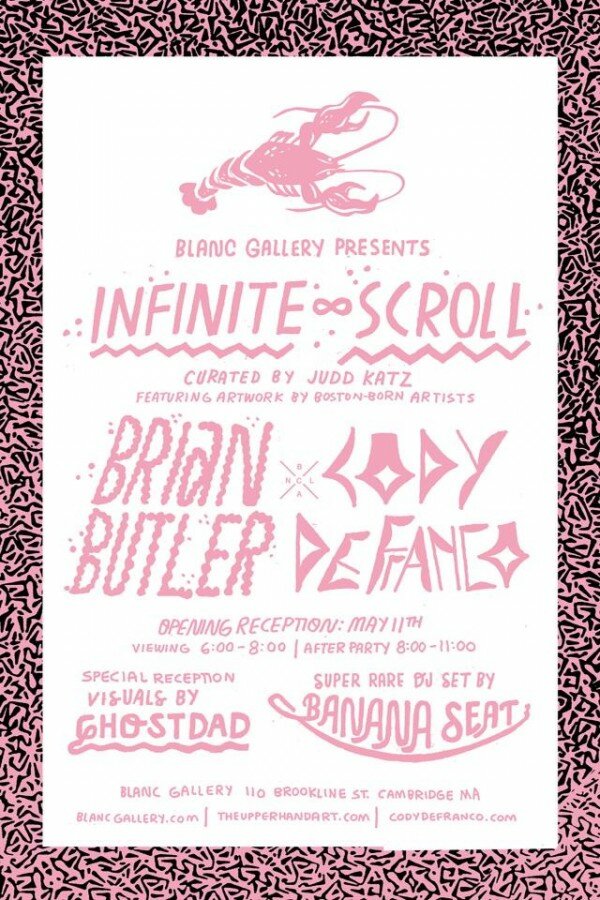 When: Saturday May 11th, 2013 6:00-8:00PM (Afterparty: 8PM-11PM)
Where: Blanc Gallery, 110 Brookline Street, Cambridge, MA
How: Official Website
What/Why: "Birthed by cassette tapes, raised by cordless phones, and currently working within the internet, Brian Butler and Cody DeFranco re-imagine Blanc Gallery in a two man show. Working across a vast array of mediums, and compelled by the fast-paced ephemeral nature of the web, both artists sample and reconstruct the debris of the digital age.
"Brian Butler is an avid planker and outspoken opponent of the controversial Gangnam Style dance craze. He lives in Miami."
"Cody DeFranco resides in Brooklyn, NY where he supports more than one cat. He has had email correspondence with a wealthy Nigerian Prince, and is eagerly waiting for the bank transfer."
—————————
Ridley Howard: Fields and Stripes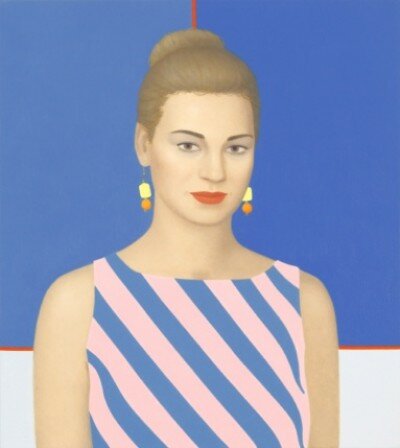 When: On view May 11th -October 27, 2013
Where: Museum of Fine Arts, 465 Huntington Ave  Boston, MA 02115
How: Official Website
What/Why: "MFA presents first solo exhibition of a Traveling Fellow from the School of the Museum of Fine Arts. Since receiving his Master of Fine Arts in 1999 from the School of the Museum of Fine Arts, Boston (SMFA), RidleyHoward (b. 1973) has explored how 21st-century painting might capture intense yet veiled emotion. His crisp color and precise composition recall the cool psychology of paintings by Edward Hopper or Ed Ruscha; yet their soft-edged finish and votive format also suggest a romantic conviction that painting can be transporting.  Howard's delicately composed portraits, landscapes and abstractions  are the focus of "Ridley Howard: Fields and Stripes," on view at the Museum of Fine Arts, Boston (MFA), from May 11–October 27, 2013, in the Eunice and Julian Cohen Galleria.  The paintings were created since 2011, when the SMFA awarded the artist with a prestigious Traveling Fellowship to research works by early Renaissance and Modernist painters in Italy. "Fields and Stripes,"organized by Jen Mergel, Beal Family Senior Curator of Contemporary Art, is the first solo presentation of an SMFA Traveling Fellow at the MFA, and the artist's first solo museum exhibition."
—————————
Twelve Chairs and Glovebox present works by Gary LaPointe Jr. and Christine Willis

Where: Twelve Chairs, 319 A St | Boston | MA | 02210
How: Official Website
What/Why: "Home furnishings shop and interior design studio, Twelve Chairs, and non-profit arts organization, Glovebox, have teamed up to showcase two emerging artists on the Boston scene. 
Gary La Pointe Jr.'s engraving and aquatint prints are a richly textured that at first glance appear to be a minimal shape.  As the viewer looks closer, the layers seem endless and absorb your senses into a velvet –like world of lines and ink.  Learn more aboutGary's work at www. garylapointejr.com.
Christine Willis showcases black and white photos from her collection. Her careful framing captures dream-like moments of her many travels and observations. More of Christine's work can be found at www.cscatkophotography.com. "
—————————
6th Annual Art Walk in Marblehead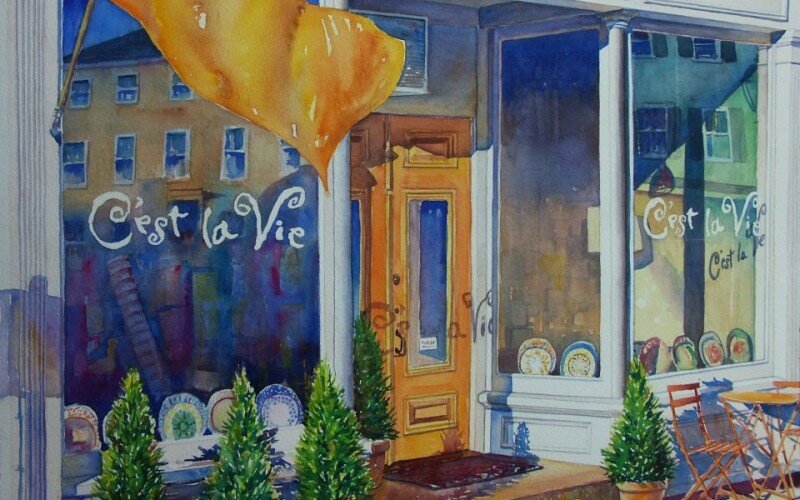 When: Saturday May 11th, 10-5PM
 Where: Marblehead, MA – list of participating artists + businesses here.
How: Official Website
What/Why: "Wouldn't it be lovely to be surround by art on your daily walk around town? Well in Marblehead, that is exactly what they are offering. The Marblehead Arts Association (MAA) and the Marblehead Chamber of Commerce (MCC) will be hosting the 6th annual Art Walk 2013. This event is spread throughout Marblehead's central business district with participating shops and restaurants hosting a local artist  on May 11th, 10–5pm.
The Art Walk provides fun for all ages where you browse open studios and participate in art making events. Thirty businesses paired with local artists will be exhibiting paintings, photography, sculpture, jewelry, ceramics and textiles. Nine studios will be open for viewing with many offering art making opportunities for children. Look for the blue balloons for participating businesses!"
—————————
Cambridge Open Studios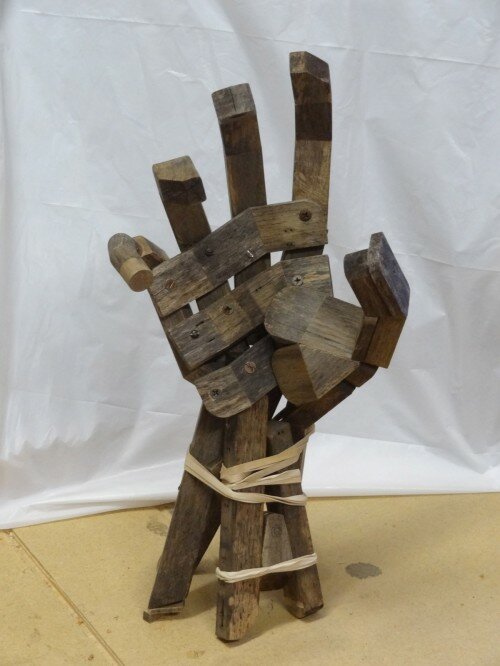 (The work of Johnny Lapham)
 When: May 11th-12th, 2013
Where: North/West Cambridge, MA
How: Official Website
What/Why: "Artists throughout Cambridge open their doors to the public for the fifth annual city-wide Cambridge Open Studios (COS) during two weekends in May. Meet local artists and discover unique paintings, jewelry, fiber arts, ceramics, film, mixed-media, literary works, and more!"
—————————
Young New England Photographers at Flash Forward Festival
(The work of Katie Koti)
When: May 10th – 24th, 2013
Where: Nave Gallery Annex at 53 Chester Street in Somerville, MA
How: Official Website
What/Why: "Young New England Photographers is pleased to announce its first printed exhibition at the Nave Gallery Annex at 53 Chester Street in Somerville, MA from May 10th – 24th, 2013. This group exhibition features artists from the Fall 2012 Call for Entries for recent graduates from educational institutions in New England. The exhibition will be featured at the 2013 Flash Forward Festival in Boston hosted by the Magenta Foundation. The show will be accompanied by a short-run newsprint publication published by Ain't-Bad Magazine, a quarterly printed publication that focuses on the work of emerging photographers. An opening reception will be held on Friday, May 10th from 6 – 10 p.m. Check out the Flash Forward Festival's website for more events and exhibitions"
—————————-
Hi:
Call your mom.
Go see art. Have a great weekend! ♥