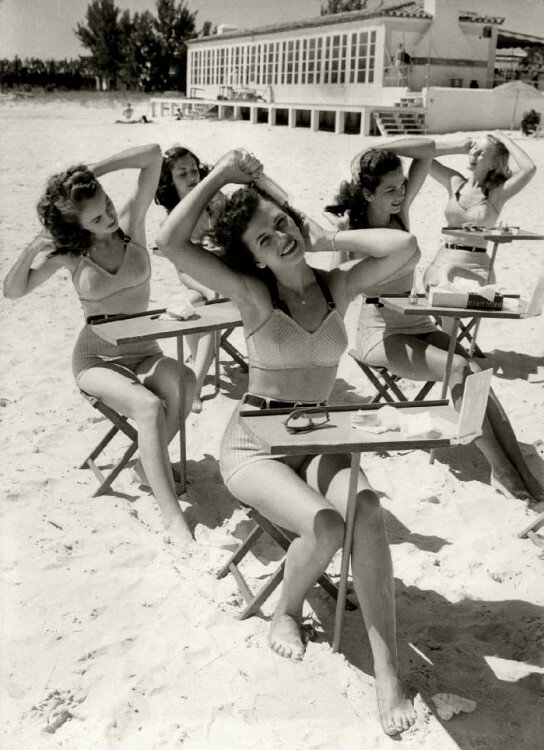 what she saw x new blood x from the mud x terror and desire in uneasy times
—————————
The Drawing Room

(Prior work of Amanda Atkins)
When: On view through April 14th, 2012
Opening Reception: Friday March 9th, 2012 7-10PM
Where: Voltage Coffee & Art, 295 3rd Street, Cambridge, MA 02142
How: Official Website
What/Why: "We promise you'll be in good company with Amanda Laurel Atkin's eclectic mix of surrealist portraits of some impressive beauties. Come by on Friday for our opening reception and meet them for yourself.
The artist will be in house, refreshments and appetizers will be served. DIY Photobooth will be assembled for your photo-taking pleasure. Swan back drop and props provided. See you Friday!"
————————
A Show of Friends

(Piece of the Pie, Phil Musen)
When: Saturday March 10th, 2012 6-10:30PM
Where: Yes.Oui.Si., 19 Vancouver St. Boston, MA 02115
How: Official Website
What/Why: "Please join us for a night of visual art by Katie Brockway, John Coulter, Todd the Fox, Anna Frischknecht, Phil Musen, Sea Shell Robbins, and Shannon Wright. With Musical sets by The Pluto Moons, Big Girl, and Gabe Goodman"
————————
Hung Jury

When: On view through March 16th, 2012
Where: 225 Friend Street, Boston, MA
How: Official Website
What/Why: "In the late '50's, when 12 Angry Men was released, it was an implicit assumption of the law that a congregation of only men could represent an unbiased swath of society. HUNG JURY seeks to re-examine the notion of bias, gender, and a spectrum of representative views in the realm of art by recreating these anachronistic circumstances within the context of an exhibition.  In the original story of 12 Angry Men, a close reexamination of the evidence reveals that the facts of the trial were not as clear as they appeared at first glance; HUNG JURY seeks to re-examine the composition of the jury itself and to investigate the ways in which the spectrum of maleness as an implicit point of view (bias) has changed and expanded over the last 50 years.  Settling on an externalized parameter of "men" rather than on an overtly content-based "theme" allows the overall content / sensibility of the exhibition to dictated by the (implicitly "female") biases of the show's curator."
————————
Unconventional Maps: Exploring the Stories of Cartographic Curiosities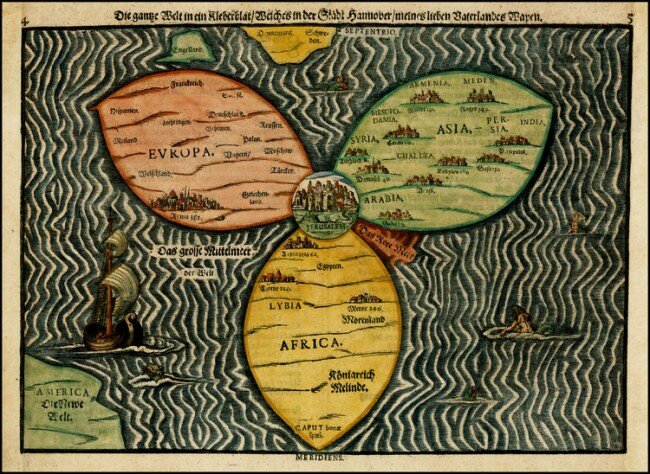 (die ganze welt in ein kleberblat)
When: On view through March 12th
Where:  Boston Public Library, 700 Boylston Street, Copley Square , Boston, MA 02116
How: Official Website
What/Why: "Unconventional Maps: Exploring the Stories of Cartographic Curiosities
When reading maps, we expect map makers to use standard conventions, especially in regard to projection, orientation, scale, and symbols. When a map maker does not use generally-accepted practices, we ask why? What is the story the map maker is trying to tell?
This exhibition of 25 maps and atlases highlights a variety of unconventional maps spanning the history of the printed map. For each, we demonstrate how it defies convention, and how that particular cartographic design heightens its story.
The earliest maps, dated from the mid-1500s portray an upside-down Africa and a world divided into three continents, reflecting medieval geographical concepts. Also represented are elaborately decorated world maps from the 17th and 18th centuries, classic 19th century bird's eye views, as well as more contemporary educational, cartoon, propaganda, pictorial and journalistic maps. Exhibition supported by a grant from the Gladys Krieble Delmas Foundation."
————————
From the Mud

When: On view through March 25th, 2012
Opening Reception: Saturday March 10th, 2012 2-4PM
Where: The Loading Dock Gallery, 122 Western Avenue, Lowell, Massachusetts 01851
How: Official Website
What/Why: "The month of March is when we begin to look forward to a muddy spring after a cold winter. 
To celebrate this prelude to spring, The Loading Dock Gallery presents "From the Mud", an exhibit of sculptural ceramics by Lowell artist, Glenn Szegedy.
According to Mr. Szegedy, ceramics are made from "fancy mud," but that's not the primary reason for the exhibit's theme of "From the Mud". Mr. Szegedy was inspired by a Chinese myth about the carp, which is born in the mud. The carp symbolizes perseverance during adverse times, and strength of purpose. The carp will swim upstream, struggling the entire way, until it reaches a final waterfall where it vaults into the mist to become the legendary water dragon. Mr. Szegedy says "After reading this I became fascinated with the concept of perseverance. My perseverance took the form of mastering a new medium …….clay. I took mud (clay) and persevered until my own personal water dragon began to emerge. I truly love the idea of taking something very plain and simple, and with perseverance turning it into a thing of beauty." 

Mr. Szegedy's objects of beauty, transformed from the mud, range from goddess figures, to sea creatures, to vessels, to abstract forms. The ceramic objects explore various themes and archetypes that have interested him for most of his time working as an artist. Each object could have its own legend such as the goddess like figure of a woman with the head of an owl looking down at an owl. Is she the goddess of wisdom or the guardian of owls? Mr. Szegedy's creations draw you into such fanciful musings. 
Like the humble carp, Mr. Szegedy has successfully reached the end of his journey creating beauty "from the mud." The sculptural ceramics capture the whimsy and legendary quality of the Chinese myth."
——————–
Campaign for Good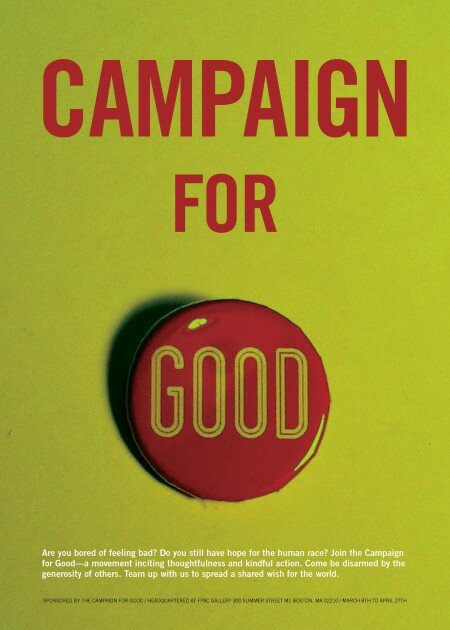 When: On view through April 27th, 2012
Where: FPAC Gallery, 300 Summer Street, Boston, MA
How: Official Website
What/Why: "Karen Stein of goodgood, Matthew Shanley, Jessica Gath and XO Good, both from Good For You
Are you bored of feeling bad? Do you still have hope for the human race? Join the Campaign for Good—a movement inciting thoughtfulness and kindful action. Come be disarmed by the generosity of others. Team up with us to spread a shared wish for the world."
————————
Portraits
Laura Chasman, Andrea Sherrill Evans, Helena Wurzel

(Plaid Shirt #4, Andrea Sherrill Evans)
When: On view through April 7th, 2012
Where: Drive-By, 81 Spring Street, Watertown, MA
How: Official Website
What/Why: "Drive-By is pleased to present Portraits, an exhibition of work by Laura Chasman, Andrea Sherrill Evans, and Helena Wurzel. Though all three are portraitists, each artist deals with that traditional art form in a very different way."
————————
Catherine Evans

When: On view through March 22nd, 2012
Where: NK Gallery, 450 Harrison Avenue #61, Boston, MA
How: Official Website
What/Why: "Catherine Evans creates objects out of everyday materials, transforming these objects into an experience that goes beyond the ordinary.  She loves the sensuality of the repetitive process as it creates a meaningful engagement between the maker and object.  She has embraced the relationship between order and disorder in both art and life
"My objects embody the multitasking required in doing work in a woman's life. Repetitive braiding, knotting, tying as a way of fixing, maintaining.  Realizing, the older my life, the bigger the circle of concern. The greater the concerns, the more art I create. And surprisingly, it is a very joyful art."
The final object tells her and the viewer that what we view as chaos is really the layered complexity of life.  In the end the viewer is rewarded with a rich and vibrant experience. "
————————
Winderlight
When: On view through March 31st, 2012
Where: Washington Street Art Center, 321 Washington Street, Somerville, MA
How: Official Website
What/Why: "winderlight: explorations in intimacy, childhood, angels; horses, The Buddha, grace. elements: photography, painting, writing, film, and video. Olga Solomita: artist, writer, and educator. Living in Cambridge, Massachusetts for most of her adult life, Solomita currently resides in Somerville, Massachusetts, the next lovely town over. Participating in the original, and subsequent, Cambridgeport Open Studios, she now participates in Somerville Open Studios. Her photography has been exhibited nationwide; and she is an active proponent and curator of local poetry and spoken-word events, including "Just Beyond the Solstice" at the Washington Street Art Center, and 'Spring Masala Mondays' at The Precinct Bar, both in Somerville.
Much of her work is traditional black and white photography from film, ranging from fine art documentary to large-scale, multiple image works. Her light sources explored in the large-scale work include candlelight, and overexposure in bright sunlight. These images have a near abstract, and at times grainy, effect.
Solomita has recently begun creating images utilizing digital photography."
————————
AD 20/21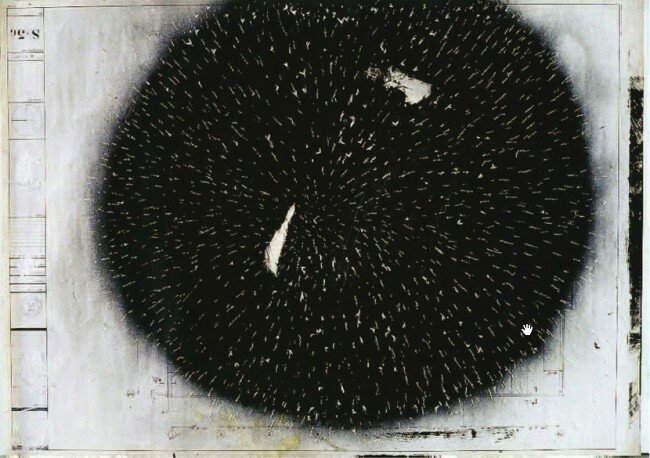 (Aldo Tambellini courtesy of Pierre Menard Gallery)
When: March 15th-18th
Where: BCA Cyclorama, 539 Tremont Street, Boston, MA
How: Official Website
Cost: $15
What/Why: "50 Select Exhibitors offering modern to contemporary fine art, photography, jewelry, vintage and contemporary studio furniture, decorative arts, sculpture, fine prints, drawings and more at the only show and sale of its kind in New England."
————————
Getting There: Terror and Desire in Uneasy Times

(Charlene Liska)
When: On view through March 31st, 2012
Where: Atlantic Works Gallery, 80 Border Street, Top Floor, East Boston, MA
How: Official Website
What/Why: "What do we want?  We often seem to hover in the uncomfortable regions of knowing both too much and too little.  A fifteenth century inscription in Paris's Cimetiere Des Innocents refers to us as "Oh rational creature/who wishes for eternal life."  The Jesuits say we're a "being without a reasonable reason for being."  Hank Williams says, "I'll never get out of this world alive."  Little wonder then, that we're, most of the time, more comfortable with the sweetly false sentiments of Disney's 'When You Wish Upon a Star":"Fate is kind./She brings to those who love/the sweet fulfillment of/their secret longings."
In painting and video, Charlene Liska entertains the extremes of aspiration and fear, the competing bids for our attention between pop culture's appropriations of these and blunt reality, and the places where the differences are not so easily discernible, or possibly even meaningful.
Leah Grimaldi explores the boundary where horror and seduction meet. This is a place of terror and the sublime. Using paper cut-outs with cartoonish lines and candy colors, Grimaldi constructs imaginary organic forms.  Tiny two-dimensional flesh pieces conjoin to form weighty figures, which are both disgusted by and delight in themselves and their fluid ephemerality.
"extreme seductiveness is probably at the boundary of horror." -Georges Bataille"
————————
New Blood

(Teddy bear blood bag.. felt appropriate)
When: On view through April 1st, 2012
Opening Reception: Saturday March 10th, 2012 7-10PM
Where: Gallery X, 169 William Street, New Bedford, MA
How: Official Website
What/Why: "Gallery X members invite artists to show. Members vote on who to invite as new member — free membership for the winner! By invitation only."
————————
To the Nines

When: On view through April 20th, 2012
Where: BCAE, 122 Arlington Street, Boston, MA 02116
How: Official Website
What/Why: "Martini Severin, creator and voice of blog "Beyond Boston Chic," will have over 50 of her images on display at the BCAE this spring. "
————————
iSee – The eyes of VII photographers in the hands of Hipstamatic

When: Thursday March 15th, 6-8PM
Where: Griffin Museum of Photography by Digital Silver Imaging, 4 Clarendon St, Boston, MA 02116
How: Official Website
What/Why: "VII Photo Agency represents the world's eminent photojournalists responsible for documenting global events with a focus on human rights. The Griffin Museum of Photography by Digital Silver Imaging Gallery is thrilled to exhibit 100 images by nineteen of these dynamic, innovative and greatly respected image makers opening on March 15th from 6 – 8 PM.
Themselves an international group, their color and B&W fiber prints are taken in Ethiopia, Istanbul, Poland, Burma, Afghanistan and Ukraine with intimate views of Oslo, New Delhi, and Dar es Salaam. Known for conflict photography, several of these photographers have been embedded with the military and/or chronicled the chaos of the streets as the populace is in the throes of unrest or famine.
Images included in this show are sometimes anecdotes to this extremely intense work. Captured with smart phones are intimate familial moments, playful human gestures and birds-eye views of urban and earthly landscape. Several photos are bold, graphic, bursts of color and energy while others are ephemeral, meditative and painterly.
Utilizing a reflexive instrument which captures and transmits an image in seconds in the hands of these highly trained and skilled masters yields amazing results. There is an irony in the freedom found by the restriction of choice – one touch snaps the shot on an iPhone. The Hipstamatic application allows the layering of filters to add subtle effects to tone and focus.
VII photographers continue to experiment and explore storytelling with whatever means technology affords. Join us at our gallery talk with VII CEO Stephen Mayes, along with several of the exhibition photographers including Gary Knight, Ron Haviv, Ed Kashi and John Stanmeyer as we discuss the evolving relationship between art and technology."
————————
Bob Grignaffini & Michelle Louge

(Hillside Grazers II, Bob Grignaffini)
When: On view through March 11th, 2012
Where: Fountain Street Art Center, 59 Fountain Street, Framingham, MA
How: Official Website
What/Why: "Bob Grignaffini's oil paintings reflect his desire to "celebrate form and color" while transmitting his experience of a place. Pastoral and small town scenes, both local and from afar, inspire this work. Michelle Lougee's sculpture is a collection of tactile pieces produced from a range of often-repurposed materials including plastic bags, fabric, cast-off electrical wires, fur, and clay. Her work is based on organic form but often with an uncomfortable twist. The work of each artist is an exploration of forms found and imagined in the world around us."
————————
The Bronze Age: Bronze as a Material from Antiquity to the Early 20th Century

(Handle in the Form of a Leopard, Roman, 2nd–3rd century AD)
When: Saturday March 10th, 2-3PM
Where: Arthur M. Sackler Museum, 485 Broadway, Cambridge, MA 02138
How: Official Website
What/Why: "Lisa Anderson, Frederick Randolph Grace Assistant Curator of Ancient Art, Division of Asian and Mediterranean Art, Harvard Art Museums
An alloy of copper and tin, stronger and more malleable than either element alone, bronze is an essential, intrinsically valuable material. For over 5,000 years it has been used to create artistic and practical objects, from sculpture to weapons, jewelry, coins, and vessels. This talk will focus on aspects of bronze manufacture, its survival, and its use in creating portraits, icons, and objects of everyday life."
———————-
Free 2nd Fridays, Smith College Museum of Art

(Gregory Joseph Gillespie)
When: Friday March 9th, 4-8PM
Where: Smith College Museum of Art, Elm Street at Bedford Terrace, Northampton, MA
How: Official Website
What/Why: "The Museum includes four floors of exhibition galleries that house the permanent collection; the Cunningham Center for the Study of Prints, Drawings, and Photographs; and changing exhibitions that regularly include a family-friendly resource area. Featured amenities include the Museum Shop, artist-designed restrooms, hand-crafted gallery benches, and Riff's Café at the Museum."
———————-
Amy Goodwin-What She Saw

When: March 13th through May 13th, 2012
Artist Reception: Thursday, Mar 15, 6 pm – 8 pm
Where: Albright Gallery and Supply, 32 Main Street, Concord, MA
How: Official Website
What/Why: "Albright Art Gallery brings contemporary art to historic Concord, MA. The galleries exhibit art primarily by regional artists."
————————
Weekend. So soon. Only a few more hours until we can escape.
Allons-y! ♥