surfaces x sight lines x everyday angles x forms in flux x memory remains
—————————
Heather McGill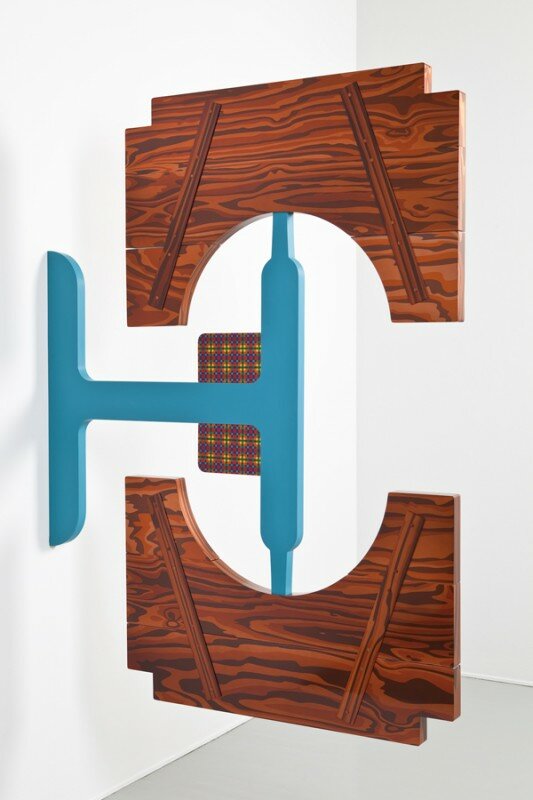 (Untitled)
When: On view through April 28th, 2012
Opening Reception: Friday March 30th, 5-7PM
Where: Ellen Miller Gallery, 38 Newbury Street, Boston, MA
How: Official Website
What/Why: "For the past decade I have lived and worked in the suburban outskirts 
of Detroit, a city that exists as a monument to the successes and failures of twentieth-century production. The city's industrial heritage-the resonant spirit of Fordist innovation and technological promise, continues to inform my sculpture. In Detroit, I was easily seduced by the glittering intrigue of auto detailing and the fetishization of 
fine tuned form. I learned to paint as an apprentice in a collision shop in the heart of the city; these skills have evolved into a series of sculpture that applies the media of industry to the mantras of modernity. "
————————–
Peer Pressure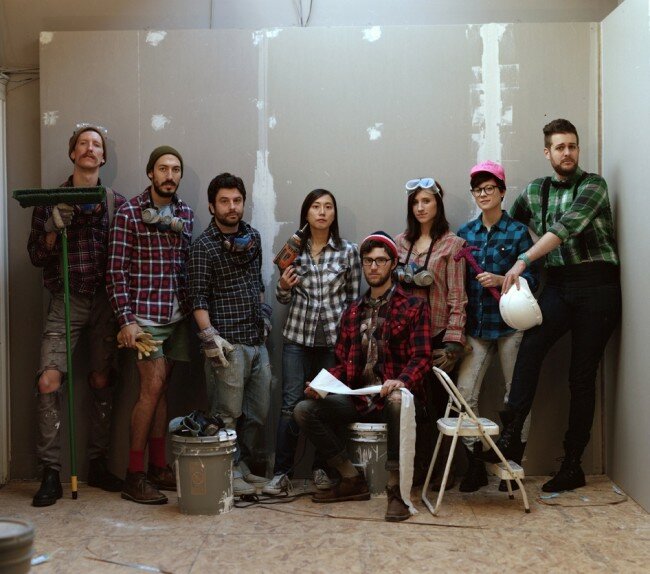 When: On view April 6th – April 22nd, 2012
Opening Reception: Thursday April 5th, 5–9 pm
Where: The Howard Art Project, 1486 Dorchester Ave, Boston, MA 02122
How: Official Website
What/Why: "Alaina Gurdak, Anthony Montuori, Christopher Ford, Erik Benjamins, Leah Craig, Joanna Tam, Jordan Tynes and Michael Gaughran
Please join us in celebrating diverse thesis projects from eight graduating MFA candidates from the School of the Museum of Fine Arts, Boston. The Peer Pressure artists actively pursue collaborative, interdisciplinary and performative practices that explore the social and political realities grounded in their own divergent concerns.
It would be an honor for us if you stopped by to see the show, have a conversation and peruse the Peer Pressure library. We look forward to hearing from you."
————————–
Lyonel Feininger: Photographs, 1928-1939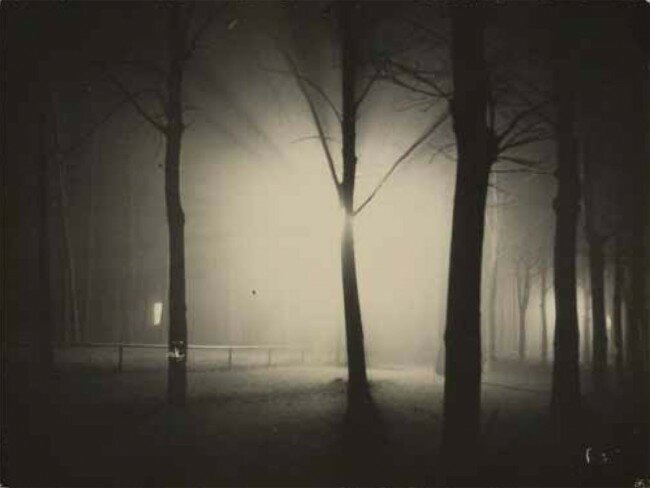 When: On view through June 2nd, 2012
Where: Harvard Art Museums, 32 Quincy Street, Cambridge, MA 02138
How: Official Website 
What/Why: "One of the most versatile talents of the modern art movement in Germany, the American-born Lyonel Feininger (1871–1956) is celebrated as a master of caricature, figurative painting, and a distinctive brand of cubism, but he also created a fascinating body of photographic work that is virtually unknown. Drawn primarily from the artist's own collection (now at Harvard University), this exhibition offers the first opportunity to consider his achievement within the medium. Focusing on the rich and productive period between 1928 and the late 1930s, when Feininger was experimenting with an array of avant-garde photographic techniques and printing his own work, these photographs range from early atmospheric night views made at the Bauhaus (where he took up the camera in 1928) to bird's-eye views of New York City (where he settled permanently in 1937).
The Sackler Museum is the final venue for this traveling exhibition. Selected drawings and watercolors by the artist from the Art Museums' collections will also be on view. Curated by Laura Muir, Assistant Curator of the Busch-Reisinger Museum, Division of Modern and Contemporary Art, Harvard Art Museums. Organized by the Harvard Art Museums/Busch-Reisinger Museum, in cooperation with the Kupferstichkabinett, Staatliche Museen zu Berlin; the Staatliche Graphische Sammlung München; and the J. Paul Getty Museum, Los Angeles."
————————–
Ilya Bolotowsky  – Paintings, Columns, Prints
(Yellow Tondo)
When: On view through April 14th, 2012
Where: Beth Urdang Gallery,  129 Newbury Street, Boston, MA
How: Official Website
What/Why: "Ilya Bolotowsky (1907–1981) was a leading early 20th-century painter in abstract styles in New York City. His work, a search for philosophical order through visual expression, embraced cubism and geometric abstraction and was much influenced by Dutch painter Piet Mondrian."
————————–
Forms in Flux

(New Type, Hisashi Kurachi)
When: On view through April 21st, 2012
Where: Barbara and Steven Grossman Gallery, SMFA, 230 The Fenway, Boston, MA
How: Official Website
What/Why: "A collaboration between the School of the Museum of Fine Arts, Boston (SMFA) and Aichi University, Nagoya, Japan, "Forms in Flux" is an exhibition of three artists from each respective institution whose work addresses concepts of transformation, and whose collective practices become newly recontextualized among their fellow exhibitors. "Forms in Flux" provides a meeting place for something new to be created from two geographically distant locations, and the transformative nature of each artist's work is heightened in the physical and artistic context of their foreign counterparts. Just as the collaboration itself has fluctuated from its inception, so does the work of these accomplished faculty members, whose work breaches communication, intuition and alteration."
————————–
Laurie Goddard -Navigation

(Riffs on the Great American Songbook #5)
When: On view through April 30th, 2012
Where: Galatea Fine Art, 460B Harrison Ave. #B-6, Boston, MA 02118
How: Official Website
What/Why: "Laurie Goddard works in encaustic and mixed media to produce luscious surfaces of subtlety.  Some of these surfaces remind the viewer of fossilized remnants of the natural world, and of subconscious thought.  The artist works in various tones, interjecting metallic nuances and graceful, linear reference points."
————————–
Everyday Angles

When: On view through June 1st, 2012
Where: CGIS South, 2nd Floor, David Rockefeller Center for Latin American Studies, 1730 Cambridge Street, Cambridge
How: Official Website
What/Why: "In 1979 the Chilean artist Lotty Rosenfeld created the "art action" A Mile of Crosses on The Pavement by intersecting the dotted lines of a Santiago street with sections of white tape. In doing so she disrupted any ambivalence to the forces that direct movement in the city, and refused a singular reading of even the most innocuous of signs.
Everyday Angles is an exhibition of five Latin American women artists currently living in Boston and New York. Like Rosenfeld, they each incite visual re-readings of public spaces and ordinary architectural elements. Inspired by yet removed from their cities of origin, a distancing from the familiar enables their fresh-eyed, critical perspectives. Mein's billboards works, Rivera's knit street line, Unzueta's felt hardware, Rondeau's tactile cityscape, and Sanchez's hand-printed walls all borrow their forms from the organized architecture and grids of urban environments, but they engender the ominous authority of such commanding structures with evidence of human touch."
————————–
ERC Presents Rifrakt

(prior work of Sarah Gay)
When: On view through May 12th, 2012
Opening Reception: Friday March 30th, 7PM
Where: Espresso Royale Cafe, 736 Commonwealth Avenue, Boston, MA
How: Official Website
What/Why: "Rifrákt is a community of emerging Boston artists devoted to networking and the pursuit of local art. Founded in May 2009, Rifrákt strives to foster a progressive and productive forum where creative energy and ideas take shape. Rifrákt welcomes those working in all mediums who wish to pursue, explore, acknowledge, educate and promote other artists within the community."
————————–
Surfaces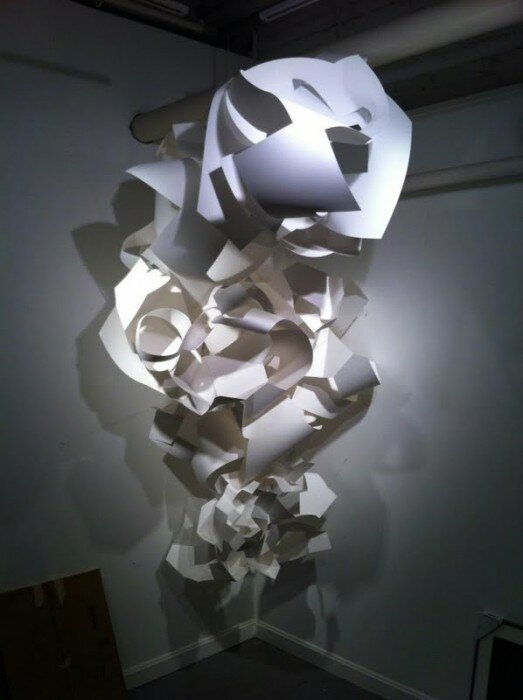 ( DUFAYEL_recursive(installation view), Joey Asal)
When: On view through April 1st, 2012
Reception: Friday, March 30th, 6 – 9 pm
Where: StoveFactory Gallery, 523 Medford Street, Charlestown, MA
How: Official Website
What/Why: "Surfaces includes work that renders interpretations of tactile adventures and subliminal boundaries. "I took great pleasure in seeing how the artists approached the theme," explained Cavallo. "Some of my favorite pieces successfully took the idea both literally and allegorically, like Margaret Furlong's No Flies on Me. I can't wait to layout the show and see it come together!" Along with members of the Artist Group of Charlestown, the exhibit also includes Montserrat faculty member Adria Arch, alumnus Bradford Rusick '08 and Montserrat's Frame 301 featured artist Joey Asal.
"The Artists Group of Charlestown is thrilled to work with Maggie Cavallo on the Surfaces show," stated Dara Pannebaker, President & Founder of Artists Group of Charlestown. "We're very excited at the breadth of talent represented in the show, and the many imaginative interpretations of the theme. Our collaboration with Maggie continues our mission to the community by presenting accomplished works of local and regional artists in a highly dynamic show."
————————–
Memory Remains

(Gran, Post Alzheimers, Molly Segal)
When: On view through June 3rd, 2012
Opening Reception: March 30th, 2012, 7-8PM
Where: NU Gallery 360,  360 Huntington Avenue, Boston, MA 02115
How: Official Website
What/Why: "The EGSA's sixth annual conference, Memory Remains, seeks to explore the integral role that memory and its remains play in our daily lives — in public and private constructions of self and reality — as well as in individual and communal narratives.  Memory is transitory, yet seemingly permanent; it occupies the borders of ontology, reaching into our sensory and bodily awareness. In short, we rely on our capacity to remember to draw conclusions about ourselves and others, and yet memory is, at its base, unreliable, biased, and transient.
Memory's remains are left over after a moment or an event's conclusion: ruins in former colonial spaces, ephemera in archives, remnants of student writing, practiced or rehearsed personal narratives. To claim that memory remains is a bold pronouncement that argues for memory's haunting quality, but also the resilience of memory, and its fundamental role in shaping human identity. Our conference invites the interrogation of memory and its remains, from across a number of different intellectual fields — anthropology, philosophy, rhetoric, cinema studies, psychology, sociology, geography, political science, history, the visual arts, literary studies, composition studies, narratology, or even biology and neuroscience — as well as methodologies.
"The original experiences of memory are irretrievable; we can only 'know' them through memory remains – images, objects, texts, stories."  Marita Sturken"
————————–
Hack Together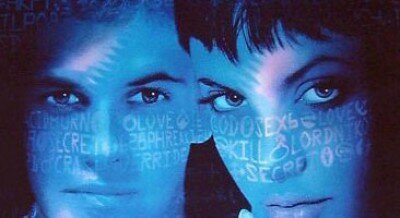 When: Sunday April 4th 4PM – Monday April 2nd, 2012 6pM
Where:  Artisan's Asylum, 10 Tyler St, Somerville, MA 02143
How: Official Website
What/Why: "Are you a DIY Genius? An amateur hardware hacker? A techie artist with a flair for the extravagant? Sign up for the first ever Hack Together for the chance to have your installation displayed during this year's Together Festival, April 2nd – 8th, a celebration of Music, Art and Technology! 
On April 1st, builders working alone or in teams of up to four will spend 24 hours creating installations at Artisan's Asylum in Somerville. The winning work will be placed in one of our venues to accompany a DJ performance. 
Installations can be in whatever medium the builders choose. We welcome LED displays, projection art, music-themed living sculptures, whatever your mind designs! The only restriction is that it must be suitable to be placed in a Together venue, whether it is a performance space or our headquarters in Central Square.
Artisan's Asylum offers an immense array of tools, including a CNC mill, lathe, TIG welders, and soldering stations, with staff on hand to help participants use the machinery. Some additional tools may be provided, but materials will be on a BYO basis. You may also purchase materials from Artisan's Asylum at their usual rates, as needed. See www.artisansasylum.com for more information on the location. "
————————–
Womanthology Signing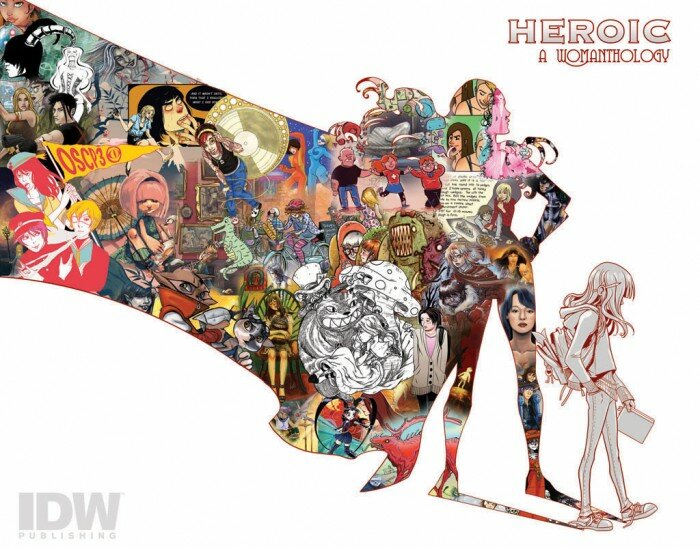 When: Saturday March 31st, 1-4PM
Where: Hub Comics, 19 Bow Street, Somerville, MA 02143
How: Official Website
What/Why: "Project founder Renae de Liz, + contributors Ellen Crenshaw, Ming Doyle, Cathy Leamy, and Stacie Ponder will sign the Kickstarter phenomenon "Womanthology," and Hub Comics will have copies on-sale.
Womanthology is a large scale anthology comic showcasing the works of women in comics. It is created entirely by over 140 women of all experience levels. 
"The purpose of the book is to show support for female creators in comics and media. There will be multiple short stories, "how to"s & interviews with professionals, and features showcasing iconic female comic creators that have passed, such as Nell Brinkley and Tarpe Mills. A Kids & Teens section will also be included, showcasing their work, and offering tips & tricks to help them prepare themselves for their future careers in comics."
————————–
Sight Lines

(Multiplex, Robert Maloney)
When: On view through May 4th, 2012
Opening Reception: Friday March 30th, 7-9PM
Where: 13 Forest Gallery, 167A Mass Ave, Arlington, MA
How: Official Website
What/Why: "As our eyes scan the natural landscape, we tend to be drawn towards the repetition of linear shape – the vertical forest of trees, the rhythmic recurrence of plant shapes. This inclination towards the repetitive is harnessed and recreated in our urban landscape: trees are replaced by the continuity of buildings, plants are exchanged for the pattern of brick. 13FOREST Gallery explores this architectural horizon of geometry with SightLines, an exhibition of new and recent work by Massachusetts artists Rachel Hellmann, Robert Maloney and Hannah Richman. 
Examining the architectural, Hellmann, Maloney and Richman illustrate how this repetition can be rendered in two and three dimensions. Utilizing different aesthetics and materials to create urban sites, the artists recognize this intrinsic human pull and reinforce it to bring the relationship between viewer and linear to yet another level."
————————–
Boundless Ambition – Part Process, Part Product

When: On view through June 18th, 2012
Opening Reception: Friday, March 30th, 4-7 p.m.
Where: Thompson Gallery, 45 Georgian Road, Weston MA, 02493
How: Official Website
What/Why: "To honor The Cambridge School of Weston's 125th anniversary, the Boundless Ambition series examines the school's convictions about learning and pedagogy. The third of three exhibitions, Part Process, Part Product features seven Cambridge School of Weston Alumni/ae: Austin Eddy '05, Chris Freeman '80, Niho Kozuru '86, Jennifer Langhammer '89, Julie Oppermann '00, Jonas Wood '95 and Kelly Zutrau '06. This final exhibition looks at the kinship between methodology and productivity via the differences between how each artist approaches issues of abstraction within their respective studio practices."
————————–
A Natural Order

(Rita and Cora Aiming, Lucas Foglia)
When: On view March 31, 2012 – May 27, 2012
Opening Reception: April 5th, 2012 – 5:30PM
Where: David Winton Bell Gallery, List Art Center, Brown University. 64 College Street, Providence, RI
How: Official Website
What/Why: "Raised on a small family farm in Long Island, Foglia's respect for the human bond with the land has colored his work to date. In two series included in the exhibition—A Natural Order,2006-2010, and his current series Frontcountry—Foglia has searched out people who have reinstated or retained their connection to the land as source of food, shelter, and sustenance.
A Natural Order focuses on a network of people who have left cities and suburbs to live off the grid in the southeastern United States. Over a five-year period beginning in the summer of 2006, Foglia met, stayed with, photographed, and recorded copious conversations with people at "rewilding" communities such as Wildroots Earthskills Homestead, at Christian communities such as Russell Creek Community, and with smaller independent groups. His subjects have embraced a self-sufficient lifestyle for varied reasons: religious, environmental or political; liberal or libertarian. They all strive for self-sufficiency and sustainability, but none are totally isolated from the mainstream. As Foglia tells us, "Many have websites that they update using laptop computers and cell phones that they charge on car batteries or solar panels."
Foglia has produced an intriguing and seductive narrative of green culture, which is meant to draw viewers in and engender interest in self-sustainability. From an urban viewpoint, this can seem exotic—meals of possum stew, venison soaking in a bathrub, a dead bear lying on the ground. Or bucolic—children playing in streams, drinking milk from a goat's teat, running with goats in a pasture. Other images reflect the tension between "primitive" and "civilized" living."
————————–
Boston Sculptors Celebrates Its 20th Anniversary

(An Impossible Journey, Andy Moerlein)
When: On view April 2nd-April 26th(Outdoor sculptures on view through June 3rd, 2012)
Where: University Gallery, UMass Lowell, Lowell, MA
How: Official Website
What/Why: "This show highlights the variety of approaches to sculpture explored by the Boston Sculptors. The Boston Sculptors is a group of artists who recognized in 1992 that there was a shortage of exhibition opportunities for sculpture in Boston. They set about to create more opportunities, in exhibition spaces, public galleries and in public art. What began as a series of conversations over dinner has, twenty years later, yielded two excellent commercial galleries and numerous critically recognized shows. This exhibition will feature an eclectic examination of materials and include both works on the campus grounds, gallery installation, and unique objects exploring a variety of material and formal expressions. Representative works from Massachusetts Cultural Council award winning artists Mags Harries, Hannah Verlin, Beth Galston, Rosalyn Driscoll, Sarah Hutt, Laura Baring-Gould, and Julia Shepley, will be on display, as well as important works by Sally Fine, B. Amore, Peter DeCamp Haines, Dan Wills, Murray Dewart, Andy Moerlein, Donna Dodson, and Joyce McDaniel. This show is offered in conjunction with year-long activities in Boston to celebrate the group's twentieth anniversary."
————————–
Unnatural Variations: A Playful Look at Science & Art
(Still Life with Cell Signal, Mia Brownel)
When: On view through April 26th, 2012
Where: Akus Gallery ,Shafer Hall, Room 1, Lower Level, Eastern Connecticut State University, 83 Windham Street, Willimantic, CT
How: Official Website
What/Why: "This group exhibition is a light-hearted romp through a variety of media and imagery all of which draw some inspiration from the world of science – DNA, genetics, evolution – our inner worlds made visible through the artist's imagination."
————————–
We did it! ♥