Happy Friday!
Life has been a mix of crazy and busy as of late.
cruzzy? bayzee?
Never a dull moment.
Let's say goodbye to the week and hello to the wrap-up.
CRAFT Boston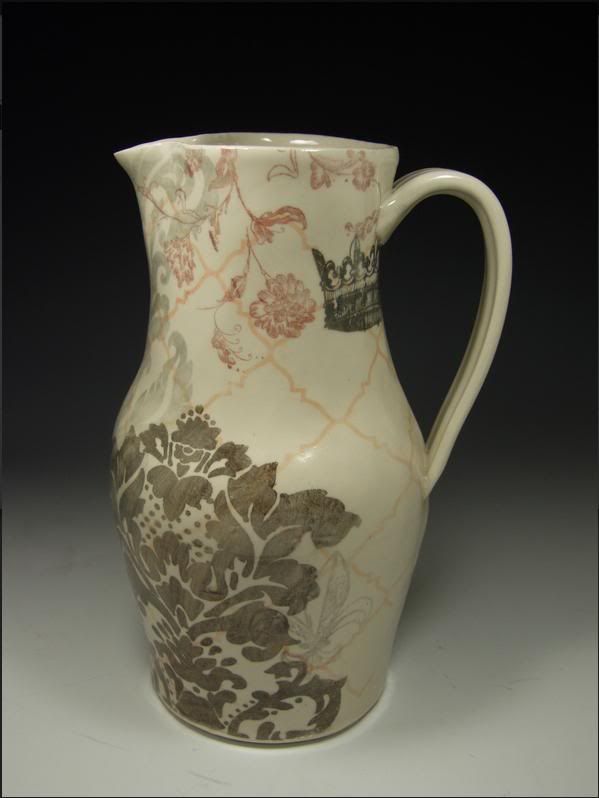 (The Work of Alice Drew)
When: March 25th- 27th, 2011
Where: Seaport Hotel World Trade Center, 200 Seaport Blvd, Boston, MA 02210
How: Official Website
Cost: $15
What/Why: "Craftboston Spring is New England's premiere exhibition and sale of contemporary craft. Craftboston showcases one-of-a-kind and limited-edition pieces in baskets, ceramics, decorative fiber, wearables, furniture, glass, jewelry, leather, metal, mixed media, paper and wood. Craftboston Spring includes 200 artists and is located at the Seaport World Trade Center on Boston's historic waterfront.
Craftboston is produced by The Society of Arts and Crafts. Incorporated in 1897, SAC has been at the forefront of the American craft movement fostering the development, sales, recognition and education of craft for over 100 years."
————————————-
Sing Hanson: Sidetracks
When: On view now through-May 8th, 2011
Where: Albright Art Gallery 32 Main Street, downstairs, Concord, MA 01742
How: Official Website
What/Why: "Albright Art is pleased to announce the opening of Sing Hanson's exhibit Sidetracks. Sing's work will be displayed March 8 through May 8, 2011. The public is welcome to visit with her at an artist reception at Albright Art gallery on Thursday, March 10th from 6 – 8pm. Wine will be provided.
Concepts of re-purposing, reworking, and adaptive reuse have framed the photographs in this current Sidetracks exhibit. These images of decommissioned railroad cars rusting and peeling away on unused tracks become metaphors for the passage of time, the ephemeral nature of apparently concrete objects and the triumph of re-purposing them through the creative act. Sing is interested in iconic pieces and their ability to transmit stories and values across time."
————————————-
Spring Craft and Specialty Food Fair
When: March 26th 10-5, March 27th 2011 10-4
Where: Rockingham Park Racetrack- Indoor, 79 Rockingham Blvd Salem, NH 03079
How: Official Website
Cost: $5
What/Why: "Over 150 of the regions finest Craftsmen and women will display and sell their American made crafts including Candles, Pottery, Tapestry, Fine Jewelry, Quilts, Photography, Metal Sculpture, Ceramics, Intarsia, Soap, Wall Hangings, Appliqués, Wind Chimes, Folk Toys, Soft Sculpture, Leather, Mail Boxes, Calligraphy,
Pen & Ink Drawings, Fleece, Shaker Style Furniture, Knits, Poetry, Slate, Tole Painting, Pet Gifts, Felt Bags, Doll Clothes & Accessories, Fabric Home Décor, Silk and Dried Floral, Lampshade Covers, Stained Glass, Flags, Heat Packs, Quilted Jackets and Shawls, Fancy Dresses, Photos with the Easter Bunny and much more.
Enjoy sampling such gourmet delights as Herbal Dips, Scones, Candies, Amish Breads and whoppie pies, Salsa's, Roasted Nuts, Barbeque Sauces and more."
————————————-
On Tour: Letterpress Gig Posters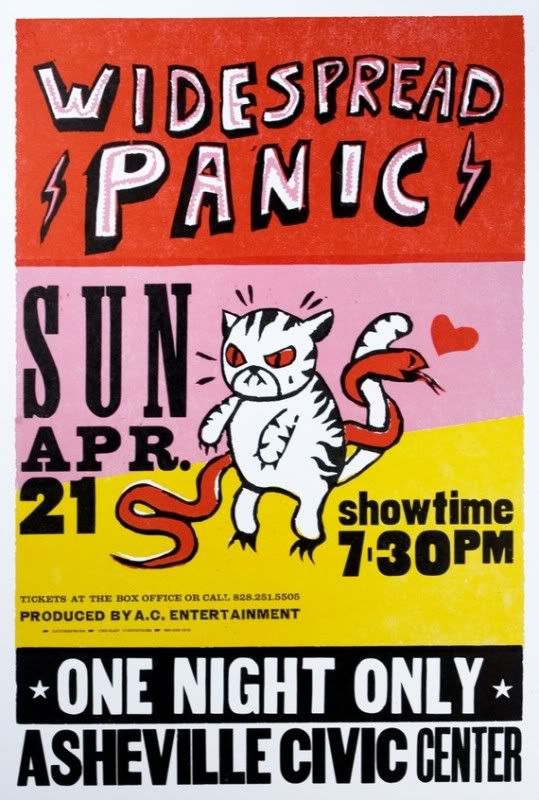 (example of Yew Haw Industries work)
When: On view now through April 8th, 2011
Where: Montserrat College of Art, Carol Schlosberg Alumni Gallery, 22 Essex Street Beverly, MA 01915
How: Official Website
What/Why: Beverly, MA, March 2011 – Capable of mass production and quick distribution, the gig poster is a staple of the print medium. As an established archetype in the current media environment, letterpress has begun to wrap itself around its own esteemed history; self-referencing its own "retro" or "vintage" aesthetic in font and design. Montserrat College of Art Gallery is pleased to exhibit On Tour, curated by Montserrat Faculty and print maker Sarah Smith featuring the prints of Hatch Show Print, Yee Haw Industries, Amos Paul Kennedy Jr and Hammer Press; an exhibition that explores the generations and evolution of the unique and timeless standard of the letterpress gig poster.
———————
Cuts and Accretions
When: March 19th-27th, 2011
Where: fivesevendelle project space, 57 Delle Ave, Boston, MA 02120
How: Official Website
What/Why: "A Collaboration with 57 Delle is a new, site-specific installation by Framingham, Mass.-based artist Kassie Teng on view at fivesevendelle project space from March 19 to March 27. Teng will make sculptural drawings that grow out of cracks, peeling paint and other surface residues layered in the walls of the 1875 domestic residence turned art venue. This project supports fivesevendelle's mission to offer deserving artists exhibition opportunities outside traditional for-profit and institutional systems."
————————————————
One of a Kind-An Exhibition of Unique Artist's Books
When: On view now through April 9th, 2011
Where: Pierre Menard Gallery, 10 Arrow Street, Cambridge, MA 02138
How: Official Website
What/Why: "For those of us for whom the codex represents the apex of human achievement and the vessel for all that is greatest in our history, the fact that the printed book is at best a dubious medium for art, if not an environment overtly hostile to it, has always been a disappointment. Although there have been some glorious marriages of image and text, the vast majority of so-called livres d'artiste are unhappy ones, even many of the most celebrated. They rarely manage to transcend the aporia created by the juxtaposition of two media fundamentally at odds with each other, the regularity and visual gravity of text and the irrepressible vitality and multifarious flow of art.
Yet the codex has a wholly other life, which, though it was supplanted as the primary medium for the conveyance of information by the advent of print, has retained the power and aura that we associate with the great illuminated manuscripts of the middle ages, in the unique artist's book. Untrammeled by the dictates of type or the standards of mass production and use, the unique artist's book remains an expressive and versatile art medium, which is animated by the unique cultural, historical, and inherent potency of the codex. Its capacity for visual narrative and the expression of time in general, the creation and release of visual tensions, its integration of movement and meditation, make it a medium distinctly different from any other, and the intimacy of the codex form determines a relationship to visual material that is incomparable.
We rarely have the opportunity to dwell in the world of the unique artist's book, as considerations of security render its purpose almost impotent in the context of the museum, and its very uniqueness insures that any individual example is going to have an almost hermetic history. It is therefore with great excitement that we announce an exhibition of unique artist's books, curated by artist Heide Hatry, herself a former rare bookseller and maker of unique books."
——————————-
Margaret Swan: In Leaf / Laura Evans: White Noise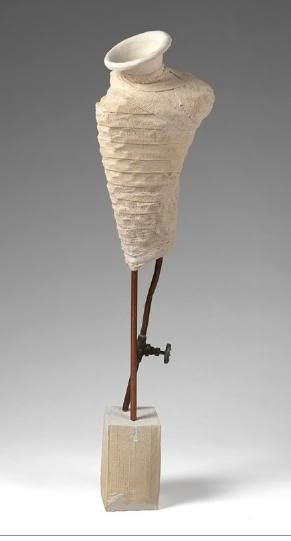 When: On view now through April 17th, 2011
Where: Boston Sculptors Gallery / 486 Harrison Avenue, Boston, MA 02118
How: Official Website
What/Why: "Laura Evans' sculptures encourage the viewer to look inside and see how the work was constructed. Despite exposing her processes, Evans has created sculptures that are curiously self-contained, stationary and mysterious. Orifices that suggest mouths, ears, vents, funnels, gills and open tubes are the means by which the private interior space merges with the shared public space. Evans received a B.A. from Hampshire College and an M.F.A. from Boston University.
Margaret Swan's new sculpture is a departure from her work in sheet metal, her principle medium for many years. Inspired by the structure and rhythms of natural forms, Swan creates layering planes of light and shadow in her new multi-part concrete sculptures. Working over polystyrene armatures, she sculpts the surfaces with a mixture of pigmented concrete and coal slag that suggests the texture of stone.
Swan is a founding member of Boston Sculptors. Her sculpture has been included in exhibitions throughout New England, including the Aldrich Museum, the DeCordova Museum, and the Institute of Contemporary Art. Awarded two Massachusetts Artist Fellowships in Sculpture and other grants during her career, Swan has a commissioned site-specific piece on view at the Federal Reserve Bank of Boston."
———————————————-
Before I go..
When I write these wrap-ups, I pick up images I like as I go, and then compile them into a post. I think it's interesting there is this kind of random color cohesion happening with the images this week..warm hues(oranges/reds/yellows) coupled with white and black.
Don't you think?
I need to stop drinking on Thursdays. ♥