(Rosemary Williams Showgirl with Self Portrait, Stanley Kubrick) 
nobody x noir x ghost muscle x soul masquerade x look again
—————————–
Freeport [No. 005]: Michael Lin

(Mr. Nobody)
When: On view through May 27th, 2012
Where: Peabody Essex Museum, 116 Essex Street, Salem, MA 01970
How: Official Website
What/Why: "Artist Michael Lin spotlights PEM's renowned collection of Asian export art, particularly Mr. Nobody, one of the first representations of a European gentleman in Chinese porcelain. Animating the history of trade between China and the West, Lin creates a large-scale installation composed of hundreds of Chinese-produced replicas of Mr. Nobody in PEM's Asian Export galleries. Climbing up the walls of the Mellon Staircase and along the floor of the Export Silver Galleries, Lin – who is internationally recognized for his oversized paintings of ornamental design – creates a sprawling mural of original armorial and heraldic motifs that will be echoed in a pair of specially commissioned Bernardaud vases."
————————-
The Phoenix Presents: Photography Series 2012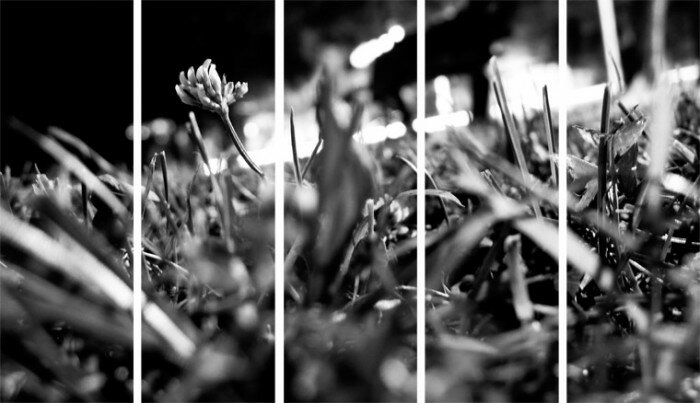 (Bed of Blades, Josh Falk)
When: Friday March 23rd, 5-10PM
Where: Fairmont Battery Wharf, Three Battery Wharf, Boston, MA 02109
How: Official Website
What/Why: "Join us for an evening of images, cocktails and music as we showcase four of Boston's most exciting photographers on the waterfront in Boston's North End. 
Featuring the photography of Josh Falk, Natasha Moustache, Sandy Poirier and Michael Young.
Music by Phoenix Best Nominee DJ Leah V. //Hosted and curated by Brian Russell
Presented by The Boston Phoenix and supported by Flash Forward Festival, Fairmont Battery Wharf and Shag Salon."
————————-
Matt Rich – Ghost Muscle

(Scribble)
When: March 23rd – April 28th, 2012
Opening Reception: Friday March 23rd, 6-8PM
Where: Samsøn, 450 Harrison Avenue, Boston, MA 02118
How: Official Website
What/Why: "Samsøn is proud to present Matt Rich's 2nd solo exhibition titled Ghost Muscle on view from March 23rd 'til April 28th.
Rich's cut paper paintings get rid of the canvas and its hired muscle, the stretcher bar. Their surfaces are built piece-by-piece, the compositions growing and contracting freely without structural restraint. Individual colors and shapes are always open to edit or exchange in procedures both deliberate and chance-based. A carefully constructed sense of unpredictability is generated by a process that is pointed toward an integrated, resolved whole. His works formulate a relationship between material and image that suggests equal exchange: they pit the specific against the uncertain, the malleable and the shifting. The paintings aim to articulate this balance in a sustained and systematic manner.
"…because the encasing chatter and noise they first came with has fallen off. Purity moves people for reasons they don't understand.
So it goes with Rich and that playfulness. The passage of time and a cooling period is built into the work."
————————-
NOIR Generation

When: Saturday March 24th, 2012, 7-11:30PM
Where: Yes.Oui.Si. Space, 19 Vancouver Street, Boston, MA 02115
How: Official Website
What/Why: "Please join us as we celebrate the release of the newest edition of Spirited Magazine "NOIR GENERATION" with a live magazine installation by Spirited Creatives at Yes. Oui. Si. Gallery in Boston. AND OH…*Creative Black Tie with one red accessory suggested.
*Photobooth by Spirited Mag & Covetous Creatures. *Music Performance & Soundtrack by Jonathan Sibha (band) featuring Brian Arnold, Dylan Vukelich, Keith Nelson and James Krivchenia. 
*Literary Salon readings by Miguel Miró Quesada, Cassie Pinner, Lindsay Thueme, Joshua Heerter and Phoebe Wilson. *Art Installation with visual artist Adam Paladino "The Real Narrative". *Private Tarot Readings by mademoiselle Harmony Dawn for a special $10 per session. *Giveaways and surprises we can't reveal because then it's not a surprise. 
Special thanks to our sponsors: OPEN BAR SPONSORED by Magners, PBR, Popchips, Spirited Noir (cocktails, coffee and cherry pie) for our 'Lynchean' symptoms. Come experience NOIR"
FLUX. Note: As of 3/21 this event is sold out, but you can still add your name to the waiting list.
————————-
Calligraffiti with Street Artist eL Seed
When: March 26, 2012 – 11:00am – 3:00pm
Reception: 5:00-6:00pm at the Center for Middle Eastern Studies
Where: Center for Middle Eastern Studies, Harvard University, Science Center Garden, 38 Kirkland Street, Cambridge, MA
How: Official Website
What/Why: "Join a demonstration by Tunisian street artist eL Seed as he creates a work of "calligraffiti" on Harvard's campus. eL Seed draws on the legacies of Arabic calligraphic art to create street and studio art. He is featured in the new book Arabic Graffiti. The demonstration will be followed by a reception with light refreshments from 5:00-6:00pm at the Center for Middle Eastern Studies. "
————————-
National Poster Retrospecticus

When: On view through April 14th, 2012
Opening Reception: Friday, March 23rd, 7-10 PM
Where: Lincoln Arts Project Gallery, 289 Moody Street, Waltham, MA
How: Official Website
What/Why: "INFO: Lincoln Arts Project presents National Poster Retrospecticus a collection of hand-printed posters from 50+ local, regional, and national artists, curated by JP Boneyard."
————————-
The Heretics

When: Friday March 23rd, 8:15PM
Where:  Paramount Center, 559 Washington Street, Boston, MA
How: Official Website
Cost: $10 Adults/ $5 for Students
What/Why: "Award-winning New England video artist and Hampshire College Professor Joan Braderman tells the exhilarating inside story of the seminal New York feminist art collective and reconnects with members including writer/critic Lucy Lippard."
————————-
Soul Masquerade

When: On view through May 4th, 2012
Where: Peregrine Gallery, 150 Waterman Street #6, Providence, RI, 02906
How: Official Website
What/Why: "For the first time on the East Coast, Una Gallagher will exhibit recent sculptural work in a two-month exhibition at the Peregrine Gallery, 150 Waterman St #6, Providence, RI.  The exhibition will open on March 5th, 2012, and run through May 4th.  The opening reception is Thursday, March 15th, from 6:00 to 8:00 p.m.
Soul Masquerade presents a collection of masks, ornately and meticulously created from fabric and a wide range of natural materials including such things as seed pods, coral and stone.  Reminiscent of certain ceremonial masks, each piece is created with the intention of holding a specific resonance or personality that is to be taken on by the wearer.   
The sculptures are a reflection of Gallagher's  background of design combined with her deep connection with nature,extensive travels in Africa and Europe and a practice of art as a spiritual meditation. "
———————–
New Work by J Rebecca Trueblood

When: On view through March 31st, 2012
Reception: Saturday March 24th, 2012 , 12-2PM
Where: South End Branch of the Boston Public Library, 685 Tremont St, Boston, MA 02118
How: Official Website
What/Why: "I am pleased to invite you to the reception celebration for these new paintings. They are currently on view through the whole month of March."
———————–
CraftBoston New England
(Avian, Wendy Ellertson)
When: March 23rd-25th, 2012
Where: Seaport World Trade Center, 1 Seaport Lane , Boston, MA 02210
How: Official Website
Cost: $15
What/Why: "Craftboston is New England's premiere exhibition and sale of contemporary art, craft and design. Craftboston Spring takes place annually in the spring at the Seaport World Trade Center in Boston. The shows will feature 200 of the most outstanding artists of our time, showcasing one-of-a- kind and limited edition pieces in baskets, ceramics, decorative fiber, wearables, furniture, glass, jewelry, leather, metal, mixed media, paper, and wood. 
Additionally, Craftboston Spring features work by emerging artists from leading schools and universities, an artist mentor program, a book seller, an educational lecture series, tours for guests who are blind and visually impaired, tours for other special interest groups, and informational booths promoting non-profit craft organizations."
———————–
Ken Aptekar: Look Again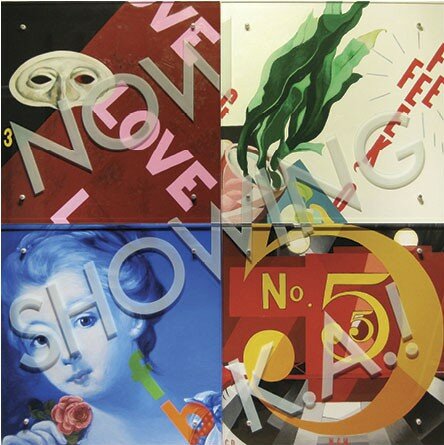 (Portrait of the Artist)
When: On view through April 14th, 2012
Where: Beard and Weil Galleries, Watson Fine Arts, 26 East Main St. , Norton, MA 02766
How: Official Website
What/Why: "Ken Aptekar carefully mines the works of other artists—from Old Master painters to Edward Hopper and Philip Guston—and skillfully re-creates select portions of their paintings, with clever shifts of scale and hue, then covers them with glass, upon which he inscribes inventive and often personal lines of text. The effect is intoxicating: the text gives rise to new meanings in the imagery; the imagery invokes new interpretations of the text."
———————–
Charline von Heyl at ICA

 (Yellow Guitar)
When: On view through July 15th, 2012
Where: ICA Boston, 100 Northern Avenue, Boston, MA 02210
How: Official Website
What/Why: "Charline von Heyl is a compelling and important artist whose work offers new ideas and possibilities for painting, demonstrating  the medium's continued relevance in contemporary art.  Von Heyl's canvases are not abstractions of objects or figures; instead, she is interested in inventing a new image that has not yet been seen and that "stands for itself as a fact." With their intentional confusion of foreground and background, their dynamic energy, and their contradictions and reversals, these paintings require (and desire) careful looking, but refuse to yield to the impulse to name, identify, or define."
———————–
Streetology: Teen Night

When: Friday March 23rd, 2012 6-9PM
Where: ICA Boston, 100 Northern Avenue, Boston, MA 02210
How: Official Website
What/Why: "For this very special Teen Night, artist Swoon will co-host an unforgettable evening celebrating street art. Using the artist's current installation as inspiration, take part in large-scale art making activities, live music, tunes by teen DJs, teen-led exhibition tours, and a special Talk Back with the artist moderated by members of the ICA Teen Arts Council.
Special Event Partner – Urbano Project//DJ Vital Riddims, Jesus Millions, Trauma, and Smooth Impact performing live!"
Aside: Swoon is co-hosting? Um, can I go and be that older creep who didn't get the memo?
———————–
Monolith

When: On view March 27th-April 3rd, 2012
Opening Reception: Tuesday March 27th, 5-7PM
Where: U Mass Amherst, Augusta Savage Gallery,
How: Official Website
What/Why: "Photographer Matthew Stanley's new installation brings forward his fascination with ways that we make meaning. Challenged by the huge and often threatening, oppressive forces of culture and society, we are still faced with the task of choosing what we will do with such forces. Never bound by one view or even one way to live, we are free to confront the monoliths that often seem impossibly daunting. Using his extraordinary nature photographs, Stanley creates an installation to help move us forward. About his work, he says: It is our choice, under our individual power to choose to focus on the large, sometimes drab nature of the world we live in or to glance outward. To see the beauty commensurate, that is always there but always proportional to the attention we pay it. "
———————–
Opening Lecture and Reception for Lyonel Feininger: Photographs, 1928–1939

When: Thursday March 29th, 2012 6-8PM
Where: Arthur M. Sackler Museum , 485 Broadway, Cambridge, MA 02138
How: Official Website
What/Why: "Siegfried Gohr, Professor of Art History and Deputy Director of the Kunstakademie Düsseldorf, will present a lecture on the artist's drawings and watercolors, Lyonel Feininger: An Artist between the Spontaneous and the Constructive.
Throughout his career Lyonel Feininger devoted enormous energy to making spontaneous sketches from life ("Nature Notes"). He would then transform these drawings into solidly constructed, crystalline compositions. This lecture will examine the dual character of Feininger's artistic production, which simultaneously embraced the quick sketch from nature and a more abstract style.
This lecture takes place on the eve of the opening of Lyonel Feininger: Photographs, 1928–1939 and an installation of the artist's drawings and watercolors. A reception and open galleries will follow the lecture."
———————–
Shape Shifting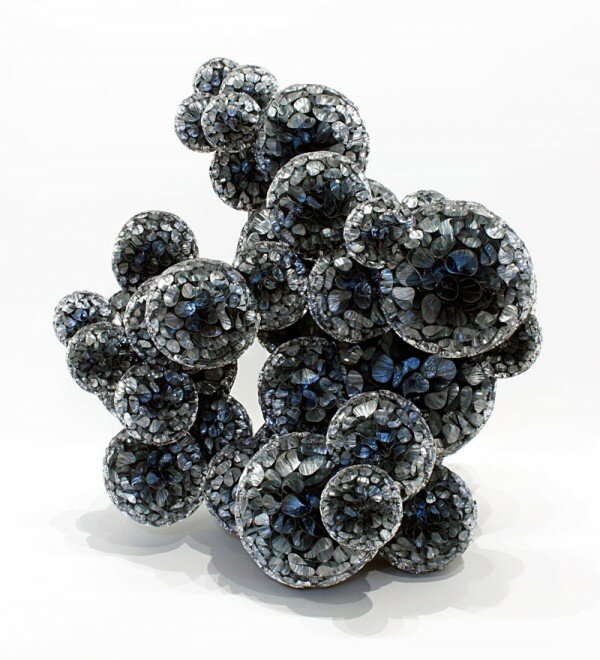 (Untitled (Mylar))
When: On view through April 21st, 2012
Where: Barbara Krakow Gallery, 10 Newbury Street, Boston, Massachusetts 02116
How: Official Website
What/Why: "How a part relates to a whole, the inside to the outside and how similar but different elements can work simulatneously together and separately are the questions that this exhibition presents.  While each artist has their own distinct vocabulary, we hope that this exhibition provides connections and conversations between the works."
Also on view…
Liliana Porter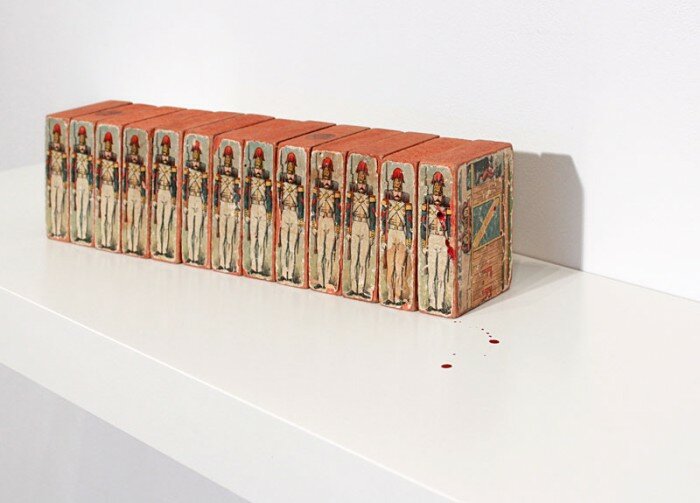 (Him(detail))
When: On view through April 24th, 2012
What/Why: "Liliana Porter's latest exhibition with Barbara Krakow Gallery focuses on the balance between playful narrative and the larger contexts into which the situations, materials and ideas of Porter's work can be used as ways to see more clearly.  In the painting, "To Go There III", one is lead to believe a cartoon character made the abstract gestures.  The Zen mentality of the levitating rabbit is somehow able to stay out of the mess created below it in "Situation with Levitating Rabbit II".  In these works and others, Porter continuously uses intrigue and whimsy as entrances into the great questions of how to be involved, how and why to perceive, and the multiplicity of lives that objects can play, depending upon who, what, when, where, how and why they are used.  Please come visit the show to further explore."
————————-
Enjoy the weekend, my dears and may the odds be ever in your favor. ♥