double helix x the tiger's wife x interstellar x the light can tell us when we are done
———————————–
Boston Ten and Beyond: Collaborations

(Untitled #1, Morgan Bulkeley, Jessica Hess, Gerry Bergstein, Gail Boyajian)
When: On view through May 20th, 2012
Where: Danforth Museum of Art, 123 Union Avenue, Framingham, MA 01702
How: Official Website
What/Why: "The Danforth is pleased to present Boston Ten and Beyond: Collaborations, an exhibition of over 30 collaborative pieces selected from work recently acquired by the Museum.  This past January twenty-four individual artists donated a total of 113 works, created together as part of a group project.  This donation represents the single largest collection of work gifted to the Museum to date—and perhaps the most unique"
—————————
Carrie Moyer: Interstellar

(The Tiger's Wife)
When: On view through August 19th, 2012
Where: Worcester Art Museum, 55 Salisbury Street, Worcester, MA 01609
How: Official Website
What/Why: "My paintings may have become less explicit, but my ambition to seduce viewers into reflecting on their own conditions – optical, physical, historical and otherwise – remains undiminished. Painting is a very intimate delivery system.
Carrie Moyer's painting practice over the past two decades has been shaped by her identification with the radicalism of art, politics, and feminism of the 1960s-1970s, as well as her formal training in both painting and computer graphic design. Moyer's deep engagement with the medium's potential of melding beauty and message and her exploration of the roles of illusion and content in abstraction have identified her as one of painting's most innovative contemporary practitioners."
—————————
Photograph 51
When: On view through March 18th, 2012
Where: Central Square Theater , 450 Massachusetts Avenue , Cambridge, MA 02139
How: Official Website
Cost: Purchase tickets here
What/Why: "In 1951, British biophysicist Rosalind Franklin became a research associate at King's College in London, where her X-ray imaging revealed DNA's double helix structure, leading to the Nobel Prize – but not for Franklin. As told with wit and urgency by a chorus of scientists who relive the competitive race to be the first to map the DNA molecule, Photograph 51 is the story of the fiercely independent spirit of a young, ambitious scientist and her unsung, trailblazing achievements. Winner of the 2008 Stage International Script Competition for Best New Play About Science & Technology."
—————————
Battle for Brooklyn

When: Monday March 19th, 8PM
Where: Brattle Theater, 40 Brattle Street, Cambridge, MA
How: Official Website
What/Why: "Battle for Brooklyn follows the story of reluctant activist Daniel Goldstein as he struggles to save his home and community from being demolished to make way for a professional basketball arena and the densest real estate development in U.S. history. Along the way, he falls in love, gets married and starts a family while living in a vacated building located at the heart of the project site. Over the course of seven years, Daniel spearheads the movement against the development plan as he and the community fight tenaciously in the courts, the streets, and the media to stop the abuse of eminent domain and reveal the corruption at the heart of the plan."
—————————
Making Room: The Space Between Two and Three Dimensions

(When what was when, Claire Harvey)
When: On view through January 2nd, 2013
Where: Mass MoCA, 1040 Mass MoCA Way, North Adams, MA 01247
How: Official Website
What/Why: "The new exhibition Making Room: The Space Between Two and Three Dimensions features works by an international group of artists who combine two- and three-dimensional media in a single work. These works are also characterized by their marriage of new technology with more hand-crafted or out-of-date processes. By using traditional or analog media, these artists reflect a shared yearning for deceleration in the digital age and nostalgia for simpler technologies. Artists include Daniel Arsham and Jonah Bokaer, Dawn Clements, Inci Eviner, Claire Harvey, Laleh Khorramian, Kakyoung Lee, Chloë Østmo, Laura Riboli, and Luke Stettner."
—————————
Dreaming East, Dreaming West

(Fishing on the Blue Li River)
When: On view through April 15th, 2012
Opening Reception: Saturday March 17th, 2012 5-7PM
Where: Fountain Street Fine Art, 59 Fountain Street, Framingham, MA
How: Official Website
What/Why: "Nan Feldman's visit to China in the spring of 2011, particularly her travels to the ancient Longji terraced rice fields, influence this new work. These vibrant, lush paintings interpret her initial responses to the Chinese countryside and engage her emotions, fantasy, and love of narrative. Her initial sketches, done on location using portable mediums such as oil pastels, crayons, and watercolor, are also
included in the show."
—————————
American Studies
(Orleans Burger Joint, Jim Dow)
When: On view March 17th-May 5th, 2012
Where: Robert Klein Gallery, 38 Newbury Street, Boston, MA
How: Official Website
What/Why: "The Robert Klein Gallery was established in 1980 and ranks among the world's most prestigious showrooms of fine art photography."
—————————
Kenneth Stubbs: A Retrospective Exhibition

When: On view March 17th through May 5th, 2012
Where: Acme Fine Art, 38 Newbury Street, Boston, MA
How: Official Website
What/Why: "ACME Fine Art is a gallery actively involved in buying and selling fine examples of modern American art of the Twentieth century including: fauvism, cubism, abstraction, surrealism, regionalism, abstract expressionism, post painterly abstraction, 1900-1980."
—————————
David Schoerner '07: Because of a Girl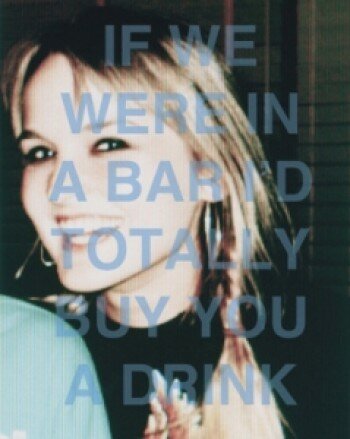 When: Tuesday March 20th, 5-7PM
Public Artist Talk: Wednesday, 11:30am, Room 201 Hardie
Where: Montserrat College of Art, Schlosberg Gallery, Hardie Building, 23 Essex Street, Beverly, MA
How: Official Website
What/Why: "We are incredibly excited to feature Alum David Schoerner's recent work in 'Because of a Girl'. Working with photography, re-photography and text-based works, Schoerner presents a somewhat fractured personal narrative – reorganizing our preconceived notions of his familiar-feeling subject matter. Schoerner's work can also be seen as a continuation of the Conceptual art of the 60s and 70s, the Pictures Generation of the 80s and the topographical photography of the 90s, however he offers a more emotional, personal inquiry into what photography can be"
—————————
Screening of The Light Can Tell Us When We Are Done

When: Friday March 16th, 2011 7-9PM
Where: Suffolk University Donahue Building, 3rd floor, room # D311, 41 Temple Street (behind the state house), Boston, MA 02114
How: Official Website
What/Why: "Please join us for a free screening of Eric Gulliver's short documentary that follows the recent collaboration of installation artist Christina Watka and musician Andrew Halchak for Christina's show, "Patience, Process, and Persistence," that was installed at Voltage in Kendall Square from October 28th-December 10th, 2011. 
This entire project is a huge labor of love. This will be a really great night, and we cannot WAIT to share the documentary with you all! It is extremely special to all of us.
The film runs just under 25 minutes. Showtimes at approx. 7:15 pm and 8:15 pm. 
****Suffolk University has been gracious enough to allow us to show in one of their larger classrooms with a large screen and raked seating. The Donahue building is down a lovely little side street behind the State House and is open to the public. We will post multiple signs on the glass doors and elevators to make sure that everyone gets to the right place."
—————————
Cuba Out-Side-In, In-Side-Out

(Blue Fisherman, Enrique Flores-Galbis)
When: On view through April 8th, 2012
Opening Reception: Friday March 16th, 2012 6-9PM
Where: Yes.Oui.Si Space, 19 Vancouver Street, Boston, MA 02115
How: Official Website
What/Why: "YES.OUI.SI. is proud to present CUBA in-side-out, out-side-in. A bold exhibition showcasing paintings and photographs by Enrique Flores-Galbis and Helena de Bragança. This provocative show explores the perspective of two artists and their relationships with the island of Cuba."
—————————
Paradise City Arts Festival

(Field of Feathers, Joseph DeRobertis)
When: March 16th-18th, 2012
Where: Best Western Royal Plaza Trade Center,181 Boston Post Road West, Marlborough, MA 01752
How: Official Website
What/Why: Paradise City celebrates its fifteenth year in Marlborough as the Boston area's most acclaimed fair of fine and functional art. Innovation and diversity are key to this show's appeal. 175 outstanding artists gather together under one roof from every corner of the country to provide a sampling of the best in American artistry and craftsmanship. Live jazz every day in the Sculpture Cafe celebrates the Great American Songbook. Special exhibition: "Wild Things!" – an untamed show-within-a-show portraying fierce – and lovable – creatures in art.
—————————
Houben Paints Money

(50 Francs Little Prince)
When: On view through March 31st, 2012
Where: DTR Modern Galleries, 167 Newbury Street , Boston, MA 02116
How: Official Website
What/Why: "DTR Modern Galleries is pleased to present the latest exhibition of paintings by celebrated contemporary artist Houben R.T. (b. 1970, Bulgaria). Featuring an exceptional body of artwork, this exhibition heralds Houben R.T.'s first gallery showing since his recent selection into the 54th Venice Biennale."
—————————
Almanac of Fall
When: Monday March 19th, 2011 – 7PM
Where: Harvard Film Archive Cinematheque , 24 Quincy Street, Cambridge, MA 02138
How: Official Website
Cost: $9
What/Why: "Directed by Béla Tarr. With Hédi Temessy, Erika Bodnár, Miklós B. Székely
Hungary 1983, 35mm, color, 120 min. Hungarian with English subtitles
Considered a turning point from Tarr's early social realism to his later precisely formal work, Almanac of Fall elliptically discloses the shifting relationships between five inhabitants of a house through a chain of theatrical tête-à-têtes. Their philosophical quandaries and deferred dreams coil into bitter circles of duplicitous manipulations that fuel eruptions of violence and underhanded exit strategies. Lit by expressionistic, lurid colors and followed by the mysterious gaze of a meandering, equally conspiratorial camera, the cursed spirits seem destined to reenact their base desires and vengeful patterns in a disorienting purgatory of opulent decay."
—————————
Ma Vie en Rose

When: Monday March 19th, 2012 – 7PM
Where: Coolidge Corner Theater, 290 Harvard St , Brookline, MA 02446
How: Official Website
What/Why: "Alain Berliner's 1997 feature film Ma Vie en Rose (My Life in Pink) tells the story of Ludovic, a seven-year-old boy who is convinced he is a girl, no matter what others try to tell him. A sensitive and hopeful child, Ludovic innocently provokes a series of incidents that ignite intense reactions from the community. Norman Spack, MD, co-founder of Gender Management Service Clinic at Children's Hospital, Boston, speaks about gender variance and transgenderism in children and young people before the film and takes questions afterward"
—————————
If I missed something, let me know!..

Aside from today, the weather is looking pretty OK this weekend!
Will you venture out to see art and Make a Day of It? Maybe you should plan a Disney Dream Vacation on Sunday as suggested by Weather.com?
Whatever you decide, I hope you get your Vitamin D fix and put this whole 'work week' thing far behind you. You earned it. ♥