adenine x do ask do tell x visions x at the waters edge 
———————
Making Dollars

When: On view through November 2012
Opening Reception: Friday June 8th, 2012 5-8PM
Where: Cambridge Innovation Center, 1 Broadway, Cambridge, MA 02142
How: Official Website
What/Why:'Making Dollars' will feature eleven artists whose works address value systems, offering a range of personal responses to how business is conducted today. Conceived as an art "scavenger hunt", the exhibition will occupy the fourth floor of CIC with works integrated into the function of conference rooms, meeting areas, hallways, and other common office areas. 
The eleven artists are: Alexandra Emmons, Noah Feehan / AKA, Yassy Goldie,Geoff Hargadon, James Horgan, Ian Jeffrey, Mister Never (G. Maxim Burdett), Nick Rodrigues, Jess Wheelock with photographs by Catherine McMahon, and Carlin Wing. All artists were once or are currently located in the Boston area. All of the works in the show are either new or have rarely been exhibited to the public.
Organized by Kristen Wawruck, a New York City/Boston-based curator, "Making Dollars" is the second in a series of group exhibitions at CIC, and the first by a Curator-in-Residence at CIC.
More information here!
—————————–
Cristi Rinklin: Diluvial

(Natural Ground, prior work of Cristi Rinklin)
When: On view June 9th-September 9th, 2012
Where: Currier Museum of Art, 150 Ash Street, Manchester, NH 03104
How: Official Website 
What/Why: "This summer, museum visitors will be absorbed in an imaginary landscape of dazzling color and light when they enter Cristi Rinklin's new immersive installation created specifically for the Currier. The museum's collection and a wall of floor-to-ceiling windows in the Putnam Gallery inspired this project, which re-interprets the drama of nineteenth-century sublime landscape paintings through a contemporary lens.
Billowing cloud and meandering waterfall forms in blues, greens and purples wrap across the gallery's large expanse of windows and nearby walls, surrounding visitors in an awesome spectacle of nature's destructive forces.  Light will pour through the windows, and much like stained glass, will project colored imagery into the gallery. Nearby walls – completely covered in patterns that evoke historic wallpaper – continue the immersive effect and function like analog modes of virtual space to transport visitors to a world beyond the confines of the architecture.
Rinklin titled her installation "Diluvial" in reference to cycles of creation and ruin and the Great Biblical Flood, which many people through the mid-1800s believed shaped the American landscape and imbued it with spiritual significance. Francis Cropsey's 1857 painting  An Indian Summer Morning in the White Mountains  melds beauty with foreboding and exemplifies the type of awe-inspiring images that inspired Rinklin's project.  Through a combination of hand-painting and digital techniques, Rinklin creates a different pictorial model based on contemporary graphical and technology-generated views of nature.
Rinklin's preliminary sketches and studies for Diluvial will be on view in the museum's Discovery Gallery. Visitors will be able to see the artist's hand-worked paintings that she scanned and combined in the computer to create the window screen composition and learn more about her inspiration from historic artworks.
The Contemporary Connections series features new work by early- and mid-career artists from New England made in direct response to the Currier's collection and architecture. These projects offer visitors expanded perspectives on contemporary art making and invite them to experience dynamic linkages between past and present art practices and cultural history."
—————————–
Oh, Canada

When: On view through April 1st, 2012
Where: MASS MoCA, 1040 MASS MoCA Way, North Adams, MA 01247
How: Official Website
What/Why: "Canada is the second largest country in the world by area and boasts both a vibrant nationwide arts community and a strong public commitment to culture. And yet Canadian contemporary art has not received widespread attention outside Canada's borders. The largest survey of contemporary Canadian art ever produced outside Canada, Oh Canada features work by more than 60 artists who hail from every province and nearly every territory in the country, spanning multiple generations and working in all media. MASS MoCA's curator Denise Markonish spent the last three years crisscrossing Canada to view hundreds of exhibitions in museums and galleries, visiting over 400 artists' studios, and making connections with a full range of artists working in Canada today.
Markonish's extensive research brings this project the fresh perspective of an informed and curious outsider. While Oh, Canada will ask questions such as "What are some of the distinguishing characteristics of art made in the country?" its aim is not to present a merely nationalistic show. Rather, the goal is to encourage a dialogue about contemporary art made in Canada (one touching on issues of craft/making, conceptualism, humor and identity), a dialogue that will resonate just as deeply for Canadians as for outsiders."
—————————–
Visions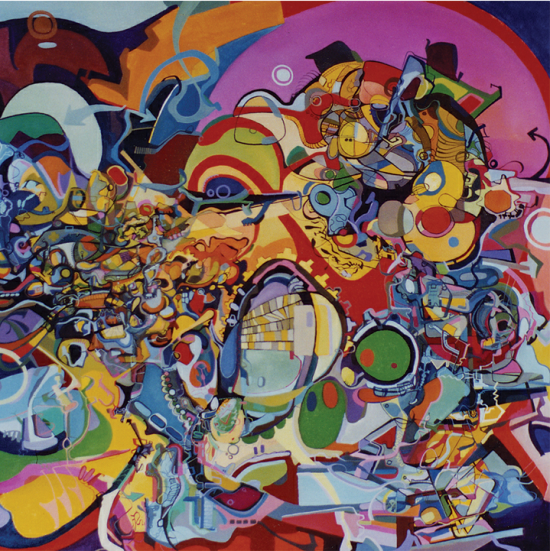 (adenine, prior work of Bartosz Majczak)
When: On view through June 30th, 2012
Where: Washington Street Art Center, 321 Washington Street, Somerville, MA 02143
How: Official Website
What/Why: "Join by Spiridoula Politis, Bartosz Majczak, and Mauro Reategui Perez as they share their experiences through visionary art. After travelling to the Amazon jungle of Peru to study plant medicine, Spiridoula brings her memories of her transformational work with a shaman into contemporary mixed media paintings using color, pattern, and mark making. Spiridoula believes "…the act of creation is a bridge to the Divine. These paintings are my version of a Yantra. I can recreate and meditate upon that deeply transformative experience I sought (and was granted) during the making of these paintings."
While in Peru, she met Mauro Reategui Perez, a painter from Pucallpa working in the style of Pablo Amaringo, his teacher and mentor. He creates lush, magical landscapes of the jungle and of the spirits within, and has graciously accepted our invitation to exhibit in the United States for the first time.
Bartosz Majczak (bartomon), spirit brother of Spiridoula, brings with him printed compositions about the meta-metaphorical language of circular and spherical topologies. "Geometry is the method and medium by which we come to know anything, everything, non-things, and nothing," he says of the inspiration behind these works. "It is the one powerful key to unlocking whole brain function—the holy grail that resolves all apparent divisions and dissolves all artifice."
——————————-
Robert Rovenolt: assemblages |Jo Ann Rothschild: drawings

(work of Robert Rovenolt)
Opening Reception: Friday June 8th, 2012 5:30-7:30 pm
Where: Gallery 535, 535 Albany st. Boston, 4th floor
How: Official Website
What/Why: "Robert Rovenolt has been a resident artist at the BCA since 1974. He received his BFA at Tyler School of Art, Temple University. During his junior year he studied abroad at Temple, Rome, Italy. He earned an MA from the University of Illinois in 1972.
This solo show features a large selection of recent collages and assemblages. A central artwork will be a memorial to the recent tragedy in Japan. The title for the exhibition refers to the transformative process he utilizes to combine common found and reclaimed materials to create new, uncommon objects.
It seems that by adding these discarded objects to the rhythm of his process, it invariably leads him to new territory – places where he wouldn't normally go. He hopes that the journey he takes will engage the viewer as well.
Even after the thirty-seven years that the fabulous South End has been his home, he continues to be amazed at the tragic and poetic juxtapositions that urban living presents on a daily basis. In response to his environment, he attempts to distill those stimuli into a tangible form.
"Art of my Time" is his mantra."
—————————–
At the Waters Edge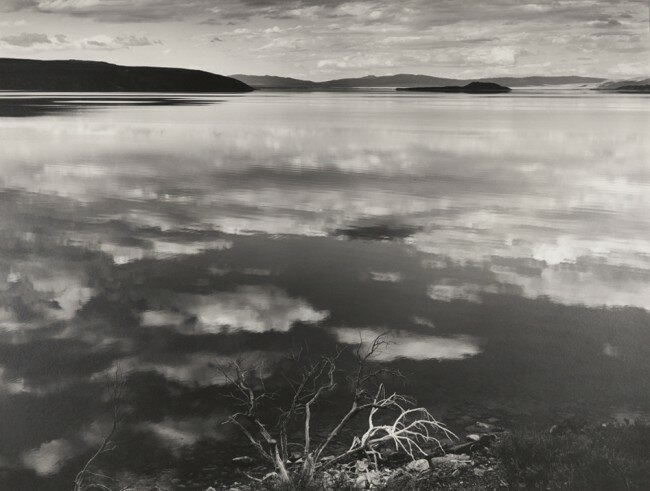 (Reflections at Mono Lake, California, 1948)
When: On view June 9th through October 8th, 2012
Where: Peabody Essex Museum, 161 Essex Street  Salem, MA 01970
How: Official Website
What/Why: "This summer, the Peabody Essex Museum (PEM) will unveil an exhibition shedding new light on one of history's most iconic and beloved photographers. Ansel Adams: At the Water's Edge features more than 100 photographs combining famous images with extraordinary lesser-known works that focus on the artist's treatment and exploration of water in all its forms. Full of energy and dynamism, Adams' photographs of seascapes, beaches, bays, tide pools, clouds and waterfalls provide a fresh perspective on the artist's celebrated career. Ansel Adams: At the Water's Edge was organized by the Peabody Essex Museum where it will be on view for its exclusive U.S. engagement from June 9 through October 8, 2012, and will then travel to the National Maritime Museum in Greenwich, UK.
"Throughout his life, Adams was drawn to the water for its visual potential, exploring where elemental forces meet," says Phillip Prodger, exhibition curator and PEM's curator of photography. "As an innovative Modernist, he explored seriality, motion and time, using a range of techniques to capture a definitively fluid and elusive substance."
In this exhibition, drawn from the Ansel Adams Archive at the Center for Creative Photography at the University of Arizona and other prominent private and institutional collections, viewers will have the opportunity to see the pictures that Adams made for himself. Both grand and intimate at turns, these personal, and sometimes experimental images express his thoughts about the natural world, and often push the boundaries between realism and abstraction. Ranging in size from 3 x 5-inch prints to 10 x 12-foot murals, many will be appearing publicly for the first time at the Peabody Essex Museum. Adams was one of the first photographers to work in the large-scale mural format which has now become standard among contemporary artists.
At the Water's Edge provides a fresh look at Ansel Adams, as well-known and beloved pictures of rugged mountains, desert landscapes, and rocky cliffs blend with sparkling, spraying, whirling waters in all of their flowing power and reflective nuance.  The undeniable attraction of water as a photographic subject captured Adams at an early age. The very first photograph Adams ever made, shown at PEM for the first time, features a watery pool at the Panama Pacific Exhibition of the 1915 World's Fair, made when Adams was just 14 years old. Over time, his lens claimed the territory between Yosemite National Park and the Pacific, as well as Hawaii and Alaska, where he shot images shown in this exhibition.
Notably, he made a powerful group of photographs of New England, the only coastal location outside of California that Adams photographed steadily. Over a course of decades, he explored the coast from Connecticut to Maine, especially in Massachusetts, making repeated trips to Cape Cod and Boston's North Shore. "
—————————–
Flash Forward Festival

When: On view through June 12th, 2012
Where: Fairmont Batterywharf, 3 Battery Wharf, Boston, MA
How: Official Website
What/Why: "Flash Forward Festival Emerging Photographers from Canada, The United Kington and the United States June 7 – 12 Five Day Festival is based at Fairmont Battery Wharf"
—————————–
Infrastruction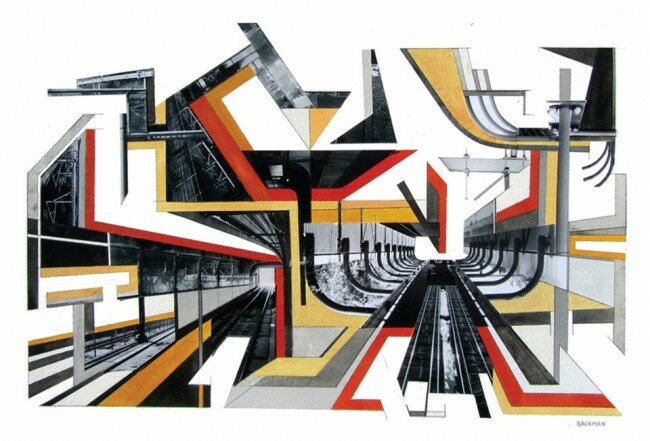 (Cut Corridor)
When: On view through June 30th, 2012
Where: Hallway Gallery, 66a South Street, Jamaica Plain, MA 02130
How: Official Website
What/Why: "Daniel Backman, a JP native now living in Oakland, California will be traveling back east for 'Infrastruction'. This solo exhibition opens June 7th and will feature collages made up of photographs he has taken (and some historical) of Boston's MBTA and surrounding areas."
—————————–
Skin Art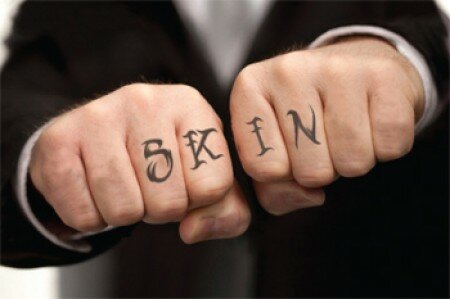 When: On view through June 30th, 2012
Opening Reception: Friday June 8th, 2012 7PM
Where: Atlantic Works Gallery, 80 Border Street, East Boston, MA 02113
How: Official Website
What/Why: "Presented by Atlantic Works Gallery featuring Chris Spuglio & Steph Arnett."
—————————–
Paper Trail
(John Randall Nelson)
When: On view through June 10th, 2012
Where: Clark Gallery, 145 Lincoln Road, PO Box 339, Lincoln, MA 01773
How: Official Website
What/Why: "Clark Gallery exhibits contemporary art in all media by emerging, mid-career and established artists from the Northeast and nationally. The gallery's exhibition program reflects a broad range of twentieth century ideas appealing to collectors and institutions with diverse interests."
—————————–
Provincetown Views

(White House with Green Chimney, Florence Leif) 
When: On view through June 23rd, 2012
Where: Acme Fine Art, 38 Newbury Street, Boston, Massachusetts
How: Official Website
What/Why: "ACME Fine Art is a gallery actively involved in buying and selling fine examples of modern American art of the Twentieth century including: fauvism, cubism, abstraction, surrealism, regionalism, abstract expressionism, post painterly abstraction, 1900-1980"
—————————–
Gang Clan Mafia

When: Thursday June 14th, 2012 , 6-8PM
Where: Museum of Fine Arts, Gallery 168, 465 Huntington Avenue  Boston, MA 02115
How: Official Website
What/Why: "Gang Clan Mafia creates improvised, live sound. It is a sound collage, landscape, journey, and conversation. Video, installation, and performance actions are used as a visual Transportation Pod."
—————————–
Do Ask Do Tell
When: On view through July 1st, 2012
Opening Reception: Saturday June 9th, 7–10pm
Where: Gallery X, 169 William St., New Bedford, MA 02740
How: Official Website
What/Why: "With the repeal of the Don't Ask, Don't Tell policy allowing lesbian and gay service members to serve openly in the military and same-sex marriage continuing to be hot political topics nation-wide, now more than ever, it's important to make the visions, experiences and opinions of gay, lesbian, bisexual, transgender, queer and questioning artists & their straight allies known in the community."
FLUX. aside: Happy Pride! x
—————————–
What did I miss? Let me know..

(Aftermath – Five FB04666196B (After John Snow), by Tabitha Vevers currently on view at Clark Gallery)
It's the weekend! 70s and sunny! Work it! ♥