opposing cartographies x visible trace x evidence to the contrary x still time
————————–
In Good Company
(Causeway, prior work by David Graeme Baker)
When: On view through June 28th, 2013
Opening Reception: Saturday June 8th, 2-5PM
Where: Quidley & Company, 38 Newbury Street, Boston, MA
How: Official Website
What/Why: "Quidley & Company is proud to present this highly-anticipated group exhibition which showcases the best of contemporary realism and impressionism.  Collectors look forward to this annual display of masterworks by 29 of the gallery's preeminent artists.  A highlight of the start of the summer season, the show challenges each artist to create, expressly for this event, an extraordinary and iconic example of his or her unique style and talent.  Join us at the opening reception this Saturday to enjoy wine and hors d'oeuvres, and be one of the first to receive this year's stunning exhibition catalog."
—————————
Lesley Cohen: Visible Trace

When: On view through June 29th, 2013
Opening Reception: Friday June 7th, 6-8:30PM
Where: Bromfield Gallery, 450 Harrison Avenue, Boston, MA 02118
How: Official Website
What/Why: "Lesley Cohen's new work acknowledges our elusive past and honors our ever-changing connections with it. 
Her charcoal and chalk pastel drawings enhance our experience of commonly overlooked artifacts—such as old fences, rusted metal and dried leaves—by transforming them into intuitive abstractions.
The erosions of the past become the treasures of the present."
Also on view..
Jemison Faust: The Before Part of What I Do

What/Why: "In the 25 years I have worked as a Personal Organizer, I have remained intrigued by each person's unique relationship to his or her "stuff" as well as its connection to what we all struggle with as we move through our lives.  As I dug down like an archaeologist through the layers of one client's life, I asked her "Why is everything dated 1985?"  Her reply: "In 1985 I got cancer, my husband left and my cat died."
During this journey through someone's home, there is always a part of me making connections to my life as an artist and looking for ways to express visually what I see and feel in this rich and complicated world.
I see a room filled with toys where the children fight and worry over lost Barbie dolls, a room that is an exuberant pile of visually gorgeous shapes but also a depressing comment on our society's serious over-consumption.  I see a pile of small packages lovingly wrapped but completely unidentifiable, the sculptural equivalent of neglect.
I feel the depression made manifest in a person's layers and layers of stuff in a home that looks trapped, wrapped up, filled up, tied up.  As one client admitted: "Nothing ever really leaves this house."
I feel the comforting quirkiness of poetry in a To Do List:
Watch salt
Heat
Lie flat no pillow
Get rid of car
So I bring back to my studio the "before" photos.  I bring back our conversations, the To Do lists, the twist ties, the solitary earring, the damaged toy, the box of computer chargers, the letters from 1870 and odd combinations of items that made sense a long time ago. From this detritus, these bits and pieces, I create two and three dimensional art works.  Each piece is either a portrait of a particular person or a portrait of some aspect of his or her life that evokes a larger issue.   Each one is informed by the memory of the journey I have taken through his or her unique life.
In this exhibition, I will be presenting 20 two dimensional collages ranging in size from 8" square to 36" x 48" as well as 10 small sculptures displayed in 12" Plexiglas cubes. 
In the spirit of giving back I am donating 5% of the money I collect from each piece to Quantum Leap, a NAPO community service program that provides organizing training to people who are welfare-vulnerable or in a welfare-to-work transition."
—————————
Paul Pescador – 6, 7, or 9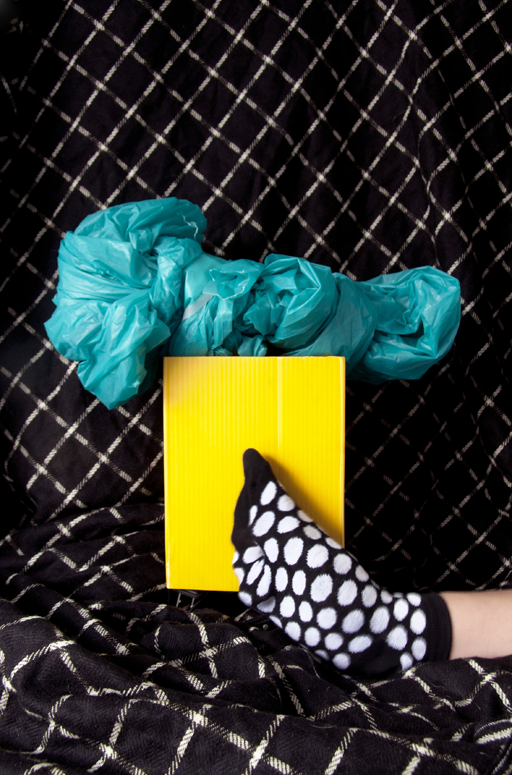 When: On view through June 15th, 2013
Where: Anthony Greaney, 450 Harrison Avenue, Boston, MA 02118
How: Official Website
What/Why: "Anthony Greaney presents Paul Pescador's first east coast solo exhibition: 6,7 or 9. This is the third part of The Number Project, which explores the relationship between numbers and social relationships. The project as a whole aligns conceptual logics and rules with day-to-day trauma and personal experiences to create photographs, artist books and films. The first part 1, 1 1/2 2(Human Resources, Los Angeles, 2011), dealt with the relationship between self and a potential other body. The second part, 3,4,5 and 8 (UC Irvine Art Gallery, 2012) dealt with various group dynamics, 3-being the smallest form of a group, 4 and 5 being domestic numbers, and 8-being an orgy of bodies. 6,7 or 9 (2013) exists somewhere in between 5 and 8, creating artwork that disjoints the chronology of the project. 
Pescador photographs materials such as construction paper, yarn, and other everyday objects. The resulting photographs are collaged and re-photographed multiple times so that the constructed bodies and backdrops merge into each other. The final photographs function like headshots of collaged figurines. 
Accompanying the exhibition is a narrative film which will screen hourly. Pescador uses different personal relationships as the subject matter of the film, these relationships vary from the domestic to anonymous strangers. The film cross cuts between these different social dynamics which intertwine into each other and often collide. The images in the film are created out of brightly colored dioramas in visual a vocabulary similar to the photographs. These playful images contrast the serious subjects matter, producing a world that appears playful but also dark in tone. "
—————————
Cobi Moules- Playing With Myself, Again

(Untitled(Pigs) note: prior work)
When: On view through July 13th, 2013
Opening Reception: Friday June 7th, 5:30-7:30PM
Where: Carroll and Sons, 450 Harrison Avenue, Boston, MA 02118
How: Official Website
Also on view..
Robin Dash- In Plain Air

(Turnover 2, note: prior work)
—————————
Group Show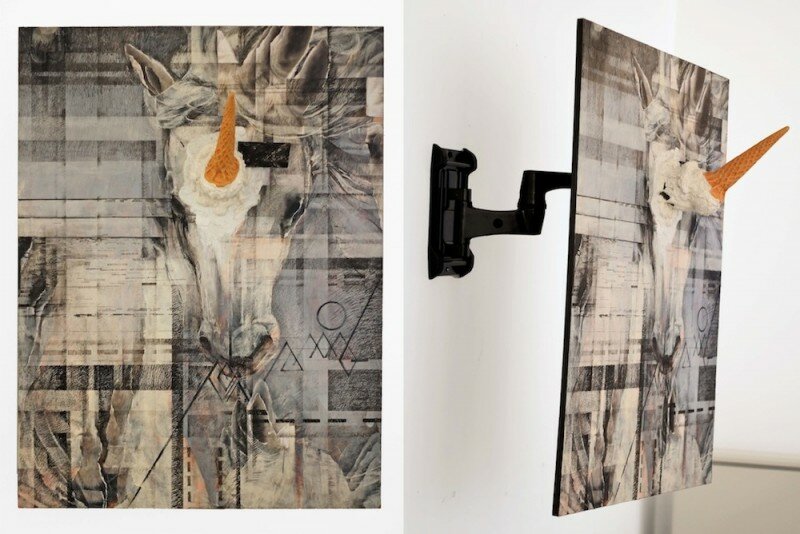 (Formaning, Rune Olsen)
When: On view through July 27th, 2013
Where: Samsøn Projects, 450 Harrison Avenue, Boston, MA 02118
How: Official Website
What/Why: "Nicole Cherubini, Mark Cooper, Craig Drennen, Jeffrey Gibson, Gabriel Martinez, Rune Olsen, Todd Pavlisko, Suzannah Sinclair, Matt Rich, Steve Locke, and Summer Wheat" 
—————————
Maggie Stark: Still Time

(Wall Play #3)
When: On view through June 22nd, 2013
Where: Gallery Kayafas, 450 Harrison Avenue, Boston, MA 02118
How: Official Website
—————————
Marking Time

(Lattice)
When: On view through June 8th, 2013
Opening Reception: Friday June 7th, 5:30PM
Where: Steven Zevitas, 450 Harrison Avenue, Boston, MA 02118
How: Official Website
What/Why: "Astrid Bowlby, Jacob El Hanani, David X. Levine, Julie Miller, James Siena"
—————————
Blazoning Arms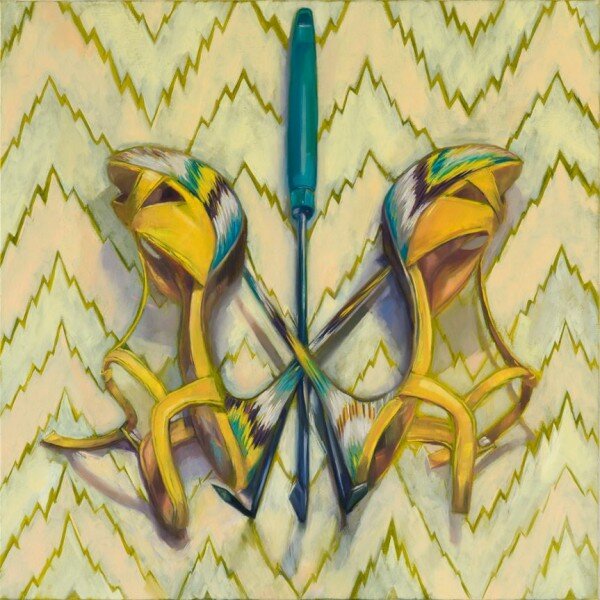 When: On view through
Opening Reception: Friday June 7th, 6-8PM
Where: Howard Yezerski, 460 Harrison Avenue, Boston, MA 02118
How: Official Website
What/Why: "Much of Ariel Freiberg's work uses mimicry to explore the tension between sexuality in the external world and internal human narratives. Recently, her paintings have been inspired by collages and found objects such as shoes and gardening tools. Freiberg's paintings pairing shoes and gardening tools are based on heraldry framework. Heraldry – the art and technique of creating symbols of achievement, status and clan – was and is a historical form representing protocol and duties of officers of arms.
By subverting the language of heraldry, Freiberg finds meaning and reference to the body with the pairing of these unexpected forms. The hyper feminine high heel shoes signal female sexuality as seen in our consumerist culture. In practice, the gardening tools would be used to oxygenate the soil, working the surface to make fertile ground. The ground on which the shoes and tools lie is like a skin which has been scarred and grazed. The chevron patterns are typical in heraldic forms. The use of the chevron within the paintings is akin to a heartbeat or pulse, animated by the cultivator or trowel.
For Freiberg, painting the surface, as well as the illusion of heeled shoes and gardening tools, reorders the architecture and codes we associate with these dissimilar forms. The merging of these forms speaks to personal desire, the politics of sex and our historical selves."
—————————
Elise Wagner – Opposing Cartographies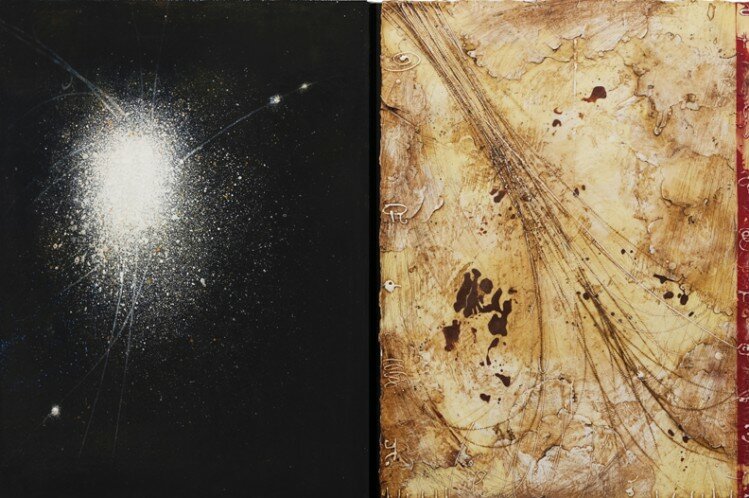 (Opposing Cartography 1)
When: On view through June 30th, 2013
Opening Reception: Friday June 7th, 6-8PM
Where: Chase Young Gallery, 450 Harrison Avenue, Boston, MA 02118
How: Official Website
What/Why: "Using the subjects of physics, cartography, and astronomy to construct a broad conceptual framework, I create work that probes emergent mysteries in scientific exploration.
Steeped in the conceptual framework, Opposing Cartographies addresses my creative impulse to combine contrasting elements that loosely interpret scientific discovery and various related symbols and images. The paintings are intended to be allegorical — depicting illusory worlds containing what we cannot quite see or have yet to fully understand. Atmosphere is used in the work as a metaphor for transitions: where things end, where they transform, and where they begin again.
One added challenge in working within the conceptual framework for this particular body of work was to combine oil painting with encuastic in a way that would be striking, energetic and visually fluid. The task at hand was to juxtopose the two mediums in order to bring to light the theme of opposition.
Upon vieiwing these paintings and the illusory world illustrated within them, one may be left with feelings of unease, fascination and a sense of the mysterious." -from the artist statement
—————————
Rural Roots

(Winter Sundae)
When: On view through June 30th, 2013
Opening Reception: Friday June 7th, 6-8PM
Where: Galatea Fine Art, 460B Harrison Ave., #B-6
How: Official Website
What/Why: "My work is a visual journey, one of fantasy and play. It embodies feelings of joy, tranquility, solitude and simplicity. Some images speak to both the vastness of nature and the frailty of living things, while others reflect sharp contrasts and visual tensions. It celebrates natural surroundings and invites viewers to ponder their own intersections with the environment. Each of my images starts with a big idea such as the contour of the land, the effect of the elements on land and life, the power of the sky, the strength of benign beasts and the tenacity of individuals. With the subject established I reconstruct nature by infusing it with all that is needed to communicate the mood and power of the subject at the time it was first encountered.
Photography is the medium that brings to life the imaginings and response I have from encounters with commonplace things. In their complexity, I intend my manipulated images to go beyond representation and ignite emotional and visceral reactions. Repeated, expanded, and embellished iconic images appear in the digital montages I create from my photographs. With concentration on natural and built objects, I deconstruct and transform reality from its mundane appearance to complex images that represent the essence of the subject. I find relevant the words of Paul Klee: "Art does not imitate the visual, it makes visual." – Dorothy Pilla
—————————
10 Artists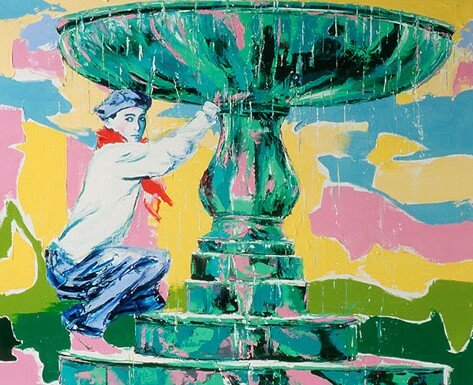 (Tristan Govignon)
When: On view through June 30th, 2013
Where: Adelson Gallery, 520 Harrison Ave, Boston, MA 02118
How: Official Website
What/Why: "Featuring the works of Tyson Andree – Sam Earle – Esther Garcia Eder, Jason Gluskin – Tristan Govignon – Ian Hughes – Kencaid
Carmen Sasso – Jeff Smith – Mark Steel"
—————————
Sharon Pierce: Clearly

(Untitled)
When: On view through June 30th, 2013
Opening Reception: Friday June 7th, 5:30-7:30PM
Where: Kingston Gallery, 450 Harrison Avenue, Boston, MA 02118
How: Official Website
Also on view..
Jeanne Griffin: Impression
(Dreamscape)
—————————
Andy Zimmermann: 

Day

(Either Nor, prior work by Andy Zimmermann)
When: On view through June 16th, 2013
Opening Reception: Friday June 7th, 5-8 pm
Where: Boston Sculptors Gallery, 486 Harrison Ave, Boston, MA 02118
How: Official Website
What/Why: "Andy Zimmermann's new works are sculptures with photographs on the surfaces. On several of the pieces the photographic images are distorted, stretched out. Called anamorphic distortion, this technique makes an image appear to lie flat on a 'virtual' flat plane behind the tilted plane on which it actually sits. This effect tends to emphasize the illusion of pictorial space. We look 'through' a picture plane into the world behind it.The large sculpture, TeleView, makes the most dramatic use of the technique of anamorphic distortion. It consists of three sections. The middle element of the sculpture, which connects the floor-sculpture element to the wall-sculpture element, has images on the surface which are exremely distorted. When the viewer stands at a certain spot at the end of the sculpture, the photo is foreshortened, and the image appears continuous with the image on the wall. The anamorphic aspect in these pieces is most pronounced in TeleView, but it is also at play in the other sculptures.Beyond being experiments in visual perception, the sculptures are lyrical configurations made of segments and fragments of images of photographed scenes, arranged into abstract compositions. As sculptures, they play between being wall-mounted sculptures and fully threedimensional floor pieces. This pushes further the paradox of an image as a thing; an object in this world, at the same time as it is a window into another world."
Also on view..
Margaret Swan: Layers of Time
 (Window Ledge)
What/Why: "Layers of Time, Margaret Swan's exhibition of new concrete sculpture at Boston Sculptors Gallery opens on Wednesday, May 15 and continues through Sunday, June 16, 2013. The public is invited to an opening reception on Saturday, June 1 from 4-6 pm and a SOWA First Friday reception on June 7 from 5-8 pm. All receptions are free and open to the public. Boston Sculptors Gallery is open Wednesday through Sunday from 12 to 6 p.m. Swan's new sculpture is a departure from her work in sheet metal, her principle medium for many years. Inspired by the water-worn rocky coast that time and tides have eroded at the mouth of the Bay of Fundy, Swan creates layering planes of light and shadow in her concrete wall and floor sculptures. Working over laminated and carved polystyrene armatures, she sculpts the surfaces with dark pigmented concrete that is patinated with washes of of iron and copper sulfates to create rich earth tones. Window Ledge, pictured on the announcement, is one of a series of piecesthat emphasizes the harder rock framework that resists the tides leaving mysterious windows, caves, and chasms. Intrigued by seeing these water filled cavities along the coast, Swan envisions these enclosures as windows to the sea itself."
—————————
The Elephant in the Room

(Intrepid, prior work by Binnie Birstein)
When: On view through June 30th, 2013
Opening Reception: Friday June 7th, 5:30 – 8:00pm
Where: Laconia Gallery, 433 Harrison Ave, Boston, MA 02118
How: Official Website
What/Why: "Laconia Gallery is proud to present 17 artists from around the country who work in encaustic and infuse their artwork with meaning and substance.  May 30 – June 30, 2013.
The artists are:  Tracey Adams, Binnie Birstein, David A. Clark, Linda Cordner, Milisa Galazzi, Jane Guthridge, Lynette Haggard, Howard Hersh, Deborah Kapoor, Joanne Mattera, Catherine Nash, Nancy Natale, Lisa Pressman, Lynda Ray, Marybeth Rothman, Toby Sisson, Gregory Wright
A catalog has been produced for the exhibition which features statements from the artists focused on the content, narrative, expressive gesture or other references outside the work and not primarily on the process or medium. Available from the link below.
The Elephant in the Room for this exhibition is wax, the less obvious connection between the many very different themes, content and aesthetics expressed by each artist. The artists chosen challenge the very definition of traditional encaustic painting by cutting, collaging, layering, using photographic imagery and ingeniously re-interpreting the medium itself. The connection between various artists to the luminescent, semi-transparent beeswax, resin and pigment medium known for centuries for its ability to present glowing, rich color is revealed through examples that apply that color to many different tasks. Landscapes and abstract works use subtle coloration while signage inspired designs and frenetic linear works employ color for more energetic purposes. All in all the versatility of a classic material is updated and investigated in this group exhibition of contemporary artists from around the country."
—————————
UMass Dartmouth College of Visual and Performing Arts – MFA Thesis Exhibition

(Partially, Charity May Henderson)
When: On view through June 30th, 2013
Opening Reception: Friday June 7th, 6-8PM
Where: Soprafina Gallery, 55 Thayer Street, Boston, MA 02118
How: Official Website
What/Why: "The UMass Dartmouth 2013 MFA Thesis Exhibition is a much anticipated and celebrated annual event showcasing the artwork of graduating students from the College of Visual and Performing Arts. This show presents a selection of work from 17 MFA degree candidates and opens during First Friday in Boston's SoWa district's Soprafina Gallery on June 7, 2013.The exhibition presents the culmination of students' two to three years of creative research in a variety of visual arts disciplines while celebrating their attainment of a Master of Fine Arts degree.On display is a diverse array of media, from traditional to contemporary with everything from painting, drawing, printmaking, photography, to sculpture and jewelry – all used in ways that are serious, questioning, and at times, playful. A wide variety of materials have been utilized to express not only artistic concerns, but issues of identity, fragility, balance, and futility such as textiles, wood, clay, carved bones, and interactive digital books."
—————————
ICA First Fridays: Summer Block Party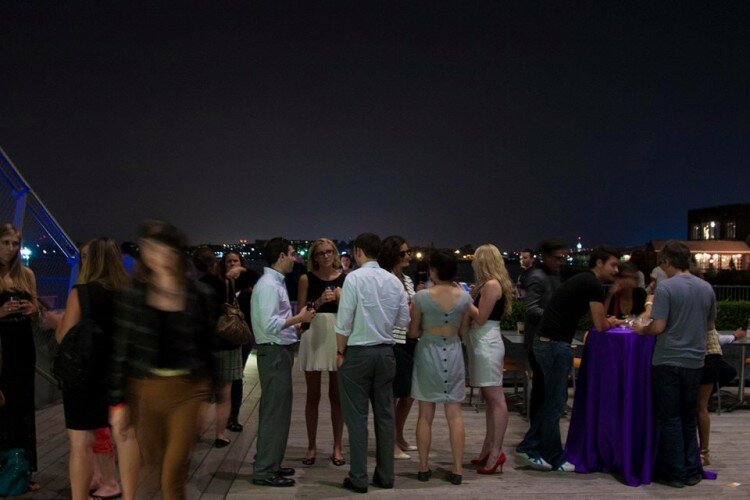 When: Friday June 7th, 5-10PM
Where: ICA Boston, 100 Northern Ave, Boston, Massachusetts 02210
How: Official Website
Cost: $15. Get tickets here.
What/Why: "To celebrate the start of the summer season, First Fridays moves onto the waterfront for outdoor games and music. Island Creek Oysters (ICO) will launch their new Pop-Up Oyster Bar at the ICA—which will continue on Fridays throughout the summer. Enjoy tours of our current exhibitions as well as an art-making demonstration inspired by the work in Barry McGee. Music by DJs Leah V and Silent Partner. Artist-designed mini golf greens by Maria Molteni and Pat Falco."
—————————
Evidence to the Contrary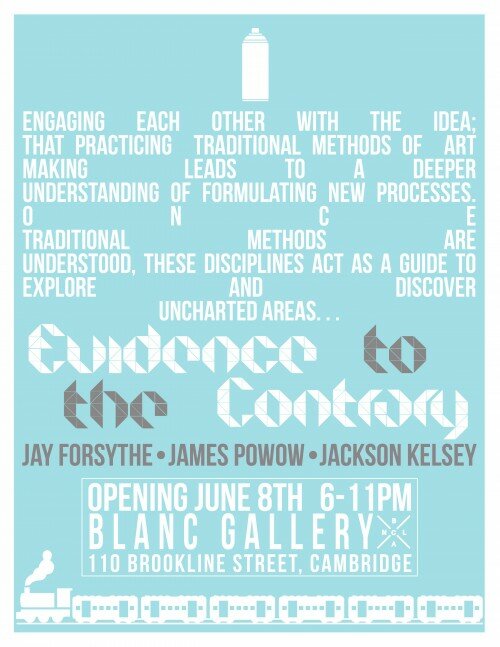 Opening Reception: Saturday June 8th, 2013 6-11PM
Where: Blanc Gallery, 110 Brookline Street, Cambridge, MA 02139
How: Official Website
—————————
Off the Wall

(Wrangler 1, Matthew King)
When: On view through August 4th, 2013
Opening Reception: Saturday June 8th, 6:30-9pm
Where: Danforth Art Museum,123 Union Ave., Framingham, MA
How: Official Website
What/Why: "Each year the Danforth Art's Juried Exhibitions showcase new and exciting contemporary work created by both emerging and established member artists. Juried annually by a renowned curator, Off the Wall communicates a unique curatorial vision, and has been reviewed in Art New England, artscope, The Boston Globe, Boston Phoenixand in numerous on-line publications. It also receives wide-spread attention from curators and gallery owners, and is visited by a growing number of collectors who have the opportunity to purchase original work"
—————————
New Talent

(From the series 'Thin Cities', Unum Babar)
When: On view through July 3rd, 2013
Opening Reception: Saturday June 8th, 3-5PM
Where: Alpha Gallery, 37 Newbury Street, Boston, MA
How: Official Website
What/Why: "Alpha Gallery was founded in 1967 with a mission to represent the best of contemporary art in the Boston area. Over the years, the gallery repertoire has expanded to include artists from other areas of the country, as well as modern master prints and American masters of the 20th century.    
The gallery exhibits work ranging from representation to pure abstraction. It is our belief that an artist's work should be judged on its own terms and that one can have strong responses to a variety of aesthetic approaches. Although the primary focus is on painting, we carry works on paper and mixed media, and sculpture as well.   "
—————————
Two Views

(prior work by Carmen Sasso)
When: On view through June 30th, 2013
Where: Atlantic Works Gallery, 80 Border Street, East Boston, MA
How: Official Website
What/Why: "On display for the month of June, artists Carmen Sasso and X Bonnie Woods bring us two views of the chaotic and explosive  processes of life.
Woods uses sumi ink in her QR code series."Sumi, a dense black Asian ink, has hardly seen use in the U.S. This explosive stuff has a life of its own, yet it's the most elegant medium I've ever known."
Sasso writes, "I listen with intent to a timeless call. Primordial. I strive to let intuition, instinct and sublime reasoning guide my artistic experience. I do not re-create nature. I try to harness the forces that make planets spin, wolves howl, and animals pay attention."
—————————
Showstoppers
(Watermelon Radishes, Paulette Tavormina)
When: On view through June 29th, 2013
Opening Reception: Friday June 7th, 5:30 – 7:30 PM
Where: Ars Libri, 500 Harrison Ave, Boston, MA
How: Official Website
What/Why: "The summer exhibition schedule opens with Showstoppers, a group show highlighting the photographers whose work made a splash at Paris Photo 2012, The Armory Show – Modern 2013, and The Aipad Photography Show New York 2013. Included in the exhibition are Paulette Tavormina, Cig Harvey, Jessica Backhaus, Bill Jacobson, and Gregory Vershbow. Showstoppers will begin at Ars Libri on June 7, as part of SOWA's First Fridays, and run through June 29."
—————————-
Say Hi:
Today's Headlines: June 7th is Free Donut Day!!!
Oh. And it's also BofA's 'Museums on Us' Weekend.
Enjoy! ♥