magic moments x translucencies x show of hands x tribute  
—————————————-
Highland Free Fun Fridays

(Stream, Sea, Clouds, Rodeo Lagoon, Marin County, California, Ansel Adams currently on view at Peabody Essex Museum)
"Free fun fridays invites Massachusetts residents and tourists to visit designated cultural attractions every Friday this summer with free admission. No registration or tickets required. Visit and enjoy!"
Free attractions for June 29th, 2012:
Tanglewood
Isabella Stewart Gardner Museum
Peabody Essex Museum
Heritage Museums & Gardens
Museum of African American History
———————
Phototrop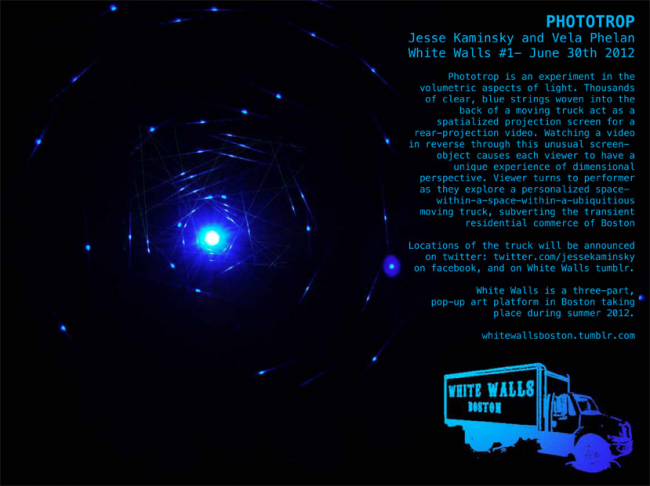 When: Saturday June 30th, 2012
Where: 8:00-9:00pm – +42° 21′ 28.85″, -71° 6′ 5.67″
9:30-10:30pm – +42° 21′ 44.30″, -71° 5′ 55.39″
11:00-midnight – +42° 21′ 24.97″, -71° 8′ 19.23″
12:30-later – +42° 18′ 38.65″, -71° 6′ 22.04″
How: Official Website
What/Why: "I'm very excited to be participating in this project:  White Walls Boston is a pop-up platform for artists in Boston to engage with an audience in a forum far outside traditional galleries using rented trucks as an autonomous exhibition space.
Phototop by Jesse Kaminsky and Vela Phelan on June 30th (this Saturday!). Phototrop is an experiment in the volumetric aspects of light. Thousands of clear, blue strings woven into the back of a moving truck act as a spatialized projection screen for a rear-projection video. Watching a video in reverse through this unusual screen object causes each viewer to have a unique experience of dimensional perspective. Viewer turns to performer as they explore a personalized space-within-a-space-within-a-ubiquitous moving truck, subverting the transient residential commerce of Boston.
Times and locations in the Boston area for Saturday afternoon and evening will be announced the day before the event on the White Walls Boston Website, the White Walls Facebook page and on twitter at twitter.com/jessekaminsky
Other artists included in the series will be Maria Molteni and friends August 4th and 5th and Shane Butler and friends September 1st. Stay tuned for more information about those shows and all the awesome artists who are involved in this project!"
White Walls Boston has been made possible by a grant from the Berwick Research Institute and by people like you…"-Vela Phelan
—————————————————-
Marblehead Festival of Arts
When: Saturday, June 30th, 2012
Where: Abbot Hall 188 Washington Street, Marblehead MA
How: Official Website
What/Why: "Visit Marblehead for their five day art Festival. Walk through the popular Artisans' Marketplace, listen to various musical acts, build a model boat, fly a kite, and see much more. Visit their website for a detailed schedule of the events."
———————
Magic Moments-Ackroyd & Harvey 
(Growing Script)
When: On view through July 2nd, 2012
Where: Isabella Stewart Gardner Museum, 280 Palace Road  Boston, MA 02115
How: Official Website
What/Why: "Many Gardner Museum Artists-in-Residence work in the medium of film, video, and digital projection. During the summer months, the Museum will present a selection of nine projections in the Special Exhibition Gallery. Ranging in length from just a few minutes to almost an hour, the works will be shown in a continuous loop during open hours, highlighting a different work each week and providing a unique opportunity to view these works."
———————
An Evening of Film

When: Sunday, July 1st, 2012, 8:00- 10:30pm
Where:  Crocker Park, 11 Front Street, Marblehead MA
How: Official Website
What/Why: "The Marblehead Festival of Arts always-anticipated Film Festival will screen rwelve short films, ranging in length from 1:36 minutes to 17:28 minutes. Of the many films and videos submitted for this annual competition, only 12 entries were chosen from the Narrative, Documentary, Experimental/Performance and Animation categories."
———————
The Work of Jackie Reeves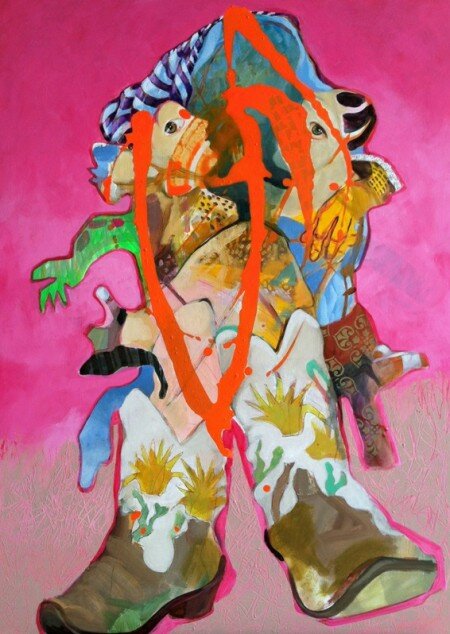 When: On view through July 20th, 2012
Where: NK Gallery, 450 Harrison Avenue, Boston, MA 02118
How: Official Website
What/Why: "My work is rooted in my day to day experiences as a mother and artist raising three adolescent daughters. I'm interested in times of transition when things are moving from one stage of development to the next (in life and in the making of art).
I use materials and processes that show evidence of chance and spontaneity. Whether it's spills of paint on canvas, pooling watercolor on mylar or ink bleeding into rice paper, the unpredictable outcome becomes the playground where I bring abstract and figurative elements together to co-mingling in a space."
———————
Super Precious Art Gallery Tribute to Blockbuster Movies

When: Monday July 2nd, 2012  6:30PM-9:30PM
Where: Trina's Starlite Lounge, 3 Beacon Street, Somerville, Massachusetts 02143
How: Official Website
What/Why: "Summer is the perfect time for a popcorn movie, something short on plot and long on action. Big budgets and big explosions. On July 2nd, Super Precious Art Gallery will be paying tribute to summer movies and blockbusters of all stripes at Trina's Starlite Lounge in Somerville. There will be movie inspired art from 10-15 artists, $2 beers from our friends at Notch Brewing, and a general low-key good time on the Monday before 4th of July."
———————
The Work of Joshua Meyer

(Show of Hands)
When: On view through July 12th, 2012
Where: Rice Polak Gallery, 430 Commercial Street Provincetown, MA 02657
How: Official Website
What/Why: "Joshua Meyer has shown his work all around the the world, and has received numerous honors and awards including the Massachusetts Cultural Council award. His energetic swipes of paint are layered with a palette knife. Meyer creates human forms that seem to emerge and then disappear from behind a chaotic, water-like veil. These roughly realized paintings have a primitive energy that makes them as much about the physical process of painting as about the figural identity of the imagery. His surfaces are loaded with paint. They reveal the artistic process while involving the viewer in each artistic decision along the way… whether they know it or not."
Also on view..
The Work of Brian Keith Stephens

(Boy with chicken and love all around)
What/Why: "Brian Keith Stephens' paintings are executed with great elegance and a true understanding of the act of painting. Stephens attended the Academie de la Grande Chaumier in Paris and recently received a Masters of Fine Art in Painting from the City College of New York. Drawing inspiration from his surroundings his subjects are the familiar figures of farm animals and people, their presence suggesting a lingering thought, trapped beneath layers of rich color. Stephens uses oil paints as a sculptural medium imbedding shapes into the impasto and emphasizing each brush stroke. His backgrounds are sometimes abstract blends of colors created with varying levels of paint thickness that allow the canvas or under-painting to be revealed. His paintings explore a world of emotion filled with passion, fear, romance and nostalgia."
———————
I Don't Love NY
(Airmerica, Charles Bignon)
When: Friday June 29th, 2012 7-10:30PM
Where: La Factoria del Color, 15 Channel Center St., Boston, Massachusetts 02210
How: Official Website
What/Why: "The artist has turned to his masters and to the styles that had remained for so many years into his fresh and stimulating memory; from White Trash to the traditional art, from comics to television and advertising, from informality to pop art and modern myths, abstract expressionism and graffiti, urban art, supposedly non-conformist, easy to read, radiating energy.
The conducting thread starts when we traveled to New York in December, 2008. The search for the low culture at the districts in contrast to the intellectual culture in Manhattan. It is precisely that paradox of attraction and repulsion in those spaces that gives birth to this idea, the secret delight that emerges when living in such a city. Then, the need to make a challenge to civilization arises"-Yajaira Grao Moral, Writer and Artist
———————
Things Like Time

(Max and Flower)
When: On view through July 1st, 2012
Where: AMP: Art Market Provincetown, 148 Commercial Street, No. 1, Provincetown MA 02657
How: Official Website
What/Why: "Suara Welitoff creates "mechanical watercolors" in her mesmerizing videos. Looping simple actions from mostly found footage, Welitoff modifies their color into her now-signature monochromatic palettes. Through editing, Welitoff adapts and reclaims historic and digital images as her own translations of artistic vision."
Also on view..
Translucencies
(Untitled, Untitled, Field of Depth)
What/Why: "Richard Dorff is primarily interested in the space that his work occupies and how that space and the objects themselves interact. By making these connections, primarily through placement and lighting he has transformed the historic home of high-line fisherman Capt. Frank Gaspa into a space that one might have not have intuited it could become. Using a variety of mediums, he has created an environment of works with their own inner space that extends beyond their physical dimensions. His exploration of space and objects, light and perception transports the viewer into a world of his own making.
Referring back to childhood experiences often spent alone in his room, where the main activity was to recreate the space around him physically and to create new imaginary spaces within his mind, Dorff continues to investigate and metaphorically stretch the confines of a given dimension."
———————
Corner Piece No. 2, Sol Lewitt. As a Blingee. Genius.
Happy 4th! ♥