It's about time.
field of schemes x stirring the waters x everything changes everything x it might get better 
————————————
 Stirring the Waters | Between Two Bodies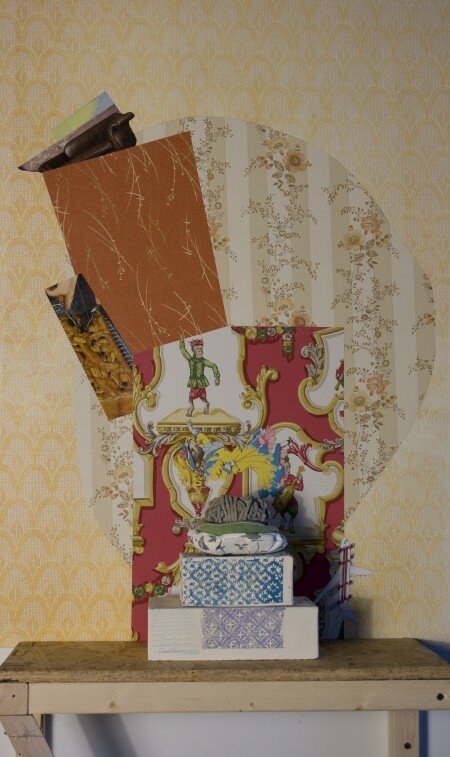 (Love Another More Than Vice Versa, Elizabeth Emery)
When: On view through August 12th, 2012
Opening Reception: July 26th, 5:30-8:30PM
Where: Boston Sculptors Gallery, 486 Harrison Avenue, Boston, MA 02118
How: Official Website
What/Why: "Stirring the Waters | Between Two Bodies is the first joint venture and exhibition exchange between The Sculpture Center of Cleveland and the Boston Sculptors Gallery in downtown Boston. This exhibition will bring the works of 10 Boston sculptors to Cleveland and those of 12 Northeast Ohio artists to Boston in order to introduce visitors to the quality and variety of sculptural production in the two regions. The exhibitions successfully speak to the artists' own regional and cultural backgrounds and, more broadly, to the range of the aesthetic and conceptual concerns of contemporary sculpture in the post-modern age.
Paramount to the concerns of much contemporary sculpture is a deliberate breaking down of any hierarchy regarding the mechanisms and organization of artistic creations. Many of the works shown in Stirring the Waters | Between Two Bodies exhibit these creative tendencies, and there is a notable presence of works produced using nontraditional materials. Curator Ann Albano and advisor Robert Thurmer noted the high quality of the production techniques of the Boston Sculptors Gallery's artists, a bias towards repurposing of "found" domestic objects, and a proclivity for sophisticated whimsy or double entendre that extends to irony, as well as a concern for personal and environmental issues. For the Cleveland artists there is a notable use of common construction materials, such as plywood, plaster, roofing tar, and sand, combined with other media and markedly non-high art materials to convey abstract concepts."
———————
Highland Free Fun Fridays

(Willian Bouguereau, Nymphs and Satyr on view at The Clark Institute )
"Free fun fridays invites Massachusetts residents and tourists to visit designated cultural attractions every Friday this summer with free admission. No registration or tickets required. Visit and enjoy!"
Free attractions for July 6th, 2012:
BOSTON CHILDREN'S MUSEUM
STONE ZOO
CAPE COD MUSEUM OF ART
WENHAM MUSEUM
STERLING AND FRANCINE CLARK ART INSTITUTE
——————–
Intra Country: Patriotic Expressions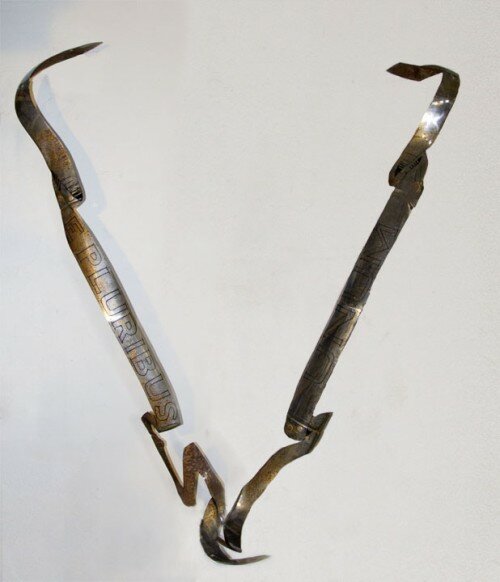 (Chrome Piece, 1956, Ben Sloat)
When: July 6th – August 11th, 2012
Opening Reception: Friday July 6th, 5:30-8:30PM
Where: Gallery Kayafas, 450 Harrison Avenue, Boston, MA 02118
How: Official Website
What/Why: "The exhibition addresses the responsibilities and paradoxical aspects of civic engagement, the complexity of ideological perspectives on patriotism, and speaks to the conflict of personal and private conceptions of the political.  "Patriotic" a word which can unite or divide,  especially during an election year.  What does it mean to you?  28 artists show us what it means to them.  Curated works are multidisciplinary, and include photography, video, tee shirts, sculpture, tape, and drawings.
Jules Aarons, Lucien Aigner, Karl Baden, Kevin Bubriski, Bill Chapman,Vincent Cianni, Caleb Cole, Greg Cook, Alex Pla Del Mulle, Rachelle A. Dermer, Jess T. Dugan, David Eppley, Matt Gamber, Thomas J. Gustainis, Geoff Hargadon, Charles "Teenie" Harris, Harvey Loves Harvey, Peter Kayafas, Jordan Kessler, Sarina Khan-Reddy, Steve Lambert, Roberta Paul, Lynn Saville, Jenn Sherr, Ben Sloat, Maggie Stark, Megan Kendall Weissenburger,Triiibe"
———————
Summer Vacation
When: On view July 12th – August 31st, 2012
Opening Reception: Thursday July 12th, 2012 7-9PM
Where: Distillery Gallery, 516 E 2nd St, South Boston, Massachusetts 02127
How: Official Website
What/Why: "The Distillery Gallery is pleased to announce a group exhibit of works
depicting or inspired by Summer, warm weather, and/or vacation.
Generally speaking, the gallery scene slows down during the mid-summer
months. Many commercial galleries close up altogether for some or all
of this time. The Distillery Gallery, instead of taking time off, will
exhibit the "Summer Vacation" group show.
Exhibiting artists include:
Fran Azzarto, Rory Beerits, Pat Falco, Phoebe Grip, Theresa Mackin,
Joyce McDaniel, Michal McKeown, MRNVR, Adam O'Day, Caity Vail, Beth
Redmond Walsh, Brigid Watson, Nick Ward, James Weinberg, and more TBA"
————————-
Printmania

When: Saturday July 7th, 2012 3-7PM
Where: Union Square, Somerville, Massachusetts
How: Official Website
What/Why: "The Somerville Arts Council is a fan of DIY artist, zines, print studios, a beautiful sheet of paper, screen prints, letterpress, and just about anything handmade. Papermania will be a craft fair dedicated to showing off print-lovers from all over Somerville, the greater Boston area, and beyond!
You'll see new work from Muskat Studios and a bookbinding demo courtesy of Catherine Aiello. There will also be interactive activities galore including a Super Giant Magno Comics project and a stencil-cutting workshop courtesy of local artist Meagan Mary Creamer. Fast Food Prints will also be on hand to make made-to-order prints on paper and t-shirts. But wait, there's more mania! There will be live music rocking throughout the day from local acts."
————————-
Camouflage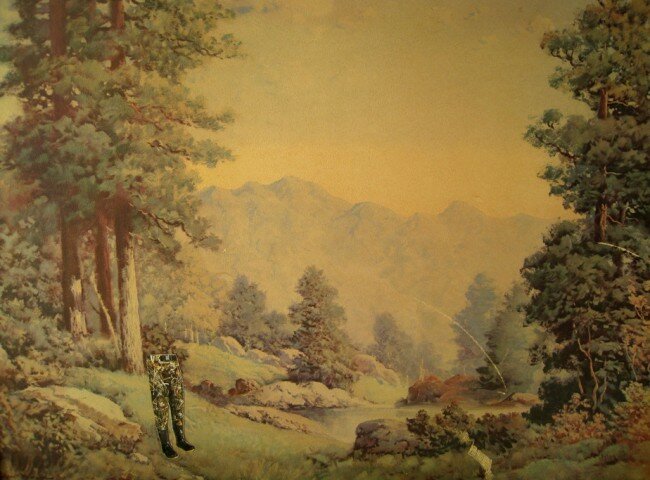 (Invisible Man)
When: On view through July 29th, 2012
Where: Aviary Gallery, 48 South Street, Jamaica Plain, MA
How: Official Website
What/Why:"I work on the skins of things, excavating histories of technology and media from the surface layers of natural and man-made objects. I use tools from the fields of the history of science and technology, media production, art history, media studies and material culture studies to analyze the production, use, and transformation of often-overlooked, even marginalized, material artifacts located at the interstices of the found and the fabricated.
Through my analysis, I break down increasingly untenable divides between production and consumption, art and technology, and invention and reuse. From camouflage netting, old clothes, decomposing vegetable matter, and other artifacts of creative repurposing, I uncover historical shifts in modern epistemologies of self, nature and representation. Through my work, I not only contribute to the academic fields in which I am based, but also provide a vital historical and creative context for present-day concerns with the engineering of sustainable environments through innovations in transformational and biomimetic technology.
Critical media practice is a working method that both guides my analytic framing and provides interpretive data. As an example, my film Blind (2009) and my site-specific installation Camoufleurs (2008) accompany the book Hide and Seek. Producing the film and the installation, as well as the feedback I received from viewers and other participants, was crucial to the development of my theoretical and historical argument."
————————-
Fuck Yeah America II! With A Vengeance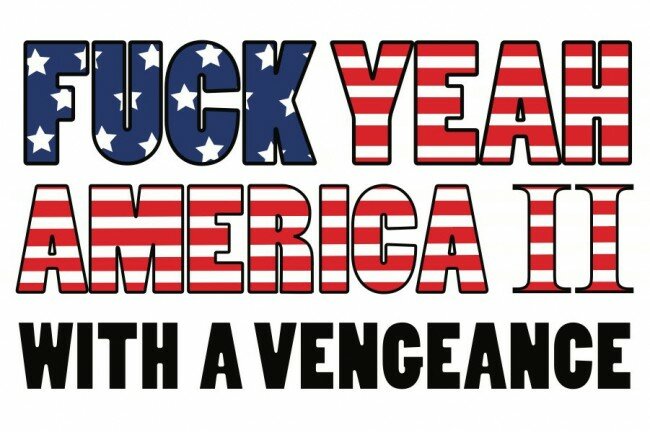 When: On view through August 4th, 2012
Opening Reception: Friday July 6th, 2012 7-10PM
Where: Lincoln Arts Project, 289 Moody St., Waltham, Massachusetts 02453
How: Official Website
What/Why: "Featuring Work From: Adam O'Day & KDONZ, Amanda Lachapelle, Andrew Fish, Bill Dunlap, Bradford Rusick, Brian Glaser, Caitlin Duennebier, Caleb Neelon, Clint Baclawski, Dave Tolmie, Fish McGill, Jamaal Eversley, Liz Linder, Patrick Peltier, Rachel Kain, Tak Toyoshima, Union Press, Wilding, Davis, & Co. Books"
————————-
Field of Schemes
When: On view through July 29th, 2012
Opening Reception: Sat. July 7, 7–10pm
Where: Gallery X, 169 William St., New Bedford, MA 02740
How: Official Website
What/Why: "As one who loves both film and baseball, I am well aware of the reference implicit in the title /A Field of Schemes/. A title that I regret I can take no credit for. My appreciation of the title also runs wild with a range of other meanings. Synonyms for /field/ include area, ground, range, scope, sweep and discipline. Those for /scheme/ include plan, procedure, design, pattern, format, and configuration. This diversity of meaning applies repeatedly to the diversity inherent in the motifs and processes of the artworks I have the pleasure of presenting in this exhibition."
————————-
Kim Faler-Everything Changes Everything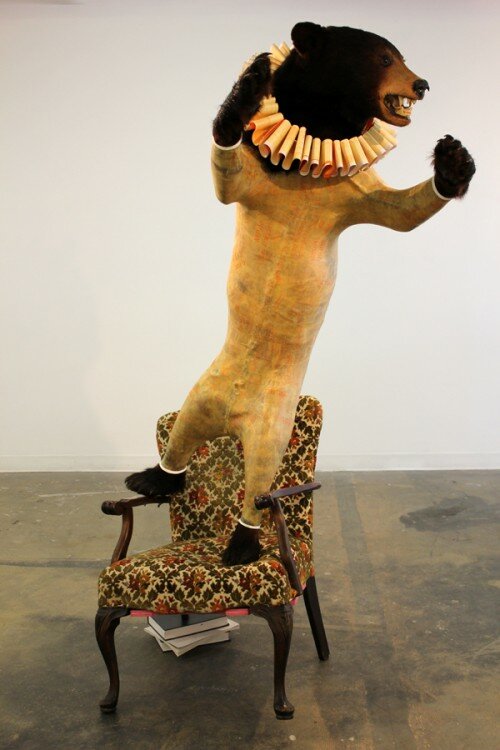 (Liberdade)
When: On view through August 17th, 2012
Where: LaMontagne Gallery, 555 E. 2nd Street / South Boston, Ma 02127
How: Official Website
What/Why: "In her sculpture, photography and drawing, Faler explores nuances of domestic space within the white cube. She takes objects such as magazines, a chain link fence, a potted plant or a taxidermied bear and re-contextualizes them by shifts in scale and material. This transformation often causes our expectations of the objects' functionality to fall apart in front of us.  Drawing a chain link fence with spool of thread alongside a pencil inherently changes the structure of the fence and allows it to behave more like an unraveled sweater rather than any sort of functional barrier.
Faler also quietly folds time up against itself in much of her work, allowing the quick and the slow to function in unison.  In Current, Faler stacks hundreds of weekly issues of the New England Journal of Medicine against the gallery wall. The structure is then dyed an intense blue at the bottom and fades to white at the top–making both the bottom and the top issues illegible to the viewer. Here, Faler plays with the notion of longevity and relevance of the constant flow of news in the medical field and beyond.
In Liberdade, Faler explores this idea further with an antique taxidermied bear covered with a hand drawn Brazilian newspaper, creating something akin to a life-size piñata.  She plays upon the relentless (and now antiquated) nature of the daily newspaper by slowing down the viewer with hand drawn headlines, pictures and captions from the July 2nd edition of the Brazilian newspaper A Tarde. The caricatured bear stands atop a velvet lined armchair- towering over the viewer for a closer inspection.
In the end, Faler's work re-explores our notions of truth, comfort and failure in the hopes of discovering something new along the way."
————————-
Vanessa Irzyk – In Light of Color

(Yellow 7)
When: On view through July 16th, 2012
Opening Reception: Saturday July 7th, 2012 5-8PM
Where: Colo Colo Gallery, 29 Centre St. New Bedford, MA 02740
How: Official Website
What/Why: "Please Join me for the opening reception of my Solo Show entitled In Light of Color, this Saturday July 7th, 5-8pm at the Colo Colo Gallery in Historic Downtown New Bedford.
The Exhibit includes my newest series of 30, 8.5" x 8.5"paintings based on 10, 18" x 24" pieces.The Series consists of 30 Red, Yellow, and Blue gradations, and explore ideas invoked in past pieces. Both the inspirational pieces and the gradation series will be displayed at the Colo Colo Gallery Through July 16th 2012."
————————
Let Me Wander In

 

Your Garden

(Artwork by John Dempcy, Aurora Canero, Bernd Haussmann, Cynthia Packard.  Image courtesy of Chase Young Gallery)
When: On view through July 29th, 2012
Opening Reception: Friday July 6th, 2012 6-8PM
Where: Chase Young Gallery, 450 Harrison Avenue, Boston, MA. 02118
How: Official Website
What/Why: "Chase Young Gallery is pleased to announce Let Me Wander in Your Garden; a group exhibition of landscape, botanical and floral inspired photographs, paintings, and sculpture. Featuring gallery artists Tom Chambers, Jeff Chase, John Dempcy, Kathryn Frund, Danna Ruth Harvey, Bernd Haussmann, Peter Hoffer, Katina Huston, Pamela Murphy, Cynthia Packard, Michael Schultheis, Nathan Wilson, Treacy Ziegler, Michael Zigmond and introducing Seattle based encaustic artist Alicia Tormey in her first Boston exhibition.  We will also feature twelve new bronze garden sculptures by Madrid based artist Aurora Canero, from her Angelito series."
————————-
Sometimes It Never Came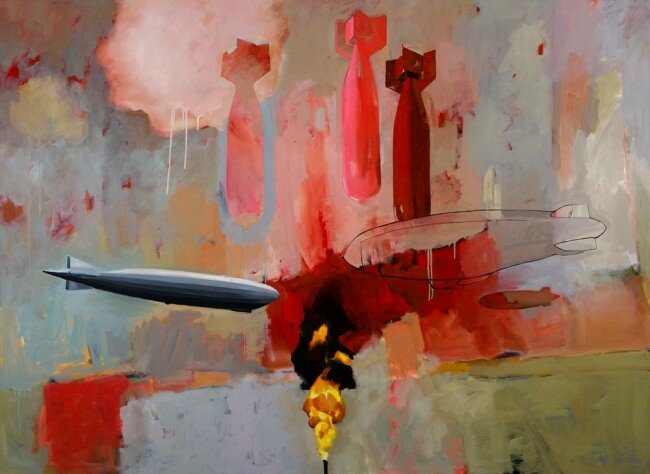 (Sometimes It Never Came)
When: On view through July 28th, 2012
Opening Reception: Friday July 6th, 6-8:30PM
Where: Bromfield Gallery, 450 Harrison Avenue, Boston, MA. 02118
How: Official Website
What/Why: "My work focuses on masculinity, dislocation and place. Since moving to Edmonton from Eastern Canada almost a decade ago, I have been struck by the transient nature of the city, as well as the inevitable tensions and changes that occur with the influx of those who flock to oil-rich provinces. This migration, although prominent in Alberta, is a global phenomenon with implications that reach beyond provincial boundaries. My paintings, while not a criticism of change or transience, are nevertheless inspired by this place and are the result of my search to understand and reference the narratives of this historical moment.
In my practice, I dissect and rework appropriated images in order to de- or re-construct the 'discourses' presented by popular media (i.e., advertisement, television, film and the Internet) around masculinity. Key questions for me are: How is the modern male identity manifested/ expressed (symbolically or emblematically)? How does the pop culture narrative affect collective consciousness? Can painting (re)envision and encourage new discourses related to these themes? 
I approach my work as a continuum, where thematic issues are raised and examined, with subtleties varying as each new body unfolds. Stylistically I cannibalize imagery that I feel is either symbolic or emblematic and recycle these parts in subsequent reworked canvases. There is often a play between figuration and abstraction in my work that, beyond betraying my interest in surface quality and paint, heightens the feeling of entering a private world where these fictions coexist. I also frequently explore the use of animal as allegory and its relation to violence as I address these overarching themes."– Julian Forrest"
Also on view..
Pat Falco and Fish McGill: "Bathroom Art"

"Featuring the revered National Hall Of Undies, "Bathroom Art" is an installation of some of the finest and most distinguished art ever displayed in a bathroom.
Pat Falco is an artist and curator from Boston. He founded and helps run Lincoln Arts Project in Waltham and is the associate director at The Distillery Gallery in South Boston. He is the self-proclaimed "Master of Light and Shadow."
Fish McGill works for Harmonix Music Systems as an artist and designer, is pursuing an MFA at MassArt's Dynamic Media Institute, and is a member of Boston Art Collective Project SF. Fish enjoys life as an artist devoted to drawing: he has received commissions for drawing and design projects by The Institute of Contemporary Art/Boston, the Boston Graphic Artist Guild, NYLON Magazine, the Berwick Institute, Massachusetts Institute of Technology (MIT), MassArt, Nike, MTV, Deitch Projects, Harmonix, IdN, Adobe, and more."
————————-
Summer Salon

(Purple Umbrellas, prior work of Eva Navarro)
When: On view through July 31st, 2012
Opening Reception: Friday July 6th, 5:30PM
Where: Soprafina Gallery, 55 Thayer Street, Boston, MA. 02118
How: Official Website
What/Why: "July's exhibition will include the works of 14 artists installed in the salon fashion. Colorful, diverse and creative paintings and works on paper, see our website for an overview of the artists work currently installed."
————————-
It Might Get Better

When: Friday July 6th, 6-8PM
Where: Anthony Greaney, 450 Harrison Avenue, Boston, MA. 02118
How: Official Website
What/Why: "Hayley Morgenstern and Creighton Baxter. "It Might Get Better" – The value of some aspects of historical gay identity– deeply ideological though they may be–have been diminished or dismissed with successive waves of liberation. Central among these is the association between homosexual love and loss–a link that, historically, has given queers insight into love's failures and impossibilities (as well as, of course, wild hopes for its future). Claiming such an association rather than disavowing it, I see the art of losing as a particularly queer art. –Heather Love, Feeling Backward: Loss and the Politics of Queer History"
————————-
Western Avenue Studios -First Saturday Open Studios

When: Saturday July 7th, 2012 12-5PM
Where: Western Avenue Studios, 22 Western Ave in historic Lowell, Massachusetts
How: Official Website
What/Why: "Join the over 200 artists of the Western Avenue Studios for First Saturday Open Studios from 12-5PM. We open our doors on the first Saturday of every month. Visit a variety of artists in their workspaces: painters, photographers, mixed media artists, jewelers, sculptors, fiber artists, potters, glassworkers, and more! Talk to artists about their process and take home art for yourself or a loved one. Parking is free and plentiful! "
————————-
 Nancy Murphy Spicer- Biking In Berlin

(Biking in Berlin 5)
When: On view through September 01, 2012
Opening Reception: Friday July 6th, 2012 – 5:30-8:30PM
Where: Carroll & Sons, 450 Harrison Avenue, Boston, MA. 02118
How: Official Website
What/Why: "This series of collaged works on paper came out of a residency in Berlin, Germany. Instead of following my original proposal for the residency, I found myself spending my days biking every day, reveling in the cycle-friendly nature of the city and taking in the sights and geography of the place in a round, physical and moving way. Rather than walk up to a building from one perspective, I would ride around and around it to get a sense of the whole. Rather than take the subway and pop up in various locations, I traversed the city arriving at my destination with a sense of the related urban terrain. The guidebook was set aside and the biking invited me to simply inhabit the city.
In tracking my trips around the city by tracing the paths on my map, I noticed quirky, random shapes emerging and decided to use those shapes to anchor a new set of drawings. Lacking paper, I decided to disassemble the guidebook itself and use its pages as the drawing surface. Secondary smaller shapes were extracted from the images on the guidebook pages, painted and replaced into the page. And some shapes were extracted and left out creating empty shapes in the drawings. So all of the shapes that comprise the drawings are from Berlin, some first drawn by the paths I cycled and others from the architecture and other elements of the city.
In making these works, my approach was consciously casual in the same spirit as the biking itself. The system I devised called for one large map shape placed relatively centrally on the page, juxtaposed with the smaller extracted shapes.
In all, this body of work is concerned with an intuitive approach using real activity and objects as elements in the making.
The color is not planned but chosen as serendipitously as the cycle routes. In some cases, the smaller shapes were painted in separate sessions from the larger shapes so the mashup of color was only apparent in the final fabrication of the drawings.
In this body of work, I am interested in drawing, physicality, intuitive responses in the moment and an intimacy both in the experience that inspired the work and in beholder's experience of the work itself. The constructed quality of the works invites nose to nose inspection. At first, the works seem like flat bits of color. On closer inspection, they reveal a funkiness and physicality which is, at once, intimate and imperfect. "
————————-
NET Work 

When: On view through July 28th, 2012
Opening Reception: Friday July 6th, 2012 5:30-7:30PM
Where: Kingston Gallery, 450 Harrison Avenue, Boston, MA. 02118
How: Official Website
What/Why: "The group of artists in this show are friends, and have a history of meeting informally in small groups to discuss each other's work. As part of these conversations, the idea of engaging in a collaborative exhibition emerged.
Here one plus one equals three, the third element being not either but both. Individual works create a network of relationships where elements of each piece visually connect and disconnect and the viewer has the opportunity to tease out conceptual and material relationships between the works. Branching, mapping and coalescing configurations evoke suggestions of the natural world, animal and anthropomorphic forms. Out of the many individual pieces, an interconnected system materializes."
Also on View..
Susan Richards: Conversations with Stones

(Grossular from Vermont)
What/Why: "My current exploration of rocks and minerals began with finding old photographs I had taken at Harvard's Natural History Museum. I decided to go back, take another look, and try to understand their nature through interpreting specimens in paint. I knew the sheer complexity of form, color and texture would challenge me in new ways and push me into new territory as an artist. Many of the specimens I chose suggest to me other phenomena in nature, floral, organic and decidedly cosmic
Midway through my first small paintings I re-discovered the poem Conversation with a Stone by Wislawa Symborska. This poem is a perfect expression of my intentions and my curiosity. My larger painting, Homage is an appreciation of Symborska's gift of supreme artistry in words. As these paintings progress I hope to discover more about myself within the divine design of these mysterious manifestations of our world."
————————-
Seven: A Performative Drawing Project 

("Glass" – Lynn Street Series, prior work of Jim Falck)
When: On view through August 3rd, 2012// Jim Falck July 9th-13th, 2012
Jim Falck: Thursday July 12, 4 – 6pm, Gallery Talk at 4:30pm
Where: Montserrat Galleries,23 Essex Street , Beverly, Massachusetts 01915
How: Official Website
What/Why: "Seven weeks, seven walls, and seven artists invited to 'draw' directly onto the gallery walls. This project highlights the performative aspects of drawing and the individual nature of each artist's process. The gallery will be open during the making of the works, effectively putting the creative process on display. In this context, the finished drawings are the residue of the performance."
————————-
The Work of Maggie Carberry

When: On view through July 31st, 2012
Opening Reception: Friday July 6th, 2012, 6-8PM
Where: Galatea Fine Art, 460B Harrison Avenue, Boston, MA 02118
How: Official Website
What/Why: "Time spent abroad has influenced my work to include themes of travel, movement and daydreaming. Whether it involves a visit to another country or my own back yard, my art begins with a camera and a journey. I am fascinated by the way printmaking processes can be used to transform a photograph. The gum transfer process in particular can break down a photograph in a way that results in a "bad print." I use a variety of media to bring these broken photographs back to life. Layers of ink, acrylic, encaustic, and collage help to turn my nostalgic images into work that suggests a passing of time.I find that repetition in architecture facilitates daydreaming much like a mandala facilitates meditation. Although meditation is a deliberate act, while daydreaming tends to be accidental, both allow you to take a break from the noise of the world in order to free your mind and ultimately refocus. I have recently begun to record what happens when my mind wanders while looking at the world around me. The images on this exhibit represent a portion of my "Daydream Dwellings" project where I am working to "re-imagine" urban landscapes, one architectural detail at a time."
————————-
Exotic Muses: Dancers by Robert Henri and Nick Cave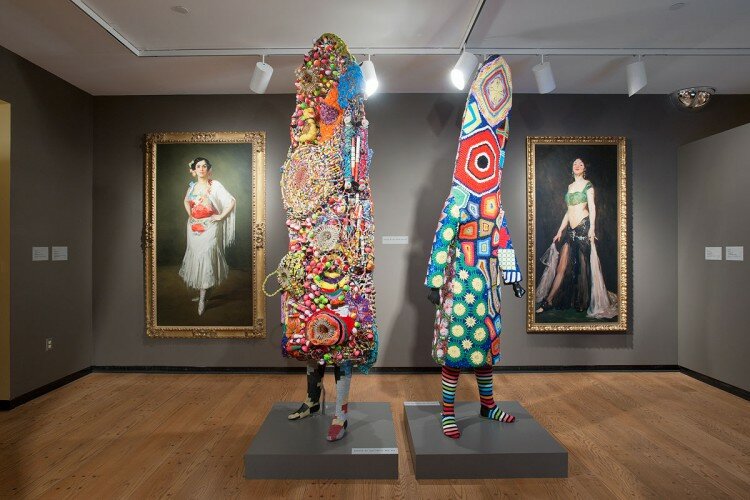 When: On view through July 8th, 2012
Where: Mead Art Museum, Amherst College, Amherst, MA 01002
How: Official Website 
What/Why: "Separated by a century, American "Ashcan" painter Robert Henri (1865–1929) and contemporary sculptor and performance artist Nick Cave (born in 1959) share a commitment to the human figure. More precisely, Henri was and Cave continues to be inspired by the bodies of dancers as emblems of unrestrained personal and cultural expression. This six-object installation, featuring a celebrated Henri painting from the Mead's collection (Salome Dancer, 1909) and loans from the Colby College Museum of Art and two private collections, explores the artists' representations of dancers as exotic "Others"—alluring, and perhaps unsettling, personifications of difference. This exhibition is supported by the Hall and Kate Peterson Fund and Harry W. and Mary Margaret Anderson."
————————-
I can't stop watching this video:
Reminders and Redundancies:
I think it's safe to return to the esplanade.
Go outside. Have fun. See great art. Stay sweet. ♥