(The photography of Lucien Aigner now on view at the DeCordova)
Tee.gee.eye.eff.
What a week. Between work/life/defiant dog I want to eat a slutty burrito at lunch to reward myself for making it through the gauntlet with only a flesh wound.
Aside from the impending guacpocalypse, I/we also have the weekend♥ to look forward to!
Buckminster Fuller Inventions:  Twelve Around One
When: January 18th 2011- February 02, 2011
Where: Barbara Krakow Gallery / 10 Newbury Street, Boston MA 02116
How: Official Website
What/Why: Non-symmetrical tension integrity structures "Already seen the show? Now you can see the plans that made the man. Inventions: Twelve Around Onepresents 13 of Fuller's concept illustrations accompanied by their photo realizations. Highlights include blueprints for a pre-fabricated, submersible island and pre-fabricated housing components. Barbara Krakow Gallery curates the life and times of Fuller: the futurist, the inventor, the verb." (writeup via Dig)
—————————————
GOOD VS EVIL! SUPERHEROES VS VILLAINS SMACKDOWN
When: Friday January 21st, 2010 6:00-8:00PM
Where: Space 242 / 242 E. Berkeley Street, 2nd Floor, Boston, MA, 02118
How: Official Website
What/Why: "Group Exhibition featuring original characters by over four dozen artists at Space 242. Boston's Low Brow Destination, proudly announces its January, 2011 exhibition: GOOD VS EEEEEVIL! Superheroes vs. Villains Smackdown. The group exhibition, on view January 28 through February 4, 2011 includes paintings, illustrations, mixed media, sculpture, and photography by over 4-dozen artists. The opening reception, Friday, January 28 runs from 6-8pm, is free and open to the public with RSVP at www.space242.com. SPACE 242's January exhibition is sponsored in part by The Weekly Dig, Artscope Magazine, Mad Mimi, Drinkmasters, and Harpoon Brewery."
—————————————
Winter Exhibitions open at DeCordova
When: January 29th 2011 –April 24th, 2011
Where: DeCordova Museum / 51 Sandy Pond Road,  Lincoln, MA 01773
How: Official Website
What/Why: Artwork shift from Fall to Winter season.  Exhibitions include the photography of Lucien Aigner, the conceptual work of Rachel Perry Welty, and Drawing with Code: Works from the Anne and Michael Spalter collection. Note: Snowshoe tours also begin the 29th at the DeCordova!
———————————-
Changing Waters: Installation by Nathalie Miebach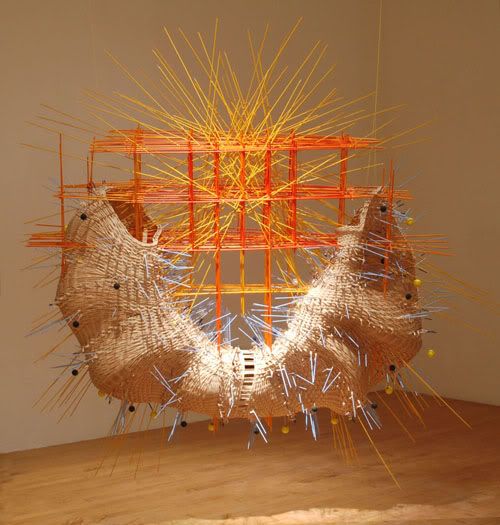 (Boston Tides(Prior Exhibition))
When: On view now through September 25th, 2011
Where: Fuller Craft Museum/ 55 Oak Street, Brockton, MA 02301
How: Official Website
What/Why: "Boston-based artist Nathalie Miebach is known for her basket weaving and structured representations of scientific data. For her installation, Miebach will create a combination of wall and suspended works based on the weather and marine environmental data collected from the Gulf of Maine.  Combining basket weaving techniques and information-graphics, Miebach creates works on the margins of craft, landscape, and representational art."
———————————————————
Probation Vacation
When: On view until January 30th, 2011
Where: Fourthwall Project / 132 Brookline Avenue, Boston MA 02215
How: Official Website
What/Why: "Probation Vacation is the long-awaited debut book by Danielle Bremner AKA UTAH and Jim Clay Harper VI AKA ETHER. Featuring 36 high-quality offset printed pages, Probation Vacation is a collection of photographs taken from Bremner and Harper's vast archive of rare images that, until now, have been viewed by only their closest confidants. For the first time ever, in the form of the Probation Vacation book and accompanying gallery exhibition, the general public will be granted an insider's glimpse into the exclusive and often inaccessible world of youthful rebellion otherwise known as graffiti."
———————————————————-
Fracturing the Burning Glass: Between Mirror and Meaning

When: On view now through April 10th, 2011
Where: MECA / 522 Congress Street / Portland, ME 04101
How: Official Website
What/Why: I'm allowed to talk about events in Maine, right? Sure.  Fracturing the Burning glass is an exhibition that examines perception through the manipulation of reflectivity, both metaphoric and corporeal. "From classical antiquity to cutting edge science, mirrors have enhanced our understanding of physical phenomena, inspired stories and superstitions, and provided a space in which to view our own image. Inherent properties of reflection are both mathematically precise and perceptually disorienting; the same light reflected in a mirror may guide a ship to safety or burn it to cinders.  Navigating the disparity between the actual and the understood, the artists in this exhibition break the plane of the mirror, suggesting that illumination comes not always from what is reflected, but from what light slips through the cracks."
—————————————-
Object Lessons
When: January 27th-February 20th, 2011
Where: Carpenter Center for the Visual Arts, Harvard University / 24 Quincy Street, Cambridge, MA 02138

How: Official Website
What/Why: "Three recent graduates from the Department of Visual and Environmental Studies will participate in Object Lessons, the first exhibition of 2011 at the Carpenter Center for the Visual Arts. The exhibition will include mixed media, video installation, an environmental work addressing the design of Carpenter Center, and a reconstruction of Le Corbusier's iconic furniture using detritus gathered from the demolition site of the Fogg Art Museum. The artists will discuss their practice and life after VES in a panel discussion, followed by the opening celebration for the exhibition."
——————————————————
Artistic Mediums II Opening Reception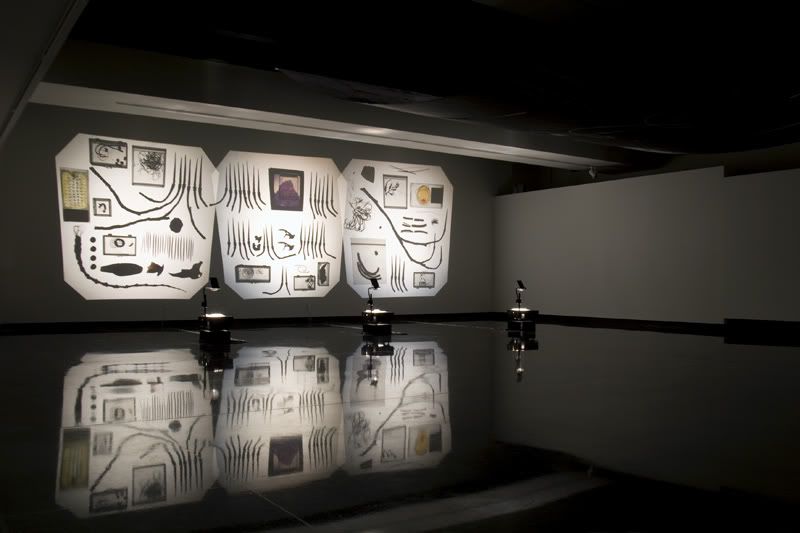 (Towards a vast reservoir of comets(prior exhibition), Paul Catanese)
When: Friday January 28th, 2011 6:00-8:00PM
Where: New Art Center/ 61 Washington Park, Newton, MA 02460
How: Official Website
What/Why: An "art and technology" show that features the artwork of thirteen artists, this exhibition explores the idea of the artist as medium – one who channels ideas and expresses them through the manipulation of the "invisible", of electricity, ideas, even ghosts.
———————————————-
Members Juried I: Painting and Sculpture

(Girl With A Black Cat, Charlotte Gibbs)
When: On view through February 6th 2011
Where: Concord Art Association/  37 Lexington Road, Concord, MA 01742
How: Official Website
What/Why: Members Juried I: Painting and Sculpture is our annual members competition and exhibit showcasing work in painting and sculpture.
———————————————————
(United,Jean-Pierre Hébert on view at DeCordova)
Seems to be loads of geekstreet / MIT / mathematic / systematic / algorithmic / girlwithblackcattic / intricate / precision-oriented exhibits this weekend.
Am I forgetting something? Let me know! ♥