a sentimental gesture x slowness x passing time x linger
————————–
(M)IMOSA/Twenty Looks or Paris is Burning at the Judson Church (M)

When: Thursday, January 17 and Friday, January 18, 7:30 pm
Where: ICA Boston, 100 Northern Avenue, Boston, MA 02210
How: Official Website
Cost: $10 members + students; $20 nonmembers. Purchase tickets here.

What/Why: "Provocative and outlandish? Riotous and fabulous? Absolutely!
This mash-up of parallel dance histories—Judson and Voguing—is a frenetic free-for-all that bounces from soul music to sculptural acrobatics, from elaborate drag (including an eerily faithful rendition of Prince's "Darling Nikki") to amazingly virtuosic movement, all mixed as a gender-blender tribute to the power and pleasure of persona.
The third installment of Harrell's Twenty Looks or Paris Is Burning at the Judson Church—which includes (XS), (S), and (L), (M)imosa—is a choreographic collaboration among four remarkable performers: Cecilia Bengolea, Francois Chaignaud, Marlene Monteiro Freitas, and Trajal Harrell. (M)imosa is inspired by Paris Is Burning, the seminal documentary film about Voguing, the artist's personal histories, and collective experiences."
Contains strong language and nudity; recommended for audience members 18 years and older.
"They don't make many artists like Mr. Harrell…his sophisticated, nuanced works are not to be missed."—The New York Times
————————
Chino-Latino: Miguel Trelles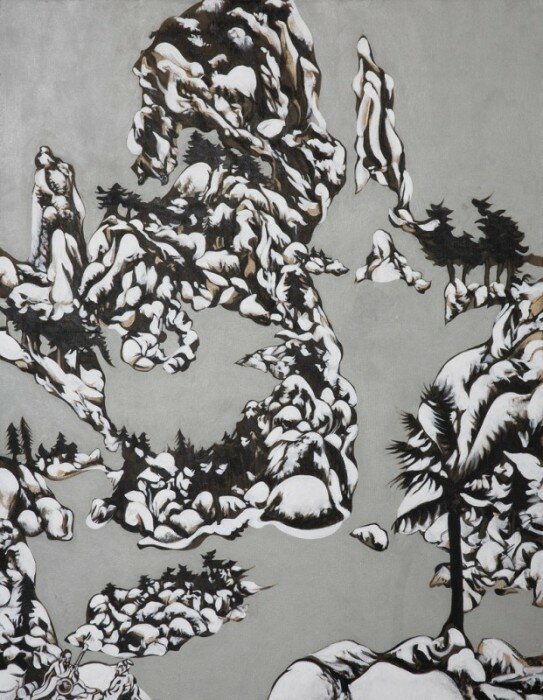 (Montuno Melody)
When: On view through February 23, 2013
Opening Reception: Friday, January 18, 6–9PM
Artist Talk: Friday, February 8, 6–8PM
Where: La Galería at Villa Victoria Center for the Arts, 85 W. Newton St. Boston, MA 02118
How: Official Website
What/Why: "In the exhibit CHINO-LATINO from Puerto Rican artist Miguel Trelles, the colonial history of the Antilles is rewritten through a "creative misreading" of traditional Chinese landscape paintings from the Sung and Ming dynasties. His hybrid compositions fuse the Chinese gestural style with figures and scenery that evoke a distinctly Caribbean landscape. "
——————————
Super Precious Art Gallery presents New Year's Resolutions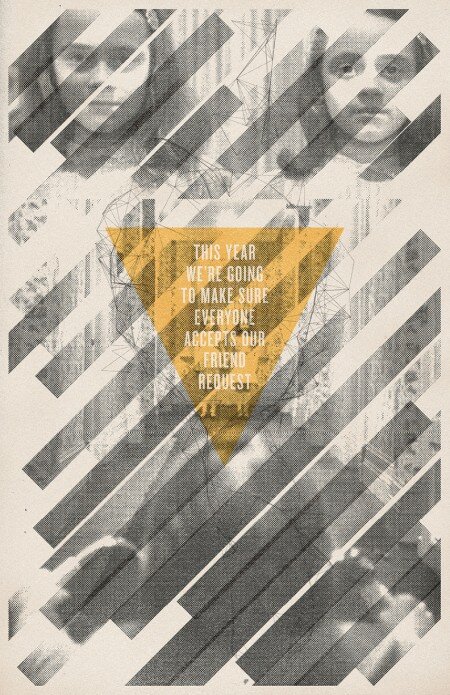 (The Grady Twins' New Year's Resolution, Ryan Lundy)
When: On view through January 30th, 2013
Where: Washington Street Art Center, 321 Washington Street, Somerville, MA
How: Official Website
What/Why: "The week after the New Year celebration is usually when people are still focusing on what they've resolved to change about themselves. For this show, artists were asked to create a poster illustration inspired by the New Year's Resolution of their favorite character, fictional or real, from books, movies, comics, and video games. Witty and irreverent, this show is sure to poke fun at the habits new and old of familiar faces.
Super Precious Art Gallery is an online art gallery from Boston presenting semi-regular group art shows with art inspired by a specific theme. Both local and national contemporary artists are featured. Some previous shows include Impolitic: Propaganda for Non-Politicians, 20th Century American Authors, and Summer Movie Blockbusters."
—————————
A Sentimental Gesture

When: On view through February 24th, 2013
Opening Reception: Saturday, January 19th, 2013 – 6:00 to 9:00PM
Where: Thomas Young Studio, 469 W. Broadway 3rd Floor, Boston, MA 02127
How: Official Website
What/Why: "Pat Falco is the self-proclaimed "Master of Light and Shadow" and regarded by many of today's finest art critics as "Who?" – Pat Falco,  Artist Statement 2012
Thomas Young Studio is proud to present the first solo exhibition of Boston based artist, rapper and curator Pat Falco. Heralded as "not a douchebag", Pat is not only his mother's lifelong favorite artist, but also one of Juxtapoz Magazine contributing editor Caleb Neelon's "favorite young artists du jour".
Originally inspired to pursue drawing as a medium when girls liked his drawings, Pat has continued to develop his vision and voice as a "Quirky Sketch Artist" through what he describes as an interpretation of "hyper realism". A Tumblr darling and free paper sensation, his figurative work has been seen on screens across the globe culminating in his recent North Korean media blackout.
Pat is a selfless member of the Boston arts community dedicated to re-hanging artwork on a moment's notice at The Distillery Gallery in South Boston. He is also the co-founder of Lincoln Arts Project in Waltham, MA where he can be seen denying proposals for exhibition and exploiting interns."
—————————
Upsodown

When: On view through February 22nd, 2013
Opening Reception: Friday January 18th, 2013
Where: New Art Center, 61 Washington Park, Newtonville, MA 02460
How: Official Website
What/Why: "Curated by AJ Liberto and Kate True | Including the work of: Seth Alverson, Nick Cave, Robert Colescott, Marcus Kenney, Eli Kessler, AJ Liberto, Clifford Owens, Joyce Pensato, Tara Sellios, Summer Wheat
Upsodown celebrates the transformative power of the carnival. People have always sought respite from the hierarchies of caste, race, and gender. Social convention, mass media, urban planning, and religious and political power structures reinforce restrictions on our behavior and attitudes. The carnival turns these restrictions inside out and upside down, encouraging rebirth and reinvention. Constricting forces are temporarily thrown over in a time of raucous celebration.
In the Middle English of Chaucer's Canterbury tales, up so doun is a phrase used by the parson to describe the results of a sensuality gone wild. Up so doun, one of the oldest idioms of the English language, has equally ancient parallels in many languages, such as sottosopra in Italian. The cultural relevance of this period of topsy-turvy transformation is palpable. The word carnival derives from the phrase carne vale, a farewell to the flesh. Culturally we yearn for this time out of time, to shed our burdens, to remind us to rejoice in the carnality of life. 
Carnival uses direct language in place of euphemism, the vernacular in place of the pompous. We can mock without fear, laugh at ourselves and others. We re-imagine ourselves as kings and queens, and bring the lofty down to earth. Ritual, stripped of belief, stands revealed as words and props, while the mundane and the mad are made sacred. The unscripted carnival is timeless and transformative, embracing change and liberation. From Medieval Europe to the cultural chaos of the Americas, up through the swamps of Louisiana, the tenebrous spirit of carnival blossoms and extends through contemporary art. 
The artists of Upsodown employ the forces of playful mayhem, dark humor, grotesque exaggeration, and bright compassion to subvert the dynamics of power. Subversion, however, is only the beginning of the carnival rites. Fed by laughter, a new order and beauty, unimaginable in previous schemes, emerges and flourishes. Upsodown refers to that fleeting place where, by external situation or sheer will, we are boundless, timeless, and selfless."
FLUX. note: Yes, this should look familiar. I put the exhibition in last week's wrap-up by mistake with the incorrect date. xo
———————-
System: ECOnomies
A part of Alternative Visions/Sustainable Futures

(Lady Bird Billboards, prior work of Kim Beck)
When: On view January 24 – March 30, 2013
Opening Reception: Thursday, January 24, 5:30-8pm
Where: 808 Gallery, Boston University, 808 Commonwealth Avenue, Boston, MA 02215
How: Official Website 
What/Why: "System: ECOnomies presents the work of individual artists and collaboratives who consider questions of sustainability through the invention or investigation of ecological systems and communities. Through art practices that intersect with interdisciplinary research and DIY activism, the selected artists propose different methodologies and models for sustainable living. From a large-scale inflatable beehive to a self-sufficient urban habitat, the projects open up new narratives for environmental resilience and social change. Viewers will have the opportunity to broaden their own ideas about the environment by directly engaging with several of the artists' projects through events, workshops, and performances that invite collaborative action and dialogue. The exhibition is curated by Lynne Cooney and Dana Clancy.
Participating artists are Kim Beck, Center for PostNatural History, Futurefarmers, Mary Mattingly, Jaimes Mayhew, Maria Molteni/Colette Aliman, Plotform, and Marina Zurkow."
—————————
Nick Ward – Recent Works

(Amanda's Lips)
When: On view through February 28th, 2013
Opening Reception: Thursday January 24th, from 7-9pm
Where: Distillery Gallery, 516 E 2nd St, Boston, Massachusetts 02127
How: Official Website
What/Why: "The Distillery Gallery is pleased to announce a solo exhibition of recent works by Nick Ward.  Nick, a resident of The Distillery since 2007, was recently awarded an Elizabeth Greenshields Foundation grant for painting, allowing him more time to focus on a growing body of work with an emphasis on exploring portraiture. Regarding his subjects, he says:
"My focus is on the subjects: how they interrelate, how they portray themselves, and most importantly, how they make me feel. For this reason, I choose everyday people from my life as models. Equal attention is given to long relationships and fleeting glances; actual experiences are treated the same as invented encounters. The images are my memories – real or imagined – of these subjects."
Although quite realistic from afar, Ward's paintings deliberately avoid being traditional "realism". By allowing unfinished abstraction to exist in areas needing less attention while intentionally highlighting natural human flaws, especially in skin tone, the often large-format pieces offer a counterpoint to the retouched beauty we are offered everyday in our media consumption.
Please join us for an opening reception with the artist on January 24th, from 7-9pm."
—————————
Opus Affair January

When: Tuesday January 22nd, 6:00PM
Where: West Bridge, 1 Kendall Sq, Cambridge, MA
How: Official Website
What/Why: "Now that we've all survived another season of holiday parties, Nutcrackers, Messiahs, and January 1st hangovers, it's time to 2013 started off right. A new year calls for a new venue: West Bridge, in One Kendall Square. The restaurant might be new, but you'll recognize many of the faces from past events, including bar manager Josh Taylor, who has been a part of many an Opus Affair at Eastern Standard. If you haven't been over to check them out yet, now's your chance.
Punch Bowl Fund
We have a charitable drinking game we like to play: the Punch Bowl Fund. Join us at the bar and contribute $5 (cash) to the fund and you'll get a drink ticket for a glass of punch and a ballot to vote for one of three featured arts organizations. The organization with the most votes will get a donation for the total amount raised that night—winner take all! We'll go until we run out of time or punch…whichever comes first (Spoiler alert: it's always the punch).
This month we'll be featuring:
The Fenway Alliance
Collective Creature (a Yes.Oui.Si. project)
MetroWest Opera"
—————————
Slowness
When: On view through February 3rd
Where: Howard Art Project, 1486 Dorchester Ave, Dorchester MA
How: Official Website
What/Why: "I know these things have their uses, and I use them-a truck, a computer, a modem-myself, but I fear their false urgency, their call to speed, to their insistence that travel is less important than arrival. I like walking because it is slow, and I suspect that the mind, like the feet, works at about three miles an hour. If this is so, then modern life is moving faster than the speed of thought or thoughtfulness,"
— from Wanderlust: a History of Walking by Rebecca Solnit.
participants:
Kirk Amaral Snow, Erik Benjamins, Jennifer Nichols,
Joanna Tam, Jessica Borusky, Diana Clarke
Allison Hale, Leah Craig, Katrina Neumann, Ian Jeffrey
Jordan Tynes, Helena Hsieh, Taylor McVay, Cathy McLaurin,
Christopher Thomas Ford, Kimberly Ruth, and Garett Yahn
Slowness is a group exhibition featuring artists whose work reflects and investigates time and our expectations of it.
In the current context, convenience of consumption is omnipresent. To those with sufficient means, most products and information is almost instantly available. Has the expectations of convenience that we have for products infiltrated our expectations for one another? Must we always be available too? Where is the space to reflect, to converse, to absorb, and to wander through spaces and ideas?"
—————————
Lake Effect / Nor'easter Part II

(Screen, Philip Vanderhyden)
When: On view through January 26th, 2013
Where: LaMontagne Gallery, 555 E. 2nd Street / South Boston, Ma 02127
How: Official Website
What/Why: Featuring the work of Zachary Buchner, Andreas Fischer, and Philip Vanderhyden.
———————————————————–
Animating Youth! A Room 305 Retrospective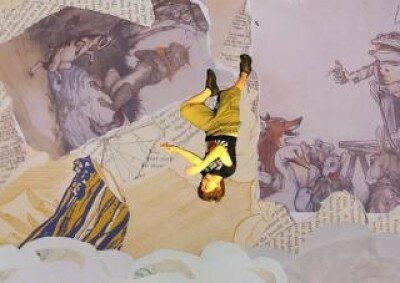 When: January 19th – 23rd, 2013
Where: Mobius, 55 Norfolk Street, Cambridge, MA 02139
How: Official Website
What/Why:"Films will include:
A Mouse's Tale 
Mumbett: A Slave Stands for Freedom
The Animating Youth Documentary
Created as part of Room 305 Productions/Animating Youth Artistic Collaboration
Mobius will host a 7-year retrospective of animated artwork created from 2005 through 2012 by 5th/6th grade students of the Cambridgeport Public Elementary School January 19-23, 2013. Puppets, backdrops and artwork from various animated projects will be on display along with looped screenings of finished animations.
The show will be open to the public January 19-20 from 12 noon-6:00 pm and during limited hours and by appointment January 21-23."
—————————–
Passing Time

When: On view January 22nd – March 2nd, 2013
Where: Mass Art, Sandra & David Bakalar Gallery, 621 Huntington Avenue  Boston, MA 02115
How: Official Website
What/Why: "Jonathan Callan, Matthew Buckingham, Luis Camnitzer, Rineke Dijkstra, Ken Fandell, Shaun Gladwell, Félix González-Torres, Leandro Katz, Katrin Korfmann, Philipp Lachenmann, Stefana McClure, Su-Mei Tse, Siebren Versteeg
Passing Time, a multimedia exhibition featuring the recent work of thirteen international artists, both well known and emerging, explores the multiple and converging meanings of the phrase "passing time." Some artists turn to sport, dance, or music to explore concepts of time-short term, long term, and terminating; others refer to nature and its rhythms or partner with time itself in their making of art."
—————————–
Linger

(Still from Desire and Duchamp, prior work of Dell Hamilton)
When: January 24th, 2013 7pm
Where: Medicine Wheel Productions, 110 K Street-2nd Floor, Boston, Ma
How: Official Website
What/Why: "On January 24th, 7pm @ Medicine Wheel Productions in South Boston: Linger- a new performance by Dell M. Hamilton. The performance is in conjunction with HERE, a group exhibition at MWP's Spoke Gallery."
————————-
ABSENT|PRESENT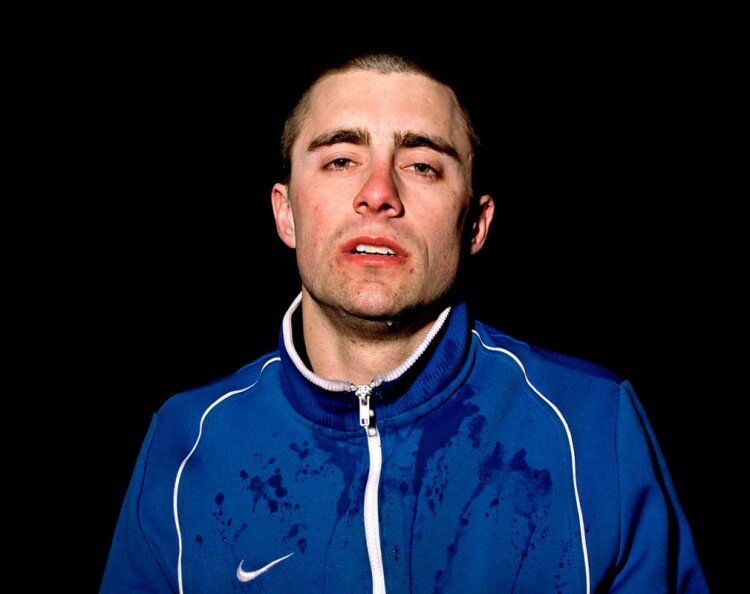 (Nectar Imperial, Nils, Jesse Burke)
When: Thursday January 24th, 5-8PM
Where: Montserrat Galleries, 23 Essex Street, Beverly, Massachusetts 01915
How: Official Website
What/Why: "Spring 2013 is on, and we're ready to celebrate! We're opening the semester with two incredible exhibitions, ABSENT|PRESENT featuring Kate Gilmore and Zsuzsanna Szegedi and High Life, a solo show of the photographer Jesse Burke. More information below on these artists and the show. SEE YOU SOON! 
Absent | Present: With multi-layered video pieces, video projection, drawing and performative video, Kate Gilmore and Szegedi challenge the boundaries of contemporary artistic practice and the location of the 'artwork' within each piece. The exhibition features works that question where and when a work of art begins and/or ends. Exhibition Curator Leonie Bradbury proposes that these works of art exist at multiple temporal and spatial sites simultaneously.
High LIfe: Through lush colors and implied narrative, Jesse Burke photographs the natural world, the people, animals and objects who are a part of his life. Whether family members or friends, Burke explores the fragility and vulnerability of others, ultimately creating a decentralized self portrait of himself. By capturing physical, emotional or metaphorically hardships in a photograph, Burke prompts the audience to project compassion, understanding and triumph onto the subjects in his work."
—————————————————
Did I forget something? Let me know:
In other news.. It's a three.day.weekend!
Make it count! ♥