(The Execution of Lady Jane Grey, Paul Delaroche)
conundrums x implosions x stings x trades x progress 
———————————————————
Sting XII

 (Grouse, prior work of Holly Coulis)
When: Monday February 27th, 6-8PM
Where: Beehive Boston, 541 Tremont Street, Boston, MA 02116
How: Official Website
What/Why:  "This installment welcomes 13 artists selected by the Boston Contemporary Group (BCG) whose members include Camilo Alvarez of Samsøn, Anthony Greaney of the Anthony Greaney Gallery, Russell LaMontagne of LaMontagne Gallery and Steven Zevitas of the Steven Zevitas Gallery. BCG was formed to support an environment in Boston for critically relevant contemporary art.  BCG will use this exhibit at The Beehive to bring awareness to their group as well as to launch their new website hosted by Gallerist, the event's sponsor, a New York based company revolutionizing the way people interact with art."
————————
CoSo Winter Members Show

(Sticks II, JB Jones)
When: On view through March 29th, 2012
Where: Copley Society of Art, 158 Newbury Street, Boston, MA 02116
How: Official Website
What/Why: "The Copley Society of Art is pleased to present our annual Winter Members' Show. During the course of the calendar year, Co|So offers two or more seasonal juried exhibitions, open to more than 400 active artist members.
For each exhibition, guest jurors are invited to review submissions, determine the show's composition, and select the award-winning pieces. This winter, we were honored to have as jurors: David Brown, Associate Dean of Academic Affairs of Graduate Programs at the School of the Museum of Fine Arts, and Miriam Stewart, Curator of the Collection of the European and Americat Art Division at the Harvard Art Museums."
—————
Karl Stevens: In Progress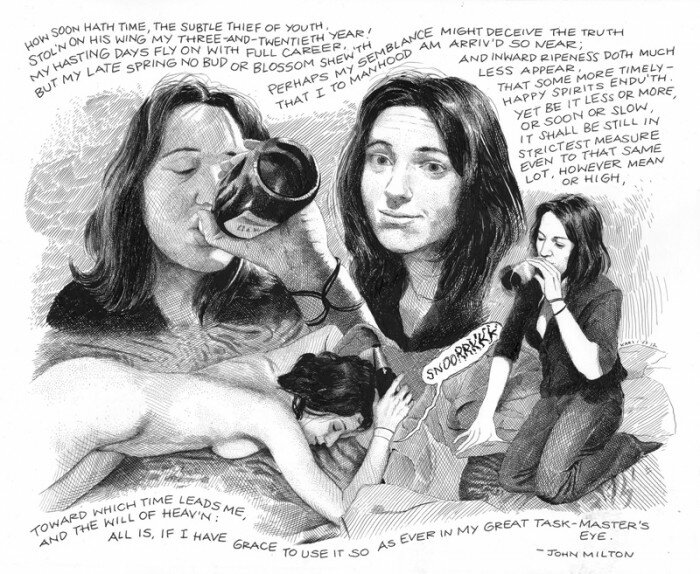 When: On view through March 10th, 2012
Where: Montserrat College of Art, Carol Schlosberg Alumni Gallery, 23 Essex Street, Beverly, MA 01915
How: Official Website
What/Why: "This February, Montserrat College of Art will be exhibiting In Progress, the recent illustrations, sketches and paintings of Karl Stevens, in the Carol Schlosberg Alumni Gallery. The precision of Stevens' figure paintings is balanced by the often crass subject matter that can be found in his illustrations. The pieces on view are works in progress, started since his move to Brooklyn, NY seven months ago, that allow viewers to see how his concepts develop from illustrations and drawings into a fully realized installation. 
A Massachusetts native, Karl Stevens' weekly comics have been published in Boston's The Phoenix since 2005. His debut graphic novel,Guilty, was published in 2004 with a grant from the Xeric Foundation. As a biting account of a thirty something post graduate that takes place in Allston and Cambridge, Stevens' Guilty is a hilarious mixture of painfully honest narrative and meticulously cross hatched realism. The Pheonix began running Stevens' weekly comic, Whatever, the next year, followed by Succe$$ in 2008, which Stevens' illustrated alongside the writing of Gustavo Turner, and Failure in 2009. In 2010, Failure was awarded the best cartoon by The Association of Alternative Newsweeklies. He is represented by Boston's Carroll and Sons Art Gallery, where he exhibited his solo exhibition, The Lodger, in 2010."
—————
The Cartographer's Conundrum

Where: Mass MoCA, 1040 Mass MoCA Way, North Adams, MA 01247
How: Official Website
What/Why: "The Cartographer's Conundrum is a major multi-disciplinary installation By New York-based artist Sanford Biggers. This new work is inspired by the Houston, Texas based artist, scholar and Afro-futurist John Biggers (1924-2001). A cousin of his subject, Sanford Biggers' goal is to both study and expand the emerging genre of Afrofuturism, which engages science-fiction, cosmology and technology to create a new folklore of the African Diaspora while simultaneously illuminating the underrepresented career of master painter and muralist John Biggers."
—————
That's a Fact: Young Gifted and Black

When: On view through March 2nd, 2012
Where: BHCC Art Gallery, 250 New Rutherford Ave., Boston, MA
How: Official Website
What/Why: "Featured in the exhibit are 20 artists in various stages of their careers working in varied media whose work addresses race, injustice, identity, and aspiration. Curated by Laura Montgomery, BHCC Art Gallery Director, the exhibit illuminates the strength of work from the area and celebrates the diversity of talent within this community. The art gallery exhibit is one of many events hosted during the college's Black History Month celebrations."
—————
☹Final Exhibition at Victoria Munroe Fine Art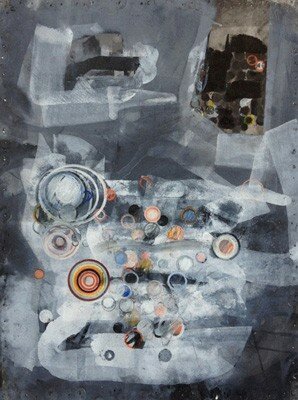 (Untitled(#856), Chuck Holtzman)
When: On view through March 3rd, 2012
Where: Victoria Munroe Fine Art, 161 Nebury Street, Boston, MA
How: Official Website
What/Why: "Victoria Munroe and Elizabeth Reluga invite you to celebrate our last exhibition. Thank you for 10 great years! The gallery will close in March" Featuring the works of Patrick Cauley, Carol Gove, Linda Etcoff, Chuck Holtzman, Joel Janowitz, Harold Reddicliffe
—————
Trading Post with John Gonzalez

When: On view through March 4th, 2012
Where: Boston University Art Gallery, 855 Commonwealth Avenue, Boston, MA 02215
How: Official Website
What/Why: "Boston-based artist John Gonzalez will transform the BUAG Annex into a trading post where visitors are invited to bring items of personal value to exchange for the artist's objects of personal value, which will be on display in the Annex. Visitors will be allowed to bring their own items and will be asked to explain their value to the artist who will listen to their story and decide which of his items is of equal importance to their item. Based on this information, Gonzalez will offer an item and if both parties agree, a transaction will take place and their item will replace Gonzalez' item in the Annex. The new item will be available for trade and Gonzalez will draft a certificate for this new item. The artist will also provide a website with an online gallery, which will show all items available at the Trading Annex. Visitors may browse the online gallery, but all transactions will be made with the artist in person at the Trading Annex. Visit butradingpost.wordpress.com to view items available for trade."
—————
Implosions (from the Art Hole)

(Salem, MA Courtroom illustrations by Greg Cook)
When: Saturday and Sunday, February 25 and 26, 2012
Where: Aviary, 48 South St., Jamaica Plain, Boston, MA
How: Official Website
What/Why: "Our friends at the Union Square Round Table are presenting "Implosions (from the Art Hole)," featuring visual art and performances at Aviary, 48 South St., Jamaica Plain, Boston, from 11 a.m. to 9 p.m. Saturday and Sunday, February 25 and 26, 2012. Stage show starts at 7 p.m. The New England Journal of Aesthetic Research's Greg Cook will be there drawing caricatures of visitors from 3 to 7 p.m. Saturday (and perhaps even longer). Come by and say hello. The Round Table explains the plan like this:
"ART, right? The restless experimentation of a Picasso. The flat Playboy nail salon rose sniffers of a Patrick Nagel. Whoever Jasper Johns is. What is this mystical force that compels them to make stuff all that stuff and then come up with the wrong name for it? And where do their ideas come from? What is art? We at The Union Square Round Table endeavor to answer this question every day of our lives, but especially with our very own display of this bamboozling form, with a show called 'Implosions (from the Art Hole).'
"This February 25th and 26th The Union Square Round Table will take over the Aviary Gallery in luminous Jamaica Plain for two days of new works and performances. During the normal daytime hours the gallery will be home to new works by a variety of artists as well as long form performance pieces, including a redolent re-imagining of Marina Abramovic's 'The Artist Is Present.' The evening hours will be a slightly more traditional stage show, or at least as traditional as the Round Table gets, with art as the theme. And art as the journey. And art as infinity. … This February 24th and 25th Implosions (from the Art Hole) occurs, you definitely Centre Pompidon't want to miss it."" (via NEJAR)
—————
Amy Johnquest- My Potential Dates

When: On view through March 29th, 2012
Opening Reception: Sunday February 26th, 2-5PM
Where: U Mass Amherst, Hampden Gallery, Amherst, MA
How: Official Website
What/Why: "This installation is based on the artist's experience with internet dating during March through May of 2009. On the dating site, she typed in her zip code (Holyoke, Mass) and clicked in results for all the men within a 15 mile radius between the ages of 40 and 60 (her age was 50 at the time). 

Fascinated by this on-line human connectivity and its results, Johnquest  then created paintings and mixed media works that reference the prospective dates' photos. In doing so, Johnquest  comments on the highs and lows of high- tech courtship through  low-tech installation."
Also on view..
American Panopticon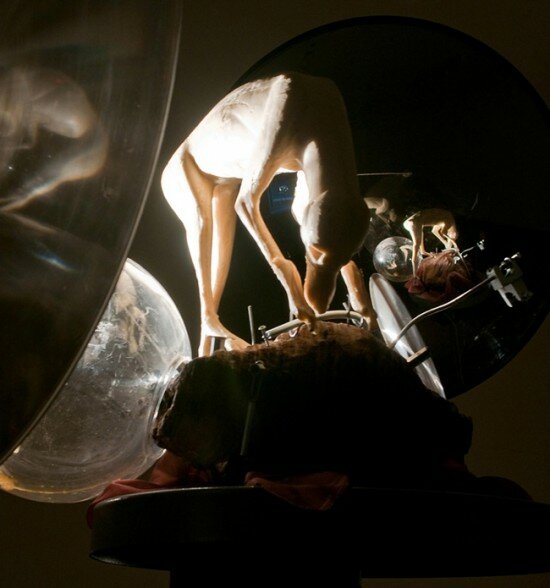 What/Why: "Michael Zansky has had numerous museum and gallery exhibitions throughout the U.S., and abroad. His installations are diverse, with themes that address everything from social and psychological issues, to modern cosmology."
Michele Basora – Waking the Venus Copper

What/Why: "New York artist Michele Basora's solo exhibition Walking the Venus Copper presents several new paintings on canvas and paper that explore images of humanity and its innate relationship to nature. Her works accumulate a mythology that is more than the sum of its parts. Superstition andmythology as genres have always exerted a strong influence on her work and continue to surface in the new works exhibited here. Basora has been exhibitedat the Tricia Collins Contemporary, White Box, and Dorian Grey Gallery in New York City and The Aldrich Museum of Contemporary Art in Ridgefield, CT, and hasbeen reviewed by Roberta Smith of The New York Times and Merlin James of The Burlington Review in 2000. Her work was included in "The Saints of Modern Art: The Ascetic Ideal in Contemporary Painting, Sculpture, Architecture,Music, Dance, Literature, and Philosophy" by Charles A. Riley, published by The University Press of New England, 1998. 

Basora tells us that Venus, the daughter of Jupiter and Dione, was atfirst the goddess of gardens. The dove and the sparrow are her birds, Friday her day, and copper her metal. 

There's a mystical lure in Basora's work that invites the viewer in to a world inhabited by creatures part human/part animal. It's an invented world made believable through Basora's deft handling of brush to canvas and paper. "
—————
Did I forget an event? Let me know!:
Thisclose to 700 followers on Twitter. That means someone other than my mom(hi!!) is reading FLUX.
So, thanks!
I've never been one to monitor stats on these sort of things, but I think it's time to start rewarding people for their support.
Oh, no-not a Target giftcard. A reward may take the form of a special animated gif from the FLUX. vaults, custom MS Paint drawings, awful youtubes, and hopefully one day I'll be mailing Lisa Frank stickers to my 10,000th follower.
One step at a time. 700 is a lovely place to start.
Have a great weekend! ♥