dance for me x attention seeker x all about the benjamins x grunt
—————
Salad 3.0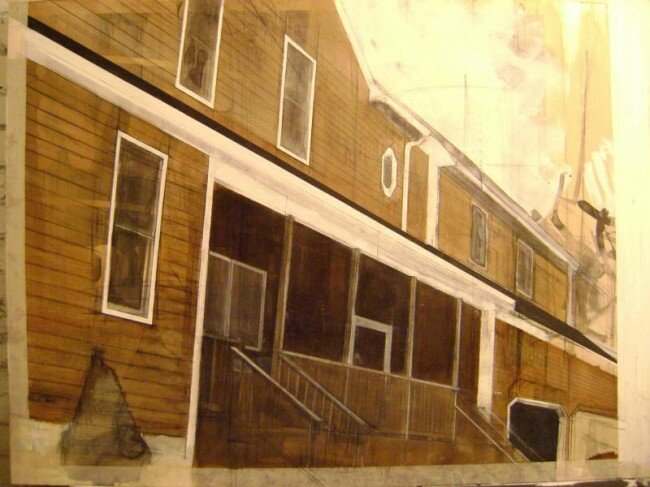 When: On view through December 30th, 2011
Opening Reception: December 9th, 7-11PM
Where: Lot F Gallery, 145 Pearl Street, Boston,MA
How: Official Website
What/Why: "Closing out 2011 with a big group show, Salad 3.0 will feature a strong selection of mid-small sized works from artists local to Boston. The third in our series of 'Salad' exhibits, this one will have the most range and diversity. Painting, Photography, Sculpture, Glass, Custom Toys, Mixed Media. Come get a taste of the local scene, a preview of what may be to come in 2012 and enjoy some artwork and refreshments. "
———————
The Hundreds Show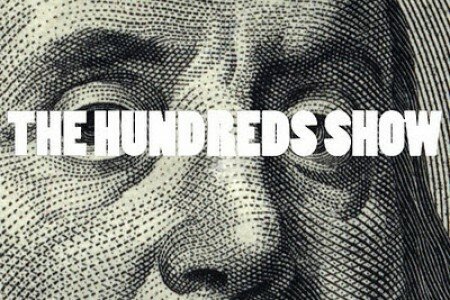 When: On view through January 14th, 2012
Opening Reception: Friday December 9th, 7-10PM
Where: LAP Gallery, 289 Moody Street, Waltham MA
How: Official Website
What/Why: "All Art Work is $100/$200/ or $300 " List of participating artists here.
———————
Grunts

(Draftee Photo Booth, Harold Feinstein)
When: On view through January 10th, 2012
Where: Pantopticon Gallery, 502c Commonwealth Ave, Boston, MA 02215
How: Official Website
What/Why: "Grunts is military vernacular for United States Army or Marine foot soldiers, the mass of devoted men and women who make up the bulk of the armed services. Commemorating the 70th anniversary of the bombing at Pearl Harbor, Panopticon Gallery presents Grunts: The G.I. Experience curated by Jim Fitts.
Fitts met a number of grunts while living in Hawaii in the early 90's, which piqued his interest in the subject. A boxing fan, he regularly attended matches at the Scofield Barracks at Fort Shafter where he befriended several Marines. It was then that he realized his impression of what their lives were like was rather different from reality. 
"Over the years, I have rarely seen what I would consider an unfiltered, real life photographic portrayal of military personnel "…scenes of everyday life, says Fitts. "This exhibition will come as close to the reality of the grunt experience as I have ever seen."
Harold Feinstein's friendship with the New York Photo Leaguefounder, Sid Grossman, resulted in him not being ranked as an official armed serviced photographer. Therefore, he documented from the viewpoint of a fellow G.I. serving in Korea. Photographs show draftees being inducted, and soldiers on troopships, reading, sleeping and marching. The body of work also contains images of the historical integration of the armed services. 
A selection of vintage photographs by Robert Capa and numerous press photographs from WWII compliment Feinstein's work. The pictures are memoirs of the common American soldier during WWII. The majority focus on the happenings between battles, though some illustrate combat. 
Images in Grunts are not repeatedly produced heroic propaganda. They are "personal and very human," says Fitts, who hopes viewers will gain a better understanding and appreciation of the courageous soldiers."
———————
Raul Gonzalez & Caleb Neelon Holiday Sale

 (Sin Cintas, Raul Gonzalez)
When: Saturday December 10th, 12-4PM
Where: Caleb's home in Cambridge, RSVP/Directions to caleb – calebneelon@gmail.com/raul -elcv30@yahoo.com
How: Official Website
What/Why: c/o Caleb- "Raul Gonzalez and I are having a studio sale at my place/studio in Cambridge on Saturday, December 10, from Noon-4pm, and you're invited. We'll have a variety of artworks available at a lot of different price points. I'll also have copies of a few of my books, including this spring's huge The History of American Graffiti – a fine holiday gift for the disaffected young artistic creep on your list – and I'll be happy to sign 'em and all that."
———————
Art and the Object

When: On view through January 11th, 2012
Where: Bannister Gallery, 600 Mount Pleasant Avenue, Providence, RI 02908
How: Official Website
What/Why: "In an increasingly disposable society, where the objects that are used for nourishment, ceremony, and relationships are watered down versions of the aesthetic objects of the past, the individual's experience with them is fleeting.
This invitational exhibition will focus on the functional one-of-a-kind object created for personal use. The coffee pot, tea strainer, and other objects of use will be interpreted by contemporary metal artists in order to convey a sense of the everyday as enriching and unique."
———————
SoWa Holiday Market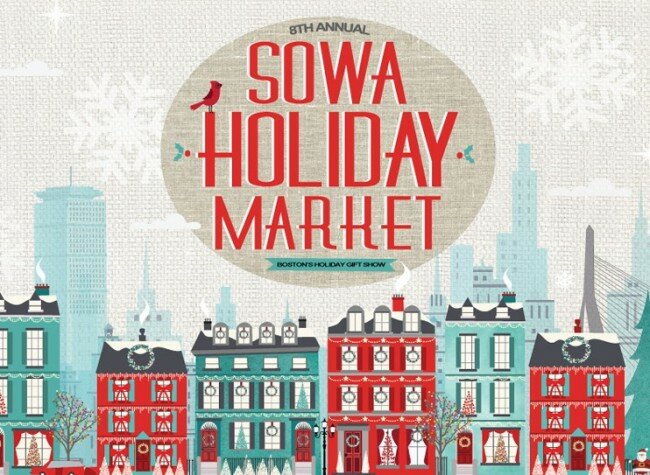 When: Saturday December 10th, 2011, 11AM-7PM
Where: Cathedral High School, 74 Union Park Street, Boston, MA
How: Official Website
What/Why: "The 8th Annual SoWa Holiday Market in Boston will be held Saturday, December 10, 2011, from 11am – 7pm, at the Cathedral High School, 74 Union Park Street. This year's Holiday Market will feature over 80 juried artists and designers from around New England. From the fashionably chic to the hip and cutting edge, shoppers are sure to find an original gift for everyone on their list. Expect to find an exceptional array of indie goods, including: handbags, jewelry, pottery, letterpress stationery, silk-screened t-shirts, baby clothes, re-purposed wool accessories and more! This handmade holiday spectacular will take place in SoWa's Cathedral High School Gym, located in Boston's trendy SoWa arts and media district. Within walking distance to Boston's best galleries, boutiques and international cuisine, the SoWa Holiday Market is at the center of Boston's most diverse and exciting neighborhoods!"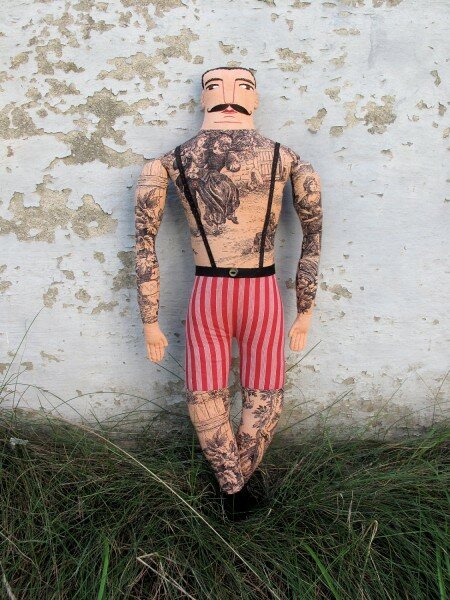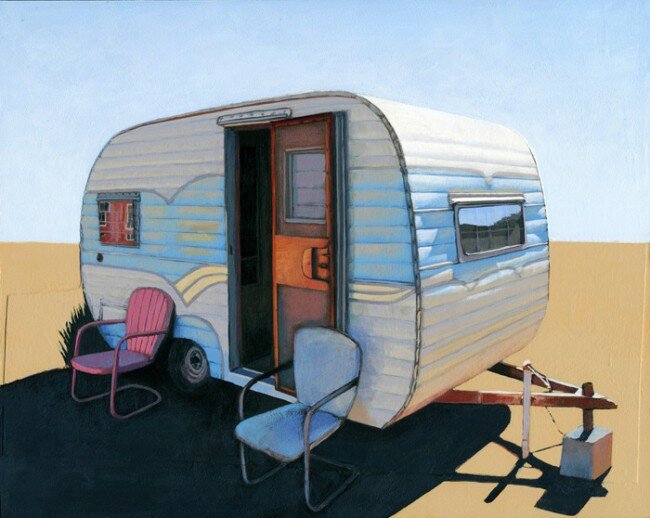 ————————-
Contemporary Art Show

When: Friday December 9th, 7PM
Where: Gibson House Museum, 137 Beacon Street, Boston
How: Official Website
What/Why: "An exhibition of new Contemporary Painting in a historical Back Bay Space. Featuring work by the Best Young Artists in Boston"
———————
ARTROX! Holiday Gift Show
(Flower Series, Derek Lumpkin)
When: December 10-11, 11AM-6PM
Where: Hibernian Hall, 184 Dudley Street, Roxbury
How: Official Website
What/Why: "Buy in the 'Bury and support area artists at the annual ArtROX!Holiday Gift Show. This unique holiday show features artists from around Greater Roxbury and Greater Boston selling fine art, crafts, designs, and food. Find great items fitting a variety of budgets, sizes, and tastes while shopping locally at Hibernian Hall, one of Boston's most elegant venues.
DaleyRubs will be available on both days to provide massage therapy to soothe any sore shopping muscles."
———————
Notes on the Species

(Silvia López Chávez)
When: On view through January 22nd, 2011
Opening Reception: Friday December 9th, 6:00PM
Where: Mills Gallery, 539 Tremont Street  Boston, MA 02116
How: Official Website
What/Why: "The BCA celebrates the visual artists working on campus with an annual exhibition. Notes on the Species explodes the notion of portraiture across varied media. The exhibit showcases the diverse practice and dynamic output of the BCA's studio artists, including… Silvia López Chávez's large-scale emotional portraits of her niece , Jim Cambronne's tightly coded paintings, a cut of Alice Stone's upcoming documentary on the trials of interracial adoption, works by performance and multi-media artist Caitlin Berrigan and new work created specifically for the exhibition by David Reichert."
————————
Holiday Arts & Crafts Fair

When: Sunday December 11th, 11:00AM-8:00PM
Where: 438 Somerville Ave., Loft #4, Somerville, MA
How: Official Website
What/Why: "Original artwork by Rifrakt, Michael Crockett, Dan Blakeslee…
Hand-blown glass/Handmade jewelry/baked goods/knitted goods/record bowls & cuffs/clothing/and much much more….
It's a great place to get cool & original gifts for friends & family. This is an all day event at the loft. Live music between 5-7pm. FREE wine, coffee, and tea."
———————–
Craftboston Holiday Show

(Insect Lab)
When: Friday December 9, 2011 10am-7pm
Saturday December 10, 2011 10am-7pm
Sunday December 11, 2011 11am-5pm
Where: Cyclorama at The Boston Center for the Arts, 539 Tremont Street, Boston, Massachusetts 02116
How: Official Website
Cost: $15
What/Why: "Don't miss the holiday season's most exciting artistic event — Craftboston Holiday at the Cyclorama at The Boston Center for the Arts, December 9-11, 2011. 
Craftboston Holiday features 90 of the most innovative craft artists of our time, showcasing one-of-a-kind and limited edition pieces in: baskets, ceramics, decorative fiber, art-to-wear, furniture, glass, jewelry, leather, metal, mixed media, paper, and wood. It's an amazing opportunity for creative shoppers, collectors, and those who are looking for the perfect gift to complete their holiday shopping!
Join us again in the Spring for Craftboston at the Seaport World Trade Center, March 23-25, 2012. Entering its 11th year, our Spring show includes: 200 exhibitors, non-profit craft organizations, schools, a book vendor, tours, and a lecture series. Spend the day looking and learning about contemporary craft, meet the artists and take home something fabulous."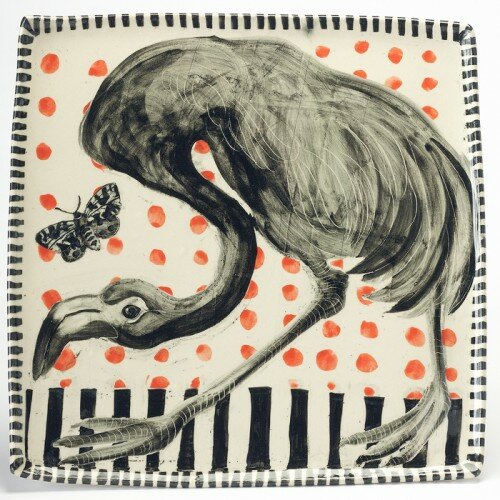 ———————
Museum School Art Sale
(Queen Elizabeth II, June August)
When: December 9th-11th, 2011, 10 am–8 pm daily
Where: School of the Museum of Fine Arts, 230 The Fenway, Boston, MA
How: Official Website
What/Why: "The Museum School Art Sale is back. Now in its 31st year, the Museum School Art Sale is the largest and most anticipated contemporary art sale in New England. The Sale has become the annual destination for art collectors and enthusiasts alike to discover works from our newest students to our most acclaimed alumni, including Jedediah Caesar, Ellsworth Kelly, Mike and Doug Starn, Rachel Perry Welty, "Project Accessory" contestant Brian Burkhardt and many more.
The Museum School Art Sale is the largest fundraiser for the School of the Museum of Fine Arts, Boston, directly supporting opportunities, scholarships and resources essential to the education of our next generation of artists. With thousands of works in all media rotating daily, this is your chance to experience the thrill of your very own art discovery."
————
Mix and Match

(Dance for Me Salome 3 (Self Portrait), Chambliss Giobbi)
When: On view December 13th-February 19th, 2012
Where: Hampden Gallery, UMass Amherst,
How: Official Website
What/Why: "To mix and match is to combine things that are not related. Although the items may all exhibit different characteristics, within the phrase, there is an assumption that items to be mixed and matched are of roughly equal value.

In making his selections for Mix and Match, curator Klaus Postler was a stickler for originality. When it came to craft, he was hard-core. Postler is a collage artist's collager and the proof is in the proverbial pudding. The work in Mix and Match fits a tall order. Without exception the work is beautifully crafted, fresh, and of the highest caliber."
———————
Toys & Games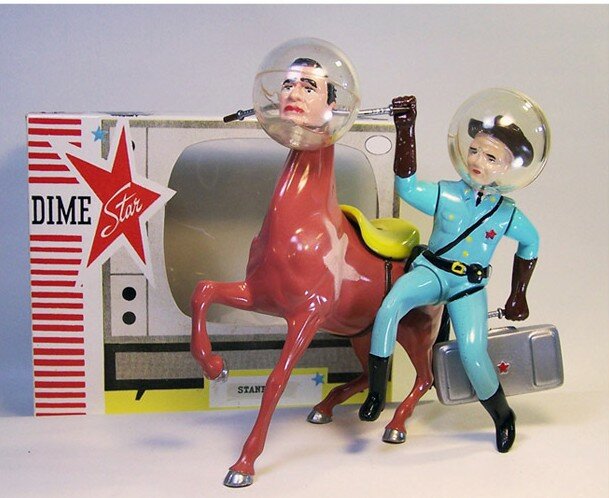 When: On view through December 21st, 2011
Opening Reception: Sunday December 11th, 4-6PM
Where: Brickbottom Gallery, 1 Fitchburg Street, Somerville, MA
How: Official Website
What/Why: "Artists explore the subject of toys, games and the world of play."
——————–
ICA's 75th Birthday Party/Community Day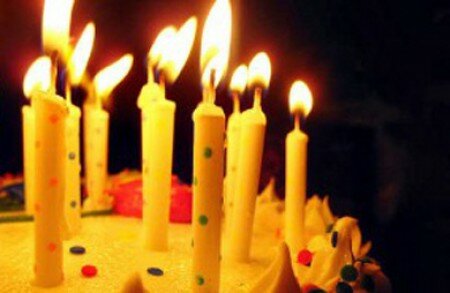 When: Saturday December 10th, 10AM-5PM
Where: ICA Boston, 100 Northern Avenue  Boston, MA 02210
How: Official Website
Cost: Free Admission All Day!
What/Why: "The ICA's 75th anniversary season culminates with a free birthday party on Saturday, December 10. This date also marks our fifth year on the Boston waterfront! 
Bring friends and family to this day-long celebration including live performances, art-making activities, tours, and more! Activities are recommended for all ages, except as noted. Free tickets are required for all events held in the Barbara Lee Family Foundation Theater, and are available at the Holly McGrath Visitor Center.
Free birthday cake and hot chocolate from Taza Chocolates will also be served (while supplies last)."
——————-
Live…Suburbia!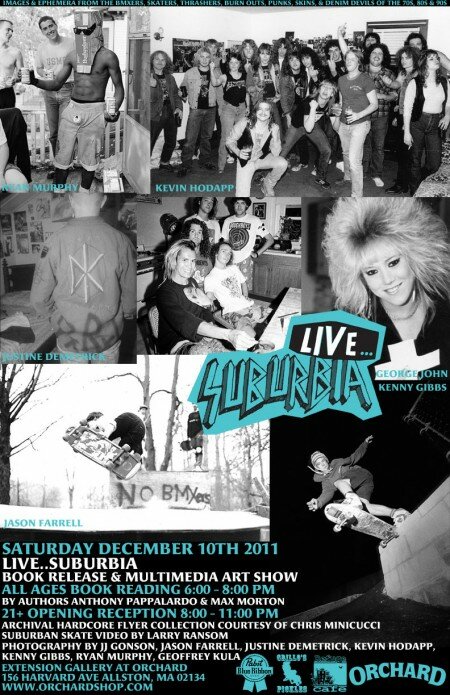 When: Saturday December 10th, 2011, 6-11PM
Where: Orchard Skate Shop, 156 Harvard Ave, Allston, MA 02134
How: Official Website
What/Why: "Images & ephemera from the BMXers, Skaters, Thrashers, Burn Outs, Punks, Skins, and Denim Devils of the 70s, 80s & 90s."
———————
The Big Small World of Red Nose Studio

(Attention Seeker)
When: On view through December 15th, 2011
Where: The Art Institute of Boston, Main Gallery, 700 Beacon Street , Boston, MA 02215
How: Official Website
What/Why: "The Art Institute of Boston at Lesley University welcomes guest artist Chris Sickels to the Main Gallery, where the celebrated animator and illustrator will display his work from Nov. 7 to Dec. 15.
The exhibit features sculptures, drawings, sketches and videos by the artist, who is creator and director of the award-winning Red Nose Studio.
Sickels builds his 3-D illustrations from a variety of materials, creating sets and puppets from a combination of wire, fabric, cardboard, wood, miniatures and found objects. His endearing characters and intricate sets draw in the viewer with wit, whimsy and charm."
———————
Making History: Antiquaries in Britain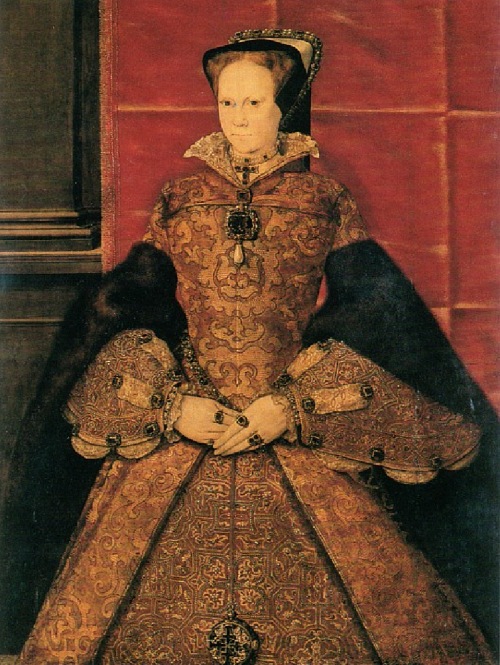 (Mary I, Hans Eworth)
When: On view through December 11th, 2011
Where: McMullen Museum, Boston College, 140 Commonwealth Avenue  Chestnut Hill, MA
How: Official Website
What/Why: "Through objects collected by the Society of Antiquaries of London, the oldest independent learned society concerned with the study of the past, the exhibition traces milestones in the discovery, recording, preservation, interpretation, and communication of Britain's history. It explores beliefs current before the Society was founded in 1707 and reveals how new finds and technologies have transformed the ways scholars have written history over the past three hundred years. Assembled together are artifacts of international importance (including the Domesday Survey for Winchester and a Magna Cartafrom 1225), detailed records of lost buildings and objects, an outstanding collection of English royal portraits from Henry VI to Mary I, and works associated with William Morris, Fellow and founder of the English Arts and Crafts movement whose country house, Kelmscott Manor, is owned by the Society. Alongside these are loans from the celebrated collection of the Yale Center for British Art including rare books, maps, and drawings by Samuel Palmer, Edward Burne-Jones, and Augustus Welby Pugin."
———————
Brice Marden: Prints, 1973-2010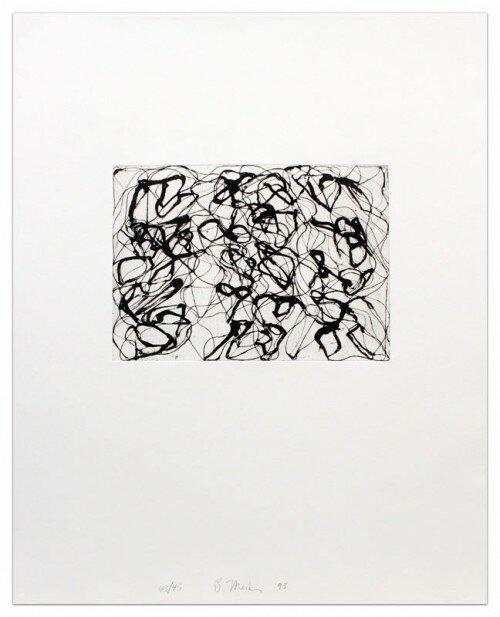 (After Botticelli 2)
When: On view December 10th through January 21st, 2012
Where: Barbara Krakow Gallery, 10 Newbury Street, Boston, Massachusetts, 02116
How: Official Website
What/Why: "Brice Marden's exhibition covers almost 40 years of work.  Ranging from the early fields and grids all the way to the most recent lyrical pieces, the show hopes to place the various bodies of work in context with one another."
Also on view..
Annual AIDS Benefit Exhibition

When: On view December 10th-17th, 2011
What/Why: "All works will be available to view at the gallery as of 10 AM, December 10 (not beforehand) and will be on the website by noon on December 10. Works of art in this exhibition have been generously donated by many artists.Each work is available for a $350 donation to The Boston Pediatric/Family AIDS Project and/or The African AIDS African AIDS Initiative International, Inc. "
———————
More is More 

When: On view through December 10th, 2011 (final weekend!)
Where: Samson Projects, 450 Harrison Avenue / 29 Thayer Street, Boston, MA 02118
How: Official Website 
What/Why: "The present site responsive work of Mark Cooper is a culmination of nearly four decades of a robust practice embracing ceramics, paintings, sculptures, drawings, photographs and collaborative projects in what will be his most immersive installation to date. As a departure from his past work where discrete collage paintings and sculptures addressed the site of the gallery as a generous but neutral host, now, Cooper aims to overwhelm the host in an exuberant, grand and riotous way. Individual elements in numbers reaching close to a thousand will be arranged throughout the space to create forms protruding from the wall, hanging from the ceiling and rising from the floor. There will also be several outdoor sculptures at a nearby location on view. The work reflects the artist's sustained interest in cultural diversity, visual language, visual literacy and how we understand meaning within our own closed systems of expectations. Cooper's art, however, does not confine its 'about-ness' to art alone. He combines a self-reflexivity with an address to the world; extracting and responding to stimulation both external and internal. "
———————
Albrecht Dürer: Genius and Fame

(Melancholia)
When: On view through February 12th, 2012
Where: Smith College Museum of Art, Elm Street at Bedford Terrace, Northampton, MA 01063
How: Official Website
What/Why: "This exhibition is the culmination of the course "The Print and Visual Communication in Early Modern Italy" taught by Michael Bury, the 2011 Kennedy Professor in Renaissance Studies. Featuring approximately 50 prints and drawings from the collections of SCMA, the Mount Holyoke College Art Museum, and the Mead Art Museum at Amherst College, the exhibition explores the impact of Albrecht Dürer's work on printmaking in Europe during the 16th  and 17th  centuries. Students in the course developed this theme and the installation in addition to researching and writing interpretive labels for the exhibition. The exhibition is supported by the Charlotte Frank Rabb, class of 1935, Fund."
———————
Ceramics Holiday Show and Sale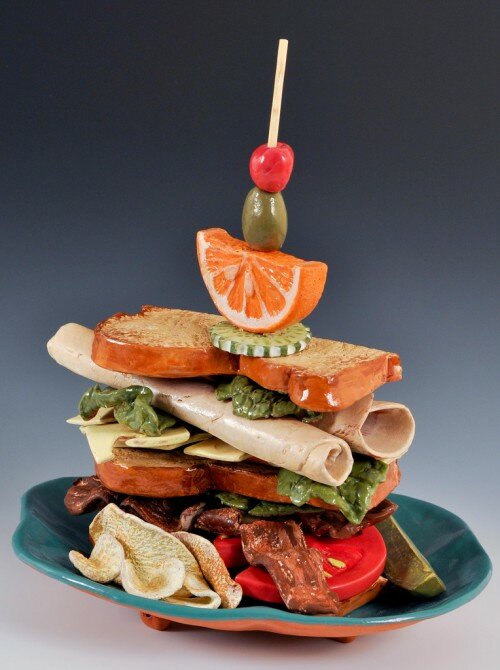 (Piece by Alice Abrams)
When: December 9 – 11, Friday – Sunday, 10 am – 7 pm
Where: 219 Western Avenue, Allston, MA
How: Official Website
What/Why: "The Ceramics Program of the Office for the Arts at Harvard announces its annual Holiday Show and Sale December 8 th – 11th at 219 Western Avenue, Allston, MA.
Come see more than sixty potters and sculptors present an extraordinary selection of hand-made work ranging from masterpieces to treasured bargains. Long recognized as featuring the best and most varied selection of contemporary ceramics in the Northeast, this popular exhibition attracts several thousand visitors. In honor of Harvard's 375th anniversary, participating artists will donate work stamped with an official 375 Harvard logo, with all proceeds going towards the studio's Kiln Fund."
I'm not normally drawn to ceramics, but some of these are just too cool not to share. Ridiculous.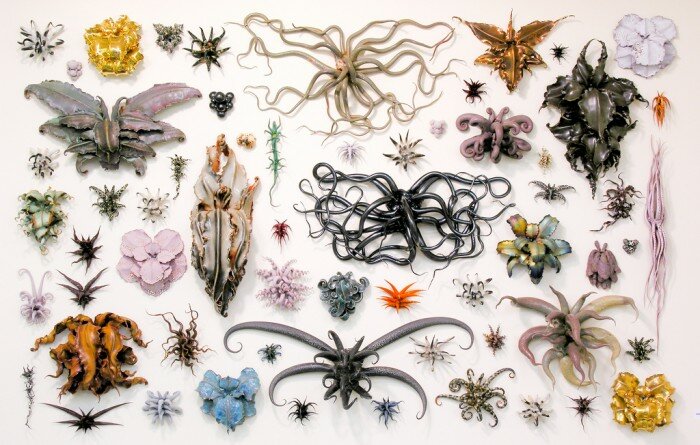 (Chris Adams)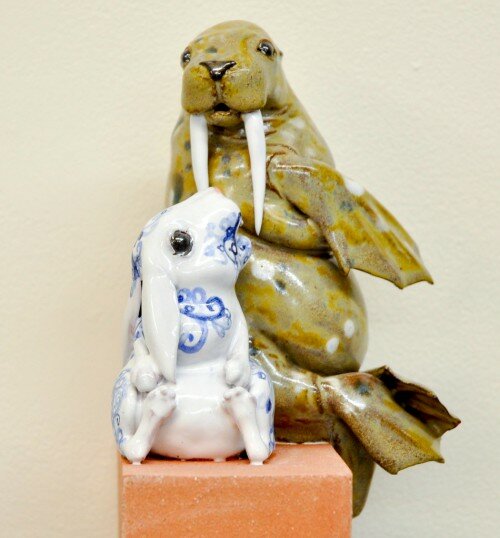 (Margaret Angelo)
(Kathy King)
———————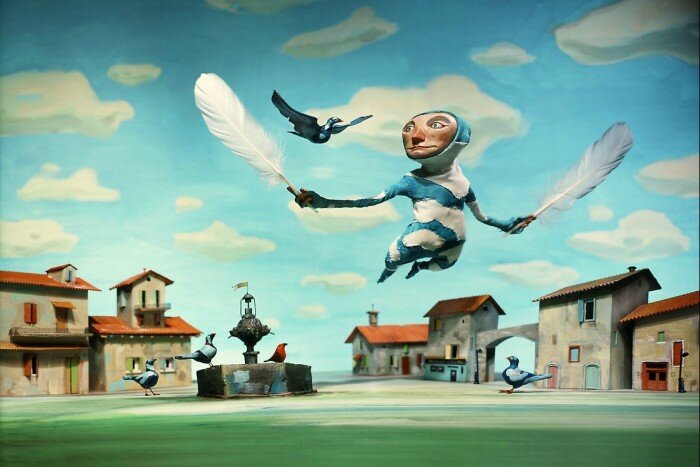 (The work of Chris Sickels – Red Nose Studio, currently on view at AIB Boston)
This is one of the strongest wrap-ups I have ever compiled which is surprising since the holidays are upon us. No weak-links. Are there enough hours in a day to take it all in?
Get a good nights sleep, there are adventures to be had this weekend ♥