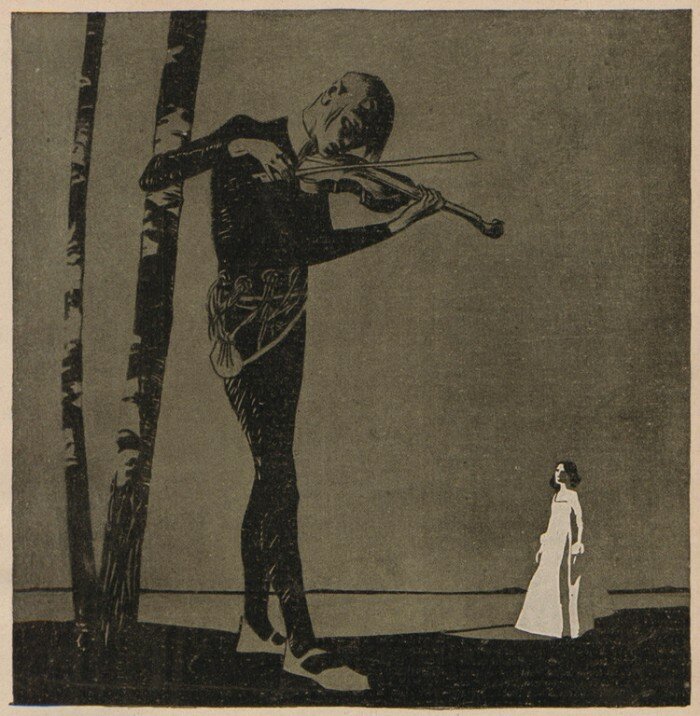 (Albert Weisgerber)
tinderbox x pure smoke culture x ambassadors x thank you 
——————————-
Pure Smoke Culture

When: On view through January 19th, 2013
Opening Reception: Friday December 7th, 6-8PM
Where: Anthony Greaney, 450 Harrison Ave, Boston, MA 02118
How: Official Website
What/Why: "Anthony Greaney proudly presents PURE SMOKE CULTURE, organized by artist Nick Kramer. This exhibition gathers diverse works by seven New York- and Los Angeles-based artists whose pieces bear the marks of process yet retain their essential form—the results of a refinement solid as particulate smog yet fanciful as smoke. A text by Sarah Conaway accompanies the exhibition.
PURE SMOKE CULTURE arises from Kramer's interest in art as a mode of experience, bringing these seven related artists into direct conversation. Their work begins with objects pulled whole from the lived environment. These grasped materials are more and less than readymades; they are collage elements on a human scale. Each piece evinces both its materiality and the artists' manual manipulations. Yet the pieces reveal their origins or reflect their internal structure. The mutability of ideas adheres to the stability of objects. 
In the heady haze of PURE SMOKE CULTURE, the world is grabbed, felt, dirtied, damaged, adorned, made useless, made attractive, or otherwise apprehended by roving artists. Sean Kennedy distills the banal aesthetic of many Los Angeles neighborhoods, turning security gratings into supports for rich painted gradients—just as Sarah Braman's cut-up pieces of campers become vehicles for an investigation of light and substance. The spare compositions ofBill Jenkins often feature grimy objects defined as much by the weather as by their manufacturers or the artist. Anya Kielar's figures emerge from disruptions in the weave and weft of unfinished muslin. Sarah Conaway constructs still lifes from humble materials that, once photographed, echo classical forms. Jedediah Caesar collects and then dissects detritus within sliced resin blocks that then constitute his sculpture, while the apparent interior structures ofJustin Beal's cast rubber wall works seem to strain against their surfaces, implying a materiality that is not there. 
Even the show's title,PURE SMOKE CULTURE, is derived from an ad glimpsed in a head shop in Kramer's neighborhood. The solid burns into the air, parting at the wave of a hand. These artists drift through cityscapes suffused with art."
——————————–
Holiday Market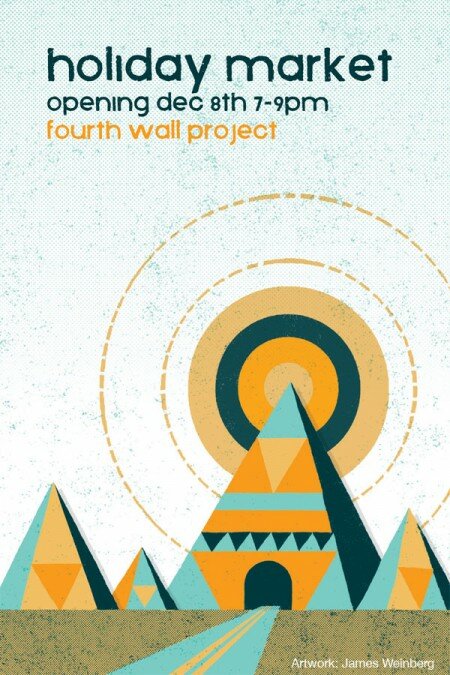 When: On view through December 30th, 2012
Opening Reception: Saturday December 8th, 7-9PM
Where: Fourth Wall Project, 132 Brookline Ave, Boston, Massachusetts 02215
How: Official Website
What/Why: "Prints, editions, artworks and gifts all under $150 from some of our favorite artists."
List of participating artists here.
——————————–
Thank You
When: Friday September 7th, 5:00-9:00PM
Where: Studios at Porter Mill, 95 Rantoul Street, Beverly, Massachusetts 01915
How: Official Website
What/Why: "The Fall 2012 Body as Art Class of Montserrat College of Art taught by Sandrine Schaefer, is pleased to announce their final performance happening at Studios at Porter Mill and Gallery at Porter Mill. Please join us for a night filled with performance art and free food and drink, as well as supporting these young upcoming performance artists."
List of participating artists here.
——————————–
Crush
(never thought of you as my mountain top, prior work by Pakayla Biehn)
When: On view through January 7th, 2013
Where: Orchard Skate Shop, 156 Harvard Ave, Allston MA, 02134
How: Official Website
What/Why: "Crush is an exhibition of new works by Pakayla Rae Beihn (Brooklyn, NY), Erin M. Riley (Philadelphia, PA) and Jason Andrew Turner (Philadelphia, PA).
Originally from the Bay Area, Pakayla has rarely shown her beautiful paintings on the east coast, she will be showing the delicately layered photo realistic paintings for which she has gained lots of attention. 
Erin who received her BFA from MassArt in '07 hand weaves wool tapestries using imagery that she has found on the internet and will be showing a series of works depicting young women in various states of exposure. 
Jason has exhibited all over Philadelphia and works on simple and stunning portraits of beautiful women, landscapes and objects."
——————————–
Repeating Patterns – The Tortoise and the Hare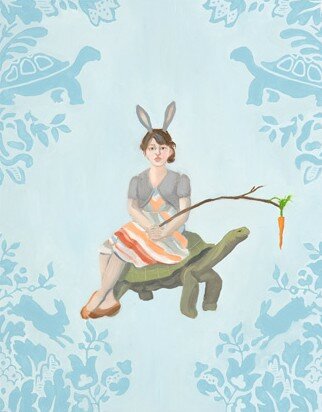 When: On view through December 31st, 2012
Opening Reception: Friday December 7th, 2012 5-8PM
Where: Three Graces Gallery, 105 Market Street, Portsmouth, NH 03801
How: Official Website
What/Why:"Our final show in December, is a (long overdue) solo show of my own paintings."Repeating Patterns: The Tortoise and the Hare" featuring new works by Kim Ferreira will open Friday, December 7th, with an opening reception from 5 to 8pm in conjunction with the Portsmouth Gallery Walk. Please come to say hello and goodbye – to celebrate what has been and what will be! Cheers and thank you all for the love and support"
——————————–
End of the World: Making Art in the Age of Transition

When: On view through December 30th, 2012
Opening Reception: Saturday Dec. 8th, 7–10pm
Where: Gallery X, 169 William St., New Bedford, MA 02740
How: Official Website
What/Why: "As we approach the end of the Mayan calendar when the largest gear in that cosmic clock turns, one can't help but wonder, is this the end of our world as we know it? Could it be the beginning of a new way of life? There certainly hasn't been a lack of signs if we are paying attention. With a 24 hour news cycle and constant access to information through the web and social media, it is difficult to escape the looming global crises of our time."
——————————–
Winter Group Show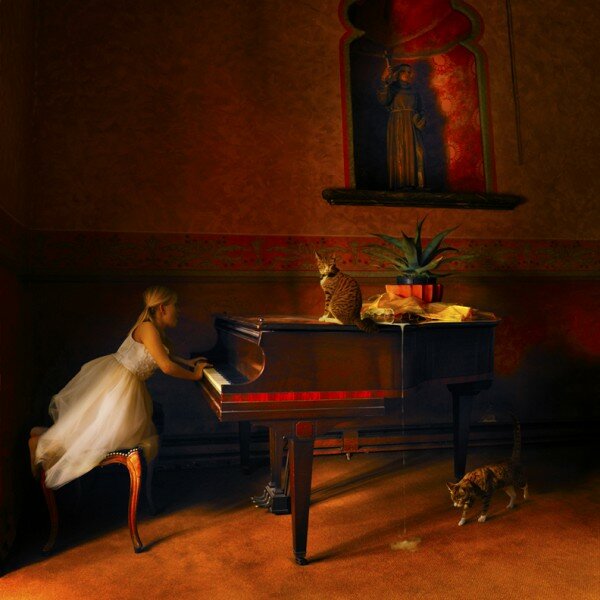 (

Grimalkin's Opus, Tom Chambers)
When: On view through December 22nd, 2012
Opening Reception: Friday, December 7th from 6 – 8pm
Where: Chase Young Gallery, 450 Harrison Ave, Boston, MA 02118
How: Official Website
What/Why: "Chase Young Gallery is pleased to present a group exhibition of gallery artists.  We will be featuring new work by Tom Chambers, Jeff Chase, and Treacy Ziegler along with work by all twenty seven gallery artists."
——————————–
Rifrákt Holiday Art Fair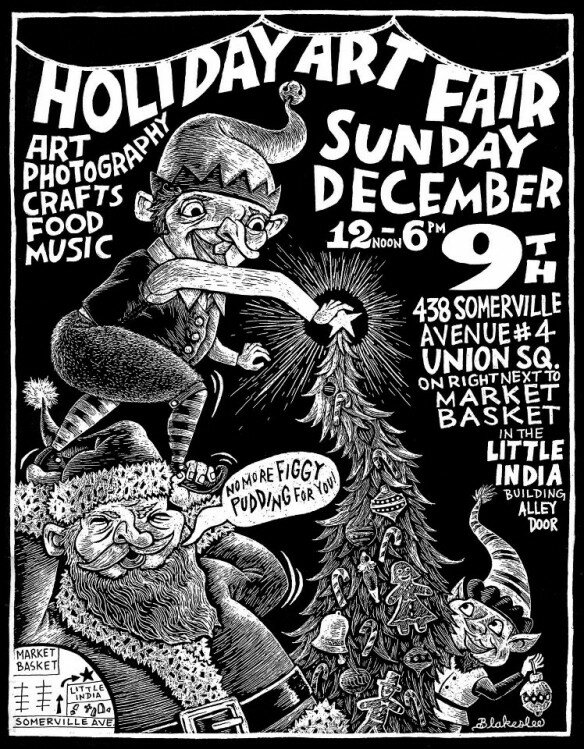 When: Sunday December 9th, 12-6PM
Where: 438 Somerville Ave #4, Somerville, MA
How: Official Website
What/Why: "Rifrákt Artist Collective will join local artisans and crafters for this fun, festive event, featuring handmade crafts, jewelry, artwork, photography, clothing, baked goods, and much more. This is a great way to purchase some holiday gifts while supporting your local artist community!  This is also the first time Rifrákt will be hosting a photo-booth!  Make sure to come over and get your picture taken!  More details to follow."
——————————–
Pieces Apart: Quantifying Experience

(Valentines Day, Molly Segal)
When: On view Dec 7- Dec 14, Jan. 16- Feb. 28.
Opening Reception: Friday, Dec. 7, 5-7 pm
Where: Huret & Spector Gallery, Tufte Performance and Production Center, 10 Boylston Place, Sixth Floor
How: Official Website
——————————–
Members Holiday Show

 (Marriage, Stephanie Angelo)
When: On view through December 28th, 2012
Reception: Friday December 7th, 6-8PM
Where: Galatea Fine Art, 450 Harrison Ave, Boston, MA 02118
How: Official Website
What/Why: "Our members will be coming together for the month of December to, as a cohesive unit, present over 150 pieces of artwork in varying media and genre. Paintings, sculpture, photography, mixed media, etc. will be on view by over 65 artists.
Be sure to visit the gallery in December and enjoy the works of the members that are available for immediate purchase during the holiday season."
——————————–
Ambassadors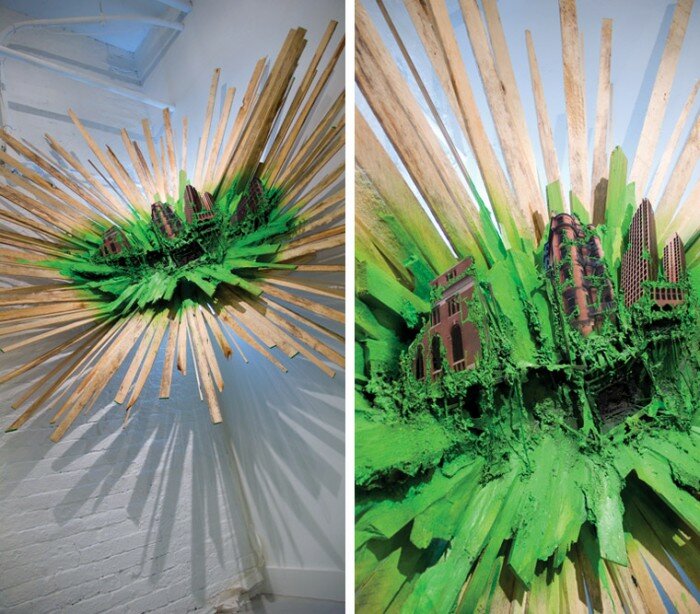 (Adaptation, prior work by Josh Falk)
When: On view through January 18th, 2013
Opening Reception: Thursday December 13th, 4:00-5:30PM
Where: Scollay Square Gallery, 3rd Floor (Main Lobby) City Hall, Boston
How: Official Website
What/Why: "Featuring the Artwork of: Josh Falk, Sean Flood, Adam O'Day, Felipe Ortiz, Percy Fortini-Wright"
——————————–
Michael Krueger | Fluorescent West: Drawings & Animation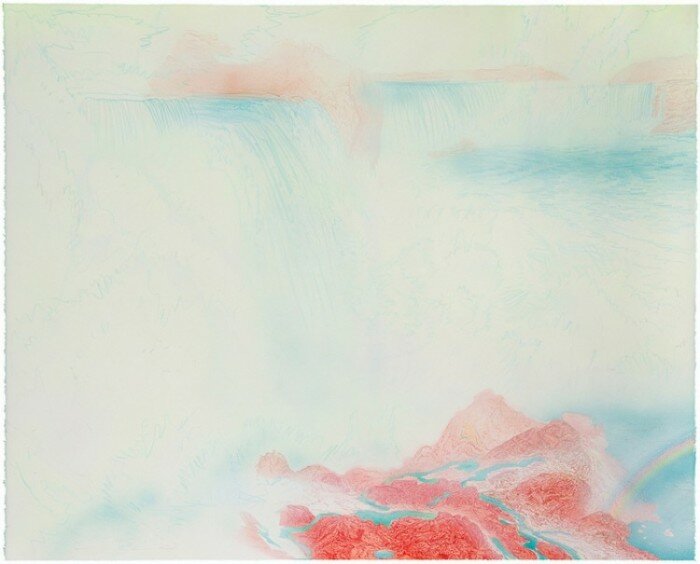 (Cascade)
When: On view through December 8th, 2012
Where: Steven Zevitas Gallery, 450 Harrison Ave, Boston, MA 02118
How: Official Website
What/Why: "Fluorescent West brings together six new works on paper, the largest Krueger has executed to date, as well as his first animation for a gallery exhibition. 
(Krueger recently contributed fifteen animations to the documentary, Drop City.) There are two notable changes with this body of work: firstly, unlike much of his earlier work, the human figure is now absent, thus making the landscape the sole bearer of content;secondly, while colored pencil continues to be Krueger's dominant medium, his newest work also utilizes watercolor and acrylic paint.
In Fluorescent West, Krueger reexamines 19th-Century depictions of the American West through a contemporary lens. The West – its vast physical spaces and mythologized psychological openness – has long been Krueger's primary subject, along with themes of utopianism, escapism, and hippie culture. In the late 19th-Century, artists such as Thomas Moran and Albert Bierstadt created work that actively sought to glorify the West, and, in many ways, their conception of the West's wild and wonder continues to inform our innate sense of the region. Krueger simultaneously embraces and questions the myth of the West, and, in doing so, opens up new avenues for understanding it. Color has always been an integral part of Krueger's work.
The drawings and animation in Fluorescent West employ the use of unnatural colors and caustic color combinations, which have more in common with contemporary industrial design than nature. If Moran and Bierstadt made use of light to evoke glory and wonder, then, by contrast, Krueger conjures an almost artificial light in his work that, like fluorescent light, can evoke detachment and disorientation. As Krueger states:
"This use of color and light will create a quick reading of unreality in the works but also, as vivid bright colors do, suggest optimism and a fresh reconsideration of the vistas depicted."
——————————–
All Black Everything

(When you Awake, Brian Willmont)
When: On view through December 2012
Where: Aviary Gallery, 48 South Street, Jamaica Plain, Massachusetts
How: Official Website
What/Why: A solo show featuring the work of Brian Willmont.
——————————–
Rock On – Glovebox Fundraiser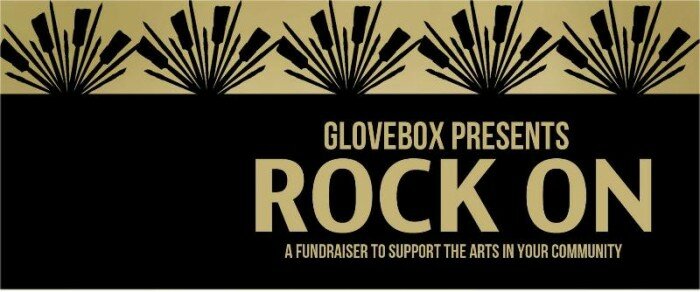 When: Sunday December 9th, 4:00pm-8:00pm
Where: Scholars, 25 School St., Boston, Massachusetts 02108
How: Official Website
What/Why: "The second annual Glovebox Fundraiser is taking place on December 9th from 4 pm-8pm at Scholars in Boston. Join fellow artists, art enthusiasts, and friends in an evening of rock-fabulous memories and know that you have gone and done good by contributing to the arts. Who knew philanthropy was this much fun? We have local bands including Ederson, and others serving up tenacious tunes. Tickets are $20 at the door (cash and credit cards accepted) and the funds directly support Glovebox, a non-profit 501 c3 arts organization. 
In addition to your entertainment for the evening, we also have an abundance of much needed "stuff" that you will want to bid on. Fancy a night at the Liberty Hotel with your beau including dinner and breakfast? Need some kick-ass art for your new digs? How about some Red Sox swag? 
If you are not convinced by now, we also are raffling off a FREE scooter from our friends at Scooters Go Green! Raffle tickets are $20 and can be purchased at the event OR NOW! Simply email jodie@glvbx.com with the number of tickets you want and you can pay at the event or by credit card before. Be sure to include your name, email and phone number when emailing. the winner will be announced at the end of the evening and who knows YOU could be riding home in some serious style."
——————————–
MassArt Holiday Sale

When: On view through December 8th, 2012
Where: Mass Art, 621 Huntington Avenue, Boston, MA
How: Official Website
What/Why: "This is a great opportunity to find that perfect gift for the holidays. Make sure to purchase handmade, quality artwork by students and alumni at this year's MassArt Holiday Sale! Savvy shoppers can pick up unique gifts – from hand-blown glass, ceramics, oil paintings to handmade jewelry, these items and more can be found at the MassArt Holiday Sale. Sales support MassArt artists and student scholarships."
——————————–
The Hundreds

(Portrait of a racist, prior work of Bill Dunlap)
When: On view through January 12th, 2013
Opening Reception: Friday December 7th, 2012 7:00-10:00PM
Where: Lincoln Arts Project, 289 Moody St., Waltham, Massachusetts 02453
How: Official Website
What/Why: "Lincoln Arts Project is excited to announce the annual "Hundreds" show — all artwork is priced at either $100, $200, or $300″
List of participating artists here.
——————————–
ICA First Fridays: 80s Night

When: Friday December 7th, 5:00pm until 10:00pm
Where: ICA Boston, 100 Northern Ave, Boston, Massachusetts 02210
How: Official Website
Cost: $15
What/Why: "Basquiat, Koons, Sherman, and Prince upstairs; Jackson, Bowie, and the artist formally known as Prince downstairs. The '80s are back in full force at this end-of-year bash celebrating our new exhibition "This Will Have Been, Art, Love & Politics in the 1980s."
——————————–
 12×12 Holiday Show
When: On view through December 23rd, 2012
Opening Reception: Friday December 7th, 6-8:30PM
Where: Bromfield Gallery, 450 Harrison Ave, Boston, MA 02118
How: Official Website
What/Why: "Contemporary artwork, 12 x 12″ or smaller, by scores of Bromfield gallery artists and guest artists from the Greater Boston area.
Priced from $100-$500, the work ranges from painting and drawing to collage, from printmaking and photography to relief sculptures. All artwork is "cash (or credit) and carry" for holiday shopping convenience."
——————————–
Big HUGE Small Works

When: On view through December 23rd, 2012
Where: Kingston Gallery, 450 Harrison Ave, Boston, MA 02118
How: Official Website
What/Why: "Big HUGE small works is a group exhibition showcasing works by Kingston Gallery Members and Kingston Associates. The show features smaller art works in a wide variety of media, all highlighting some aspect of the important concept of scale. Each of the artists applies a unique approach to the questions: "How do we define the relative ideas of bigness and smallness?" and "What scale of measurement is appropriate to use when measuring a visual idea?" The works in the show offer a wide spectrum of interpretive variations on this theme, all of which are guaranteed to engage viewers in thoughtful contemplation and visual delight."
——————————–
Tinderbox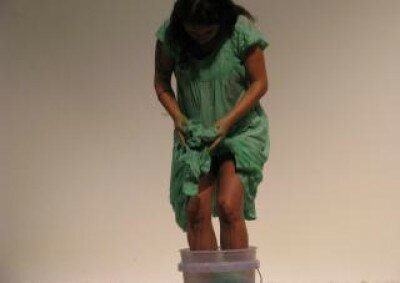 When: Friday December 7th, 8:00PM
Where: Mobius, 55 Norfolk Street, Cambridge, MA 02139
How: Official Website
What/Why: "SUSAN SEIDMAN:  "QWERTY" is Part 3 of Make Your Mark, a series of events exploring the movement roots of written communication.  QWERTY confronts the rigidity, repetitiveness and compulsion for speed of the keyboard, accompanied by a soundscape of music and effects, framed by performance narrative.  In order of appearance…Susan Seidman, Annie Fish, Mary Rose Blandino
ANDREA ZAMPITELLA:  "You Are What You Preserve" is a performance representing the ephemeral nature of memory and the desire to hold on to experiences. The performance visualizes the struggles involved with the preservation of an experience, memory or an event that you can no longer grasp.  It also illustrates the need to preserve a fading memory, as if the mere reminder of the memory keeps it alive. Ultimately, the performance questions how we define ourselves by what we can contain. 
JIMENA BERRMEJO-BLACK: "Truth or Dare" will challenge the audience in a game of "Truth or Dare" revealing parts of herself and of whoever is willing to do so. The rules are simple, the performance will get as complicated as the participants will let it be."
——————————–
Robin Levandov: Works on Paper 

When: On view through December 31st, 2012
Opening Reception: Friday December 7th, 2012 6:30-8:30PM
Where: Movimiento, 450 Harrison Avenue, Boston, MA 02118
How: Official Website
What/Why: "My paintings speak to a world held in delicate suspension and the tension between fragility and endurance. As "psychological" landscapes, these works reflect upon an animate earth and communicate unease and wariness, as well as profound despair and hope. Some of these paintings reference man's attempt to control the natural world, and the consequent inevitable strain and ultimate yielding.
My pleasure in the paint remains behind in skittish lines, as well as in drips, splatters and swift strokes—all of which also evidence the energy of the unseen world. In this body of work, I have moved from drawing into painting and have used the elements of surprise and chance to enter the painting and watch the narrative develop. Painting mirrors life and the decisions we make in confronting the fortuitous and the unexpected."
——————————–
Into the Woods: Recent Drawings by Gabrielle Barzaghi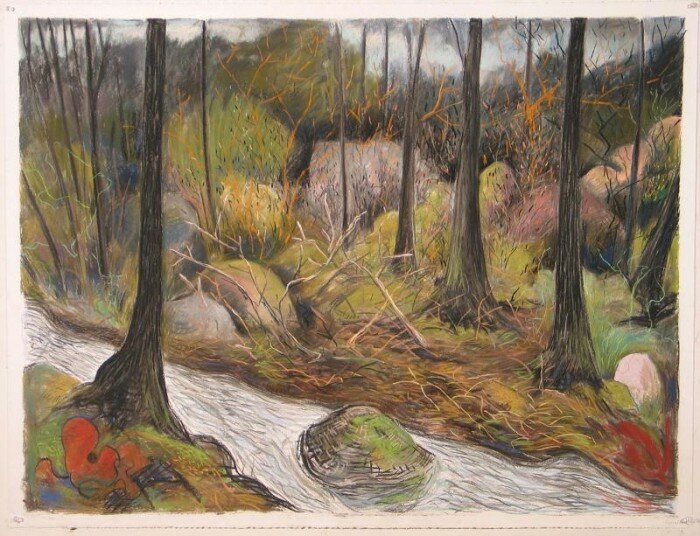 When: On view through January 31st, 2013
Where: Cape Ann Museum, 27 Pleasant Street, Gloucester, MA 01930
How: Official Website
What/Why: "For Gabrielle Barzaghi, the woods and wetlands surrounding her Gloucester studio present a landscape of opposites, a place of solitude and shelter and, at the same time, one of danger and forbiddance. The rich color she achieves with pastels and the intricate texture her use of line and mixed media create, invest her works with a unique vibrancy and sense of emotion."
——————————–
Gilded

(Watercolor Fresco, Ali Cavanaugh)
When: On view through January 2nd, 2013
Opening Reception: Friday December 7th, 2012 6-8PM
Where: Gold Gallery, 655 Tremont St., Boston, MA 02118
How: Official Website
What/Why: "For our first holiday show, we say "the more the merrier"! In the festive spirit of the holidays (and let's face it, in the spirit of us!) we have asked each of our artists to explore the concept of "gold" and interpret it as the choose. This group show will represent each of our talented artists as they investigate this theme and see how it manifests in new work.
Come experience a range of perspectives as we deck the halls with this truly unique collection for the holidays!"
——————————–
Miniatures 2.0
When: On view through December 30th, 2012
Opening Reception: Friday December 7th, 2012 6-8PM
Where: Uforge Gallery, 767 Centre Street, Jamaica Plain, MA
How: Official Website
What/Why: Learn more about the exhibition here.
——————————–
Kill The Lights

When: Thursday December 13 6-9 pm
Where: The Howard Art Projects, 1486 Dorchester Ave., Dorchester, MA  02122
How: Official Website
What/Why: "During the season of lights four Boston-based artists do something unusual- they kill them. Kill the Lights is a one night show at the Howard Art Project in Dorchester, MA, that explores light as portal into and out of memory. Works varying fromphotography to sculpture, from text to live performance, will illuminate the way light revealspresence and when shut out, recalls absence. The show is free and open to the public. This show is the culmination of SMFA's Performance Open Studios Class."
—————————
Fringe Studio Sale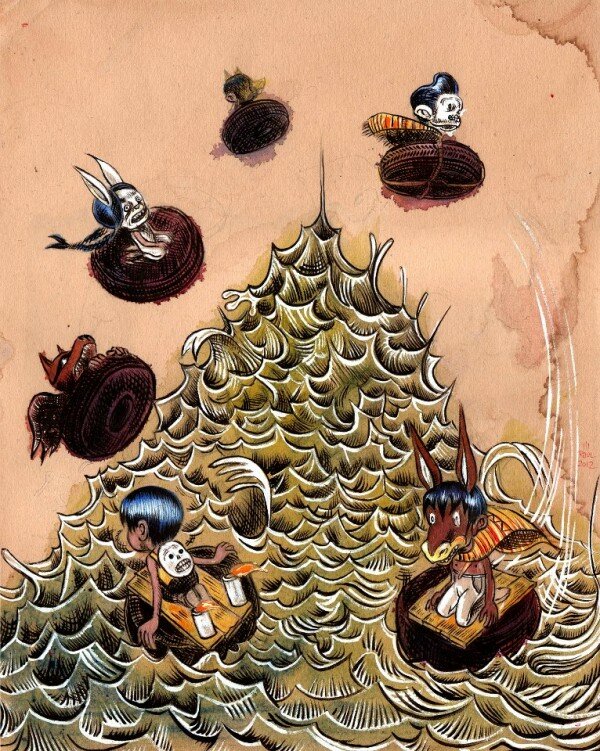 (The work of Raul Gonzalez)
When: Saturday December 8th, 1-6PM
Where: Fringe Union, 9 Olive Square, Somerville, Massachusetts 02143
How: Official Website
What/Why: "Want to feel good about the gifts you're giving this season? Be sure to make Fringe the first stop on your holiday shopping adventures, so you can help to keep our local economy thriving with unique gifts you can't find anywhere else!
Also adding to the awesomeness will be special guest artists and friends of Fringe, Caleb Neelon, Thomas Hart and Raul Gonzalez! The only question left is what will you buy first??"
———————————-
Collection Selections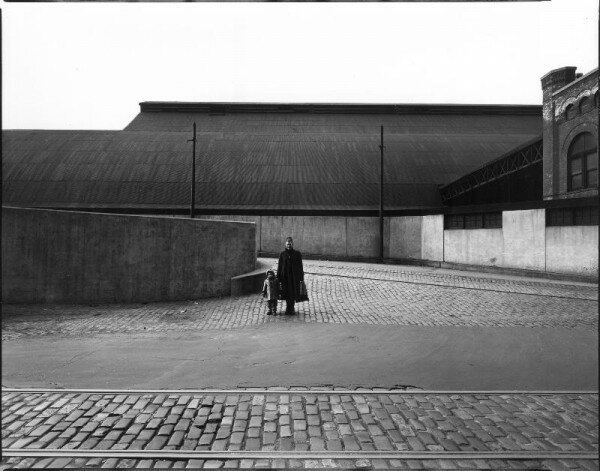 (Eleanor and Barbara)
When: On view through January 5th, 2013
Opening Reception: December 7th from 5:30 to 8:00pm
Where: Gallery Kayafas, 450 Harrison Ave, Boston, MA 02118
How: Official Website
What/Why: "Gallery Kayafas welcomes guest curator, Gus Kayafas, for Collection Selections, an exhibit of prints from significant local collections, including works by: Jules Aarons, Bernice Abbott, Manuel Alvarez Bravo, Harry Callahan, William Christenberry, Susan Derges, Harold Edgerton, William Eggleston, Frank Gohlke, Helen Levitt, Milton Rogovin, Stephen Shore, Aaron Siskind, and Rosalind Solomon. Selections offers a resonant view of some of the most exceptional photographers of their time. Essential to the thoughts and development of contemporary artists and collectors, Selections simply presents some terrific works."
Also on view..
Brett Angell Addicted to Sadness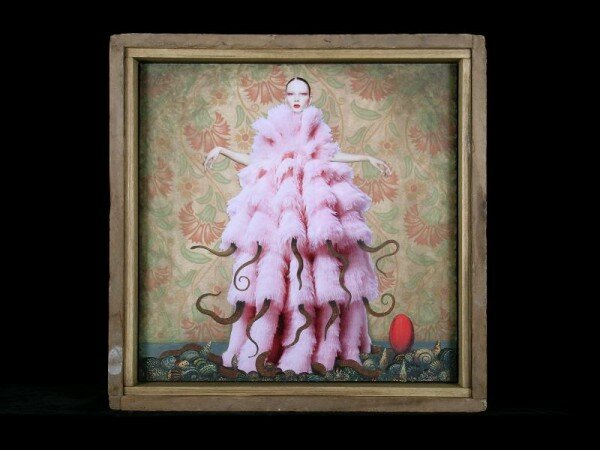 (Low Tide)
What/Why: "Brett Angell creates small, elegant, mixed-media collages which include found objects as well as his original drawings and paintings. The results are displayed in vintage boxes, frames and other wooden pieces.   These small works are cinematic, dramatic and emotionally charged.  His use of reworked masterpieces juxtaposed against a fantastical being causes the viewer to consider what is remembered versus what is real — his use of nautical images and theme makes one question the existence of the mermaid and other humanoid sea creatures.
"Living both in Massachusetts as well as being so close to the water in Chelsea inspires my current work. While mermaids and sailing ships are generally thought of as old subjects I am giving them new life in a contemporary format. I have enjoyed creating this new world in which mermaids interact with man in a variety of settings including reworked masterpieces such as Vermeer's interiors. My goal is to make the viewer stop, look and consider what is remembered versus what is real. The inhabitants in my collages are cinematic, sorrowful, elegant, humorous and ferocious. Could mermaids be real? Why not?"  -B.A"
Also on view..
Adam Davies: Liminal Spaces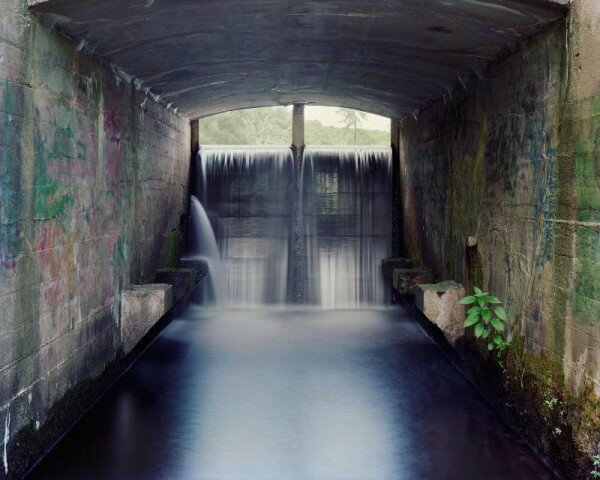 (Montauk Highway, Long Island, NY)
What/Why: "Gallery Kayafas is pleased to present Adam Davies, a photographer who responds to and recasts the idealizing nature photography of the Sierra Club school. His pieces often show the places where the natural and the man-made world collide. With a large format camera, Davies shoots these less-than traveled locations which are haunted by the noticeable absence of the human form. Abandoned buildings, under a bridge or overpass; he shows us places one may pass but seldom visit. In these large scale images, from 8×10" negatives, the color and texture are saturated, crisp and well defined. This extraordinary detail adds a tactile element to the experience.  "
——————————–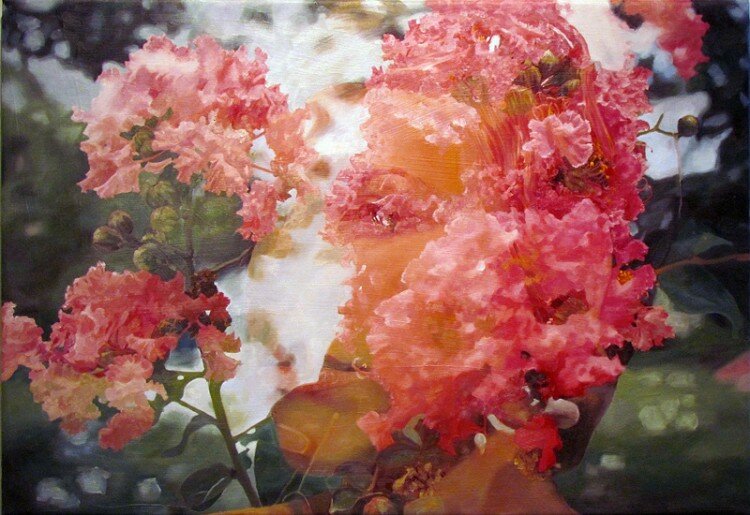 (2 years, 264 days and this morning, prior work by Pakayla Biehn whose paintings are currently on view at Orchard Skateshop)
Many moons ago when I used to go to the mall with my mom, she would say I had a case of the "toadie eyes"(a la Mr. Toad's Wild Ride) every time I was drunk off allowance money and recklessly wanting every toy in sight.
Now, after seeing so many holiday art markets in the Wrap-Up, I have unfortunately come down with the adult strain of the dreaded toadie eye.
Coal for everyone. Art for me.
Have a great weekend! ♥