property x familiar faces x depth x reconstructed x molt
——————
Holiday Art and Craft Fair

When: Saturday, December 22, 2012 from 11:00am – 6:00pm.
Where: Eliot Hall at 7A Eliot Street, Jamaica Plain, MA 02130
How: Official Website
What/Why: "UFORGE Gallery, a non-juried, assignment-based gallery & creative space and the Trustees of Eliot Hall, home of the Footlight Club, announced that it will cohost a Holiday Fine Art and Craft Fair on Saturday, December 22, 2012 from 11:00am – 6:00pm.
The event, which will be held at Eliot Hall at 7A Eliot Street, Jamaica Plain, MA 02130, will feature over 30 vendors selling their handmade work to last minute holiday shoppers. Handmade items will include photography, jewelry, pottery, stationary, clothing and specialty bakery products.
During the event, visitors will be able to walk through the 180-year old building and beloved home to America's Oldest Community Theater, the Footlight Club."
———————————–
Yale University Art Gallery (Reopened!)

(Blam, Roy Lichtenstein)
Where: Yale University Art Gallery, 1111 Chapel Street (at York Street), New Haven, Connecticut
How: Official Website
What/Why: "The mission of the Yale University Art Gallery is to encourage appreciation and understanding of art and its role in society through direct engagement with original works of art. The Gallery stimulates active learning about art and the creative process through research, teaching, and dialogue among communities of Yale students, faculty, artists, scholars, alumni, and the wider public. The Gallery organizes exhibitions and educational programs to offer enjoyment and encourage inquiry, while building and maintaining its collections in trust for future generations."
———————————–
Holiday Art Salon

(installation shot)
When: On view through December 24th, 2012
Where: The Hallway Gallery, 66a South Street, Jamaica Plain, Massachusetts 02130
How: Official Website
What/Why: "Featuring over 60 artists and 150 works of art during the month of December. Give art this holiday season…"
———————————–
We Like it So Much

(Caprice Venitien, Erik Desmazières)
When: On view through February 4th, 2013
Where: Child's Gallery, 169 Newbury Street, Boston, MA 02116
How: Official Website
What/Why: "An exhibition of staff favorites"
———————————–
 Height, Width, Depth, Time: Boston Sculptors Celebrates 20 Years

 (Molt, Rosalyn Driscoll)
When: On view through January 2013
Where: Boston Sculptors Gallery, 486 Harrison Avenue, Boston, MA
How: Official Website
What/Why: "For the first time ever, an exhibition of all thirty-six current members and fifteen alumni showcases the diversity and brilliance of Boston Sculptors in a celebration of twenty years as a successful venue for contemporary sculpture in the Boston area.
Fifty-one artists, showing one or two works each, fill the gallery from floor to ceiling with work made in a rich range of styles and materials including traditional bronze, wood and stone, alongside non-traditional materials of newspaper, rawhide, trash, gourds and honey. In addition, viewers will see videos, kinetic, participatory and site-specific art.
The theme of Height, Width, Depth, Time – with the emphasis on time – is interpreted in a multitude of ways. All of the artists have chosen their particular sculptural form to address time's passage. This has been interpreted variously as the measurement of time, motion, growth, decay, the seasons, the universe, memory, timelessness, fragility and endurance."
————————–
EnCycloMedia

When: December 25th to January 3: 7-9 pm
Where: Mobius, 55 Norfolk Street, Cambridge, MA 02139
How: Official Website
What/Why: Mixed Media: video "painting", movement, spoken word, sound
Video:  Terra Friedrichs
Music: Matt Samolis, Beasts of Improvisation and others
Movement Artists: Jane Wang, Ye Blaspheme Gentyllman and others
Spoken Word Artists: Markus Nechay, Cailin O'Toole, Monica Raymond, Ye Blaspheme Gentyllman and others
In addition to the video projections, which will run every night 7-9 pm, there will be "themed" performance nights of live music, spoken word and/or movement art, presented along with the projections.
December 26, Wed: "water"
December 27, Thur: "fire"
December 28, Fri: "glass"
December 29: Sat: "property"
December 30: Sun: "flesh"
———————————–
Reconstructed: My Hands, Our History

When: On view through January 27th, 2013 5:00-9:00PM
Opening Reception: Thursday January 3rd, 2013
Reception: Thursday January 3rd, 5PM-9PM
Where: Studios at Porter Mill, 95 Rantoul Street, Beverly, MA
How: Official Website
What/Why: "Leisure Art, in collaboration with the Gallery at Porter Mill, is pleased to announce it's first exhibition of the new year, Reconstructed: My Hands, Our History, from January 2nd through January 27th, 2013. The show includes assemblage and installation work by Brian Thomas and Sarah C. Rutherford. All are invited to attend an opening reception to meet the artists and enjoy refreshments in the gallery.
Both Thomas and Rutherford offer the viewer an intimate journey into the past, while at the same time consider future ideas and generations through installations, delicately cut paper, softly lit viewing spaces, and an appreciation for re-purposing."
———————————–
Staff Picks

 (Untitled, Wesley Simon)
When: Friday December 21st, 2012 7-10PM
Where: Voltage Coffee, 295 3rd Street, Cambridge, Ma
How: Official Website
What/Why: "As December is full upon us, the shortest day of the year, as well as possibly our last on earth, is coming up this Friday. The Voltage staff has banded together and decided that if we are going to go down we're going to do it together with our closest Voltage Staff, Friends, Family and loyal supporters at an art opening, the last of (our lives) 2012. 
There will be punch. Read into it or not. Please wear white tennis shoes."
List of participating artists here.
———————————–
Familiar Faces
When: On view through January 13th, 2013
Opening Reception: Thursday, January 3, 2013, 6-8pm
Where: Uforge Gallery, 767 Centre Street, Jamaica Plain, MA 02130
How: Official Website
What/Why: "With a focus on color, brushstroke, and light, Familiar Faces examines the portraits and stories of local Jamaica Plain community members as well as neighbors, friends, and family. Mia's paintings seek to communicate the personality of the individual as they capture the unique people they portray. Through a painting process of purple highlights, orange lines, and turquoise shadows- there are always new colors to be seen and represented in the face."
———————————–
Game On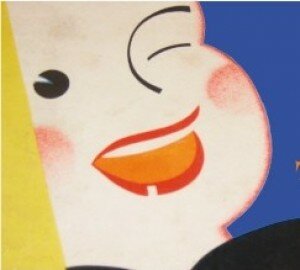 When: On view through March, 2013
Where:Worcester Historical Museum, 30 Elm Street, Worcester, MA 01609
How: Official Website
What/Why: "Experience a new way to learn about history in the fun and interactive exhibition Game On. Exploring the history of toys and games in America, Game On is designed like a board game encouraging children and adults to explore the gallery and artifacts – like LEGOs, the first paper dolls manufactured in America, Toy Soldiers, Puzzles, Barbies, and more – while answering trivia, playing games and having fun. Game On surveys the development of "play" and the toy industry, looking at New England based giants like Parker Brothers, Milton Bradley and Hasbro, smaller companies like Worcester You Company and Ralpho Co., the marketing of toys and the development of franchises. Audiences, young and old, will be able to connect to the fond memories of childhood and the connection those toys and games create with future generations."
———————————–
The Russell J.Call Children's Center Northeastern University Art Show 2012 – "Shapes"

When: On view through December 2012
Where: Northeastern University Gallery 360, 360 Huntington Ave., Boston, Massachusetts 02115
How: Official Website 
What/Why: "Since its inception in the fall of 1978, the Children's Center has strived to provide the Northeastern University community with high quality child care. With a professional staff of educated and experienced teachers and help from college student assistants, the children gain valuable social skills and develop their intellectual and physical abilities through engaging, hands-on projects and activities. The center fosters children's natural love of learning.
Exhibiting the children's work in an annual art show is a long standing Children's Center tradition. The art show gives the NU community the opportunity to glimpse how children view themselves and their world. Art is not only a topic that children truly enjoy; it is a valuable medium through which children express themselves. Most importantly, the art show validates that the children's hard work is to be respected and can be appreciated by an audience."
———————————–
Stryker at Douglass Gallery

When: On view through December 25th, 2012
Where: Gallery X(Downstairs), 169 William St., New Bedford, MA 02740
How: Official Website
What/Why: "Gallery X is happy to announce the showing of the talented Stryker. Although fairly new to the local art scene, he has long been a fixture in the music scene in some of the areas top hard rock bands, "Altar", "Love & Opium" & "Blind Rhino". After 30 years of playing in and around New England, Stryker hung up his guitar and turned his attention to visual art. After his wife suffered serious health issues, he dedicated his energy to sculpture and painting. The amount of work he created was mind boggling, and also apparently encouraging to his wife who has rebounded and her cancer is in remission.
Unfortunately all is not well with the Stryker family as his youngest daughter has now been stricken with a serious illness. The members of Gallery X became aware of their plight and have offered the use of the Douglass Gallery to help highlight the artwork of this exceptional and ambitious artist and to make it available to the public this Holiday Season.
Please join us for this truly unique exhibition of one of the hardest working and extremely family oriented artists you'll ever meet. Every Xmas tree should have at least one Stryker underneath it."
—————————–
Pack of Wolves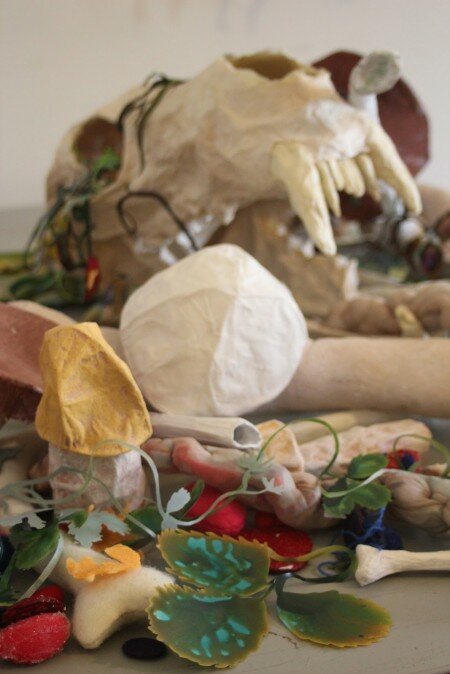 (Detail of related work, 'Berries and Bones' by Jen Houle)
When: On view through January 18th, 2013
Where: Montserrat College of Art, 301 Gallery, 301 Cabot St, Beverly, MA
How: Official Website
What/Why: "This December, Montserrat College of Art presents Pack of Wolves, a solo exhibition of Jenn Houle's recent works in the 301 Gallery. Researching the greater life cycles that occur on our planet, Houle illustrates the transfer of energy through organisms with paint, collage and sculptural installation. The creatures in Houle's Animal Eats series (2011) literally are what they eat. Houle's portraits of animals are built out of the plants and animals they digest, transferring identity from one living organism to another. In herAnimal Herds series (2012), Houle collages a group of life sized wolves directly onto the wall with small and incrementally layered pieces of painted vellum.
Houle says, "I seek to better understand and accept my own mortality by researching the greater life cycles that occur on our planet and to understand my existence as a single organism that helps to sustain this cycle. After extensive research into behavior, diet and anatomy, I playfully reorganize my perception of these animals (through) organic and interpretative drawing."
—————————–
Gene Kelly Centennial Tribute
(Do you remember this commercial from 2006? ♥)
When: On view December 25-December 30, 2012
Where: The Brattle Theater, 40 Brattle St, Harvard Square, Cambridge, MA 02138
How: Official Website
What/Why: "One of the things that makes the films of Gene Kelly so indelible is that they manage to make you forget you are watching 'just' a musical while simultaneously containing some of the most spectacular dance sequences you've ever seen. From the title song in SINGIN' IN THE RAIN to his duet with Leslie Caron in AN AMERICAN IN PARIS, Gene Kelly remains a giant of onscreen dance and is just as thrilling to watch today as he was 50 years ago.
"As director and choreographer, dancer and singer, acrobat and actor, Gene Kelly was one of the most vital and indispensable figures in the history of the American film musical… From out of the bijou white-walled penthouse suites in which Astaire and Rogers would rotate like figurines on a music box Kelly took dancing down into streets and squares and parks… The choreographic language that Kelly introduced into the American musical carried the very first hint of the vernacular, of slang."- Gilbert Adair, The Independent (London)
Program: (shows scheduled throughout each day—please visit our website for complete showtime information)
Tue 12/25 – SINGIN' IN THE RAIN
Wed 12/26 – ON THE TOWN and ANCHORS AWEIGH – Double Feature
Thu 12/27 – BRIGADOON and IT'S ALWAYS FAIR WEATHER – Double Feature
Fri 12/28 – THE THREE MUSKETEERS and THE PIRATE – Double Feature
Sat 12/29 – COVER GIRL and SUMMER STOCK Double Feature – Late Show: XANADU
Sun 12/30 – AN AMERICAN IN PARIS and INVITATION TO THE DANCE – Double Feature"
———————————–
So, I guess this is it.
/2012 Housekeeping
E-Mail: I compile the Wrap-Ups based on the e-mails I receive and the web lurking I do. So if you haven't already, add me to your address books.
Facebook:  With new Facebook rules for business pages, I recommend subscribing to the FLUX. feed here to see content(formal announcement with an MS paint arrow pointing to 'subscribe' in the works)..
Twitter: ..or don't. You can usually find me here anyway.
Pinterest: I also archive pictures of things I like and DIY projects I will never do here.
Et Al: Maybe it's all the Buble, but I'm feeling a little schwoopy this morning. 52 wrap-ups later and 2012 is done.
There have been more events/exhibitions to share this year(my Thursday evenings have been devastated) than any other, which is a great thing to see. Boston Arts is a force to be reckoned with.
I hope you have a very Merry Christmas, an art filled week, and I'll be back after the Holidays with an end of year Wrap-Up!
Stay sweet. ♥