Necessary.
Fixation Splints x Spectacle x Don't Look Down x Not About Paint x Revival
—————————–
Free Fun Fridays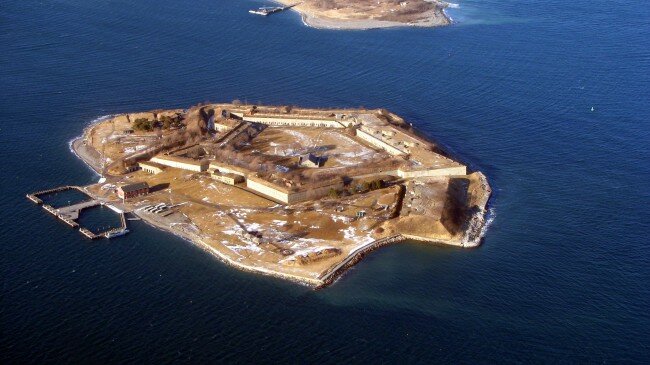 (George's Island)
"Free fun fridays invites Massachusetts residents and tourists to visit designated cultural attractions every Friday this summer with free admission. No registration or tickets required. Visit and enjoy!"
Free attractions for August 19th, 2011:
————————————–
Shot Through the Heart

(Blondie, Carmen Abelleira)
When: On view August 20th-September 2nd, 2011
Where: Voltage Coffee & Art, 295 3rd Street, Cambridge, MA
How: Official Website
What/Why: "Voltage Coffee & Art Presents a super special showcase of multimedia artwork by Carmen Abelleira.
"Shot Through the Heart" whimsically chronicles the life-cycle drama of heartbreak and healing, using hints of 1970's emerging punk influences that get our heroine to put her pout away and head back to the dance floor. Come share homemade sangria for 2 and wander through the story of love and loss with a clever twist while DJ troupe PARAJITOS provide their own version of the soundtrack.

Also staring: local artwork installation from graphic design collective *GOLDEN ARROWS*"
————————————–
Printed Green: "Zea Mays Printmaking"

(The work of Anita Hunt, "Cavern")
When: On view through August 27th, 2011
Where: Bromfield Gallery, 450 Harrison Avenue, Boston, MA
How: Official Website
What/Why: "These 11 artists from the studio near Northampton, MA, work in techniques safe for artists and the environment—including etching, woodcut, and photo-based processes.
The artists in this exhibition have all embraced this new green approach to printmaking without sacrificing anything in terms of image strength, technical mastery, and stylistic range: there are woodcuts, etchings, monotypes, lithographs, and photo-based prints in this exhibition.
Artists Broberg, Beresford, Kohrman, Peterfreund, Silverstone, Webb, and Worth all show large-scale prints that demand attention not only through their sheer technical mastery but also through their artistic power and vision. While artists Burge, Chalfin, Hunt and Radich work in a smaller format and draw us into their prints through the richness of tone and compelling combination of delicacy and intensity.
There is not a "Zea Mays style"; these prints fill the gallery with an astonishing range of marks and approaches: colors that are strident and clear, and colors that are exquisitely delicate. There are rich and solid blacks that rival those created with hazardous acids and mordants. For these printmakers, and the entire Zea Mays Printmaking community, the freedom to explore this new terrain of safer printmaking has lent an energy, an edge, and a freshness to the work."
—————–
Not About Paint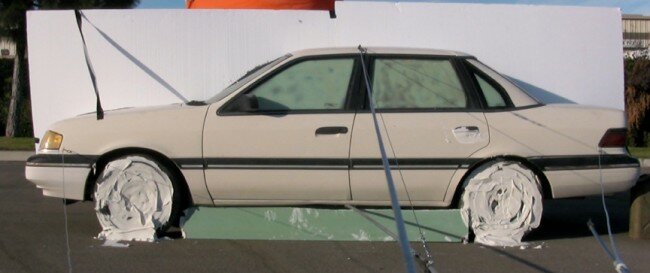 ((Video Still) Annotated Plans for Evacuation, Alex Hubbard)
When: On view through August 20th, 2011
Where:  Steven Zevitas Gallery, 450 Harrison Avenue #47, Boston, MA 02118
How: Official Website
What/Why: "Steven Zevitas Gallery is pleased to present Not About Paint, a group exhibition of six contemporary artists whose work recalls the qualities—and possibilities—of the painted medium as revealed through forms of sculpture, assemblage, installation, and video. Using an array of commonplace materials, from plastic, wood, and nylon webbing to soda and aluminum foil, each of the artists featured in Not About Paint are at the forefront of a group of contemporary practitioners breaching the spatial and material limitations that conventionally define painting.
The historical function of paint has, for centuries, been to render an image. That tradition began to dissipate in the late 19th century, until it became clear to the early Modernists that there was as much truth in the characteristics of paint as there was in the figures depicted on canvas, perhaps even more. Influential works like Marcel Duchamp's readymades and Robert Rauschenberg's combines left an indelible influence on the importance of objecthood, which artists featured in this exhibition use to conduct a conversation on painterly qualities.As the practice of contemporary painting continues to expand, it moves further from the confines of the canvas, less defined by spatial concerns and engaged wholeheartedly with materiality.
The artists featured in Not About Paint are each invested in the medium of paint through everyday objects and are as reverent to the materials they use as they are to the qualities of paint itself."
—————–
Artists A to Z: Mistral
When: On view through September 25th, 2011
Where: Copley Society of Art, Lower Gallery, 158 Newbury Street, Boston, MA
How: Official Website
What/Why: "The Copley Society of Art is a non-profit organization committed to the advancement, enjoyment, and the promotion of its member artists and the visual arts. The organization comprises artists who are juried by a credentialed membership committee. Co|So provides artists with a gallery for exhibiting and selling their work and a platform for engaging and educating the community. Membership is open to both artists and patrons whose combined contributions help support the educational and community outreach programs so essential to the organization's mission set forth 125 years ago."
—————–
MSAE Thesis Exhibition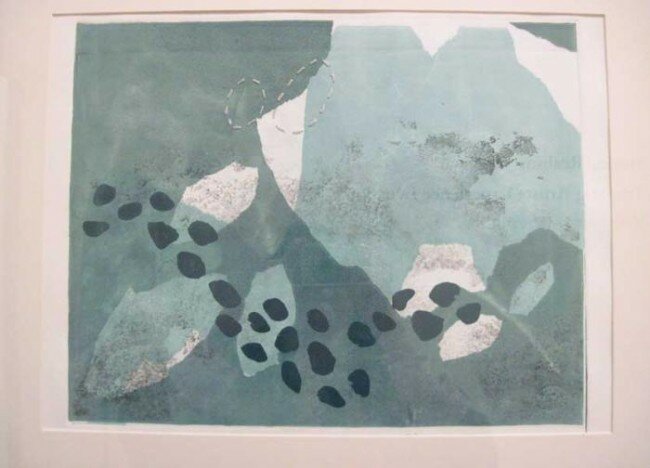 (Waterways, Bree Curtis)
When: On view through August 26th, 2011
Where: Mass Art, Arnheim and Doran Galleries, Boston, MA
How: Official Website
What/Why: "The Graduate Program in Art Education at Massachusetts College of Art and Design (MassArt) is pleased to announce a multi-media showcase of thesis works by candidates in the Master of Science in Art Education program. The exhibition features drawing, installation, painting, printmaking, photography, and sculpture. Artists include: Darren Buck, Joanna Chase, Bree Curtis, Darlene Gillan, Annie Kane O'Connor, Sheryl Pace, and Jeremiah Stevenson."
————————————–
Next week.. Interesting Art/Brunch/Chat—
Faces of Revival: Postwar Russia in the Art of Felix Lembersky
(Industrial Town. Nizhnii Tagil)
When: Thursday August 25th, 2011 10:00AM
Where: The Rubin-Frankel Gallery, At Boston University Hillel, 213 Bay State Road, 2nd Floor, Boston, MA 02215
How: Official Website
What/Why: "Please join us for brunch with an exclusive preview of "Faces of Revival: Postwar Russia in the Art of Felix Lembersky." Yelena Lembersky, the artist's granddaughter will give her remarks.
Kindly reply to Giang Luc by August 22 – RubinFrankelGallery@gmail.com"
———————————-
Redbull Cliff Diving World Series @ The ICA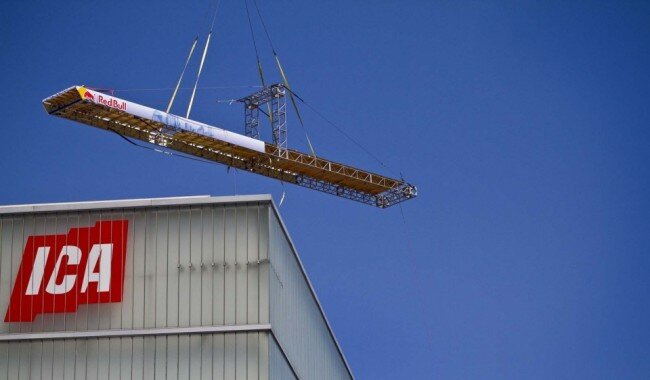 When: August 20th 3:00-6:00PM
Where: ICA Boston, 100 Northern Ave, Boston, MA 02210
How: Official Website
What/Why:"The sixth stop of its global tour will port in Boston Harbor at Fan Pier on August 20. Rather than natural cliffs, the divers will use the cantilever roof of the Institute of Contemporary Art building on Fan Pier Boston as their diving platform which soars 80 feet above the water's edge. The Boston leg of the tour will be the Series' first-ever east coast stop in the United States, and for the first time in the competition's three year history, four-time Olympic Gold medalist Greg Louganis offers his expertise as one of five judges on the tour.
Cliff diving is the acrobatic perfection of diving into water from great heights, and the Red Bull Cliff Diving World Series is the most prominent competitive platform for the sport. Eleven divers from nine countries who are between the ages of 25 and 46 will compete in seven events in 2011.
The Institute of Contemporary Art building on Fan Pier Boston has become one of Boston's most recognized architectural landmarks, which is why it was chosen as a venue on the Red Bull Cliff Diving World Series tour. Within its 65,000 square feet, the museum presents outstanding contemporary art in all media, including visual art exhibitions, music, film, video and performances. Visitors to the Red Bull Cliff Diving event can also experience the ICA's exciting summer exhibitions, The Record: Contemporary Art and Vinyl and Catherine Opie: Empty and Full. For more information about the ICA and these exhibitions, visit icaboston.org."
————————————–
Watching men dive off the top of a building wearing skimpy suits counts as an "Arts related event" because it's the ICA, right?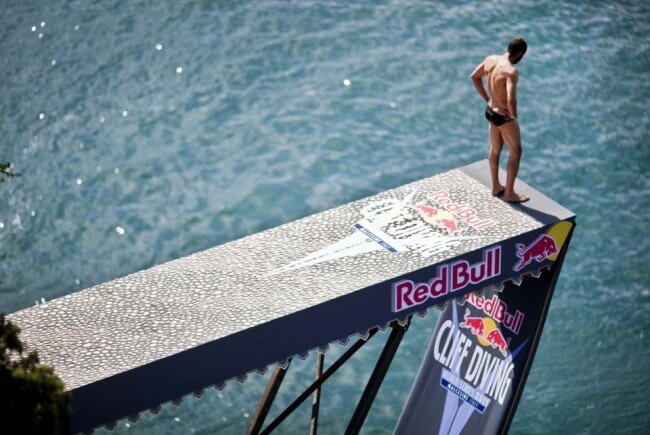 Just let it happen. ♥