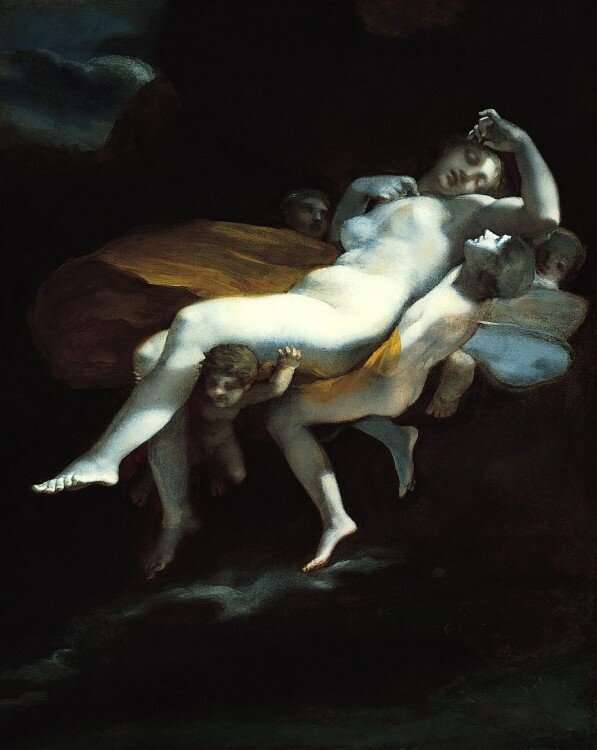 (The Abduction of Psyche, Pierre Paul Prud'hon)
intertwined intimacy x a thousand blended notes x passage x still light
————————-
Still Light

(Pink Suite)
When: On view through May 10th, 2012
Where: Copley Society of Art, Newbury Street, Boston, MA
How: Official Website
What/Why: "The Copley Society is proud to present the premiere solo exhibition of painter J.B. Jones entitled Still Light. Small, ordinary subjects such as keys, hardware and office supplies are transformed into monumental totems of modern life through the agency of a bold, bright palate and precise use of light. Jones' hyper-realistic paintings push the familiar to a point of abstraction, and the larger-than-life canvases provide the viewer with a heightened sensory experience of the often overlooked materials of everyday life."
————————–
M(i)(A)cro: A Contemporary Drawing Exhibition
 (Sacred Geometry(Face 1), David Mazure)
When: On view April 9th-May 30th, 2012
Where: New Art Center, 61 Washington Park, Newtonville, MA 02460
How: Official Website
What/Why: "What is behind the perceived forces of the physical universe? What are the similarities and differences between the micro- and macro- cosmic universes? Can making marks on paper help unravel the conundrums of observed reality? That is what this group of six artists — Barbara Blacharczyk, Basil El Halwagy , Greg Fuqua , David Mazure , Doug Russell and Sara Schneckloth are attempting to uncover — the essence of the invisible mysteries that the universe often allows us to ponder, through the act of drawing.
Though their processes may differ – from the obsessively analytical to the purely expressive – these six artists use the medium of drawing as a source of inquiry into matter, consciousness, and energy; often oscillating between clarity and chaos."
————————–
From Me To You
(Passage)
When: On view through April 28th, 2012
Opening Reception: Friday April 6th, 2012 5:30 PM to 7:30 PM
Where: Soprafina Gallery, 55 Thayer Street, Boston, MA 02118
How: Official Website
What/Why: "Soprafina Gallery is pleased to announce a solo exhibition, 'From Me to You' which is a new body of work by Ann Christensen. Ms. Christensen attended Colby College, Waterville, Maine, majoring in mathematics. She enrolled for an Introduction to Art course and was immediately hooked. She subsequently enrolled in every art elective course that was possible while maintaining her major. Art did win out in the end as her career choice. After graduation she continued to pursue her study of art with courses at Harvard and at the School of the Museum of Fine Arts, Boston. Her paintings have been shown in many juried competitions as well as solo
gallery exhibitions in the United States. Ms. Christensen's work is included in
many private and corporate collections throughout the U.S and Europe."
————————–
Becoming Archive / Walk Thru Walls
When: Friday April 6th, 6-8PM
Where: Anthony Greaney, 450 Harrison Avenue, Boston, MA 02118
How: Official Website
————————–
Eunice Choi – Parallel Universe 

When: On view April 12th-April 29th, 2012
Opening Reception: Thursday, April 12th 5 pm – 8 pm
Where: Tufts University Art Gallery at the Aidekman Art Center, 40 Talbot Ave., Medford, MA 02155
How: Official Website
What/Why: "The exhibition, 'Parallel Universe,' is a series of paintings depicting a fantasy world that is an inverse reflection of reality. In this fictional universe, Choi explores several unique interpretations of a post-apocalyptic environment. Through amusing and disturbing qualities present in these paintings, Choi attempts to spark a dialogue about nature and man-made culture – thereby questioning the conflict between the beautiful and the grotesque."
————————–
 Brother From Another Mother Part 2

When: On view through April 30th, 2012
Opening Reception: Friday April 6th, 2012, 7-11PM
Where: Lot F Gallery, 145 Pearl Street, Boston, MA 02110
How: Official Website
What/Why: "After the successful debut of "Brother From Another Mother" at Lot F Gallery in 2011, Boston-based artists Dana Woulfe and Kenji Nakayama are back with a follow-up, joint exhibition this April. Brother From Another Mother Pt. 2, opens on Friday, April 6th and will feature the duo's recent collaborative and solo paintings. The artists, who are studio mates at South Boston's Distillery artists complex, are also members of the artist collaborative, Project SF. This show will juxtapose their divergent styles, highlighting Dana's abstract work and Kenji's precise and sometimes representational compositions."
————————–
Al Jaeger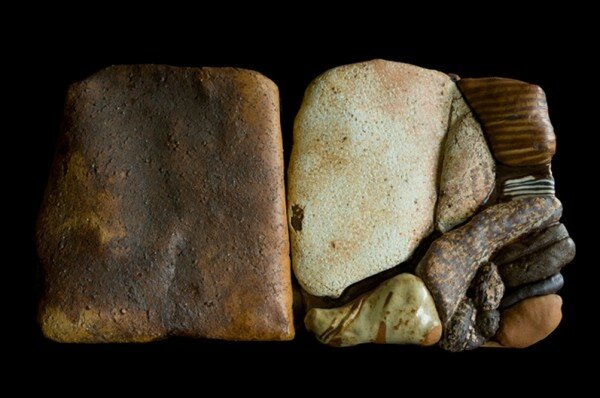 When: On view through April 27th, 2012
Where: NK Gallery, 450 Harrison Avenue, Boston, MA 02118
How: Official Website
What/Why: "NKG presents the powerful and evocative sculptural works by artist Al Jaeger. Please join us to expereince these intelligent, masterful works that show the wonder and resonance of the human mind and hand."
————————–
Two Sculptors in Two Dimensions
When: On view through April 28th, 2012
Where: 119 Gallery, 119 Chelmsford Street – Lowell, MA 01851
How: Official Website
What/Why: "Donna Dodson and Andy Moerlein are creative forces to be reckoned with, and 119 Gallery is pleased to rein a portion of their individual and collective energies into the gallery this spring. Two Sculptors in Two Dimensions is a multi-media look at the converging and diverging paths, sensibilities, and media of these two artists, whose work runs the gamut from monumental outdoor sculpture to intimate statues, and compositions. Energy and composure proliferate in Dodson's and Moerlein's individual and collaborative work.
Both sculptors in wood, Dodson and Moerlein began working together several years ago. Since that time, they have shared artistic goals to realize their individual and joint creative efforts. Energized by their merger, they have undertaken large, public works, as well as individual series of prints and sculptures with corresponding themes. Their jointly created outdoor moose sculptures of wood saplings can be viewed towering majestically in downtown Nashua and Portsmouth, New Hampshire. This public art project was followed by simultaneous residencies by the artists in the Swiss Alps. In Verbier, Switzerland, Dodson and Moerlien each created their own monumental sculptures. Listening to nature and their intuition, their pieces are as much a part of their environment, as in it. At the same time, these sculptures are intrinsically connected to each artist's own body of work."
————————–
Angels of Light

(Ultra Violet)
When: On view through April 17th, 2012
Where: Howard Yezerski, 460 Harrison Ave., Boston, Massachusetts 02118
How: Official Website
What/Why: "Painter Laurel Sparks's awkward, splashy paintings at Howard Yezerski Gallery are a jaunty exploration of gaudiness and dress-up, and the emptiness that lies beneath all the glitz and baubles.
For years, Sparks has built her abstract paintings around a rough rendering of a Venetian chandelier. That shape – droopy, drippy, ornate, unpredictable – still stands at the center of her canvases, and much of the time, it's unpainted. The wild patterns and splatters that surround it, and now and then cover it like a curtain, delineate that naked form.
Oh, the carnival around that central blankness! "Whore of Babylon" includes a cocoa-colored patch studded with rhinestones, gyrating globules of white stippled with marble dust, and a dizzying pattern of narrow, glowing blue-red windows, like those in a cathedral, against black.
"Medusa" has even more drama, with undulant ribbons of color, some studded with fat costume jewels, cascading over the central unpainted canvas like Medusa's viperous locks. Sparks has gotten more adventurous with her materials and her use of paint. All the bells and whistles in a single work stupefy. "Liquid Sky" has a blue section that looks covered in giant spitballs on one side, and a luminous diamond patchwork on the other. Every painting balances "Ick!" against "Wow!"
That unpainted section adds a compositional edge. It waffles satisfyingly between figure and ground, and it's a plain, almost ugly foil for the rhinestones, glitter, and wild painterly patterns. It also inevitably raises a question: What's going on beneath the drag queen's drag?"
————————–
Gunnar Norrman – A Thousand Blended Notes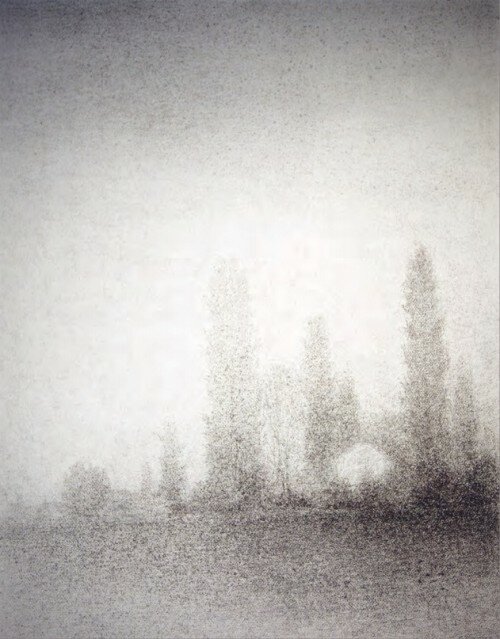 (Vårdimma(Spring Mist))
When: On view through April 30th, 2012
Where: Pucker Gallery, 171 Newbury Street, Boston, MA
How: Official Website
What/Why: "Pucker Gallery exhibits an eclectic and sophisticated collection of works by over 50 international artists on five floors of our 171 Newbury Street location"
————————–
Bagley Prom
When: On view through May 12th, 2012
Opening Reception: Friday April 6th, 6-8PM
Where: Gallery Kayafas, 450 Harrison Avenue, Boston, MA 02118
How: Official Website
Also on view..
Phantasmagoric
————————–
Gooey, Gobby, Gummy

 (piece by Jodi Colella)
When: On view through April 15th, 2012
Where: Gallery 263, 263 Pearl Street, Cambridge, MA 02139
How: Official Website
What/Why: "Gallery 263 is pleased to present Gooey, Gobby, Gummy — a group exhibition about art that oozes, flows, and grows, transforming "gook" into objects of beauty that express the rich manifold of life's experience.
Gooey, Gobby, Gummy features the work of local artists Sarah Meyer Brent, Jodi Colella and Bo Petran. Their works celebrate the beauty and ugliness of organic processes – the growth and decay of the natural world around us. Brent, Colella and Petran put it all into their artwork: live natural materials, plaster, paint, cement, fiber, and iron dust. Through the incorporation of decaying live matter, flowing liquids, and constantly expanding sculptural elements, the works ofGooey, Gobby, Gummy are themselves in a state of constant flux and transformation.
Brent combines paint and gooey sculptural elements, with collaged natural materials to capture the contrary, opposing dynamics of existence. Her sculptures evolve and decay like living beings. As the natural material deteriorates, the enduring material remnants of the work preserve the signs of life. By sculpting gooey paint, decaying matter, and spewing dirt, Brent celebrates the beautiful formal qualities of these materials, while using their gooey visceral qualities to suggest the artworks's demise.
Colella works in crocheted handspun plastic, cutwork embroideries and felted compositions, transforming ordinary materials into curious, gobby-shaped constructions that reflect the temporal nature of growth, metamorphosis, and change. At times the work appears to be oozing, crawling with bacterial life, or is suggestive of the visceral processes of internal bodily organs. Colella incorporates luscious color and texture into a working process that is forever evolving.
Petran uses deep gobs of paint in his sculptural work, creating objects that appear to have formed out of natural materials or cooled molten lava. The large masses achieve a strong sensation of having been sliced out of the earth. Petran works his canvases on the ground daubing, pouring and splattering the paint onto the surface, building up deep craters and valleys. Later he adds skins of dried paint and iron dust. When wet, the iron dust emerges from within, corrupting the surface color and sculptural masses."
————————–
Kathryn Frund – Interwoven Intimacies

(Fallow Field XIV)
When: On view through April 29th, 2012
Opening Reception: Friday April 6th, 2012 6-8PM
Where: Chase Young Gallery, 450 Harrison Avenue, Boston, MA 02118
How: Official Website
What/Why: "My paintings and assemblages are inquiries into the triangular relationship between nature, science and spirituality, specifically exploring the concepts of interconnectedness and intimacy. The work evolves by applying translucent layers of paint, interwoven with a diverse range of materials. Strips of stained canvas are often combined in the painting, while the incorporation of wood, ephemera or sheets of lead add additional layers of complexity to the panel's surface. Through the layering of paint and the reconfiguration of objects and natural materials, the work seeks to heal, bridge and define itself. The paintings are a spiritual as well as material exploration into the nature of our presence in the landscape."
————————–
Simply X

When: On view through April 29th, 2012
Opening Reception: Saturday April 7th, 7-10pm
Where: Gallery X, 169 william st. New Bedford, MA
How: Official Website
What/Why: "A beautiful exhibit that provides a great showcase for our Member artists."
————————–
Peri Schwartz – In the Studio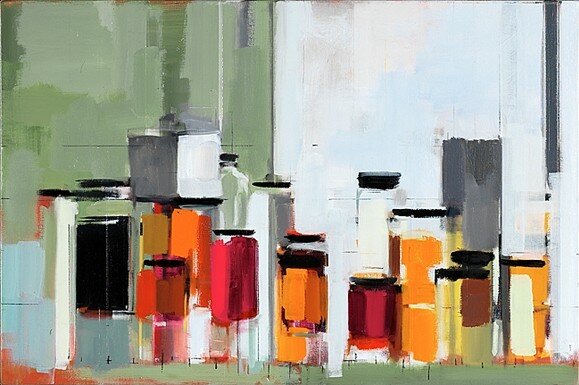 (Bottles & Jars XIII, Peri Schwartz)
When: On view through April 28th, 2012
Where: Gallery NAGA, 67 Newbury Street, Boston, MA 02116
How: Official Website
What/Why:  "Peri Schwartz has had an extensive exhibition career, but this will be her first with Gallery NAGA. A graduate of Boston University and Queens College, Schwartz came away with a formal understanding of drawing and painting. 
Her New York studio is the subject of this current series of paintings. She creates still lifes out of books and bottles piled on tables and paintings leaning against the walls. A window to the skyline is often visible in the background space. Each object becomes a study in color and its importance is in relationship to a neighboring object. Underneath each of her compositions, and increasingly more visible, is a graphite grid. The vertical and horizontal lines emphasize the dynamic compositions and give grounding to her shapes. 
Schwartz's work is rooted in realism and she works directly from her subject matter. Lately, though, her paintings have crept towards abstraction. Her lines have become blurred and the space is less clearly defined. The subjects are less significant than how her shapes and colors interact in the complex space. 
Alongside her paintings on exhibition will be a large-scale monotype Schwartz recently completed, having worked with printmaking for years as a way of clarifying her ideas. By eliminating color, Schwartz is able to focus on composition and light. The directness and immediacy of printmaking is rewarding and produces ideas that eventually get resolved in her paintings. "
—————————
Krista Casey – I

When: On view through April 28th, 2012
Opening Reception: Friday April 6th, 2012, 6-8:30PM
Where: Bromfield Gallery, 450 Harrison Ave, Boston, MA 02118
How: Official Website
What/Why: "Krista Casey always knew that she would use a camera to tell her story.
A debilitating eye disease when she was young left her with a different way of seeing. Her new vision and her camera allow her to create self portraits that work through memories from her past.
The distortions and manipulations are all created in camera; none of the work is Photoshopped or manipulated after the shutter releases.
These surreal, digital color prints tell the story of a search for closure and the healing that happens along the way"
—————————
Take More Time, Cover Less Ground

(Four Roads Make Off In Silence, Morgan Russell)
When: On view April 7th-28th, 2012
Opening Reception: Saturday, April 7th from 6:00-9:00pm
Where: The Alcove Gallery, 140 Arlington Street, Boston, MA
How: Official Website
What/Why: "My recent work is propelled by a series of subversive intrusions into the natural landscape.  And even while they may seem to disregard nature these insistent peculiarities relate to its very mechanics.  Indeed a certain authenticity is preserved and my paintings are persuaded to become quite nature-like; not again but for the first time."
—————————

Have fun exploring your surroundings! ♥