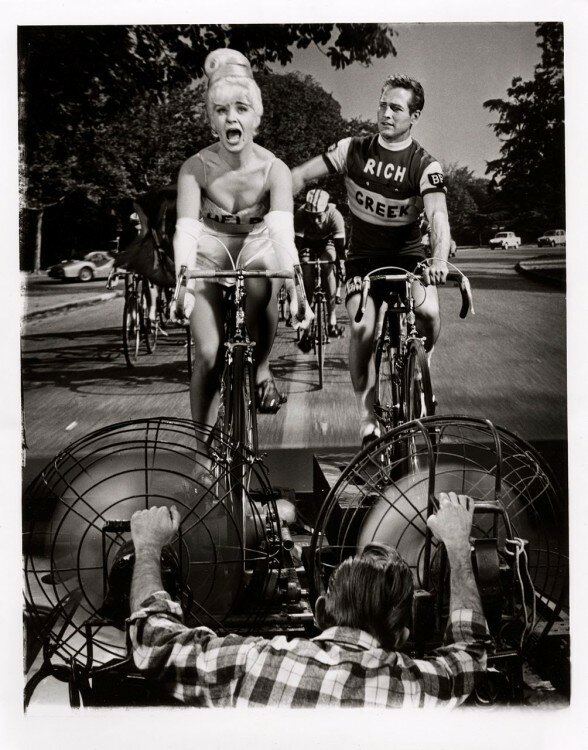 (Paul Newman was an adonis.)
out of the car x under the influence x communion x sit & be x shady
—————————–
Sit & Be

(Love Seat Awakening, Joan Baldwin)
When: On view through April 29th, 2012
Where: Kingston Gallery, 450 Harrison Avenue, Boston, MA 02118
How: Official Website
What/Why: "Is the Cape Cod landscape communicating something psychological or just showing its basic beauty through the imagery of these paintings?"
Also on view..
 Shade… no Shades… no Shadows!

(Shades, Joan Baldwin)
What/Why: "Mural sized paintings and objects fill the center gallery in an exploration of a common theme – the various meanings of the word shade and its derivatives."
——————–
Under the Influence

(Ganoderma, prior work of Kat Ely)
When: Saturday April 21st, 6-8PM
Where: Footlight Club, 7A Eliot Street, Jamaica Plain, MA
How: Official Website
What/Why: "Come and check out the works of Nicole Aquilano, Constance Bigony, Kathriel Brister, Jonathan Cook, Katherine Cope, Maria DiFranco, Kat Ely, Jess Greene, Rebecca Gutwin, Melissa Haines, Amy Hitchcock, Marnie Jain, Carol Johnson, Kim Katz, Bob King, Anna Koon, Jacob Kulin, Susan Leskin, Phoenix Mayet, Matt McKee, Luc Mehmel, Gary Patronek, Amy Pett, Robin Radin, Heather Reynolds, Kerri Schmidt, Racheli Shatil, Alan Strassman, Cara Studds, Stefan Volatile-Wood, and Hilary Zelson.
"Under the Influence" is the Jamaica Plain Arts Council's Annual Juried Show. Inspiration can come from anywhere, and artists working today are free to follow their desire at the click of a mouse. Be it the natural world, historic themes, or contemporary issues associated with politics, entertainment or the media – contemporary artists can be under the influence of myriad creative catalysts. Movies, videogames, music, cartoons, magazines and the internet itself are just some of the unending forms of inspiration that intentionally (or unintentionally) work their way into art. Recognizing and embracing how the variety, accessibility and inescapability of stimuli affects the creative process is what this exhibit is about. Is your art free of overt influence, a form of homage, or just this side of plagiarism? What are you under the influence of?"
——————–
Communion IV: The Bathaus at Anthony Greaney
When: Saturday April 21st, 2012 6:30-11:00PM (Bathaus at 9:15PM)
Where: Anthony Greaney, 450 Harrison Avenue, Boston, MA 02118
How: Official Website
What/Why: "The Bathaus, a transient group of artists and performers has been invited to showcase their individual and collaborative projects at Anthony Greaney in Boston, MA on Saturday, April 21. 
Spanning across photo, painting, performance, video and sound, the group developed when individual interests and experimentations came to fruition through the work of others. It is an interdisciplinary, multi-media collaborative creating work through the cumulative fusion of sound, visuals and performances. Taking the format of the Communion series, nights hosted in their basement headquarters, co-collaborators Nathaniel Dean, Ashley Capachione and Maggie Cavallo have organized an event to take place above ground featuring the work of Lucy Watson, Ketzel Toatyl, o+, DEAD ART STAR, Maria Molteni, HEXbeam, Nicky Romance, BATHAUS and Magzilla_. 
6:30p – Screening: The Craze
8:00p – BATHAUS: MIDNIGHT RENDEVOUS with ketzel toaytl 
8:30p – o+ & DEAD ART STAR 
9:15p – BATHAUS, NICKY ROMANCE + Zilla w/ HEXbeam
With a durational performance with Maria Molteni! 
\\\\\\\\\\\\\\\\\\\\\\\\\\\\\\\\\\\\\\\\\\\\\\\\\\\\\\\\\\
The Craze is a feature length, no budget film. What it lacks in budget it makes up for in situational ingenuity. Blurring the lines between reality and fiction, it chronicles some of the most powerful and ephemeral moments in Boston show house history of the past three years. It is both a narrative feminist horror and an ethnographic exploration of the complicated tentions and relationships between social groups in Boston that are differentiated through music and style. Although it's conceptual scope is vast it maintains the feeling of being severely personal and sentimental. Written, directed and co-starring artist Lucy Watson, it follows the artist on a metaphorical journey of the literal spiritual oppression of the soul by personified death."
——————–
ZUGZWANG – Work by Thomas Dahlberg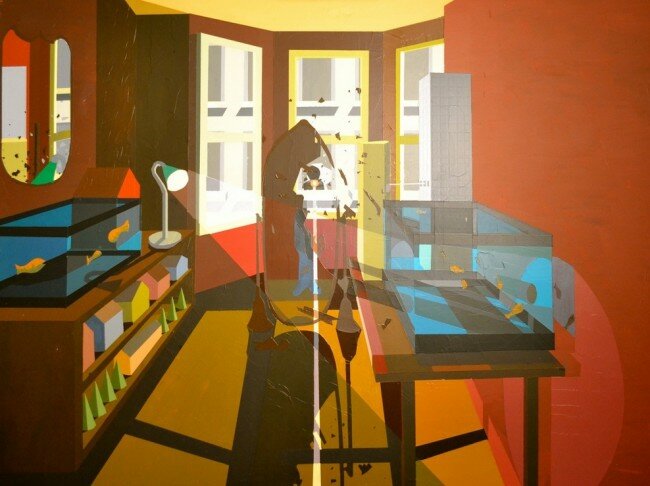 (Red Room)
When: On view through June 2nd, 2012
Opening Reception: Friday April 20th, 2012 7-10PM
Where: Voltage Coffee & Art, 295 3rd Street, Cambridge, MA 02142
How: Official Website
What/Why: "We are so excited to host our newest Voltage artist, Thomas Dahlberg, next Friday, April 20th. Come by in the evening to view his solo art exhibition titled ZUGZWANG. 
The event starts at 7pm and will run until 10pm. 
Artist will be in attendance. Thomas' artwork will be on display at Voltage through June 2, 2012."
——————–
Corrientes – Paul Shakespear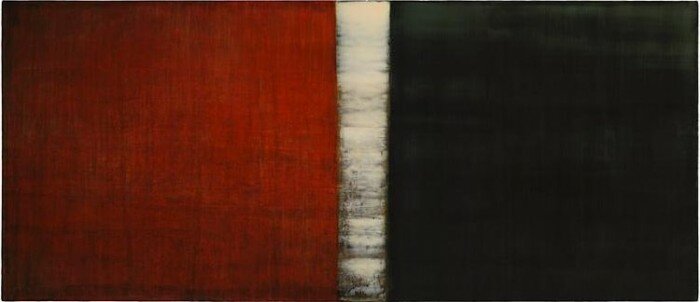 (Cove)
When: On view through May 22nd, 2012
Opening Reception: Friday April 20th, 2012 6-8PM
Where: Howard Yezerski Gallery, 450 Harrison Avenue, Boston, MA
How: Official Website
What/Why: "Howard Yezerski Gallery is pleased to present new work by Paul Shakespear. The paintings are a powerful compression of emotion, memory, and visual delight. The title of the show,Corrientes, references the slow change of shifting trends, a half-lit address in Buenos Aires out of a song, the watery depth of ocean currents
The paintings are slow – they demand contemplation. Upwards of thirty glazes of acrylic are brushed, troweled, and rubbed on. The hours that Shakespear puts into the work are compressed into those layers and layers of thin glazes, their distinct features emerging slowly as you let them.
Shakespear is hesitant to reference influences from life – the paintings are evocations of something deeper than changes on the surface. Not unlike deep sea currents, unseeable and untouchable, but essential to the planet as inner thoughts are to our being. Also like the sea, the surfaces are alluring, a glossy window onto the world within. The gloss is a byproduct of the process, of the subtlety of the layers built up. With each layer the colors are richer and richer – building a visual conversation underneath the sheen. Be careful of this gloss – look too fast and you'll miss the space within it. 
The paintings are objects that don't sit exactly on the wall – they swell with light and float off in one direction or another. Multiple panels build off of one another – tension fills the space between them. Colors within hum with tension and resonance. The result is otherworldly in the sense that they are solid but made up of the intangible, the ghostly, the not quite knowable; Shakespear looks to capture the stuff of that ethereal realm that lives beside us and within us. "
Also on view..
Karl Baden – 

In and Out of the Car
(2008 Lexus 350, Cambridge, Massachusetts)
What/Why: "Howard Yezerski Gallery is pleased to announce In and Out of the Car, an exhibition of five of Karl Baden's latest photographs. The series is an exploration of the signs, machines, and illusions of the world seen through his car window. The cockpit of an automobile is at the center of an increasingly complex and responsive sort of cell. The car is a membrane between inside and outside space. Normally static surfaces and textures of the interior compete fiercely for territory with the lumpy chaos of materials that make up life on the other side of the membrane.
The window is a lens, a safe perimeter that frames and defines the limitless exterior world, flattening and reducing the spaces and places that we inhabit. Windows frame a landscape in continuous motion. People are everywhere, gesticulating, lugging shopping bags, pushing strollers, walking dogs, arguing, embracing; they make microsecond-long appearances in the windows of stores, cafes and other cars before they're sucked behind like exhaust. You drive on. Billboards and trucks cloaked in blinding ads fill your windows like cinemascope, then drop back to let the drama continue.
Meanwhile, the radio plays, the CD pops out, the phone buzzes, the seat belt sign flashes, the directional blinks, the heat gauge goes up, the gas gauge goes down. The GPS slims down the landscape into information – "in 500 yards, turn left" – only the essential, in a crisp British accent. But just outside your bubble, the world descends. We see so much of the world through our metaphorical car windows – we access knowledge through the internet, and our friends through our iphones. Baden playfully addresses the impact of that glossy frame on our experience of the lumpy world around us."
——————–
Nancy Selvage: Lumen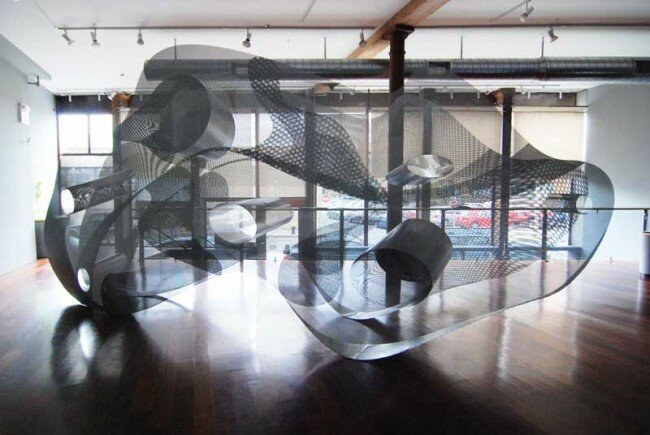 (Biopsee)
When: On view through May 20th, 2012
Opening Reception: Saturday April 21st, 2-5PM
Where: Boston Sculptors Gallery,  486 Harrison Avenue, Boston, MA 02118
How: Official Website
What/Why: "I embrace and cope with the complexity of life by creating sculpture. By altering and concentrating the experience of space and substance, I try to see more intensely, coalesce moments of clarity, and discover new means of expression. I work with a variety of materials to create environments and objects that engage the viewer in this discovery process.
The context in which I am working mediates the physical quality, emotional response, and significance of each piece. Many projects are closely related to the character and function of a specific site, and I often explore the convergence of actual, implied, and symbolic content to express social and environment concerns. Tables are set to serve natural resources; map vessels pour resources; a wishing well pulls the gallery into a vortex; a nuclear home hovers between cohesion and fallout; a hearth endangers a hunt."
Also on view..
Sarah Hutt:  In Your Dreams

(Mother's Legacy I, prior work of Sarah Hutt)
What/Why: "Boston Sculptors Gallery is pleased to present In Your Dreams, new works by Sarah Hutt.
The interpretation of dreams has fascinated people for thousands of years. Brief fragments of dreams can offer powerful clues about who we are, where we are, and what brought us here. The new exhibition "In Your Dreams" by Sarah Hutt expands on her earlier dream work, exploring the link between dreams and their impact on our waking hours.
Hutt has been documenting her dreams since she was a teenager. In Your Dreams explores the transformation of dreams into stories told through objects. Working with text, wax, clay, paper, wood and metal, Hutt investigates the nagging thoughts and ideas that blossom in dreams. Hutt's sculpture validates each emotional moment, and suggests that a collection of the visual expressions can serve as signposts marking the path we're following.
These works are a cross between day and night dreams. Each represents a feeling or moment that happens when you least expect it. In "The Dream Boxes" series, visitors use a hand crank to rotate a cylinder and reveal text about recurring dreams like trailing thoughts. A series of wax soaked drawings combine multiple mark making to build movement and compliment "The Dream Boxes."
The show also includes a continuation of Hutt's Daily Diary work – a series of clay figures created each morning as an immediate memory of the previous night's dreams. More than a simple summary of the dream, her careful consideration of the familiar objects incorporated into each figure acts as a dialogue. "Over time, this has become a part of my everyday routine," says Hutt. "Each figure has special meaning to me, and the materials added to the clay are chosen to enhance the qualities I feel are within each figure."
Hutt has been exploring and expanding upon these themes in her work for several years, beginning with My Mother's Legacy, a 1,000 word poem burned on 1,000 wooden bowls. From this work emerged Conversations in My Sleep, in which Hutt combines and translates the waking stories of family, friends and her own dreams, into sculptural work. In Your Dreams is the logical evolution of this thought-provoking body of work."
——————–
Bricolage (1 Day Pop Up Exhibition)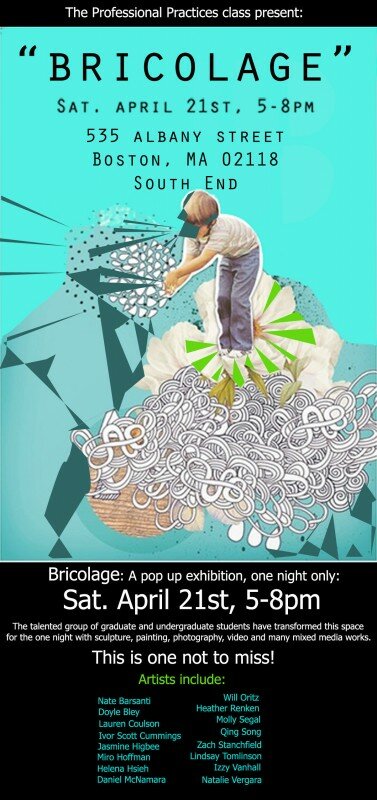 When: Saturday, April 21, 5:00 – 8:00 p.m
Where: 535 Albany St. Boston, MA 02118
How: Official Website
What/Why: "Students from the School of the Museum of Fine Arts present a group exhibition of undergraduate and graduate students titled "Bricolage". There will be a wide range of work that will be shown, including photography, painting, video and sculpture- so come, check it out andhave fun. The exhibition is a deeply diverse and impressive survey of talent from this group of young SMFA artists. The opening is Saturday, APRIL 2ST from 5-8pm at 535 Albany St. Boston, MA 02118 in the South End of Boston. Don't miss it!
Artists in the show include: Qing Song, Miro Hoffman, Natalie Vergara , Helena Hsieh , Doyle Bley, Lindsay Tomlinson , Jasmine Higbee, Zach Stanchfield , Ivor Scott Cummings, Izzy Vanhall , Molly Segal, Will Oritz , Nate Barsanti, Daniel McNamara , Heather Renken, Lauren Coulson"
——————–
Frontin(g)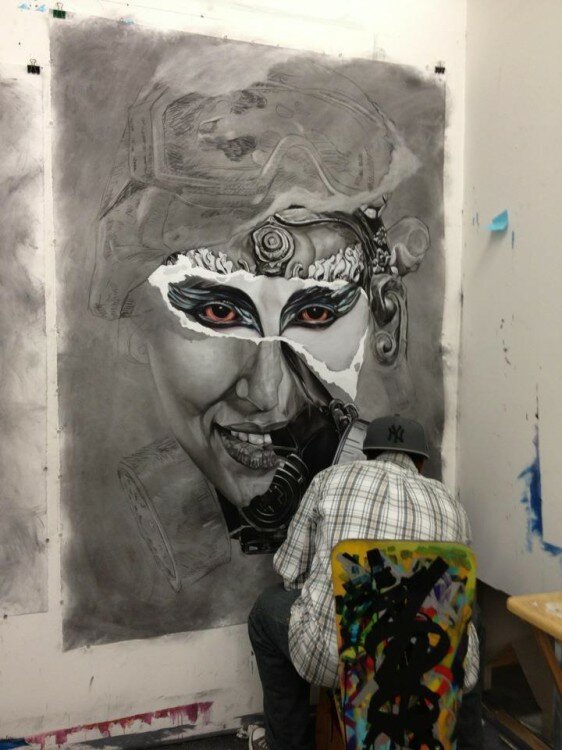 (The artist at work)
When: On view through June 3rd, 2012
Where: Northeastern University, Curry Student Center, 360 Huntington Ave., Boston, Massachusetts 02115
How: Official Website
What/Why: "School of the Museum of Fine  Arts, Boston, Northeastern University and Gallery 360 present Jamal Thorne, featuring the department's first graduate thesis exhibition."
——————–
Natural Histories, Photographs by Barbara Bosworth

When: On view through May 27th, 2012
Where:Peabody Essex Museum, East India Square (161 Essex St) Salem, Massachusetts 01970
How: Official Website
What/Why: "Over the last 20 years, renowned Boston artist Barbara Bosworth has made photographs of her family around her childhood home in Novelty, Ohio, and at other locations significant to her family. Be among the first to see these touching images that explore the joy of youth and the wistfulness of aging, memory and the passage of time. Also on view, delicate natural objects collected by Bosworth's family show a continuity of interest in nature across generations.
The photographs in Natural Histories, Photographs by Barbara Bosworth are among the most successful of Bosworth's career, but most will appear for the first time at PEM."
——————–
Jim Dow American Studies -Book Signing & Gallery Talk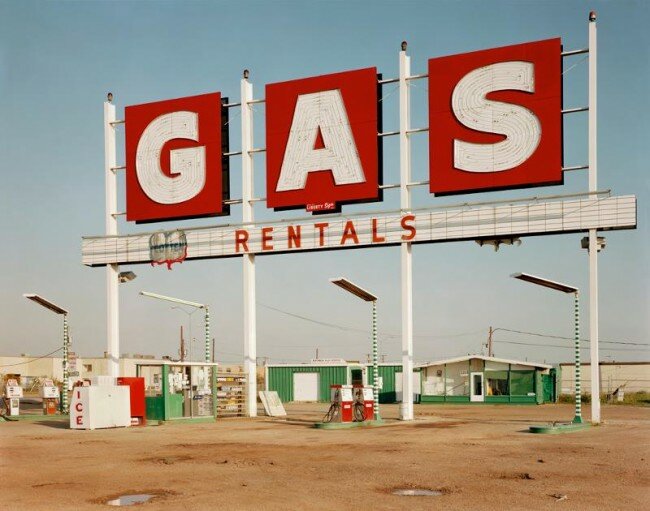 When: Saturday April 21st, 2012 2-5PM
Where: Robert Klein Gallery, 38 Newbury St, Boston, MA 02116
How: Official Website
What/Why: "Please join us this Saturday, April 21, from 2 to 5 PM for a book signing and gallery talk with photographer Jim Dow. At 2:30, Jim will speak for approximately 30 minutes. From 3 to 5 PM, he will be available to sign books and answer questions.
Jim's 2011 monograph American Studies is the inspiration for our current show, a selection of twelve images from the 1970s and 80s. The show ends May 5, 2012."
——————–
Gallery 263 Art Auction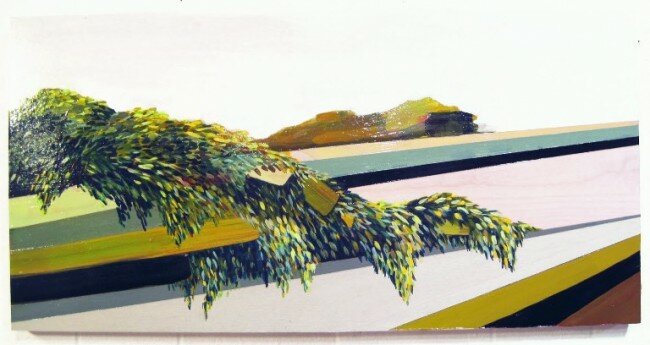 When: Saturday April 21st, 7-10PM
Where: Gallery 263, 263 Pearl Street, Cambridge, MA 02139
How: Official Website
What/Why: "Gallery 263 is pleased to announce its first Art Auction! All works have been donated by our Artist Members, and proceeds will benefit the Gallery. 
Preview the works online , or come by the Gallery between 1 and 6 on April 19-20, to view them in person. 
The Auction will be held on April 21 at 7, $10, and cocktails will be served. 
Auction works are affordable, high quality and local! Some starting bids UNDER $50. Work ranging in value from $100 to $1400."
——————–

It's the quasi-weekend!
So, dance like no one's watching! Love like you'll never be hurt? And go see/buy/make some art this weekend.
You're the best. ♥