wake up call x seven vermeer corners x defined by light x to see or not to see
——————————
The Work of Robert Jackson

(Feast)
When: On view through April 28th, 2012
Opening Reception: Friday April 13th, 5-7PM
Where: Arden Gallery, 129 Newbury Street, Boston, MA
How: Official Website
What/Why: "Robert C. Jackson (b. 1964 Kinston, NC) is a contemporary realist still life artist. The path that brought him to this full time and fulfilling career as an artist is somewhat varied and unusual. Robert graduated from the University of Delaware with a degree in Electrical Engineering in 1986 and proceeded to work as a systems engineer designing radio systems for Motorola for the next 5 years. He left engineering, not for painting, but for the ministry working at Cedar Ridge Community Church in Spencerville, MD as an assistant pastor for the next 6 years. Since 1997 Robert has been painting full time and exhibiting his work in various galleries from coast to coast."
————————–
Taiga Ermansons : Art

When: On view through April 28th, 2012
Opening Reception: Sunday, April 22, 2012 2 pm to 4 pm
Where: U Mass Lowell, Hampden Gallery, Lowell, MA
How: Official Website
What/Why: "Taiga Ermansons creates an environment that explores the individual as art. By examining living as art, she joins an historic rank of artists expanding the parameters of art through fields such as socially engaged art, dialogical art, littoral art, contextual art and useful art. "
————————–
JP To Me: Defined by Light

When: On view April 5th-29th, 2012
Where: Uforge Gallery, 767 Centre Street in Jamaica Plain
How: Official Website
What/Why: "For Its Third Incarnation, Jamaica Plain's "JP to Me" Exhibit Promises to be Enlightening
In its third year, JP to Me is a themed art exhibit celebrating the Boston neighborhood of Jamaica Plain (JP). This year's theme is titled "Defined by Light." The artwork will be exhibited at the new UFORGE Gallery at 767 Centre Street in Jamaica Plain during the gallery's inaugural month of April 2011. The exhibit will run from April 3 to 28, with a public reception on Saturday April 9 from 6:00 – 8:00 p.m.
JP to Me Founder, Rob Festa, describes the annual exhibit as "all about bringing our community together." The process, open to all who are inspired by JP, from professional artist to newly inspired experimenters, involves a theme, to which the artist responds in their chosen media by creating artwork specifically for the exhibit. A list of definitions of light, such as 'a source of illumination' and 'free from worry or unhappiness', were provided to inspire an artistic vision of JP."
————————–
Silke Schöner : Paintings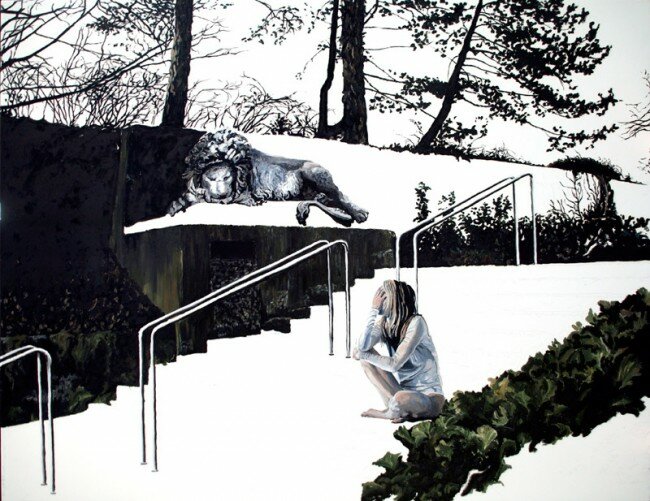 (To See or Not to See)
When: On view through May 1st, 2012
Where: Gold Gallery, 655 Tremont St., Boston, MA 02118
How: Official Website
What/Why: "It is my interest to use a fiction of the real to make the unreal, the unnamed perceivable in the picture's white areas. The presence of the realistically painted motives, snap-shots of the public places, stands in direct interaction with the empty area. By means of this un-fashioned space, movement is concentrated towards the motive or withdraws from the unbounded image space. The extract of the real motive results from a reluctance to paint the inessential. Consequently, the composition of shadows, the penciled sketch, or even single unpainted areas remain visible in the pictures next to the fully painted fragments."
——————
The Art of Art History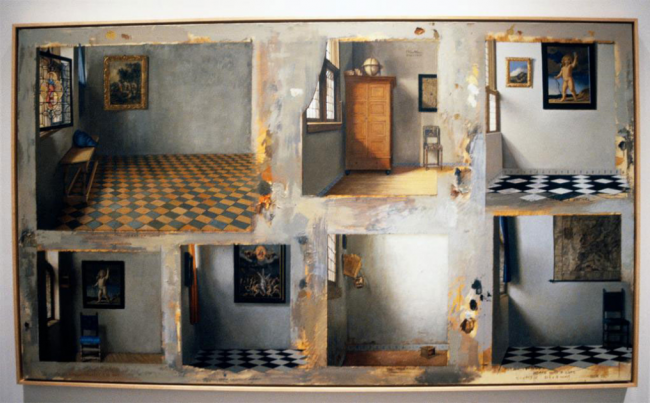 (Seven Vermeer Corners)
When: On view through September 1st, 2012
Where: Boston Athenaeum, 10 ½ Beacon Street  Boston, MA 02108
How: Official Website
What/Why: "George Deem (1932–2008) had a unique vision of the masterpieces of the past and a passion for the history of art in general. This combination inspired him to create paintings that are both visions and revisions. This exhibition focuses on that part of Deem's oeuvre for which he found specific inspiration in two favorite sources: paintings by the seventeenth-century Dutch master Johannes Vermeer and those by American artists such as Winslow Homer and John Singer Sargent. In his analysis and interpretation of these artists' works, Deem made his own, important contribution to the history of art.
George Deem was born in southern Indiana, studied at the School of the Art Institute of Chicago, and lived in New York City for most of his adult life. He traveled extensively in the United States and Europe and spent several formative years in Italy. In the 1960s, motifs from paintings by earlier artists began to appear in Deem's work with some frequency. Initially, Deem borrowed elements from the works of several different artists to construct a single new painting of his own; but he soon began to focus on specific artists, one at a time, or groups of artists who were members of the same "school" of art. Elements from paintings by Gilbert Stuart, George Caleb Bingham, Homer, Sargent, and the members of the Ashcan School, for example, were studied, appropriated, and re-imagined.
At the same time, Deem gave full rein to his love of Vermeer. He expressed this in paintings in which he juxtaposed, combined, or reinterpreted Vermeer's works, either in part or in whole. It is for his variations on themes by Vermeer that he is best known.
By the 1970s, Deem's work was attracting the attention of prominent critics and art historians such as Arthur Danto and Robert Rosenblum. Over the next several decades, these and other writers stated their admiration for Deem's theatricality and sense of play and praised him for having rejected satire and caustic wit in favor of "the winsome and gracious." Deem was classified variously as a Pop artist, a Figurative Realist, a Deconstructionist, a Proto-Post Modernist, a Post-Modernist, and a Post-Post-Modernist. With work that defies reduction to a single, simply defined topical or stylistic category, George Deem created something new and, to borrow composer Stephen Sondheim's phrase, "gave us more to see."
———————
Dawn Southworth: On Your Mark…

(Facade)
When: On view through May 6th, 2012
Opening Reception: Saturday, April 14, from 4-6pm
Where: Clark Gallery, 145 Lincoln Road, Lincoln, MA 01773
How: Official Website
What/Why: "Dawn Southworth  work continues to cross disciplines.  In additon to painting and drawing, Southworth works the materials with obsessive and repetitive methods includoing stitching, embroidering, cobbling, assorted fastening techniques, along with repeated tearing, piercing, cutting and burning.Over the last twenty years, she has created an extraordinary body of work combining a vast range of materials and processes that resonate with personal and historical associations. Many of the objects she chooses, scorched and tattered ironing board covers, delicate fabrics, scraps of paper and metal capture the essence of those whose hands once used and touched these now discarded materials. Her newest body of work, and 7th solo show at the Clark, has an underlying formal elegance. The four larger works,Germinate, Species, Cakes and Façade, are composed of many intimate drawings layered on a bed of ironing board covers, stitched together and mounted on paper. The residual stains in these fabrics provide a subtle yet sophisticated patterning to the overall piece as do the delicately charred edges around each drawing. The smaller series incorporate salvaged scraps of metal artfully arranged and sewn to outline simple iconic shapes like a light bulb, iron and alarm clock. These poetic images show a formal restraint and terse vocabulary rich in associational value. Southworth's use of found objects, drawing, sewing, and pyrography are handsomely unified in well constructed and highly charged images."
———————
Hover

 (Detail of new work)
When: On view through May 12th, 2012
Opening Reception: Saturday, April 14th, 6 – 8pm
Where: The Distillery, Proof Gallery,  516 East Second Street, 02127
How: Official Website
What/Why: "Proof Gallery is pleased to present Hover, a solo exhibition of new works by Boston artist Rebecca Roberts. The works that comprise Hover converse with traditions of Painting and Craft but refuse a definitive statement on genre.  Roberts constructs her images through a process of piecing and sewing fabric which she then stretches on a frame.  The works can evoke landscape or horizon; concrete places or sources of information are implied.  Roberts's use of color and play with the directional weave of the fabric is allusive, yet not necessarily symbolic. The images evince space and movement through dispersion, convergence and a defiance of a plane defined by only two dimensions."
———————
Ba Gua

(Prior work of Brigid Watson)
When: Closing Reception- Saturday April 14th, 3-6PM
Where: Mobius, 55 Norfolk Street, Cambridge, MA 02139
How: Official Website
What/Why: "Mobius presents Ba Gua, a suite of drawings by Boston-based artist Brigid Watson on view from April 8-14, 2012. Watson specifically created the suite in honor of the 35 year-old Mobius Artists' Group's new home, a small white-box gallery space at 55 Norfolk Street in Cambridge. The space, frequently the home of cutting-edge performance art, will be visually transformed on April 8th for the purpose of energizing, strengthening, and stabilizing the space. Ba Gua refers to the map used in Feng Shui, the Chinese art of harmonious placement, to organize physical spaces; the imagery are a combination of classically auspicious symbols and Watson's own personal icons. The drawings' weighty gestural style recalls work by Jim Dine and its compositional elegance that of Cy Twombley. While the drawings are suitable for a variety of environments, they were created for Mobius using complex and ancient methods including compass directions, the 5 natural elements, and color. As a long time student of Feng Shui, Watson created work specifically designed to fortify Mobius' new home."
—————————–
It's Hard To Leave When You Can't Find The Door

When: On view April 14th – May 19th, 2012
Opening Reception: Saturday, April 14th, 6 – 8pm
Where: LaMontagne Gallery, 555 East Second St., South Boston 02127
How: Official Website
What/Why: "I go to parties sometimes until four,
It's hard to leave when you can't find the door"
The lyric congers up a familiar scenario….We asked a group of painters whose work we respect and admire to join us for this exhibition. These are artists with whom we have spent or would like to spend a long night. We told the artists the title of the show, and asked them to paint us a picture or two. This is the result. Painting as disjointed and harmonious as a sunrise ride home in a blurred taxi. Late nights, becoming mornings, becoming another day, becoming another night, becoming fodder for another painting. Then we hang them on a wall, and that's that."
———————
Tranqilandia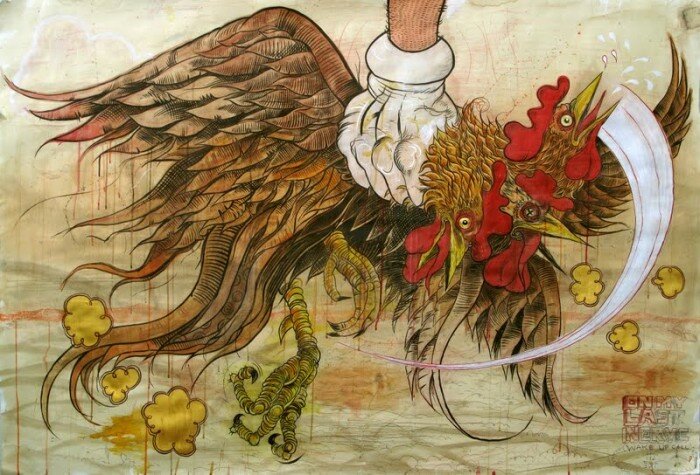 (Wake Up Call(On my Last Nerve), Raul Gonzalez)
When: On view through May 3rd, 2012
Opening Reception: Thursday, April 12th from 5:00 – 7:00 p.m
Where: Nancy Lincoln Gallery, 791 Hammond Street, Chestnut Hill, MA 02467
How: Official Website
What/Why: "Beaver's Nancy Lincoln Gallery is honored to present "Tranqilandia" from award-winning artist Raul Gonzalez III.
Gonzalez's honors include a Wet Paint Grant and being voted Boston's best visual artist in 2010 by readers of The Boston Phoenix. In 2011 he worked with over 125 Boston children to create a work titled "and their Families" for the Linde Family Wing of Boston's Museum of Fine Arts.
The show at Beaver, which runs through May 3, features five mixed media pieces and is described by Gonzalez in his artist's statement:
Snapshots of the landscape of "Tranquilandia" show us a world fraught with images of poverty and violence. Large-scale drawings, found and reused objects, and videos of fractured visual and aural static create an immersive installation reflecting a world often ignored and rarely portrayed. Roosters wielding weapons perform acts of violence, fueled by a culture of hyper-machismo. The after effects are visible in beaten and bruised faces and in panoramas littered with body parts. The poor and abused appear in the guise of faceless hair-dos, flea-bitten dogs, and faces hardened by what their eyes have been forced to see. The drawings are downtrodden as well, bleached in the sun and left behind as litter. Yet they are beautifully rendered in a language of old cartoons, cultural stereotypes and images of the old-time west. Stained with coffee, and drawn in crayon, Bic pen and acrylic the work explores the depth of human cruelty and compassion.

"Tranquilandia" is a place where "in every exuberant burst of joyfulness there is heard an undertone of terror."
———————
MATRIX 164 / Jan Tichy

(Installation No. 6 (Tubes)
When: On view through August 5th, 2012
Where: Wadsworth Atheneum Museum of Art | 600 Main Street | Hartford, CT
How: Official Website
What/Why: "Diverse pursuits converge in the mesmerizing installations of Jan Tichy. Typically presented in darkened spaces, sculptural and architectural elements are illuminated by moving projected light. Tichy constructs beautiful formal spaces that subtly reveal social and political themes. The Czech-born artist grew up in Prague in the years leading up to the non-violent, anti-communist Velvet Revolution (1989). Learning of his Jewish heritage in his late teens, he later moved to Jerusalem and studied political science―soon changing to photography and sculpture―amid the ongoing Israeli-Palestinian conflict. Politics are ingrained in his being, but rarely overtly expressed in his work. For Tichy, now based in Chicago, the urban setting is often the most highly-charged site of political differences. Therefore, he often uses iconic and symbolic architecture to explore issues of power in his work. Tichy's MATRIX exhibition is in three parts. He has selected two installations that relate to the city of Hartford and to the landscapes of the Hudson River School, one of the signature painting collections of the museum. In addition, the artist has created a new work that specifically addresses the history of the Wadsworth Atheneum.
As with every upcoming MATRIX artist, Tichy visited the museum many months in advance of his exhibition in order to meet the staff, see the MATRIX gallery, explore the museum, experience the city, and, ultimately, formulate a concept for his exhibition project. The works presented in MATRIX 164 are Installation No. 6 (Tubes), 2008; Installation No. 11, 2010; and Installation No. 14 (Austin), 2012. The centerpiece of Tichy's exhibition is Installation No. 14 (Austin). The artist explains, "The subject of the installation is the institution itself―the museum―its buildings, collections, staff, audience and history, which is questioned through the story of Chick Austin." Learn more about MATRIX 164 from the artist sheet."
———————
Traveling Scholars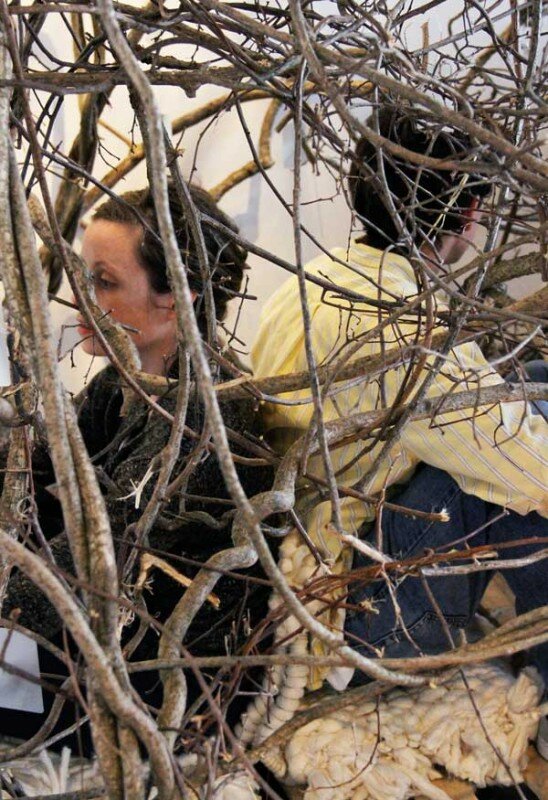 (Gardens of the Future: Plot(ing) in Memorial(detail), Andi Sutton)
When: On view through May 5th, 2012
Where: SMFA, 230 The Fenway Boston MA  02115
How: Official Website
What/Why: "The SMFA Traveling Scholarship program was established over a century ago to support independent travel for SMFA students and alumni. Since its first funding by J. William Paige in 1894, it has received many generous contributions and has become one of the largest travel grants offered by any art school in the United States, awarding between $80,000 and $100,000 annually.
The exhibition presents six very different investigations, the curatorial perspective yielding to six fully autonomous statements. As a result, what the exhibition reflects, perhaps more than anything else, is the School's determination, and the Traveling Scholarship program's intention, to nurture individual development.
The current exhibition presents work by the six award recipients selected in 2010: Milo Fay, Atsuko Ito, Soojin Kim, Greg Mencoff, Christopher Mark Robinson and Andi Sutton."
———————
Performance Open Studios

When: Friday April 13th, 2012 6-9PM
Where: Anthony Greaney, 450 Harrison Avenue Boston 02118
How: Official Website
What/Why: "Come join us at Anthony Greaney as six interdisciplinary and performative artists engage in, explore, and complicate conceptions and (mis)understandings of historical/political trauma, gender identifications and constructions, striptease and religious ritual. Seductive, sensual, and strangely quirky these artists performatively gesture to a fervorous and perversely repetitive search for that which haunts and lingers within our individual, collective imaginaries. These artists have disidentifactory modes of cultural engagements that span a loose constellation of references within/to critical (feminist and queer) discourses, art historical citations, lived experiences, and visual cultures. "
———————
Faux Fix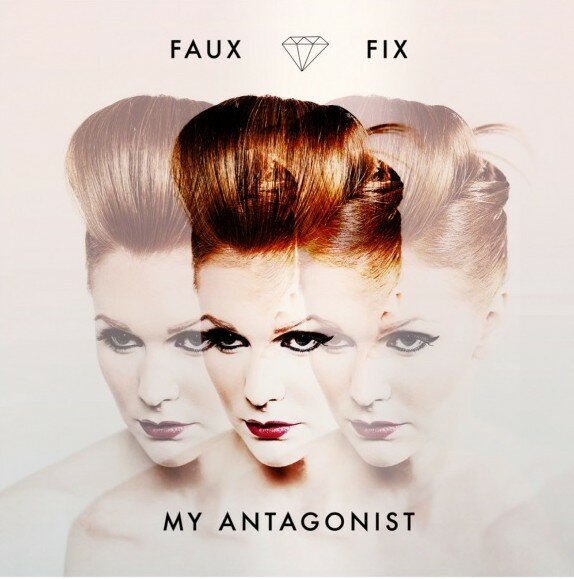 When: Friday April 13th, 2012
Where: Creative Coop 549 Columbus, Boston, MA
How: Official Website
What/Why: "Faux Fix is the studio brainchild of hypnotic chanteuse Katie Chastain and indie film composer Nathan Johnson (Brick, The Brothers Bloom).
Simultaneously ethereal and beat-driven, the songs liberally mix instruments and influences to form a backdrop of electro-theatrical arrangements. The full-length album, produced by Johnson and Son Lux, titled My Antagonist, can be purchased via iTunes or you can find physical copies at the shows.
We are honored to present you this beautiful and enchanting performance. Please, join us for this special evening at Creative Coop 549 Columbus ave (Boston, MA) during their East Coast tour.RSVP via Facebook or contact@spiritedmag.com
FLASHBACK: Exclusive Interview with Katie Chastain of Faux Fix was published in Spirited Magazine #1 in 2011.Also visit fauxfix.com for more details.
Touring Guest and Opening act – Jonny Rodgers (jonnyrodgers.com): Jonny has collaborated with many talented musicians from the world of Classical and New Music. His latest full album The Aviary, was originally written and entirely scored as a live show with a 9-piece chamber orchestra featuring highly unusual elements, such as Tuned Wine Glasses and Steel Drum. Suggested Donation $5 at door."
————————————–
So much happening this weekend.
Good thing I've decided to hop a plane to DC.
( ._.)
Oh well!
Hope you enjoyed the early post. Have a wonderful 3 day weekend*! ♥
*void where prohibited