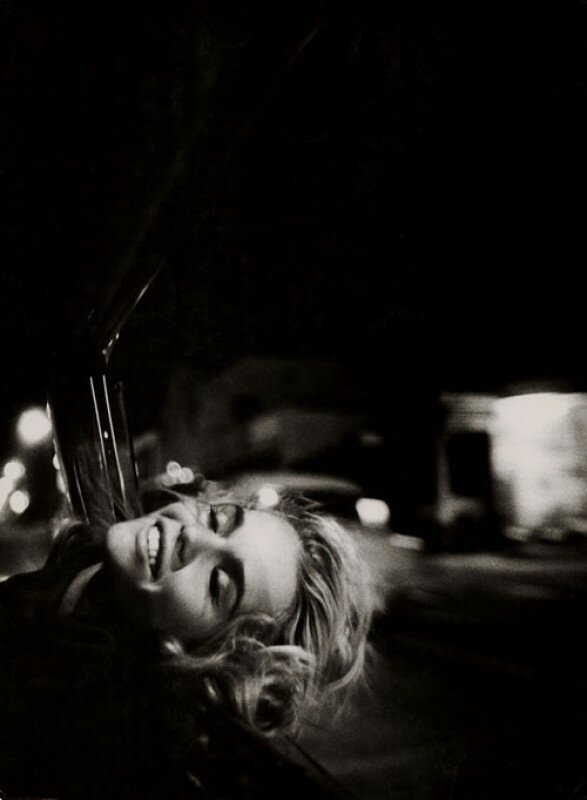 decapitated princess x redacted x incurable-image x here? no, there 
—————
Boston International Fine Arts Show

(Sofa, Michael Costello)
When: On view through November 24th, 
Friday 1pm – 8pm | Saturday 11am – 8pm | Sunday 11am – 5pm
Where: Cyclorama, Boston Center for The Arts, 539 Tremont Street, Boston, MA
How: Official Website
Cost: $15
What/Why: "New England's Premier Show and Sale of Contemporary and Traditional Fine Art. 40 Outstanding Galleries from the
 United States, Canada and Europe. Paintings, Works on Paper, Sculpture, Photography, Fine Prints, Mixed Media
"
—————————-
TODO BAJO CONTROL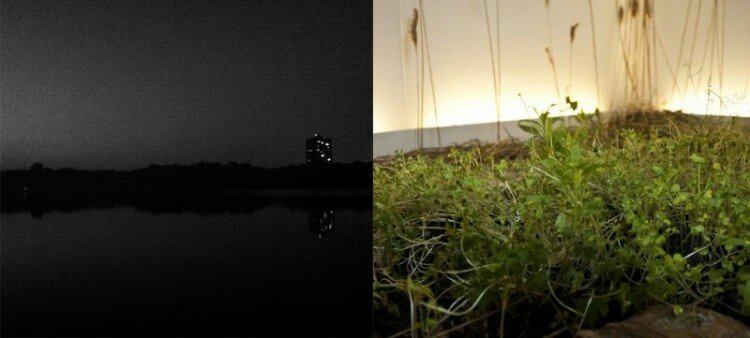 When: Saturday November 23rd, 2013 8:00PM
Where: La Galeria, Villa Victoria, 85 W. Newton Sreet, Boston, MA
How: Official Website
Cost: $4-$7 sliding scale
What/Why: "Join us @ LA GALERÍA for the 3rd + final install for our November pop up series. TODO BAJO CONTROL is an evening of multi-media and performance art featuring recent works by regional artists"
More information about participating artists here.
———————-
yBos 2: Young Boston Artists 2013

(Candice Corbin)
When: On view through December 13th, 2013
Where:  UMass Harbor Gallery, 100 Morrissey Blvd.Boston, MA
How: Official Website
What/Why: "The University of Massachusetts Boston's Harbor Gallery is proud to present the second annual Young Boston Artists juried exhibition, yBos 2. There has been great desire for an annual exhibition opportunity for artists who are undergraduates and recent grads in the Boston area. Young Boston Artists was founded last year to fill this gap, asking the question, who are young Boston artists and what are they doing? yBos 2 will open on Friday, November 8, with a reception that day from 5–8 p.m., and will close on December 13. Last year's exhibition featured the work of 18 artists representing five different college and university programs."
———————-
Shifting Borders: Artist Round Table Discussion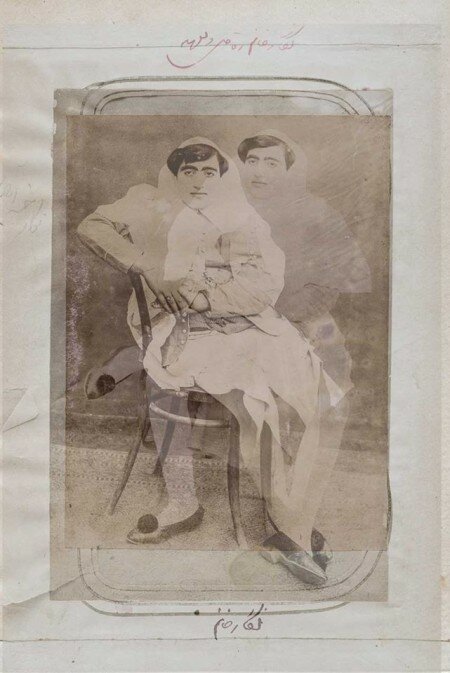 When: Monday November 25th, 2013 7:00PM
Where: Mills Gallery at the Boston Center for the Arts, 551 Tremont Street, Boston, MA 02116
How: Official Website
What/Why: "Join us for a round table conversation with BCA Artist Resident Azadeh Tajpour and artists Shirin Mozaffari and Parastoo Ahovan. 
The three Iranian-born artists will discuss issues raised by their artwork, including the shifting border between "us" and "other" for contemporary artists exploring personal history in the context of international events. 
Presented in conjunction with Tajpour's current project at the BCA, utilizing images of late 19th century Iranian women found in Harvard's digital archive"Women's Worlds in Quajar Iran," these artists will talk about strategies and challenges involved with the use of archival material in art-making, examine changing views of ethnography and gender, and question authenticity and ambiguity in representation. "
———————-
4th Floor Artists 22nd Annual Open Studios Event

When: November 23rd-24th, 2013 12:00PM-5:00PM
Where: Sandpaper Factory, 83 East Water St, Rockland MA
How: Official Website
What/Why: "Please join us on Nov 23 – 24 from 12-5 for the 22nd Annual 4th Floor Artists Annual Open Studios!  There will be over 80+ artists working in a range of disciplines between 2 buildings, including SNAC Artists Scott Francoeur, Corey Robinson, Charlie Robinson and Maggie MacClellan. Get a head start on your Holiday shopping and help support your local artists! SNAC will also be showing at the Artisan Gallery in Wrentham coming up in December.  More details to follow!"
———————-
Here? No, There
When: Tuesday November 26th, 2013 10:00AM-9:00PM
Where: 301 Gallery, 301 Cabot Street, Beverly, Ma
How: Official Website
What/Why: "Here? No, There.
The culmination of the efforts of the Body as Art: Performance Art Fundamentals Class taught by Sandrine Schaefer at Montserrat College of art will take place at 301 Gallery in a final event with performances by:
Dani Thomas-10am-9pm
Morgan O'Donnel-Curry- 10am-9pm
Dan DeRosato- 10am-12:30pm
Nygel Jones- 10am-3pm(film screening)
Phoebe Warner- 11am-9pm
Sam Glidden-1pm-9pm
Dan Ceritto- 1pm-2pm
Tori Cossette- 3pm-9pm
Dan Stone- 6pm-9pm"
———————-
 The Incurable-Image

When: Wednesday November 25th, 2013
Where: act cube, Wiesner Bldg (E15-001) Lower Level 20 Ames Street Cambridge, MA
How: Official Website 
What/Why:"Tarek Elhaik Media anthropologist, film curator, and Assistant Professor of Media and Culture, San Francisco State University.
Tarek Elhaik's talk sheds doubt about the proliferation of medial acts deployed under the banner of the "Social." It is in fact still unclear how social media and art practices have emerged as the dominant creative horizons for resisting neo-liberal forms of mediation. Building on his ethnography of curatorial laboratories in Mexico City, Elhaik proposes the concept of the "Incurable-Image" as a point of departure for thinking and working through the malaise of contemporary curatorial and moving-image culture, offering another use of Deleuze's Notes on Societies of Control.
Tarek Elhaik is a media anthropologist, film curator, and Assistant Professor of Media and Culture at San Francisco State University. His work is informed by archival research on Mexican and Latin American avant-garde film and experimental media arts and the ethnography of curatorial laboratories in Mexico City. He has curated several experimental film programs from Latin America and the Arab world at the Pacific Film Archive, Ruhrtriennale, San Francisco Cinematheque, Tangiers Cinematheque, Rice University, and the Museum of Fine Arts, Houston. His writings have appeared in books and journals including Framework, Revista de Antropologia Social, and Critical Arts. He is currently completing a manuscript titled The Incurable-Image / Untimely Futures: Lessons from Mexico."
———————-
Contemporary Cocktail – Defining the Dystopic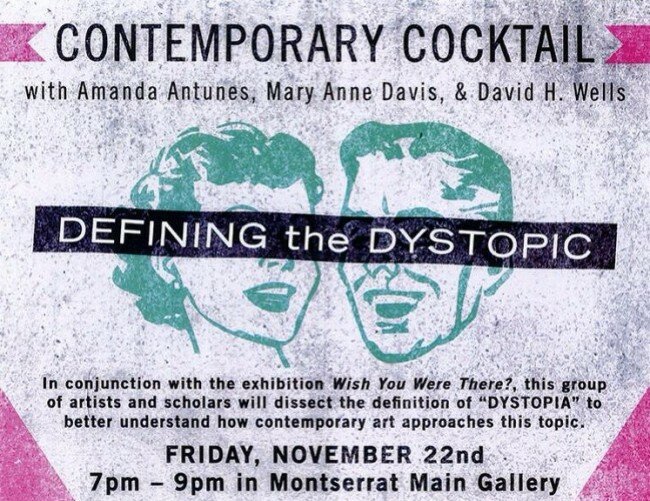 When: Friday, November 22, 2013, 7-9pm
Where: Montserrat College of Art, 23 Essex St., Beverly, MA
How: Official Website 
What/Why: "Defining the Dystopic: Amanda Antunes, Mary Anne Davis, David Wells, & Leonie Bradbury In conjunction with the exhibition Wish You Were There? this group of artists and scholars will dissect the definition of 'Dystopia' to better understand how contemporary art approaches this topic."
———————-
Group Show

 (The Spark, Scott Albrecht)
When: On view through December 2013
Opening Reception: Friday November 22nd, 7:00-11:00PM
Where: Lot F Gallery, 145 Pearl Street, Boston, Massachusetts 02110
How: Official Website
What/Why: "This November Lot F Gallery presents GROUP SHOW, an exhibition of five artists. AVONE, Damion Silver, Scott Albrecht, Robby Deeker and WOLFTITS, will show a range of works displaying their distinct artistic signatures. GROUP SHOW opens with a reception on Friday, November 22nd from 7 to 11 pm to celebrate."
———————-
SMFA Art Sale
When: Thursday, November 21–Sunday, November 24, 2013
10 am–8 pm Thursday–Saturday
10 am–5 pm Sunday
Where: SMFA, 230 Fenway, Boston, MA 02115
How: Official Website
What/Why: "SMFA's celebrated annual sale has become a destination for art collectors and for those who simply love art. With thousands of works on a changing rotation, priced by the artists and sold to benefit student scholarships, the SMFA Art Sale is your opportunity to discover the exceptional caliber of work produced by SMFA students, alumni, faculty, and affiliated artists, and to take home a masterpiece of your very own."
———————-
New Craft Artists in Action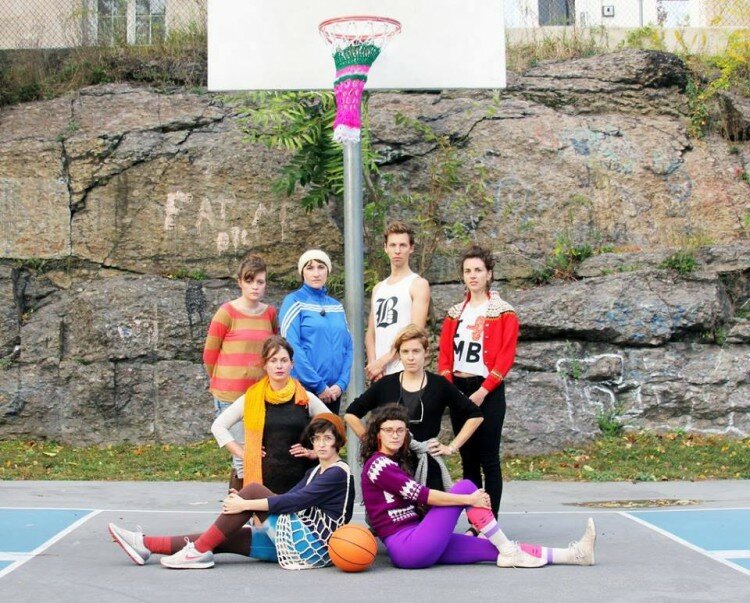 When: Friday November 22nd, 2013 5:00-8:00PM
Where: Cambridge Innovation Center, 1 Broadway, Cambridge, MA 02142
How: Official Website 
What/Why: "Join us at the Cambridge Innovation Center for a survey of work created by artists of the New Craft Artists in Action // Net Works Collective. This opening will be a mid-kickstarter-campaign celebration and fundraiser for our recent self-published manual "Net Works // Learn to Craft Hand Made Basketall Nets for Empty Hoops in Your Neighborhood" 
If you haven't been to CIC, it's a cool place for exhibiting contemporary art in the workplace. Join us for drinks and mingling ; )"
More information here.
———————-
REDACTED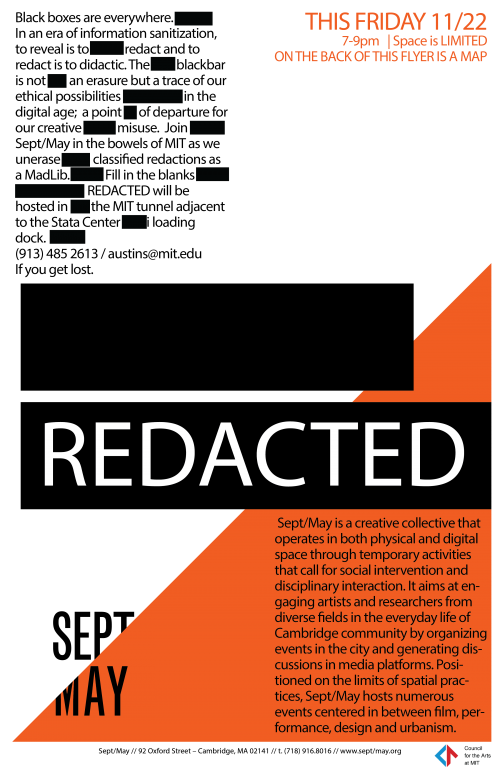 When: Friday November 22nd, 7-9PM
Where: 92 Oxford Street, Cambridge MA 02138
How: Official Website
What/Why:"Throughout the course of the academic year Sept/May will bring the various Cambridge communities into dialogue about the changing notions of temporality, the city, and urban practice by hosting and facilitating interdisciplinary events centered on film, performance, and architecture. By drawing from the knowledge of these communities, Sept/May will create a shared space to foster creative exchange and experimentation for the next 9 months. Once every other week from September to May, we will host a range of events that beautifully operate on disciplinary conventions and boundaries.
Sept/May is happy to invite you underground this Friday, Nov 22 for REDACTED, an experiment in participatory censorship. It's happening 7 – 9 pm."
———————-
Small Works Show

(Girls with Guns, Cynthia Consentino)
When: On view through December 2013
Opening Reception: Saturday November 30th, 2013 5:00-7:00PM
Where: Harmon Gallery, 95 Commercial Street, Wellfleet, MA
How: Official Website
———————-
From Paper to Pixels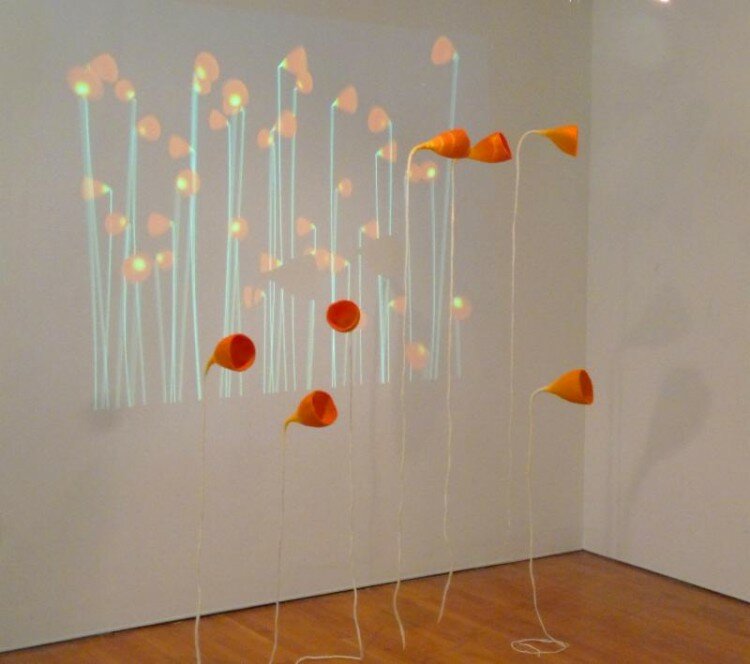 When: On view through January 17th, 2014
Where: The New England School of Art & Design, 75 Arlington Street, Boston, MA, 02116
How: Official Website
What/Why:"Suffolk University Gallery is pleased to present the exhibit From Paper to Pixels, and to be collaborating with Infrared5 CEO Rebecca Smith Allen, who first organized the exhibit.  This exhibition creates the opportunity for collaboration between traditional and new media artists. 
From Paper to Pixels pairs creative people together, to be inspired and invent new masterpieces. The results of these pairings are smart, funny, delightful. The exhibit invites the viewer to participate – to play with art, dance with characters, touch paintings to make music, interact with sculptures and make the art come alive. "
———————-
5000 Moving Parts
(ialu , John Douglas Powers)
When: On view through November 30th, 2013
Where: MIT Museum, 265 Massachusetts Ave, Cambridge, MA 02139
How: Official Website
What/Why: "5000 Moving Parts will feature a new work by Arthur Ganson (in collaboration with sound artist Christina Campanella) and Anne Lilly, and sculptures by John Douglas Powers, and Rafael Lozano-Hemmer.
The exhibition looks at the wide range of kinetic art being made now: from work that's concerned entirely with motion and unpredictability, to sculptures that engage with contemporary political topics, to work that brings ancient myth into contemporary life."
———————-
Natural Selection

When: On view November 14th-December 22nd, 2013
Where: Fountain Street Fine Art, 59 Fountain Street, Framingham, MA
How: Official Website
What/Why: "Recent work by Core and Associate Artists."
Also on view…
Small Works Showcase

What/Why: "Original art less than 16 in. in any dimension, and under $500 in price by over 30 member artists, as well as jewelry, cards, ceramics and wearable art."
————————————
The Decapitated Princess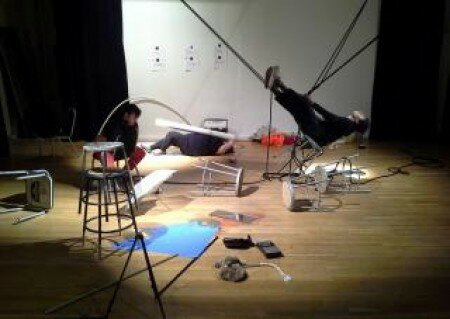 When: Friday November 22nd, 8:00PM
Where: mobius, 55 Norfolk Street, Cambridge, MA 02139
How: Official Website
What/Why: "Experimental Structures in Performance is an event derived from many weeks of playing around with various strategies and structures of performing-while performing. Based primarily on actions and objects, each artist will be developing his/her own systems, structures and maps of their work. Each map will be laid over each successive map to construct a whole. The performances, though constructed individually, will overlap, collaborate and connect as the performance develops throughout the evening. Each artist will be working with their own duration, from 16 continuous hours to 5 min. segments linked together over 2 hours. The artists welcome you to come any time throughout the day, but you are especially invited to attend the final section beginning at 8pm.
Artists: Kledia Spiro, Leah Cariello, Oskar Malone, Billy Nichols, Victor Princiotta, Jeff Huckleberry (MAG)"
————————
A Small Works Show

(Bird, Laraine Armenti)
When: On view through December 15th, 2013
Where: danforth ART, 123 Union Ave (Art School Gallery 2nd floor), Framingham, MA
How: Official Website
————————
Say hi:
EMAIL | TWITTER | FACEBOOK | INSTAGRAM | PINTEREST
What are you up to this weekend?
My schedule looks like this:
Hold my calls. Stay sweet. ♥