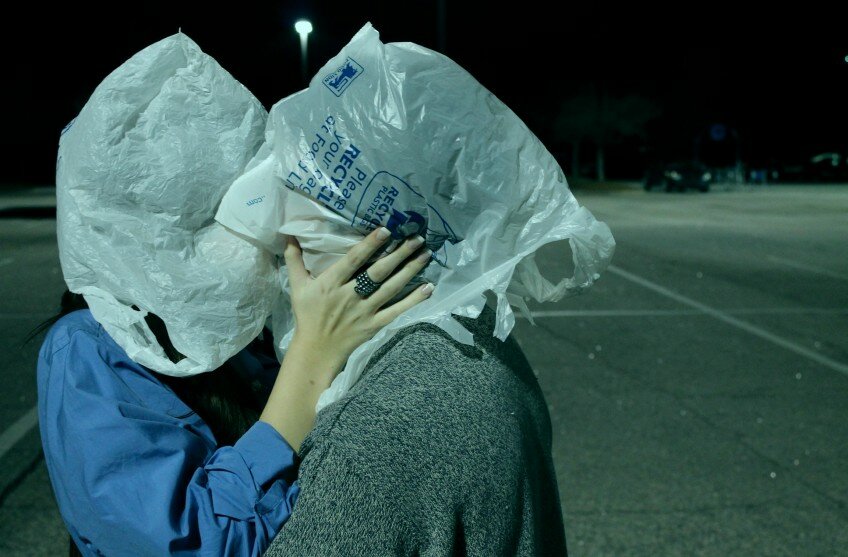 the lovers x future husband x get dressed x asylum
——————————————————-
Asylum
When: On view through November 15th, 2013
Where: GRIN Providence, 60 Valley street, unit 3 Providence, Rhode Island 02909
How: Official Website
What/Why: GRIN is pleased to announce ASYLUM, a debut solo-exhibition of 2D and 3D works by Andrea Lynn Santos.
The word asylum can be ambivalent; for some it has negative or even frightening connotations. But an asylum is a refuge; it provides protection and shelter from harm.
This exhibition is a divulgence into recurring themes of the artist's current work surrounding the idea of veiling vs. exposing the self. Santos' aim is to portray a common thread between the asylums we create through our ritualistic habits such as collecting and hoarding memorabilia and the inherent loss through accumulation. She is interested in the regeneration and impermanence of these sheltered spaces, in both physical and spiritual worlds. 
"The metamorphoses I have experienced throughout my creative career, both personally and artistically continue to be sources of fascination that inform my work. The cycles of repetition, flux and reincarnation that occur while I am producing prints are factors that resonate with me conceptually and begin conversations. By transforming the surface and implementing other experimental methods, I am able to build upon these dialogues while giving impetus to new projects. The veil-like qualities and regenerative elements of printed materials define my process of conceptualization; materials and media are used to solidify personal spiritual reflection and experiences."
– Andrea Lynn Santos
——————
Xu Bing: Phoenix

When: On view through October 27th, 2013 (Final weekend!)
Where: MASS MoCA, 1040 MASS MoCA Way, North Adams, MA 01247
How: Official Website
What/Why: "Drawing inspiration from the contemporary realities of his fast-changing country, Chinese artist Xu Bing spent two years creating his newest work,Phoenix. The installation features two monumental birds fabricated entirely from materials harvested from construction sites in urban China, including demolition debris, steel beams, tools, and remnants of the daily lives of migrant laborers. At once fierce and strangely beautiful, the mythic Phoenixes bear witness to the complex interconnection between labor, history, commercial development, and the rapid accumulation of wealth in today's China. 
This is the premier appearance of the sculpture outside China (the works were exhibited briefly outdoors at the Today Art Museum in Beijing, and then at Expo10 in Shanghai). At MASS MoCA, the internally illuminated 12-ton birds are suspended mid-air inside the museum's football field-sized Building 5; dwarfing visitors, the male Phoenix Feng measures 90 feet long, while the femaleHuang reaches 100 feet in length, beak to (steel) tail feathers. 
Phoenix is the centerpiece of an exhibition of related art by Xu Bing, widely considered to be among the most important Chinese artists working today."
——————
Annual Juried Competition / Winners Group Exhibition

When: On view through November 25th, 2013
Reception: Wednesday October 30th, 2013 5:30-7:30PM
Where: Milton Art Museum, 900 Randolph St., Canton, MA 02021
How: Official Website
What/Why: "Launched in 2012, the Milton Art Museum issued a Call for Entries to a new program, the Annual Juried Competition. Entries came in literally from around the globe and a new tradition began. This exhibit is the first of two group shows, the results of the 2nd Annual Juried Competition. It features three Massachusetts artists, Eugenie Lewalski Berg of Shrewsbury, Rachel Hammerman of Roslindale, and Mary Hughes of Boston. The abstract defines common ground for these three artists, who's work unknowingly is connected by textures, patterns, and movement. Unique in execution, they present works in mixed media and ink drawings. Juror's selections were made in May by Frank Roselli, owner of Soprafina Gallery, Boston, MA. "After reviewing all the artist's work (184 Entries) I can say that overall the work was of a high caliber, including work by a talented group of artists. The submissions included many outstanding pieces in a variety of media."
—————–
Wake Up Call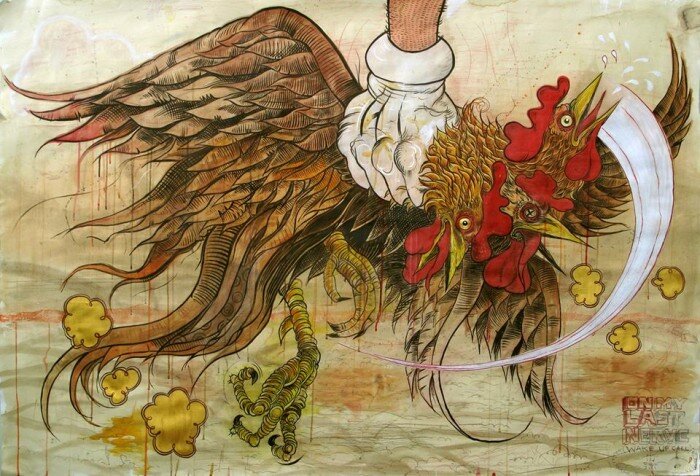 (Born Again, Raul Gonzalez III)
When: On view through December 8th, 2013
Opening Reception: Friday October 25th, 2013, 6-8PM
Where: Museum of Art at University of New Hampshire, Paul Creative Arts Center
30 Academic Way, Durham, NH
How: Official Website
What/Why: Recent Work by Raul Gonzalez III and Elaine Bay. "Recent drawings and installations by El Paso natives Raul Gonzalez III and Elaine Bay focus on the cultural impact of the drug trade and gang activity affecting Ciudad Juarez, Mexico, once considered the murder capital of the world. Included is Gonzalez's Los Nuevos Guerreros, a series of 101 darkly comic, graphic depictions of fictional characters who inhabit a hyper-violent society, and Bay's Ayudanos!, a video lamentation to the hundreds of women whose abductions and murders have been met with judicial indifference."
——————–
Get Dressed (Future Husband)

When: Friday October 25th, 7:00-9:00PM
Where: 132 Brookline Ave, Boston, Massachusetts 02215
How: Official Website
What/Why: "Performance "Get Dressed" is a ritualistic interpretation of the inevitable transitions we encounter in life. Using call & response to engage audience participants, a collaborative dialogue–kinetic, visual, and auditory. 
There will be a provided stimuli and Ahn's first interactions with the object will provide a prompt for the following person to respond. This,in turn, will act as the prompt for following participatory interactions from a collected group of collaborating performers as well as invited audience members.
All artists, musicians, photographers, draftsmen, engineers, performers, etc, are encouraged to attend and participate. In order to keep participation unified, please dress in a light grey/neutral/monochromatic ensemble. Be prepared to paint face white on location. Other audience members, welcome as you are."
——————
Julian Opie
(Daniel)
When: On view through December 7th, 2013
Opening Reception: Saturday October 26th, 2013 3-5PM
Where: Barbara Krakow Gallery, 10 Newbury St #5  Boston, MA 02116
How: Official Website
——————
Hex at the X : Gothic Show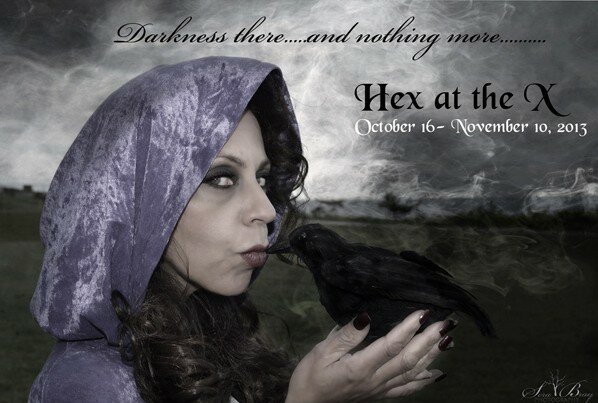 When: On view through November 10th, 2013
Opening Reception: Saturday October 26t, 7-10PM
Where: Gallery X, 169 William Street, New Bedford, MA 02140
How: Official Website
What/Why: "Hex at the X is the Gallery's spellbinding fall show. Artists will show us their nightmares, their frightmares, their interpretation of Gothic and their witchy, witchy, ways. "
——————
Trombone Sandwiches
When: Friday, October 25, 8PM and Saturday, October 26, 8PM
Where: Mobius, 55 Norfolk Street, Central Square, Cambridge, MA
How: Official Website
What/Why: More information here.
——————
Matthew Brandt

When: Wednesday October 30th, 2013 6:00PM
Where: Mass Art, Tower Auditorium, 621 Huntington Ave, Boston, MA
How: Official Website
What/Why: "Los Angeles-based conceptual artist Matthew Brandt blurs the line between the photograph and photographed: his subject matter both visually and physically informs the work. Whether developing photographs of lakes and reservoirs with water from the sites or printing portraits of family and friends with their own sweat and tears, Brandt's deep understanding of obscure historical processes and his experimental approach allow him to create uniquely interconnected works that are revelatory and captivating."
——————
Spiritus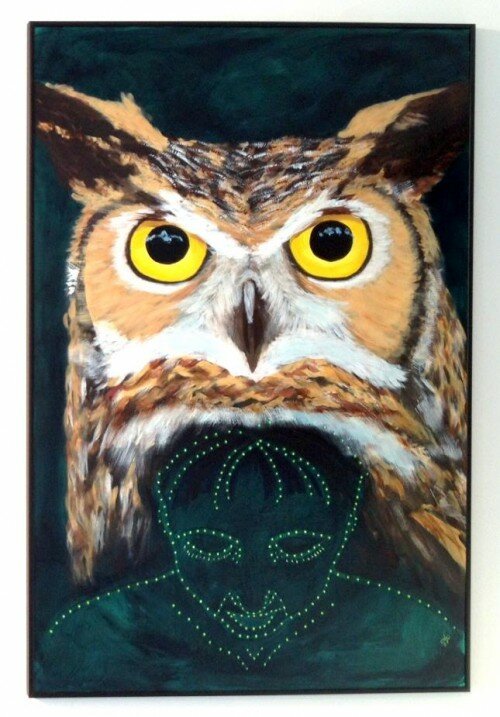 When: On view through October 26th, 2013
Where: Washington Street Art Center, 321D Washington Street, Somerville, Ma
How: Official Website
What/Why: "Spiritus is a collection of works that nourish and heal the spirit using images, color, and symbols that reflect and transmit Universal energy. Featuring archetypal icons, spirit animals, chakras, and sacred geometry, Spiritus seeks to take you on a journey through the metaphysical universe."
——————
Emigrés: Where is Home?

When: On view through November 5th, 2013
Opening Reception: Friday October 25th, 2013 6:00-8:00PM
Where: Gallery Ehva, 74 Shank Painter Road, Provincetown, Massachusetts 02657
How: Official Website
——————
What You Should Know and Be Able to Do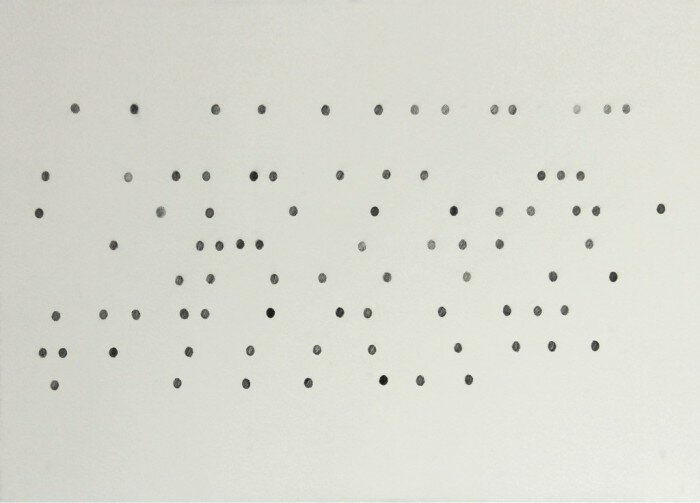 When: On view through November 30th, 2013
Opening Reception: Friday, October 25th – 6-9pm
Where: The Hallway Gallery, 66a South Street, Jamaica Plain, Massachusetts 02130
How: Official Website
What/Why: "I make art across diverse media. I'm skilled in poetry and short fiction, video, audio, multimedia installation, photography, sculpture, drawing, collage and alternative printmaking.
I use ordinary materials and objects; flour, talcum powder, children's games, sewing needles, ice, lenses, pins, workbooks, dishes, words, cardboard, lifejackets, ovens , graphite, vacuum cleaners, paper, cushions, lessons, water, seeds, eggs, hands, mirrors…
The processes performed on these are simple, and remain simple. Dots, lines, letters and rubbings are made, fabric is folded, the camera is fixed, objects are pressed onto paper, holes are poked. The almost over-simple gestures accrue a vulnerable, striking, beauty; a transcendence.
My process is impatient, imprecise, inarticulate, playful, and I often feel foolish. When a project comes to fruition, I still may feel foolish but I have a mastery of a strange skill. I am working to articulate the mastery that exists on a continuum with foolishness.
The works are that of noticing and invisibility; they are about the anomaly that the vivid interior self and the living argument of consciousness can be sharp and definite to the individual, yet invisible to the outside, to others, and to science.
These notions seems to appear , on their own as I work from project to project, medium to medium. I have a deep trust in intuition. I know there is a thinking that is above my conscious thinking that comes through doing. To get at these higher connections that are made, miraculously, I have to be very busy with the "lower-level" work, much of which is cast off when the final work is realized."-Sarah Rushford
——————
Ladies Night: The All-Male Review 

(Fireflies (contact sheet), Keith Carter)
When: Tuesday October 29th from 6:00 – 8:00pm
Where: Panopticon Gallery, 502c Commonwealth Ave, Boston, Massachusetts
How: Official Website
What/Why: "Anne DeVito, co-owner of Panopticon Gallery will be hosting her 2nd installment of Ladies Night on Tuesday October 29th from 6:00 – 8:00pm. The evening will include artist talks by photographers whose work is on display as part of the gallery's On First Contact exhibition, and discussion about the role and importance of women as artists and collectors. Last time we had some of the women photographers talk––this time it's The All-Male Review!
Leave your husbands at home, hire a baby sitter, and free yourself from your desk!"
——————
New Art Center Master Artists: Fine Art and Craft Show and Sale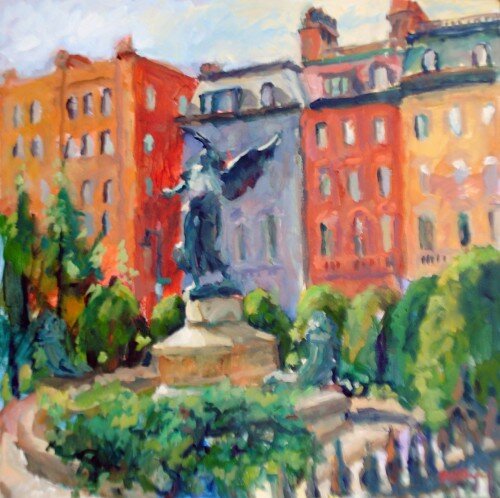 (Bill St. George)
When: On view through November 3rd, 2013
Opening Reception: Opening Reception: Friday, October 25, 6-8pm
Where: New Art Center, 61 Washington Park, Newtonville, MA
How: Official Website
What/Why: "The New Art Center announces its upcoming exhibition New Art Center Master Artists: Fine Art and Craft Show and Sale.
This exhibition will showcase both two and three dimensional work by the New Art Center's esteemed faculty of more than 30 area artists.
The exhibition will feature artwork in a wide variety of media including sumptuous but minimal glass plates by Michel L'Huillier, exquisite paintings of animals in imagined spaces by Amy Soderberg Nichols, atmospheric watercolors by Wendy Sonenson and realist still life paintings by Cheryl O'Neil.  Sarah Pollman manipulates and abstracts photography, while the paintings and prints of John Murray are bold and graphic. Roberta Paul's gouache paintings and works on paper transform space through line. Tiffany Playford and Julie Fox each create whimsical ceramic works.
Concluding the exhibition, a two-day sale of craft and fine art on November 2 and 3 will feature fiber arts, jewelry, ceramics, paintings and more. Artwork will range in price from less than $100 to more than $1,000.
It is sure to be a beautiful, raucous array of work made by some of the most interesting artists in the region. You might find a new teacher, discover a new artist and even get your holiday shopping done early!"
——————
Food and Converstions at the Parklet JP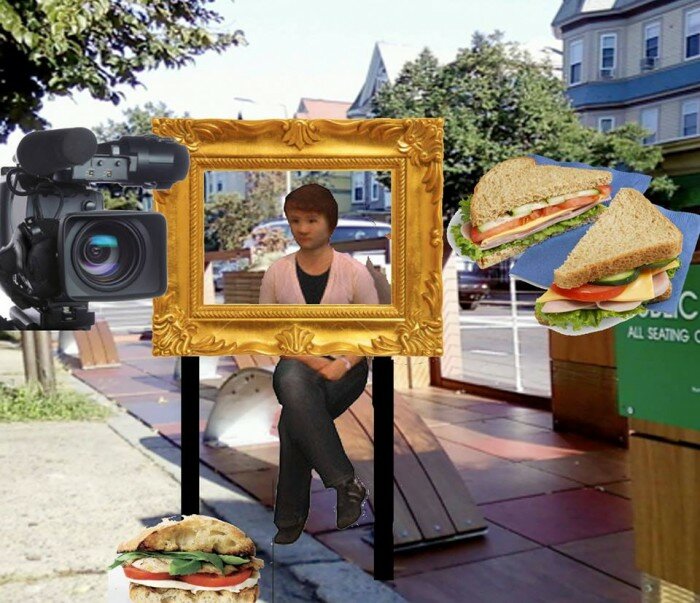 When: Sunday October 27th, 2013, 11:00AM-1:00PM
Where: Jamaica Plain, MA
How: Official Website
What/Why: "A Sharing Booth will be installed at Jamaica Plain's Hyde Square parklet next to the Blessed Sacrement Church on Sunday, October 27 and Friday, November 1 from 11am to 1pm. Residents of Hyde Square and passersby will be encouraged to participate in filmed conversations with each other and local artists Faith Johnson, Colleen Dowling, Lucy Watson and Zo. E. Ling. A golden frame will set the tone for significance of moment. Come share food and thoughts."
——————
Say hi:
EMAIL | TWITTER | FACEBOOK | INSTAGRAM | PINTEREST
Happy Halloween!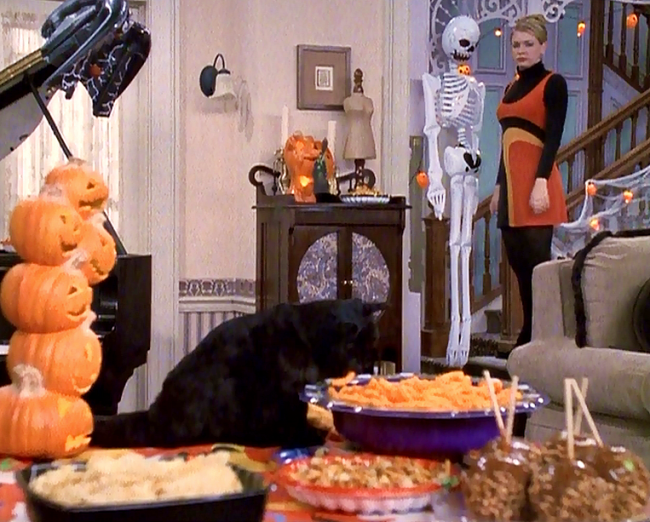 Have a lovely weekend and save some Krackels ® for me. ♥