So you survived another work week!  Kudos, you.
Put your party pants on and unwind this weekend with some art, some crafts, some PBR, some cupcakes, and some do-si-do ing.
You do-si-don't want to miss out!
————————————
Recalculating Destination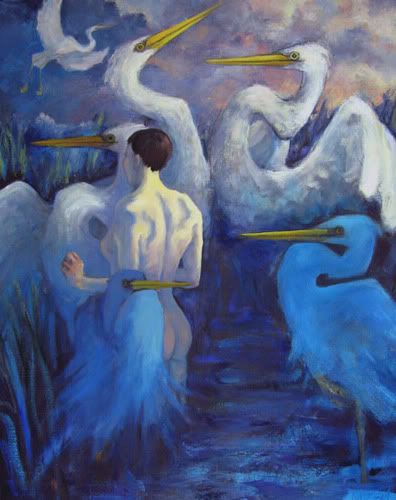 When: Friday September 17th, 2010 – 8:00PM-12:00PM
Where: Hourglass Tattoo Gallery
1680 A Massachusetts Avenue
Cambridge, MA 02138
How: Official Website
What/Why: "Hourglass Tattoo's PBR Gallery presents:An Art Reception of new work from KTron and Kerri McGill.Where these artists take you, even your GPS won't save you…Free PBR hour opens the night. Both soul and groove will be provided."
———————————
Urban County Fair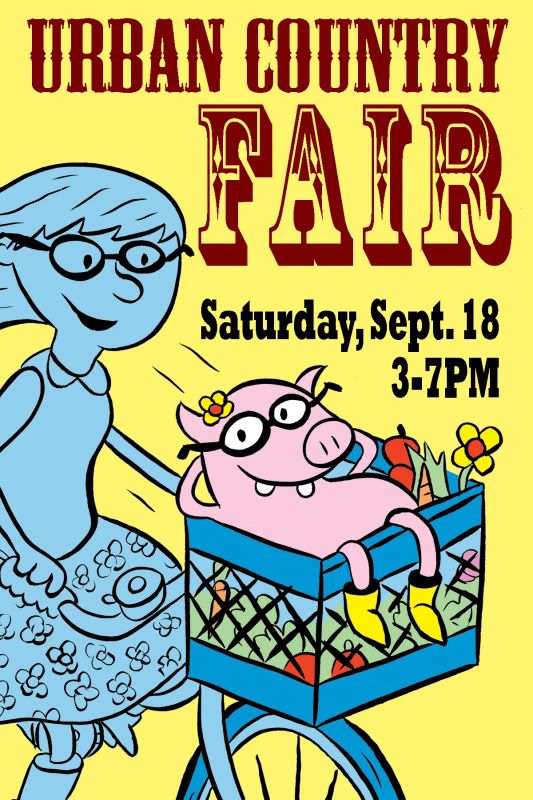 When: Saturday September 18th, 2010 · 3:00pm – 7:00pm
Where: Union Square
Washington Street
Somerville, MA
How: Official Website
What/Why: "All things "country" collide with urban space when the Urban Country Fair 2010 hits Union Square and revives the 'ole time country fair with exhibitors, arts and crafts vendors, Boston SkillShare workshops, and country music and dancing.  The spirit of community, sharing with neighbors, and showing off homemade creations will be alive and well at this festive market produced by Aliza Shapiro of Truth Serum Productions."
——————————————————
Things we Project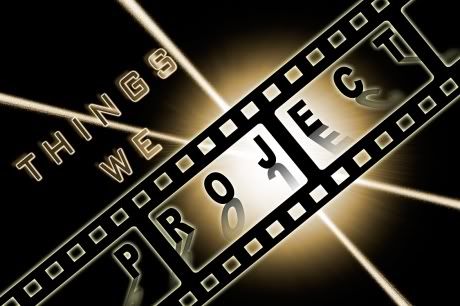 When: Saturday, Sept. 18th, 2010 -7:30-10:00PM
Where: Sprinkler Factory, 38 Harlow St. in Worcester, Mass
How: Official Website
What/Why:" From behind the camera, photographers crop the composition, manipulate the lighting and adjust the focus. But that's just the beginning. Now they're taking control of a Worcester gallery for a one-night show. The show, featuring the work of six Massachusetts photographers, is free and open to the public."
Aaaaaand…I read there will be free cupcakes from Sweet Bakery and Bar, Worcester, MA
————————-
Orchard's Extension Gallery Presents Project SF Crew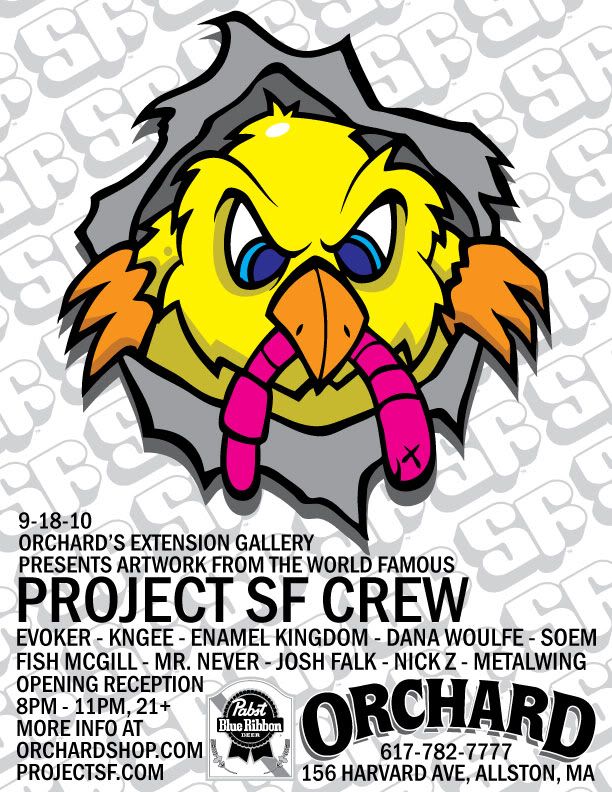 When: Saturday, September 18th 8:00 – 11:00 PM
Where: Orchard Skateshop's Extension Gallery
156 Harvard Ave.
Allston, MA
How: Official Website
What/Why: "Exhibit opening for the world famous Project SF Crew.
Featuring works from Evoker, Kngee, Enamel Kingdom, Dana Woulfe, Soem, Fish McGill, Mr. Never, Josh Falk, Nick Z, and Metalwing. Adult beverages provided by Pabst Blue Ribbon .(21+event)"
————————-
On the radar…the following exhibits are this weekend and beyond, check 'em out
————————-
Graphic Intervention: 25 Years of International AIDs Awareness Posters 1985-2010
When: On view now through December 4th 2010
Where: Mass College of Art and Design -South Hall, 621 Huntington Avenue, Boston.
How: Official Website
What/Why:" Graphic Intervention presents a comprehensive overview of the diverse visual strategies employed by government agencies, community activists, grassroots organizations, and motivated citizens to educate the local population about AIDS. From Papua New Guinea to Denmark and Venezuela to Morocco, these posters demonstrate the different approaches used for discussion of a socially complex subject, presenting a myriad of visual solutions to a public health crisis. "
—————————————————-
Free Parking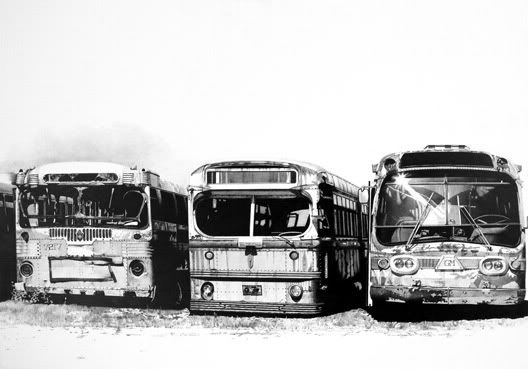 (Buses of Truth, Kate Sullivan)

When: On view now –November 12, 2010
Where:13 Forest Gallery 167A Massachusetts Avenue   Arlington, MA 02474
Hours: Tue-Wed-Sat 11-7   Thu-Fri 11-8   Sun by appointment or chance
Sat 9/18 only – the gallery will be open 12-5
How: Official Website
What/Why: "Through highly detailed drawings and paintings, Free Parking presents realistic and magic-realistic studies of buildings, transportation systems and social issues that define familiar and fictional urban environments. Few of the works on display include human figures, however each of them suggests the presence of humans as creators, consumers, travelers and, ultimately, temporary visitors. The artists inFree Parking have shown their work across North America, Europe and the Middle East, but this is the first time all four are parked in the same lot."
————————-
Where There's Smoke-Beautiful and Terrible: Fire, Smoke, and Explosions Curated by Linda Griggs
When: Sunday, September 19 – Thursday, October 14
Where: U Mass Amherst- Hampden Gallery
300 Massachusetts Avenue, Amherst MA. 01003
Directions here.
How: Official Website
What/Why: "Explosions are an unfortunate part of our visual vernacular. For many, after 2001 every explosion — real or Hollywood — was a raw,fresh, anxious sorrow.While some of those explosions became as iconic as mushroom clouds. Others were televised so often that they faded from horror to banality. We cease to see them. Art lets us see them again and although they are processed and seen from a distance, we truly look.Yet while explosions are devastating unto themselves there is a perverse beauty to the visual experience. We watch the flash and the smoke rising and billowing. If separated from tragedy, it is mesmerizing.As a culture we celebrate that fascination every Fourth of July when fireworks offer us a bloodless, joyful reminder of freedom earned.It comes as no surprise that politics and religion try to exploit or explain our seemingly inherent fascination. Burnt offerings carry sacrifices to heaven in smoke and the story of the profit Elijah who called for God to send fire and accept his sacrifice is shared by Jews, Muslims and Christians. Censers burn in cathedrals and in Jewish, Buddhist and Taoist temples, where the rising smoke is symbolic of prayers rising to heaven.
Where there's smoke you'll find our greatest yearnings and our worst actions."
♥