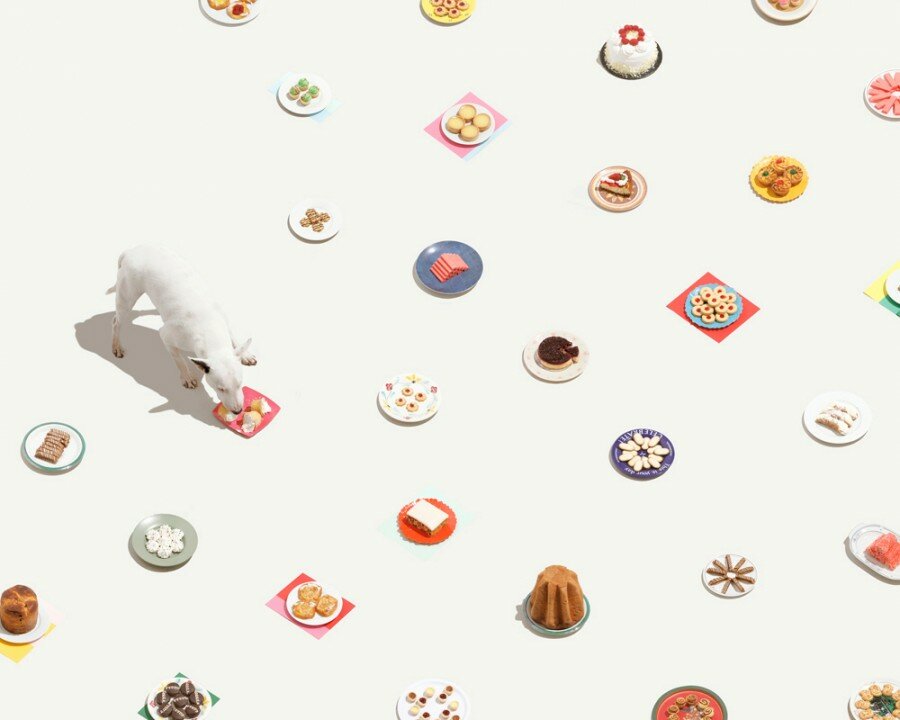 backdrop of my summers x things about rainbows x parks & recreation 
—————————————-
Parks & Recreation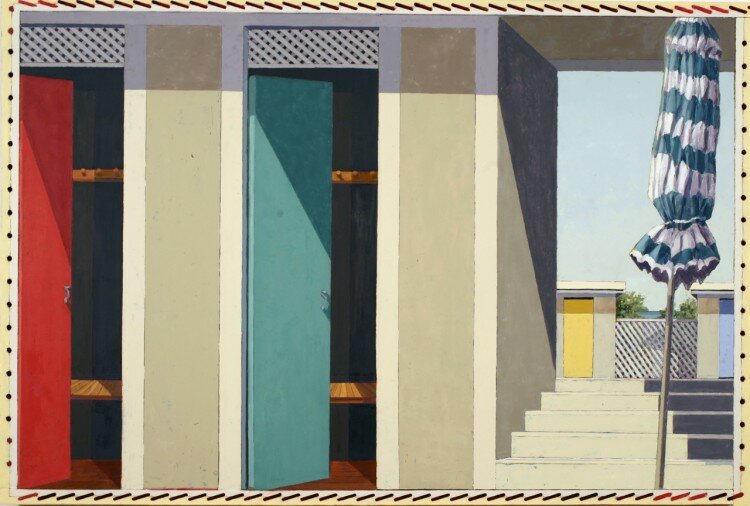 (Sterling Mulbry)
When: On view through September 26, 2014
Opening Reception: Tuesday, July 22nd, 5-7:30pm
Where: Atlantic Wharf Gallery, 290 Congress St, Boston, MA 02210
How: Official Website 
What/Why: "FPAC's newest exhibition at Atlantic Wharf gallery embraces the spirit of summer. Parks & Recreation features art that kicks off its shoes, gets outdoors, catches a breeze, and savors the long days. The show includes work by eighteen FPAC member artists, with paintings, drawings, photography and mixed media.
Works by: Kristen Alexandrov, Emily Cobb, Chris Faust, Leslie Anne Feagley,Sarah Gay-O'Neill, Elisa H. Hamilton, Mike Hammecker, Rachel Hammerman,Peter Harris, Jeffrey Heyne, Ian Kennelly, Sterling Mulbry, Andrew Neumann, Danny O, Stephen Sheffield,Ryuji Suzuki, Nick Thorkelson, Jennifer Wood
Guest juror: Lexi Lee Sullivan, Assistant Curator,  deCordova Sculpture Park and Museum"
——————————–
Arts Walk

When: Wednesday, July 23, 5-8 p.m.
Where: Newbury Street, Boston, MA, 02116
How: Official Website
What/Why: "Can't wait for the Summer Arts Weekend to kick off on Copley Square on Saturday, July 25? We can't either.
So…. Let's start early!
Join WGBH for the second annual Boston Summer Arts Walk along Newbury Street on Wednesday, July 23. Enjoy complimentary refreshments, hors d'oeuvres, live music and art demonstrations from 5 to 8 p.m."
——————————–
Opening Reception: Boston Young Contemporaries Exhibition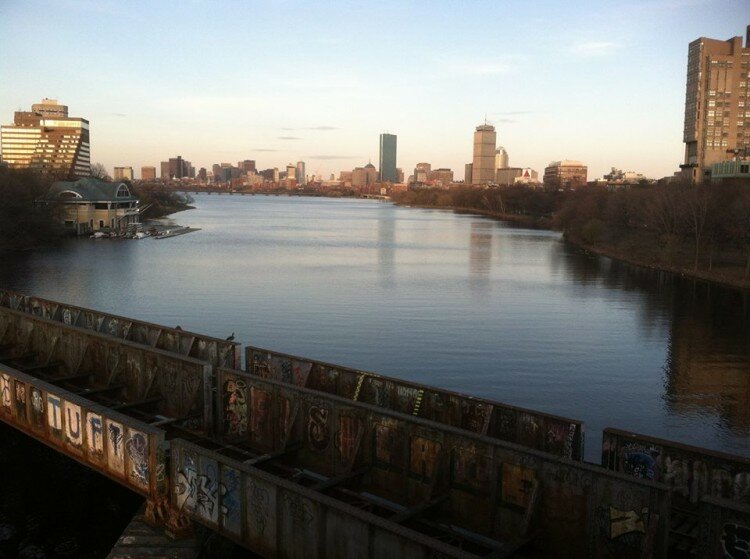 Opening Reception: Friday July 18th, 6:00-8:00PM
Where: 808 Gallery at Boston University, 808 commonwealth Ave, Boston, Massachusetts
How: Official Website  
What/Why: "Now in its 9th year, Boston Young Contemporaries is an annual juried exhibition, which highlights the exceptional work from MFA students across the New England area. This year we are honored to welcome Josephine Halvorson, Pieranna Cavalchini and Kenji Nakayama as our 2014 jurors."
——————————–
Jeff Huckleberry: Things about Rainbows

When: On view through August 10th, 2014 | Full schedule of performances here.
Where: Mills Gallery, Boston Center for the Arts, 539 Tremont Street, Boston, MA 02116
How: Official Website
What/Why: "The Boston Center for the Arts presents Things about Rainbows, a process-based, evolving exhibition and performance art series that revolves around the work of artist Jeff Huckleberry. Huckleberry, who has been making performance art for over twenty years, employs a wide variety of materials, including paint, lumber, power tools, rubbing alcohol, ground coffee, dirt and ambient soundscapes. His performances explore a variety of dichotomies—playful/painful, serious/humorous, awkward/elegant—and consciously embody the politics of labor and art production. The exhibition title is inspired by both the artist's complex exploration of how we perceive the goal of aesthetic experience, which Huckleberry colloquially refers to as "the thing," and a body of work he developed based on the nature of rainbows."
——————————–
Highland Street Free Fun Fridays

(Room by Room, Patrick Dougherty at D'Amour Museum of Fine Arts)
When: Every Friday this summer (June 27th-August 29th)
How: Official Website
What/Why: "The Highland Street Foundation is a charitable organization established in 1989 by David J. McGrath, Jr., the founder of TAD Resources International, Inc., the famous employment agency. Highland generously supports local non-profit institutions and sponsors a summer program called Free Fun Fridays. There is free admission, with very few restrictions, at many museums, historic sites, theaters, art centers, and many attractions."
Listings for Friday July 18th:
MUSEUM OF FINE ARTS, BOSTON
OCEAN EXPLORIUM
THE ERIC CARLE MUSEUM
LARZ ANDERSON AUTO MUSEUM
SPRINGFIELD MUSEUMS
MASS AUDOBON'S BOSTON NATURE CENTER
SANDWICH GLASS MUSEUM
————————————–
Tag (You're It)
(Flowering Phylum | Jenny Brown)
When: On view through September 12, 2014
Opening Reception: Friday July 18th, 7-9PM
Where: 13 Forest, 176A Massachusetts Ave, Arlington, MA 02474
How: Official Website 
What/Why: "We are very excited to present the ten new artists joining us for the second round of our summer exhibit, Tag (you're it).Come see the work of Daisy Adams, Joe Barillaro, Grace Bentley-Scheck, Jenny Brown, Silvia López Chavez, Cortney Leigh Cox, Ruth Daniels, Rocky Delforge, Grace Durnford and Wilhelm Neusser."
——————————–
Mike Ulrich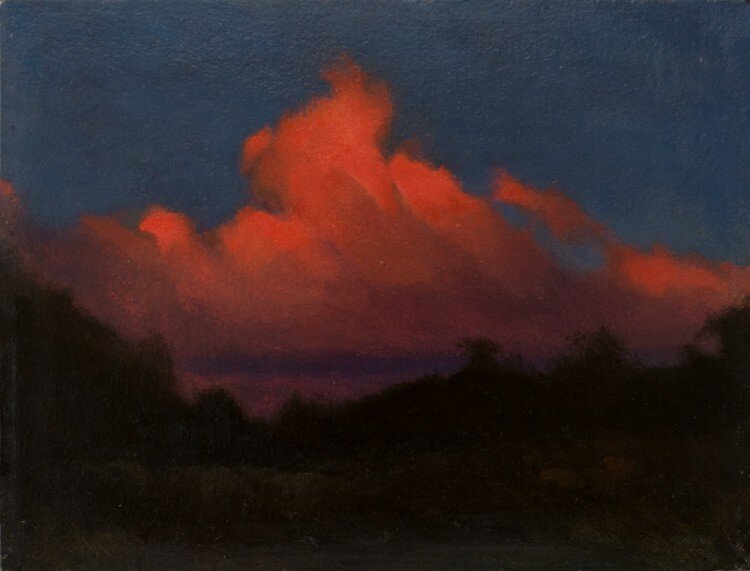 (Joan's Cloud)
When: On view through July 19, 2014
Reception: Saturday, July 19 6:00pm – 8:30pm
Where: EBK Gallery, EBK Gallery [small works], 218 Pearl St, Hartford, CT
How: Official Website 
What/Why: "I often paint Charles Island. It's a small uninhabited island off the coast of Milford, accessible by a sandbar at low tide. It has a fascinating history. As a boy it was the backdrop of my summers … for me it measures time past and present. Islands invoke many things. They are unique and solitary, austere and handsome, they exist independent from the rest of the world. Hopefully Charles Island will remain this way."
The summer before he went to college Mike Ulrich took a job as a bill board painter and did so for the next thirty years between New York City and Boston until billboard painters were replaced by large format printers. He always kept painting though. He would modestly tell you that he used to be a "Sunday" painter and "…recently as the business took a new direction I've been painting again and I love it. Whether I'm taking a walk or driving my truck I'm constantly seeing the world in terms of paintings. I wish I felt this way 20 years ago but this is the way it worked for me." The last few years have been a watershed for him in that the works he has been creating are and continue to be stunningly beautiful.
A profound influence for Ulrich is the 19th century painter Issac Levitan who he says "was completely at one with his craft and his environment as he created powerful works from what would be, the mundane, to an un-attentive eye." He has inherited the gift of the Hudson River painters for perceiving how light works both technically and poetically. One needs no information to view his paintings. The landscape is known to all.
The artist lives and works in the Milford area of shoreline Connecticut."
——————————–
Karen Halverson: Survey

When: On view through August 29, 2014
Where: Robert Klein Gallery,  38 Newbury St, Boston, MA 02116
How: Official Website 
What/Why: "This summer, Robert Klein Gallery explores landscapes and human nature with two distinct exhibitions of photographs.
In lieu of an opening reception, please join us at Robert Klein Gallery on Wednesday, July 23, during the Boston Summer Arts Walk, presented by WGBH and The Boston Globe. Preview works from the WGBH Fine Art Auction (including a print by our own CHIP HOOPER) and enjoy complimentary refreshments and h'ors d'oeuvres from 5 to 8 PM."
Also on view..
Gohar Dashti: Iran, Untitled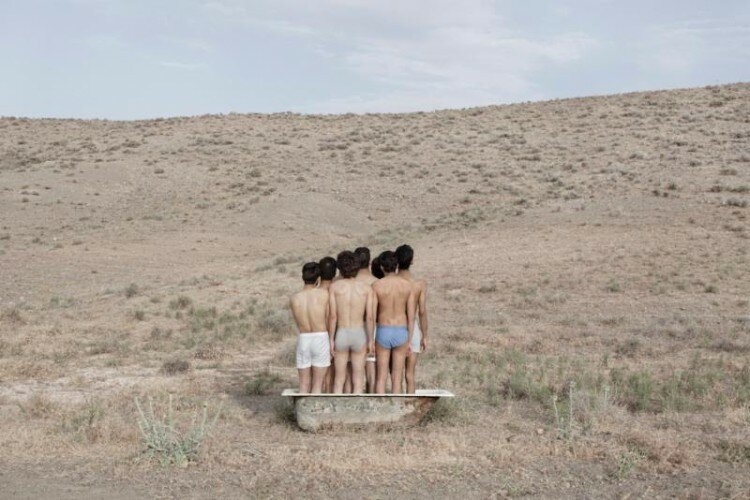 Where: Robert Klein Gallery @ Ars Libri , 500 Harrison Ave, Boston, MA 02118
What/Why: "This exhibition marks the release of Dashti's limited edition Iran, Untitled portfolio, which includes small prints of the eight images in the series and an essay by Mehran Mohajer in Farsi and English. Click HERE to view a PDF preview of the portfolio; EMAIL the gallery to purchase a portfolio or request a PDF catalog of Dashti's complete oeuvre."
——————————–
IDENTITY

When: On view through August 3, 2014
Where: UFORGE Gallery, 767 Centre Street, Jamaica Plain, MA 02130
How: Official Website 
What/Why: "Despite attempts at objectivity and distance, it could be argued that all methods of expression are somehow personal, somehow related to the hand of the maker. For many artists, their identity is inextricably linked to their artwork, incorporating elements of biography, personality, gender, race, and sexuality. For others, it is hinted at in their process or use of material. For this open call exhibition, UFORGE Gallery asked artists to submit work that reflects their own identity, whether through self-portraits, emotional abstractions, political responses, or biographical musings. Artists were asked to consider how they define themselves, and how their experiences, struggles, and beliefs have shaped their artwork."
——————————–
Marc St. Pierre & Anne Sargent Walker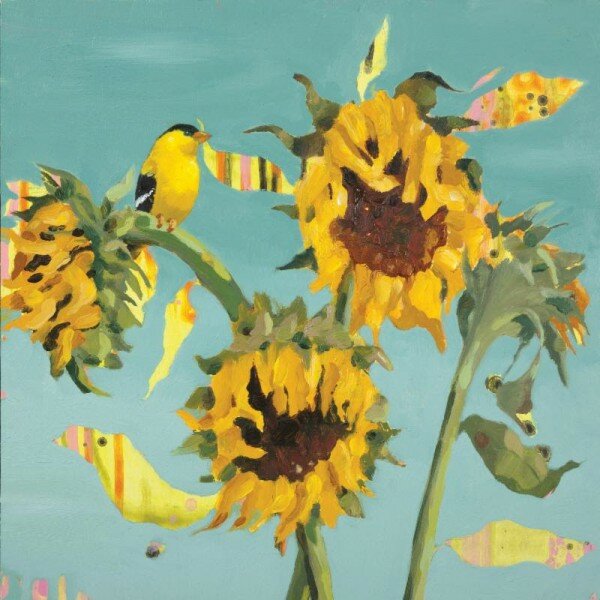 (Anne Sargent Walker, Four Sunflowers and a Goldfinch)
When: On view July 19th – July 31st
Opening Reception: Saturday, July 19th 5:00pm – 7:00pm
Where: Harmon Gallery, 95 Commercial Street, Wellfleet, MA
How: Official Website
What/Why: "Anne's semi abstract paintings in oil and acrylic combine fragments of vintage wall paper, painted birds, jumping men, and other images which explore our relationship to evolution, identity and the natural world. She attributes her interests in nature to childhood summers in Vermont with a naturalist father, and her continuing engagement with the rural Vermont landscape. She received a BA from Connecticut College with a Studio Art major and an MEd from Tufts University. 
Marc St. Pierre is a highly skilled printmaker and has created a series of abstract works based on topographic maps using collage and encaustic. He maintains a studio in a mill building on Hatch Street in New Bedford and is a professor of fine arts in the College of Visual and Performing Arts at UMass Dartmouth. He was the recipient of a one-year grant to study printmaking at Atelier 17 in Paris under S.W. Hayter."
——————-
Say hi:
EMAIL | TWITTER | FACEBOOK | INSTAGRAM | PINTEREST
What if I justtt…
Saturday: 77°F | chance of rain:0%
Sunday: 72° | chance of rain:0%
You know what to do. ♥