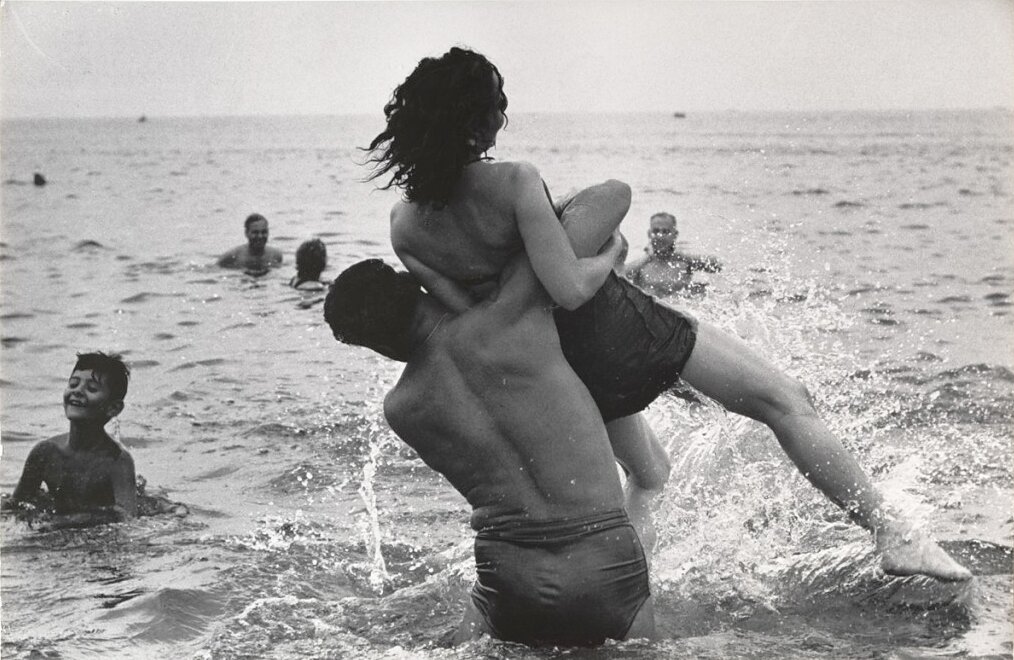 rising x tell me a story x drawing connections x road trip x falling
———————————–
Sylvia Stagg-Giuliano at Made in Fort Point

(Child of the Revolution)
When: On view through July 27th, 2013
Where: Made in Fort Point, 30 Channel Center Street, Boston, MA
How: Official Website
What/Why: "Made in Fort Point will be featuring Cuba X1, the photographs of Sylvia Stagg-Giuliano for the month of July. Utilizing official and informal avenues of access, unconstrained by the customary government-sanctioned itinerary, Sylvia spent many weeks photographing daily life, from the fading grandeur of Havana to dirt-poor pig farms in the hinterlands.
"In 2005, I fulfilled a long cherished desire to visit Cuba, a country idealized by some as an idyllic socialist utopia, vilified by others as a brutal police state. I met many fascinating people, from the veteran of the Bay of Pigs incursion who proudly described his role in repelling the 'Yanqui' invaders, to the cab driver who confidentially described the entire country as an open-air prison."
"I approached my subject with an open heart and mind, and tried to make this visual record of Cuba and its people both unfailingly empathetic and unflinchingly honest. "
Sylvia Stagg-Giuliano is a commercial photographer and digital artist specializing in executive portraiture, commissioned fine art portraiture, and composited photo-illustration.
Her work can be seen on the Web pages of Fortune 500 companies, in private collections, and in galleries and museums in the US and South America."
————————
23rd Drawing Show: Drawing Connections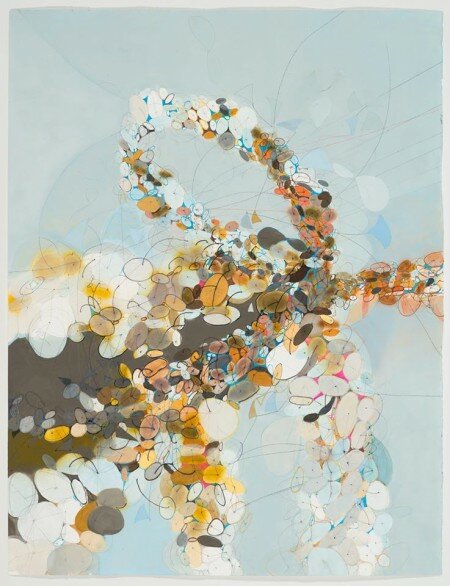 (Coil #3, Jowita Wyszomirska)
When: On view through September 22nd, 2013
Opening Reception: Friday, July 12 from 6–8pm
Where: Mills Gallery at the Boston Center for the Arts, 551 Tremont Street, Boston, MA 02116
How: Official Website
What/Why: "Drawing Connections investigates the relationships between traditional and contemporary approaches to the act of drawing as both a singular and interdisciplinary medium, from the simple yet elegant shorthand of painters and sculptors to the elaborate brainstorming of collaborative event-based artists.
In embracing the traditional "work on paper" side of drawing, Drawing Connections explores the edgy, contemporary application of this approach and seeks the conceptual content and experimentation that this primary, flexible medium provides for today's working artists."
————————
TACTIC TWO: o+ "VAST MYSTIC MECCA VOID"

When: On view through July 20th, 2013
RISING: sound invocation 7/12 7pm-10pm | FALLING: the Sludge Churning admits infinity 7/20 7pm-10pm
Where: Anthony Greaney, 450 Harrison Ave. 02118 Boston MA
How: Official Website
What/Why: Learn more about Tactic Two here.
————————
Sewing Machines: New Paintings by Katie James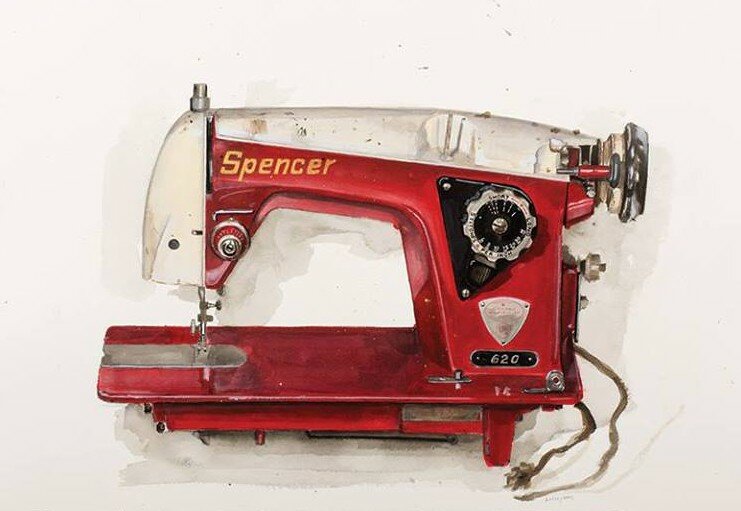 When: On view through July 31st, 2013
Where: Aviary Gallery, 48 South Street, Jamaica Plain, Massachusetts
How: Official Website
What/Why: " Aviary Gallery is pleased to present Sewing Machines: New Paintings by Katie James, her second one-person show at the gallery.
For all their detail, the paintings are deceptively simple: straightforward, well-crafted paintings of straightforward, well-crafted machines. The former statement embodies James's ethos as an artist as well: "I sit down in front of something better made and more functional than you could possibly get today, and just try to do it justice." And in this case, in contrast to much of the mass produced machinery marketed and sold worldwide, justice has been done. The paintings, guache and pencil on paper, like the machines they depict, are thoughtful solutions to the problem of both function and design. 
In addition to her freshman show at the gallery last year, Katie James, a 2006 graduate from the Massachusetts College of Art in Boston, has also had work shown recently at Jameson & Thompson as well as at the Torrance Art Museum."
————————
Summer Gallery Party

When: Friday July 12th from 5:30-7:30pm
Where: Panopticon Gallery, 502c Commonwealth Ave, Boston, Massachusetts
How: Official Website
What/Why: "We will be hosting a (re)Dress Up reception and summer gallery party on Friday, July 12th from 5:30-7:30pm with Keiko Hiromi, Eileen Clynes, Rick Ashley and Atelieri O. Haapala. 
In the private room, we will be hosting A Coney Island Summer with Harold Feinstein, and our Emerging Artist | FEATURED will be Michelle Rogers Pritzl."
————————
Scheherazade, Tell Me A Story
When: On view through September 13th, 2013
Opening Reception: Friday July 12th, 2013
Where: 13 Forest Gallery, 167A Massachusetts Ave, Arlington, MA 02474
How: Official Website
What/Why: "In celebration of the world's greatest storytelling traditions, 13FOREST Gallery presents its summer exhibition, Scheherazade, tell me a story. 
Featuring eight painters, printmakers and sculptors, the show highlights the different ways in which visual art can convey a narrative. Each artist uses his craft to tell a story based on personal anecdotes, classic literature, current events and cross-cultural mythologies. These conjurers use a wide range of media and imagery but, as it is widely held, each picture paints a thousand words. 
Once upon a time, a woman called Scheherazade lived in ancient Persia. She married a mad king who had a history of killing his wives each morning. In order to stay alive, each night she told the king a story, but never seemed to have the time to tell the ending of her tale. Each morning the king told Scheherazade that she had one more day to live so that she could finish telling the story in the evening. Eventually, the king came to love Scheherazade as much as he loved her stories. Today, we know the collection of Scheherazade's stories as One Thousand and One Arabian Nights."
————————
Olga Antonova | William Ciccariello | Suzanne Howes-Stevens

(William Ciccariello)
When: On view July 18th through July 31st, 2013
Opening Reception: Friday July 19th, 7:00PM
Where: Rice / Pollak Gallery, 430 Commercial Street, Provincetown, MA
How: Official Website
What/Why: "The Rice Polak Gallery holds a prominent place in Provincetown, Massachusetts as one of the primary venues for contemporary art. Founded by Marla Rice and Richard Polak in 1992 the focus of the gallery is on the quality and context of artwork. Marla Rice assumed sole ownership of Rice Polak in 2005. The gallery represents a select group of emerging and established artists whose work is both contemporary and contemplative. The gallery is not media specific and shows a wide cross-section of artistic approaches, including, paintings, works on paper, sculpture, photography and installations. "
————————
Now Dig This! Art and Black Los Angeles 1960–1980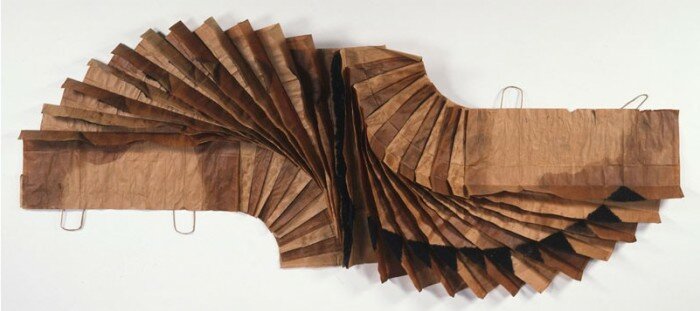 When: On view July 20th through December 1st, 2013
Where: Williams College Museum of Art 15 Lawrence Hall Drive, Ste 2 Williamstown, MA 01267
How: Official Website
What/Why: "Now Dig This! Art and Black Los Angeles 1960–1980 chronicles the vital legacy of the African American arts community in Los Angeles, examining a pioneering group of black artists whose work and connections with other artists of varied ethnic backgrounds helped shape the creative output of Southern California. The exhibition presents approximately 140 works by thirty-three artists active during this historical period, exploring the rising strength of the black community in Los Angeles as well as the increasing political, social, and economic power of African Americans across the nation. Now Dig This! offers a fuller view of the changing art landscape during this important era of artistic and cultural ferment, as artists shifted from more traditional formats such as painting and works on paper to modes such as assemblage, Finish Fetish (a West Coast style of Minimalism) , Minimalism, PostMinimalism, Conceptualism, and performance.
Artists featured in the exhibition include Melvin Edwards, Fred Eversley, David Hammons, Maren Hassinger, Senga Nengudi, John Outterbridge, Alonzo Davis, Dale Brockman Davis, Noah Purifoy, Betye Saar, and Charles White. The influence of these artists goes beyond their immediate creative circles and the geography of Los Angeles and is critical to a more complete and dynamic understanding of twentieth-century American Art."
————————
Mentor

 (Woman Cutting Squash, David Loeffler Smith)
When: On view July 17th through August 11th, 2013
Where: Gallery X,  169 William Street, New Bedford, MA 02740
How: Official Website
What/Why: "A show featuring selected works of David Loeffler Smith, Swain alumni, and former Swain faculty."
————————
Highland Street Free Fun Fridays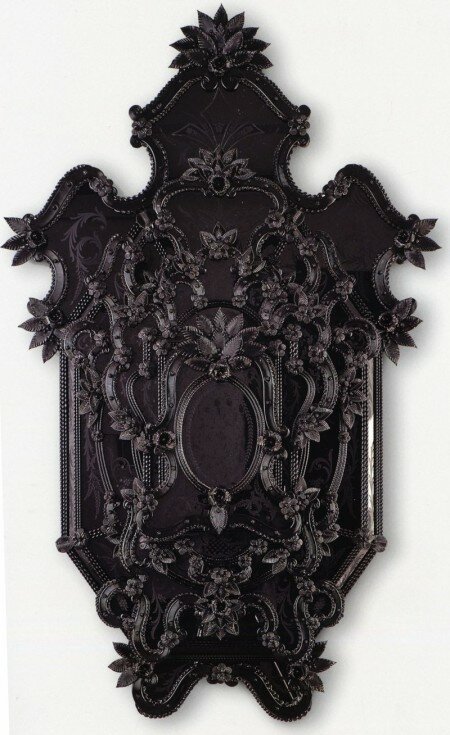 (Iago's Mirror, by Fred Wilson currently on view at the MFA)
"Free fun fridays invites Massachusetts residents and tourists to visit designated cultural attractions every Friday this summer with free admission. No registration or tickets required. Visit and enjoy!"
Free attractions for July 12th, 2013:
MUSEUM OF FINE ARTS, BOSTON
LARZ ANDERSON AUTO MUSEUM
CAPE COD CHILDREN'S MUSEUM
PILGRIM HALL MUSEUM
MUSEUM OF RUSSIAN ICONS
JACOB'S PILLOW DANCE FESTIVAL
Free attractions for July 19th, 2013:
JFK LIBRARY & MUSEUM
REAGLE MUSIC THEATRE
BUTTONWOOD PARK ZOO
DANFORTH ART
HANCOCK SHAKER VILLAGE
GARDEN IN THE WOODS
————————
Phantomation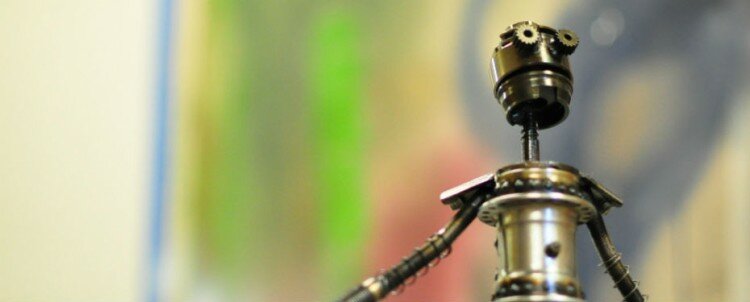 When: On view through July 28th, 2013
Where: Nave Gallery Annex, 53 Chester St, Somerville, MA
How: Official Website
What/Why: "Phantomaton, a play off of "phantom" and "automaton," explores the world of man and creation through the influences alchemy to biotechnology and whatever lies in between. Curated by painter Joe Keinberger and sculptor Skunk, the show includes works from both artists who have created an alternate world of rabbits and robots and scarcely-there beings"
————————
Road Trip

(Untitled, Peter Harris)
When: On view through September 21st, 2013
Where: Atlantic Wharf Gallery, 290 Congress Street, Boston, MA
How: Official Website
What/Why: "A group show of FPAC member artists working in all media, inspired by road trips" Learn more here.
————————
Art/Identity

(installation view)
When: On view through July 20th, 2013
Where: Gallery 263, 263 Pearl Street, Cambridge, MA 02139
How: Official Website
What/Why: "Gallery 263 is pleased to present the exhibition Art/Identity, juried by Susan Sills and Geoff Hargadon, concept by Gallery 263 intern, William Simmons. Art/Identity pulls 28 artists from across the nation to explore aspects of "self" in our contemporary society. Images and objects come together to complicate gender norms, ethnic identity, cultural hybridity, and displacement. The contingency of identity has become a shared theme: whether it is through societal expectations or self-construction. As exhibition artist Tzu-Huan Lin states, artistic practice is a methodology to "do the research about myself." Together, the artists in Art/Identity seek out new ways to describe these challenging ideas. What is produced are works that investigate individuals and how they are perceived in the world."
————————
Me and My Friends Make Art II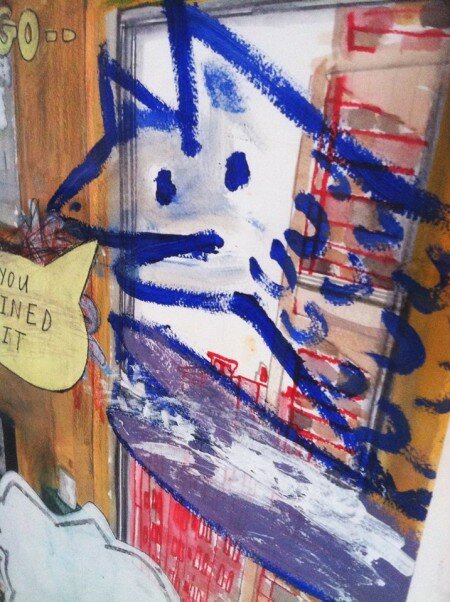 When: On view through July 27th, 2013
Opening Reception: Friday July 10th, 7-10PM
Where: Washington Street Art Center, 321 Washington Street, Somerville, MA
How: Official Website
What/Why: "Last July, Washington Street featured our member artists and their invitees in a group show about friends, community, and rad art. This show was so great that we are revisiting this theme with Me and My Friends Make Art II a group show featuring new art from 20+ artists at the Washington Street Art Center. This month will also feature two skillshares on bookmaking and silkscreening during gallery hours on Saturdays."
————————
Hiroshi Masaki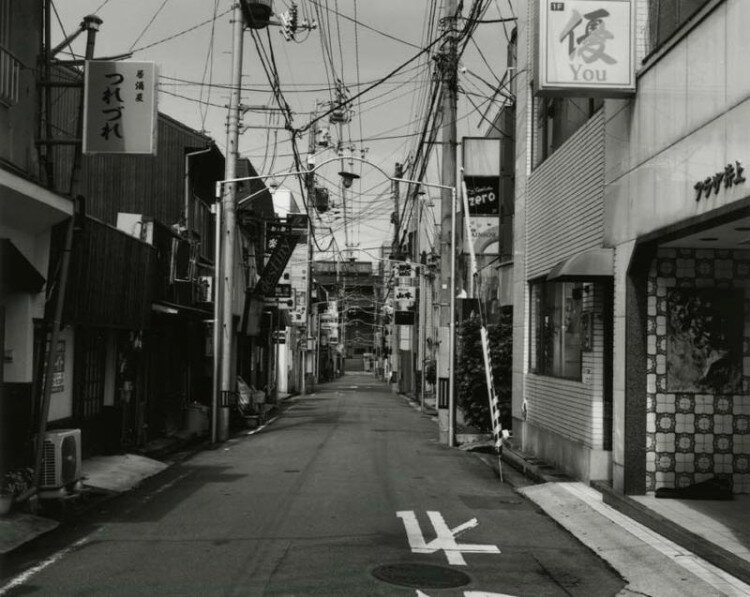 When: On view through August 30th, 2013
Opening Reception: Friday July 12th, 5:30-7:30PM
Where: Ars Libri, 500 Harrison Ave, Boston, MA 02118
How: Official Website
What/Why: "Japan in black and white. Bookdealer and photographer HIROSHI MASAKI returns to his hometown of Uwajima, Japan, to find "the idealized, provincial town that exists universally in the hearts of all Japanese people." ARS LIBRI and the ROBERT KLEIN GALLERY are proud to present an exhibition of Masaki's photographs this summer at Ars Libri (500 Harrison Avenue). The show will open on Friday, July 12, and run through August 30.
The exhibition Hiroshi Masaki will feature a curated group of images from Uwajima: A Private Landscape. Uwajima's empty streets and shuttered windows are an unexpected foil to American beach towns in the off season, deserted but not uninhabited. In the face of unfamiliar scenery, the viewer may seek out familiar sentimentalities.A reception with the artist will take place on Friday, July 12, from 5:30 to 7:30 PM at Ars Libri. A special Open House at Ars Libri will coincide with the SoWa Open Market on Sunday, July 14, from 12 to 2 PM. Both events are free and open to the public; light refreshments will be served. Bring your friends!"
————————
Center of Attention

(Limelight)
When: On view through July 27th, 2013
Where: SMFA, Barbara and Steven Grossman Gallery, 230 The Fenway, Boston, MA 02115
How: Official Website
What/Why: "Katrina Majkut's Center of Attention explores the nature and impact of attention placed on women within specific Western marriage rituals and traditions. Both her paintings and cross stitch artworks grapple with the complexities of feminine histories and identities that are constructed in celebratory moments and time-honored traditions. Majkut subtly explores these dichotomous moments, which also conceal issues related to gender politics, sex, consumerism, vanity and the spectacle."
————————
Performing on Paper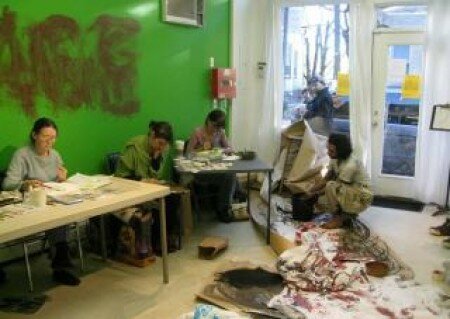 When: Sunday July 14th, 2013 2:00-4:30PM
Where: Mobius, 55 Norfolk Street, Cambridge, MA 02139
How: Official Website
What/Why: "Mobius Artist El Putnam will perform from 12- 2 PM followed by Syed Zaman who will improvise with movement and music from 2- 4:30 PM. Draw the whole time or come and go as you wish. "
————————
Performance Art: Pedro Reyes

When: Friday July 19th, 2013 7:00-8:00PM
Where: Museum of Fine Arts, 465 Huntington Avenue, Boston, Massachusetts
How: Official Website
What/Why: "In Pharmasphere, Pedro Reyes stages a theatrical history of the production, distribution and consumption of prescription and illegal drugs in the Americas from prohibition times to the present day. Performers in the roles of farmers, gangsters, drug lords, politicians, soldiers, doctors and pharmacists demonstrate how the chemicals that we consume connect and impact us all. Using techniques developed by Brazilian theatre practitioner Agosto Boal in his conscious-raising Theatre of the Oppressed, Reyes engages the audience with issues that are too often avoided, or filtered to us through the perspectives of the media, politicians and corporations. Empowered as "spect-actors" audience members help shape the narrative as it is performed, exploring alternative outcomes and new modes of confronting and working through our multifaceted war against drugs."
————————
Summer Show

When: On view through August 16th, 2013
Where: Howard Yezerski Gallery, 450 Harrison Ave, Boston, MA 02118
How: Official Website
————————
18th Annual Boston French Film Festival

When: On view through July 28th, 2013
Where: Museum of Fine Arts, 465 Huntington Avenue, Boston, Massachusetts
How: Official Website
Costs: Buy tickets here.
What/Why: "The MFA brings together all your favorite French stars in this showcase of contemporary French cinema. Discover "many sublime pleasures" (The Boston Globe) in "one of the finest French film festivals in the United States" (The Boston Herald). Perfect for Francophiles and cinephiles alike."
————————
Boston Handmade Marketplace

(Carolyn Muskat working in her Somerville studio, Muskat Studios)
When: Saturday, July 13th from 3-7pm
Where: Union Square, Somerville, MA
How: Official Website
What/Why: "The 6th annual Boston Handmade Handmade Marketplace features hand-crafted art and objects by independent New England artists and craftspeople along with arts organizations and local craft studios that teach and encourage creativity and craftsmanship. Boston Handmade promotes local independent businesses and individuals creating one-of-a-kind and limited edition handmade works in small studio environments.
At the 2013 Boston Handmade Marketplace 20+ exhibitors will be showing and selling
jewelry, ceramics, fine art, textiles, paper goods, handspun yarn, and more, along with
organizations and craft studios representing a wide variety of media and neighborhoods."
————————
ArtCrank
When: Saturday July 20th, 2013 5:00PM
Where: Fourth Wall Projects, 132 Brookline Ave, Boston, MA 02215
How: Official Website
What/Why: "ARTCRANK is a show of bicycle-inspired poster artwork that introduces people to talented local artists and sends them home with affordable, original works of art. Since our 2007 debut in Minneapolis, we've held shows in bike-lovin' cities like Portland, San Francisco, New York, Austin, Los Angeles and London. This year, we'll visit 14 cities in three countries, including our first show in Boston."
————————
Christian Hires – Recent Work

When: On view through July 28th, 2013
Where: Galatea Fine Art, 460 B Harrison Ave, Boston, MA 02118
How: Official Website
What/Why: "My intent is to research, develop, and present a confluent of mathematics,science and aesthetics in a unique visual experience. The interaction of points, lines, shapes and perimeter is the intended narrative. These images avoid representational, social or political commentary. They are my personal dialect within the language of vision."
————————
Did I forget to include something?
Speak now or forever hold your peace:
EMAIL | TWITTER | FACEBOOK | INSTAGRAM | PINTEREST
The reason for the two week Wrap-Up is because I am flying away on a much-needed vacation(!!)
✈✈✈✈✈✈✈✈✈✈✈✈✈✈✈✈✈✈✈✈
And I'm not coming home until I touch a dolphin.
Have a great weekend(x2) and week. Stay sweet! ♥