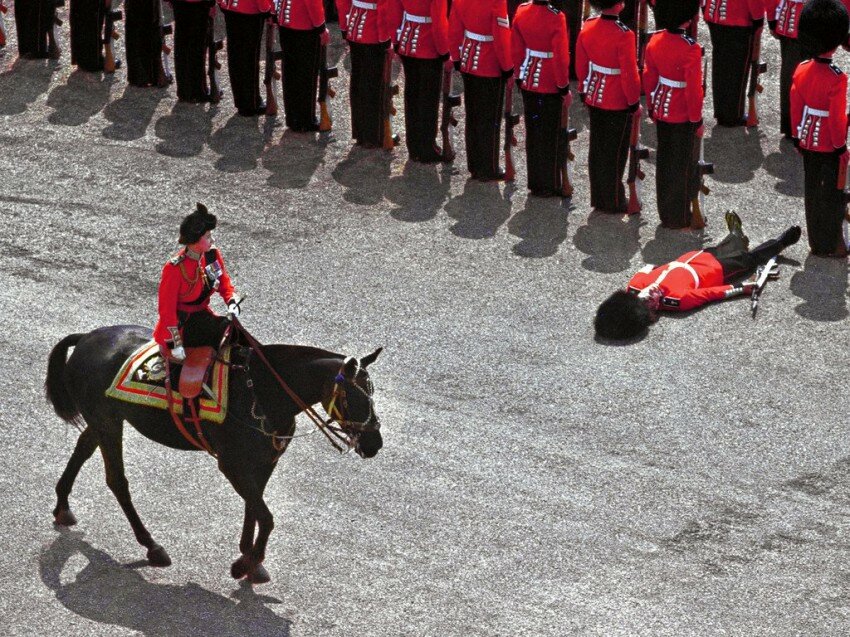 where we find ourselves x underfoot x wish you were here
————————
Wish You Were Here

When: On view through July 31st, 2014
Opening Reception: Friday July 11th, 2014 5:30-7:30PM
Where: Cambridge Art Association, Kathryn Schultz Gallery, 25 Lowell St. Cambridge MA 02138
How: Official Website
What/Why: "Wish You Were Here … a summer postcard show presented by the Cambridge Art Association Each card will be an original work, harkening to the days when postcards were the currency of summer travels."
—————————
Fluxus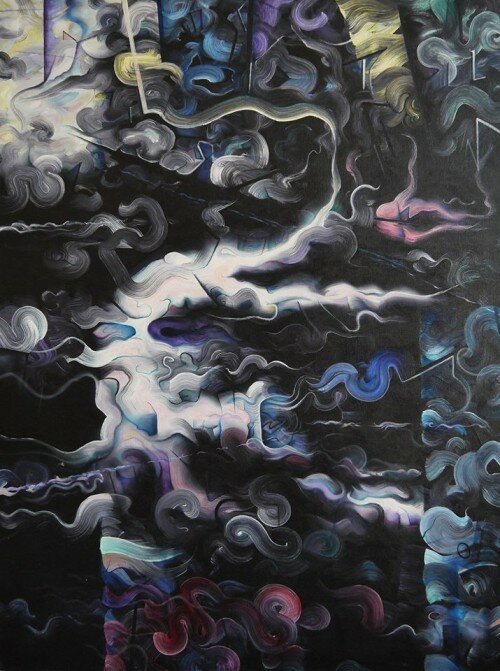 When: On view through September 2014
Opening Reception: Monday July 14th, 6-9PM
Where: Liquid Art House, 100 Arlington Street, Boston, MA 02116
How: Official Website
What/Why: Learn more about Fluxus group exhibition here.
———————-
Urban Timber: From Seed to City

When: On view through September 30, 2014
Where: BSA Space, 290 Congress Street, Boston, MA 02210
How: Official Website
What/Why: "New England was built with timber. Were it not for the Great Fire of Boston in 1872, the urban landscape of glass, steel, and concrete that we know today might have been very different.
This exhibition celebrates wood as the region's most sensible and abundant choice of material for urban building, highlighting its flexibility and technical qualities, including timber's potential to combat climate change. 
Yugon Kim, founding partner of IKD, Associate/Director of TSKP Boston, and co-curator of the exhibition explains "We now know that timber is a superior structural building material that should be considered alongside steel and concrete. The carbon offset and sustainability benefits of wood make it an ever-relevant and timely building material in the urban landscape." 
Urban Timber: From seed to city shows that recent developments—including numerous successful implementations of timber as primary structural for midrise buildings in Europe—point to a different future.
The exhibition includes a number of case studies, examples of existing wood technology and recent material innovations in the many kinds of engineered timber available to the building industry today.
Also on display, and the result of an open competition, are four winning projects proposed by emerging architects featuring innovative structural uses of timber. The winners collaborated with mentor architects, engineers, and material suppliers to install their unseen installations in the gallery."
———————-
Jason Mathis: Understanding the Understood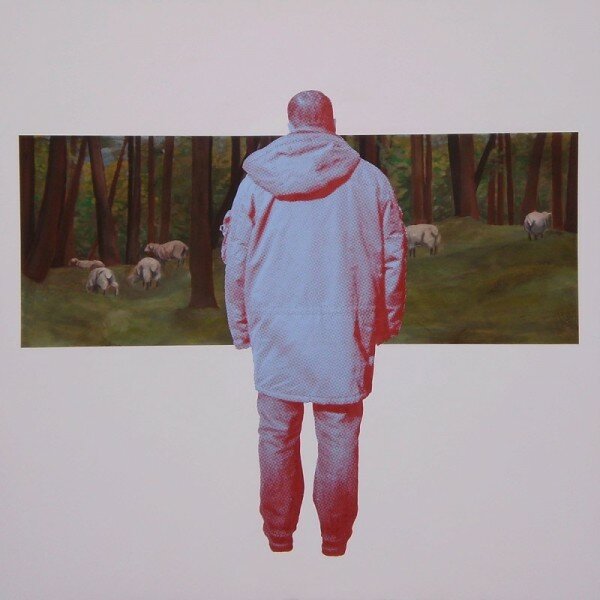 (Gallery)
When: On view through July 25th, 2014
Where: Carol Schlosberg Alumni Gallery, 23 Essex St. Beverly, MA 01915
How: Official Website
What/Why: "Montserrat College of Art is proud to present Understanding the Understood featuring artist Jason Mathis. The artist's work is about the intersection, or as Mathis calls it, "the gutters" between audience and art object that accept, reject or elicit an idea. The intent of this exhibition, according to Mathis,  is to place his viewer somewhere between observer and participant to understand how the gallery can be a site of action and interpretation.
Understanding the Understood combines silkscreen, comics and traditional painting. The works "Gallery" and "Contest" are excerpts from a larger body of work entitled "Gallery Series" that combine traditional subject matter (landscapes, still life) with a superimposed silkscreen image of a viewer. Each figure is portrayed standing still, carefully studying each object as one would in a gallery or museum setting. When Mathis silkscreens directly on an image of a work of art inside his compositions, he questions how of we, as audience, study an object as art, and draws attention to the perceived "norms" of gallery etiquette."
———————-
'Winter' at the Nave Gallery Annex in Davis Square

When: On view July 17–August 16, 2014
Opening Reception: Thursday July 17, 2014, 6-8 p.m
Where: Nave Gallery Annex, 53 Chester Street, Somerville, MA 02144
How: Official Website
What/Why: "(Somerville, MA) The Nave Gallery Annex in Davis Square presents 'Winter,' a group exhibition curated by Jenn Harrington and Susan Berstler featuring the work of twenty local and regional artists. The exhibit runs from July 17–August 16, 2014, with an opening reception on Thursday, July 17, 2014, 6-8 p.m.
"Ice on the sill
and the snow
they haunt me still"
—Brown Bird
Of all the seasons, winter is the one most left up for interpretation. Some shudder at the blasts that burn, snap, nip, and sting; the howls of flurries in the dead of night; winds whisking air to swirls; the fury of things at rest. Others consider contemplation in a perfect storm, rumination in a calm coat of snow, the composition of hushed aches and quiet sorrows in inert lands. In 'Winter,' the Nave Gallery explores the degrees of the frost season—the frenzy of ice, the serenity and glow of colors confined, the luminosity within the floe, the severity of a flash of diamonds, the freeze that lights fire to our cheeks, the sound of every footstep packing in a heavy heart, the rime that makes us shiver and brrrrrrrrrrrrrrrrr.
Artists
Elizabeth Alexander, Christina Balch, Jeff Bartell, Sarah Bilotta, Sarah Cecil, Laura Fischman, Sharon Freed, Beth Galston, Blake Hiltunen, Brian Kaplan, Anne Lilly, Chris Maliga, Lindsay Metivier, Laura Miner, Cary Rapaport, Zak Alexander Rose, Sophia Sobers, Sarah Wentworth, Timothy Wilson, Nancy Wisti Grayson"
———————-
Jeff Huckleberry: Things about Rainbows

When: On view through August 10th, 2014 | Full schedule of performances here.
Where: Mills Gallery, Boston Center for the Arts, 539 Tremont Street, Boston, MA 02116
How: Official Website
What/Why: "The Boston Center for the Arts presents Things about Rainbows, a process-based, evolving exhibition and performance art series that revolves around the work of artist Jeff Huckleberry. Huckleberry, who has been making performance art for over twenty years, employs a wide variety of materials, including paint, lumber, power tools, rubbing alcohol, ground coffee, dirt and ambient soundscapes. His performances explore a variety of dichotomies—playful/painful, serious/humorous, awkward/elegant—and consciously embody the politics of labor and art production. The exhibition title is inspired by both the artist's complex exploration of how we perceive the goal of aesthetic experience, which Huckleberry colloquially refers to as "the thing," and a body of work he developed based on the nature of rainbows."
———————-
Janky Donuts by THE !ND!V!DUALS
'Handmade Donuts for Your Mouth'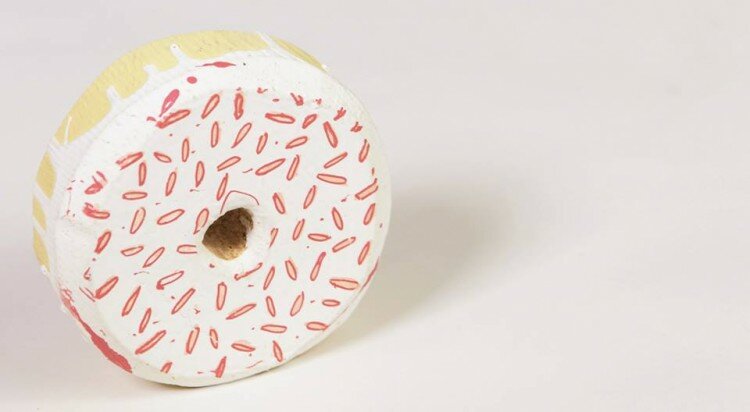 When: On view through August 28th, 2014
Opening Reception: Friday July 11th, 7-11PM
Where: Lot F Gallery, 145 Pearl St, Boston, Massachusetts 02110
How: Official Website
What/Why: "Lot F Gallery is excited to announce their summer exhibition by the !ND!V!DUALS collective. In what will be their first exhibition at the gallery, the !ND!V!DUALS collective will take over the gallery space, and transform it into a sculptural confectionary wonderland. Opening Friday, July 11th, "Janky Donuts" will allow viewers to walk through a frozen movie set like installation, into the shop. Promising to deliver more then your average donut, Janky Donuts features an open kitchen and invites everybody to take a shot at discovering the secret behind their perfect treats. Armed with state of the art equipment, the kitchen will showcase a range of pocket-sized donuts to high caliber pastries."
———————-
HATCH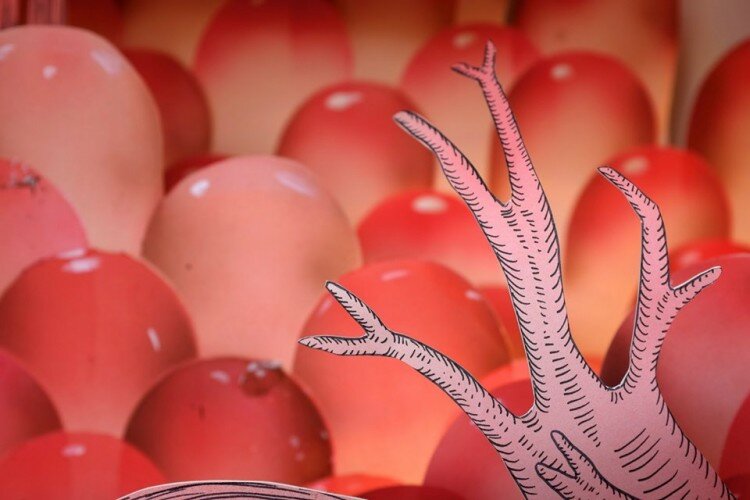 When: On view through July 2014
Where: Inside-OUT Gallery in Davis Sq. (CVS Windows), 1 Davis Square, Somerville, MA 02144
What/Why: "Somerville Arts Council Fellowship winner Nicole Duennebier has installed "HATCH" the series of large scale Dioramas in Davis Sq. Inside-OUT gallery (the CVS windows).
Contributing Artists: Meghan Howland, Susan Richards Hallstein,Derek Smith Luke, Christina Balch, Corinne Reid, Erin Bisceglia, Denise Karabinus,and Caitlin Duennebier."
———————-
This Land Is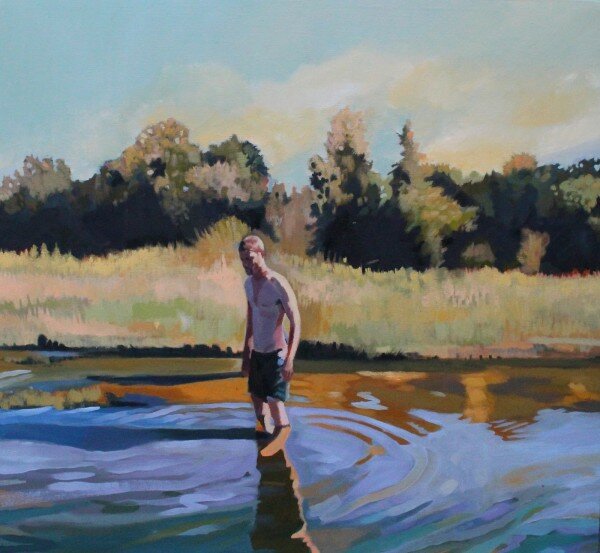 When: On view July 17th-August 16th, 2014
Opening Reception: Thursday July 17th, 5-9PM
Where: GRIN, 60 Valley Street, Unit 3 Providence, Rhode Island 02909
How: Official Website
What/Why: "GRIN is pleased to present This Land Is, the debut solo exhibition of painting, sound and sculpture by Samuel Denoncour. 
Samuel Denoncour's paintings evoke a sweet memory of dreamy days past. Through vivid color and a painterly approach, the artist shares precious moments that are simultaneously intimate and ultimately universal. The works in This Land Is speak specifically to the comfort and beauty of self realization that comes only after allowing yourself to be lost. 
"The driving force behind This Land Is was the time I spent traveling alone across the United States. I spent a year venturing into the vast landscape of Utah, New Mexico, Arizona, California and Colorado. The land provides elements of magic, and I was fascinated by its ability to magnify reality. There were days and nights where I felt as if I was walking in and out of a dream. I was lost in the land and overall that's what I wanted. The works in this exhibition reflect that submersion into strange, sublime spaces.
 I recorded the stories of strangers, myths of the land, the rants of recluses, and sounds life moving around me with little awareness to my presence, in an attempt to document fleeting moments of importance. It was time in my life where, because nothing was certain, every observation felt significant. This Land Is attempts to provide an experience of poetic interaction by sharing my experience of being lost, but always finding something.
 I'm interested in the creating a record of memories. I make works that journal my experiences to remind me of moments I hope to keep. The paintings are reactions to times of clarity and tranquility. They are a reflection on past interactions with my environment and the people within it that I find important and moving enough to delve further into. Through the process of creation I hope to better understand memory and recreate an image that is worthy of memory from which it was spawned. " Samuel Denoncour
———————-
Jamie Wyeth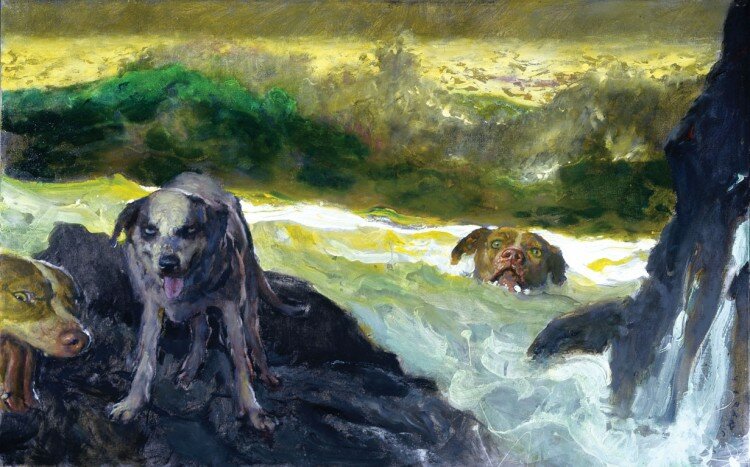 When: On view through July 31st, 2014
Opening Reception: Monday July 14th, 6-8PM
Where: Adelson Galleries, 520 Harrison Ave, Boston, MA
How: Official Website
What/Why: "Jamie Wyeth (b. 1946) is a third-generation artist, distinguished in his own right as a contemporary realist painter. Many of his works reflect the innate beauty of the Maine and Pennsylvania landscape and wildlife or depict important individuals and cultural events in the late 20th and early 21st centuries. However, others are more dramatically Avant-guarde, transmitting the artist's raw response to humanity through cropped and contorted multimedia compositions.
Born in Wilmington, Delaware (near his family home in Chadds Ford, Pennsylvania), Wyeth spends a substantial portion of his time on the Maine coast, where the landscape and local inhabitants serve as subjects for his work. He paints in a combination of mediums with tactile surfaces.  Jamie's works are marked with a portrait-like intensity, whether they depict people, animals, architecture, objects, or the continually unfolding interaction between mankind and nature.  
The exhibition, Recent Paintings, compliments the concurrent Jamie Wyeth Retrospective at the Museum of Fine Arts, Boston, with some of Jamie's more quizzical subjects.  The paintings in our show have been completed in the last six years and among the artist's favorites.  Paired with the exhibition at the Museum, the viewer can grasp a full breathe of the artist's œuvre, from enchanting articulacy to sardonic rapture.  The exhibition features thirteen recent paintings and will be on view during the month of July 2014."
———————-
RE/CREATION

Opening Reception: Friday July 11th, 6-9PM
Where: Find & Form Space, 524 Harrison Ave, LL, Boston, MA 02118
How: Official Website
What/Why: "Find & Form Space is pleased to present RE/CREATION, an exhibition of new paintings by Eleanor Aldrich. 
RE/CREATION uses the long, hot summer as the setting of an investigation into lawn chairs, swimming pools, and t-shirts. Mundane objects shimmer on the edge of their painting supports, on the edge of what we expect and what we know to be true.
"Surfaces exist primarily as supports in Eleanor Aldrich's quasi-sculptural paintings, which bulge with crude simulacra of real objects, such as lawn chairs made from gloopy strings of epoxy. Her Fat Boxes, 2012, protrude like strange invaders that can find a home neither inside nor outside the frame. These failed objects are simultaneously queasy, comic, and slightly ominous."
—Daniel A. Weiskopf, Artforum.com, May 13, 2014
———————-
The Art of Ecology: Curator and Artist in Conversation

When: Thursday, July 17, 2014, 1–2 pm
Where: Sharf Visitor Center, Museum of Fine Arts, 465 Huntington Ave, Boston, MA
How: Official Website
Cost: Free with Museum Admission
What/Why: "Join Al Miner, assistant curator of contemporary art, and Evelyn Rydz, artist, for an engaging tour of the exhibition."
———————-
Summer Salon 2014

(Black and Green Still Life, Lillian Orlowsky)
When: On view through August 16th, 2014
Opening Reception: Friday July 11th, 2014 5-8PM
Where: ACME Fine Art, 450 Harrison Avenue #308, Boston, MA 02118
How: Official Website
What/Why: "This year ACME Fine Art will for the first time open the gallery's ever-popular annual Summer Salon exhibition in the gallery's new exhibition space at 1 Thayer Street / 450 Harrison Avenue in Boston's South End. The exhibition will open on Friday, 11 July. A reception will be held in conjunction with SoWa's First Friday events from 5:00 to 8:00 on the evening of Friday, 11 July. The exhibition will be on view through Saturday,16 August. Please note that the gallery will be closed from 4 July through 7 July in celebration of the holiday."
—————————
Black & White

(Judy Riola, Underfoot)
When: On view through August 3rd, 2014
Opening Reception: Friday July 11th, 6:00-8:30PM
Where: Bromfield Gallery, 450 Harrison Avenue, Boston, MA 02118
How: Official Website
What/Why: "Featuring a wide variety of media—including painting, photography, drawing, mixed media and printmaking—"BLACK / WHITE" showcases a number of Bromfield Gallery artists responding imaginatively to a restricted palette…with possibly just a splash of color. "
—————————
Justin Kimball: Where We Find Ourselves

When: On view through September 6th, 2014
Opening Reception: Friday July 11th, 2014 5:30-7:30PM
Where: Carroll and Sons, 450 Harrison Avenue, Boston, MA 02118
How: Official Website
—————————
Alix Pearlstein

When: On view through July 26th, 2014
Where: Samsøn Projects, 450 Harrison Avenue, Boston, MA 02118
How: Official Website
—————————
Lynda Schlosberg: Zero Point Field

(Lynda Schlosberg, Into the Vortex)
When: On view through July 27th, 2014
Opening Reception: Friday July 11th, 2014 5:30-8PM
Where: Kingston Gallery, 450 Harrison Avenue, Boston, MA 02118
How: Official Website
What/Why: "Schlosberg's new works present themselves as self-generating macrocosms that embrace the simultaneous presence and absence of all possibilities.
In these paintings Schlosberg meditates on the philosophy that nothing ever dies and that everything is connected through a never-ending unified field of energy. Our perception of reality emerges from this field and it is through our focused attention that we bring things into form. Since we get to freely choose what we want to see, there is infinite potential to create any reality we desire. One only needs to look.
In a quantum world the Zero Point Field is an omnipresent energetic substructure. It is the lowest possible energy state where all matter has been removed and no particle movement should remain. Yet no particle ever comes completely to rest, every particle is forever in motion due to an endless ground-state field of energy that continually interacts with all subatomic matter. What this means is that the Zero Point Field becomes a mirror image and record of everything that is and ever was. In a sense, it is the beginning and the end of everything in the universe, a basis of oneness.
Schlosberg's process-oriented paintings are built one layer at a time, one color at a time. Organic backgrounds of pooled color are superimposed with solid, amorphous forms that are covered with thousands of small dots, dashes and circles. Her choice of colors and geometric patterns conform to self-determined rules that are driven by, and are in response to, the preceding layers. It is through the mass accumulation and combination of individual marks, and the process of weaving the layers together, that larger patterns emerge and dissipate. Each work is a sea of oscillating particles, a formless state of swirling energy, out of which its own unique sense of potential becomes manifest."
Also on view..
Ilona Anderson: Home Land

What/Why: 
"Exploration of internal, external
place, space 
outside inside? 
Back and forth between time and place, 
Between South Africa, and America 
All integrated, part of the whole 
Exists in the imagination. 
Imagination, linking past, present, maybe future 
All we really know is now. 
Home. 
The dot in space.
I am  a Buddhist, a South African and someone who lives in America, I feel my space between these areas.
I ask: How do we negotiate these spaces, this dot in space."
—————————
Manufactured by Hand

When: On view through August 15, 2014
Opening Reception: Friday July 11th, 2014 6-8PM
Where: Miller Yezerski Gallery, 460 Harrison Avenue, Boston, MA 02118
How: Official Website
What/Why: "Featuring work by Christian Haub, Chris Jordan, Fred Lynch, Heather McGill, Bob Oppenheim, Paul Shakespear, Michael Toenges, Peter Tollens, John Tracey, Brian Zink, and Jeff Perrott."
—————————
Summer Selections

(David Brewster, Empty Swimming Pool)
When: On view through July 27th, 2014
Opening Reception: Friday July 11th, 2014 6-8PM
Where: Chase Young Gallery, 450 Harrison Avenue, Boston, MA 02118
How: Official Website
—————————
Maggie McCauley: 'Scapes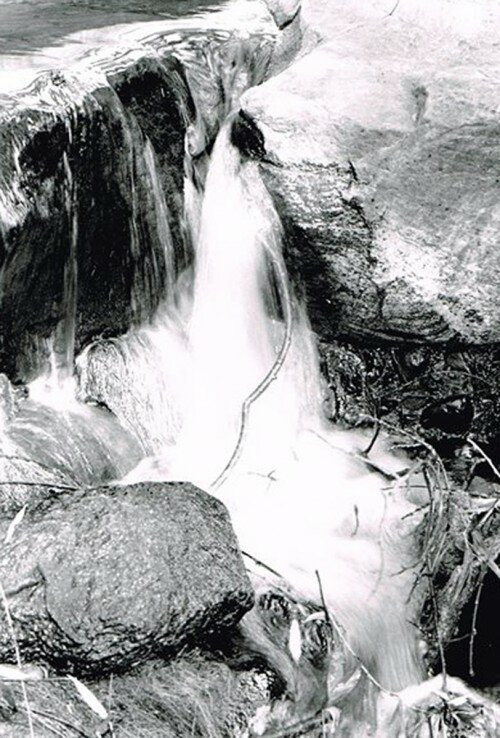 When: On view through July 27th, 2014
Opening Reception: Friday July 11th, 2014 6-8PM
Where: Galatea Fine Art, 460B Harrison Ave., #B-6, Boston, MA 02118
How: Official Website
What/Why: "Having recently been tending to people close to me in various stages of decline, personally, my needs were to transfer myself to open spaces to breath and work on coping and re-centering.
The images are devoid of people and not necessarily because I am not a real people person, but when I am alone on a walk or a park bench breathing deeply and listening, there is a whole world around us that is alive.
I always think of the Diana Arbus quote: "A photograph is a secret about a secret. The more it tells you the less you know." This relates to my sharing just enough to ignite the experience.
Putting aside the scientific basis of chemical reactions, the reason I use film rather than digital photography is that there is a magic to the process. There is not instant gratification. The gratification comes from the images created in the dark."
—————————
Ovid's Girls Boston / Berlin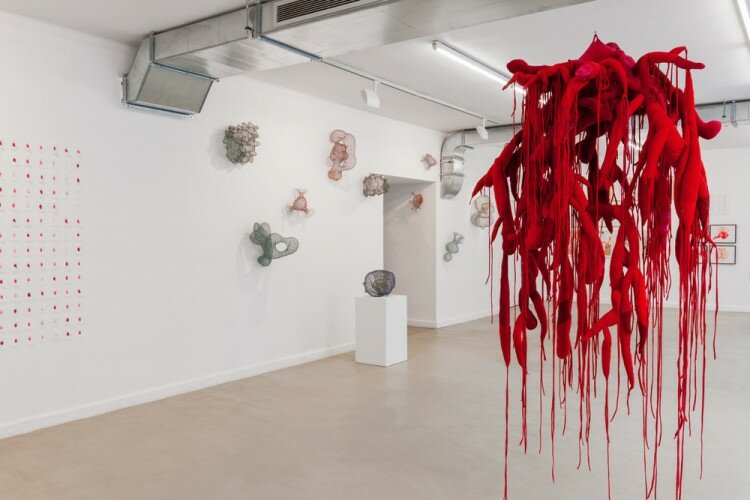 When: On view through August 3rd, 2014
Opening Reception: Friday July 11th, 2014 5-8PM
Where: Boston Sculptors Gallery, 486 Harrison Ave, Boston, MA 02118
How: Official Website
What/Why: "The exhibition will feature artworks by twelve female sculptors, six from the USA and six from Germany, all sharing an aesthetic of the evocative and enigmatic.
Berlin/German Artists: Anke Eilergerhard., Flora Hitzing, Alexandra Deutsch, Frauke Wilken, Marina Schreiber, Ulli Boehmelmann.  Boston/US Artists: Rosalyn Driscoll, Laura Evans, Michelle Lougee, Julia Shepley, Hannah Verlin, Leslie Wilcox.
The Boston exhibition has been endorsed by the Goethe Institute and the German Consulate, and has been awarded a grant from the Elizabeth Firestone Graham Foundation to produce a catalogue."
—————————
Highland Street Free Fun Fridays

When: Every Friday this summer (June 27th-August 29th)
How: Official Website
What/Why: "The Highland Street Foundation is a charitable organization established in 1989 by David J. McGrath, Jr., the founder of TAD Resources International, Inc., the famous employment agency. Highland generously supports local non-profit institutions and sponsors a summer program called Free Fun Fridays. There is free admission, with very few restrictions, at many museums, historic sites, theaters, art centers, and many attractions."
Listings for Friday July 11th:
JOHN F. KENNEDY PRESIDENTIAL LIBRARY & MUSEUM
PEABODY ESSEX MUSEUM
WORCESTER HISTORICAL MUSEUM
FRUIT LANDS MUSEUM
CAPE COD CHILDREN'S MUSEUM
NEW ENGLAND HISTORICAL GENEALOGICAL SOCIETY
PILGRIM HALL MUSEUM
—————————-
Say hi:
EMAIL | TWITTER | FACEBOOK | INSTAGRAM | PINTEREST
TGIF.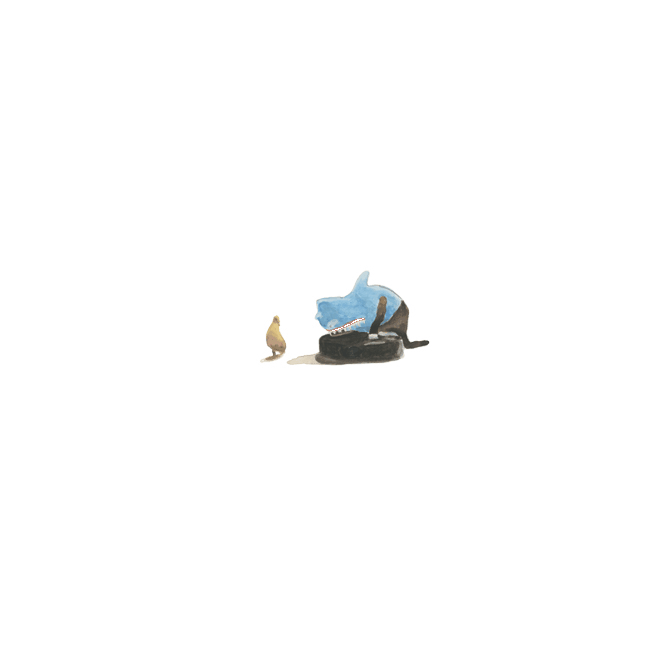 #bosarts in the news this week:
ARTFARM | PORTRAIT OF THE CITY | RAPPAPORT CYA | I'M NOT EVEN SURE
Enjoy your First Friday on Second Friday!
..and your run-of-the-mill Saturday and Sunday as well. ♥