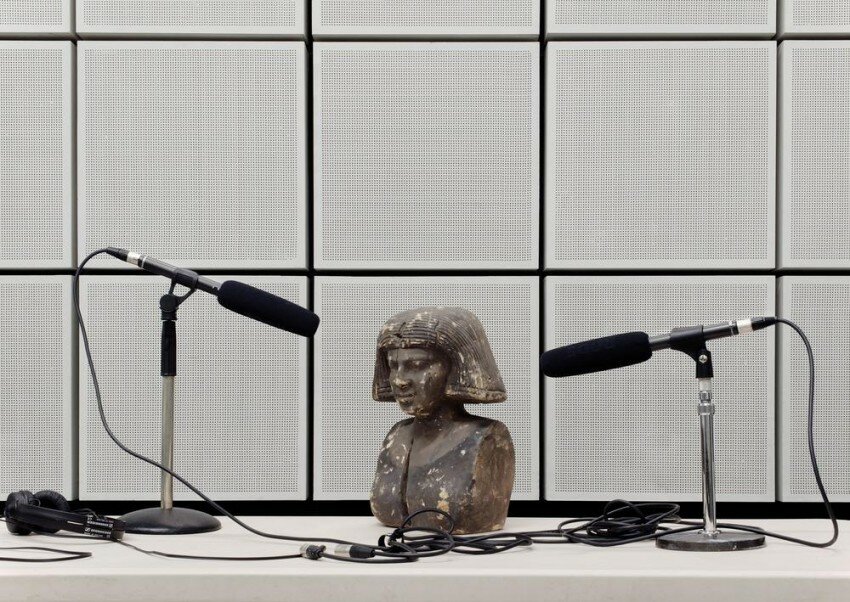 a season of color x serious side of dreams x dark knights
————————
RISD Grad Show 2014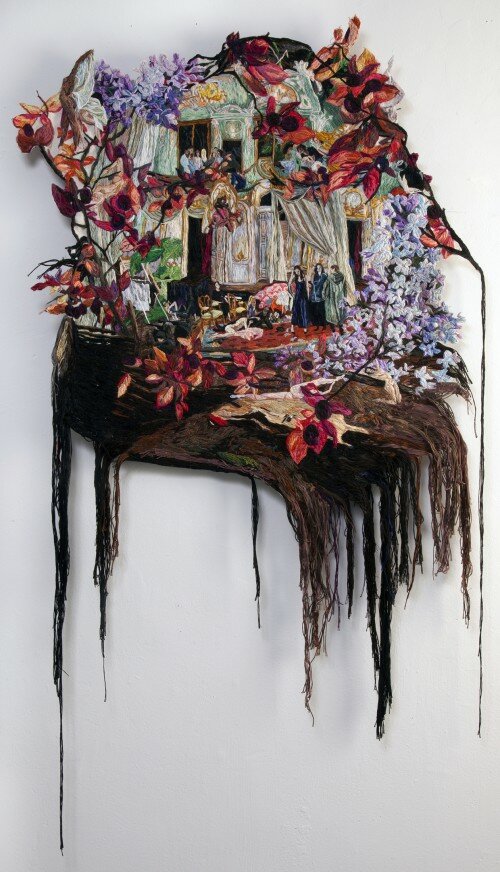 (The Serious Side of Three Dreams | Sophia Narrett)
When: On view through May 31, 2014
Where: RI Convention Center, Exhibition Hall A, One Sabin Street, Providence, RI
How: Official Website
What/Why: "The Graduate Thesis Exhibition offers the opportunity to experience an expansive range of inquiry animated by a deep commitment to making. This culmination of a graduate education at RISD showcases the vibrant ideas of engaged artists and designers who will guide us into the future."-Patricia C. Phillips Dean of Graduate Studies + Research
————————
A Season of Color in the Americas

When: Monday May 26th, 2014
Where: Museum of Fine Arts, Boston, 465 Huntington Avenue, Boston, Massachusetts 02115
How: Official Website
What/Why: "Visit the Museum of Fine Arts, Boston, for an activity-filled day your whole family will enjoy. Dance, sing, listen, and create. Experience a kaleidoscope of Latin American culture and more!"
Full schedule here.
————————
75 Years of Dark Knights

(Veronica Fish)
When: Friday May 23rd, 8-10PM
Where: Friendly Neighborhood Comics!, 191 Mechanic St (Rte 140), Bellingham, Massachusetts 02019
How: Official Website
What/Why: "Celebrate 75 years of Batman with over 20 artists' interpretations of Bob Kane and Bill Finger's legendary creation as well as his infamous Rogue's Gallery." 
————————
Me Myself and Eye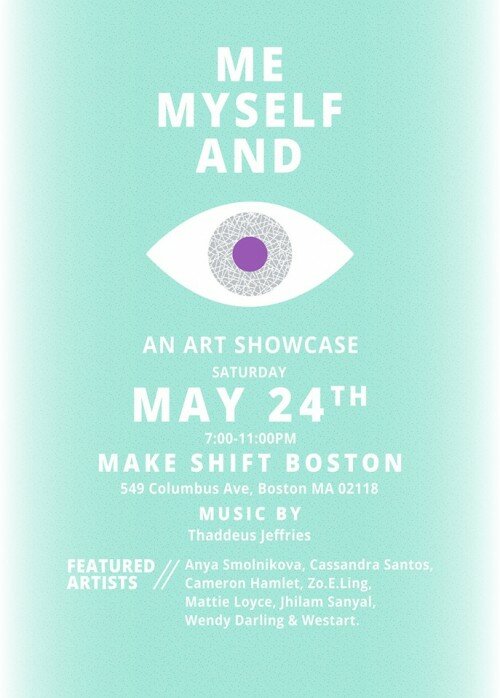 When: Saturday May 24th, 2014 7:00pm – 11:00pm
Where: Make Shift Boston, 549 Columbus Avenue, Boston, Massachusetts 02118
How: Official Website
What/Why: "Come join us Memorial Day weekend for an awesome collaborative art showcase at The Make Shift Boston space in the South End! 
**Live Music, Wine and Light Snacks Provided– Donations Encouraged!**
The contributors are a diverse group of young Bostonian artists and creators both by trade and by personal choice of expression.
The concept of the show is based on artists' 'personal work', the work that is not presumed to be specifically for exhibit but part of our 'third eye production' and natural expression. This can be anything from sketches to full canvas, the idea is that it comes from our raw expression or emotion. 
Please spread the word and bring friends, The more the merrier!"
————————
NCAA Net Works Publication Launch Party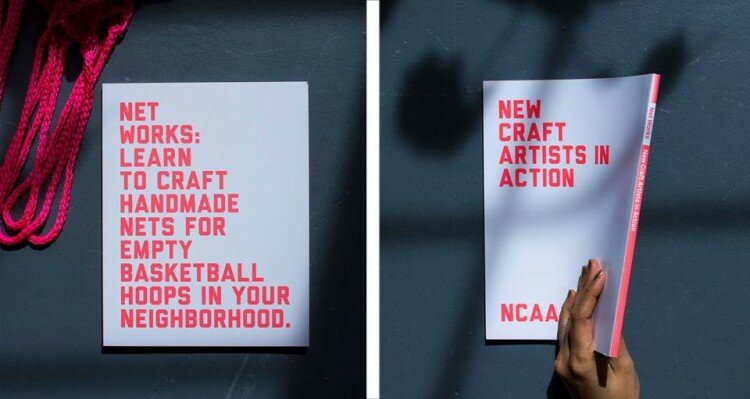 When: Friday May 23, 5-8pm
Where: JP Knit & Stitch, 461 Centre Street, Jamaica Plain, Massachusetts
How: Official Website
What/Why: "Net Works: Learn to Craft Handmade Nets for Empty Basketball Hoops in Your Neighborhood" is hot off the press and ready to be sold online and in stores across the country. We proudly invite you to join us at our oh-so "Soft Release" and Launch Party in Boston's own JP Knit and Stitch. Celebrate with us, buy the new book, meet the team or pick-up your pre-ordered reward (those kickstarter supporters that are local to the Boston area). "
————————
VES Thesis Exhibition 2014
(Zena Mengesha | Under Construction)
When: On view through May 29, 2014
Where: Carpenter Center for the Visual Arts, Harvard University, 24 Quincy Street, Cambridge, MA 02138
How: Official Website
What/Why: "The senior thesis is the capstone of the undergraduate student's work in VES. The majority of theses in VES are practice-based, in studio arts or moving-image. Toward the end of their junior year, students propose a thesis project, a substantial body of work that builds on work done in other classes. Each student develops the thesis project in discussion with a faculty adviser, who meets with the student regularly over the course of the academic year. Three times during this period, the student meets with the adviser and two faculty readers for critique and assessment. Thesis projects are exhibited in May along with the end-of-year student screenings. "
————————
Julie Graham: Topoanalysis

(Parts 21)
When: On view May 28 -June 29, 2014
Where:  Carol Schlosberg Alumni Gallery, 23 Essex St. Beverly, MA 01915
How: Official Website
What/Why:  "Montserrat College of Art is proud to present Topoanalysis, an exhibition featuring mixed-media artist, Julie Graham. The Boston-based artist describes her work as "Painted Constructions" explaining, "I use the formal devices of painting, sculpture, drawing and architectural design to build paintings in which the process mirrors the act of construction." Graham creates composite identities in her work: what is materially there (paint, clay, wire, wood) and the suggestion of space from what is not (shadows, negative space, holes). "
————————
TAG (you're it)

(The work of Jodi Colella)
When: On view through September 12, 2014
Opening Reception: Friday May 23, 7:00-9:00PM
Where: 13FOREST Gallery, 167A Massachusetts Avenue, Arlington, MA 02474
How: Official Website
What/Why: "Picking up where our 2012 game left off, Tag (you're it) eagerly anticipates the playfulness of the season. For this fun summer exhibit, we chased down ten artists to play a little game. Tagging them "it," they were each invited to make a piece for a group show.  But a round of tag never stops there and we challenged them to continue the game bytagging ten more artists to take their spots midsummer.  With all this running around, 13FOREST will soon become a playground where twenty artists take over homebase. Come see how nicely we all play together!"
————————
FIRST FEATURE: Jellyfish Eyes By Takashi Murakami

When: Sunday, May 25 and Monday, May 26 | Noon
Where: ICA Boston, 100 Northern Avenue, Boston, MA 02210
How: Official Website
Cost: Free with museum admission
What/Why: "In his feature filmmaking debut, acclaimed visual artist Takashi Murakami creates a family-friendly monster movie using live action and CGI. Jellyfish Eyestransforms the classic cinematic trope of the new kid on the block into a genre-defying adventure set in a post-Fukushima world. The film follows young Masashi who, after his father's death, moves with his mother to a small city in the Japanese countryside. But when he discovers that their new apartment is already inhabited by a pint-sized, gravity-defying creature, Masashi begins to pull back the curtain on this sleepy town and finds that very little is what it appears to be. As a connoisseur of Japanese popular culture, from children's manga and anime to classic monster movies, Murakami packs his film with a delirious abundance of ideas and imagery."
————————————
Crossover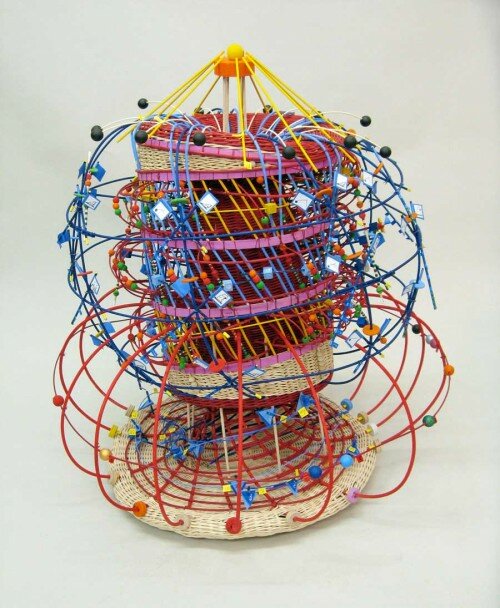 (The work of Nathalie Miebach)
When: On view June 15, 2014
Where:  141 Green Street, Jamaica Plain, MA 02130
How: Official Website
What/Why:  "Where is the line between fine art and technology? Historically, art and technology have continually intersected–from the accused Old Masters who are rumored to have used the technology of their time in the production of their masterpieces, to contemporary artists who often straddle the line between the cyber and the palpable. Art is a vehicle for intersecting interests and media, and the use of technology in the creation of fine art further demonstrates this notion. With artistic movements such as "The New Aesthetic", we are experiencing the influence of technology on art even through more traditional processes. "Crossover" exhibits examples of ostensibly traditional work that are heavily influenced by technology. Even though these pieces do not overtly demonstrate the utilization of technology, they do exemplify the novel way in which technology and fine art are interrelated."
———————————
Capturing Weather In Video And Installation

When: May 28, 2014 7:30PM
Where: Boston Cyberarts Gallery, 141 Green St., Jamaica Plain, MA
How: Official Website
Cost: Free | RSVP here
What/Why: "Georgie Friedman creates gorgeous contemplations of weather and other natural phenomena using video and site-specific projections on architecture and sculptural forms. Each video concentrates on the natural light and movement of the particular element, while the installation aspects alter the visual properties, form, or context of the element. She creates experiential spaces for viewers that highlight personal and societal relationships to built, natural and digital environments. Join us as Georgie presents her work and methods."
————————————
Say hi:
EMAIL | TWITTER | FACEBOOK | INSTAGRAM | PINTEREST
  -3 DAY WEEKEND-
out the door. down the street. enjoy! ♥